Roasted Turkey, Apple & Cheddar Sandwich
A Panera Bread Copycat Recipe
This Roasted Turkey, Apple & Cheddar Sandwich is packed with flavor and makes a quick, easy and delicious meal! A favorite Panera restaurant sandwich gets a little healthier when you make it at home! Turkey, white cheddar, crisp apple slices, and a crunchy tangy cranberry walnut slaw are slipped into a flatbread sandwich.
I think by now, you might know how much I love Panera Bread.  Not only is their food fresh and delicious, they use real products, making it easy to replicate your favorites at home, like Creamy Chicken and Wild Rice Soup and BBQ Chicken Salad.
When I'm in the mood for a sandwich, my go-to is often their Roasted Turkey, Apple & Cheddar Sandwich.  Obviously, I'm not running to Panera Bread every day for lunch, but I often struggle to find a quick and easy lunch that doesn't come out of the freezer when I'm at home.
Recently while wondering the aisles at the grocery store it occurred to me that my favorite restaurant sandwich could be easily created at home, for a fraction of the cost and I could even save a few calories while I'm at it!!
If you're a fan of sweet juicy apples and sharp cheddar and turkey and cranberries……..you're going to love this sandwich!!
Let's Make a Roasted Turkey, Apple & Cheddar Sandwich
If you aren't familiar with Panera's Roasted Turkey, Apple and Cheddar Sandwich, it starts with a wonderful Cranberry Walnut Bread stuffed with fresh apple and cabbage slaw with roasted turkey and white cheddar cheese.
In my copycat recipe, I put the cranberries and walnuts in the creamy slaw, made with non-fat Greek yogurt and honey! I usually make enough slaw for about 4-5 sandwiches and keep it covered in the fridge all week, along with some oven roasted turkey and white cheddar from the deli, a Gala apple sliced and a package of FlatOut Foldit (flatbread).
It only takes me a few minutes to mix up the cranberry walnut slaw (thanks to a bagged slaw mix). I slice a whole apple and store it in another container with lemon juice, so they don't brown, then I'm set for a quick lunch all week!!  So easy and so delicious!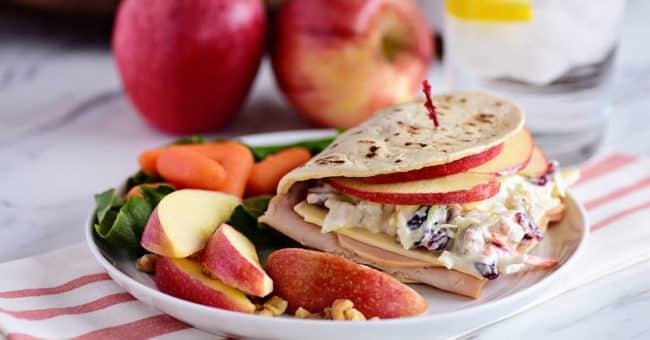 If you have never tried this sandwich, then you are in for such a treat. Make this Roasted Turkey Apple & Cheddar Sandwich as a healthy lunch for yourself or as a light dinner for your family.
It's also a great sandwich to pack in the cooler for picnics or road trips – put the turkey and cheese on the flatbread, and pack a container of the slaw mix and apple sliced to add when ready to eat!
Looking for more turkey sandwich recipes with a twist?  My family loves Turkey Caesar Sandwich on Garlic Toast.  Turkey Sandwich Kebabs, Turkey Cranberry Pesto Panini, and Blackberry Turkey Sub are all simple and packed with flavor!
Want more great recipes like this? Follow my TidyMom Easy Recipes Pinterest Board
Like this Roasted Turkey, Apple & Cheddar Sandwich recipe? Pin It!