BBQ Chicken Salad a Panera Copycat Recipe
This BBQ Chicken Salad is a flavorful dinner salad recipe that's off the hook delicious! It's super easy to make but tastes like it's straight from a restaurant. It's sure to become a favorite salad recipe at your house too!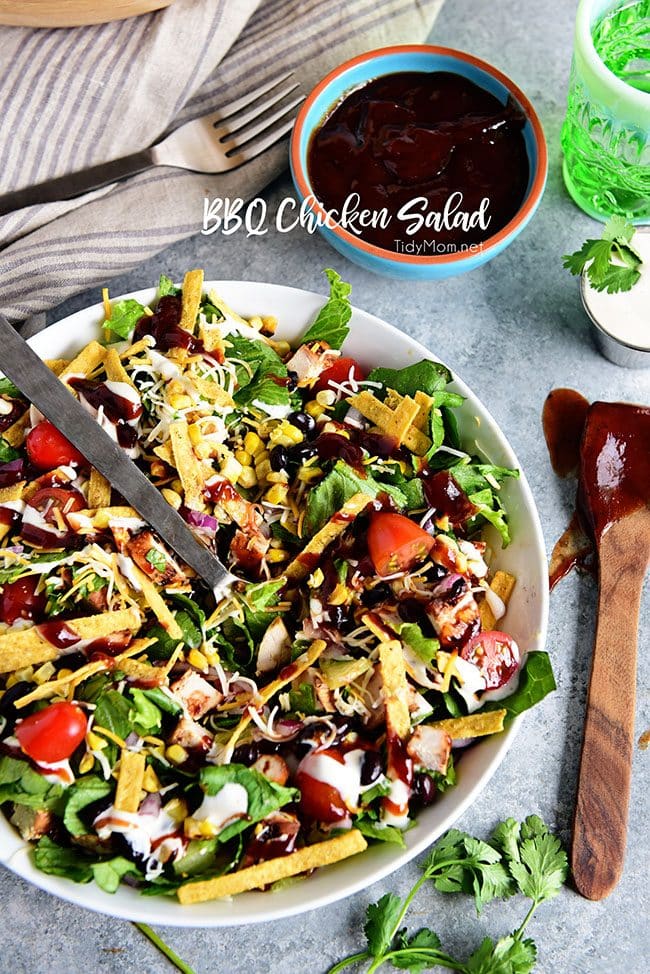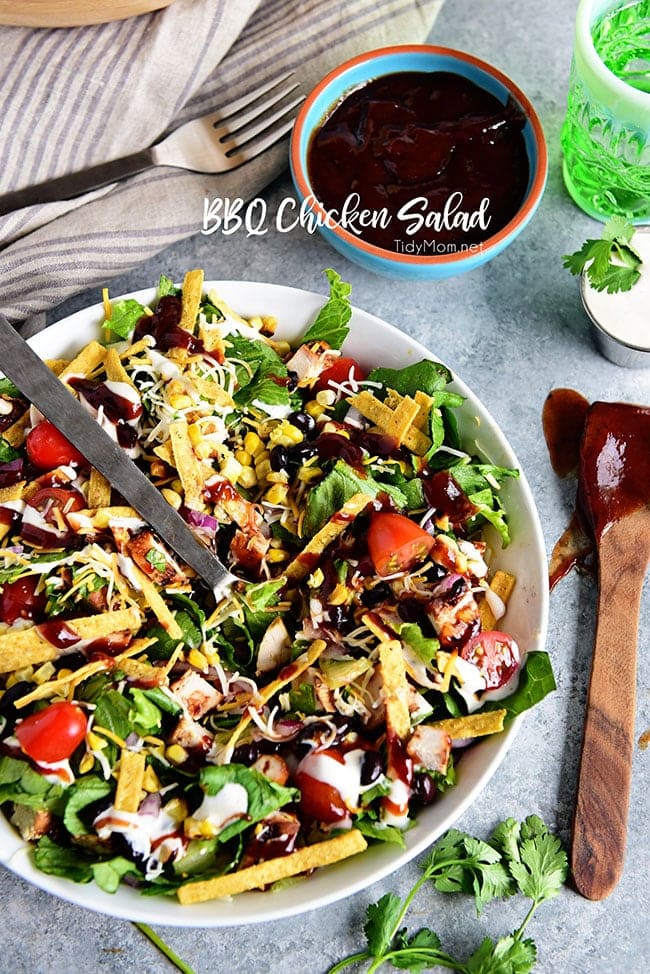 Panera Bread is hands down one of my favorite restaurants. I've been known to eat there more than once a day on several occasions. Their food is wholesome, fresh and delicious. It's one of the few restaurants that I have several favorites on their menu.
From the first time I had BBQ Chicken Salad at Panera, I was obsessed! There's something about the savory aspect of the lettuce, veggies and chicken with the sweetness of the BBQ sauce.
If you were a fan of Panera's BBQ Chicken Salad too (it's no longer on their menu), you're in luck! You can make a copycat salad in 15 minutes or less!  I think you'll agree that it's even better than the original.
I just can't get enough of this salad! I've made it several times since last spring, and I realized the other day, I took pictures, and never shared the recipe here with you.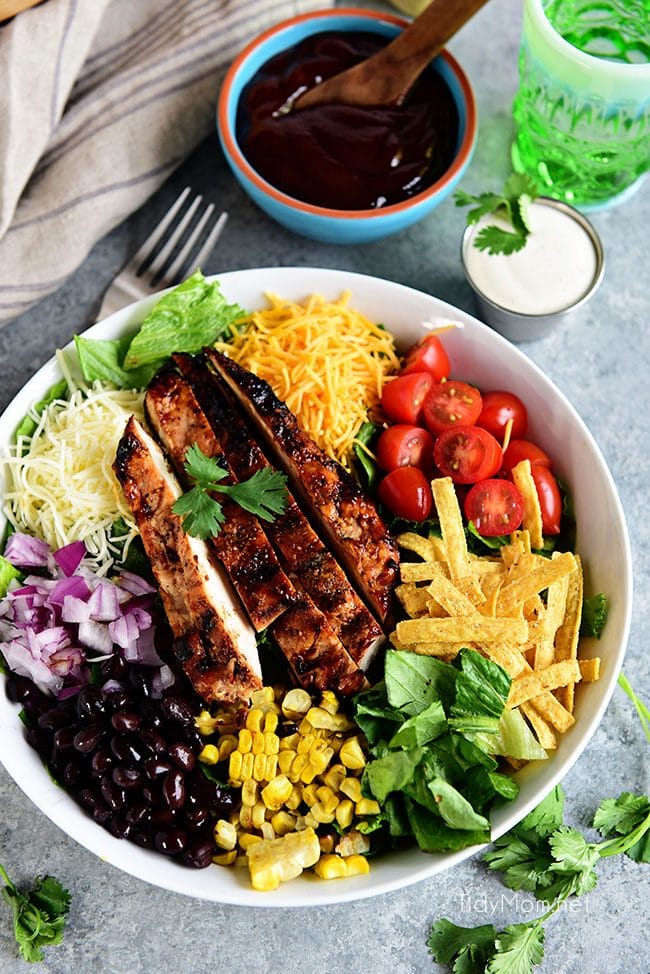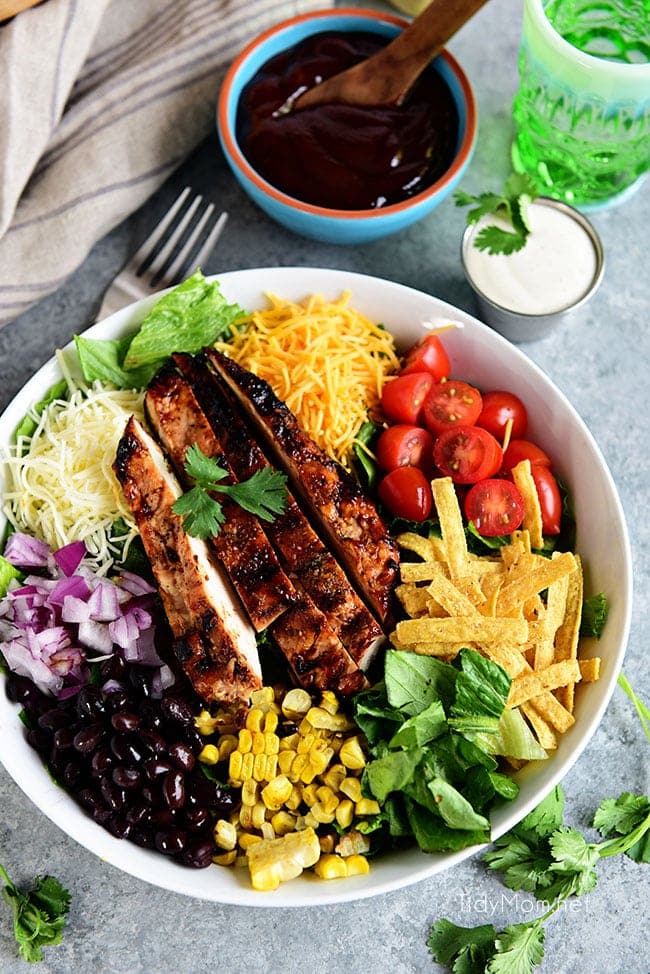 BBQ CHICKEN SALAD
I first made this salad last spring, after we grilled BBQ chicken and corn on the cob for dinner. The next day I was inspired to use the leftovers to re-create one of my favorite salads.
It took less than 5 minutes to throw it all together, but even if you have to grill the chicken (indoors or out) it only takes 6-8 minutes to cook.  Chop all the ingredients while the chicken cooks, and if you have time, make the lime crema and dinner will still be on the table in 15 minutes.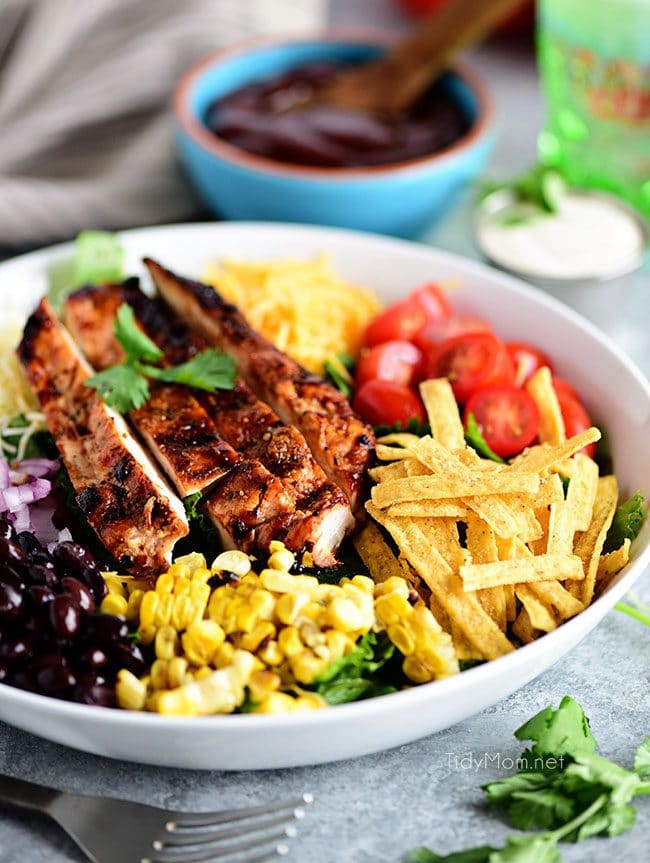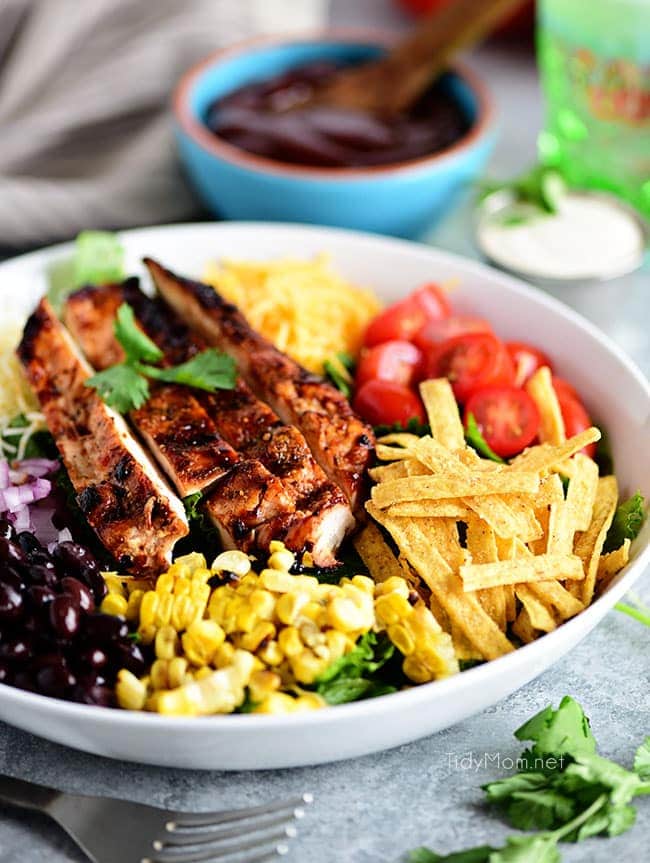 If you can grill the corn, do it! But if you can't no worries, it's just as good with canned corn.  It's really a simple and delicious salad no matter how you make it.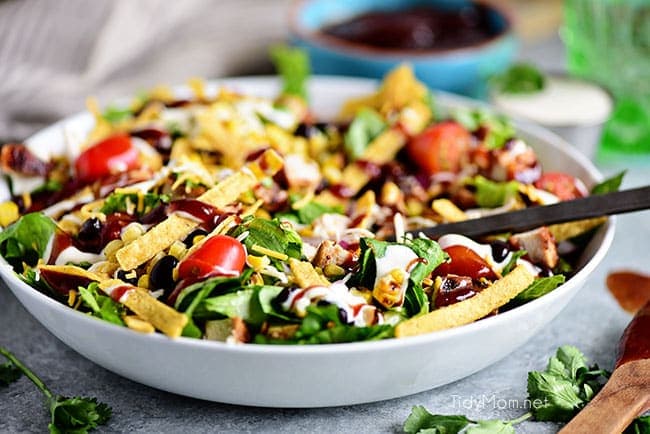 The homemade lime crema is so simple to make with only a few ingredients. It completes this incredible BBQ Chicken Salad! Greek yogurt with lime juice seasoned with garlic, cumin, and salt is all it takes. It's really simple to mix together and will keep in the refrigerator for several days.
It's best if you can make the dressing ahead of time – I like to mix it in a jar so I can shake it up before pouring it on my salad.
Feel free to use ranch dressing instead of the lime crema………but I will say, the lime crema really makes this salad sing!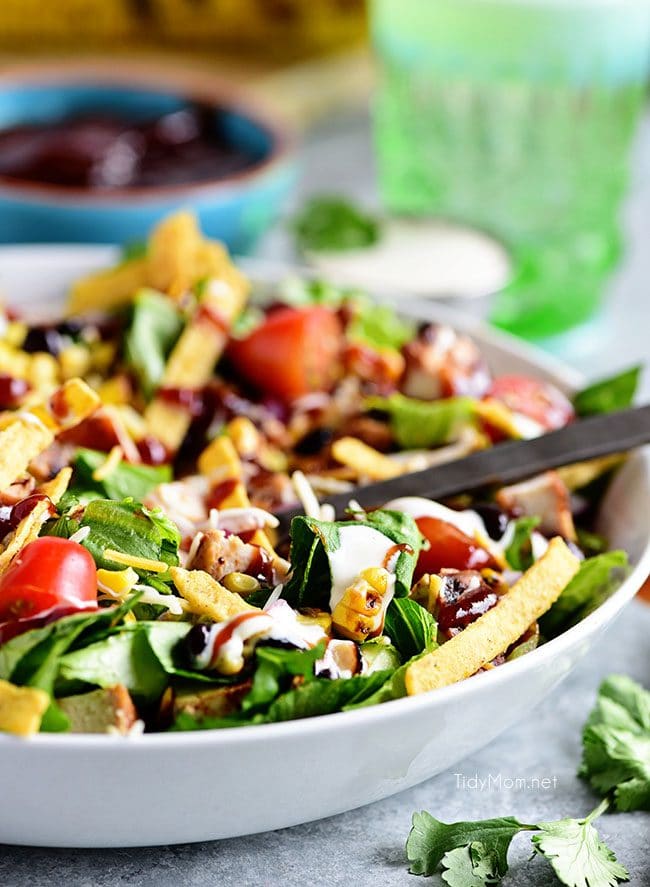 This copycat BBQ Chicken Salad immediately satisfies my need for one of my restaurant favorites that I can no longer get. Plus my need to have BBQ chicken in every way imaginable, like BBQ Chicken Pizza Soup and BBQ Ranch Chicken Salad Sandwich.
Looking for more great Panera copycat recipes?  Creamy Chicken and Wild Rice Soup is one that I have to make at least a few times every winter!  Panera Bread Cauliflower Cream Cheese Soup recipe (also retired from their menu) and Panera Bread Macaroni and Cheese recipe are both on my list to try as well!
Want more great recipes like this? Follow my TidyMom Easy Recipes Pinterest Board
LIKE THIS BBQ CHICKEN SALAD RECIPE? PIN IT!