BBQ Chicken Pizza Soup
I'm Lovin' It {linky party}
BBQ Chicken Pizza Soup is a super quick and tasty soup with all the flavors of BBQ chicken pizza.  GREAT for a busy weeknight meal.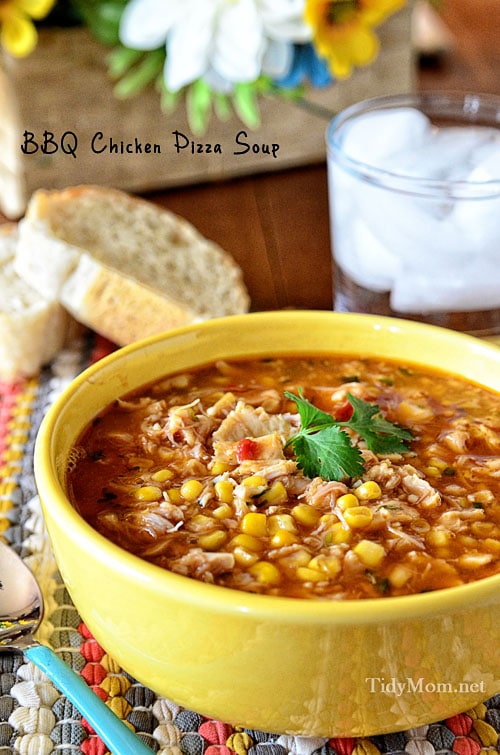 We have been packing getting ready for our move, so I've been on the lookout for quick easy dinners, that I can whip up with little effort.
When Jenny mentioned her pizza soup in her meal plan one week, I quickly added it to my "Dinner at Our House" Pinterest Board.  That's where I save all the recipes that I would like to make for my family – always simple and family friendly.
Steve was a little weirded out at first by the idea of BBQ sauce in his soup, and Allison question "why BBQ Chicken PIZZA" soup?  Think CPK's BBQ Chicken Pizza in soup form.  This soup really tastes just like a BBQ Chicken Pizza.  It will be showing up on our table again, I mean, you can't beat dinner that is ready in about 15 minutes!.   LOVE it!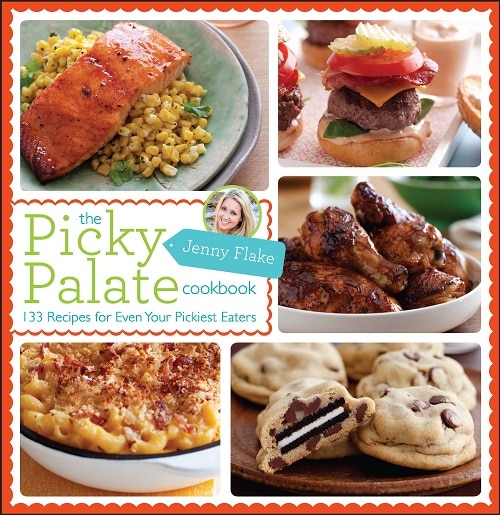 If you like this recipe, Jenny has a cookbook you might want to check out, The Picky Palate Cookbook.  Full of 133 recipes for even your pickiest eaters!  I love that it's spiral bound, so it lays flat while you are cooking.
BBQ Chicken Pizza Soup
Super fast and easy soup!
Ingredients:
2 tablespoon extra virgin olive oil
1 tablespoon garlic, minced
11 ounce can Mexican corn, drained (Mexican is just corn with peppers)
1-2 large chicken breast, cooked and shredded (I like to use rotisserie chicken)
1 1/2 cups chicken broth
1/2 cup BBQ sauce (our favorite is Sweet Baby Ray's )
1/2 teaspoon kosher salt
1/4 teaspoon black pepper
1/4 teaspoon garlic salt
1/4 cup fresh cilantro leaves, chopped
Directions:
Heat oil in a medium pot over medium heat. Add the garlic and cook stirring, for 1 minute. Add the corn and chicken breast; stir to combine. Pour in chicken broth, BBQ sauce, salt, pepper, garlic salt and cilantro leaves.
Reduce heat to low and simmer for 10 minutes.
Serve in a large bowl with a spoon and napkin! Enjoy!
Make even more simple with canned chicken, simple use 2- 12 ounce cans.
Making this recipe? Share it with us on Instagram using the hashtag #TidyMom so we can see what you're creating in the kitchen!
Want more great recipes like this? Follow my TidyMom Easy Recipes Pinterest Board
Thank you for sharing so many wonderful projects, recipes and crafts again last week! You can link up thru Sunday evening or come back next week and link up for another
I'm Lovin' It
, who knows maybe next week I will be featuring you!
Let's get this party started!!  It's time to link up all your great ideas to "I'm Lovin' It Party"  (remember, each week I will share some of my favorites who link up!)

I'm Lovin'……. BBQ Chicken Pizza Soup
Now it's your turn!
Let us know what you're lovin' this week!
What is I'm Lovin' It? get all the info here *All photos submitted to the I'm Lovin It linky party, grant the rights to display their photo on this website and other sites I write for.  Proper credit will always be given.  TidyMom is not responsible for stolen images or the misuse by others who have found your image through TidyMom.net.