Peanut Butter Banana Quick Bread Recipe
Peanut Butter Banana Quick Bread – A delightful combination of banana, peanut butter, and chocolate chips is a heavenly trio in this moist quick bread recipe. Start or end your day (and anything in between) with a delicious peanut butter banana bread bursting with wholesome flavor!
If banana bread is a staple in your house like it is ours, you don't want to miss these other quick bread favorites like Cinnamon Swirl Quick Bread, our favorite Pumpkin Bread, or this savory Dilly Cheese Bread.
Be sure to sign up for my email… to get new recipes and ideas in your inbox!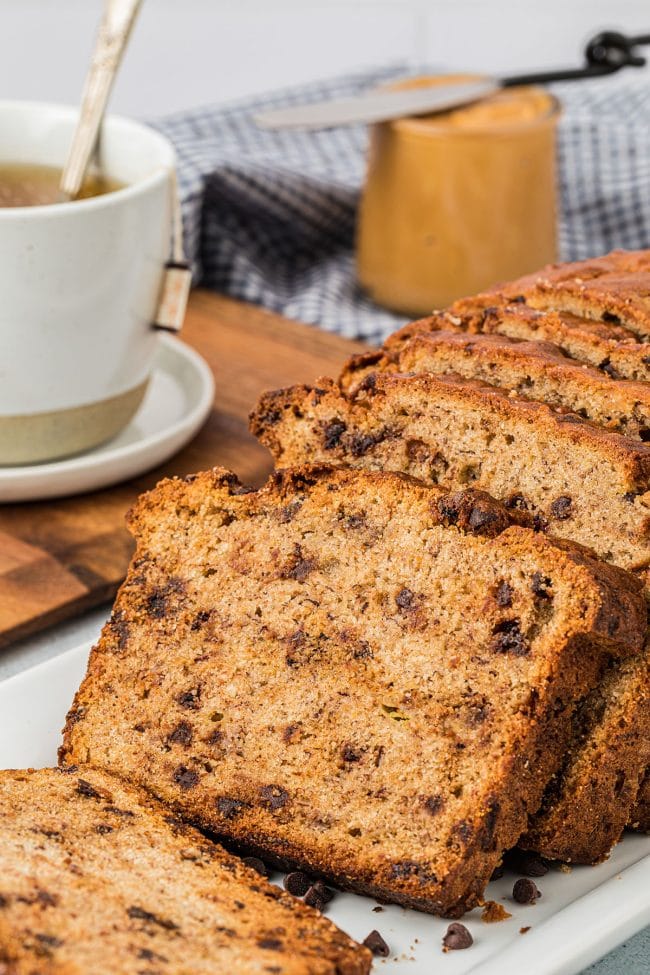 Why This Peanut Butter Banana Bread Recipe Works
A late-night sweet craving, an afternoon pick me up, or a tasty breakfast treat, this banana bread recipe with peanut butter and chocolate chips is "fan-tabulous!" Slathered in butter or as is, this banana quick bread is a trifecta of deliciousness.
A perfect way to not waste bananas!
Only 10 minutes of prep time to the oven.
Excellent quick bread recipe to make ahead.
Banana quick bread freezes exceptionally well.
Peanut butter lovers will be all in!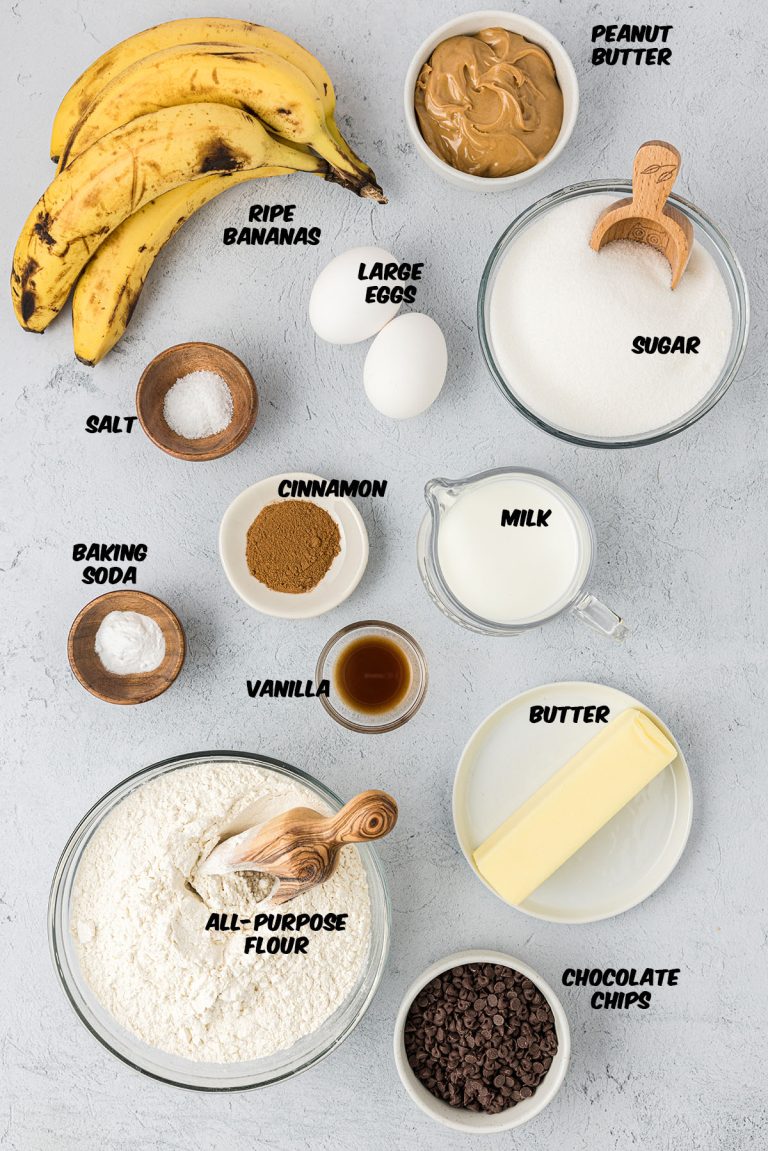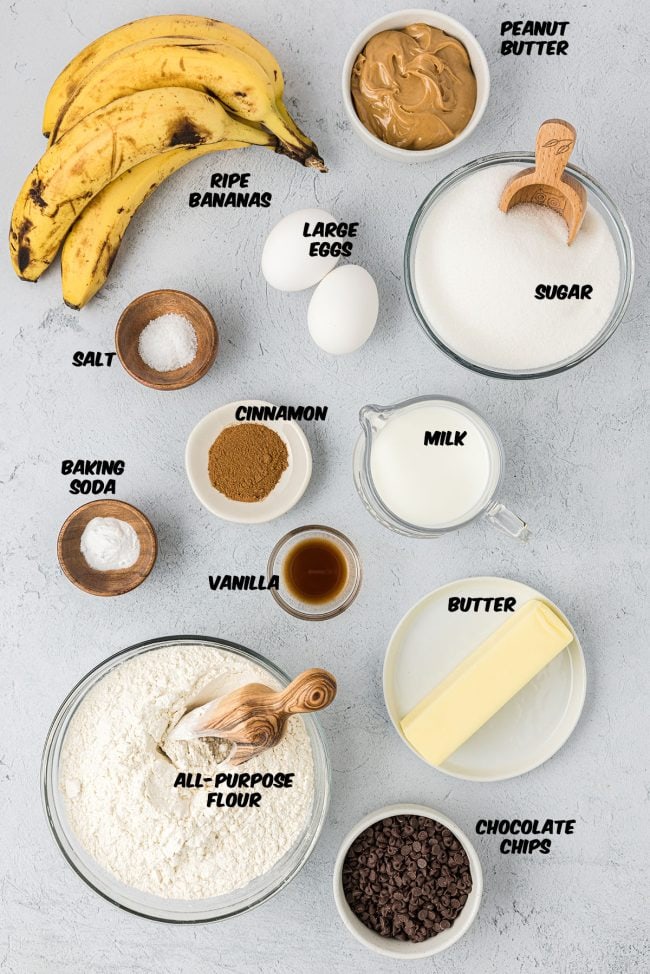 This post may contain affiliate links. Please read my disclosure policy here.
Ingredients For Peanut Butter Banana Bread With Chocolate Chips
You've probably seen my notes on measuring flour in many recipes. You may also have picked up on how important I feel an inexpensive kitchen tool, a kitchen scale, is when baking. Getting the correct flour (weight) to banana ratio can literally change peanut butter banana bread from "good" to "ah-mazing!"
For specific amounts, please refer to the printable recipe card at the bottom of the post.
Sugar – white granulated, although brown sugar will work too.
Butter Eggs & Milk* – all should be room temperature for mixing.
Bananas – soft, overripe bananas are perfect, even with a black peel.
Peanut Butter – I usually use creamy peanut butter, but you can also use chunky if you prefer.
Vanilla Extract – real vanilla is preferred, or DIY it with your own homemade vanilla.
Flour – the fluff, spoon, and level method, or weigh 313 grams with a kitchen scale.
Salt, Baking Soda, and Cinnamon
Mini Chocolate Chips – if you don't want chocolate in your peanut butter banana bread, you can omit.
*Baker's Tip: Bringing all of your ingredients to room temperature (unless written otherwise) is the key to avoiding over-mixing. Just as a hot ingredient can cause "curdling," so can a cold ingredient. This is where the overmixing can occur due to the instinct to blend until the batter is "smooth."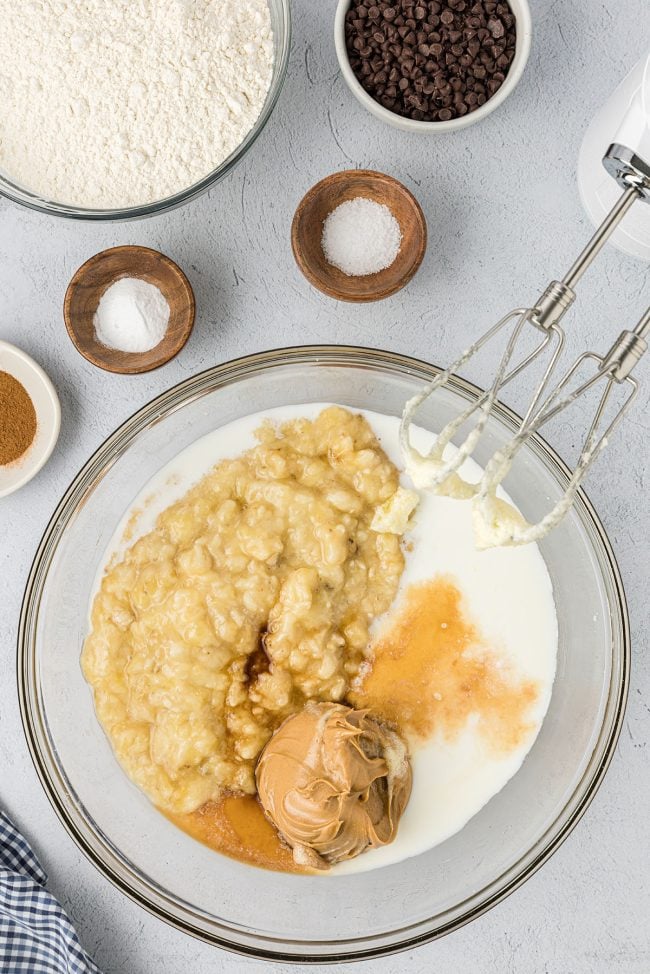 How To Make Peanut Butter Banana Bread
The key to the best, moist crumb in a quick bread without a rubbery texture is to only stir until combined. I know the idea to whisk/stir/blend until a smooth consistency seems hard-wired into some of us but don't. Trust me!
When you are baking, you'll want to use the full recipe at the bottom of the page.
Cream sugar and butter, and mix in the wet ingredients.
Stir in dry ingredients. Do not over-mix the batter. The quick bread batter should not be smooth.
Bake in a preheated oven for about an hour until golden brown and a toothpick inserted comes out clean.
Allow the banana bread to cool for 20 minutes, then on a wire rack to cool completely.
Baker's Tip: Stop mixing peanut butter banana bread as soon as you don't see the flour mixture. There will be lumps, but it's okay; you can do it! 😁 Over-mixing will give you tough, rubbery banana bread.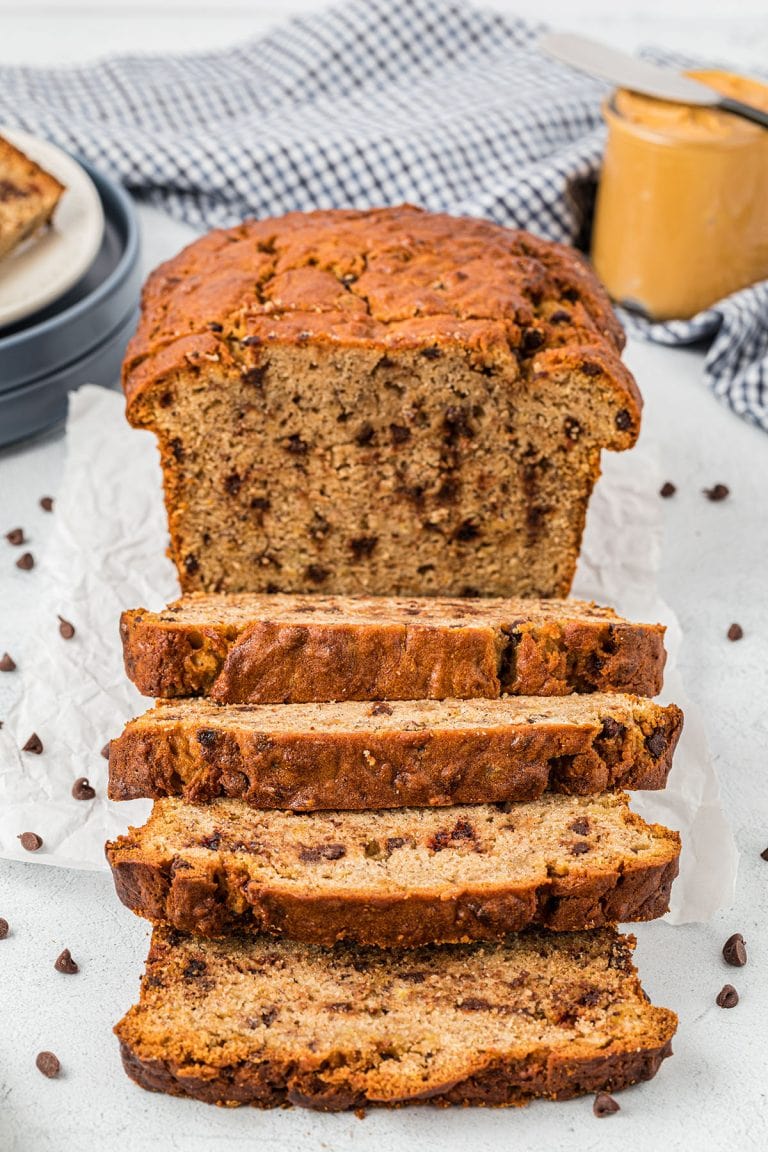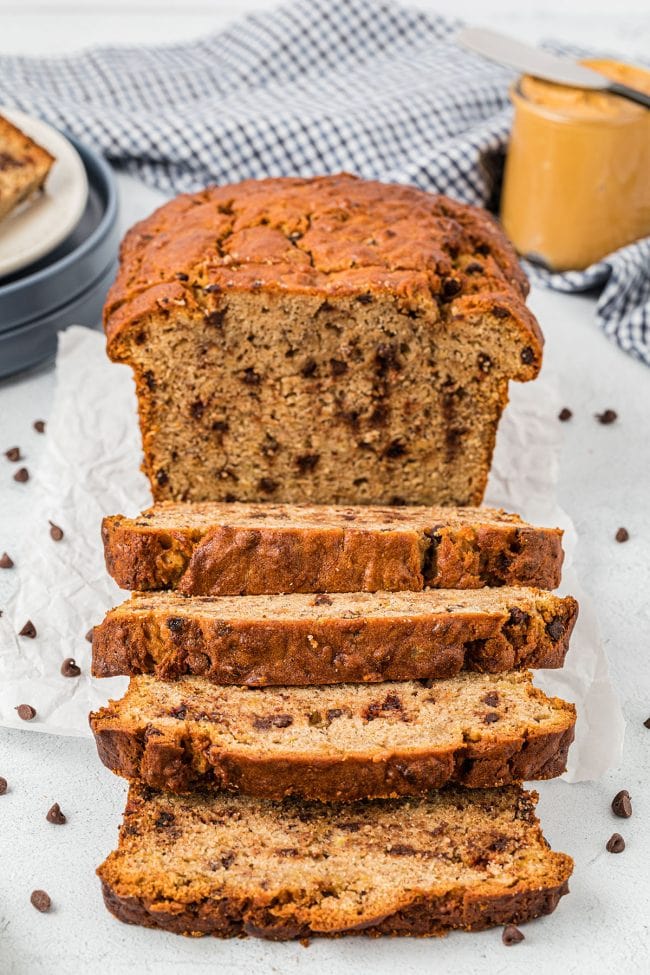 Quick Tips On Making Peanut Butter Quick Bread
Only use ripe bananas
Do not "scoop" the flour
Test your baking soda for freshness
Use the 9"x5" loaf pan for this recipe
Only mix quick bread batter until just combined
Start checking the peanut butter bread at 50 min
Do not over bake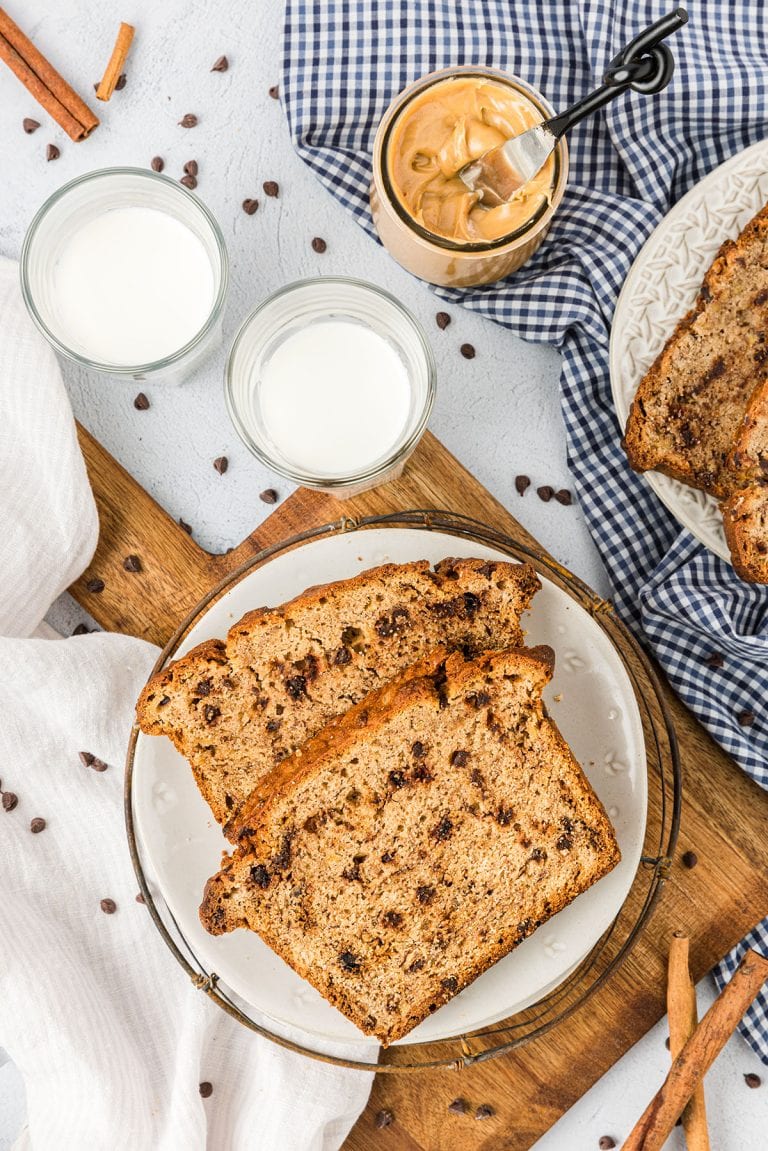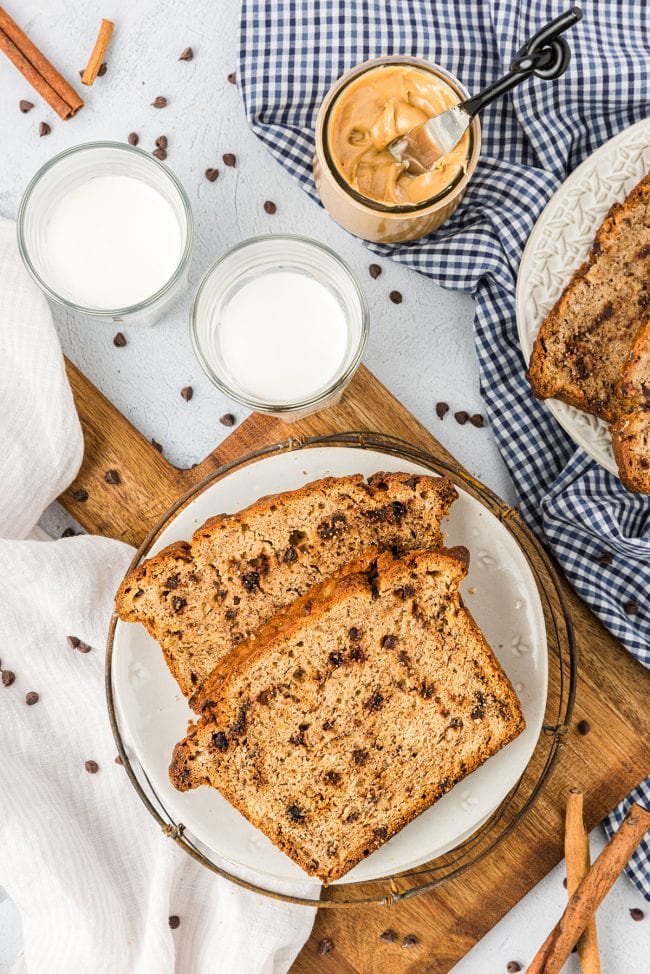 Storing Peanut Butter Banana Bread
Store well wrapped in an airtight container at room temperature for up to 4 days.
Refrigerate
You can put peanut butter banana bread in the fridge after a couple of days to extend freshness, especially in a hot or humid climate. Remember that the refrigerator tends to dry baked goods, so again, well wrapped!
Freeze
I recommend wrapping any quick bread in aluminum foil and then in a vacuum or freezer ziptop bag. This will keep a quick bread fresh tasting in the freezer for 2 to 3 months. To thaw, put peanut butter banana bread in the fridge overnight, remove it, then let it warm to room temperature.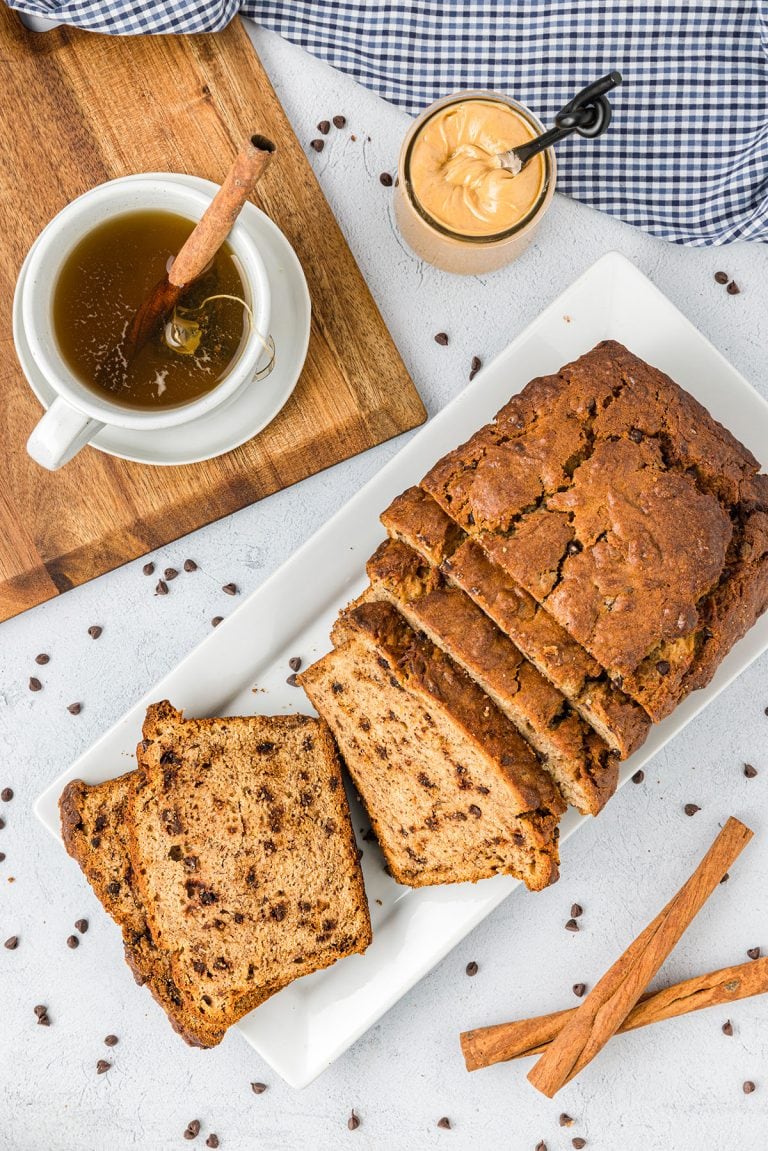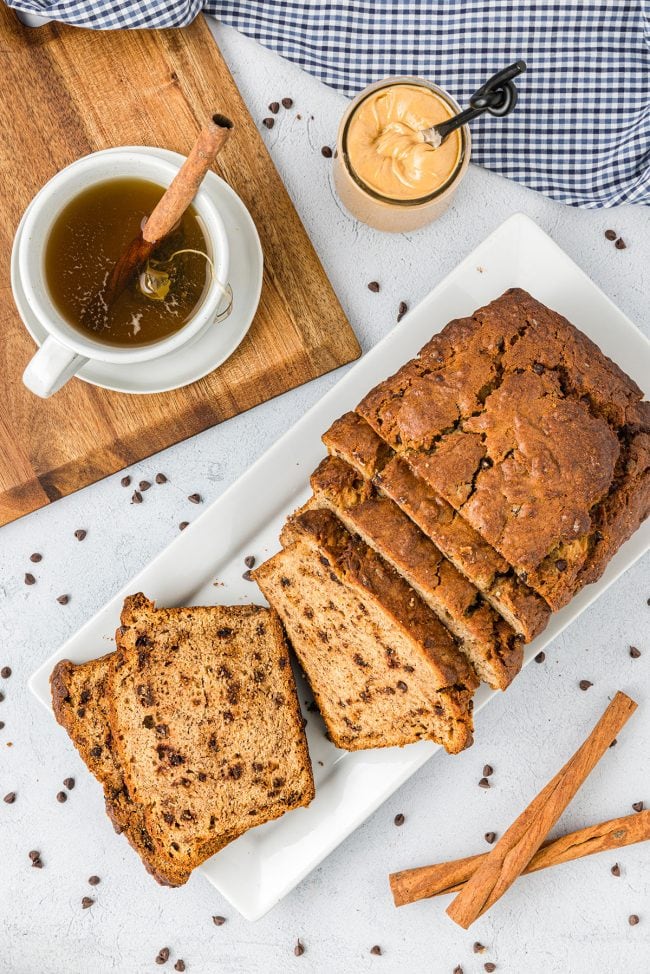 Peanut Butter Banana Bread Recipe FAQs
Why is my banana bread "wet?"
Too much banana, not enough flour. Although banana bread is an easy quick bread, don't fall victim to the "more is better" syndrome when working with sweet, tasty ripe bananas. Follow the ratio of banana to flour in the banana bread recipe to avoid the sunken, unappealing, and wet-looking breakfast loaf.
Can you add at least one banana that isn't overripe?
Yes, with a condition. You will need to "force ripen" a banana(s) if you don't have enough overripe bananas for a banana quick bread recipe. One banana ripening hack is to bake it for 15 minutes at 350°F until the skin turns black. Cool and use.
How ripe is ripe enough for a banana bread recipe?
When the banana is soft enough to mash like a cool stick of butter. A ripe banana will be fragrant, have a large freckling of brown spots to black, and the stems will be very weak or shriveled. The darker the banana peel, the deeper the sweet banana flavor.
Why can't you use a yellow banana for banana bread?
The banana is primarily a starch when it is green or just turning yellow. As the banana ripens, the starches turn to sugar. Have you ever bit into a banana and had that "filmy" feel that coats your teeth? That is the sticky starch from the unripe banana flesh. The ripened banana-y sugars make peanut butter banana bread so sweet and yummy.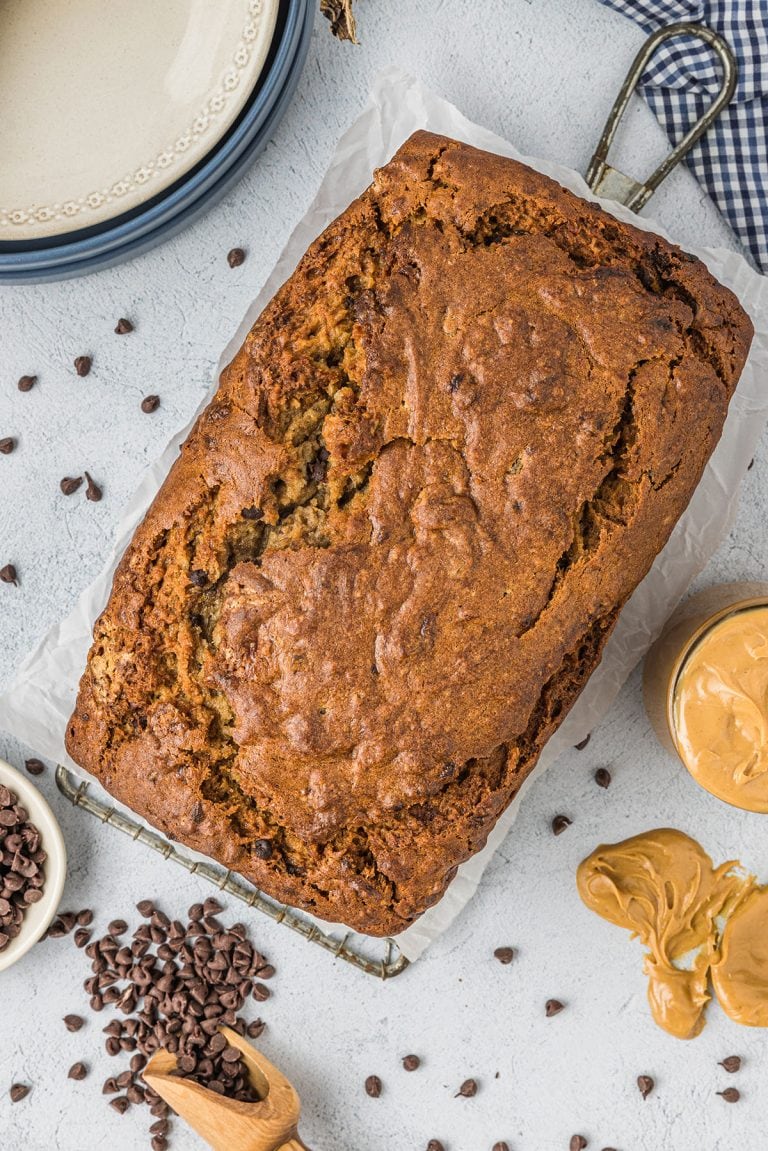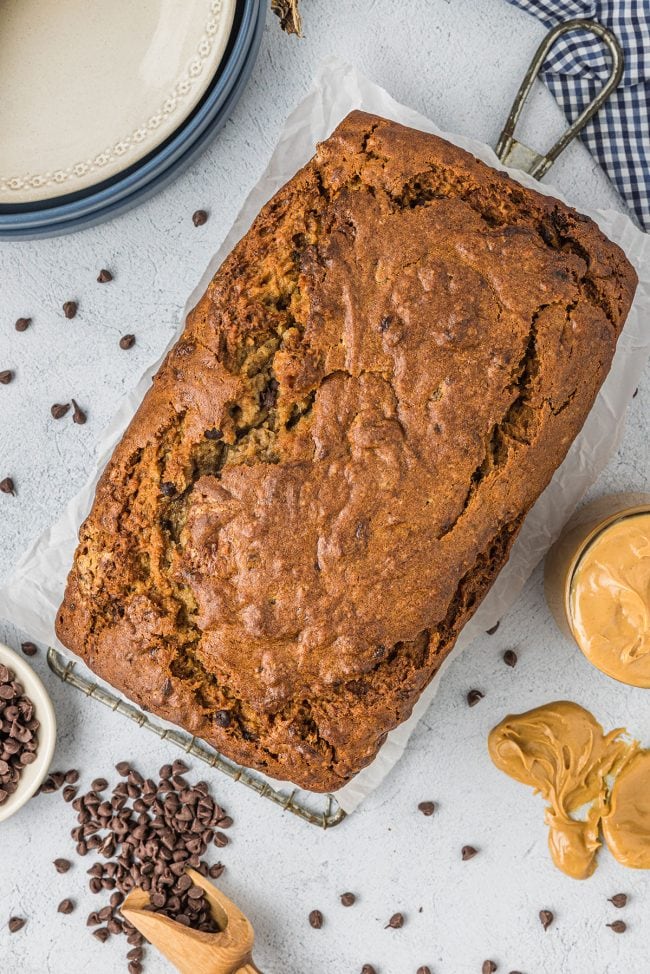 How To Ripen Bananas In The Oven:
It happens to the best of us; we plan on making moist, sinfully delicious peanut butter bread for an event, breakfast, or just a craving. However, the darn things are still bright yellow. If you can't wait by brown bagging them for 24 hours with an apple (or other high ethylene off-gassing fruit), the "baking" method will do the trick!
Option #1. Bake bananas at 350°F for 15-20 minutes until they turn deep brown.
Option #2. Bake bananas at 400°F for five minutes.
Option #3. Microwave bananas for 30 seconds, check for softness and add another 15-30 seconds.
Cool All Options before using them in your quick bread recipe.
Baker's Note: For the bananas that are ready for a delicious peanut butter banana bread but you aren't, freeze them. Peel (to save frustration later) and put them in an airtight container or vacuum seal them. Bananas can stay frozen for months but will turn brown if the container isn't airtight. Still useable in a quick bread, but not as appealing.
Like This Recipe? Pin It!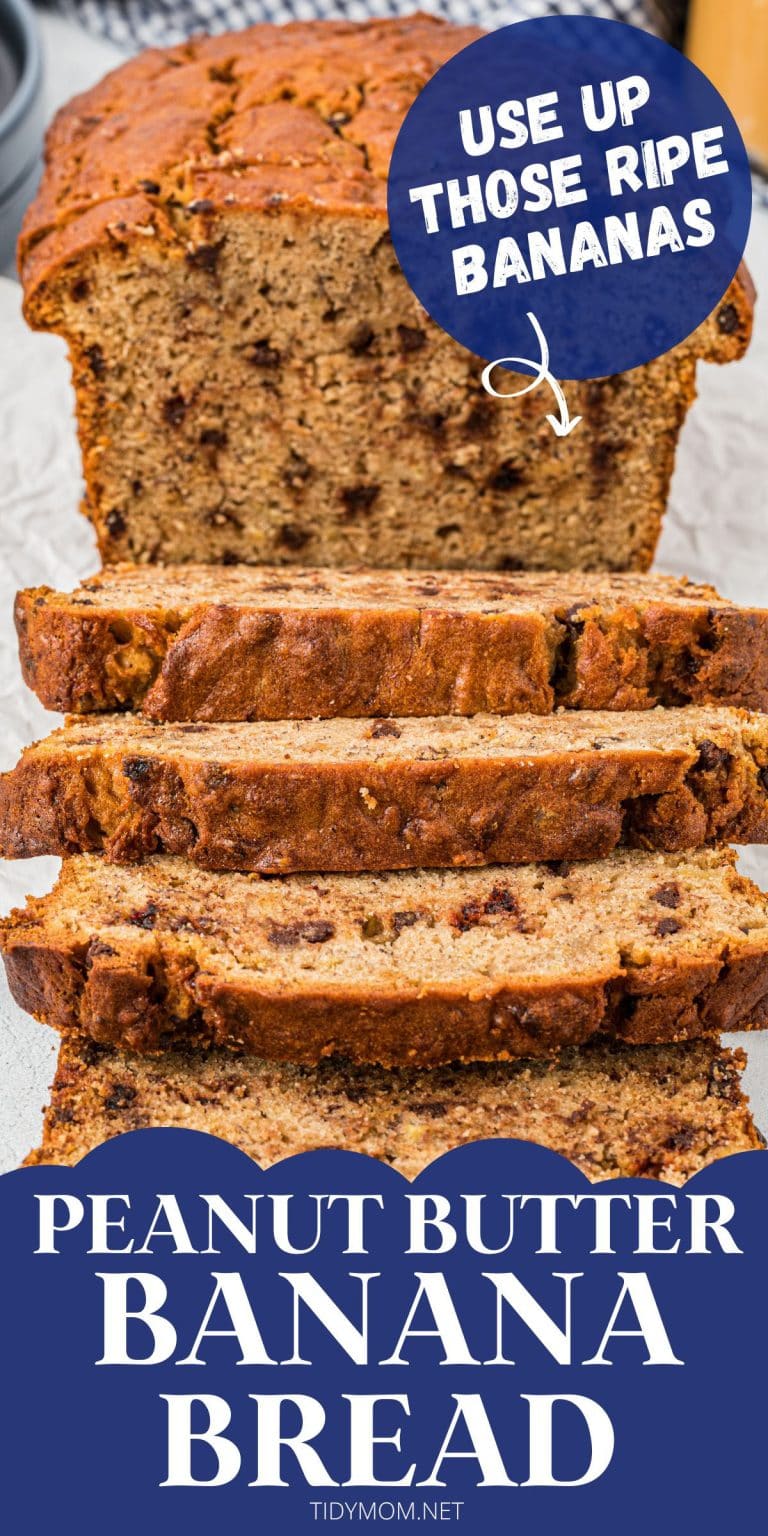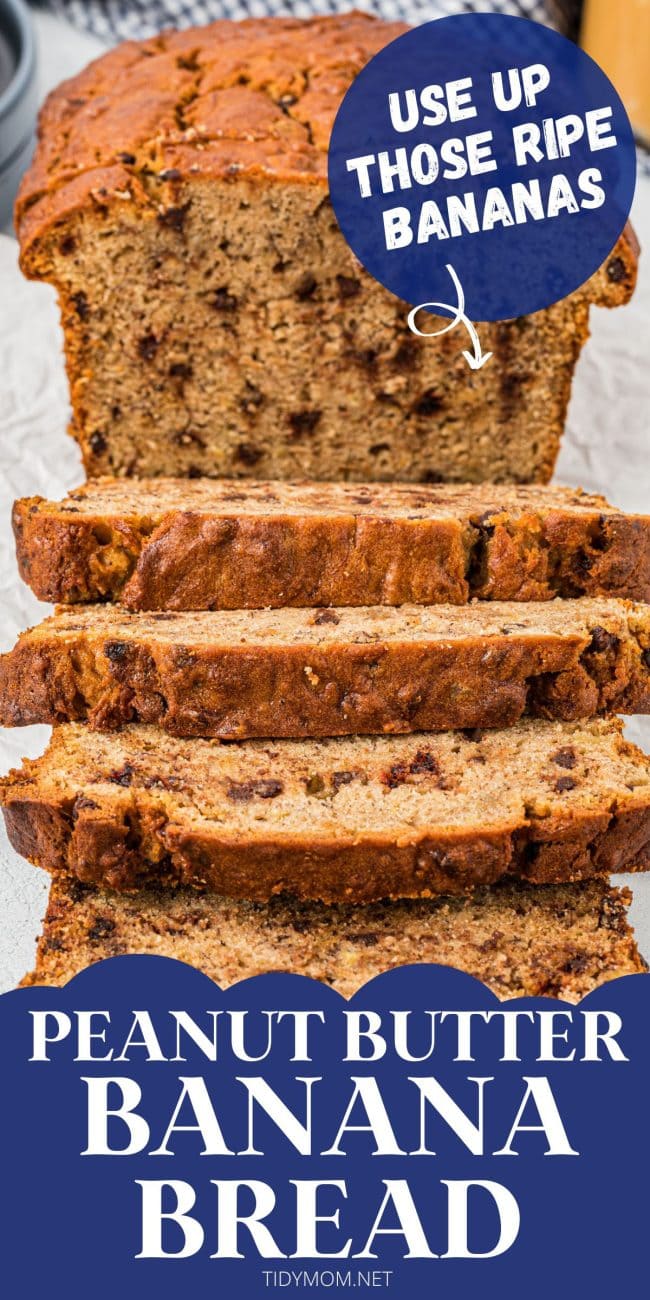 Originally posted in October 2009. UPDATED November 2018 and September 2023. We spiffed up this post with more information and 1 change to the recipe: I now use white chili beans in place of cannellini beans.
Peanut Butter Banana Bread
Yield: 1 loaf
Prep Time: 10 minutes
Cook Time: 1 hour
Total Time: 1 hour 10 minutes
A delightful combination of ripe bananas, chocolate chips, and peanut butter take this moist quick bread to a whole new level of deliciousness! Great way to use up ripe bananas!! PRINTABLE RECIPE at TidyMom.net
Ingredients
1 1/4 cup sugar
1/2 cup butter, room temperature
2 eggs
1/2 cup milk
3-4 mashed bananas
1/2 cup peanut butter
1 teaspoon vanilla extract
2 1/2 cups flour
1 teaspoon salt
1 teaspoon baking soda
1 1/2 teaspoon cinnamon
1/4 – 1/2 cup mini chocolate chips
Instructions
Preheat oven to 350 degrees. Grease one 9x5 inch loaf pan.
Cream together sugar and butter, add eggs one at a time. Mix in milk, bananas, peanut butter, and vanilla.
Stir in dry ingredients. *do not over-mix the batter. You don't want it smooth. Over mixing the batter will give you tough, rubbery bread
Pour into greased loaf pan.
Bake until bread is golden brown and a toothpick inserted in the center comes out clean, about 60 mins for a regular loaf pan, or 30 mins for mini loaves
Remove from the oven and allow to cool in the pan for 20 minutes, then run a butter knife along the edges of the pan and invert the bread onto a wire rack to cool completely.






Notes
Store well wrapped at room temperature,for up to 4 days or well wrapped, in the freezer.
Nutrition Information:
Yield: 12
Serving Size: 1
Amount Per Serving:
Calories: 392
Total Fat: 16g
Saturated Fat: 7g
Trans Fat: 0g
Unsaturated Fat: 7g
Cholesterol: 52mg
Sodium: 411mg
Carbohydrates: 59g
Fiber: 3g
Sugar: 31g
Protein: 7g
Nutrition information is estimated based on the ingredients and cooking instructions as described in each recipe and is intended to be used for informational purposes only. Please note that nutrition details may vary based on methods of preparation, origin, and freshness of ingredients used.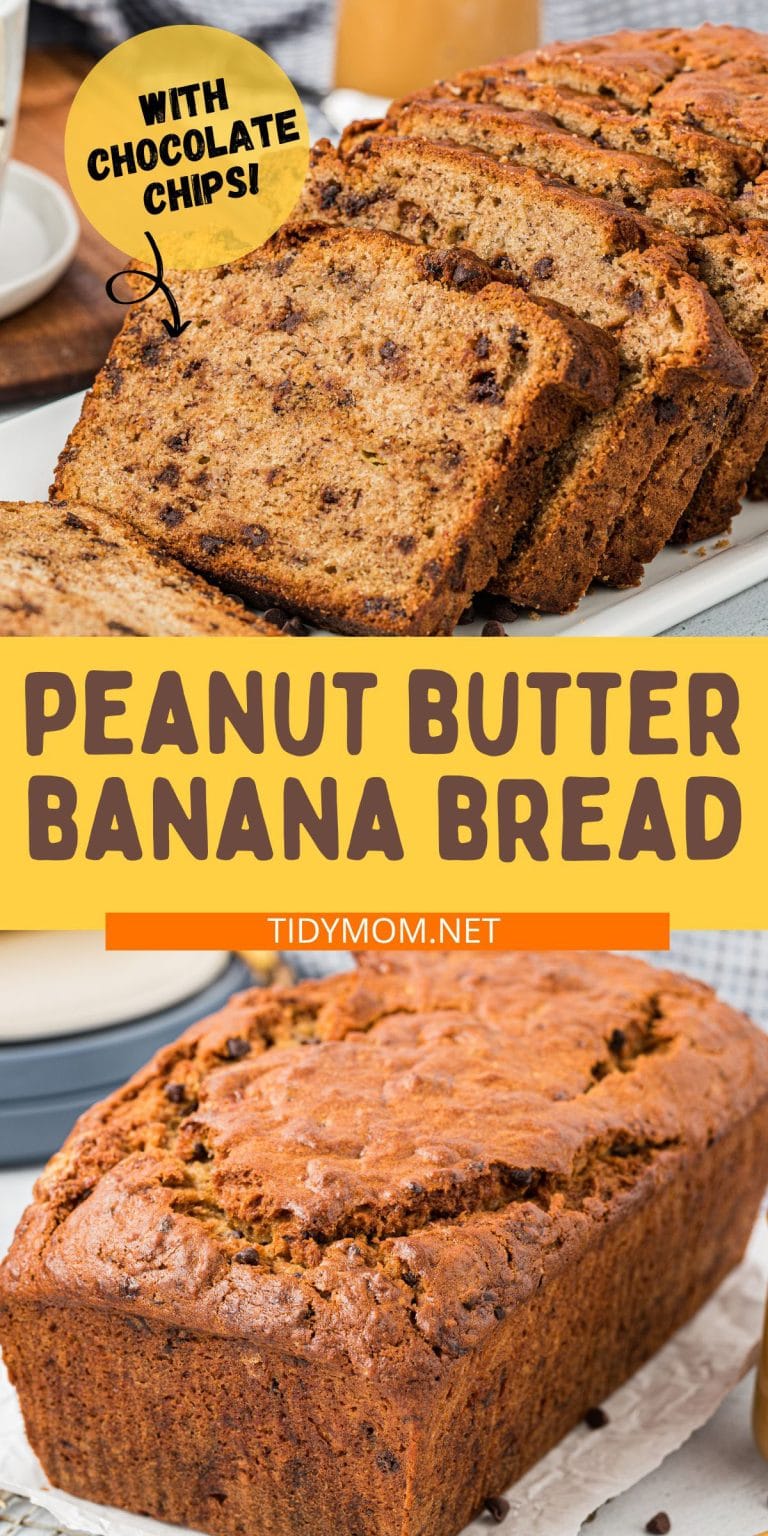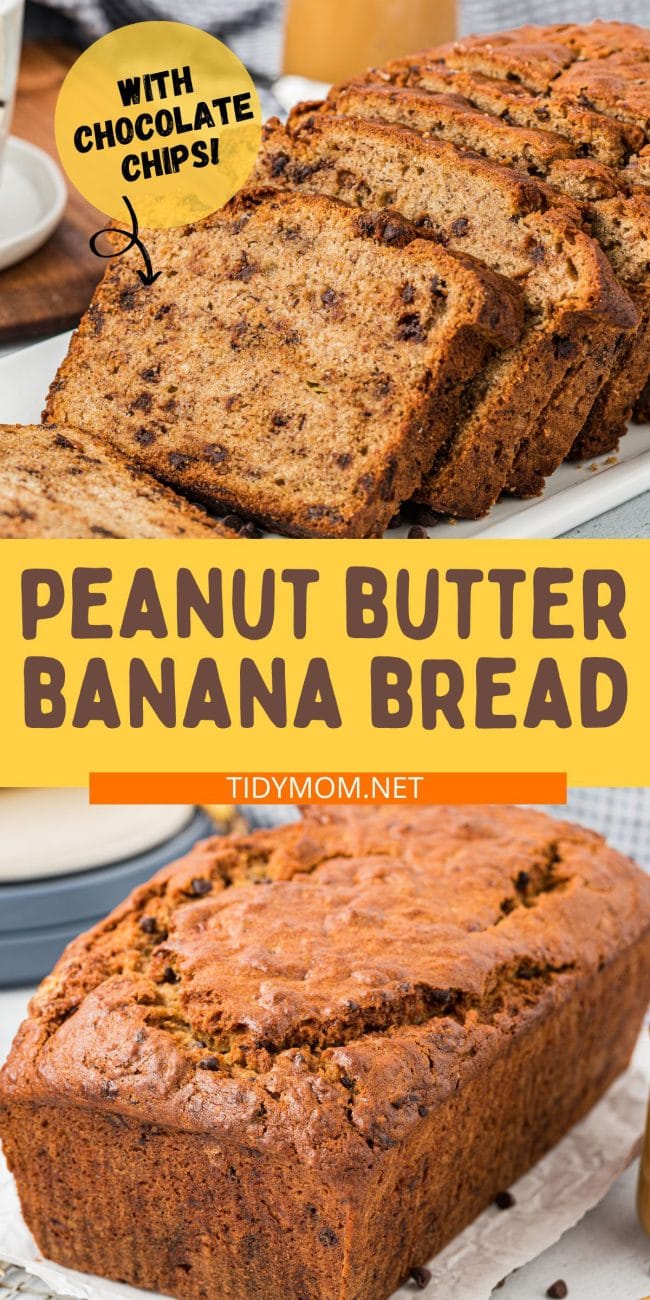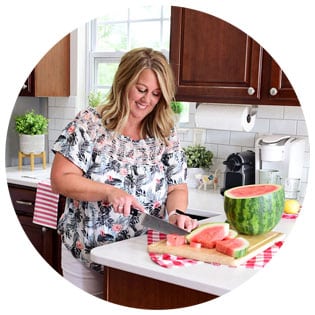 Hi there, I'm Cheryl!
As a wife, mom, and caffeine enthusiast, my journey has taken me from bustling mornings with my family to sharing delicious recipes, home care tips, and heartfelt decorating insights with wonderful readers like you. My love for baking, photography, and tidiness shines through every post I craft. Dive into my world and discover the art of homemaking, one tidy moment at a time. Read more...
Tidymom is a participant in the amazon services llc associates program, an affiliate advertising program designed to provide a means for sites to earn advertising fees by advertising and linking to Amazon.com.
Please respect my work, recipes and photographs. If you do use a recipe in your own writing, please give proper credit and link back to the original post.