Spicy Deviled Eggs With Bacon
Spicy Deviled Eggs are a fun twist on the original classic. We take the creamy filling and mix it with cayenne, hot sauce, and spicy jalapeno and then balance it all out with cream cheese and crispy bacon. A great make-ahead appetizer or low-carb high protein snack for the week.
Jalapeno deviled eggs are one of my favorite appetizers for parties or snacking — I like to serve them alongside other small snacks like Mini Taco Bites, Spicy Tortilla Roll Ups, and Sweet Heat BBQ Bacon Wrapped Chicken Bites. They're also great with bigger bites like Aloha BBQ Sliders, Spicy Coconut And Lime Shrimp Scampi, and Black Bean And Cheese Quesadillas.
Be sure to sign up for my email… to get new recipes and ideas in your inbox!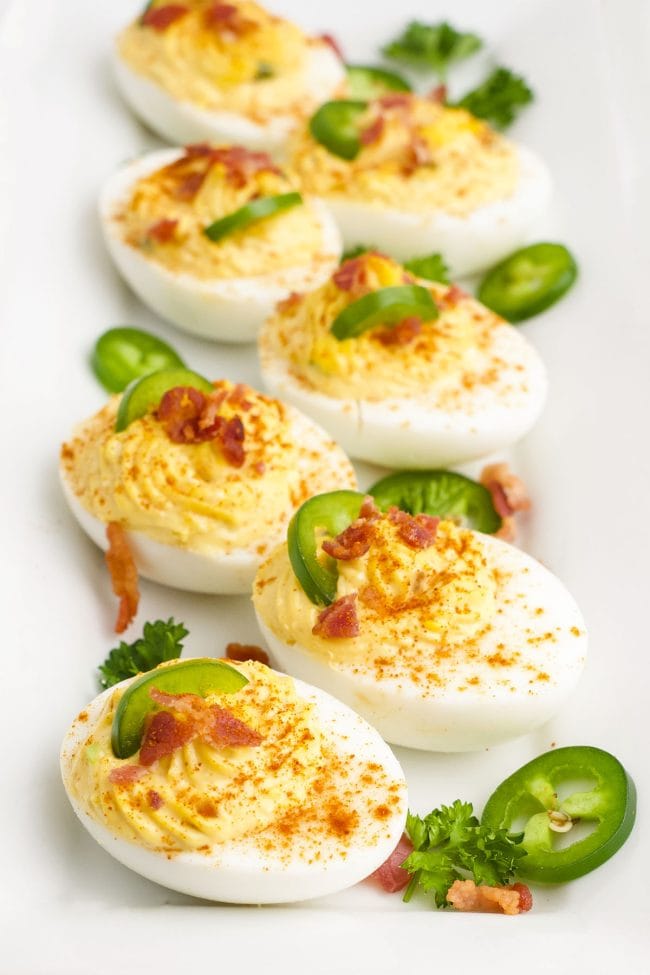 Why We Love This Spicy Twist on Traditional Deviled Eggs
If you love classic deviled eggs and you're a fan of spice, this spicy deviled egg recipe that adds the perfect amount of heat is going to be your new favorite!
Easy – Deviled eggs are incredibly easy to make and require very little time. Plus, you can make the filling ahead of time and put them together right before serving.
Customizable – You can easily change up the recipe for any occasion or to suit different palates and preferences.
Crowd-pleaser – Deviled eggs are a popular party snack so your guests are bound to love this spicy version. They're as perfect for special occasions or holiday parties as they are for a laid-back gathering.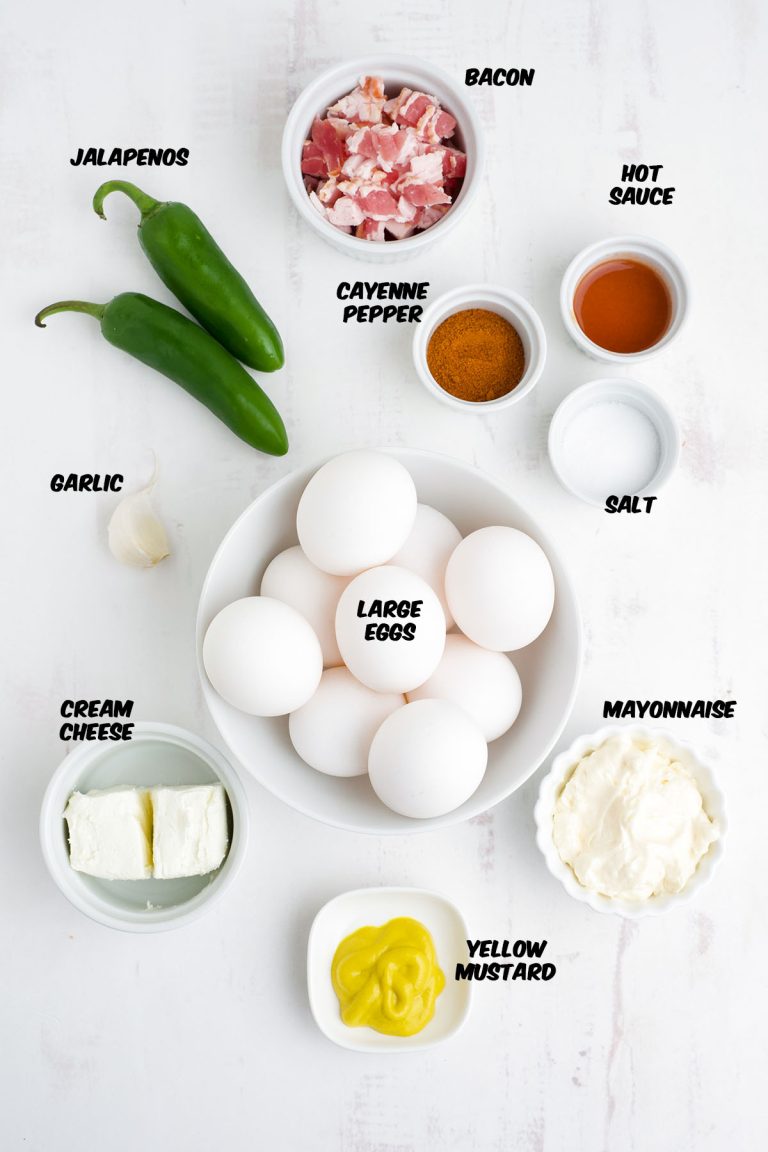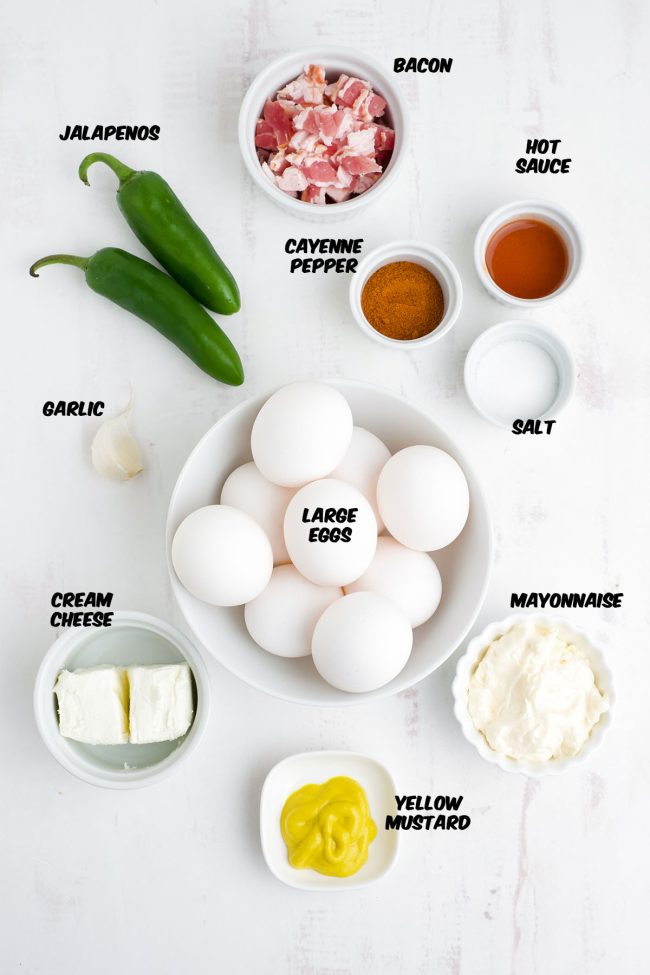 Ingredients You Need for Deviled Eggs with a Spicy Kick
There are multiple ingredients that give these spicy eggs a little heat.
For specific amounts, please refer to the printable recipe card at the bottom of the post.
This post may contain affiliate links. Please read my disclosure policy here.
Large eggs – Make sure to use hard-boiled eggs that are cooled before peeling off the shell. Alternatively, you can purchase eggs that are already hard-boiled and shelled at the grocery store.
Bacon – Crispy bacon works best for this recipe. Be sure to chop it finely into fairly uniform pieces.
Jalapeno peppers – Finely chop the peppers to around the same size as the bacon pieces. Remove the seeds for less heat.
Garlic clove – Mince the garlic so that the pieces are very small. You can also use a garlic press to grate the garlic to ensure that it is fine.
Cream cheese – Allowing the cream cheese to soften will make it easier to mix.
Mayonnaise – Use whichever brand is your favorite, or make homemade mayo, but we do recommend using a full-fat version.
Yellow mustard – Mustard is what makes the eggs "deviled" so make sure not to skimp on this important ingredient.
Hot sauce – You can use any variety of hot sauce that you prefer.
Cayenne pepper – This helps to give the jalapeno deviled eggs a bit more heat and contributes to the color as well.
Salt – Use your typical table shaker or elevate the eggs with another variety like fine sea salt.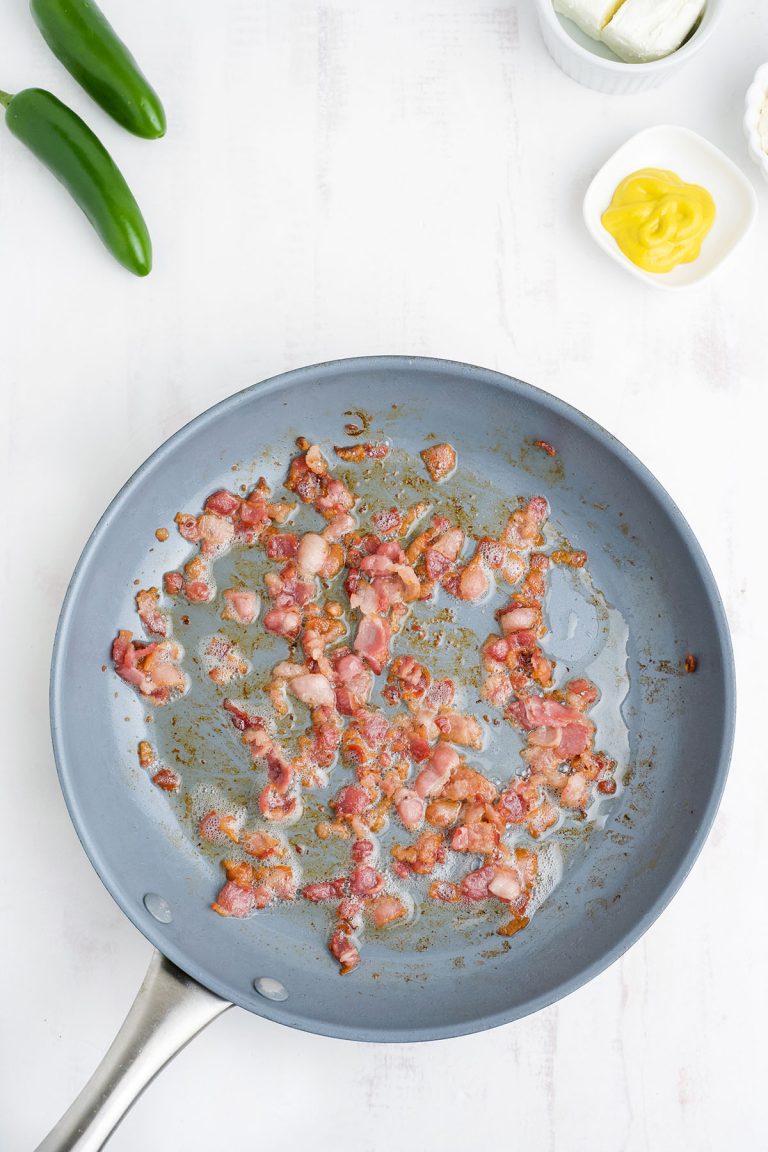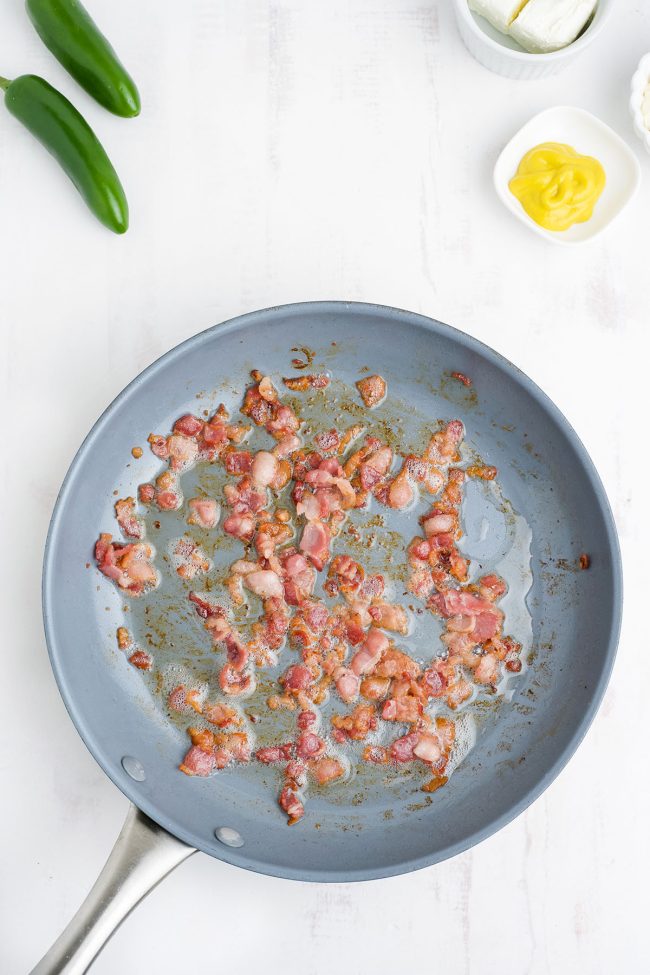 How to Make Spicy Deviled Eggs
If you want your spicy deviled eggs with bacon to look a little fancy, you can use a piping bag with a pastry tip to fill the eggs. The three best pastry tips for deviled eggs you can use are the open star, closed star, and round.
When you are baking, you'll want to use the full recipe at the bottom of the page.
Hard-boil eggs and allow them to cool.
While the eggs are cooling, cook the bacon until it is crispy.
After removing the cooked bacon from the pan, saute the jalapeno slices, add the garlic, and remove from heat.
Peel the eggs, slice them in half lengthwise, and separate the yolks from the whites.
Place yolks, jalapeno mixture, and remaining ingredients in a large bowl and beat until smooth.
Use a small spoon or pastry bag to fill each egg half.
Garnish with crumbled bacon. Then place the bacon jalapeno deviled eggs on a serving platter, in an egg carrier, or in a sealed container.
Serve or store in the refrigerator.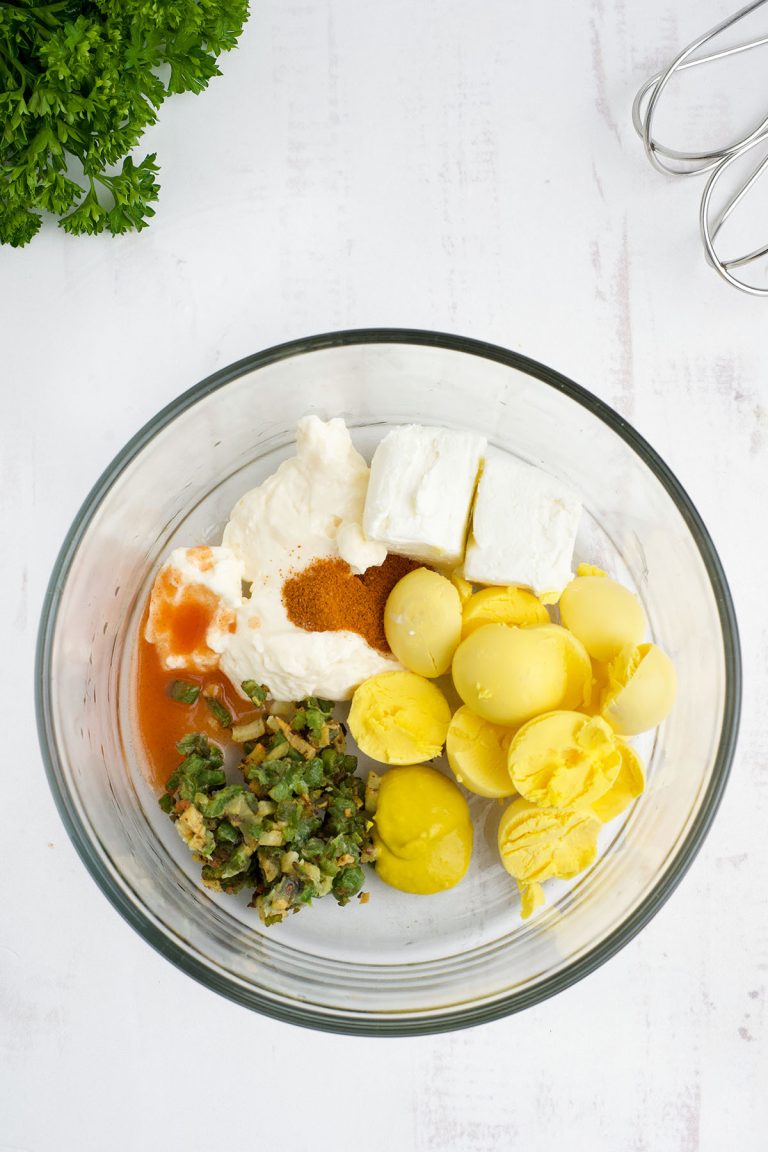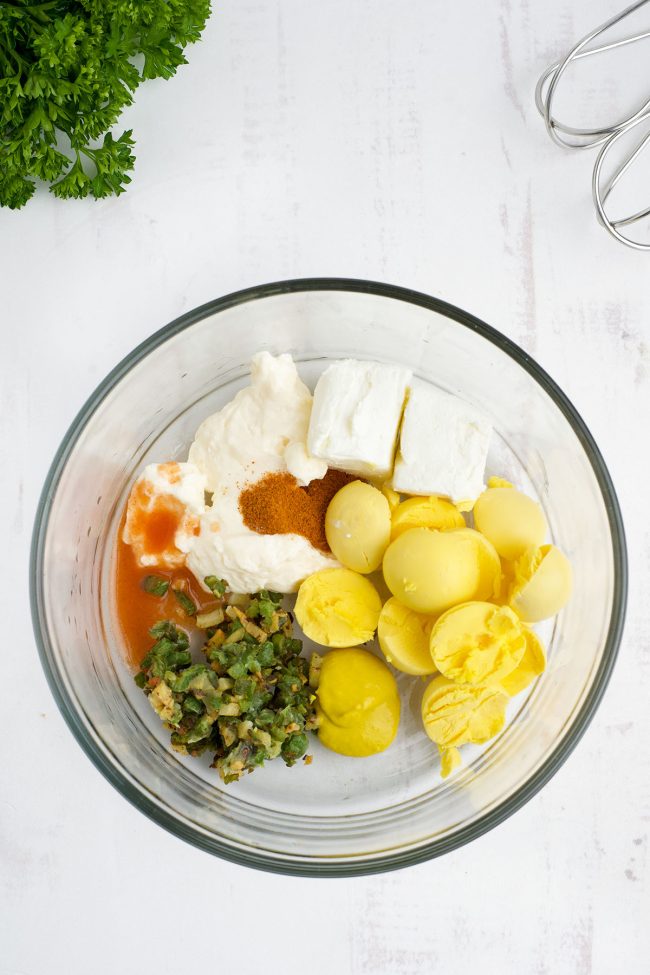 Tips for Making the Best Jalapeno Deviled Eggs
There are a few things you can do to make sure your spicy deviled eggs turn out just right.
Starting with hot water when boiling will make it easier to peel the eggs.
Use a steaming basket to hold the eggs while they boil so that they are less likely to break.
You can use an Instant Pot instead to make the hard-boiled eggs.
Keep the bacon fat in the skillet when cooking the garlic and jalapeno to retain flavor.
While you can mix the yolk mixture with a spoon or fork, an electric mixer will help make it super smooth.
If you don't have a piping bag, you can fill a zip-top plastic bag with the filling and snip off the corner of the bag to pipe the spicy egg filling.
How To Store Spicy Deviled Eggs
Refrigerate/Leftovers
Spicy deviled eggs can be stored for up to 4 days in the refrigerator. They should be stored in a single layer in an airtight container or zip-top bag.
You can also store the egg whites and yolk mixture separately in the refrigerator and assemble the eggs when you're ready to serve them.
Freeze
We do not recommend freezing deviled eggs.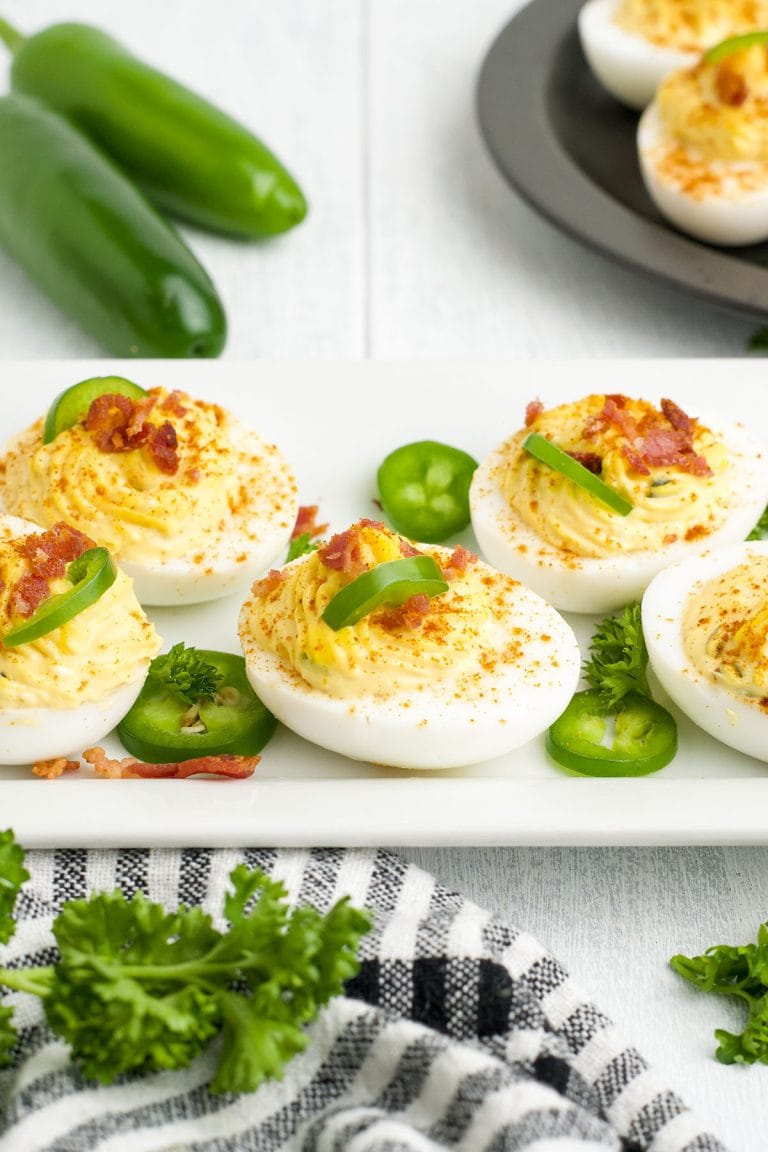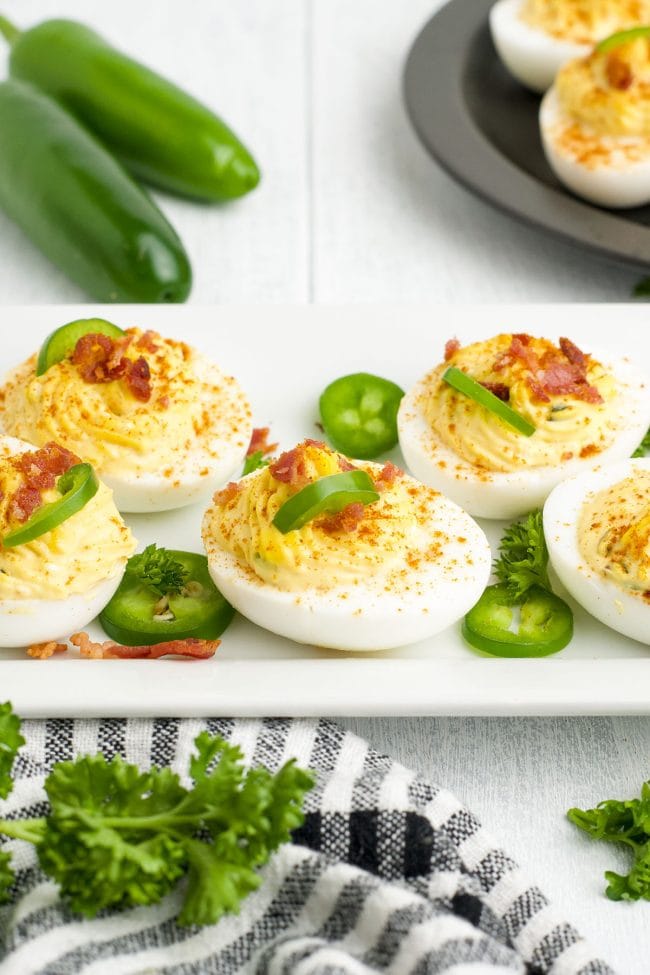 Spicy Deviled Eggs FAQs
What's the secret to perfect deviled eggs?
One trick for perfect deviled eggs is to turn the carton of eggs over in the fridge the night before so that the yolk is in the exact center when you boil them.
Should deviled eggs be medium-boiled or hard-boiled?
Deviled eggs should always be hard-boiled but be sure to not overcook them. That will help avoid discoloration of the yolk.
Should you make deviled eggs ahead of time?
You can make these spicy deviled eggs up to two days ahead of time but it's helpful to keep the filling and the egg whites separate until serving.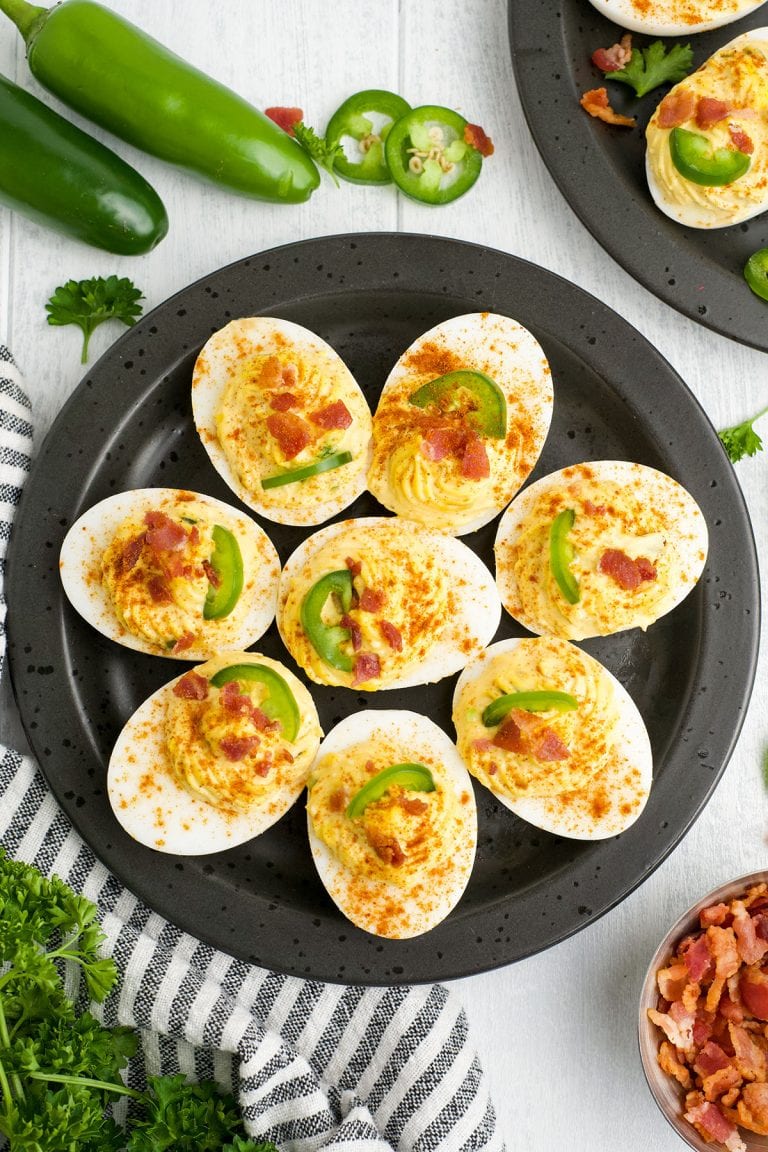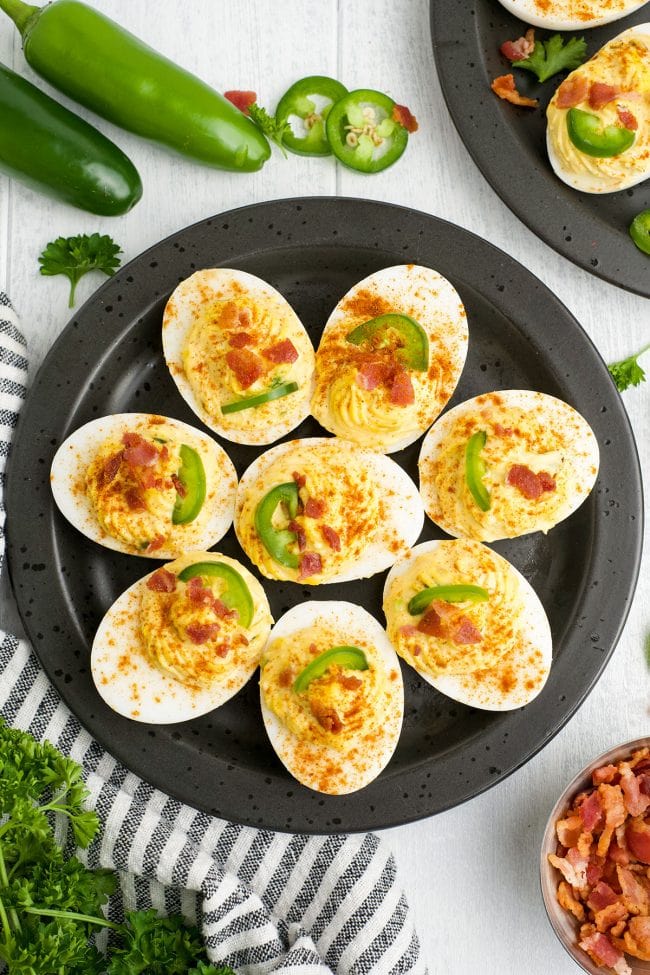 Variations on this Spicy Deviled Egg Recipe
Eggs are a perfect canvas for creativity. You can switch these up by swapping or adding any number of ingredients.
Mayo substitutes – For a slight touch of tanginess, try substituting sour cream or Greek yogurt for some or all of the mayonnaise. You can also use avocado mayo for a healthy twist.
Garnishes – In addition to, or instead of, bacon, try topping the eggs with diced jalapenos, sliced green onion, herbs like fresh dill, or blue cheese crumbles. A sprinkle of paprika is a classic topper, too — use standard paprika, sweet paprika, or smoked paprika.
Vinegar – Add just a small splash of vinegar to the yolk mixture to impart some acidity.
Mustard – Swap some or all of the regular yellow mustard for dijon mustard.
Heat – You can adjust the spiciness of the deviled eggs with bacon by increasing or decreasing the cayenne powder, hot sauce, and jalapenos. You can also add a little spice, or change the flavor profile, by using spicier peppers, chili powder, or crushed red pepper flakes.
Seasonings – Use other spices and seasonings from your pantry like garlic powder, onion powder, or even taco seasoning.
Serving Suggestions
Appetizer – Whether you're hosting a casual cookout, a game day gathering, or a dinner party, deviled eggs with hot sauce are a classic snack that works well as a starter or alongside other small plates.
Breakfast – Eggs are a go-to in the morning. Kick off your next weekend breakfast or brunch with these spicy eggs.
Snack – Pack these in lunchboxes for a protein-packed afternoon snack or as a side to go with your sandwich.
Like This Recipe? Pin It!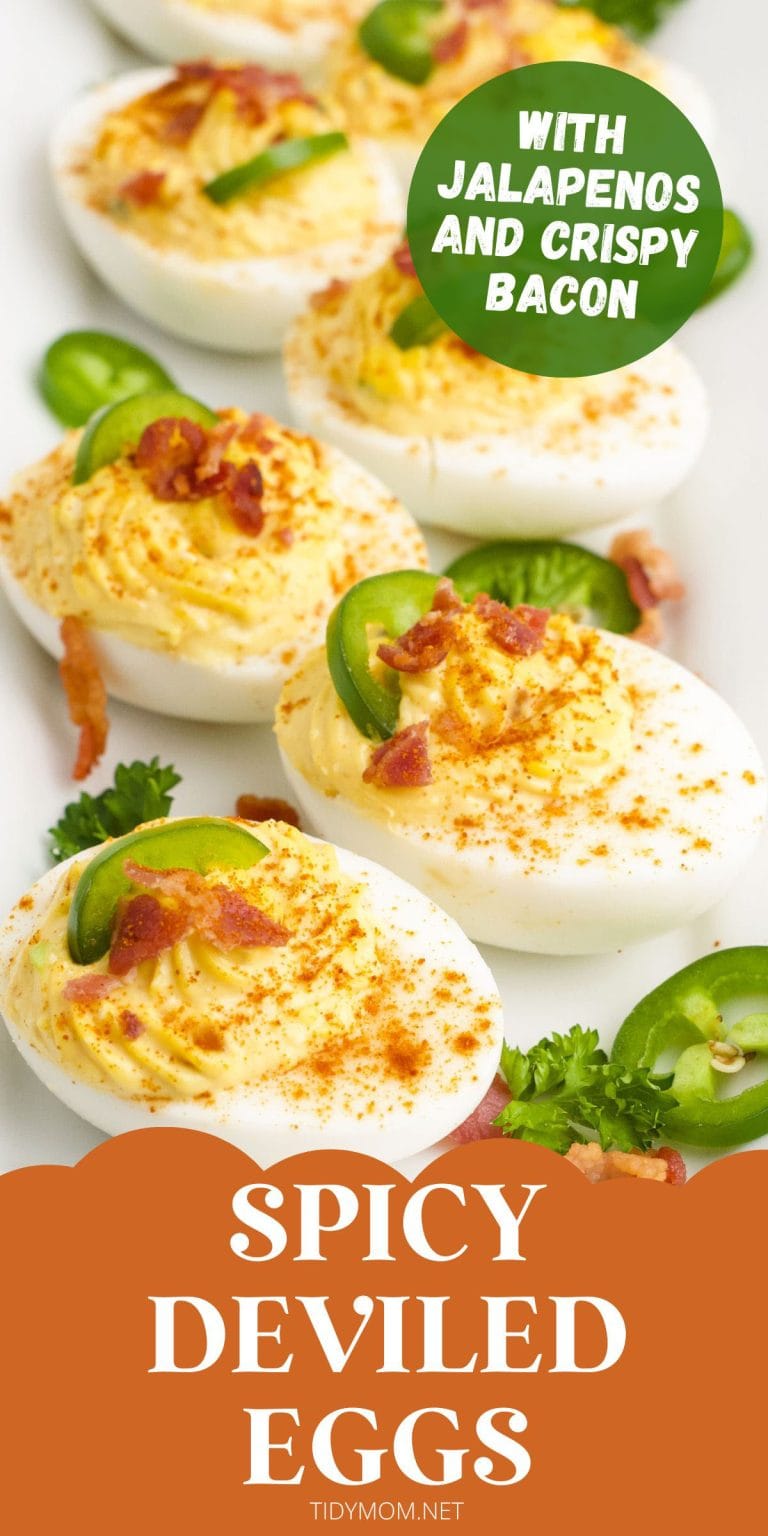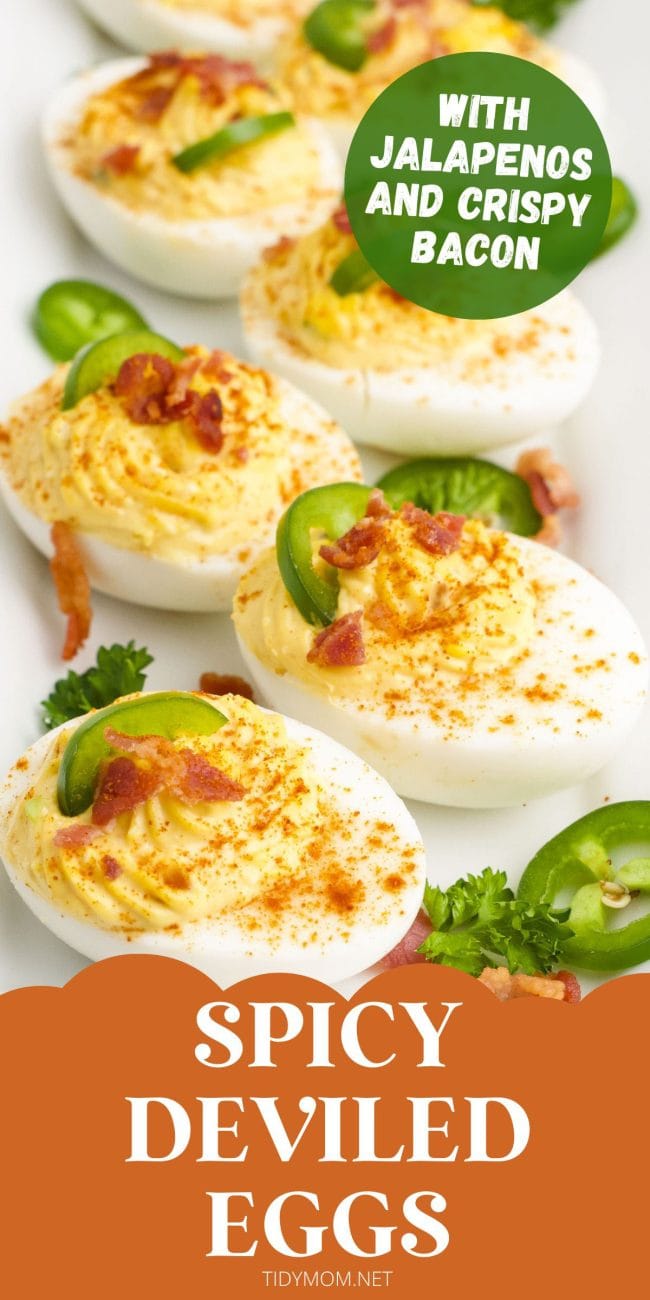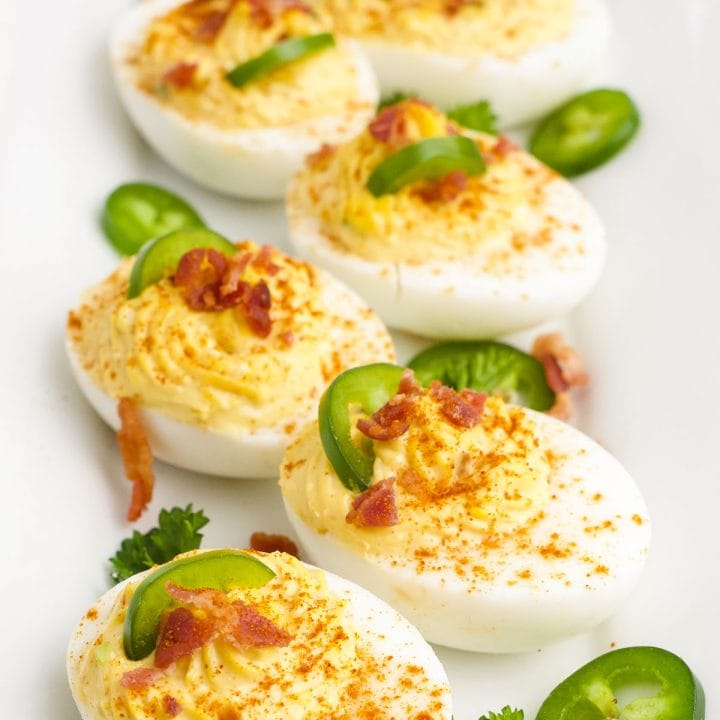 Spicy Deviled Eggs
Yield: 12 deviled eggs
Prep Time: 10 minutes
Cook Time: 11 minutes
Total Time: 21 minutes
Spicy deviled eggs are a fun twist on the original classic. Take the creamy filling and mix it with cayenne, hot sauce, and spicy jalapeno and then balance it all out with cream cheese and crispy bacon.
Ingredients
6 large eggs
3 slices of bacon, finely chopped
2 Jalapeno peppers, finely chopped
1 garlic clove, finely minced
2 ounces cream cheese, softened
4 Tablespoons mayonnaise
2 teaspoons yellow mustard
1 teaspoon hot sauce
¼ teaspoon cayenne pepper
¼ teaspoon salt
Instructions
Fill the bottom of a pan with about 1-2 inches worth of water. (Just enough to steam the eggs) Bring the water to a boil.
Once the water is boiling, gently lower the eggs into the water or place in a steaming basket. Cover the pan with a lid.
Lower the temperature to a gentle simmer and cook the eggs for 11 minutes.
Remove the eggs from the water, test one. Shock the eggs in an ice bath. Let them cool completely before peeling.
Peel eggs, slice in half and remove yolks from the whites. Set aside.
In a small skillet, cook the bacon over medium heat until crispy and cooked through. Remove from the pan with a slotted spoon and set aside.
Add the jalapeno to the pan and cook for 1 minute. Add garlic and cook for one additional minute. Remove the jalapeno and garlic with a slotted spoon and set aside.
In a large bowl, use an electric mixer on medium low speed to mix together the yolks, jalapeno mixture, cream cheese, mayonnaise, mustard, hot sauce, cayenne and salt. Mix until fully incorporated.
Use a piping bag, or spoon to fill each egg white half with filling. Top with bacon crumbles and additional garnishes if desired. Serve warm or chilled.
Notes
Cooking the jalapeno and garlic in bacon fat adds extra flavor, don't drain the fat!
Adjust the heat on these spicy deviled eggs by increasing or decreasing the jalapeno, but most importantly the cayenne pepper.
Garnish ideas: extra cayenne, sliced or diced jalapeno peppers, fresh herbs, and extra crumbled bacon.
Storage:
Spicy deviled eggs can be stored in the refrigerator for up to 4 days. They should be stored in a single layer in an airtight container or zip-top bag.
You can also store the egg whites and yolk mixture separately in the refrigerator and assemble the eggs when ready to serve them.
Nutrition Information:
Yield: 12
Serving Size: 1
Amount Per Serving:
Calories: 99
Total Fat: 9g
Saturated Fat: 3g
Trans Fat: 0g
Unsaturated Fat: 5g
Cholesterol: 103mg
Sodium: 182mg
Carbohydrates: 1g
Fiber: 0g
Sugar: 0g
Protein: 5g
Nutrition information is estimated based on the ingredients and cooking instructions as described in each recipe and is intended to be used for informational purposes only. Please note that nutrition details may vary based on methods of preparation, origin, and freshness of ingredients used and are just estimates. We encourage, especially if these numbers are important to you, to calculate these on your own for most accurate results.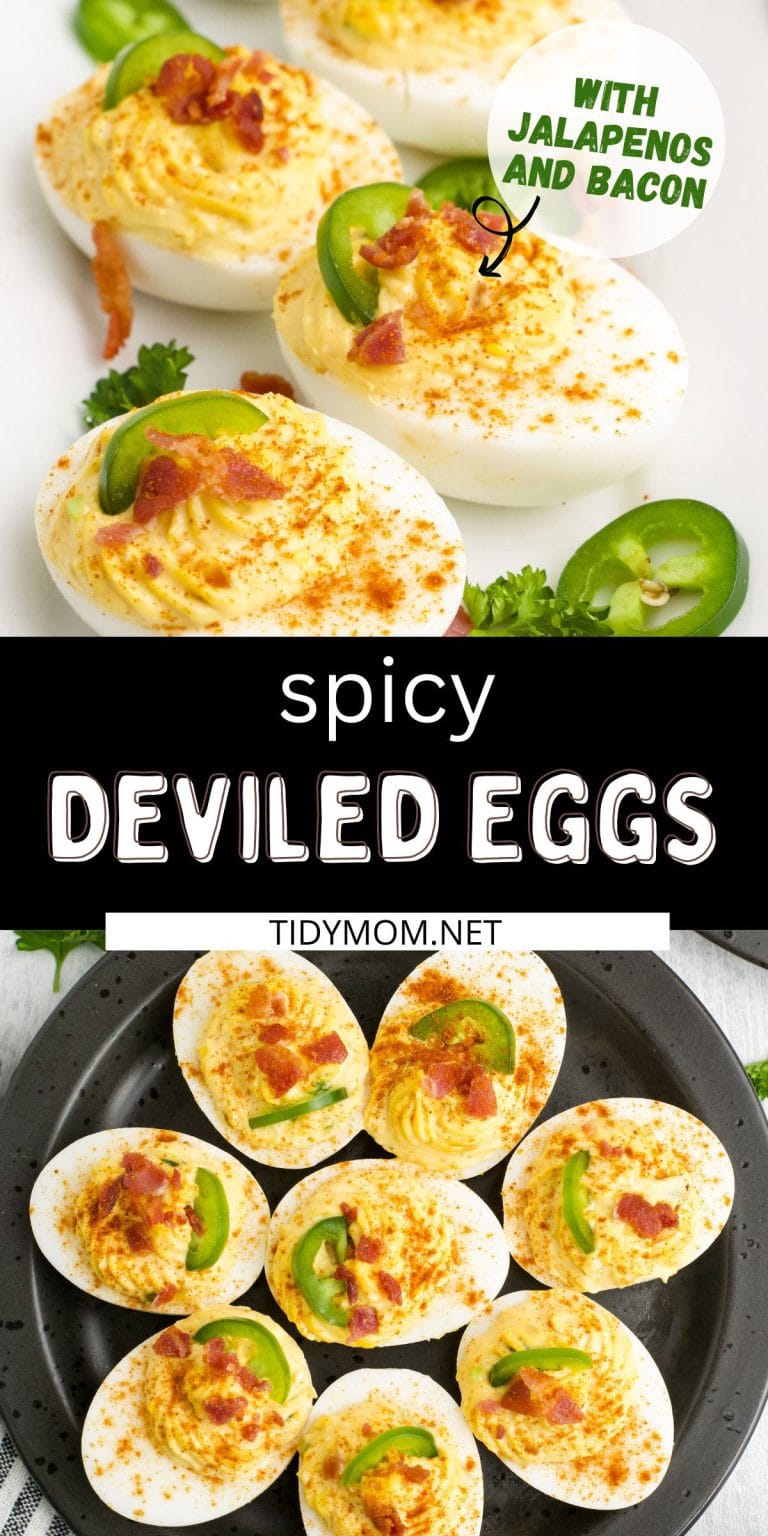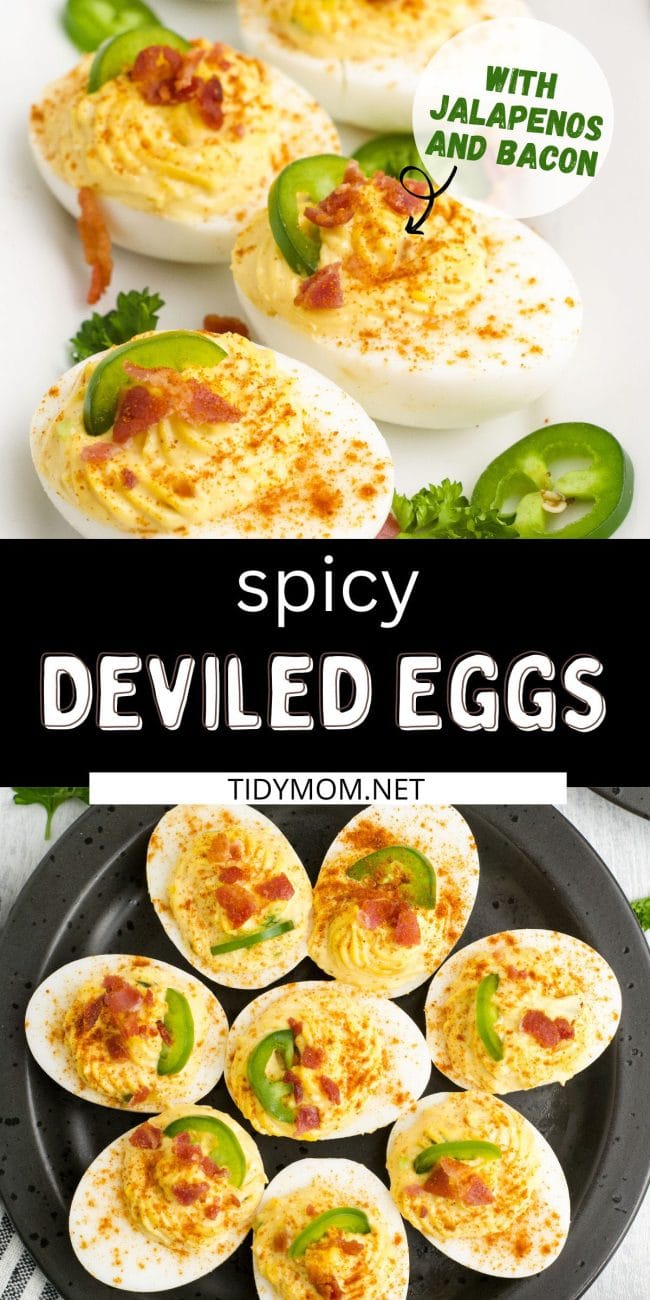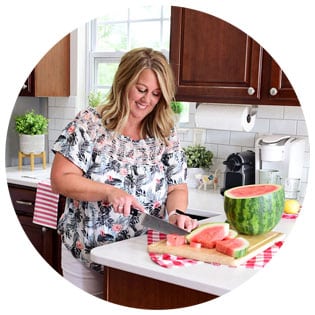 Hi there, I'm Cheryl!
As a wife, mom, and caffeine enthusiast, my journey has taken me from bustling mornings with my family to sharing delicious recipes, home care tips, and heartfelt decorating insights with wonderful readers like you. My love for baking, photography, and tidiness shines through every post I craft. Dive into my world and discover the art of homemaking, one tidy moment at a time. Read more...
Tidymom is a participant in the amazon services llc associates program, an affiliate advertising program designed to provide a means for sites to earn advertising fees by advertising and linking to Amazon.com.
Please respect my work, recipes and photographs. If you do use a recipe in your own writing, please give proper credit and link back to the original post.