Spicy Coconut & Lime Grilled Shrimp Scampi
This simple and delicious Spicy Coconut & Lime Grilled Shrimp Scampi recipe blends coconut and lime while adding a touch of spice with Sriracha sauce to scrimp scampi.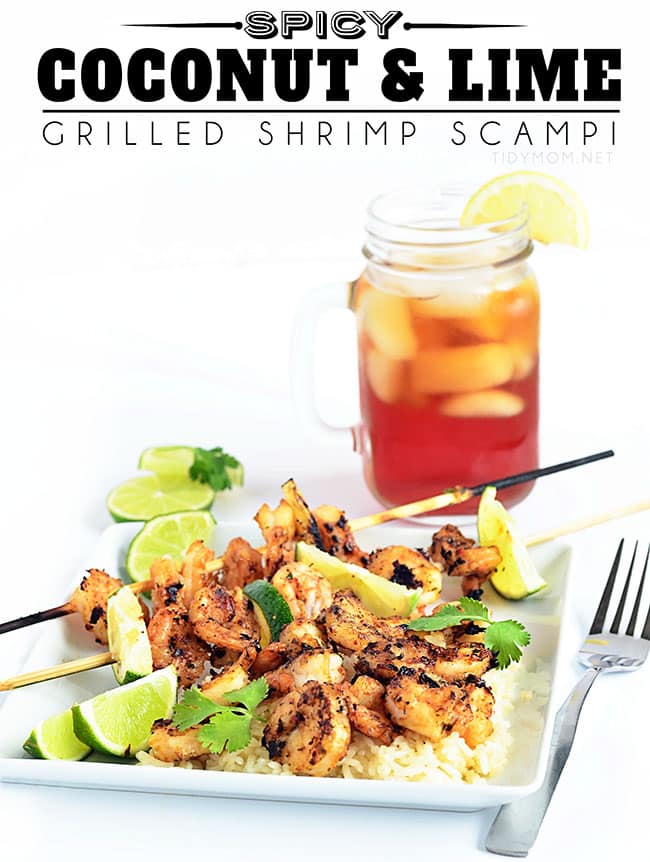 Now that summer in full swing for most of us,  let's keep the cookin' easy. It's far too nice out to be standing over a stove.  We love to grill all year long, but now that the weather is warmer, we've been grilling almost every night. The excitement of eating al fresco and doing most of the cooking outside is always an added bonus!
A favorite summer dish is a simple main course like this Spicy Coconut Lime Grilled Shrimp Scampi. Might sound complicated – but it's beyond delish!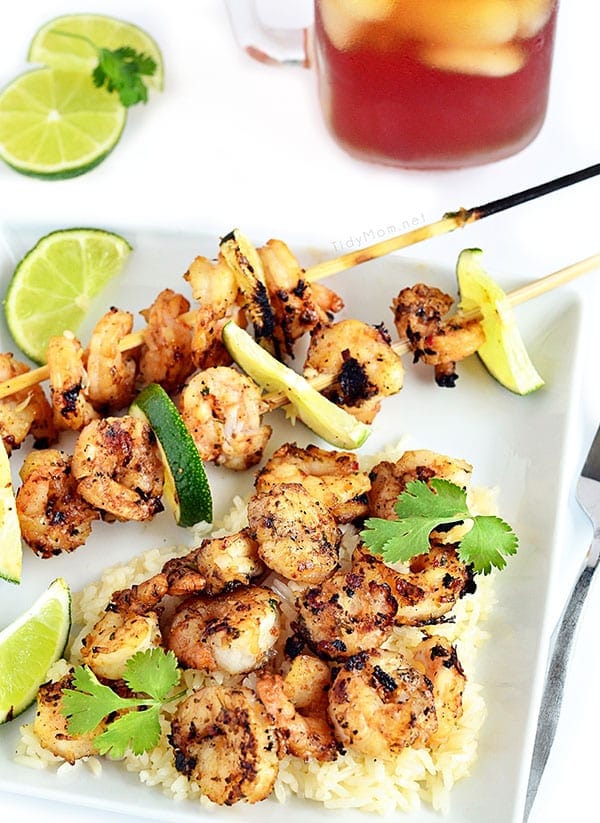 Grilling shrimp intensifies their sweet flavor making them oh so succulent and tender.  This grilled shrimp recipe is a total winner. And it can be made in under 15 minutes (after marinating a few hours).
The people at Seakpak sent me some of their shrimp scampi and wanted to know how I would use it to #CoastIntoSummer.  I knew right away it would involve grilling!  The frozen shrimp scampi made it really easy! This whole shrimp already has the tail-off  in a delicious butter and garlic sauce!
All I did was, whip up a marinate that blends coconut and lime with a touch of spice using Sriracha sauce (you can add as little or as much as you want according to your tolerance to hot), tossed it in a resealable bag with the shrimp while it thawed. When we were ready to grill, I simply placed them on skewers and put them on the hot grill until they were cooked through (about 2-3 minutes on each side) and served over rice (or you could do pasta like shrimp scampi is usually served) ………we cleared these skewers in record time !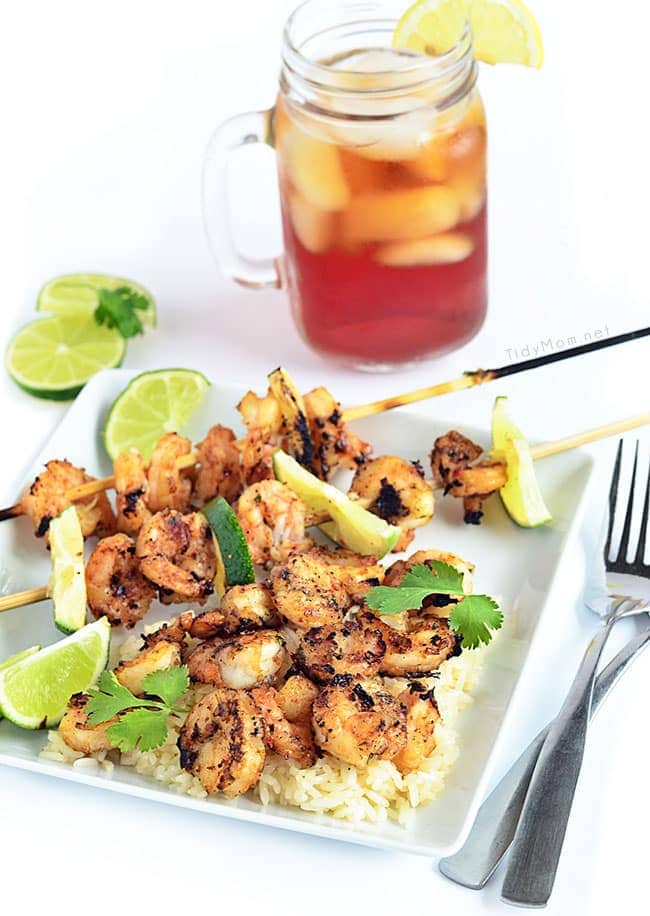 These would also make a fabulous appetizer, 2 skewers would be a perfect starter to any party!  They were delicious with a little lime squeezed over them!
Easy. Simple. Delicious. And when I served these a few weeks ago, it was a definite "winner", everyone wanted to know when we were having them again! Check out the recipe below.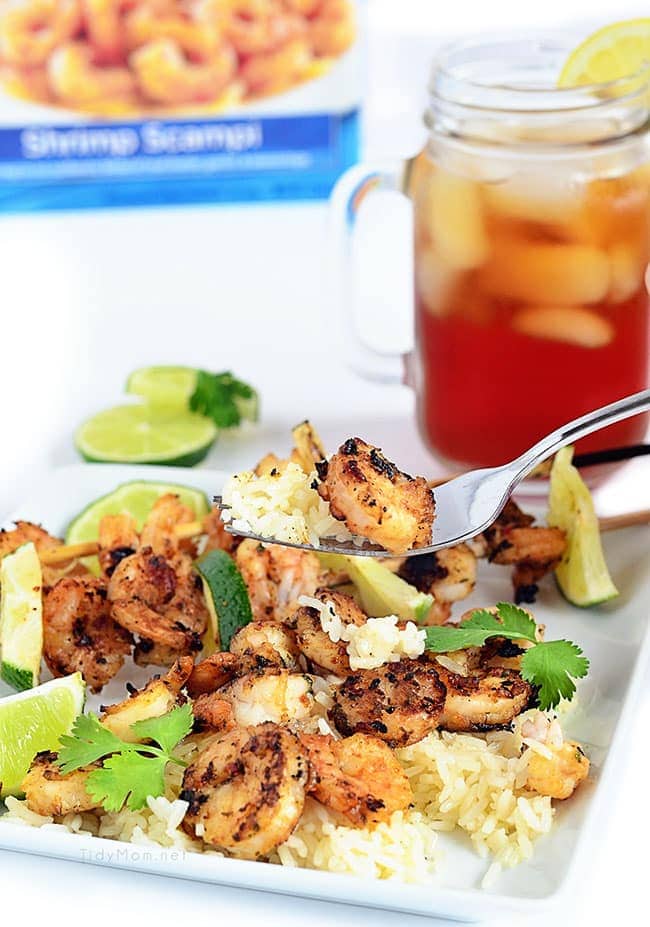 Let's Make Spicy Coconut Lime Grilled Shrimp Scampi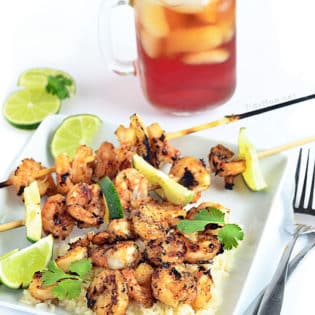 Spicy Coconut & Lime Grilled Shrimp Scampi
Frozen shrimp scampi marinated in a blend of coconut and lime adding a touch of spice with sriracha sauce grilled to perfection!
Ingredients:
2 (12-ounce boxes) Seapak Shrimp Scampi, frozen
1 lime, zested and juiced
1/3 cup fresh cilantro
1/3 cup shredded coconut
1-2 tablespoons Sriracha Sauce (adjust to your tolerance)
1/4 cup coconut milk
2 tablespoons olive oil
1/4 cup soy sauce
skewers
Directions:
Place shrimp in 1-gallon re-sealable plastic bag and set aside.
Using a glass bowl, whisk all other ingredients to combine.
Pour marinade over shrimp and seal in the bag.
Allow to marinate at least 2 hours turning bag occasionally to ensure even marinating. (I left mine on the counter, but if you are not going to cook for several hours, you can do this in the refrigerator).
Soak bamboo skewers in water while shrimp marinates.
Brush grill lightly with vegetable oil, or no-stick spray. Thread shrimp onto skewers, piercing each shrimp near the head and tail.
Cook the skewers on a preheated grill (medium-hot), turning frequently until nicely browned on all sides and meat is no longer pink (2-3 minutes per side)
Serve immediately over pasta or rice.
Making this recipe? Share it with us on Instagram using the hashtag #TidyMom so we can see what you're creating in the kitchen!
Want more great recipes like this? Follow my TidyMom Easy Recipes Pinterest Board
UPDATE: Giveaway has ended. Winner announced in widget below  To celebrate summer Seapak would live to give one lucky TidyMom reader a $100 Gift Card to #CoastIntoSummer.  How do you celebrate the onset of summer?! To Enter:  Simply complete the steps in the giveaway widget below. *This giveaway is being administered by Seapak, not TidyMom.  By entering this giveaway, you are releasing your information to Seapak. a Rafflecopter giveaway
Like this Spicy Coconut Lime Grilled Shrimp Scampi recipe? Pin it!

Disclaimer:  I have a working relationship with Seapak.  This post and giveaway are  brought to you by SeaPak as part of the Coast Into Summer campaign.  All opinions, views and love of shrimp, are all my own.