Best Cinnamon Swirl Quick Bread Recipe + VIDEO
With one sniff, this Cinnamon Swirl Bread recipe will have the whole family making a beeline to the kitchen. Warm golden cinnamon quick bread, ribboned with cinnamon sugar, and a crunchy cinnamon sugar crust, fresh out of the oven, will make everyone's day!
We love cinnamon spice in all kinds of recipes. If you're looking for other cinnamon-inspired recipes, I've got you! Amazing Cinnamon Roll Peach Cobbler, easy Cinnamon Raisin Drop Biscuits, outstanding Snickerdoodle Granola, unbelievable Red Velvet Cake w/Cinnamon Butter Cream Icing, and everyone's favorite Cinnamon Sugar Donut Muffins.
Be sure to sign up for my email… to get new recipes and ideas in your inbox!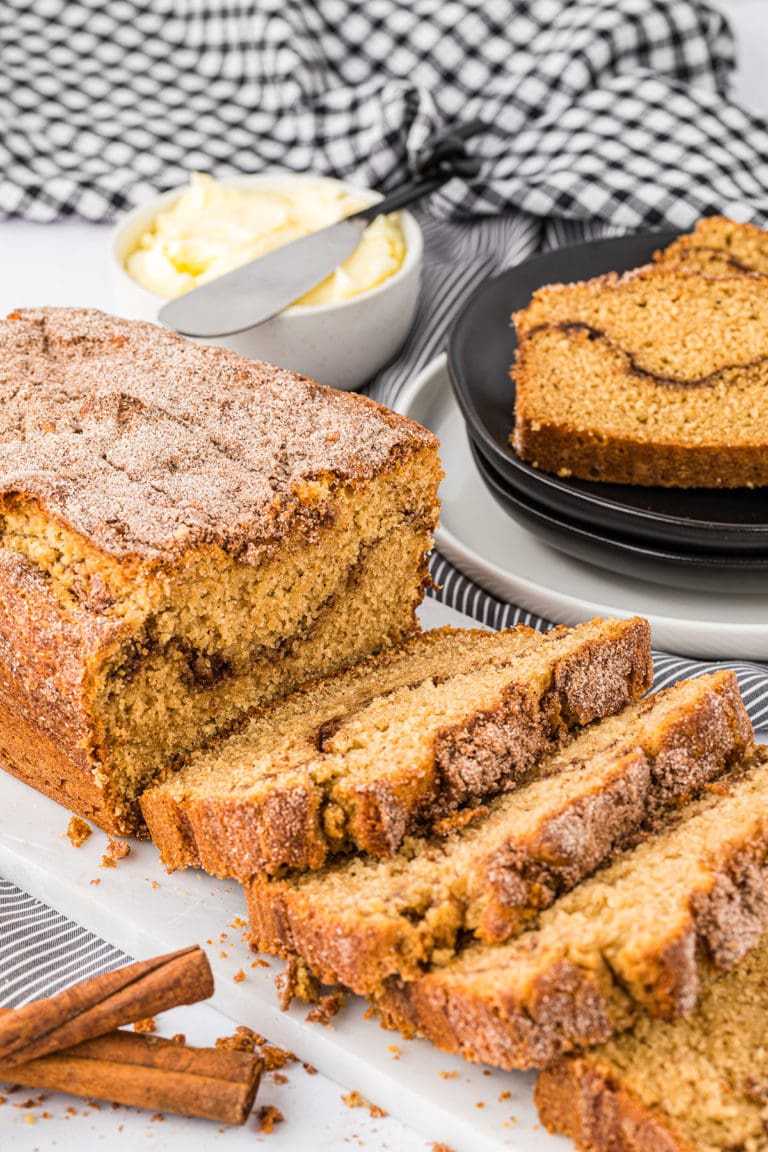 11 Reasons to Love Easy Cinnamon Swirl Quick Bread!
Quick breads are just that, quick! There's no dough to wait, raise, or knead with an easy cinnamon bread recipe. Just dump ingredients into a bowl, mix, and bake. Enjoy a warm, golden, aromatic cinnamon swirl loaf in less than an hour. (Yes, you have to share!)
Moist, cinnamony goodness
Easy to make, easy to bake
No fuss ingredients
Only five minutes of prep time
No yeast = zero wait time
Perfect make-ahead & freeze
Great for a grab-n-go treat
Delicious idea for gifting
Transports really well
Excellent for fundraisers
Wonderful afternoon pick-me-up!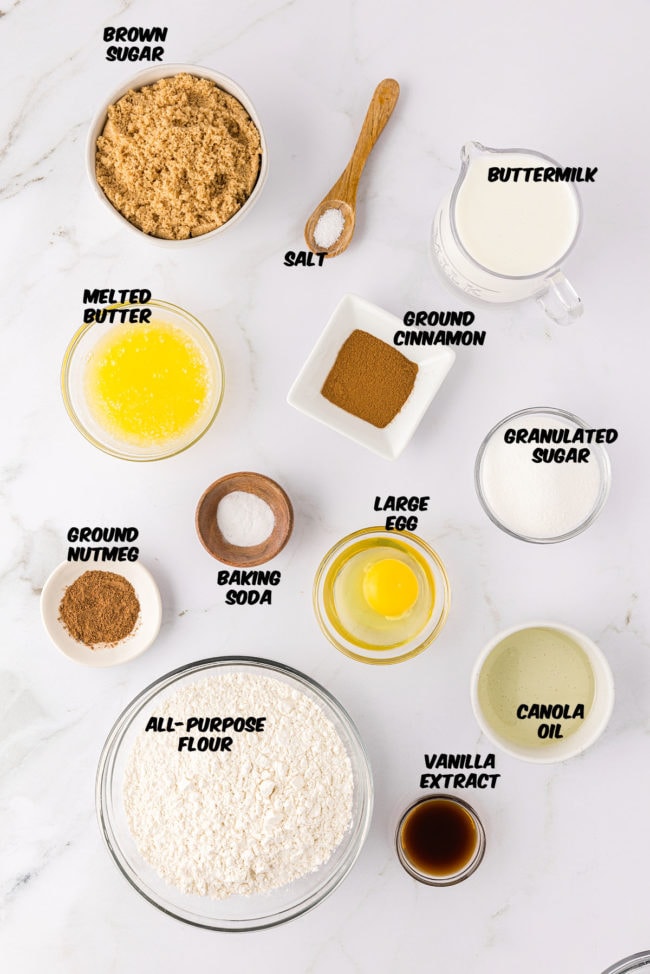 Ingredients For Your Cinnamon Quick Bread Recipe
There's nothing quite so convenient as a cinnamon swirl quick bread recipe when you need a deliciously moist and tasty baked treat on the fly. You're all set with a winning combination of cinnamon sugar swirl and nothing but pantry staples. You could even whip one up right now, and it'll be out of the oven in less than an hour! What are you waiting for?!
For specific amounts, please refer to the printable recipe card at the bottom of the post.
Cinnamon Sugar Swirl & Cinnamon Crust Mix:
White Granulated Sugar
Cinnamon
Wet Ingredients:
Unsalted Butter – melted but not hot.
Large Egg – room temperature.
Light Brown Sugar – packed. It really adds to that old-fashioned, homey comfort taste.
Canola Oil – or any neutral-flavored vegetable oil you have on hand.
Vanilla Extract – soft sweet notes play up the depth of the cinnamon. Try making your own homemade vanilla extract!
Buttermilk*– a creamy, tangy, and essential liquid ingredient to activate the baking soda's leavening action.
Dry Ingredients:
All-Purpose Flour – use the fluff, spoon, and level method to measure the flour when not using a kitchen scale.
Ground Nutmeg – is a warm, nutty spice with a hint of cloves that enhance the woody notes of cinnamon.
Baking Soda – check your baking soda expiration date for freshness.*
Pinch Salt
*Baker's Note: to test baking soda, place a few tablespoons of vinegar in a small dish and stir in about a teaspoon of baking soda. The mixture should immediately begin to fizz if the baking soda is still active; if there's little to no reaction, it's time to replace it.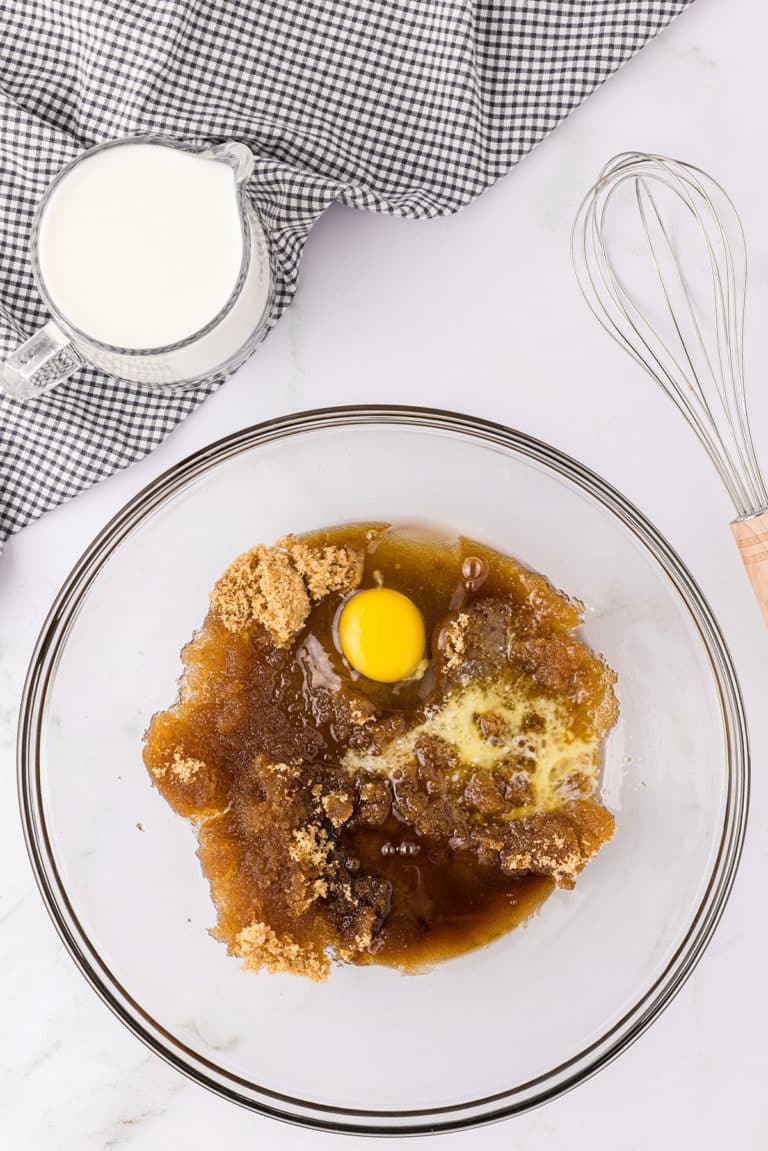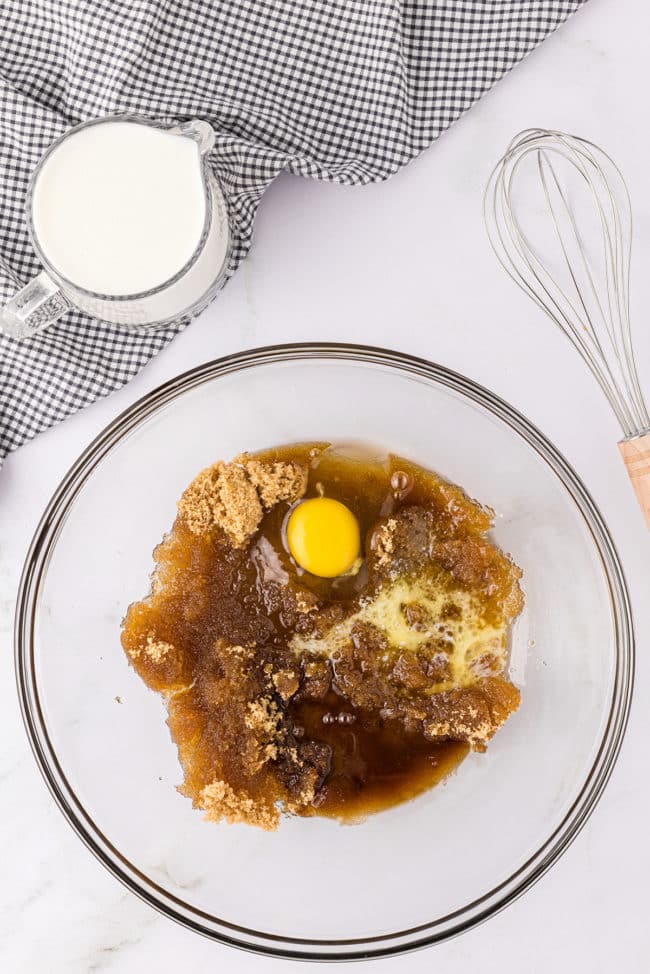 This post may contain affiliate links. Please read my disclosure policy here.
How To Make A Cinnamon Sugar Swirl Bread
A quick bread recipe is so easy to make! This cinnamon bread comes together in 5 minutes with a bowl, a wire whisk, and a 9" x5" loaf pan for the quick bread batter and cinnamon sugar layers. Oh, and try not to be tortured by the mouth-watering aromas wafting from your kitchen!
When you are baking, you'll want to use the full recipe at the bottom of the page.
Make the cinnamon sugar swirl and crust mixture, and set aside.
Separately whisk the wet ingredients until everything is well incorporated.
Stir in the remaining dry ingredients only until the mixture is moist. (Sans the cinnamon sugar mixture.) *Do not over-mix the cinnamon bread batter should be lumpy.
Layer half of the quick bread batter into the prepared pan, sprinkle with cinnamon sugar, and repeat.
Bake in preheated oven.
Allow the cinnamon swirl bread to cool for 20 minutes, then transfer it to a wire rack to cool completely.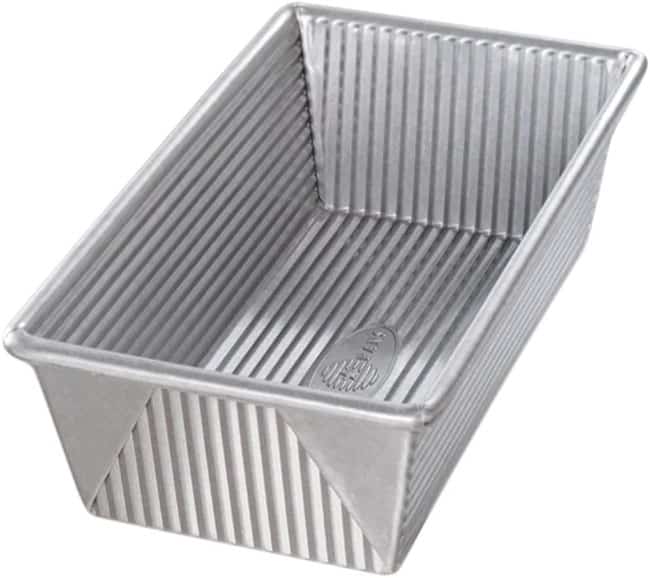 Featured Product Aluminized Steel 1.25 Lb Loaf Pan
Corrugated surface facilitates air circulation for evenly baked goods and quick release. Measures 9x5x2.75-inches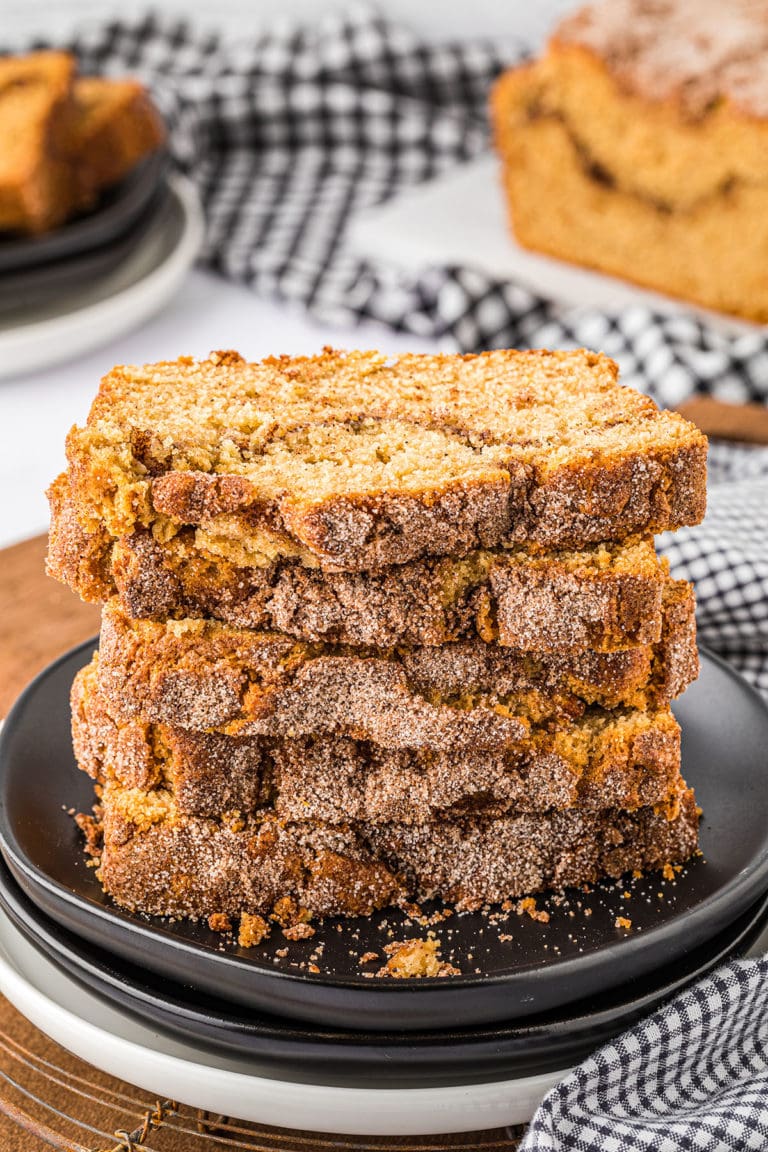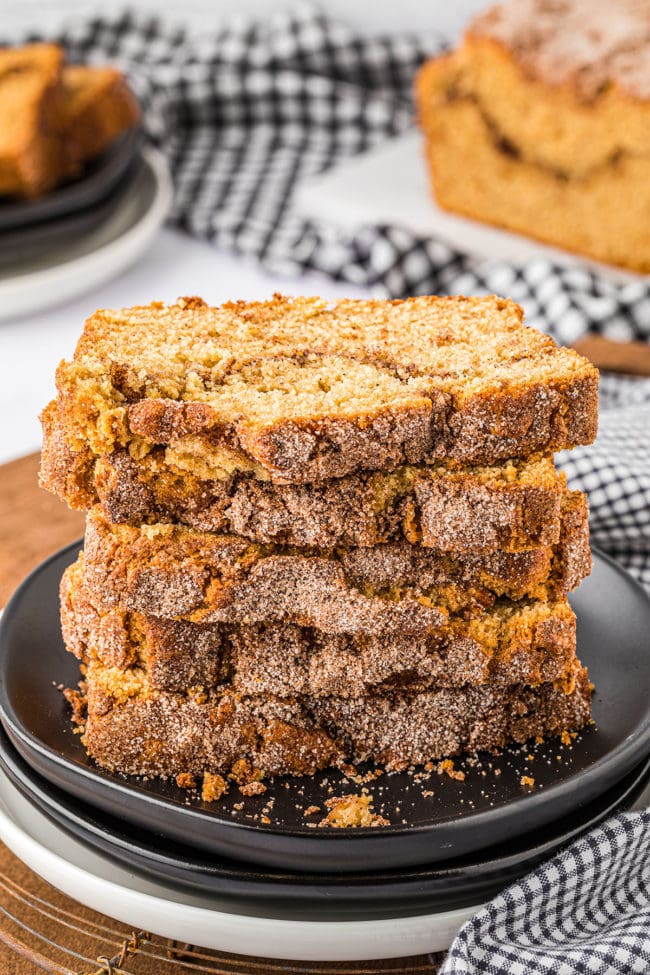 Recipe Notes & Tips
Cinnamon quick bread is the definition of "quick." Here are a few tips to help ensure the ease of this easy bread recipe without yeast leavening:
If you don't have buttermilk, add 2 tablespoons white vinegar or lemon juice to a measuring cup and enough milk to fill the 1 cup line. Stir and rest for 5-10 minutes until milk starts to curdle.
Be sure the cinnamon swirl bread is completely cool before wrapping it to avoid steam/condensation. This keeps the cinnamon crust nice and crispy.
Only mix quick bread batter until just moistened (no more than 10 seconds). Overmixed sweet bread batter will result in a dense, rubbery loaf.
Bringing all the cold ingredients to room temperature also helps avoid over-mixing. Colder ingredients can cause extra "clumping" even when lumps are expected. Smoosh that instinct to blend until the batter is "smooth."
Frequently Asked Questions
Why is it called "quick bread?"
The term "quick bread" indicates to cooks that the recipe uses baking soda or baking powder as a leavening agent, not yeast. Yeast is a colony of fungi that produces CO2 after interacting with water and sugar, which can take hours. This quick bread recipe uses baking soda activated instantaneously by a liquid acid. There you have it. No yeast in the bread recipe makes it "quick." Mix and bake!
What happens when you overmix a quick bread recipe?
When you overmix a quick bread recipe or any flour-based baked good that you want a light and airy crumb, you get the opposite. A dense, rubbery crumb. When liquids interact with the proteins in the flour, and the more they are manipulated, the more the gluten becomes elastic and pliable. (Elasticity is good for pizza dough, and why it can be "twirled.")
How do you keep a cinnamon sugar crust from getting soggy?
Um..eat it?! 🤓 In the meantime, if you want to keep a cinnamon sugar crust as crisp as possible for as long as possible, place a paper towel in the container or plastic storage bag. A cinnamon crust on a quick bread loaf can absorb the moisture released from the bread as it dries out (retrogradation). This is the natural process of starches releasing water, and the paper towel will absorb the moisture; the cinnamon crust can stay crusty longer.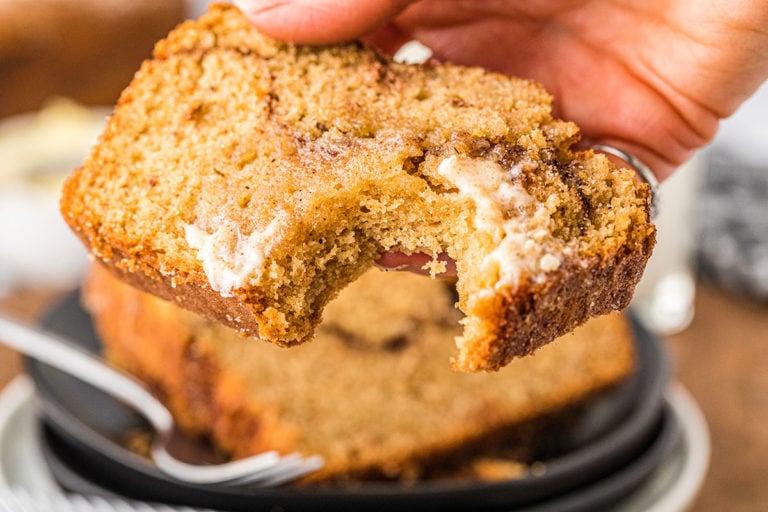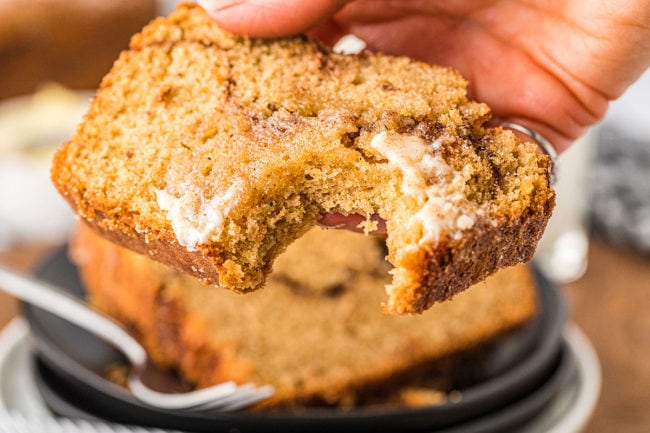 Storing Cinnamon Swirl Bread Loaf
Refrigerate/Leftovers
Store cinnamon bread in an airtight container for up to 5 days at room temperature
Refrigerate – Cinnamon swirl bread can be refrigerated if necessary, but the fridge tends to dry out baked goods. Make sure it is well-wrapped!
Freeze
I recommend wrapping any quick bread in aluminum foil and putting it in a vacuum or freezer ziptop bag. This will keep the cinnamon swirl quick bread fresh tasting for up to 3 months.
Thaw – Put it in the fridge overnight, remove it, then let the cinnamon bread warm to room temperature.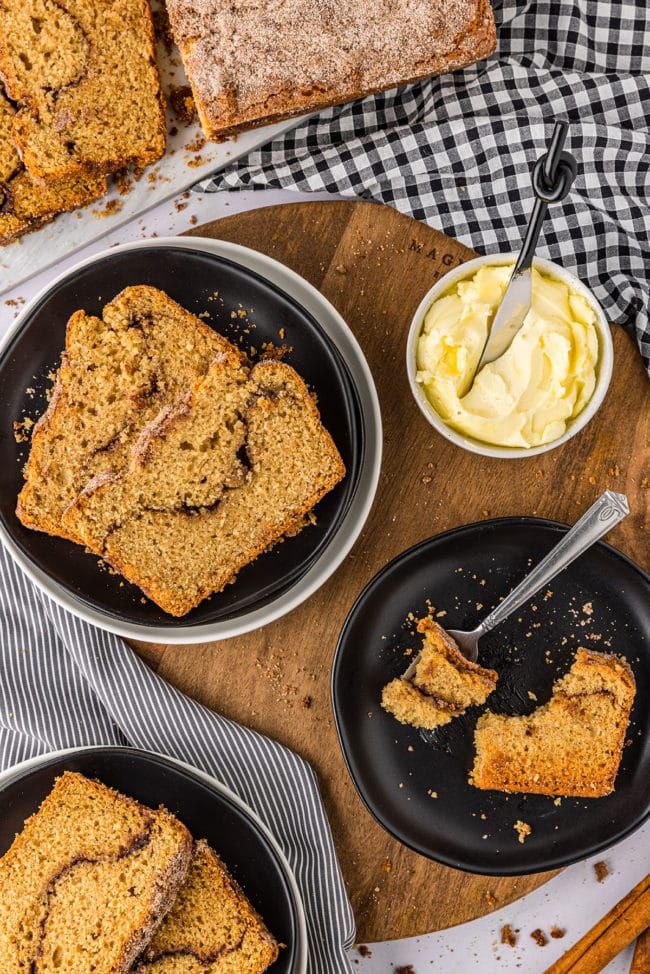 Cinnamon Swirl Bread Serving Suggestions
A loaf of homemade cinnamon bread is a welcomed gift to give to a new neighbor. Wrap up a loaf for your ladies' luncheon, a hostess gift or one to send a grieving friend. A loaf of moist delightful cinnamon bread is always loved.
Like This Recipe? Pin It!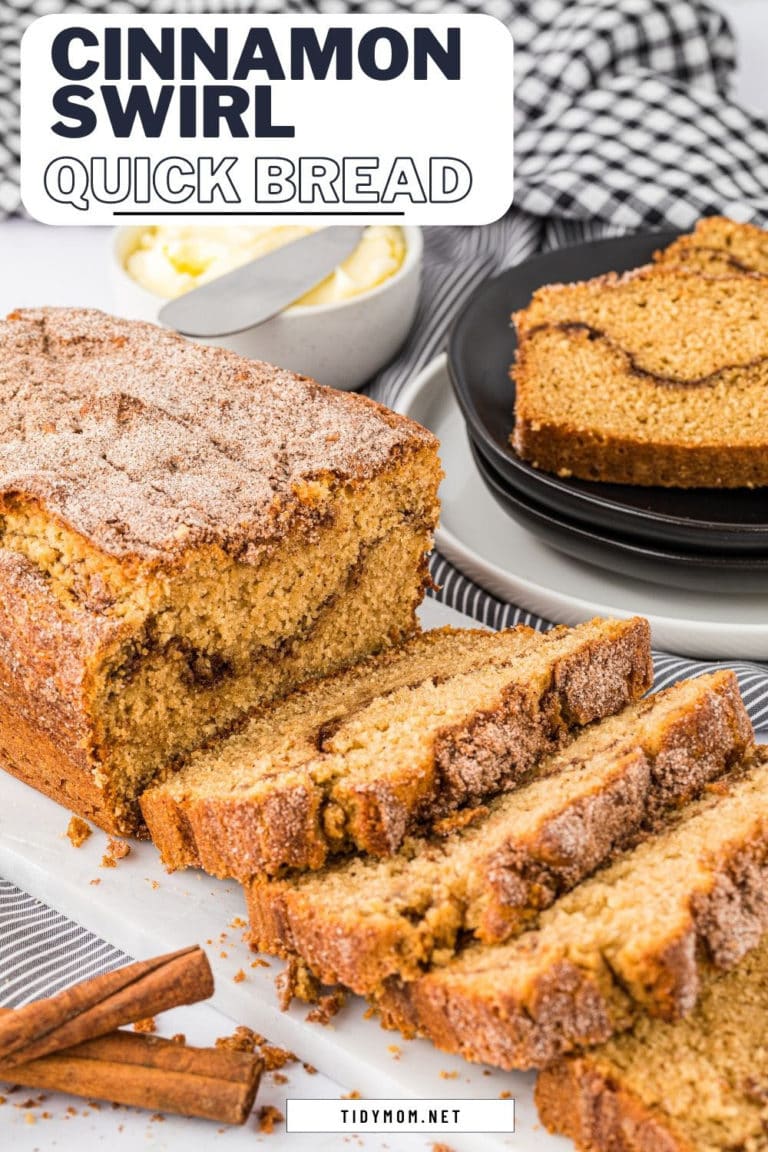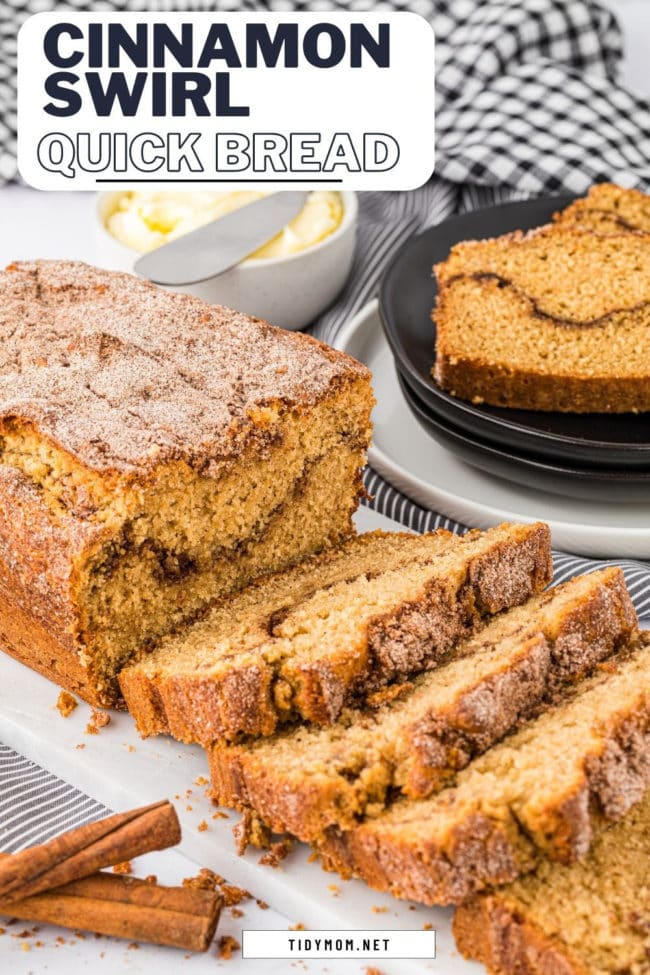 Originally posted in October 2009. UPDATED November 2018 and September 2023. We spiffed up this post with more information and 1 change to the recipe: I now use white chili beans in place of cannellini beans.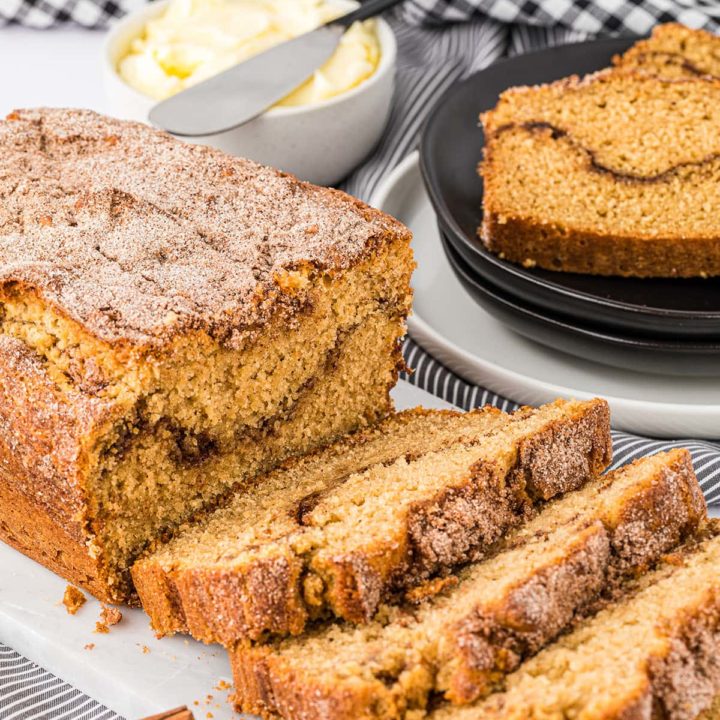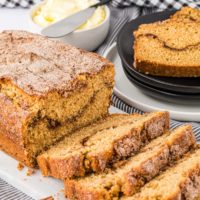 Cinnamon Swirl Bread with Cinnamon Sugar Crust
Yield: One 1.25 pound loaf (8-10 servings)
Prep Time: 5 minutes
Cook Time: 45 minutes
Total Time: 50 minutes
Easy quick bread recipe comes together in just 5 minutes. A Cinnamon Bread with Cinnamon Crust and Swirl Inside
Ingredients
⅓ cup granulated sugar
1 tablespoon cinnamon
¼ cup unsalted butter, melted
1 large egg, room temp
1 cup light brown sugar, packed
¼ cup canola oil
1 tablespoon vanilla extract
1 cup buttermilk*, room temp
2 cups all-purpose flour
1 teaspoon ground nutmeg
¾ teaspoon baking soda
pinch salt
Instructions
Combine granulated sugar and cinnamon in a small bowl, stir until well mixed and set aside.
Using a large mixing bowl, add melted butter, egg, brown sugar, oil, and vanilla, and whisk to combine. Add buttermilk and continue to whisk until all ingredients are well incorporated.
Add flour, nutmeg, baking soda, and salt to the wet ingredients stirring only until all ingredients are moist. Do not over-mix. The batter should be lumpy.
Pour 1/2 of the batter into the prepared pan. Sprinkle 3/4 of the cinnamon-sugar mixture over the batter. Pour the remaining batter on top and sprinkle generously with the remaining cinnamon sugar, to create the crust.
Bake in a preheated oven for 45-55 minutes, until a toothpick inserted in the center, comes out clean.
Let cool for 15-20 minutes. Remove from the pan, by inverting the pan over a towel or parchment paper. Cool completely on a wire rack before slicing.
Notes
*If you don't have buttermilk: simply add 2 tablespoons white vinegar or lemon juice to a measuring cup, and add milk to fill to the 1 cup line. Stir and then let sit for 5-10 minutes until milk starts to curdle.
Store bread in an airtight container at room temperature for up to 5 days, or maybe frozen for up to 3 months.
Nutrition Information:
Yield: 10
Serving Size: 1
Amount Per Serving:
Calories: 299
Total Fat: 11g
Saturated Fat: 4g
Trans Fat: 0g
Unsaturated Fat: 7g
Cholesterol: 32mg
Sodium: 168mg
Carbohydrates: 46g
Fiber: 1g
Sugar: 26g
Protein: 4g
Nutrition information is estimated based on the ingredients and cooking instructions as described in each recipe and is intended to be used for informational purposes only. Please note that nutrition details may vary based on methods of preparation, origin, and freshness of ingredients used and are just estimates. We encourage, especially if these numbers are important to you, to calculate these on your own for most accurate results.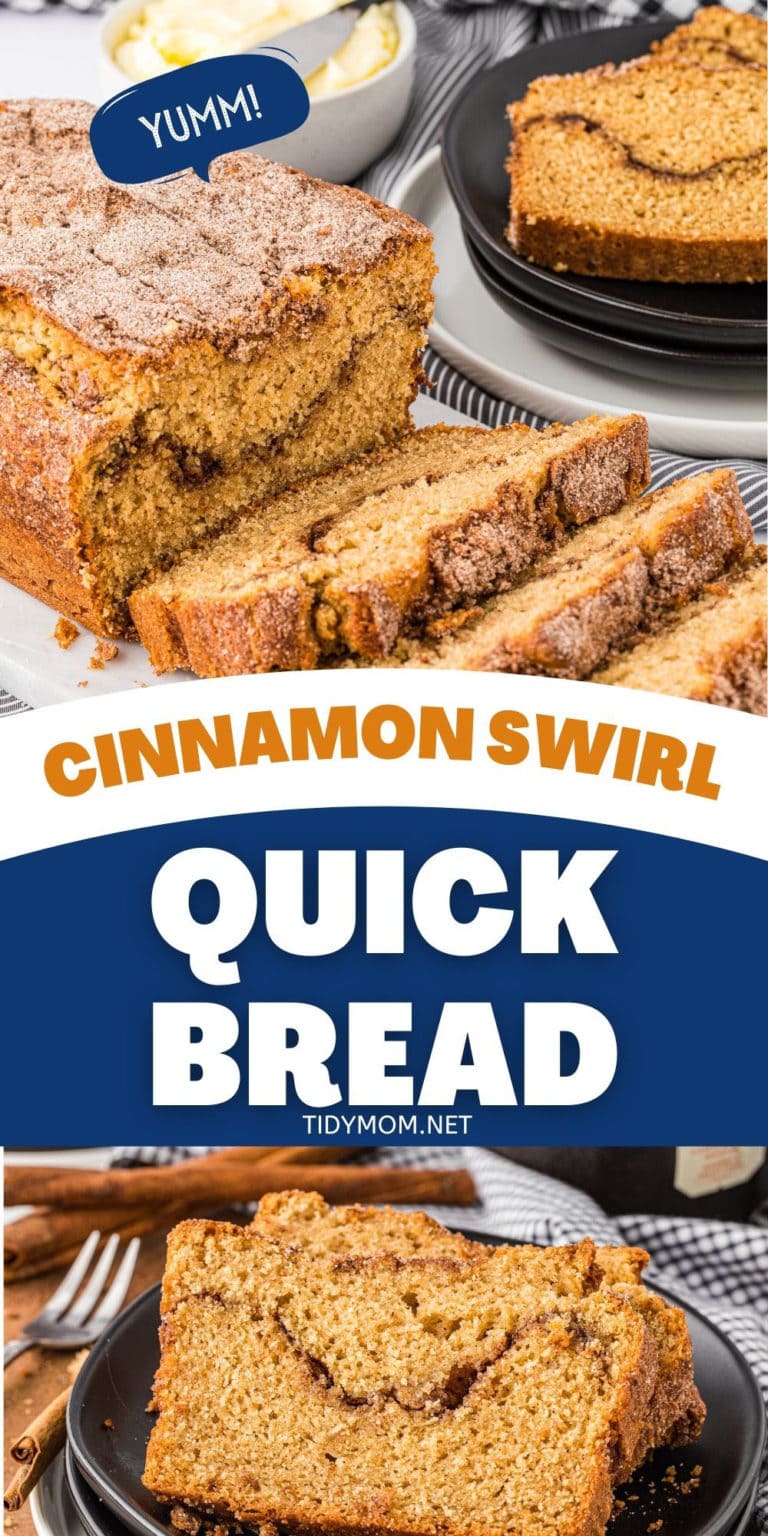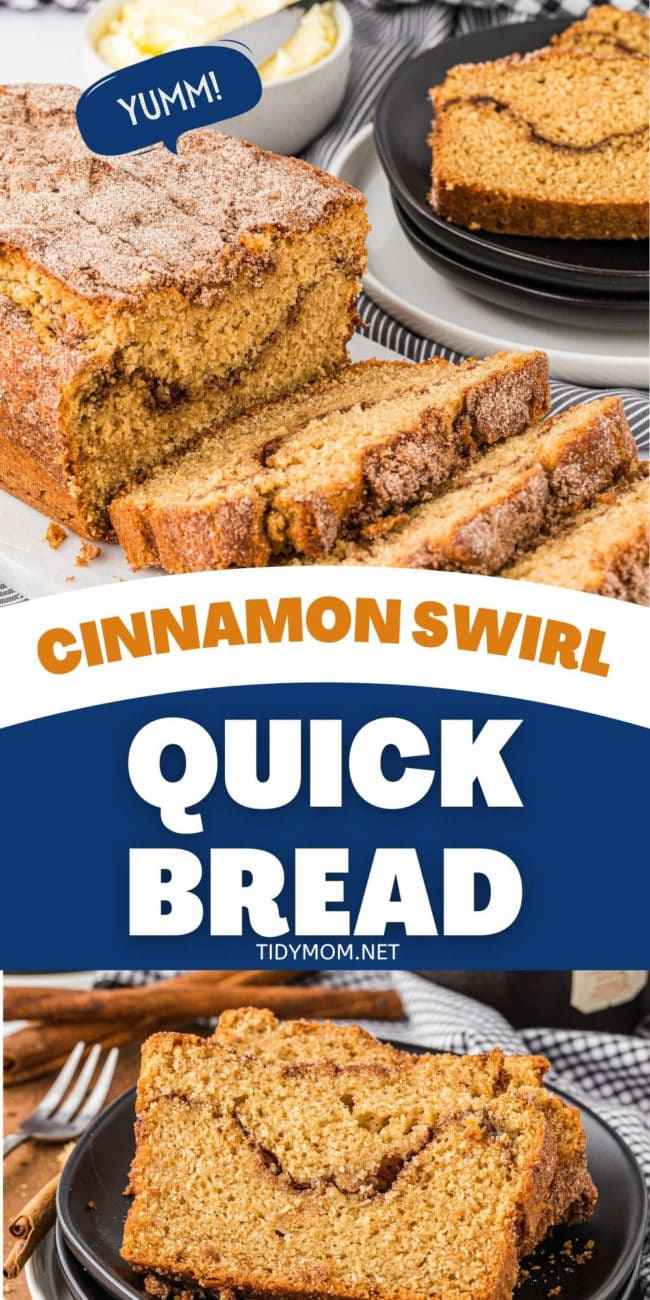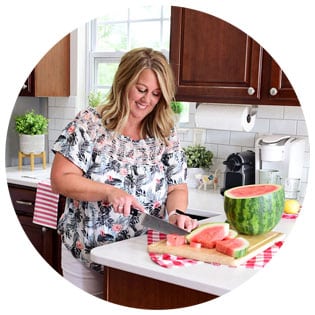 Hi there, I'm Cheryl!
As a wife, mom, and caffeine enthusiast, my journey has taken me from bustling mornings with my family to sharing delicious recipes, home care tips, and heartfelt decorating insights with wonderful readers like you. My love for baking, photography, and tidiness shines through every post I craft. Dive into my world and discover the art of homemaking, one tidy moment at a time. Read more...
Tidymom is a participant in the amazon services llc associates program, an affiliate advertising program designed to provide a means for sites to earn advertising fees by advertising and linking to Amazon.com.
Please respect my work, recipes and photographs. If you do use a recipe in your own writing, please give proper credit and link back to the original post.