Cinnamon and Sugar Doughnut Muffins
These Cinnamon and Sugar Doughnut Muffins are like a sweet hug from Grandma.  They have the flavor of a cake doughnut, with the ease of simply making muffins! Make mini muffins, and they're just like doughnut holes!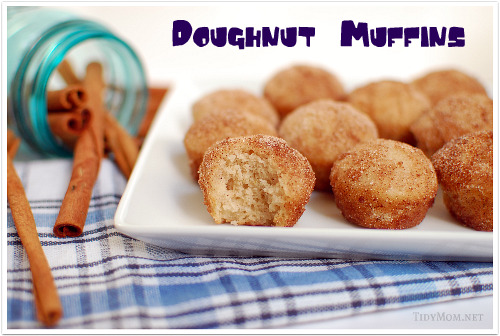 When I was little my dad had his own remodeling business, mainly finishing basements.  He would visit people's homes, usually in the evenings, to discuss their plans and to give them a bid.
If he would get the job…..he would come home with treats!! YUMMY baked goods or ice cream.   My dad is where I got my sweet tooth from,  along with my short stocky legs…..thanks, Dad.
Many nights he would bring home doughnuts…….I called them "doan doans", and I LOVED "doan doans!"……I would eat several.
One night dad told me he was going to bring me home just one  "doan doan", and said, "I bet you can't even eat the whole thing".   Later that evening he walked in with my one doughnut…..it was HUGE!  
Does anyone remember when Target had bakeries?…….They made these HUGE, 10-inch  glazed doughnuts……THAT is what dad brought home to me.
My eyes grew HUGE at the site of that beautiful sweet disc of glazed goodness!! I climbed into my chair with a big glass of milk, because doughnuts are BEST when they're dunked in milk you know…..and I TRIED to eat that doughnut………but Dad won!!……I could NOT eat ONE whole doughnut…..but I sure tried my best.
So you see………I've always had a deep LOVE for doughnuts!
This post may contain affiliate links. Please read my disclosure policy here.
DOUGHNUT MUFFINS ARE WORTH WAKING UP FOR
I've always been a lover of mornings, especially when certain breakfasts are involved! Specifically, EASY and delicious breakfasts.  I love creme brulee baked oatmeal, buttermilk waffles, and homemade doughnut hole muffins! SO EASY.  So addicting.  Worth waking up for!
Doughnut holes are one of my favorite parts of family breakfast. Cinnamon and sugar mini doughnut muffins are such a classic and they never fail to please. I love how tender and sweet these muffins are like an old-fashioned cake donut meets a sugar donut.
This muffin recipe is simple and straightforward. You'll be making these mini muffins every weekend!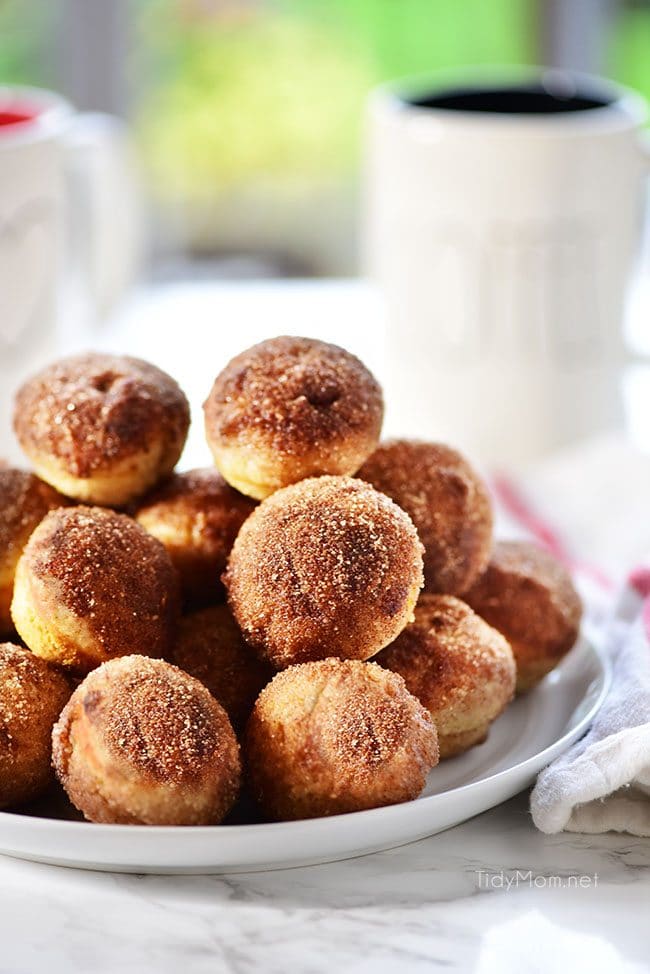 THIS MINI DOUGHNUT MUFFIN RECIPE IS A FAMILY FAVORITE BREAKFAST TREAT. LEARN HOW TO MAKE CINNAMON AND SUGAR DOUGHNUT MUFFIN FOR THE WHOLE FAMILY!
Just a few simple ingredients are all you need to make these doughnut muffins. Flour, sugar, baking powder, an egg, you probably have everything you need on hand.
No need to sift anything and no mixer is required.
You just need a big bowl and a whisk or fork.
Pour the batter into a mini muffin pan or a doughnut hole pan.  If the pan is not no-stick, then be sure to grease it well.
Of course, you can also make this recipe for full-size muffins.  But I think we can all agree, minis are always better!
The mini doughnut holes will only take about 10 minutes in the oven, just enough time to clean the bowl and melt the butter!
Once they are out of the oven and cooled just enough to handle, you will dip them in the melted butter and roll in cinnamon and sugar!
That's it!!  I told you they were easy.
CHECK OUT HOW EASY THIS CINNAMON AND SUGAR DOUGHNUTS RECIPE IS TO MAKE! WATCH THE VIDEO!

click to see more of my recipe videos
THE BEST CINNAMON AND SUGAR DOUGHNUT RECIPE
There's something about cinnamon and sugar doughnuts that feels even more classic than a classic glazed donut. It's hard not to get a little nostalgic when eating these ………I love that feeling of comfort.
These little doughnut muffins are soft, fluffy and the crumb is amazing! If you like an old-fashioned cake doughnut, you'll love these doughnut holes.
They're irresistible! Words cannot describe how good these are!
I could eat these mini muffins just about every morning, but I love the idea of saving them for weekends to create a family tradition.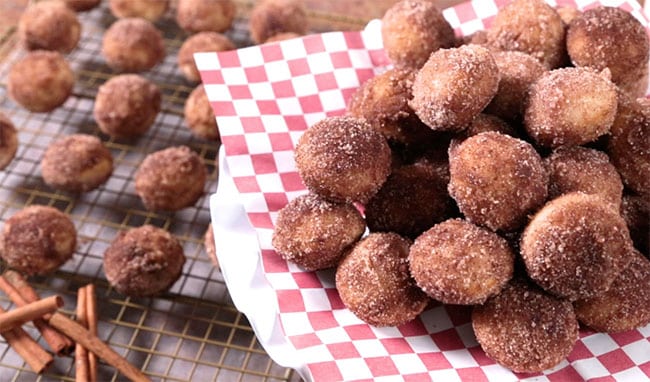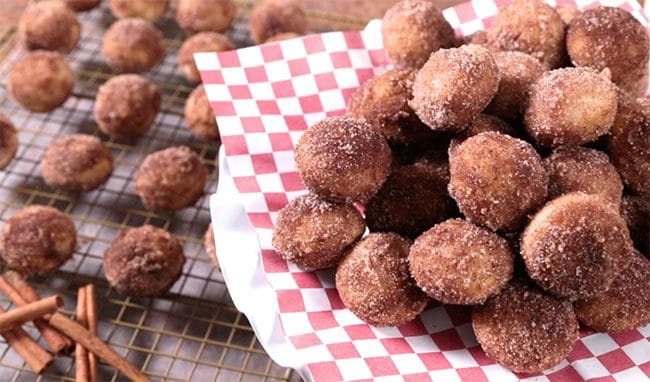 Wouldn't these be wonderful with a little jelly or vanilla custard?  I may try that next time!
My Dad would have LOVED these!!
**WARNING – if you make the minis, I am NOT responsible for how many you eat!!

Making a homemade breakfast treat just doesn't get simpler than these tasty doughnut muffins!
Like this recipe for Doughnut Muffins?  PIN IT!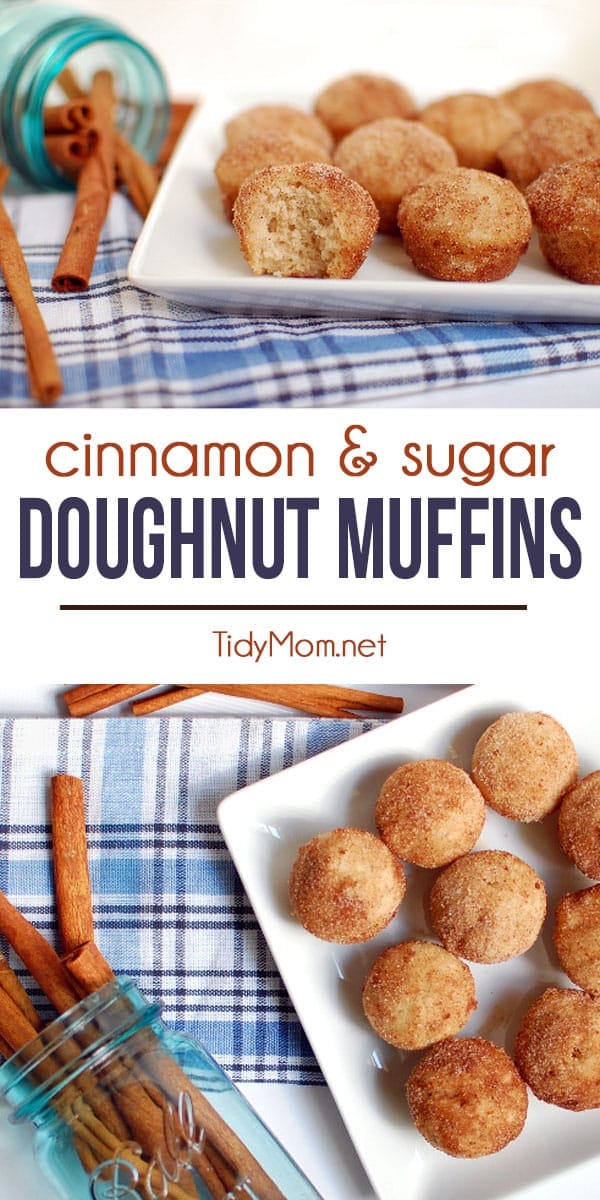 ENJOY THIS CINNAMON AND SUGAR DOUGHNUT MUFFINS RECIPE!
Now go bake some mini Doughnut Muffins or doughnut holes!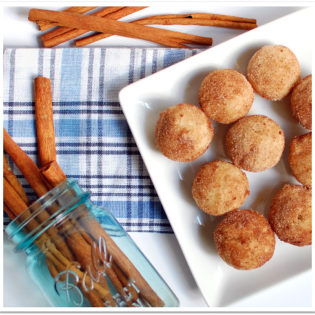 Cinnamon and Sugar Doughnut Muffins
Ingredients:
1 3/4 cup Flour
1 1/2 teaspoon Baking Powder
1/2 teaspoon Salt
1/2 teaspoon Nutmeg
1/2 teaspoon Cinnamon
1/3 cup Oil
3/4 cup White Sugar
1 whole Egg
3/4 cup Milk
Topping
1/4 cup Butter (4 Tablespoons)
1/3 cup White Sugar
1 Tablespoon Cinnamon
Directions:
Preheat oven to 350 degrees F.
Combine, flour, baking powder, salt, cinnamon and nutmeg, and set aside. Mix oil, sugar, egg and milk, then added dry ingredients, mix just until blended.
For mini muffins (this is what I made) – spray mini muffin pans with no-stick cooking spray and fill each cup 1/2 full. Bake for 10-12 min. Yields 18 mini muffins. For regular size muffins: spray muffin pans with no-stick cooking spray and fill each cup 1/2 full. Bake for 15-20 min. Yields 8-12 muffins.
While muffins are baking melt butter in one bowl. Mix1/3 cup White Sugar and 1 Tablespoon Cinnamon in another bowl. *(I needed 50% more for the mini muffins so I used 6 Tablespoons butter and 1-1/2 Tablespoons of Cinnamon)
Remove muffins from oven, let cool for just a minute or two, remove from pan and place them on a platter. Dip each muffin in the melted butter then roll in cinnamon and sugar.
Let cool or serve warm.
Making this recipe? Share it with us on Instagram using the hashtag #TidyMom so we can see what you're creating in the kitchen!
Want more great recipes like this? Follow my TidyMom Easy Recipes Pinterest Board