Easy 7Up Biscuits With Bisquick
This post may contain Amazon or other affiliate links. As an Amazon associate, I earn from qualifying purchases.
Bake smarter, not harder! Warm, golden butter-kissed 7Up Biscuits and Bisquick with a light, tender crumb and a hint of savory tang from sour cream, sublime! Four ingredients, four steps, and 5-star flavor!
Baking mixes or refrigerated doughs make life easier, and whipping up a dish or meal in no time is no problem! Try a tasty favorite like Glazed Cinnamon Raisin Biscuits, a satisfying Sausage, Egg, and Cheese Casserole, or "flavor-filled" cheesy Chicken Enchilada Puffs.
Be sure to sign up for my email… to get new recipes and ideas in your inbox!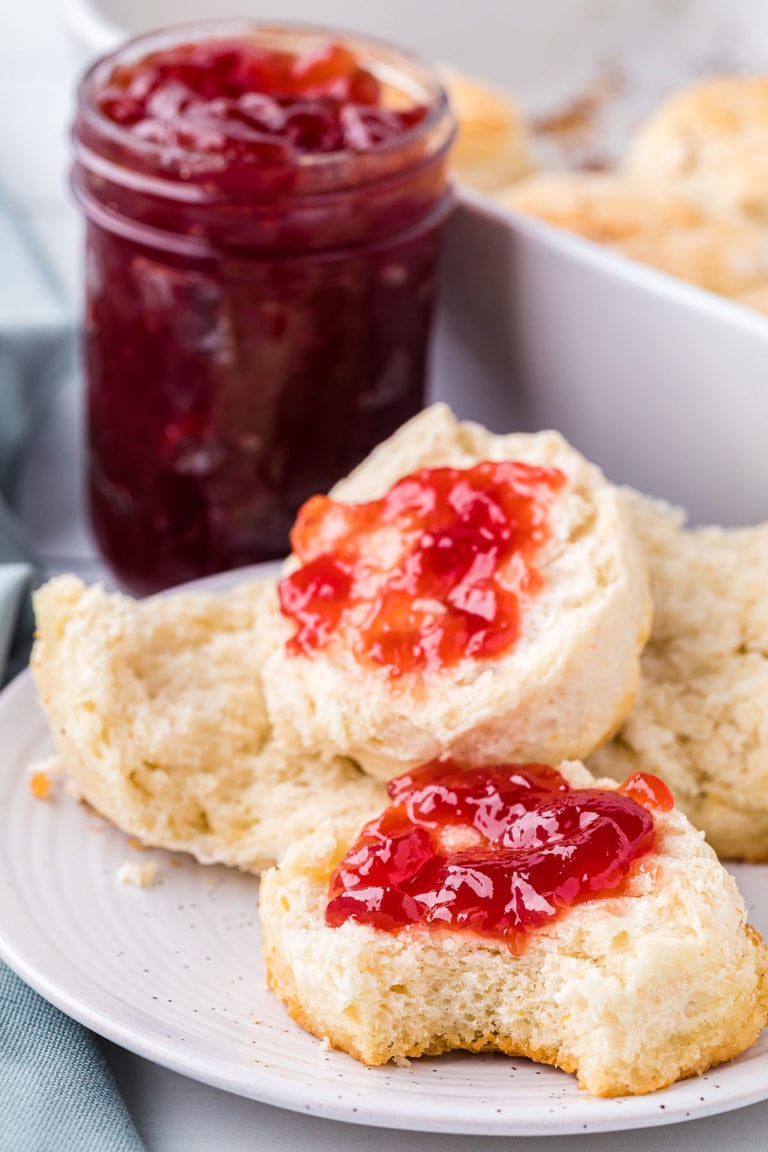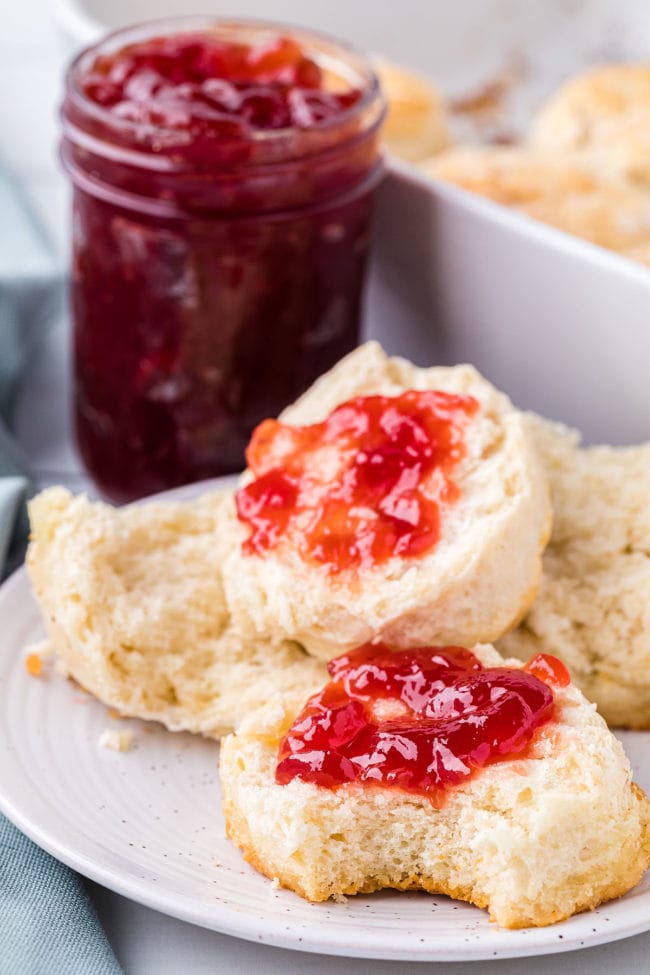 7 Reasons To Love 7Up Biscuits With Sour Cream
These light and fluffy Bisquick biscuits are great when you want to mix up a batch of biscuits, especially in a hurry. With a hint of sweetness and a touch of tang, 7Up biscuits are just the ticket!
Tender: Melt-in-you-mouth texture
Delicious: Golden brown, butter-kissed biscuits
Convenient: Using a baking mix
Economical: 4 Ingredients
Easy: 4 simple steps
Quick: 10-minute bake time
Adaptable: easy variations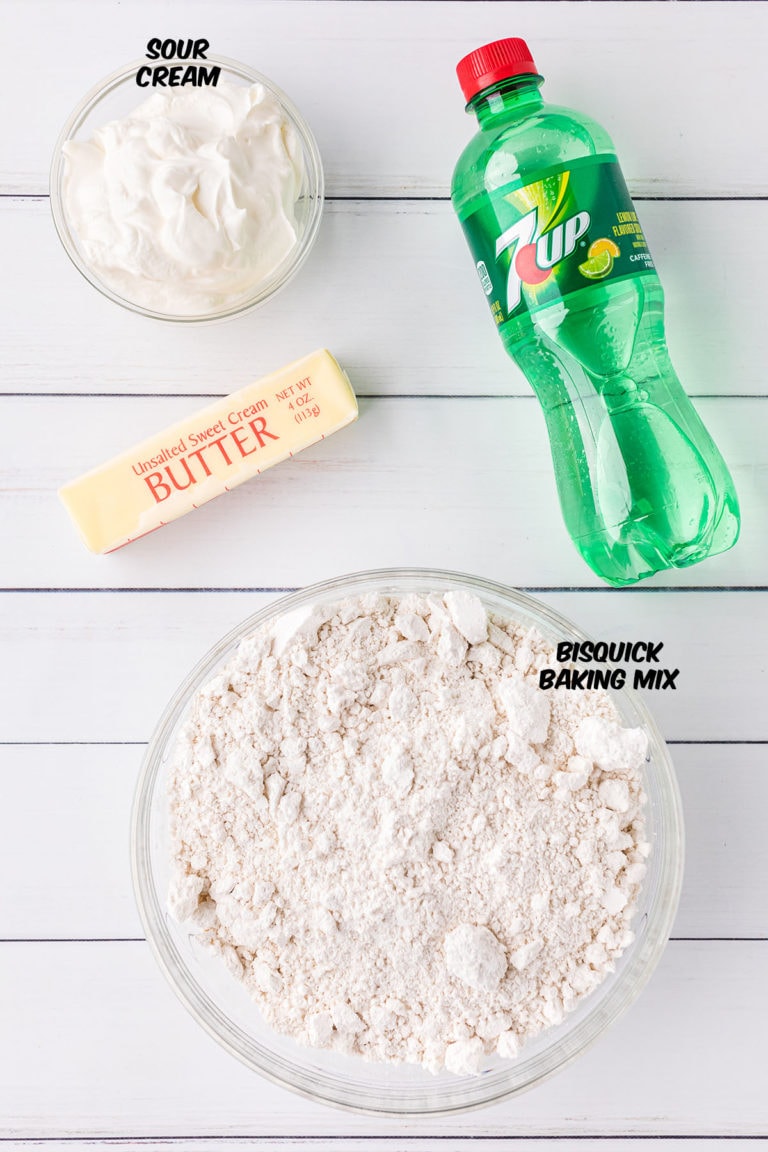 What You Need To Make 4 Ingredient Biscuits
4 ingredients + 4 steps = 7Up Biscuits! Even a math teacher won't mind my calculations; they taste so good.
For specific amounts, please refer to the printable recipe card at the bottom of the post.
Butter – no need to worry about pulling butter out of the fridge at the last minute; it gets melted in the baking pan.
Baking mix – a ready-to-use baking mix (such as Bisquick,* Krusteaz, or Jiffy). For 7Up biscuits made from scratch, see the Variations section below.
Lemon-Lime Soda – this 4 ingredient biscuit recipe is well-known as 7Up biscuits, but you can use any soda brand you'd like.
Sour cream – The sour cream provides moisture and acidity to activate the leavening agents in the baking mix.
*DYK? A train dining car chef is historically credited with the time-saving convenience of a prepared baking mix to make freshly baked biscuits. The onboard chef combined flour, lard, baking soda, and salt to bake a batch of biscuits when needed. This is how the concept of Bisquick originated.
This post may contain affiliate links. Please read my disclosure policy here.
Bisquick 7Up Biscuits With Sour Cream In 4 Easy Steps
Bake smarter, not harder! First, grab a mixing bowl, a rolling pin, a 9×13" baking dish, and 2-inch round cookie cutter, glass or biscuit cutter. Melt butter in the baking dish while the oven preheats.
When you are baking, you'll want to use the full recipe at the bottom of the page.
Mix the baking mix, soda, and sour cream in a bowl until the dough is sticky and holds together.
Roll dough on a floured work surface into a 1-inch thick circle.
Cut circles out of the Bisquick 7Up dough and place in the dish with melted butter. (See notes for an alternate option.)*
Bake 10-12 minutes; pull 7Up biscuits from the oven and let them soak up any remaining butter.
BAKER'S TIP: Do NOT twist the cookie cutter or glass, you use to punch out 7Up biscuits. It "seals" the edges preventing the biscuits' structural ability to rise high and fluffy.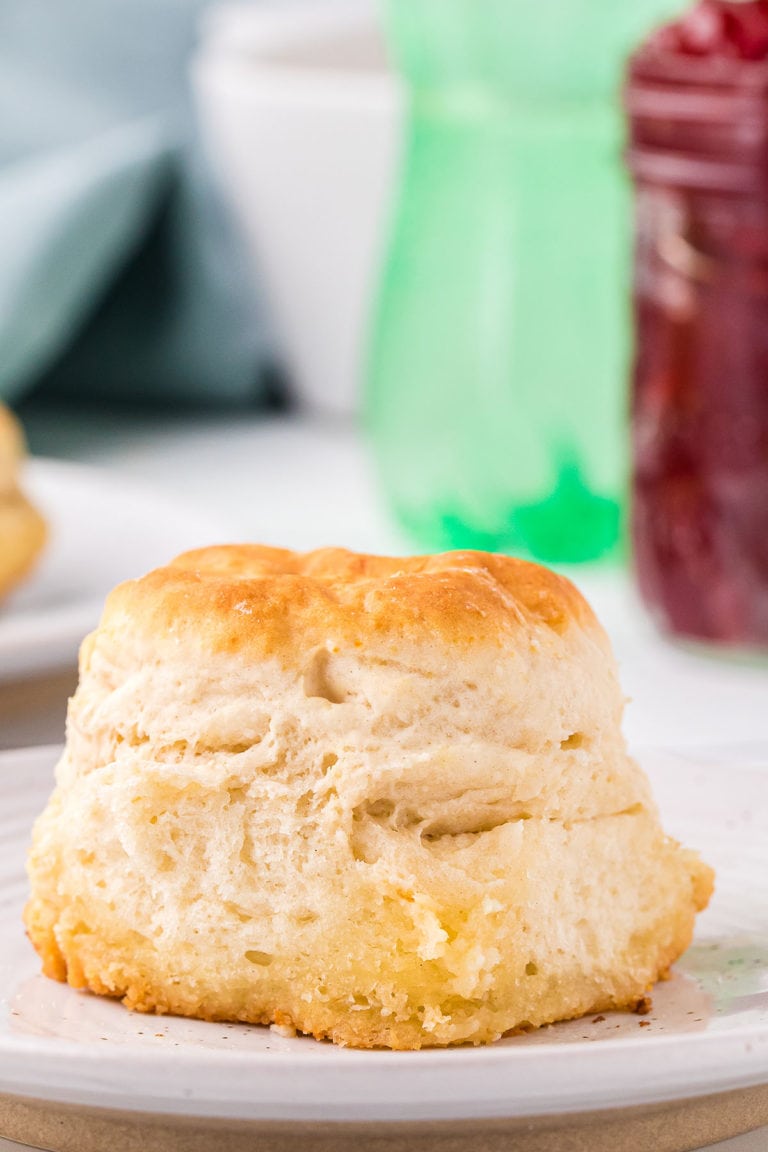 7Up Biscuit Recipe Notes And Tips
Square Biscuits:* You can form the Bisquick dough into a rectangle roughly the same size as your 9×13 dish. Cut the dough into square-shaped biscuits, so you have no leftover dough scraps.
Bisquick or any baking mix can become rancid if not stored properly or sit too long after opening. If you see mold or moisture in the bag, throw it away immediately.
To ensure you get a beautiful fluffy biscuit, check the expiration date on the baking mix or the baking powder if you decide to make 7Up biscuits from scratch. (See below)
If your Bisquick has been opened for a while, check if the smell is off, the mix is discolored, or bugs are present.
If an older opened box of baking mix seems good to go, add 1 tsp of baking powder to boost leavening. Baking powder can lose potency over time, and 7Up biscuits won't rise to their glorious golden heights. 🙂
For higher-rising biscuits, invest in a relatively inexpensive decent biscuit cutter. Avoid sealing the edges of the 7Up biscuits by twisting them out with a glass or a cutter.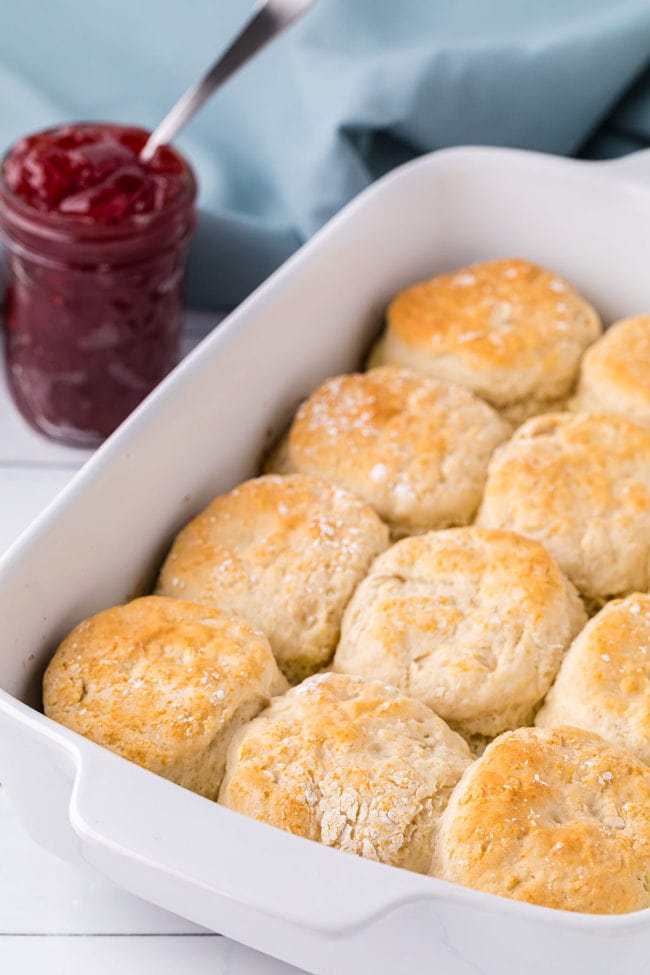 How To Store Sour Cream 7Up Biscuits
7Up biscuits with Bisquick and sour cream should be stored at room temperature. Once completely cool, put them in a plastic zipper bag, and squoosh out the excess air. They should last for up to 3 or 4 days.
Refrigerate/Leftovers
I don't recommend refrigerating Bisquick biscuits because it causes them to dry out. If you want to keep them for another time, freeze them.
Freeze
You can freeze 7Up biscuits for up to 3 months, although you will likely have the same problem with them drying out. There is an easy hack to fix hardened biscuits.*
Reheat
After thawing 7Up biscuits, sprinkle them with water and fold them in foil to reheat in the oven. The biscuits will rehydrate with steam as they reheat.*
*You can also drape a damp paper towel over the biscuits to reheat in the microwave. Brush with butter when hot to retain the moisture, and serve immediately.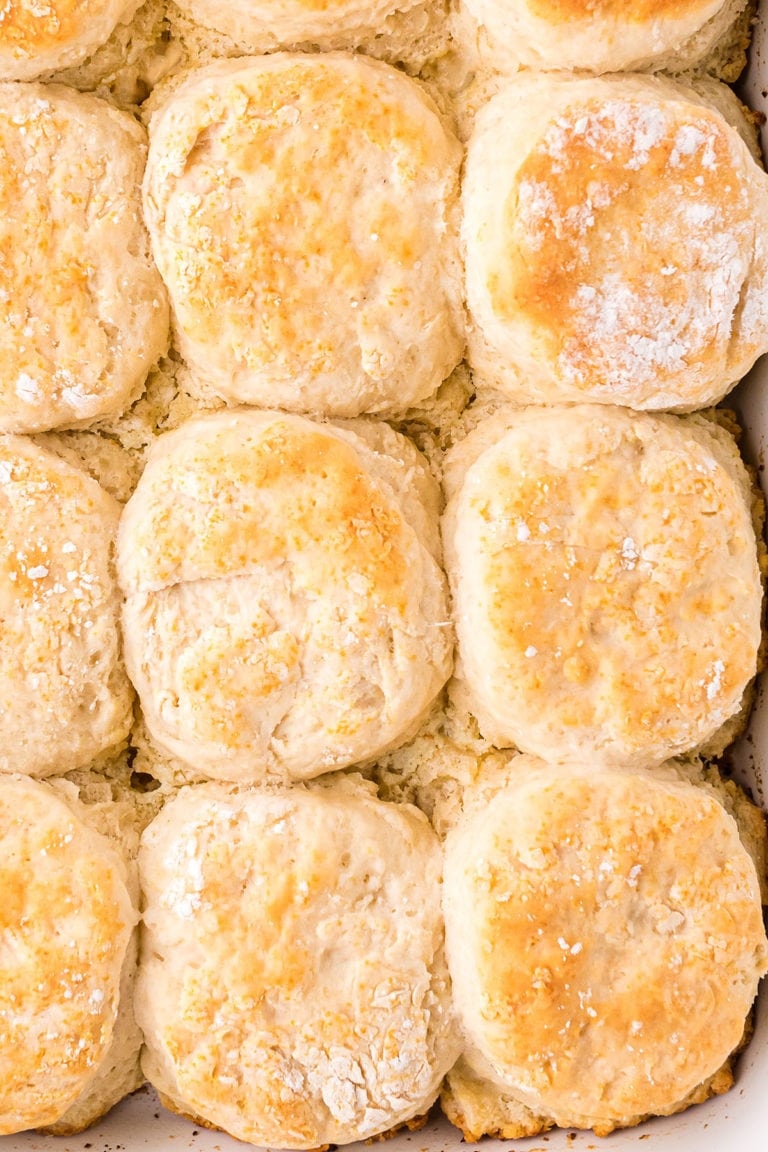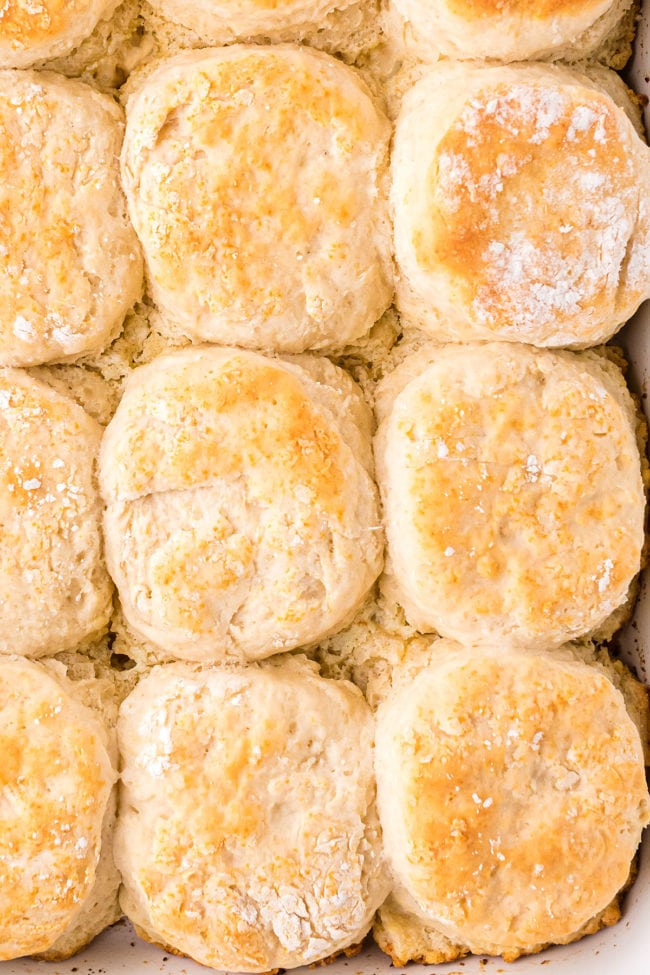 7Up Biscuit FAQs
What can I use instead of 7Up in a 7Up biscuit recipe?
You can opt for any lemon-lime carbonated soda or soda water. Be sure to check the sugar content. The hint of sweetness is so subtle in this 7Up and Bisquick recipe you wouldn't notice unless you looked for it. Some sodas have more sugar, so be prepared for a sweeter bite.
Can you make 7Up biscuits from scratch?
Yes, it's pretty easy with simple pantry staples you would usually have on hand. At a 1:1 ratio per cup of flour, 1½ tsp baking powder, ¼ tsp salt, & 1 tbsp fat. You can use butter, oil, Crisco, or lard for the fat and cut it into the homemade baking mix.
Why are my 7Up biscuits hard and flat?
There are several reasons 7Up biscuits can "fall short" of expectations and turn out harder and flat. It's important that the Bisquick is fresh or was correctly stored, the soda isn't flat, and you don't twist down when cutting the biscuits out.

If you make 7Up biscuits from scratch, make sure your baking powder is fresh so you get the leavening action needed for light and fluffy biscuits.
Why put 7up in biscuits?
The 7up soda adds lightness and flavor to the biscuit dough, creating air pockets that make the biscuits rise and become fluffy.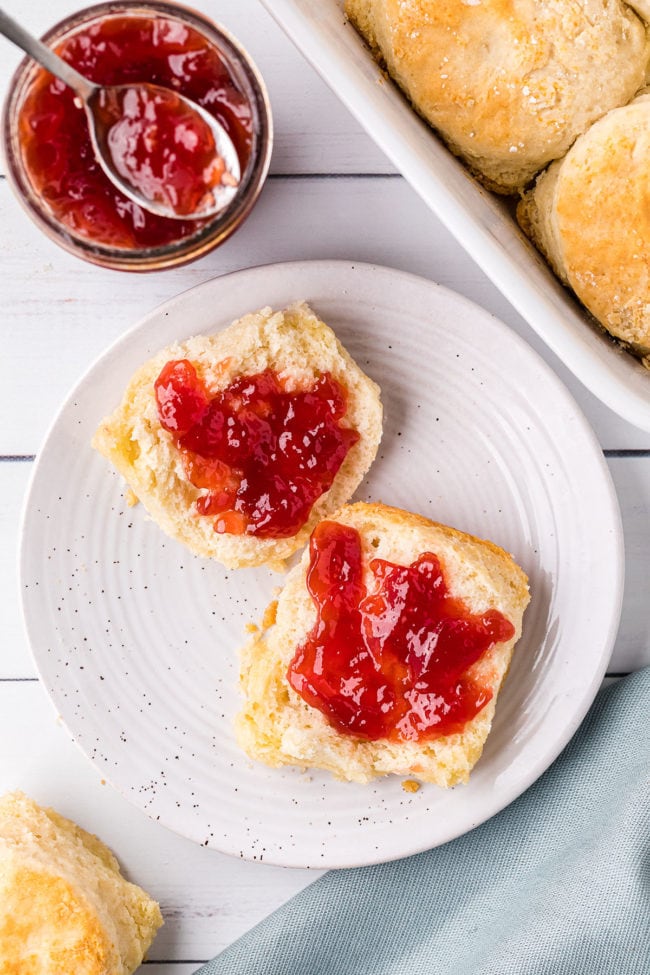 Biscuits With Sour Cream and 7Up Serving Ideas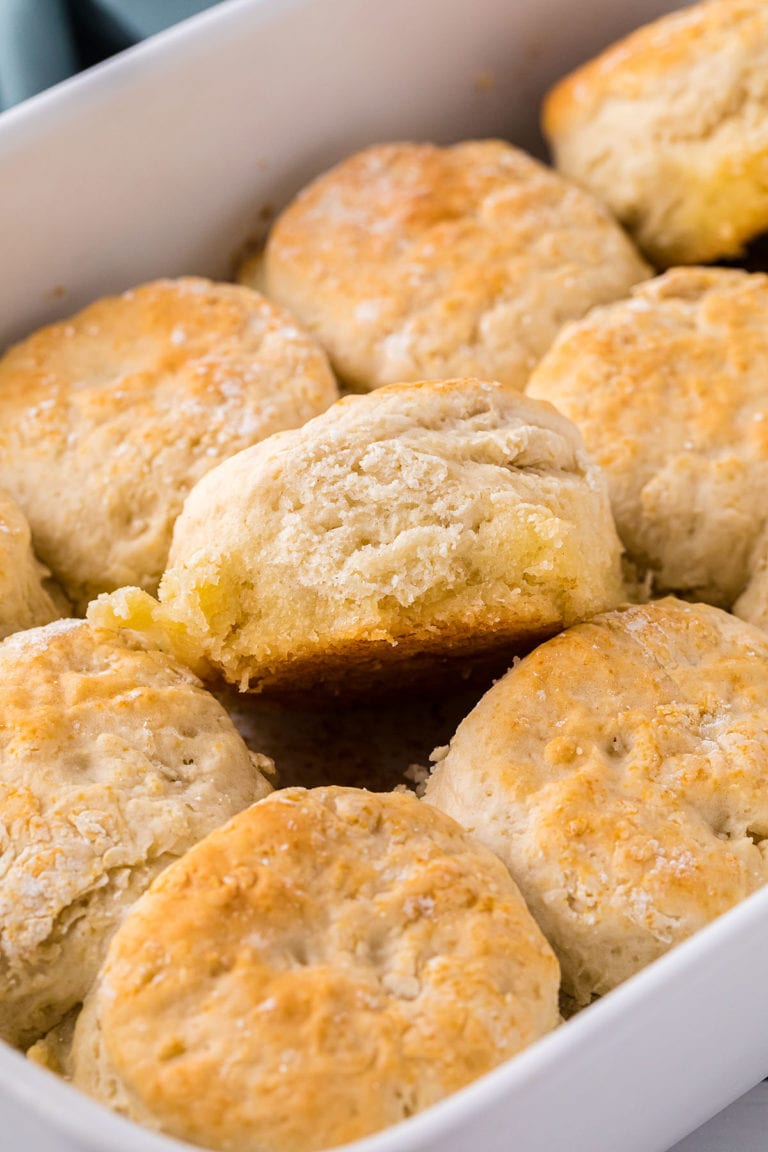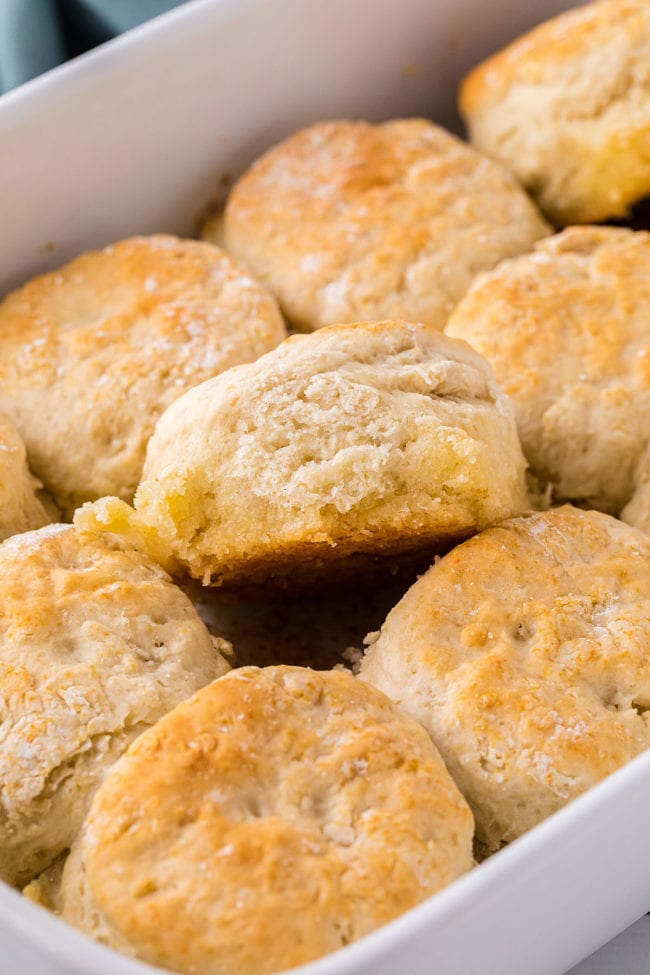 7Up Bisquick Biscuits Substitutions & Variations
Bisquick makes Gluten-Free and Heart Smart formulas for people with food sensitivities.
If you'd like to make this 7Up biscuit recipe with flour instead of a baking mix, use the following measurements:
4 ½ cups of flour
2 tablespoons baking powder
1 ½ teaspoon salt
4 ½ tablespoons of fat (ie: shortening)
You can cut the 7Up biscuit recipe in half and bake it in a well-seasoned cast iron skillet.
Cheesy Garlic Biscuits: Enjoy a cheesy-garlic Bisquick dinner biscuit by adding grated cheddar with the 7Up and sour cream. Brush with butter and sprinkle with garlic salt.
Buttery Garlic & Ranch Biscuits: Brush the top of the biscuits with garlic butter and sprinkle with ranch seasoning mix.
Almost any clear carbonated beverage can be substituted for 7Up in a biscuit recipe:
Lemon-Lime Soda
Ginger Ale
Fresca
Starry (Replaces Pepsi's Sierra Mist)
Like This Recipe? Pin It!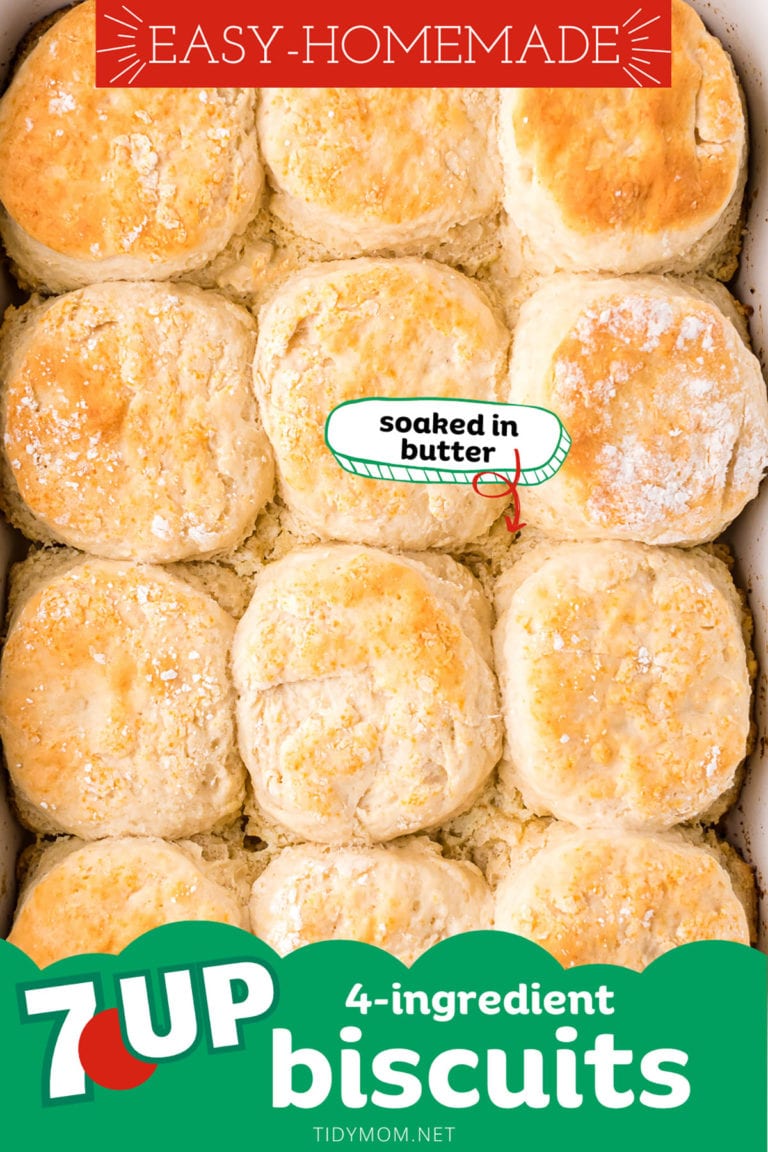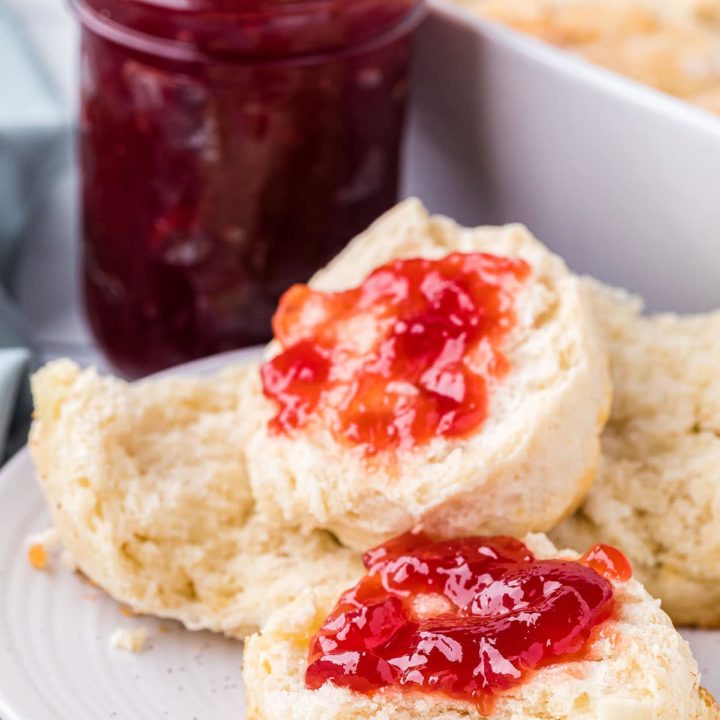 Easy 7-Up Biscuits
Yield: 12-15
Prep Time: 10 minutes
Bake Time: 10 minutes
Total Time: 20 minutes
Bake smarter, not harder! Warm, golden butter-kissed 7Up Biscuits and Bisquick with a light, tender crumb and a hint of savory tang from sour cream, sublime! Four ingredients, four steps, and 5-star flavor!
Ingredients
½ cup butter
4 ½ cups baking mix (such as Bisquick®)
1 cup lemon-lime soda
1 cup sour cream
Instructions
Preheat oven to 425°. Add butter to a 9x13-inch baking dish and place in the oven until butter is melted.
Using a fork or clean hands combine baking mix*, soda, and sour cream together in a bowl until the dough holds together and is sticky.
Turn dough onto a floured work surface ("flour" surface with baking mix) and roll or pat into a 1-inch thick circle*. Cut circles out of the dough using a cookie cutter or the rim of a glass and place in the dish with melted butter. (see notes for alternate option)
Bake until golden brown, 10-12 minutes. Remove the dish and let stand until the biscuits have absorbed all of the butter.
Notes
*Add additional Bisquick as needed to form a very soft dough that is just holding together.
Use the baking mix to "flour" the work surface.
For extra buttery biscuits, brush the tops of the biscuits with a little melted butter after they come out of the oven.
Square Biscuits: *You can form the dough into a rectangle, roughly the same size as your 9x13 dish, and cut the dough into square-shaped biscuits. This way you won't have any leftover dough scraps. BAKER TIP: I've heard some people just pat the dough into the pan and bake. Remove from the oven and cut the biscuits to desired size.
Nutrition Information:
Yield: 15
Serving Size: 1
Amount Per Serving:
Calories: 246
Total Fat: 15g
Saturated Fat: 7g
Trans Fat: 0g
Unsaturated Fat: 6g
Cholesterol: 26mg
Sodium: 517mg
Carbohydrates: 25g
Fiber: 1g
Sugar: 6g
Protein: 3g
Nutrition information is estimated based on the ingredients and cooking instructions as described in each recipe and is intended to be used for informational purposes only. Please note that nutrition details may vary based on methods of preparation, origin, and freshness of ingredients used and are just estimates. We encourage, especially if these numbers are important to you, to calculate these on your own for most accurate results.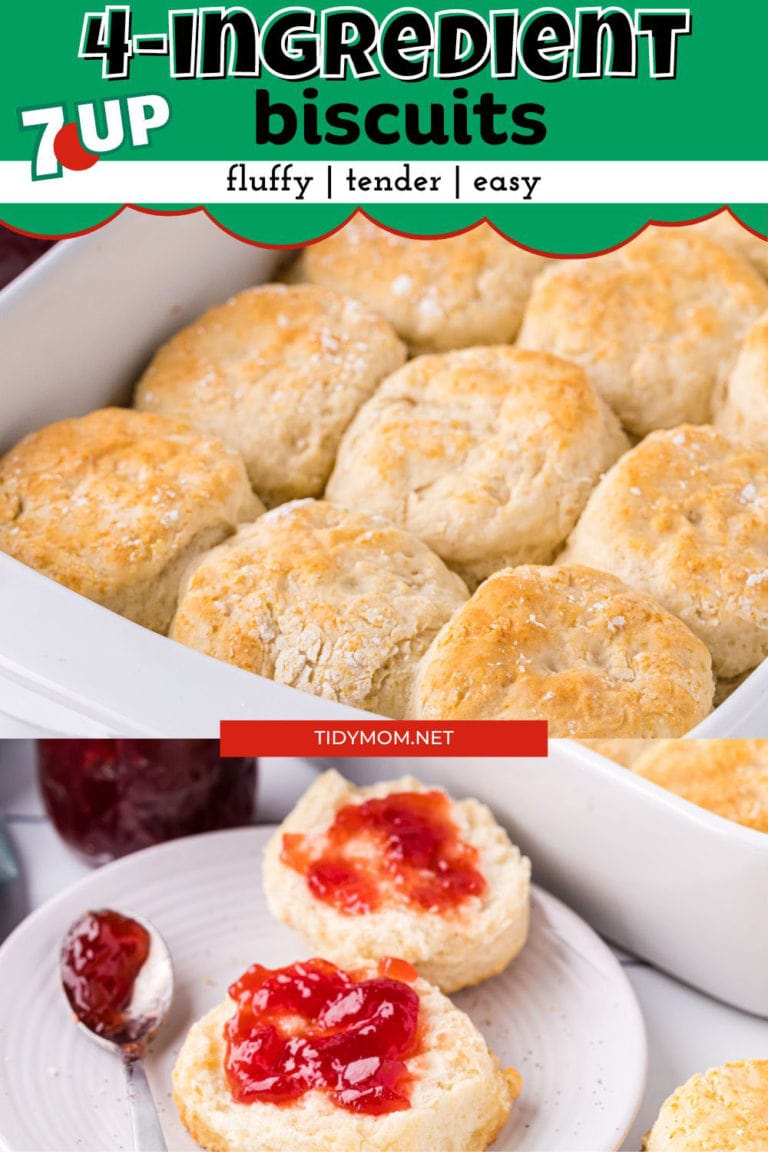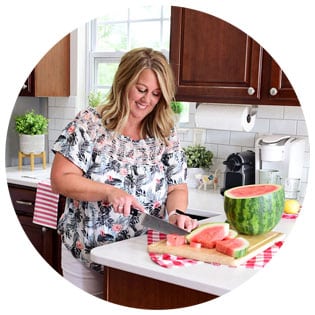 Hi there, I'm Cheryl!
As a wife, mom, and caffeine enthusiast, my journey has taken me from bustling mornings with my family to sharing delicious recipes, home care tips, and heartfelt decorating insights with wonderful readers like you. My love for baking, photography, and tidiness shines through every post I craft. Dive into my world and discover the art of homemaking, one tidy moment at a time. Read more...
Tidymom is a participant in the amazon services llc associates program, an affiliate advertising program designed to provide a means for sites to earn advertising fees by advertising and linking to Amazon.com.
Please respect my work, recipes and photographs. If you do use a recipe in your own writing, please give proper credit and link back to the original post.