Holiday Breakfast Casseroles & Crunchy Coated Bacon!
Can you believe it's almost Easter? Time to follow Mr. Bunny's trail, hunt for eggs and devour our weight in chocolate eggs, jelly beans and peeps!
Growing up, we often went out for Easter brunch, but we haven't done that in years. I have recently found some great breakfast casseroles that can be made ahead of time, so you can have most of the messy part out of the way on Easter morning.
We had these on Christmas morning at our house and they were all a big hit!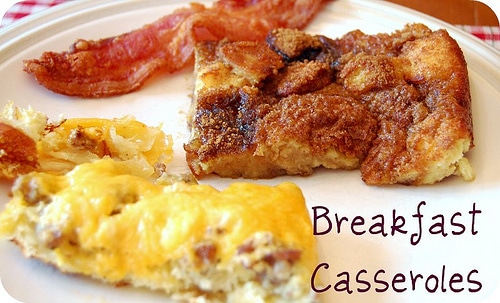 Overnight Praline French Toast
Ingredients
GLAZE

1/2 cup butter
1 cup brown sugar
2 tablespoons honey, maple syrup or corn syrup (I used Mrs. Butter-Worth's Syrup)

BREAD

French or Italian bread sliced 1/2" thick, enough to cover the bottom of a 9?"x 13" pan (I used a loaf of rustic french bread)

CUSTARD

1 1/2 cups heavy whipping cream
5 large eggs, or 1 1/4 cups egg substitute
2 teaspoons vanilla extract
1/4 teaspoon salt

TOPPING

1/2 cup brown sugar
1/4 teaspoon ground nutmeg
1/4 teaspoon ground cinnamon
Instructions
Lightly grease a 9-inch x 13-inch pan or shallow 2-quart casserole.
To make the glaze: Melt the butter in a saucepan, and stir in the brown sugar and syrup. Bring the mixture to a simmer, cooking until the sugar melts.Pour the glaze into the prepared pan, spreading it to the corners.
Lay the slices of bread in the pan, atop the glaze.
To make the custard, whisk together the cream,eggs or egg substitute, vanilla, and salt. Pour over the bread in the pan, pressing the bread down into the custard.
Cover the pan, and refrigerate overnight, or for up to 24 hours.
When you're ready to bake, preheat the oven to 350°F.
Make the topping by stirring together the brown sugar, nutmeg, and cinnamon. Sprinkle it evenly over the bread.
Bake the French toast for 40 to 45 minutes, until it's bubbly and the top is very lightly browned.
Remove it from the oven, and allow it to cool for 10 to 15 minutes before serving. Serve individual slices of bread, turning it over on the plate so the syrupy bottom is on top.
Notes
https://tidymom.net/easter-morning-casseroles-crunchy-coated-bacon/
Copyright© 2009-2013 TidyMom.Net
I'm not sure if you can make this ahead of time – but if you brown the sausage the day before, it would take no time to throw it all together.
Weekend Brunch Sausage Egg and Cheese Casserole
Ingredients
1 pound pork sausage 
2½ cups shredded sharp cheddar cheese (sometimes I use a mix of cheeses, mozzarella, cheddar, swiss, pepper jack)
1 (8 oz) can crescent rolls
8 large eggs, beaten
1½ cup milk
1/4 teaspoon salt
1/8 teaspoon fresh ground black pepper
Optional garnish: fresh chives sliced green onions, or fresh parsley
Instructions
Preheat Oven to 425° F . Grease a 9x13 baking dish and set it aside.
Crumble and cook sausage in a skillet over medium heat until browned. Drain.
Line bottom of the prepared baking dish with crescent roll dough, firmly pressing perforations to seal.
Sprinkle with sausage and cheese.
Whisk, eggs, milk, salt, and pepper in a bowl until blended and pour over sausage.
Bake uncovered 25-30 minutes. or until eggs set. Check on the casserole after about 15-20 minutes. If the crust is looking golden brown, cover the casserole lightly with foil and continue baking until the eggs are set. This will prevent the crust from becoming too dark.
Let stand 5-10 minutes before garnishing and serving
Refrigerate leftovers.
Nutrition Information:
Yield:

8
Serving Size:

1
Amount Per Serving:
Calories:

583
Total Fat:

46g
Saturated Fat:

21g
Trans Fat:

1g
Unsaturated Fat:

20g
Cholesterol:

311mg
Sodium:

1094mg
Carbohydrates:

7g
Fiber:

0g
Sugar:

1g
Protein:

36g
Nutrition information is estimated based on the ingredients and cooking instructions as described in each recipe and is intended to be used for informational purposes only. Please note that nutrition details may vary based on methods of preparation, origin, and freshness of ingredients used.
Don't forget the bacon…….everything is better with bacon right?
Well, if you like bacon, you will LOVE bacon cooked this way! It's easy too!!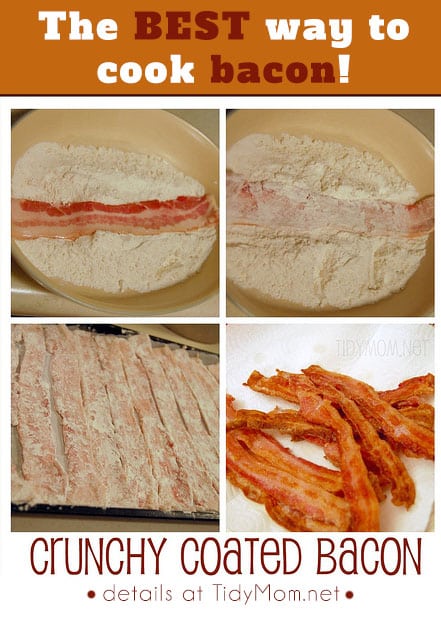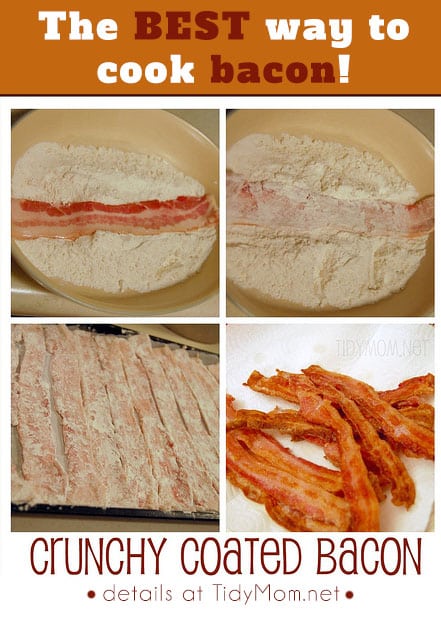 Ingredients
1 pound thick cut bacon
1-1/2 cups flour
Instructions
Line a large cookie sheet with edge with parchment paper or tin foil
preheat oven to 350°
coat thick sliced bacon in flour
lay on cookie sheet (do not overlap)
bake for 30 mins.
*Be very careful removing the pan from the oven.
https://tidymom.net/easter-morning-casseroles-crunchy-coated-bacon/
Copyright© 2009-2013 TidyMom.Net
The bacon holds it shape, with very little curling and is SOOO good with the crispy crunchy coating the flour gives it!! – You'll never want to fry bacon again!

I hope you get to celebrate with friends & family and enjoy the day on Sunday!