Cheesy Breakfast Sliders With Ham And Eggs
Start your day off right with our delectable Ham and Cheese Breakfast Sliders recipe featuring fluffy eggs, deli ham, and two layers of melty cheese, on soft Hawaiian rolls crowned with a buttery kiss of maple syrup. A satisfying option for breakfast, lunch, or dinner.
Hearty Breakfast Sliders make cooking Breakfast for a crowd super easy. Try our Oven-Baked Blueberry Pancakes, Cinnamon and Sugar Donut Muffins, and our Easy Breakfast Casserole, for more crowd-pleasing favorites.
Be sure to sign up for my email… to get new recipes and ideas in your inbox!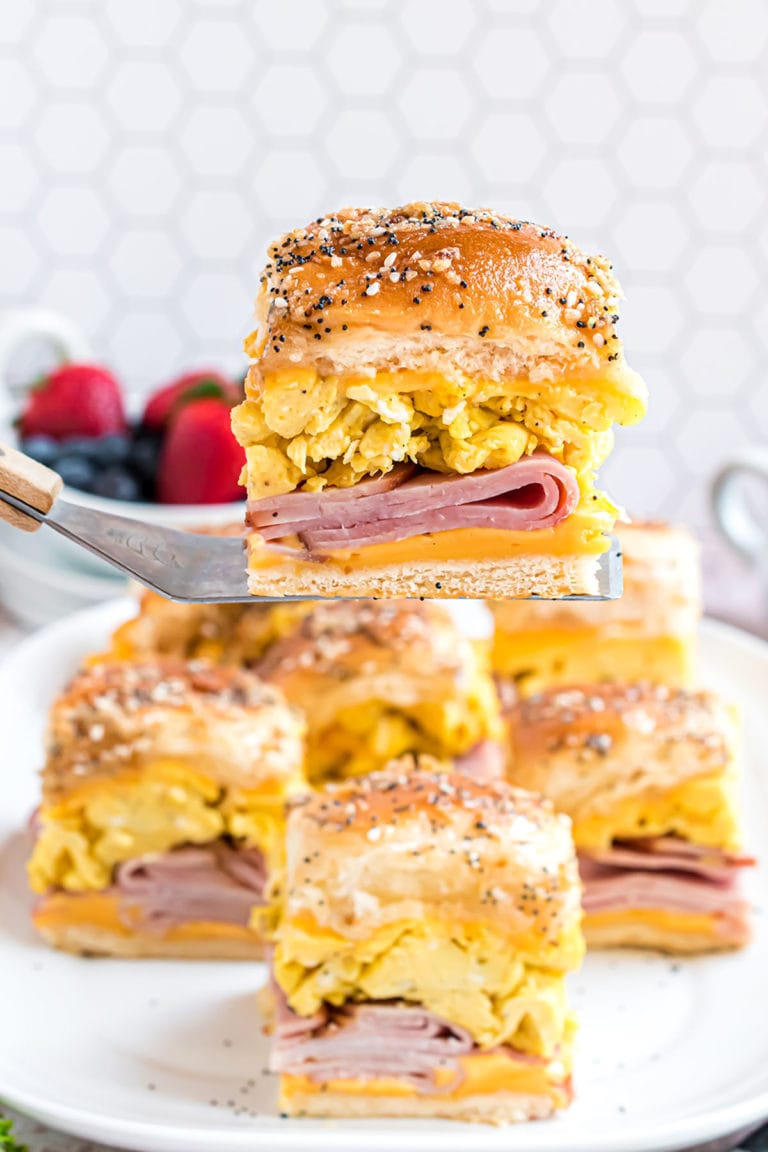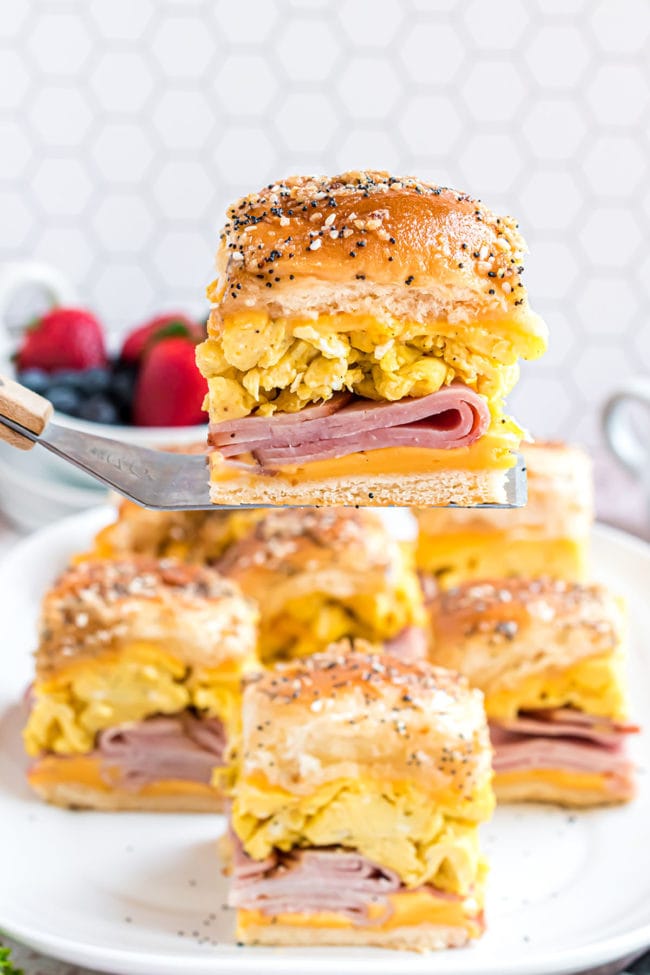 Why Cheesy Egg Breakfast Sliders Are Perfect For Busy Families!
Egg sliders bring together convenience and mouthwatering flavor in one fantastic breakfast sandwich. I love having these on hand for those chaotic hustle/hassle mornings!
Quick Prep: With simple assembly and minimal cooking time, ham and cheese breakfast sliders offer a wholesome breakfast without the stress.
Take Along: Excellent for on-the-go mornings. Easily wrapped and carried, an egg slider with ham is more nutritious and filling than grabbing a Pop-tart!
Make Ahead: Guaranteed peace of mind; layer all the cheesy egg slider ingredients, bake, cool, and freeze in advance. Thaw overnight or pull what you need, then micro and go!
Customizable Portions: Easily adaptable, sliders can be tailored for picky eaters: only cover half with cheese, change or omit breakfast meat, add some spicy kick, or leave topping off the Hawaiian rolls for the littles.
Family Appeal: The classic combo of ham, egg, and cheese on Hawaiian roll breakfast sliders is a hit with children and adults.
Balanced Nutrition: Packed with protein-rich eggs, ham, and cheese, these sliders offer a well-rounded meal that powers you through to the next meal.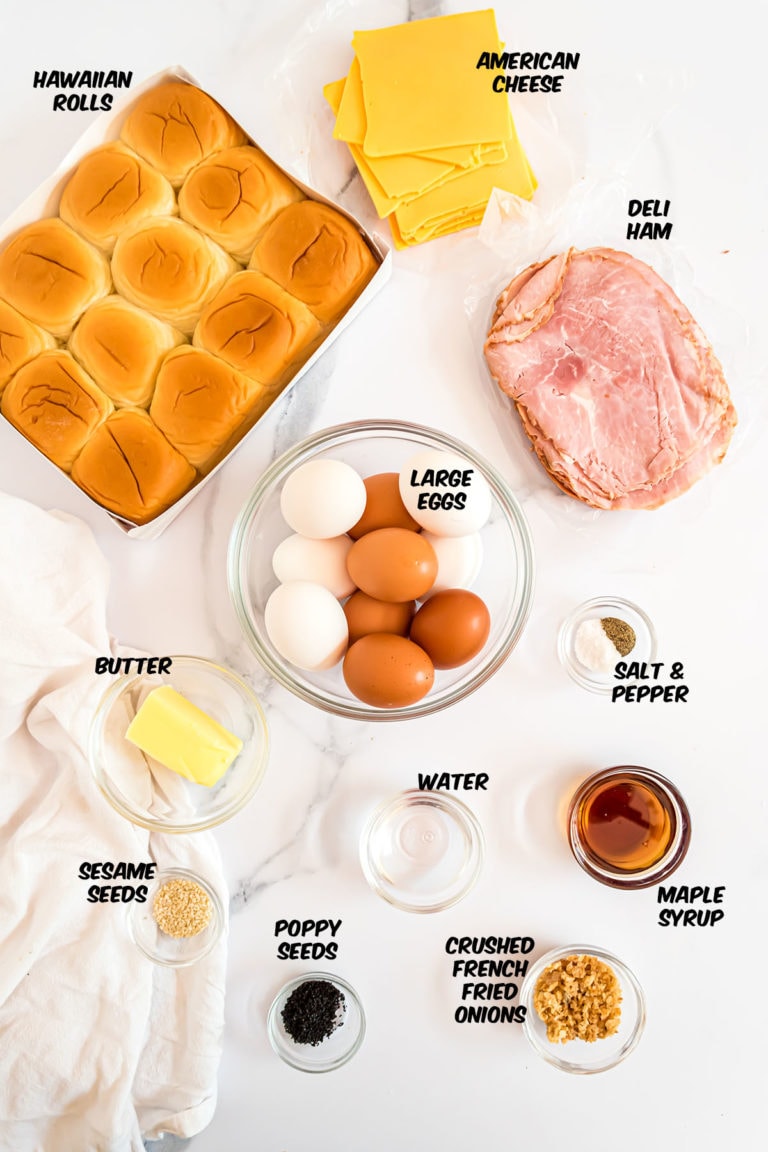 Hawaiian Roll Breakfast Sandwich Ingredients
Easily assemble these simple ingredients to create wholesome egg breakfast sliders on Hawaiian Rolls. A quick, flavorful, delicious breakfast sandwich for a satisfying nosh tailored to jumpstart your day!
For specific amounts, please refer to the printable recipe card at the bottom of the post.
Slider Ingredients
Large Eggs: room temp or cold is fine
Kosher Salt & Black Pepper – seasonings to enhance natural flavors, adding character and depth to recipes.
Water – whisking eggs with water* before cooking will produce a softer, airier texture in scrambled eggs.
Unsalted butter – just enough butter to add a hint of richness and savoriness to the scrambled eggs.
King's Hawaiian Rolls – Instantly recognizable for their distinct color and signature flavor, they also offer convenient slider sandwich assembly by horizontally slicing all the rolls together.
Deli American Cheese – for a creamy and melty addition. You can use any cheese flavor or a different kind on each half. (A ham and Swiss slider sounds mouthwatering right now too!)
Deli Ham – thinly sliced. Packed with protein, the sweet or savory sliced ham adds satisfying heartiness and delicious flavor to the classic ham and cheese breakfast sandwich.
*DYK – It's true! Whisking together water with eggs before cooking will give you fluffier scrambled eggs, but do you know why? The water will steam as the eggs cook, producing air bubbles concurrently while the eggs are firming (proteins denaturing), creating extra lift. Viola! Fluffy eggs.
This post may contain affiliate links. Please read my disclosure policy here.
Hawaiian Roll Buttery Topping
Elevate your breakfast slider recipe with a fantastic, savory-sweet, and crunchy signature topping. These fantastic sliders are topped with a kiss of maple syrup, crunchy fried onions, and seeds.
Unsalted Butter & Maple Syrup – A classic breakfast flavor duo to brush over egg breakfast sliders and hold the toppings in place.
Crushed French Fried Onions – pre-fried and seasoned onions for a crispy, crunchy, and flavorful texture for the savory. They work well as a topping for added crunch.
Sesame & Poppy Seeds – are known for their mildly nutty flavor and pleasing textures.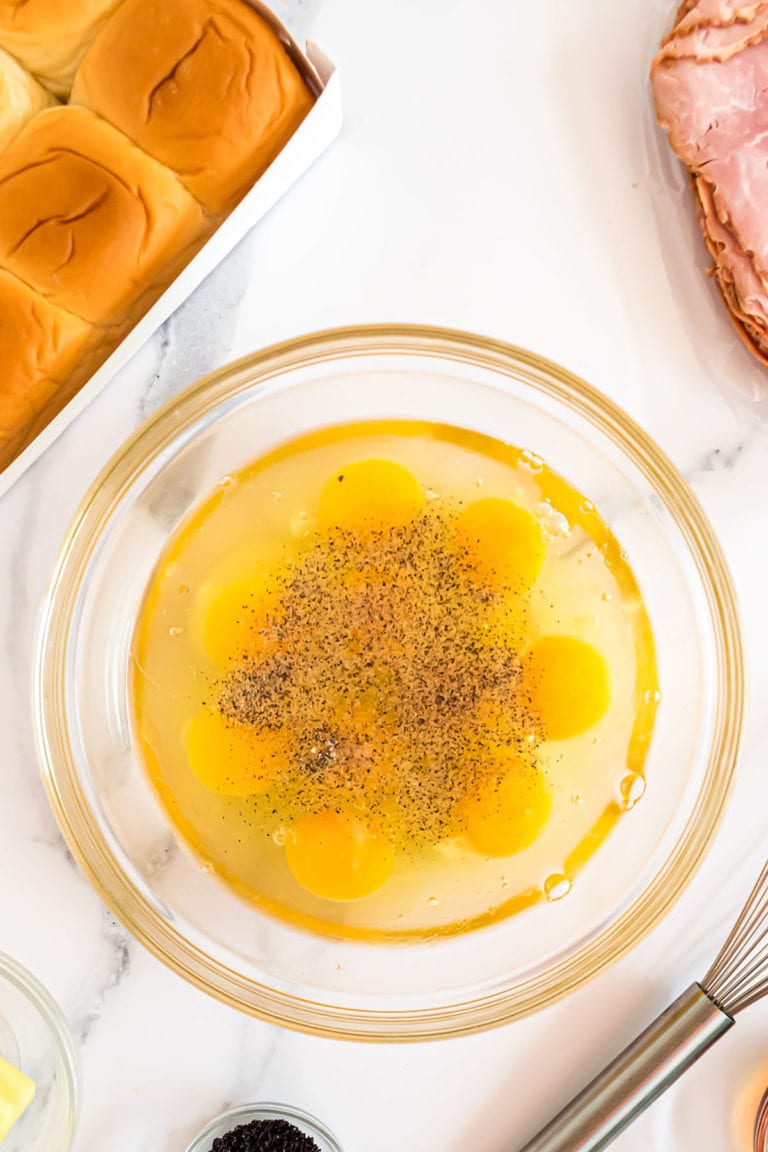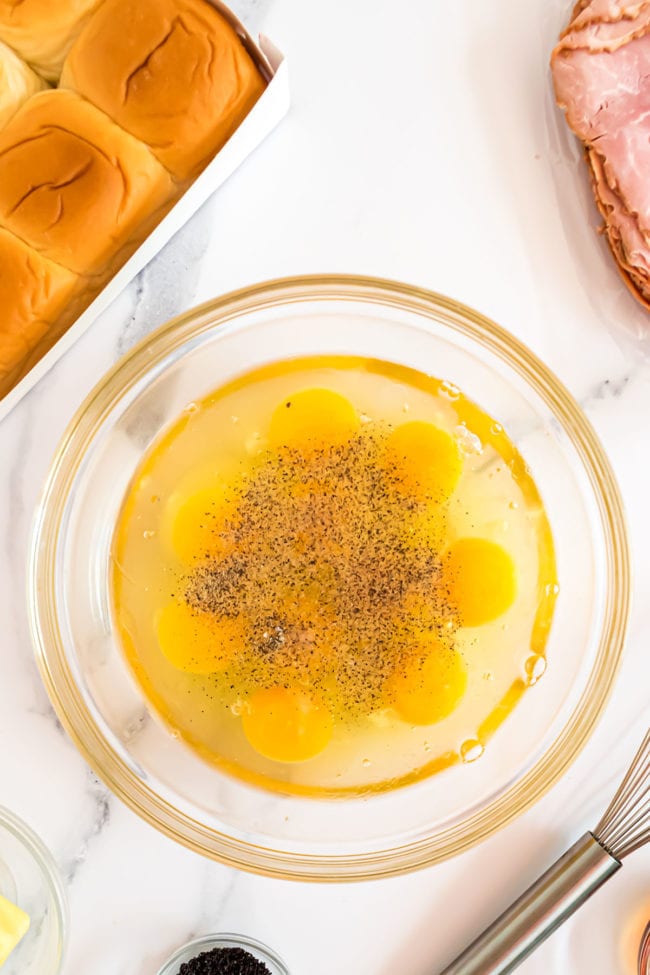 Directions
Cheesy egg breakfast sliders are a quick, easy, and delicious meal that is great made ahead for early morning workouts (or when I hit the snooze button one too many times!) Ready a 9" x 13" casserole with spray and preheat the oven while you assemble the sliders.
When you are baking, you'll want to use the full recipe at the bottom of the page.
Whisk up the egg mixture and scramble in butter until just set.
Slice Hawaiian slider rolls horizontally and place them in the bottom of a casserole dish.
Layer sweet rolls with cheese, ham, eggs, and another layer of cheese (yay!), then add the top half of the buns.
Brush the buttery, crunchy slider topping mixture over the buns and bake covered for 15-20 minutes.
Uncover, bake 10 minutes, and enjoy melty, cheesy egg sliders on golden sweet rolls.
Recipe Notes And Tips
I've made this breakfast slider recipe using eight eggs and ten eggs. Eight eggs will layer nicely on the Hawaiian rolls, but opt for ten if you prefer a thicker layer of fluffy eggs!
When preparing your fluffy egg scramble, avoid overcooking the eggs. Remember, egg sliders with ham and cheese will be in the oven for up to 30 more minutes.
Cheese lovers won't need any convincing, but we like the cheese on the top of the ham and eggs and underneath them, too! This creates a barrier that eliminates the chance of a soggy bottom.
In my opinion, American deli cheese has a better taste. It is of higher quality, so you have the best results: ooey, gooey, melty cheese.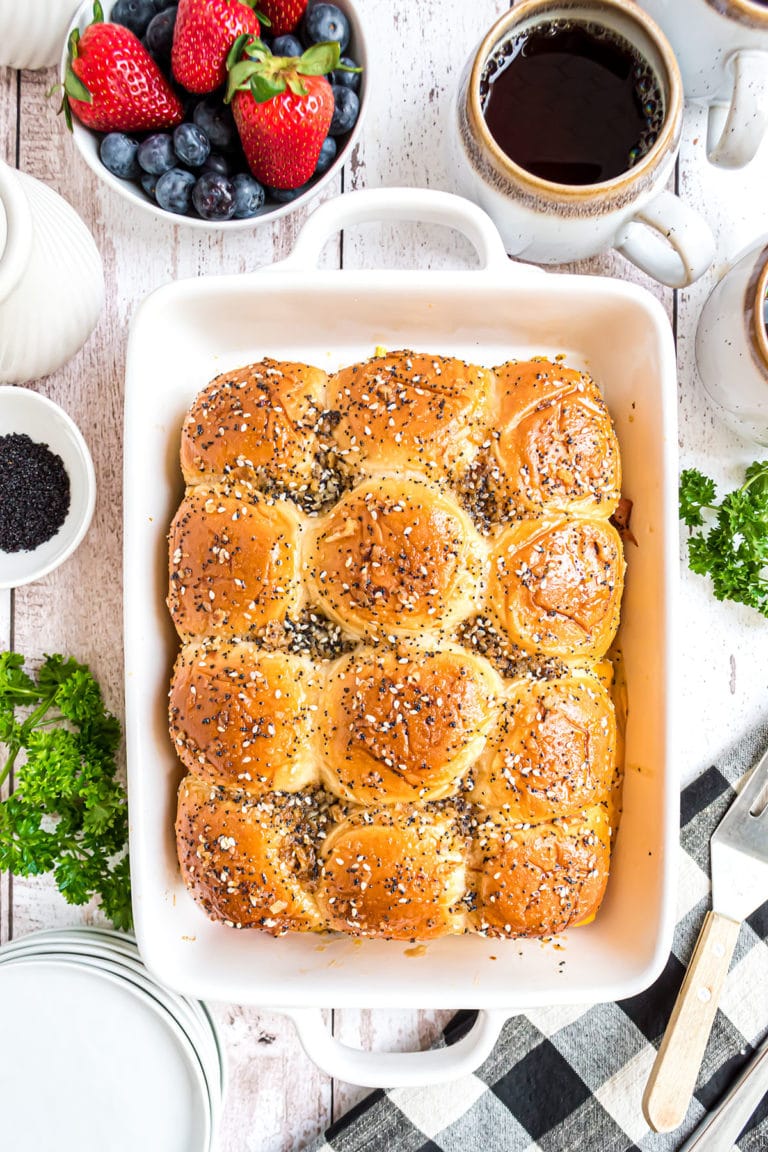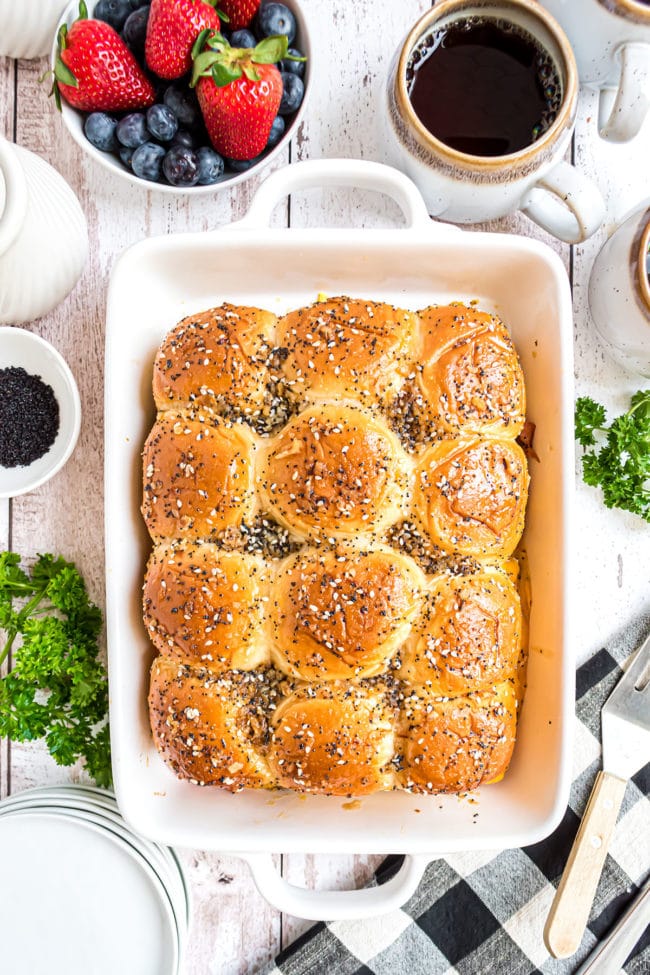 Storage
Refrigerate/Leftovers
Keep leftover breakfast sandwiches fresh by placing them in an airtight container in the fridge, and they should remain good for around 3 to 4 days. Reheat one egg slider at a time for 15-20 seconds in the microwave.
Freeze
Freezing the sliders is a great way to prep them for a convenient, hassle-free breakfast. Individually wrap breakfast sliders with plastic wrap and then tuck them into a freezer bag or freezer-friendly container. They will keep for 3 months.
Reheat
To reheat a frozen breakfast slider, do not thaw. Place in the microwave and heat on high in 30-second intervals until heated through.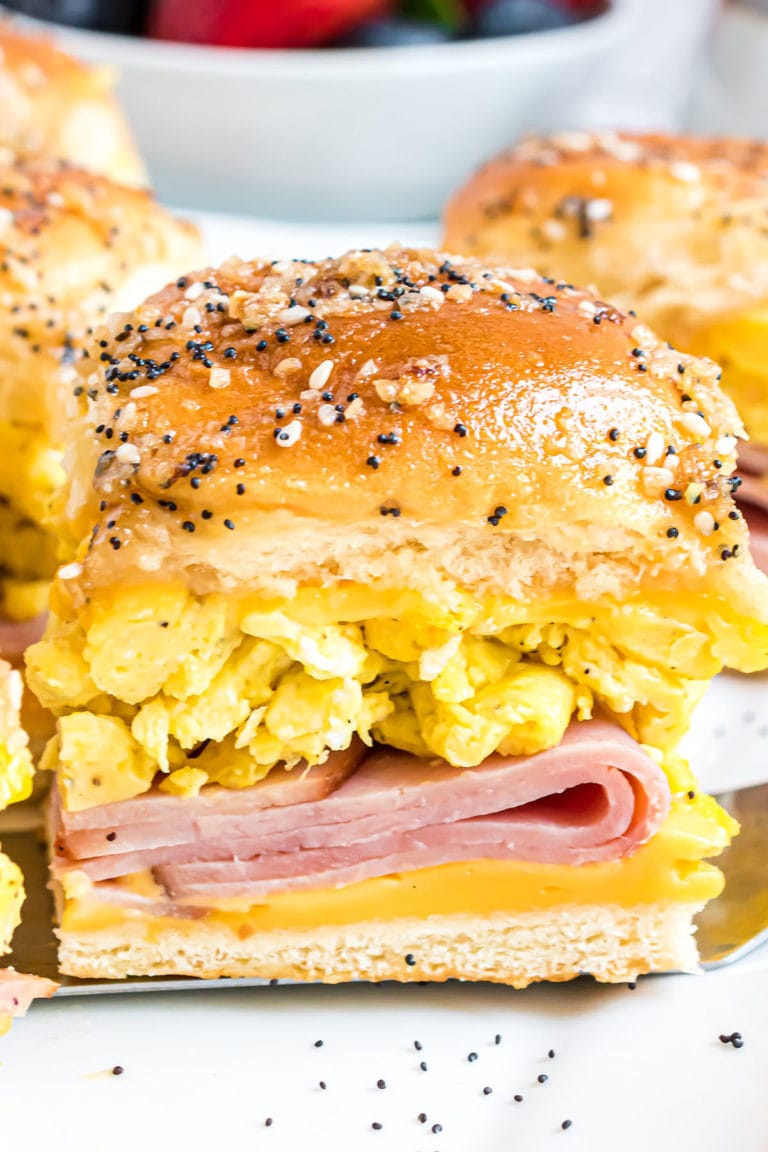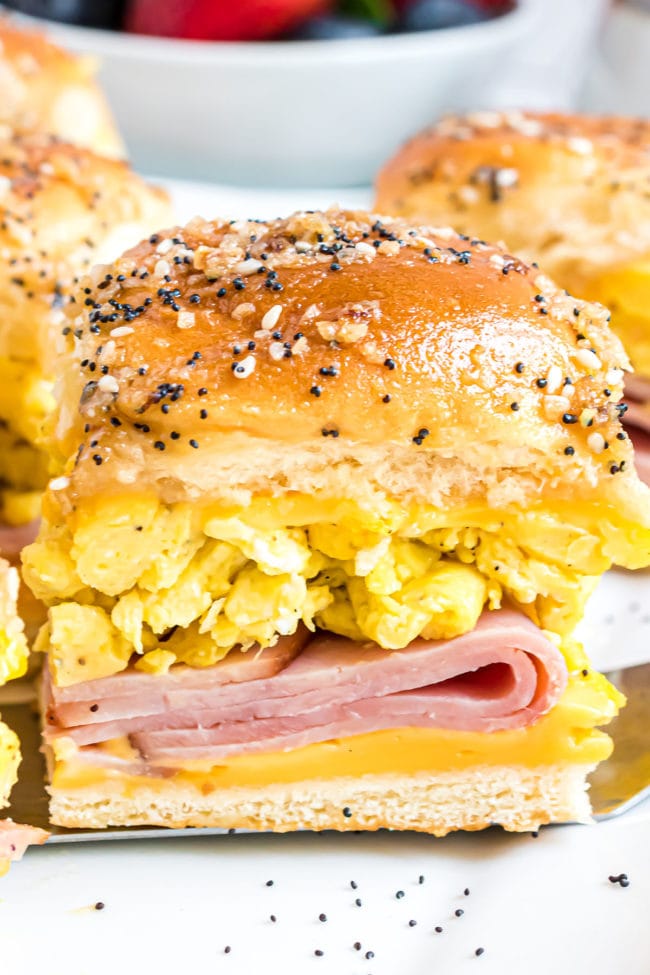 FAQs
Can I use a different kind of roll for the slider bun?
Absolutely! While we adore the delightful sweetness of the original Hawaiian roll, you can easily opt for regular dinner rolls or even savory butter rolls for a different twist.
Can breakfast sliders be made ahead of time?
Yes! You can prepare cheesy egg sliders a day in advance. Just ensure they're wrapped tightly in plastic wrap or foil, then refrigerate. When you're ready for a satisfying and delicious meal, allow them to warm for 30 minutes on the counter and bake.
How do you know if scrambled eggs are cooked enough?
Even though the scrambled eggs will continue to cook while they are in the oven, you want to make sure that no apparent liquid remains in the skillet when cooking them on the stove. This ensures the cheesy eggs are perfectly cooked and safely integrated into your breakfast slider recipe.
Can I leave the eggs out of a breakfast slider recipe?
No problem! One of the best things about these little breakfast sandwiches is that you can customize them. You can put eggs on half the sliders or leave the eggs out altogether. Even without eggs, you'll still enjoy the classic combo of a ham and cheese sandwich. The addition of crunchy maple butter topping will keep the "taste of breakfast" at the forefront.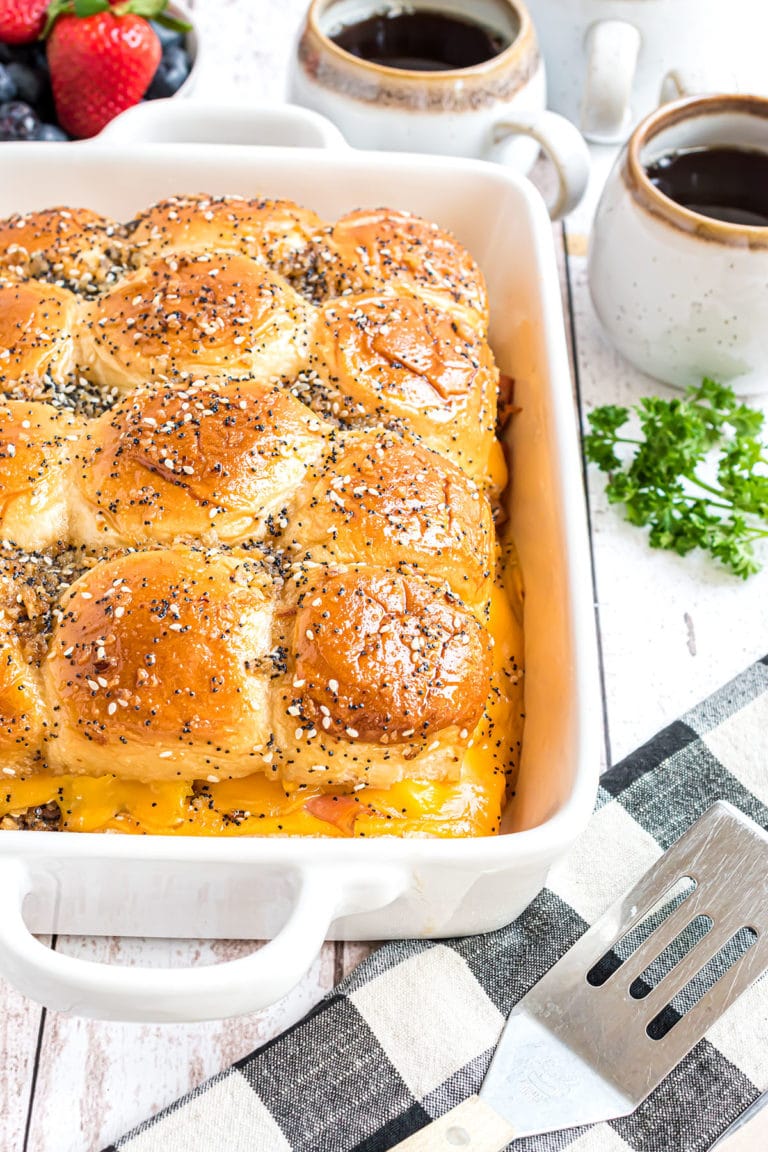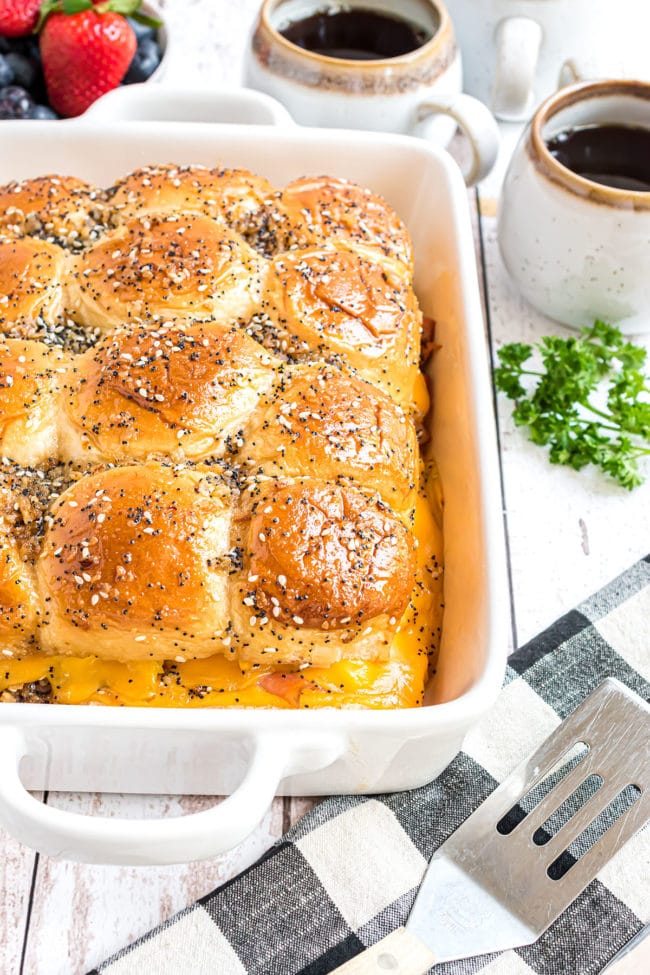 Serving Suggestions
Breakfast sliders work with a variety of sides, from traditional breakfast offerings to other grab-n-go options! Check it out: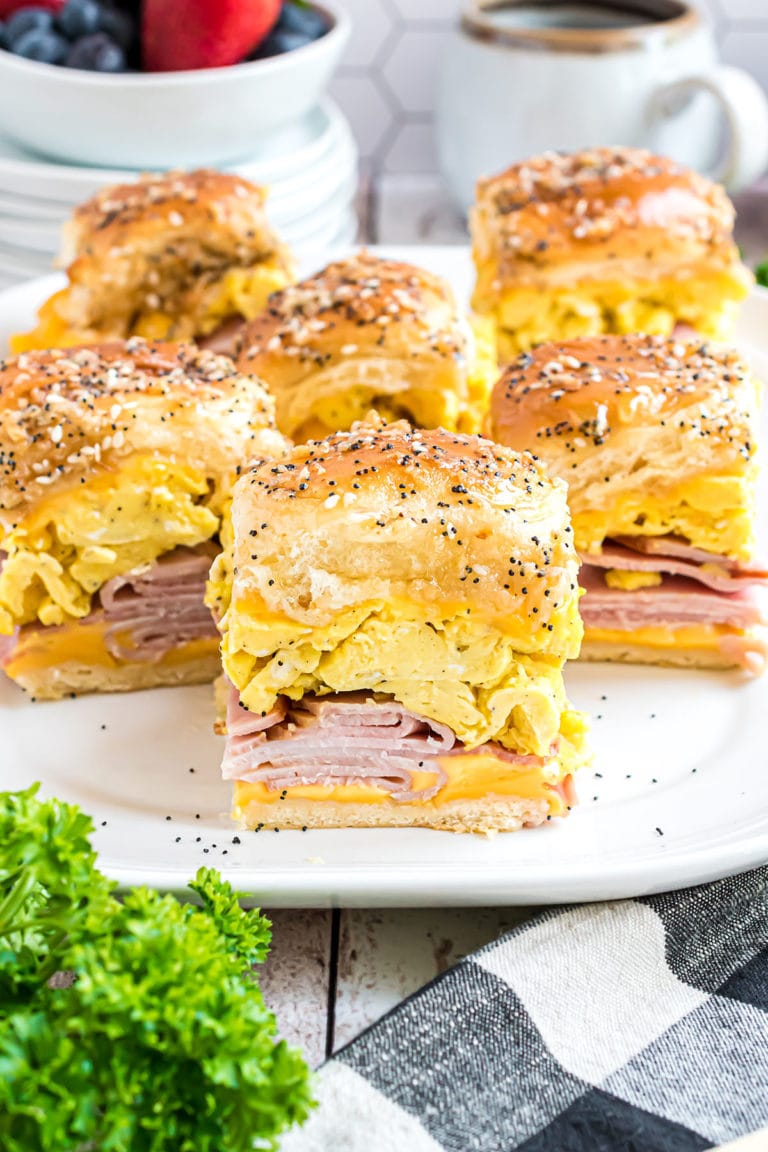 Variations & Additions
Explore some other ideas for morning slider sandwiches! Mix, add, or omit ingredients to suit your preferences and switch up flavors for a personalized twist on this classic ham, egg, and cheese breakfast slider recipe.
Savory smoked or sweet honey-baked ham
Maple or Hickory Smoked Bacon
Canadian bacon, turkey bacon or breakfast sausage
Other Sliced or Grated Cheese
Bagels or biscuits instead of Hawaiian Rolls
Meatless Breakfast Sliders With A Veggie Scramble
Saute your favorite veggies and layer them along with cheese on the egg sliders for a cheesy veggie breakfast slider. For a lighter option, sautee veggies before scrambling them with the eggs.
Onions
Peppers
Spinach Leaves
Kale
Mushrooms
Tomatoes
Jalapenos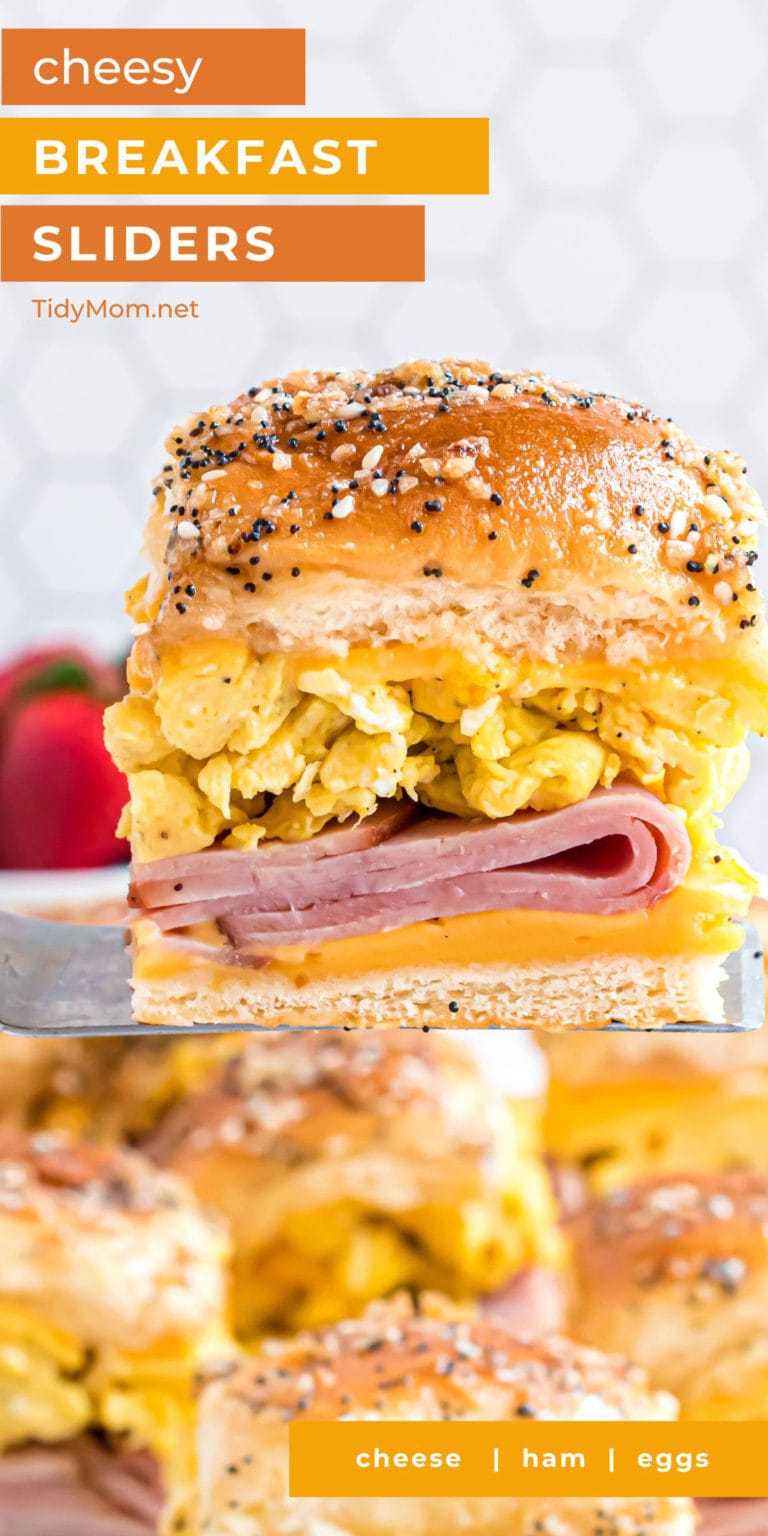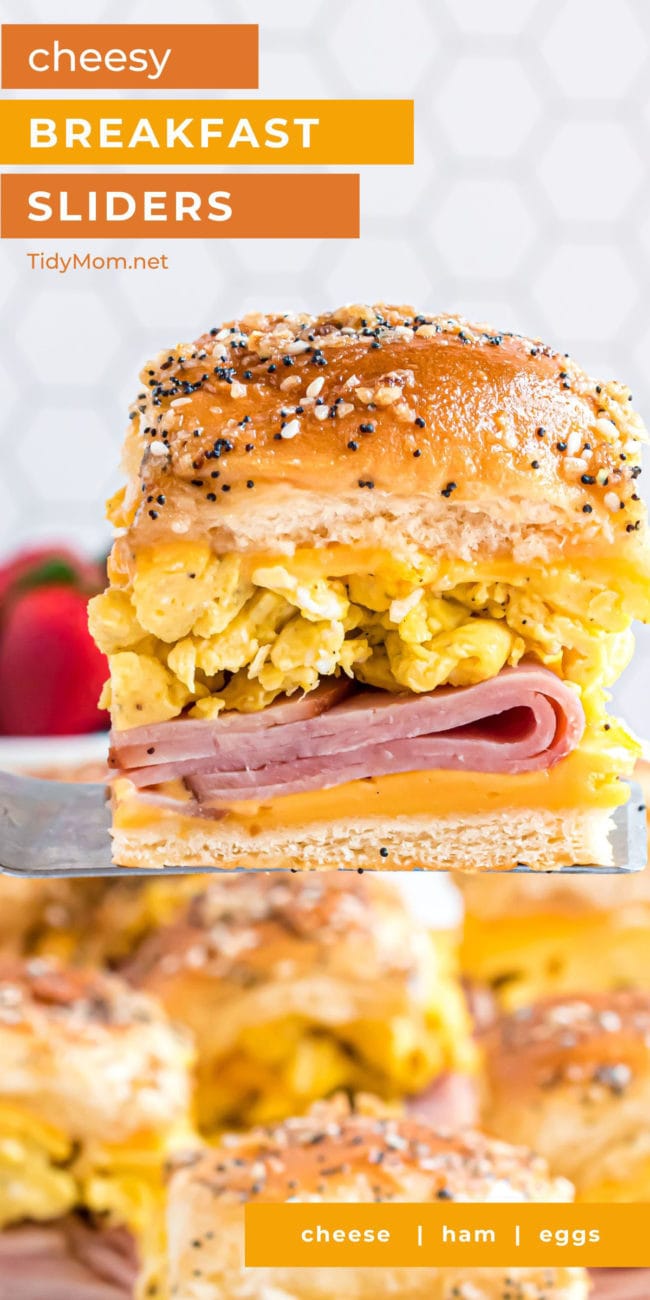 Like This Recipe?
I'd love to hear what you think! Leave a review below and let me know how you liked the recipe!
Cheesy Breakfast Sliders
Yield: 12 sliders
Prep Time: 10 minutes
Cook Time: 25 minutes
Total Time: 35 minutes
Start your day off right with our delectable Ham and Cheese Breakfast Sliders. A satisfying option for breakfast, lunch, or dinner.
Ingredients
10 large eggs
½ teaspoon kosher salt
¼ teaspoon black pepper
2 Tablespoons water
2 Tablespoons unsalted butter
1 package of Hawaiian rolls (12 rolls)
10-12 slices deli American cheese
9-12 slices deli ham, thinly sliced (about 1 ½ pounds)
Topping
2 Tablespoons unsalted butter
2 Tablespoons maple syrup
2 Tablespoons finely crushed French fried onions
1 teaspoon sesame seeds
1 teaspoon poppy seeds
Instructions
Preheat the oven to 350℉. Spray a 9"x13" casserole dish with cooking spray. Set aside.
Whisk eggs, salt, pepper, and water in a large mixing bowl until well combined.
Melt butter in a large, non-stick frying pan over medium-low heat. Pour the egg mixture into the frying pan and scramble the eggs until they are cooked. Set aside.
Without separating the rolls, cut them in half horizontally. Place the bottom half in the prepared casserole dish. Set the top halves of the buns aside.
Place 6 cheese slices in an even layer on top of the buns.
Add a layer of ham slices on top of the cheese. Top the ham layer with the scrambled eggs. Then top with the rest of the cheese.
Place the top half of the buns over the cheese and press down slightly.
In a microwave-safe medium bowl, melt the butter. Add the maple syrup, crushed French fried onions, sesame, and poppy seeds. Mix well, and brush over the top and sides of the rolls.
Loosely cover with foil and bake for 15-20 minutes. Uncover and bake for another 10 minutes or until the cheese is melted and the rolls are golden brown. Cut between the rolls to serve and enjoy!
Notes
Leftover sandwiches can be stored in an airtight container in the refrigerator for 3-4 days.
To reheat, wrap sandwich in a paper towel and microwave one at a time for about 15-20 seconds on high.
Freezing the sliders is a great way to prep them for a convenient breakfast. Wrap them individually in plastic wrap and place them in a freezer bag. They will keep for 3 months.
To reheat a frozen breakfast slider, do not thaw. Place in the microwave and heat on high in 30-second intervals until heated through completely.
Nutrition Information:
Yield: 12
Serving Size: 1
Amount Per Serving:
Calories: 182
Total Fat: 13g
Saturated Fat: 6g
Trans Fat: 0g
Unsaturated Fat: 5g
Cholesterol: 185mg
Sodium: 522mg
Carbohydrates: 6g
Fiber: 0g
Sugar: 4g
Protein: 11g
Nutrition information is estimated based on the ingredients and cooking instructions as described in each recipe and is intended to be used for informational purposes only. Please note that nutrition details may vary based on methods of preparation, origin, and freshness of ingredients used and are just estimates. We encourage, especially if these numbers are important to you, to calculate these on your own for most accurate results.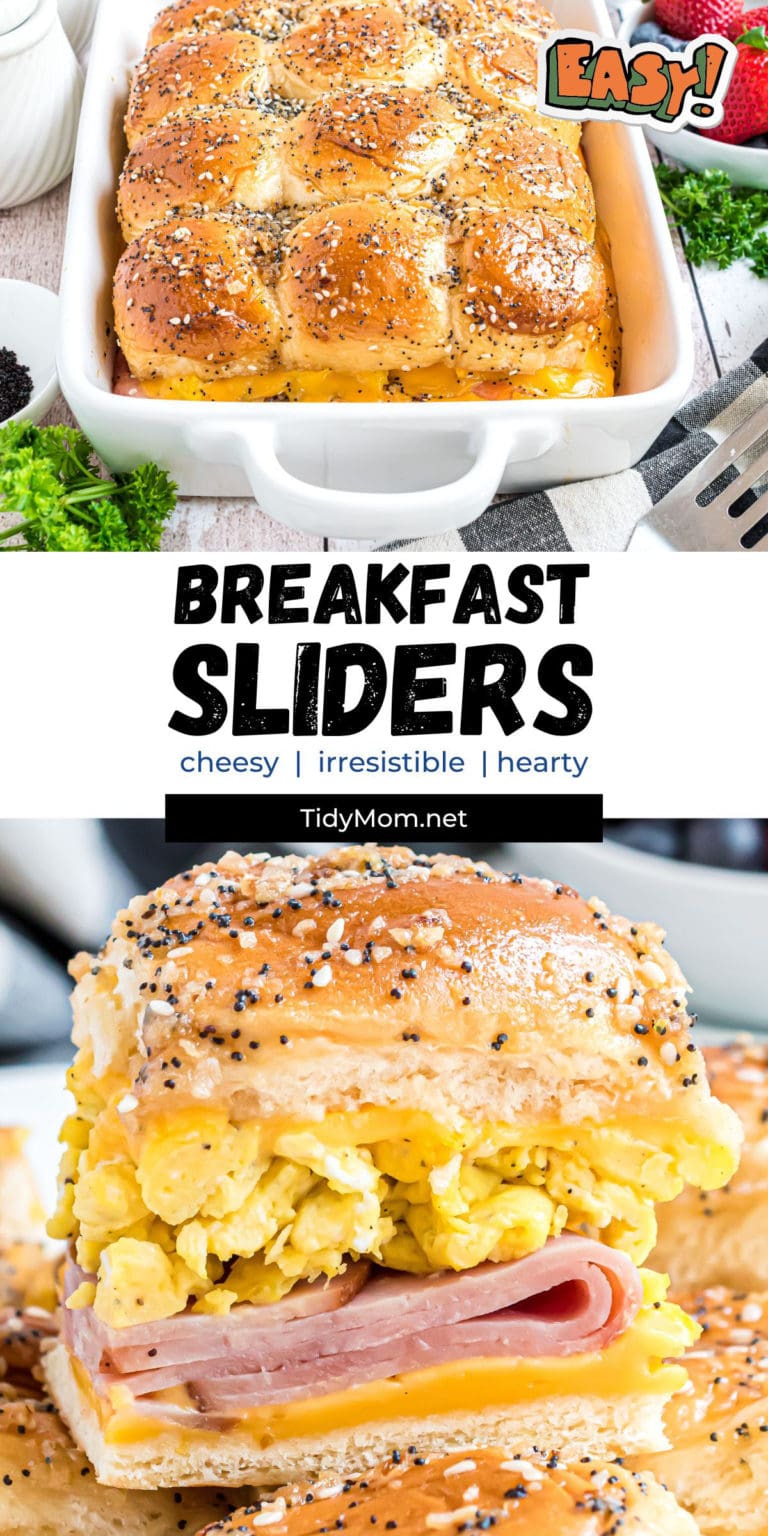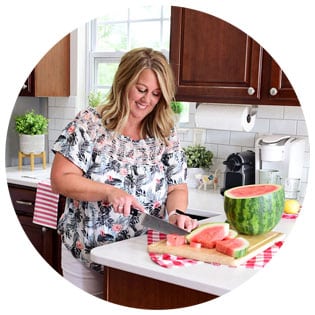 Hi there, I'm Cheryl!
As a wife, mom, and caffeine enthusiast, my journey has taken me from bustling mornings with my family to sharing delicious recipes, home care tips, and heartfelt decorating insights with wonderful readers like you. My love for baking, photography, and tidiness shines through every post I craft. Dive into my world and discover the art of homemaking, one tidy moment at a time. Read more...
Tidymom is a participant in the amazon services llc associates program, an affiliate advertising program designed to provide a means for sites to earn advertising fees by advertising and linking to Amazon.com.
Please respect my work, recipes and photographs. If you do use a recipe in your own writing, please give proper credit and link back to the original post.