Cheesy Hashbrown Casserole (Funeral Potatoes)
Tender Hashbrown Casserole is perfect for dinner and holiday tables. Frozen hash browns slathered in decadently rich, creamy, golden cheese is unbelievably delicious and ready to bake in five minutes. I dare you to keep anyone from getting seconds!
Cheesy potatoes are the perfect side dish. If you like this family-favorite potato recipe, you should try Au Gratin Potatoes, Make Ahead Mashed Potatoes or Parmesan Smashed Potatoes. They are all the perfect comfort food the whole family will enjoy.
Be sure to sign up for my email… to get new recipes and ideas in your inbox!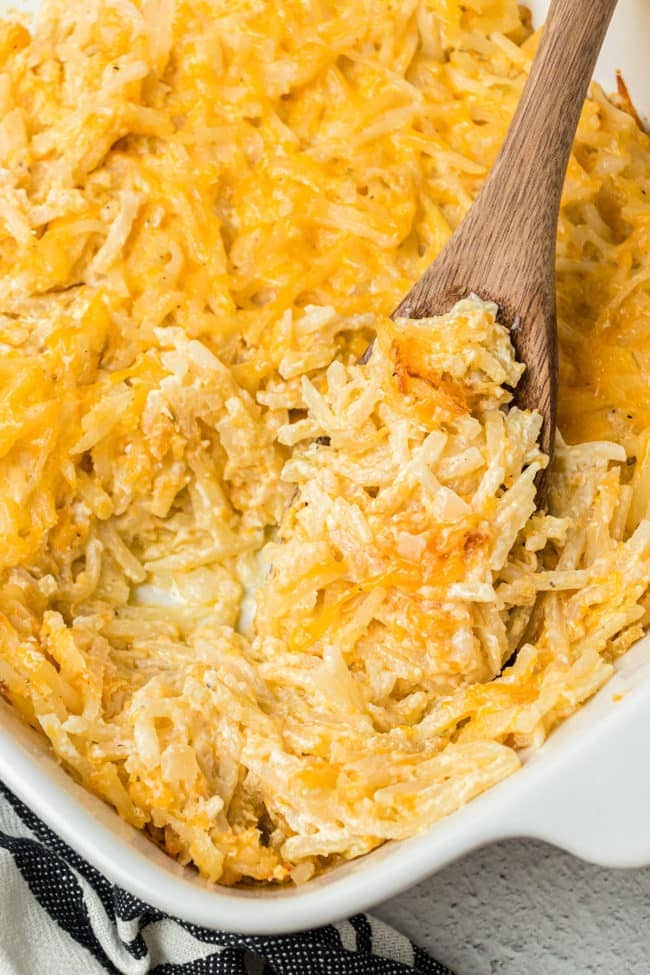 Why Are They Called Funeral Potatoes?
Due to the popularity of hashbrown casserole recipes at funerals, the macabre moniker stuck. This creamy, cheesy comfort food has become a long-standing mainstay for these events.
Funeral potatoes are also equally popular with friends and family members who appreciate the ultimate ease of a seriously delicious mix-and-bake casserole; it's a "Godsend." Maybe we can coin something new like "Palate Party Potatoes" or "Tongue Tango Casserole?" Just sayin'!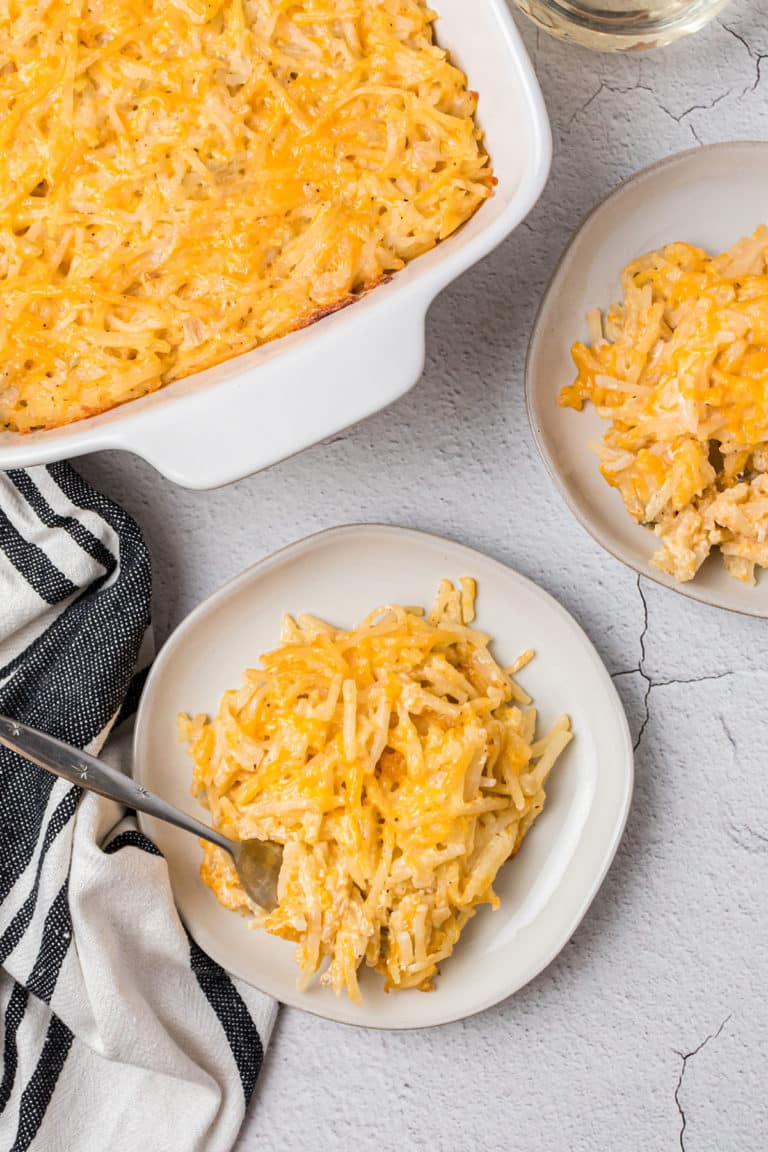 Why You'll Love Cheesy Hashbrown Casserole
First, this fantastic hashbrown casserole has other names that don't evoke the "ewww" factor or downright woe. Whether handed down or regional, you may have heard of "company potatoes," "party potatoes," or even just "those potatoes". No matter what someone else calls them, you'll definitely call them delicious, so spread the love!
Quick. a cheesy hashbrown casserole takes just five minutes to throw together. While you are at it, double the recipe and throw an extra one in the freezer for one of "life's-unexpected-moments!"
Feeds a crowd. This side dish easily feeds many. Baked in a large pan (foil pans are great) and it's easy to double or even triple the recipe.
No clean-up. Mix, bake and serve all in a foil pan for literally no dishes to wash.
Crowd-pleasing party potatoes work for get-togethers where everyone loves a superb cheesy potato casserole: potlucks, holidays, brunch, football Sunday, or office parties, to name a few.
Any time of day. Tasty hashbrown casserole is so versatile it can work for any meal: breakfast, lunch, and dinner!
The ultimate comfort food recipe, yes, I'm going there. Funeral potatoes bring a welcomed, soothing measure of comfort for those on both sides of the serving dish.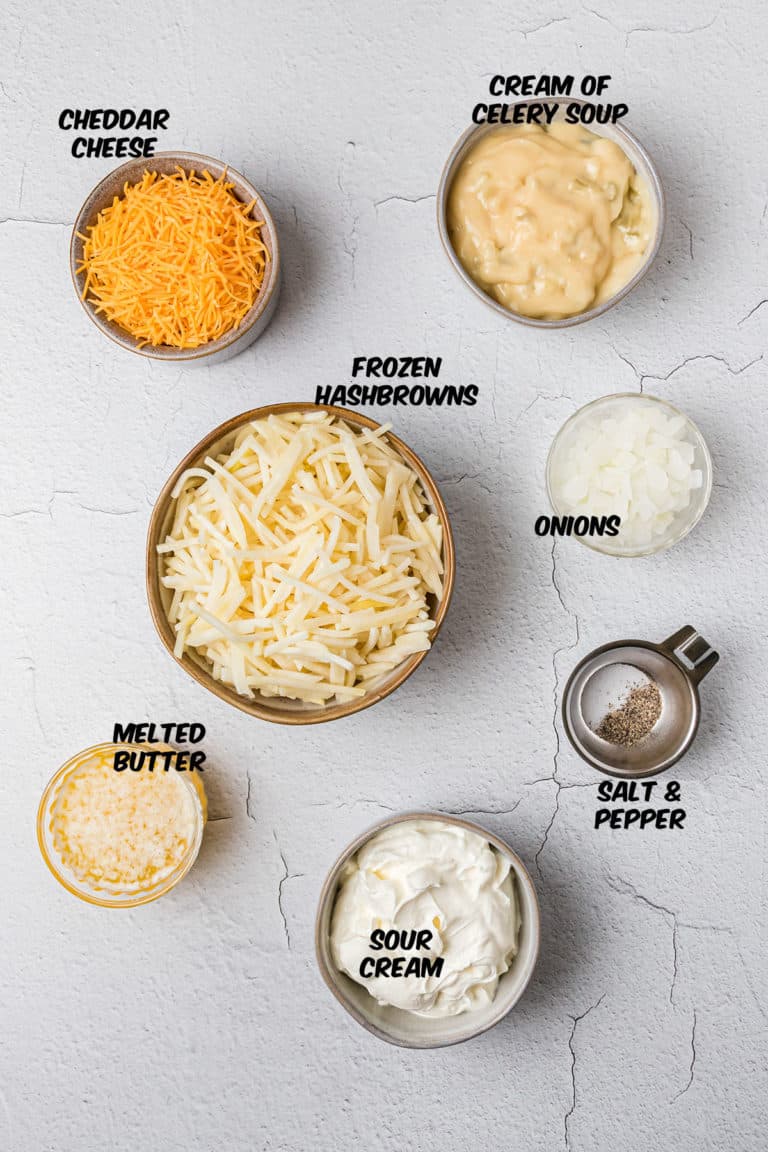 Ingredients For Cheesy Hashbrown Casserole Without Cornflakes
With six simple ingredients and a little seasoning, you're on your way to a delicious hashbrown casserole with only five minutes of prep. You (and everyone else) will be asking why you don't make this more often!
*For specific amounts, please refer to the printable recipe card at the bottom of the post.
Frozen Hashbrown Potatoes – shredded (or diced) hashbrown potatoes thawed.
Melted Butter – if hashbrowns are cold, mix butter with other stuff first.
Onions – chopped. I like to use frozen chopped onions (thawed).
Sharp Cheddar Cheese – If you have time, hand shredded is best. But bagged shredded cheese works too, it just doesn't melt quite as nicely because of the anti-caking agents.
Sour Cream – creamy tang is the "thang!" Greek yogurt works well in hashbrown casserole too.
Cream Of Celery Soup – or any creamy condensed soup you prefer can work fine.
Kosher Salt and freshly ground Black Pepper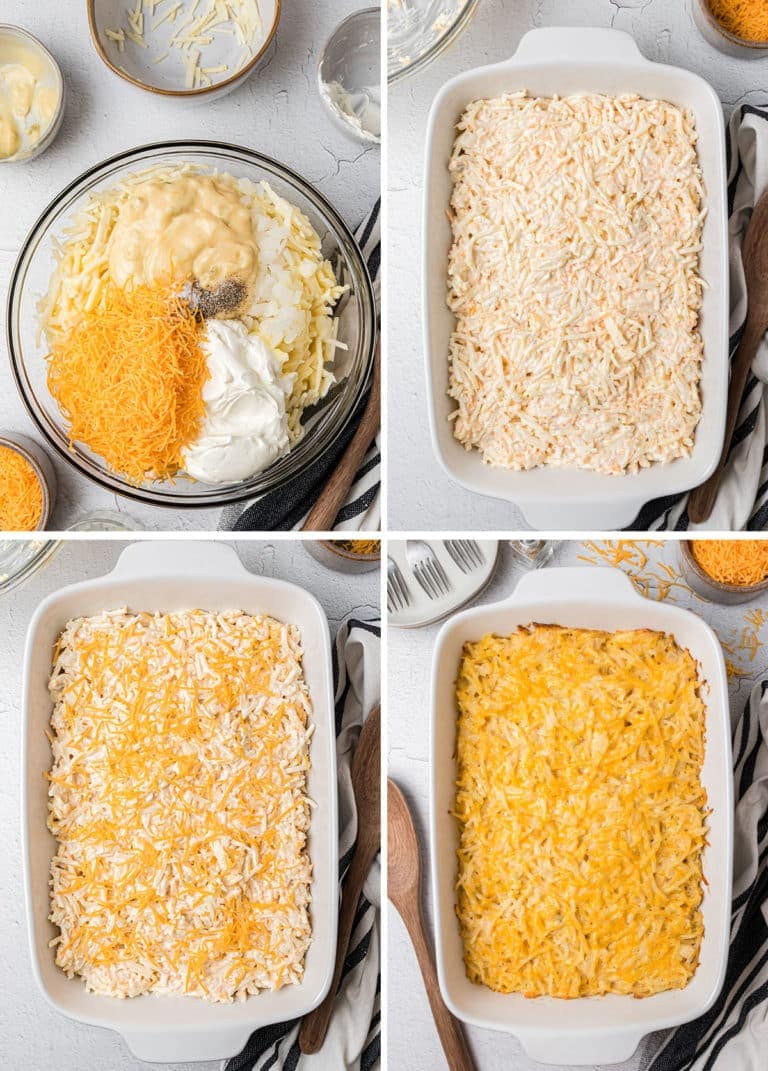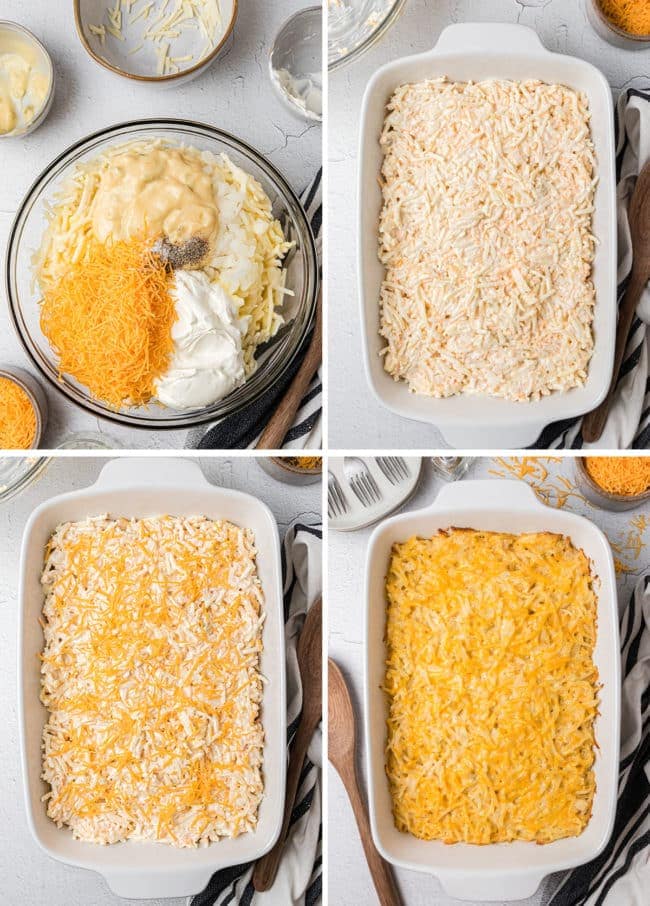 This post may contain affiliate links. Please read my disclosure policy here.
How To Make Cheesy Hashbrown Casserole Without Cornflakes
There are lots of recipes that claim simplicity and ease. Undoubtedly, this cheesy hashbrown casserole has withstood decades of tasting, tampering, and reinventing. The bottom line stays the same:
Combine all of the ingredients in a large mixing bowl.
Spread the hashbrown casserole evenly in the prepared baking dish.
Cover with foil and bake for 30 minutes.
Remove the foil and bake for 30 minutes until golden and bubbly.
Cool slightly and serve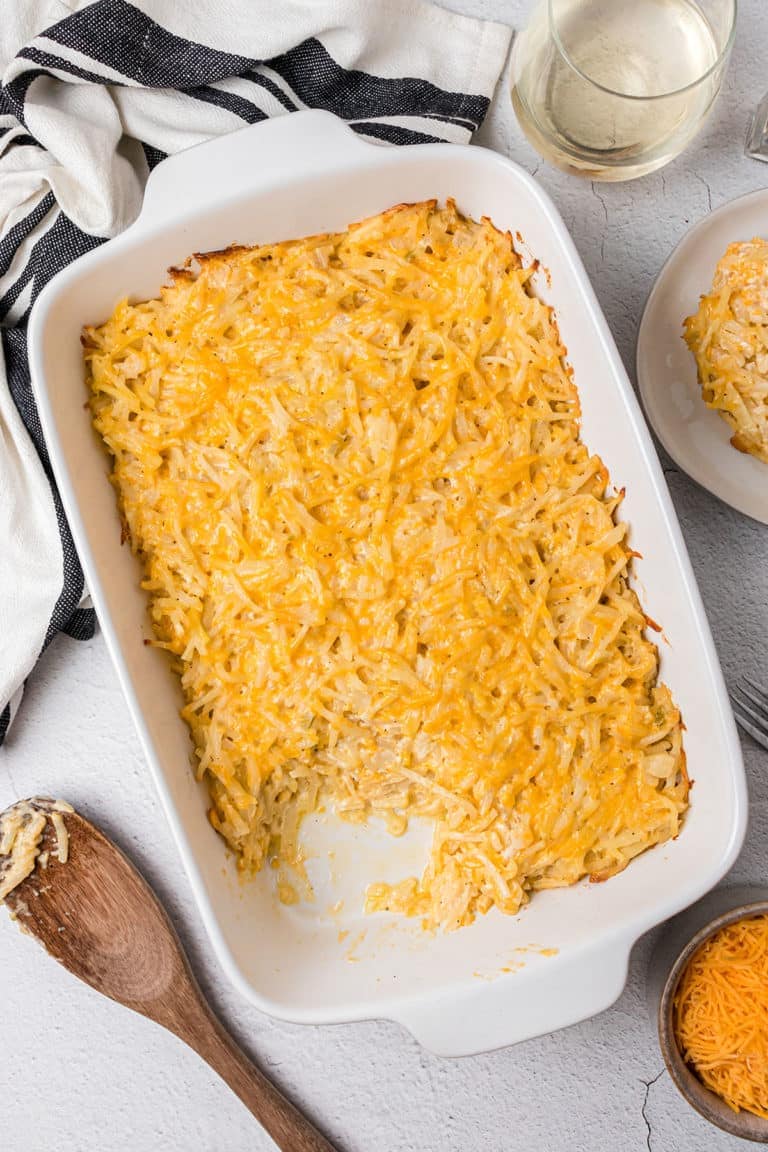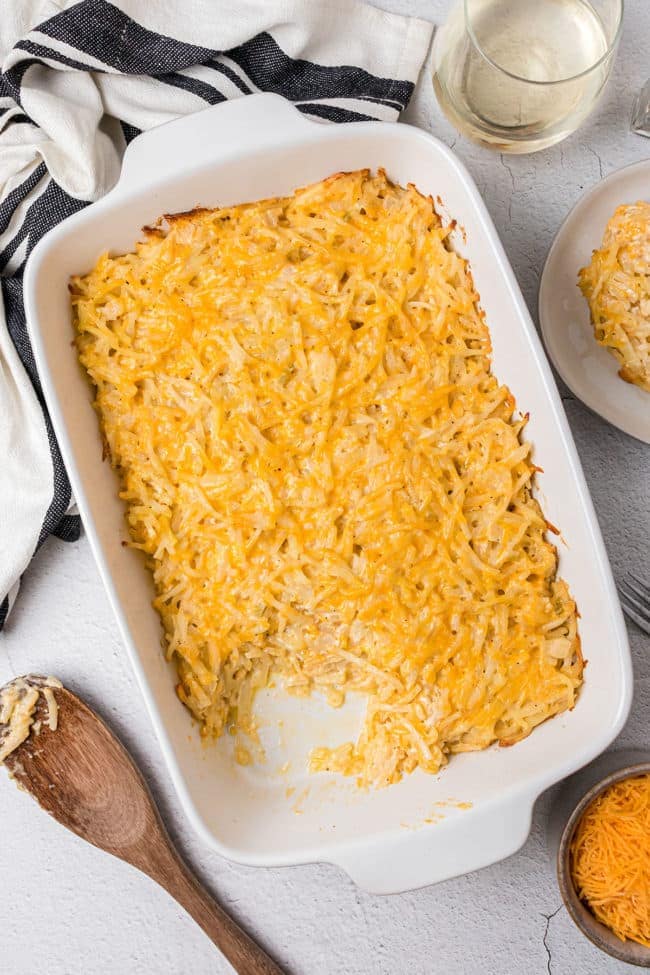 Recipe Notes and Tips
Frozen hashbrowns are sold in many sizes; the exact amount isn't significant as long as you get something between 25-30 ounces. (I always err on the side of more).
Hashbrowns that are shredded and NOT pre-cooked are preferred in a cheesy hashbrown recipe.
When I make a hashbrown casserole, I like to pull my frozen hashbrowns and let them thaw in the fridge overnight.
Another great tip for a delicious hashbrown recipe; if the hashbrowns are cold or slightly frozen, mix all the other ingredients first, then stir in the potatoes.
I prefer to mix the ingredients right in the baking dish; it saves time and an extra dish to wash!
A brilliant time saver is to use frozen chopped onions. They are quick and easy for funeral potato casseroles, no onion chopping is required.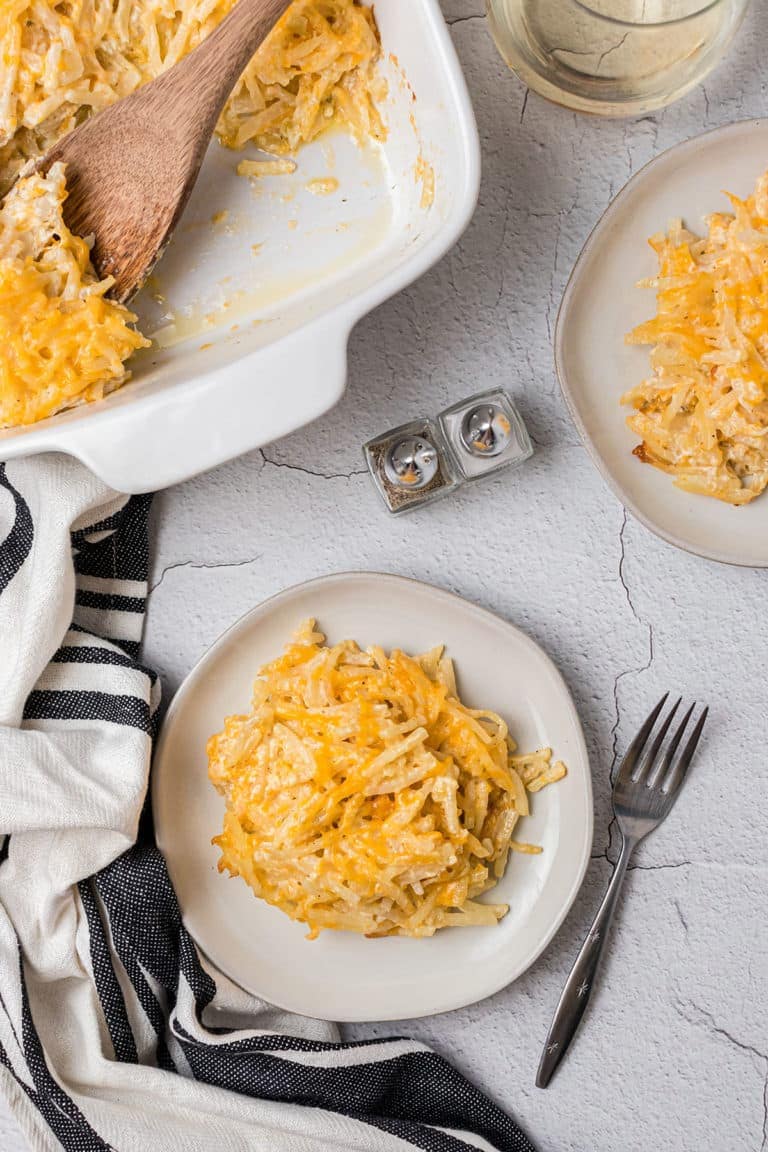 Storage and Reheating Hashbrown Casserole
Refrigerate – Place leftover cheesy potatoes in an air-tight container and keep them in the fridge for up to 4-5 days.
Reheat – To reheat, place on a microwave-safe plate and reheat in the microwave until heated through.
Freeze – there's no argument that a hashbrown casserole recipe, when made ahead and frozen uncooked, is just as good as one freshly made when it comes to taste. Use a foil pan, seal tightly, and don't wait a whole three months to enjoy this cheesy comfort dish!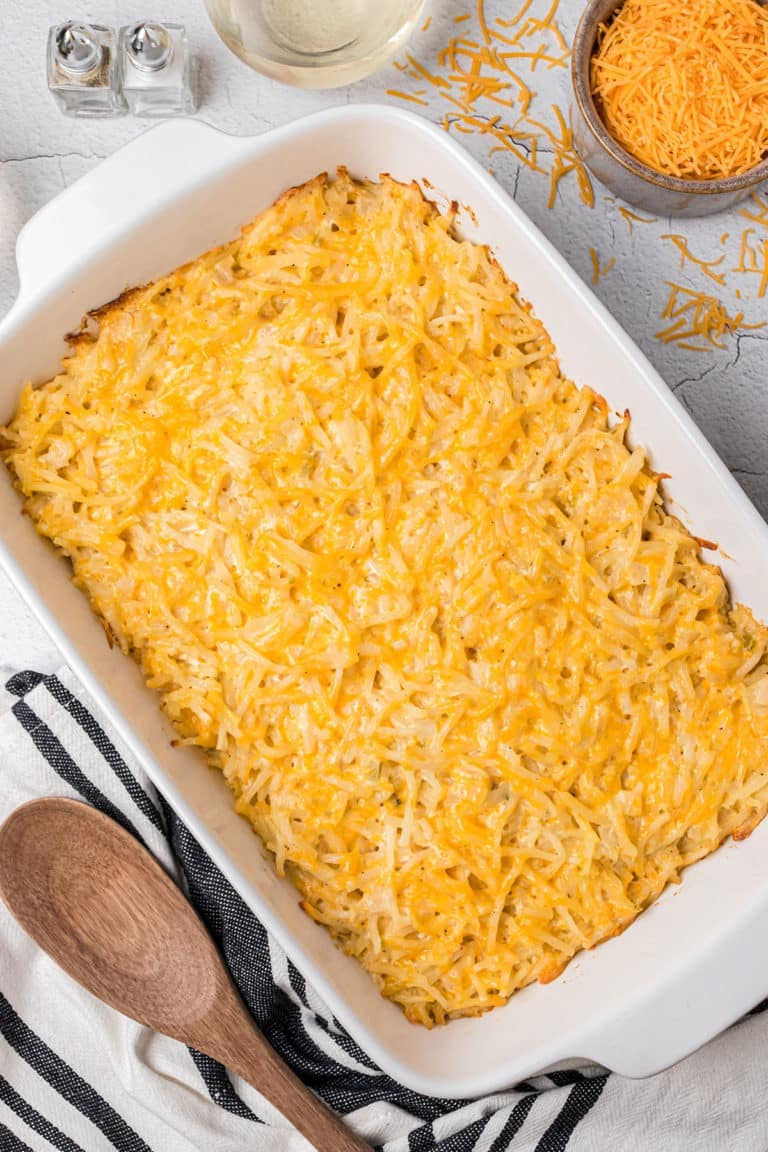 Variations & Additions For Cheesy Hashbrown Casserole Recipe
My family prefers cheesy hashbrown casserole without cornflakes, but you can certainly add a crunchy top to your casserole. See the FAQ section below for alternatives. Some other variations to you might like to try:
Potatoes: cubed hashbrowns, potatoes O'Brien, uncooked seasoned fries, or tater tots. You could even use leftover baked potatoes!
Soups: cream of mushroom, cream of chicken, or broccoli cheddar soup.
Proteins: add some protein and make it a main dish with southwest chicken, bacon, sausage, ham, or hotdog slices
Cheeses: white cheddar, colby jack, gouda, pepper jack, Havarti, or cream cheese. (Speaking of leftovers, it's an excellent opportunity to clean out your cheese drawer of bits and pieces.)
Veggies: peas, mushrooms, green beans, shredded carrots, veggie mix, or diced broccoli. Diced tomato or cilantro on top.
Sauces: red or green salsa, ranch dressing, or liquid smoke.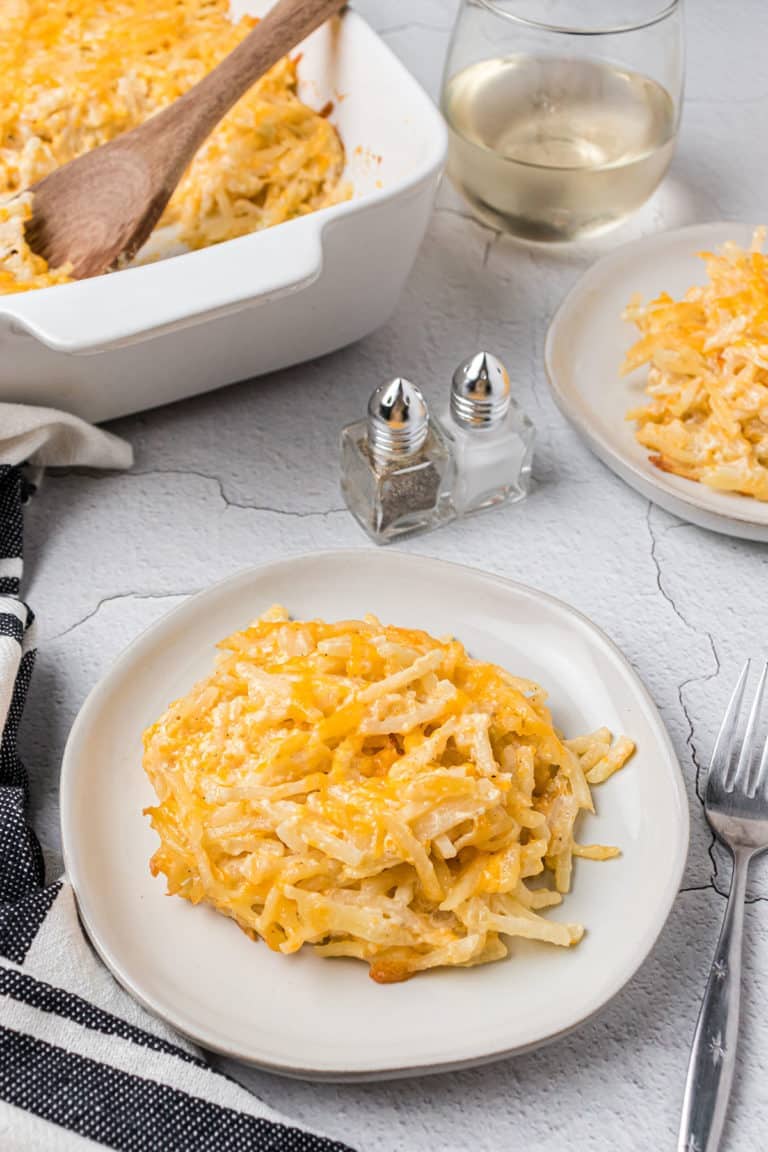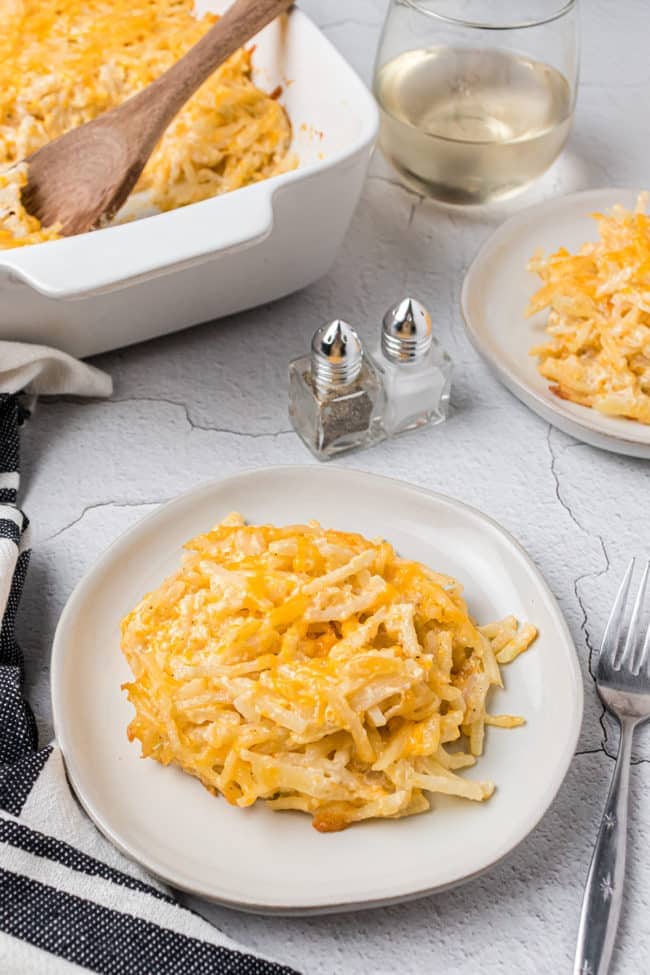 Frequently Asked Questions
What can I use instead of cornflakes on cheesy hashbrown casserole?
So many options and so little time! Seasoned or plain bread crumbs, potato chips, tortilla chips, Townhouse or Ritz crackers, saltines, or pretzel chips. If you want to add a crunchy topping to your hashbrown casserole, the one you select may depend on what meal and variations you may have made. You can choose the flavor you think complements your hashbrown casserole when acting as a delicious side dish or a satisfying cheesy company potato main course.
How many people does hashbrown casserole serve?
You can usually get about 12 servings out of a 9×13 pan. This casserole recipe is easy to double or triple depending on the size of the crowd you are feeding.
Can I shred my own potatoes for funeral potatoes?
Yes, you can shred raw potatoes for a hashbrown casserole recipe. I would recommend shredding them onto a cheesecloth or paper towel to remove some of the moisture as you go. Mix them with the other ingredients quickly, so they don't turn brown on you.

Blanch homemade potato shreds when you plan to make ahead and freeze a hashbrown casserole recipe (uncooked). Blanch potato shreds in salted, boiling water for one minute, hit the ice bath, and drain well.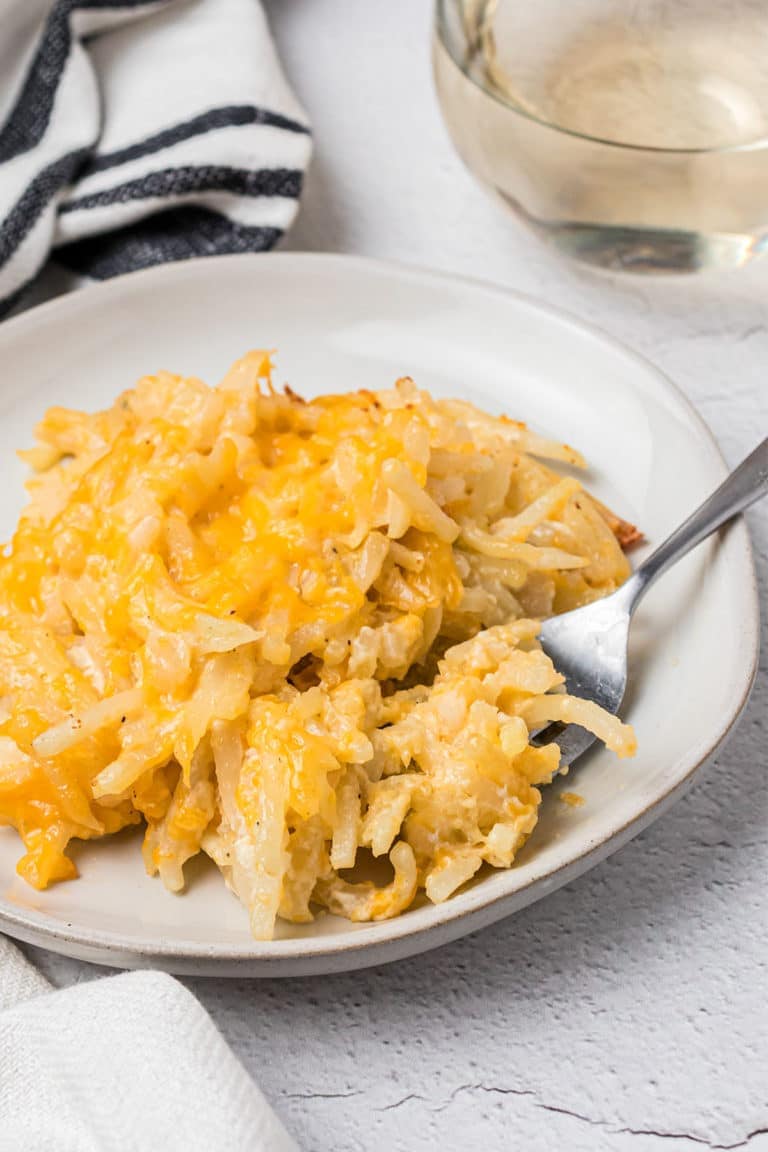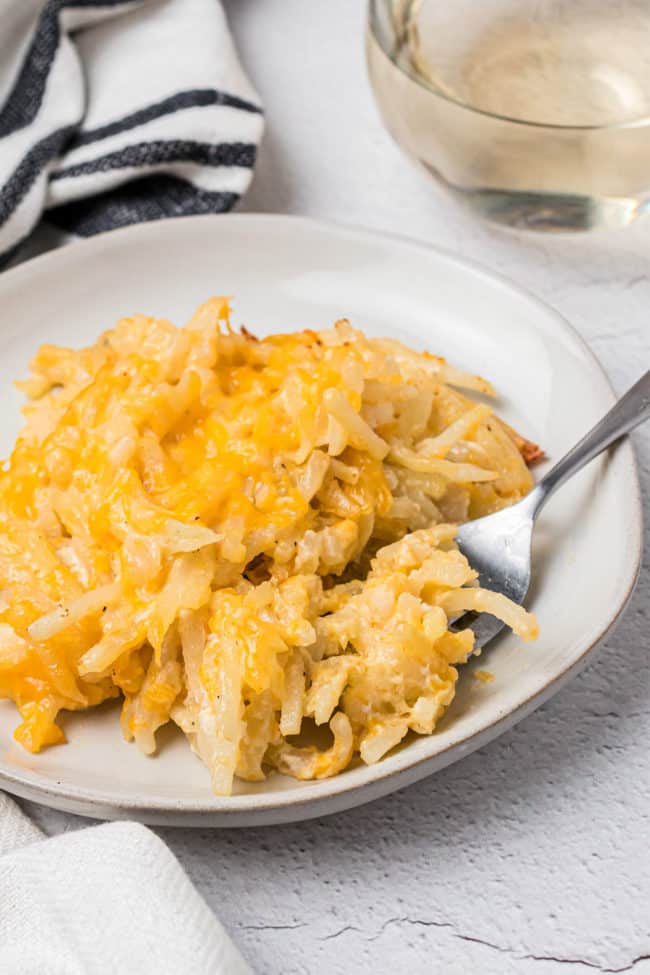 Serving Suggestions For Cheesy Hashbrown Casserole
A traditional holiday side dish; Easter with ham, Thanksgiving with turkey, and Christmas with everything!
But there's no need to wait for a holiday, we love to serve hashbrown casserole with sandwiches like Italian Roast Beef and Amazing Pulled Pork, or Chicken Tenders, Buffalo Chicken Strips, alongside our favorite eggs at breakfast even quiche.
Make cheesy hashbrown casserole into an irresistible "company potatoes" meal by adding meat and complementing veggies.
When serving a hashbrown casserole to a large party, use a disposable heavy-duty foil pan. No clean-up, no forgotten baking dish, and usually no leftovers!
Like This Hashbrown Casserole Recipe? Pin It!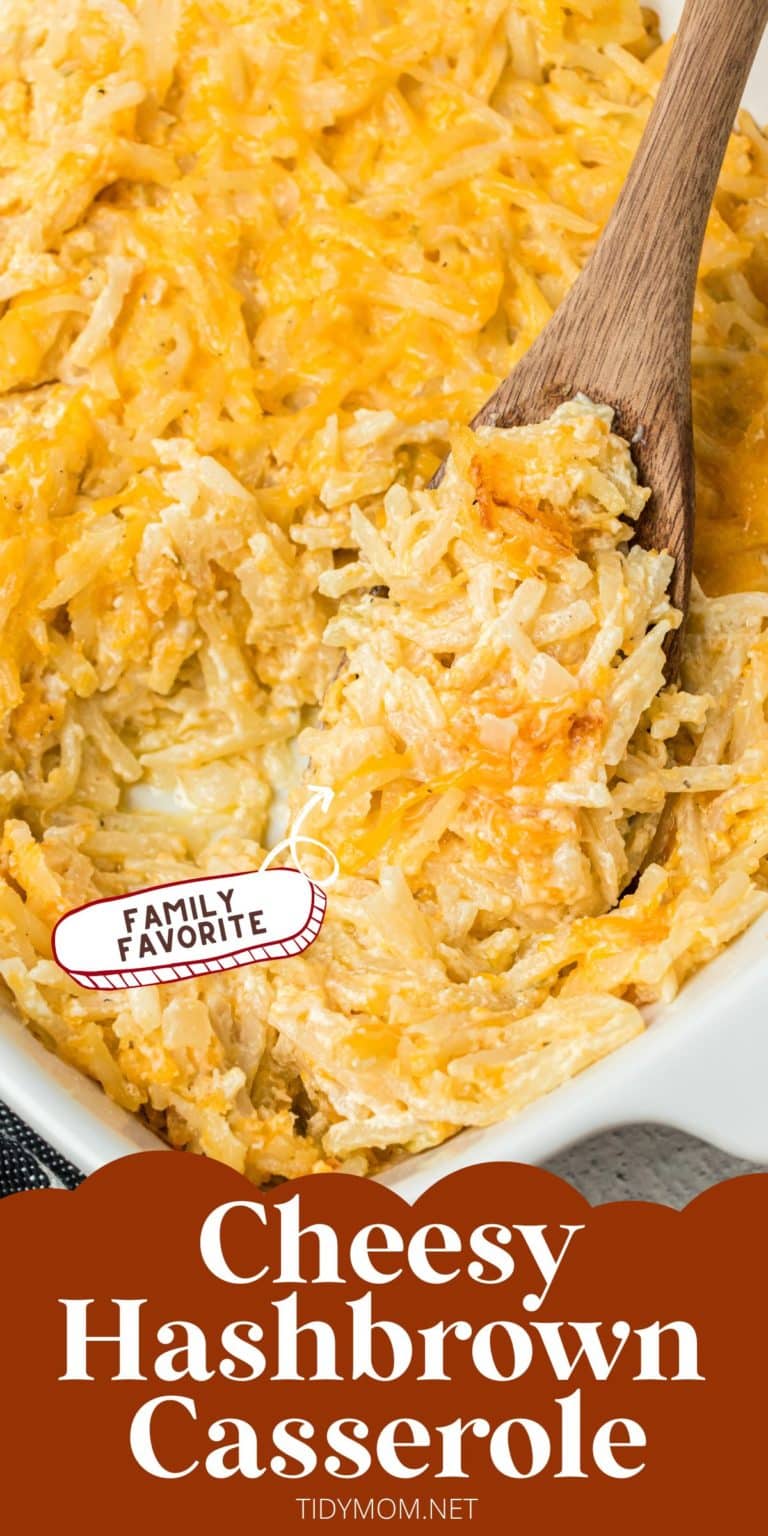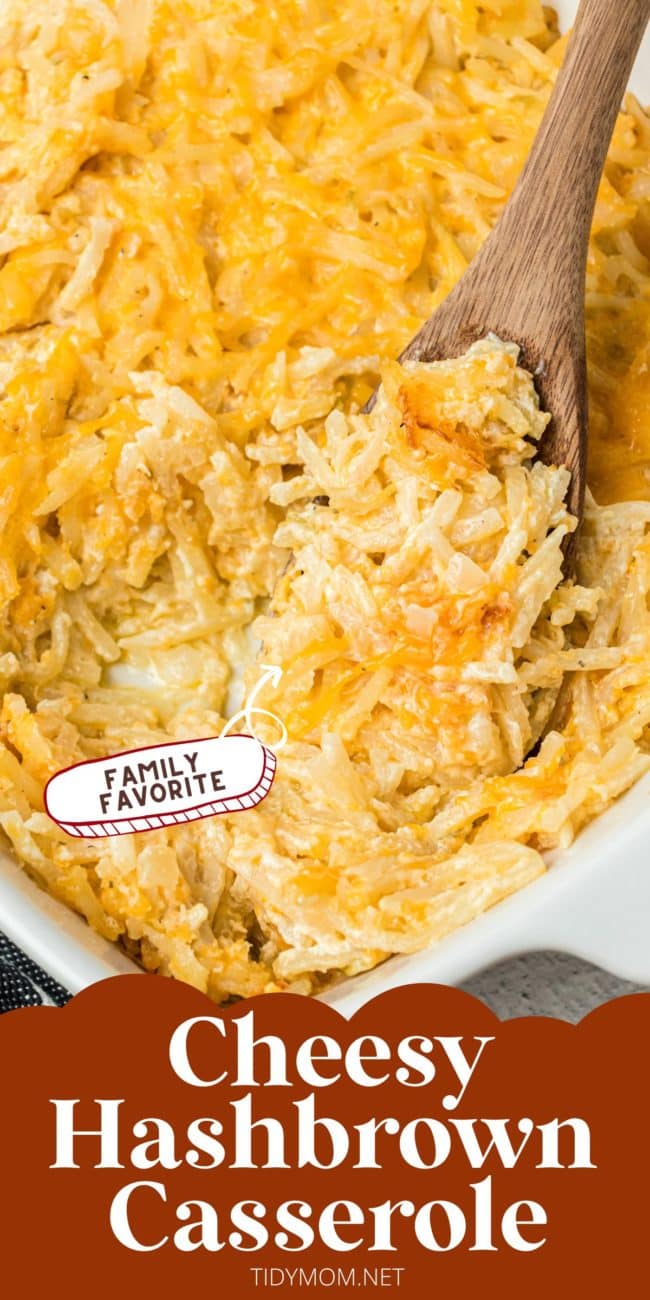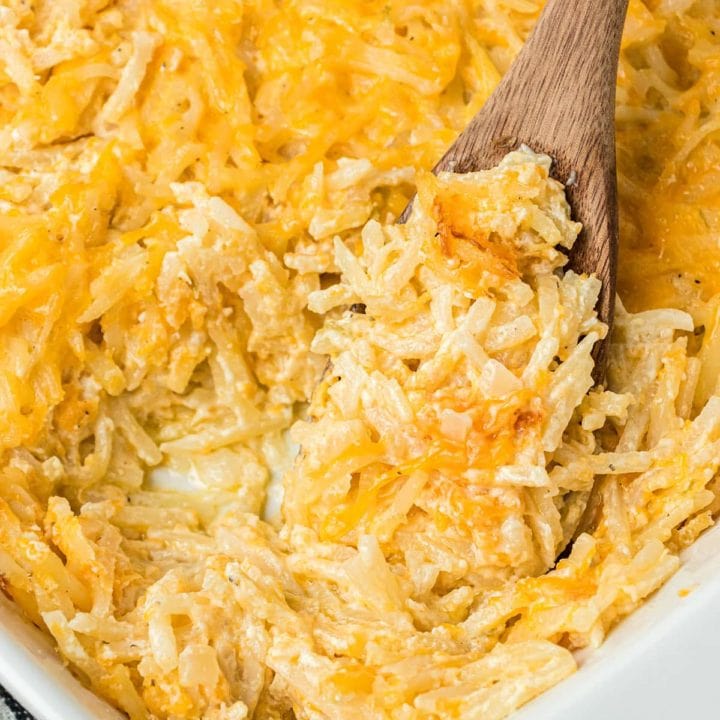 Cheesy Hashbrown Casserole
Yield: 12 servings
Prep Time: 5 minutes
Cook Time: 1 hour
Total Time: 1 hour 5 minutes
Frozen hash browns slathered in decadently rich, creamy, golden cheese is unbelievably delicious and ready to bake in five minutes. Perfect for dinner and holiday tables.
Ingredients
25-30 ounces of frozen shredded hash brown potatoes, thawed
½ cup butter, melted
½ cup chopped onions (I like to use the frozen chopped onions)
2 cups shredded sharp cheddar cheese
12 ounces sour cream
1 (10.5 ounce) can of cream of celery soup
Kosher salt and freshly ground black pepper
Instructions
Preheat oven to 350°F. Grease a 9x13-inch baking dish with butter or non-stick cooking spray.
Using a large mixing bowl combine all of the ingredients using a wooden spoon and mix until well combined.
Add potato mixture to the prepared baking dish. Cover with foil and bake for 30 minutes, then remove the foil and continue baking for another 30 minutes or until golden brown on top and bubbling around the edges.
Let cool for about 10-15 minutes before serving.
Notes
store/reheat: Place leftover potatoes in an air-tight container and keep them in the fridge for up to 4-5 days. To reheat, simply place on a microwave-safe plate and reheat in the microwave until heated through.
The exact amount of hashbrowns isn't extremely important. They are sold in many sizes, so just try to get something between 25-30 ounces (I always err on the side of more). Just make sure they are shredded and NOT pre-cooked.
I pull my frozen hashbrowns out of the freezer and put them in the fridge to thaw overnight.
To save time and dishes, I always just mix the ingredients right in the baking dish, instead of a bowl.
Frozen chopped onions are a time saver.
Cream of celery soup can be substituted with cream of chicken or, cream of mushroom
Great dish for large gatherings. Everyone loves them.
If I'm making these to take to a party, I make them in a heavy-duty foil pan so I don't have to remember to bring my baking dish home. Makes for easy clean up too.
Some people call these funeral potatoes, we've always called them cheesy potatoes.
Recommended Products
As an Amazon Associate and member of other affiliate programs, I earn from qualifying purchases.
Nutrition Information:
Yield: 12
Serving Size: 1
Amount Per Serving:
Calories: 467
Total Fat: 37g
Saturated Fat: 17g
Trans Fat: 1g
Unsaturated Fat: 16g
Cholesterol: 76mg
Sodium: 753mg
Carbohydrates: 22g
Fiber: 2g
Sugar: 2g
Protein: 13g
Nutrition information is estimated based on the ingredients and cooking instructions as described in each recipe and is intended to be used for informational purposes only. Please note that nutrition details may vary based on methods of preparation, origin, and freshness of ingredients used and are just estimates. We encourage, especially if these numbers are important to you, to calculate these on your own for most accurate results.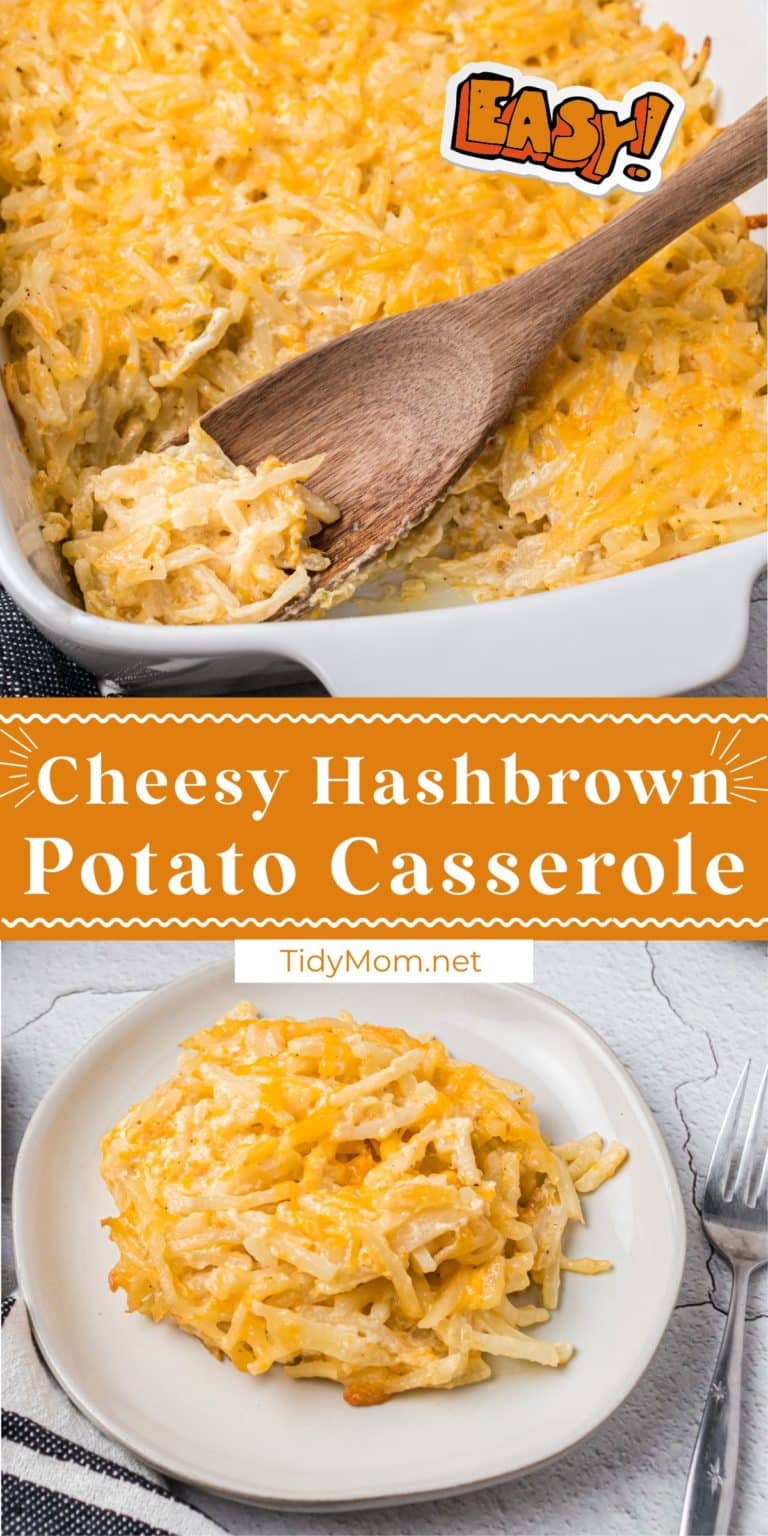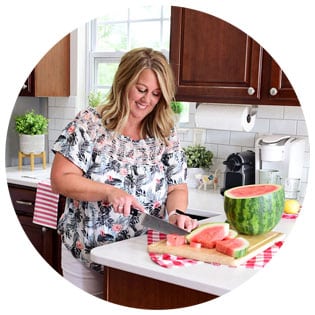 Hi there, I'm Cheryl!
As a wife, mom, and caffeine enthusiast, my journey has taken me from bustling mornings with my family to sharing delicious recipes, home care tips, and heartfelt decorating insights with wonderful readers like you. My love for baking, photography, and tidiness shines through every post I craft. Dive into my world and discover the art of homemaking, one tidy moment at a time. Read more...
Tidymom is a participant in the amazon services llc associates program, an affiliate advertising program designed to provide a means for sites to earn advertising fees by advertising and linking to Amazon.com.
Please respect my work, recipes and photographs. If you do use a recipe in your own writing, please give proper credit and link back to the original post.