Hot German Potato Salad – Potato Casserole
This post may contain Amazon or other affiliate links. As an Amazon associate, I earn from qualifying purchases.
A little tangy, a little sweet, and a whole lot of happy. Hot German Potato Salad triumphs with tender potatoes, crisp bacon, caramelized onion, and zesty German dressing. A delicious dairy-free potato casserole that is served hot or cold!
As summer draws near, we enjoy preparing side dishes that are perfect for picnics, potlucks, and barbecues including BLT Red Potato Salad, Hawaiian Pineapple Coleslaw, Caprese Macaroni Salad, and Creamy Cucumber Salad.
Be sure to sign up for my email… to get new recipes and ideas in your inbox!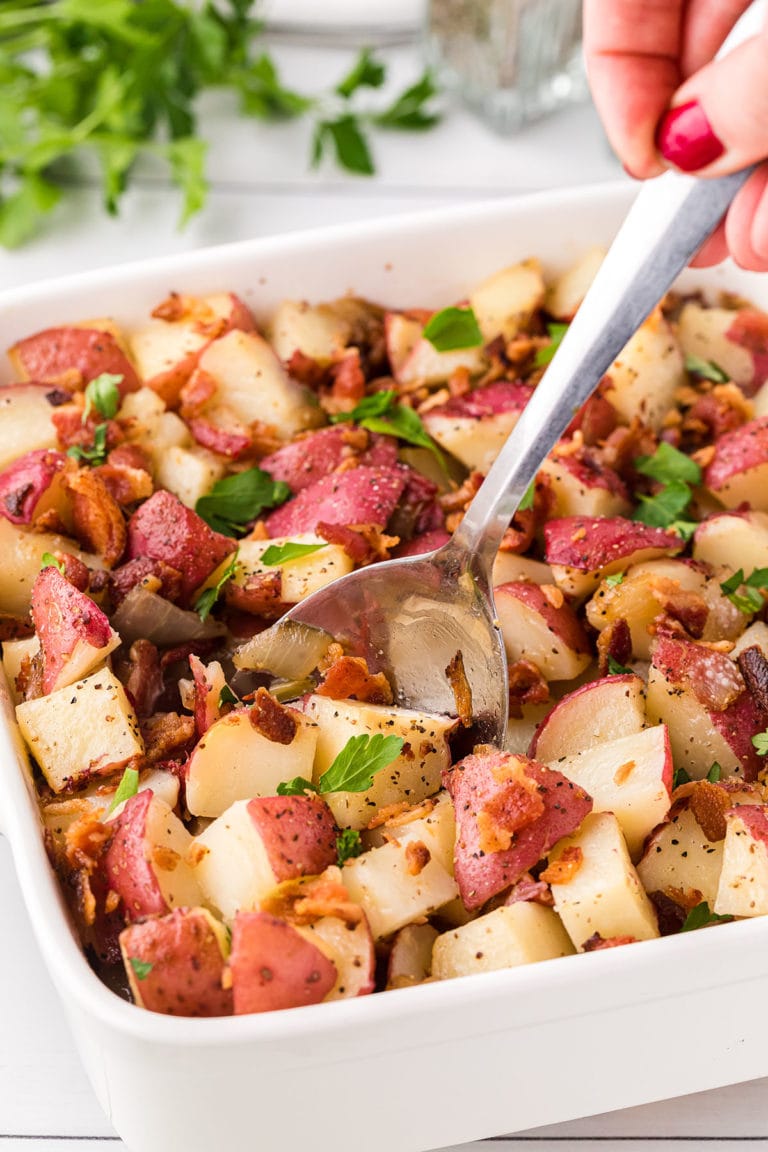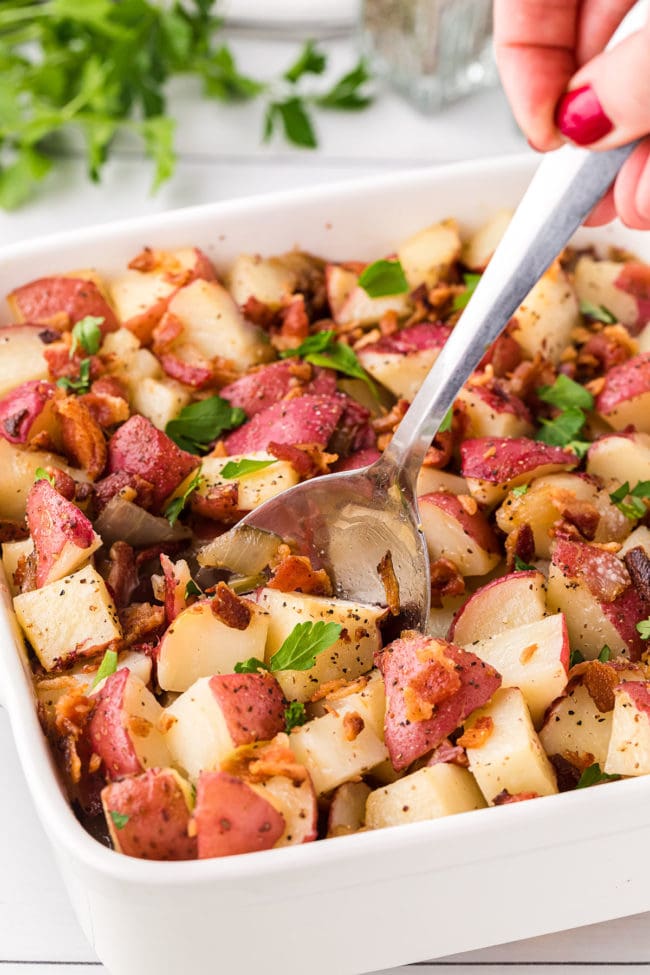 Why This Baked German Potato Salad Recipe Works
The best thing about a baked German potato salad recipe is it bakes while the rest of the meal comes together. No struggling to mix up the potato salad last to serve it hot! There are many reasons you'll want to make this hot potato salad casserole…read on!
This German-style potato casserole recipe is easy and exploding with flavor.
A tangy, balanced pucker-perfect German potato salad dressing.
Baked German potato salad is make-ahead friendly.
A flavorful and tasty addition to potlucks, gatherings, or family dinners any time of year.
Cold, leftover German potato salad is justifiably coveted because it's just as great the next day.
An excellent dairy-free potato salad alternative that people love!
Hot German potato salad is loaded with bacon and dressed in a tantalizing blend of vinegar and bacon grease – What's not to love?!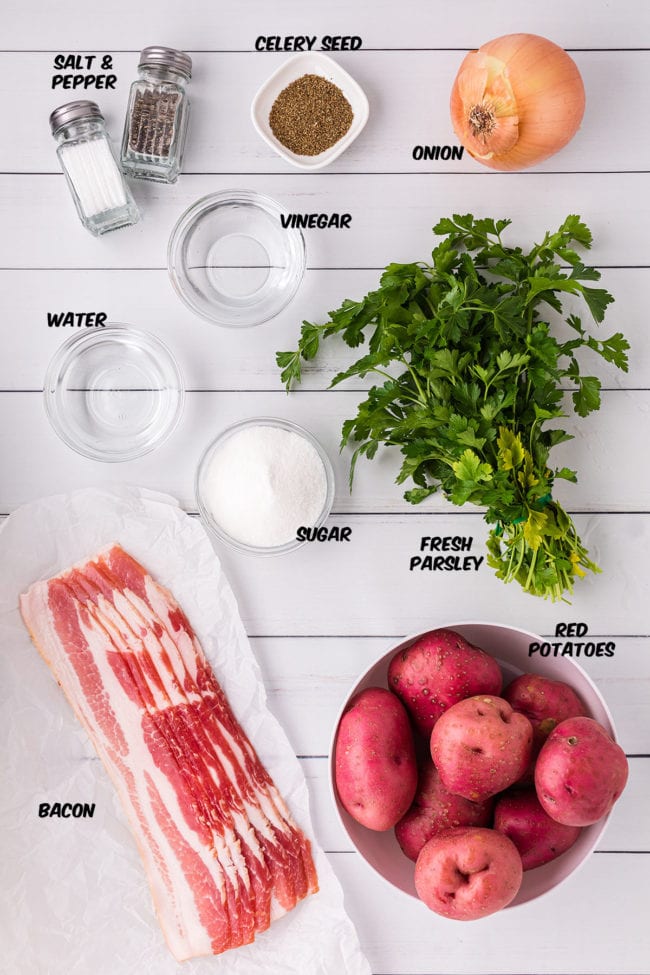 Baked German Potato Salad Ingredients
Not a whole lot of crazy here. Simple ingredients and simple prep reward you with complex layers of köstlichkeit (deliciousness) that create a tastebud tango! Hello, happy!
For specific amounts, please refer to the printable recipe card at the bottom of the post.
Waxy Red Potatoes – less starchy and hold their shapes, like new potatoes, Yukon gold, or a tri-colored medley will work well too. No need to peel, but gently brush and wash your spuds.
Bacon – I prefer applewood or hickory smoked bacon for the smokey notes. If you enjoy maple-flavored bacon, it can add subtle notes of caramel to the potato salad dressing.
Medium onion – chopped
Sugar – white or brown sugar based on your preference. You can heighten maple notes using brown sugar.
Vinegar – Most authentic German potato salad recipes call for a concentrated version of white vinegar (essigessenze). Regular white vinegar or cider vinegar will be just fine.
Water
Celery Seed, Salt, And Pepper
Garnish – Fresh Parsley
DYK: Kartoffelsalat is potato (kartoffel) salad (salat) in German (Deutsch).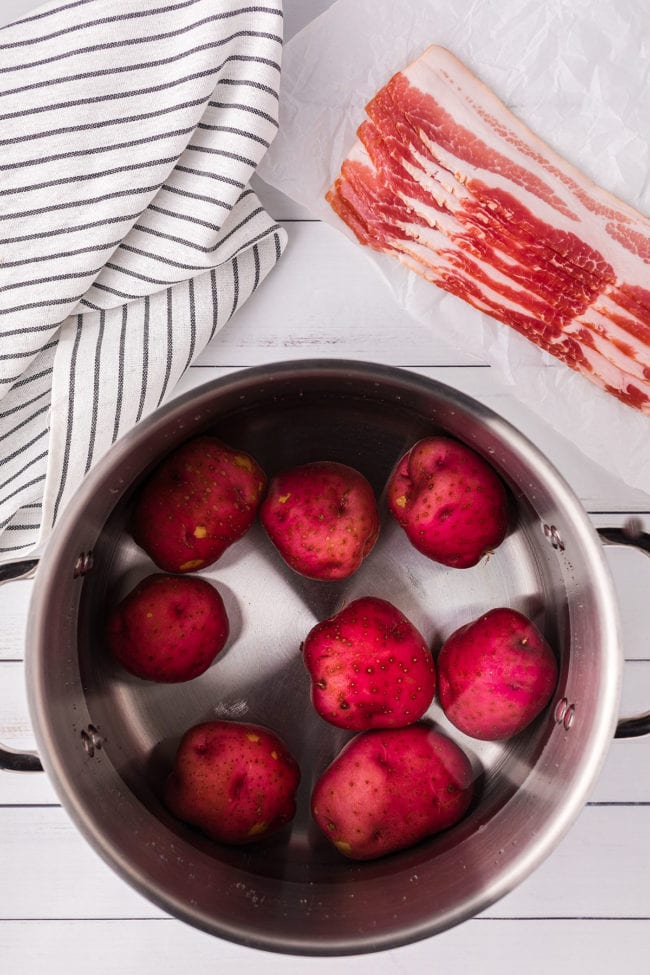 This post may contain affiliate links. Please read my disclosure policy here.
How To Make A Hot German Potato Salad Casserole
Let's see, boil, saute, mix, and bake. Easy prep for such a satisfying sour-sweet German potato salad! Bonus! Not much is needed in the way of equipment either. You'll want a large pot, skillet, and a 2 ½ quart casserole dish; that's all, folks!
When you are baking, you'll want to use the full recipe at the bottom of the page.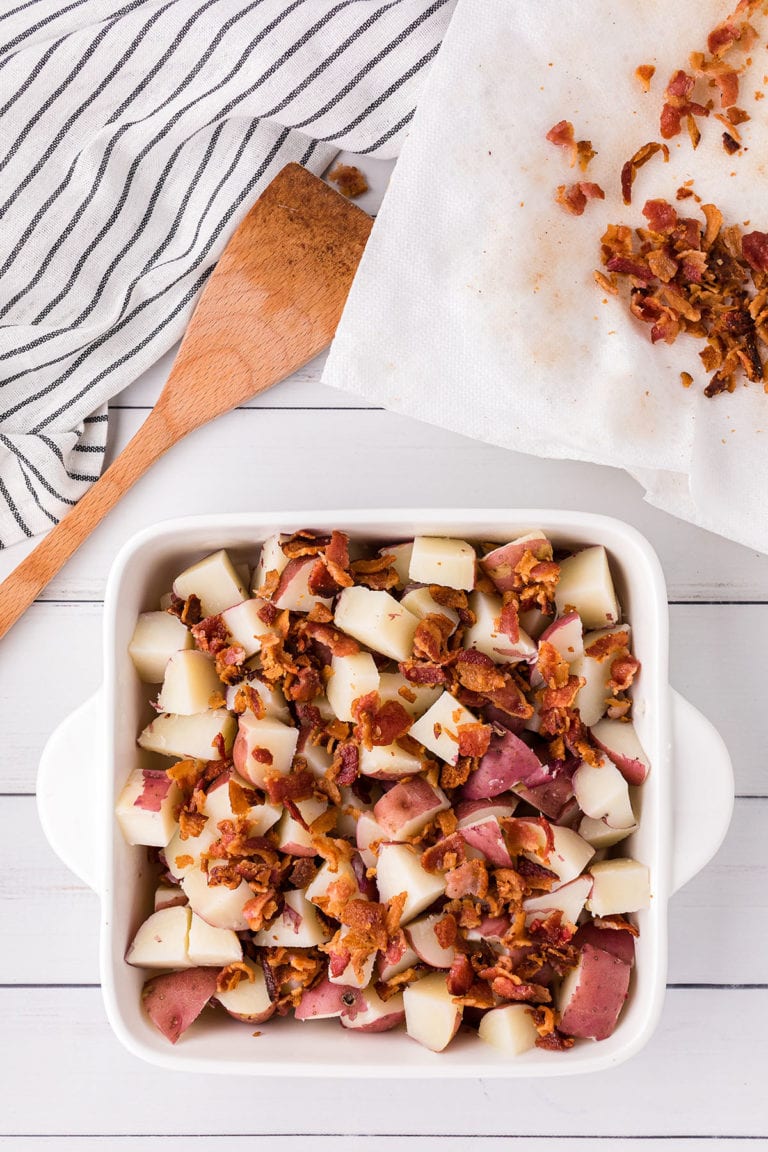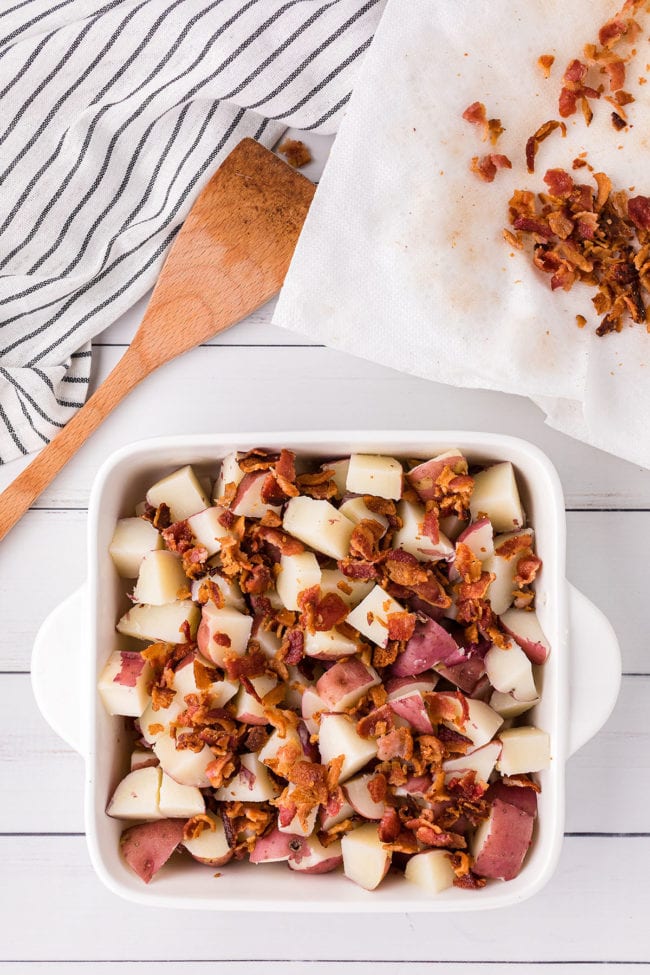 Cook the bacon slices until crisp while the potatoes are boiling.
While the bacon drains and cools, saute the onions in the drippings.
Toss the sliced or chopped potatoes in the casserole dish and sprinkle with crumbled bacon.
Bring the bacon drippings, onion, vinegar, sugar, water, and celery seed to boil, then coat the hot potatoes.
Season with salt and pepper, sprinkle with some reserved bacon crumbs, and bake uncovered for 30 minutes in preheated oven.
Garnish with fresh parsley, and enjoy your pucker-perfect potato casserole.
Hot German Potato Salad Recipe Notes And Tips
You can prepare this potato salad a day ahead and bake it the next day before serving. This allows the potatoes to "marinate" and absorb the delicious, tangy flavors.
Especially if you decide to use an Idaho or non-waxy potato, to keep potatoes from becoming overly gummy (from the starch), start them in cold water, then bring them to a boil.
Boil potatoes in beef or bone broth to add flavor and a nutrition boost to German potato salad. (Retain and freeze the starchy broth for use in soups.)
You can halve or quarter your potatoes before boiling to save time because they will cook faster. Avoid overcooking; you don't want mushy spuds!
I like to use thick-cut bacon so it stays crisp and stands out in the salad.
Use a cast iron skillet if you have one. Caramelized bits will form on the bottom of a cast iron skillet when cooking bacon, giving you a more flavorful salad.
Mix the dressing with the potatoes while they are still warm to allow the potatoes to soak up some of the tangy dressing and enhance the flavor.
Be extra gentle when stirring the potatoes to coat with the dressing, you don't want the potatoes to fall apart.
How To Store Leftover German Potato Salad
Refrigerate/Leftovers
German potato salad will keep in the fridge, tightly covered for up to 4 days. It tastes even better the next day and is equally good at room temperature or can even be served cold.
Reheat
Cover the dish in foil and heat in the oven at 300° F until heated through. I like letting the potato casserole hang out on the counter for 15 minutes to take the chill off before reheating. If it looks dry (the potatoes absorb moisture in the fridge), you can drizzle with a little olive oil to moisten potatoes.
You can also reheat German potato salad in the microwave. For a single serving, start on 50% power for 1 minute, stir, and heat on full power, checking at 30-second intervals until hot.
Freeze
We don't recommend freezing German Potato Salad.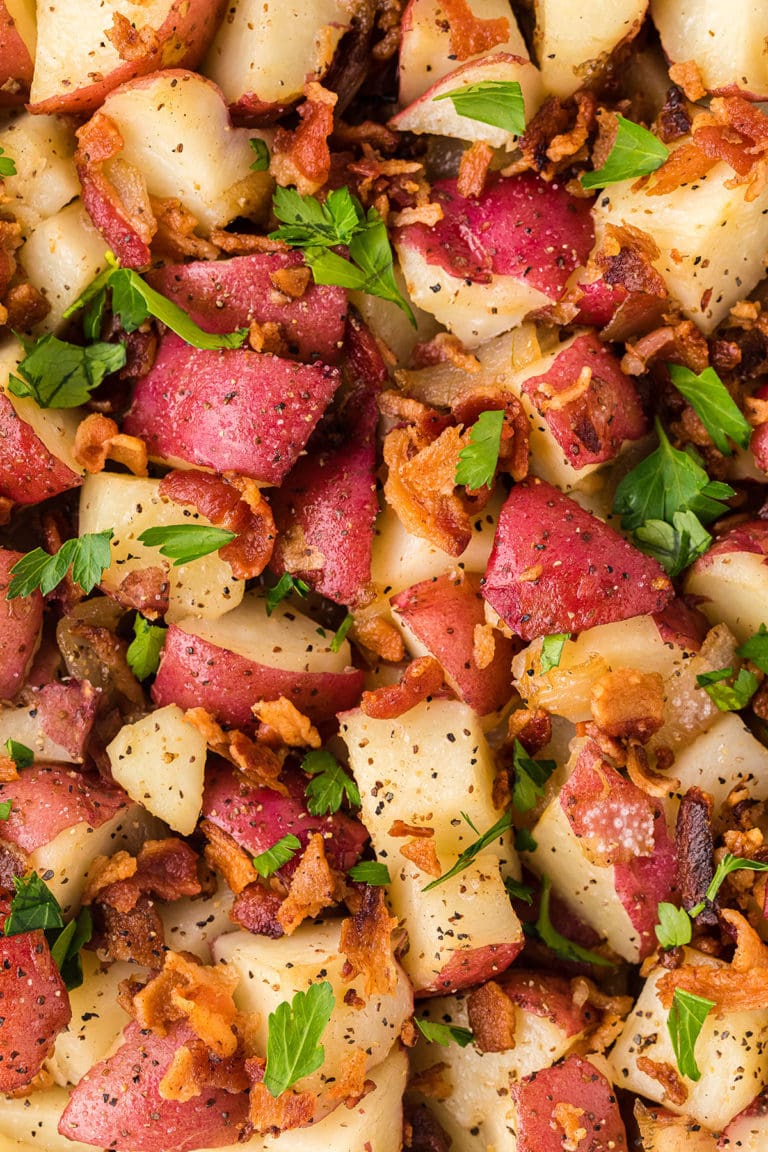 Hot German Potato Salad FAQs
What is Hot German potato salad?
The term "Hot German potato salad" specifically pertains to the Bavarian variation of German potato salad, which is most enjoyable when served warm. In contrast, the northern German version shares similarities with American potato salad and is typically served chilled.
What are the best potatoes for hot German potato salad?
German potato salad can be made with any type of waxy potatoes, such as fingerling, red, or new potatoes. They have a low starch content and maintain their shape when boiled. Additionally, peeling is optional due to their thin skin.
How do you boil potatoes for German potato salad?
Place the potatoes in a large pot and pour enough water to cover them by about one to two inches. Add about 1 tablespoon of salt to the water. Heat the pot over medium-high heat until the water boils, then lower the heat to medium-low, cover the pot, and allow the potatoes to simmer for around 10 to 15 minutes until they are cooked all the way through but not too soft. Test them by piercing them with a knife to make sure they are tender but not mushy.
How long can a hot German potato salad sit out?
The safest way to go is to stick well below the 2-hour threshold to avoid spoiling potato salad. Due to food safety, it's best to get a hot German potato salad casserole tightly covered and into the fridge as soon as the meal ends. No need to push the 2-hour mark.

When served cold from the refrigerator, you have a little more leeway because this potato salad recipe is dairy-free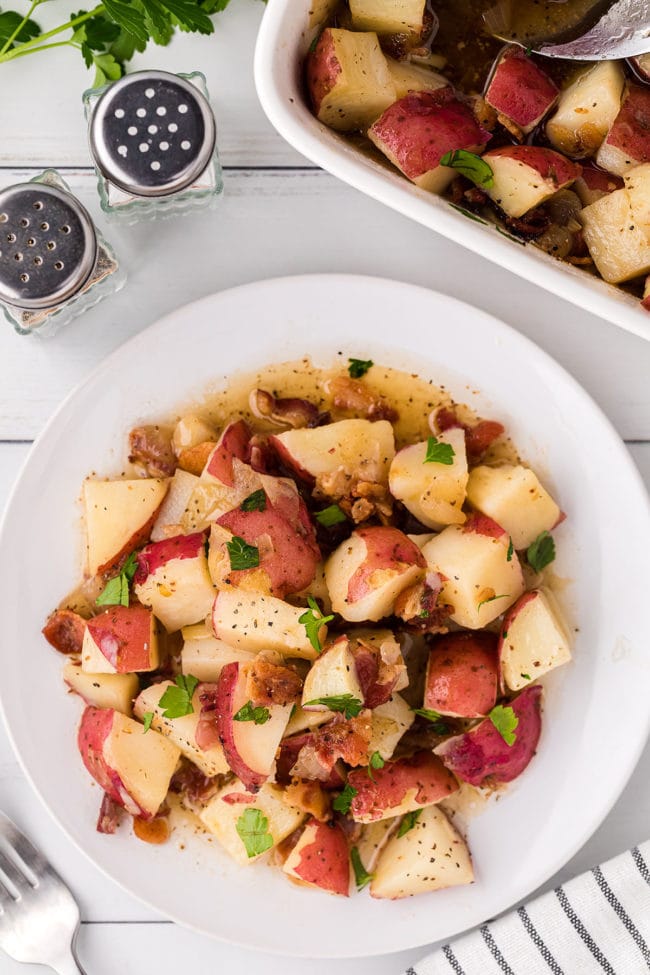 What To Serve With German Potato Salad Ideas
Turn your hot German potato salad recipe into a main dish by adding sliced kielbasa, ham chunks, or your favorite German brat or sausage. (An excellent use for your gorgeous Honey Glazed Ham leftovers!)
A convenient make-ahead idea; prep Reuben or Ham & Swiss sliders and the potato salad casserole the day ahead, then pop them in the oven together. (Dill pickles are optional!)
So many Sandwich Recipes go with Hot German potato salad casserole (or cold). I especially enjoy it with hamburgers, hotdogs, and Grilled Corn at a cookout. And don't forget the Peach Kuchen!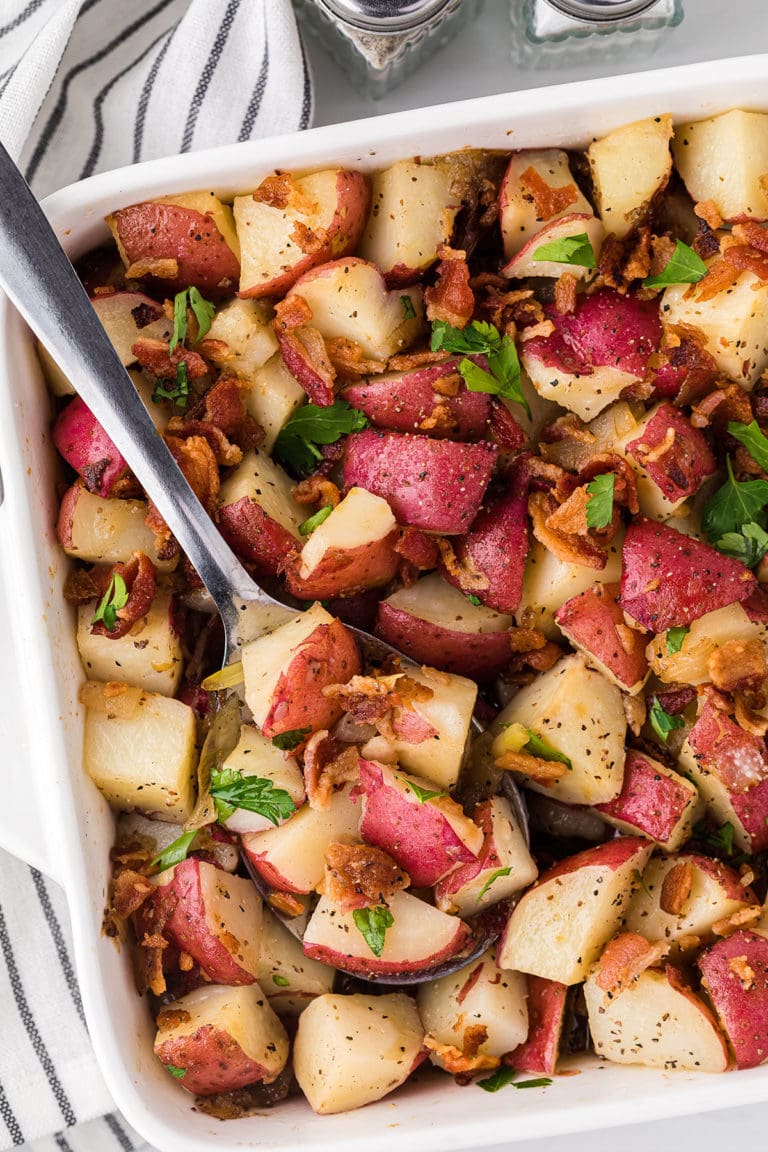 Hot German Potato Salad Just The Way You Like It! (Variations)
Whether you want to go full-on traditional or tailor a dairy-free potato salad to your style, here are a few notes on substitutions and additions for German Potato Salad.
You can use dill instead of celery seeds or both.
Add diced celery and/or celery leaves for a fresh note and contrasting texture.*
Some heirloom recipes like to add sweet pickle juice/pickle relish.
Dijon or brown mustard, 1-2 tbsp, can be added to the sauteed onions with the other ingredients.
Sprinkle leftovers with diced cucumber and a sliced hard-boiled egg when serving cold.
Over time, different kinds of light vinegar have been incorporated into family recipes, including various wine vinegar and even balsamic.
*I recommend keeping the celery seed in if you have it on hand; nothing mimics the distinct flavor it incorporates into American or German potato salad.
Like This Recipe? Pin It!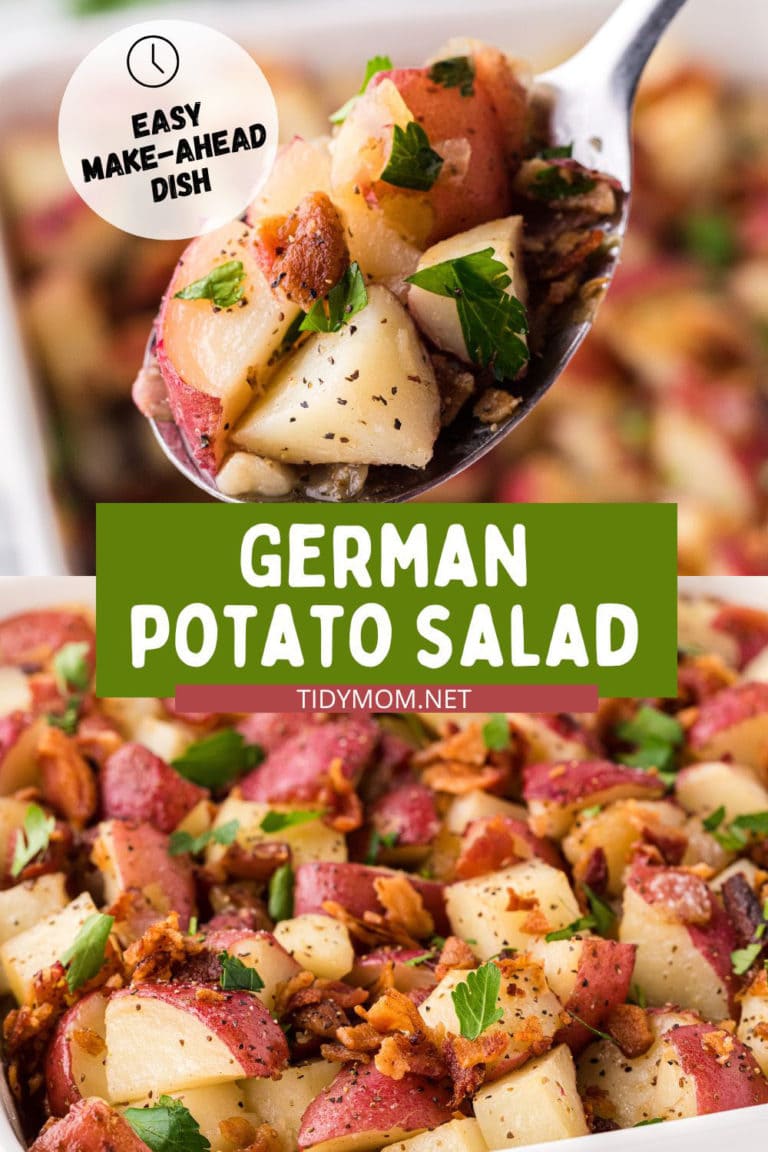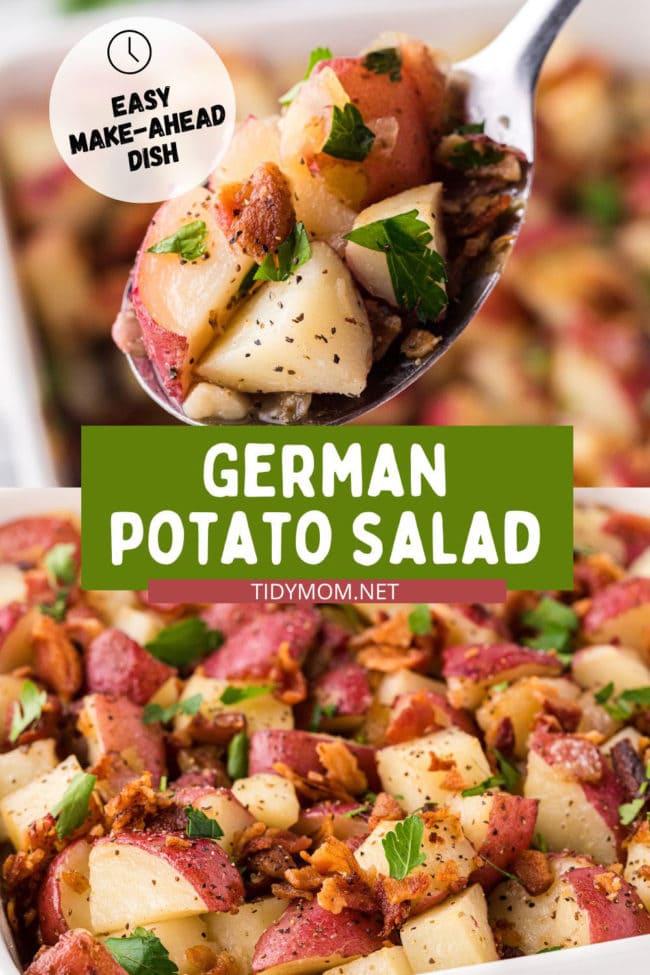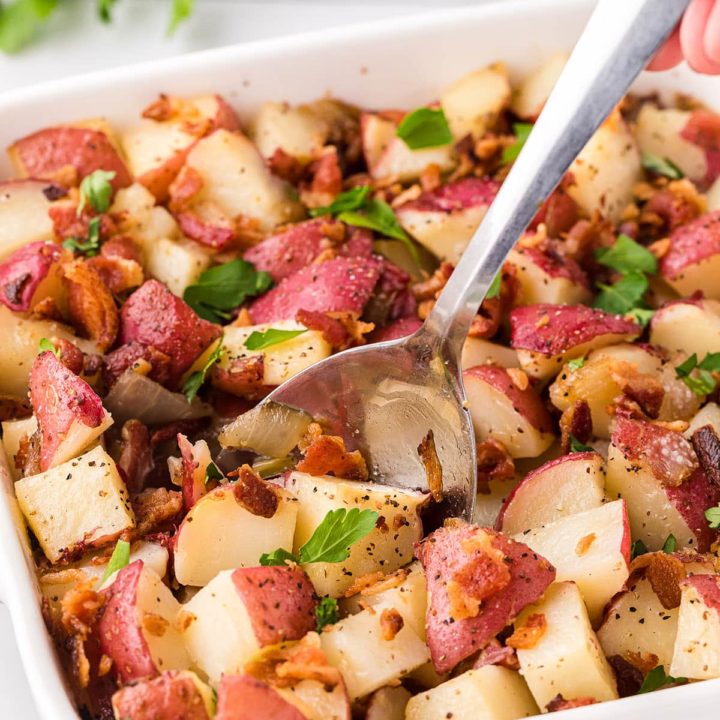 Hot German Potato Salad
Yield: 8-10
Prep Time: 15 minutes
Bakes Time: 30 minutes
Total Time: 45 minutes
A little tangy, a little sweet, and a whole lot of happy. Hot German Potato Salad triumphs with tender potatoes, crisp bacon, caramelized onion, and zesty German dressing. A delicious dairy-free potato casserole that is served hot or cold!
Ingredients
2 pounds waxy red potatoes (such as New Potatoes - Yukon Gold work well too)
6 slices bacon
1 medium onion, chopped
⅓ cup sugar
⅓ cup vinegar
⅓ cup water
1 teaspoon celery seed
Salt and pepper
Fresh parsley to garnish
Instructions
Using a large pot boil potatoes in their skins until easily pierced with a fork, about 10 minutes.
While potatoes boil, cook bacon until crisp, Transfer bacon to a paper towel-lined plate and crumble when cool. Leave bacon grease in the skillet and saute the onion in the bacon drippings until browned (about 6-8 minutes).
Slice or chop cooked potatoes into bite-sized pieces (I like to leave the skin on) and place in an ungreased 2 ½ -qt. baking dish. Crumble bacon over potatoes. (set some bacon crumbles aside for topping). Set aside.
Heat bacon drippings, onion, vinegar, sugar, water, and celery seed until boiling and pour over hot potatoes. Gently stir to coat.
Add salt and pepper to taste sprinkle remaining bacon crumbs on top and bake uncovered for 30 minutes at 300° F or until heated through.
Garnish with fresh parsley and serve warm.
Notes
Storing Leftovers:
German potato salad will keep in the fridge, tightly covered for up to 4 days. It tastes even better the next day and is equally good at room temperature or can even be served cold.
To Make Ahead:
Apply the dressing onto the potatoes but don't add the crumbled bacon. Reheat the potato salad before serving, and stir in the crispy bacon after warming. Drizzle a little olive oil over the salad if it looks a little dry and enjoy warm, room temperature, or cold.
Nutrition Information:
Yield: 10
Serving Size: 1
Amount Per Serving:
Calories: 145
Total Fat: 3g
Saturated Fat: 1g
Trans Fat: 0g
Unsaturated Fat: 2g
Cholesterol: 7mg
Sodium: 158mg
Carbohydrates: 26g
Fiber: 2g
Sugar: 8g
Protein: 5g
Nutrition information is estimated based on the ingredients and cooking instructions as described in each recipe and is intended to be used for informational purposes only. Please note that nutrition details may vary based on methods of preparation, origin, and freshness of ingredients used and are just estimates. We encourage, especially if these numbers are important to you, to calculate these on your own for most accurate results.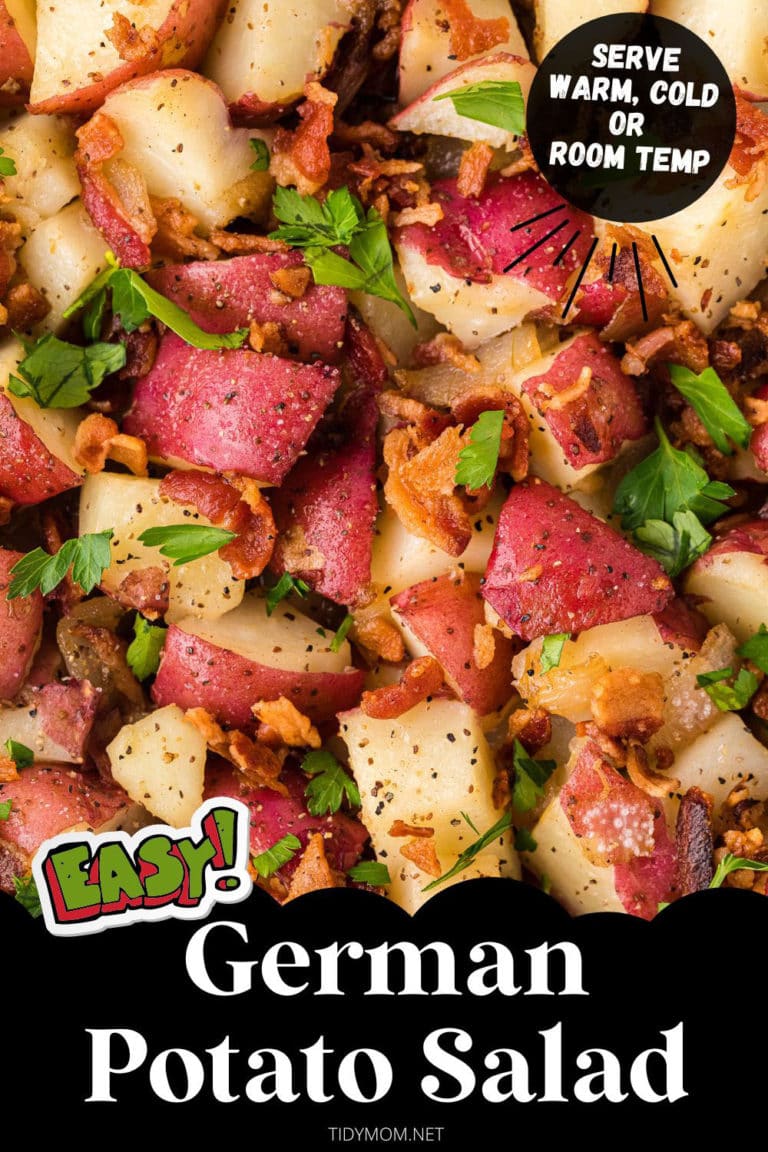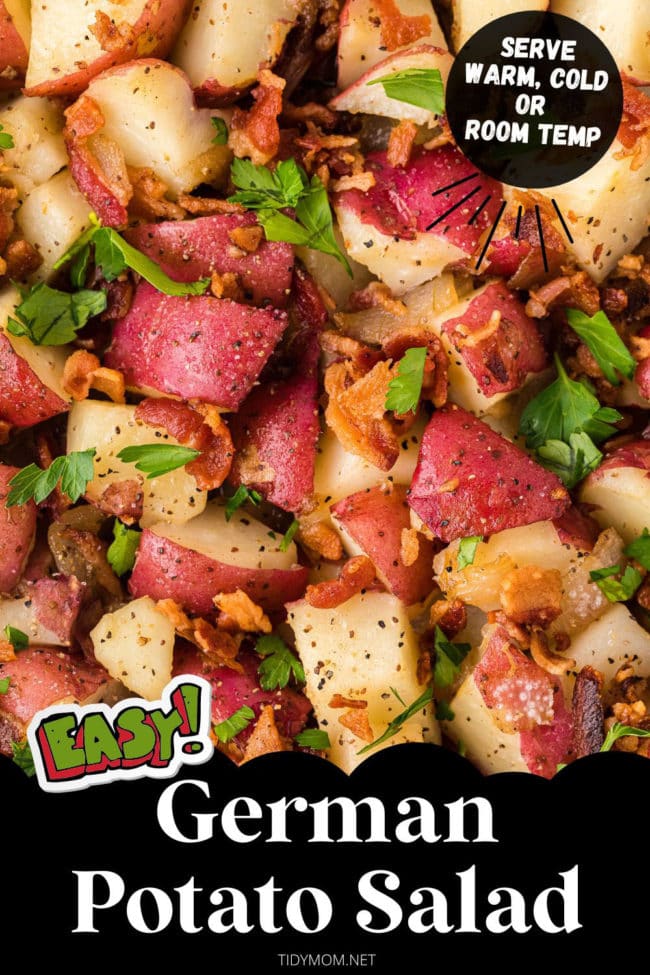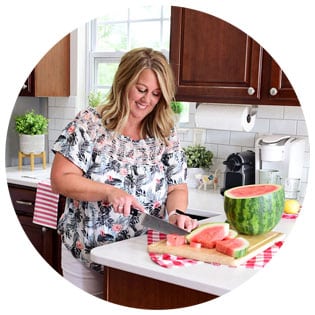 Hi there, I'm Cheryl!
As a wife, mom, and caffeine enthusiast, my journey has taken me from bustling mornings with my family to sharing delicious recipes, home care tips, and heartfelt decorating insights with wonderful readers like you. My love for baking, photography, and tidiness shines through every post I craft. Dive into my world and discover the art of homemaking, one tidy moment at a time. Read more...
Tidymom is a participant in the amazon services llc associates program, an affiliate advertising program designed to provide a means for sites to earn advertising fees by advertising and linking to Amazon.com.
Please respect my work, recipes and photographs. If you do use a recipe in your own writing, please give proper credit and link back to the original post.