BLT Red Potato Salad with Avocado
with recipe video
This easy Red Potato Salad has an avocado ranch dressing along with bacon, lettuce, and tomato! It's a simple crowd-pleasing side dish for any size gathering.
Be sure to sign up for my email… to get new recipes and ideas in your inbox!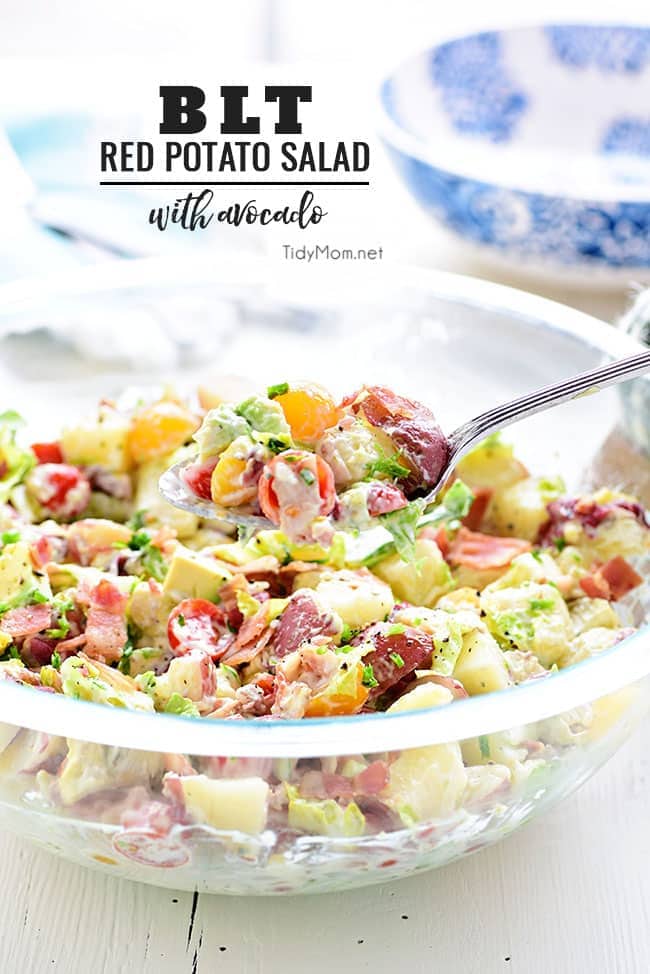 Summer picnics, potlucks, and BBQs are quickly approaching. Today I have a fabulous recipe for all those summer soirées. A red potato salad! But not just any potato salad, this one is all about the classic BLT with avocado!
There's something about the way bacon, lettuce, and tomato rolls off the tip of the tongue that makes you instantly HUNGRY. right?!! I've probably eaten my weight in bacon and avocado grilled cheese, and BLT is the ultimate summer sandwich……only made better when you put avocados on it. Can I get a high-five?!
I have to admit, I'm a bit of a potato salad snob. I've never really had a potato salad that I like as much as my mom's (I actually love it when it's just made and room temperature) – I'll have to share that recipe with you someday soon. There's something magical about the right combination of fork-tender potatoes, well-seasoned and tossed with some crunchy celery and a touch of mayo, and hard-boiled eggs — it's a summertime staple.
Since we are about to be knee deep in potato salad season, I thought why not BLT potato salad? It's loaded with everything you love about BLATs (Bacon-Lettuce-Avocado-Tomato Sandwiches) in a potato salad and I think you're going to love it!!
click to see more of my recipe videos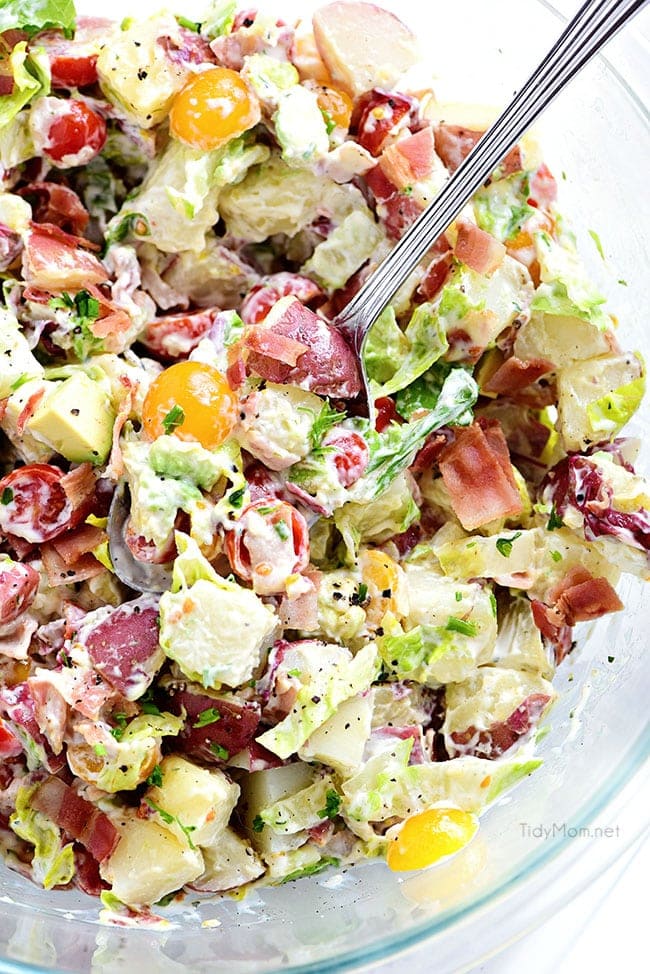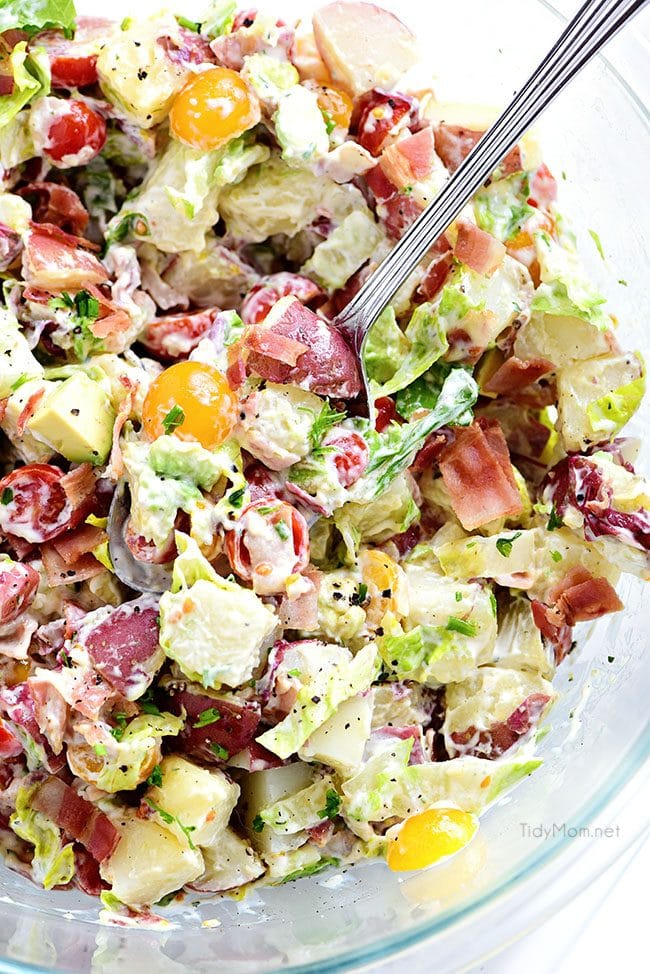 This post may contain affiliate links. Please read my disclosure policy here.
To make this BLT red potato salad happen here's what you need to do:
Cook red potatoes until soft, but not mushy. This will work with yellow or white potatoes too. Just avoid starchy Russet potatoes, they tend to fall apart during cooking.
Be sure to cook potatoes by starting them in a pot of cold, well-salted water where they're fully submerged. Bring the water to a boil, then reduce the heat to cook the potatoes at a simmer.
A good potato salad is well seasoned. Start by cooking the potatoes in salt water, to season from the inside out. Taste as you mix the salad together and season as needed. It's much harder to season well once the potatoes are cold.
Let potatoes cool completely before dressing with mayo.
If you really love avocado, as I do, I highly suggest using avocado mayo.
Chop the romaine well, you don't want to wrestle with big lettuce leaves in your potato salad
Give your potato salad some color and use red and yellow cherry tomatoes
BLT Potato Salad with avocado will be a welcome addition to any celebration, any time of year. I especially love to serve it at picnics, BBQs, and of course 4th of July parties! I hope you love it as much as I do!


Want a few more picnic perfect potato salad recipes? This Sweet Potato Salad with Bacon is sure to stand out. Texas Style New Potato Salad will be the favorite dish at your next cookout. Dill Pickle Potato Salad is not only the perfect choice for a potluck dinner because not only does everyone love it, but it's best made at least 3-4 hours (or even a few days) ahead of time. Packed with flavor this Southwestern Potato Salad will convert even the ones who claim to hate potato salad. I think I'm going to have to try all of these!!
If you have a favorite potato salad recipe, share it in the comments!!
Like this BLT Red Potato Salad Recipe? Pin It!

I created a fun little group on facebook and I'd love for you to join in! It's a place where you can share YOUR favorite recipes, home tips, creative ideas and ask questions and see what's new with TidyMom! If you'd like to check it out, you can request to join HERE. Be sure to follow me on Instagram and tag #tidymom so I can see all the wonderful TidyMom recipes YOU make and tips YOU use!
Connect with TidyMom! Facebook | Twitter | Google+ | Pinterest | Instagram
Sign up to receive an email in your inbox for each new recipe:
BLT Red Potato Salad with Avocado
Yield: 6 servings

Prep Time: 10 minutes

Cook Time: 10 minutes

Total Time: 20 minutes

This easy BLT Red Potato Salad has an avocado ranch dressing along with bacon, lettuce, and tomato! It's a simple crowd-pleasing side dish!
Ingredients
2 pounds small red, yellow, or white potatoes
3/4 cup avocado mayonnaise
1/4 cup chopped fresh chives
2 tablespoons sweet pickle relish
1 tablespoon ranch seasoning mix
1 tablespoon distilled white vinegar
10 slices bacon, cooked and crumbled
4 cups romaine lettuce, chopped
2 cups cherry tomatoes, halved (I used red and yellow)
1 avocado, peeled, pitted and diced
salt to taste
Instructions
Place potatoes in medium pot with enough cold heavily salted water to cover potatoes. Bring to a boil and cook on simmer for 8-10 minutes until they are just tender when pierced with a fork. Drain potatoes.
Mix mayo, chives, pickle relish, ranch mix and vinegar in a small bowl until well combined.
Place potatoes, bacon, lettuce, tomatoes and avocado in a large bowl. Toss with dressing to coat. Salt to taste. Garnish with chives or parsley and serve immediately.
Recommended Products
As an Amazon Associate and member of other affiliate programs, I earn from qualifying purchases.