Homemade Pumpkin Spice Coffee Creamer Recipe
Craft a fall-inspired Homemade Pumpkin Spice Coffee Creamer recipe that perfectly complements your favorite brew. Enjoy the aroma of pumpkin pie spice, maple syrup, and real pumpkin in every sip.
Relish every drop of your morning brew (hot or cold-brewed) with the warming flavors of pumpkin spice creamer and either a bowl of Baked Pumpkin Oatmeal or a Glazed Pumpkin Doughnut Muffin.
Be sure to sign up for my email… to get new recipes and ideas in your inbox!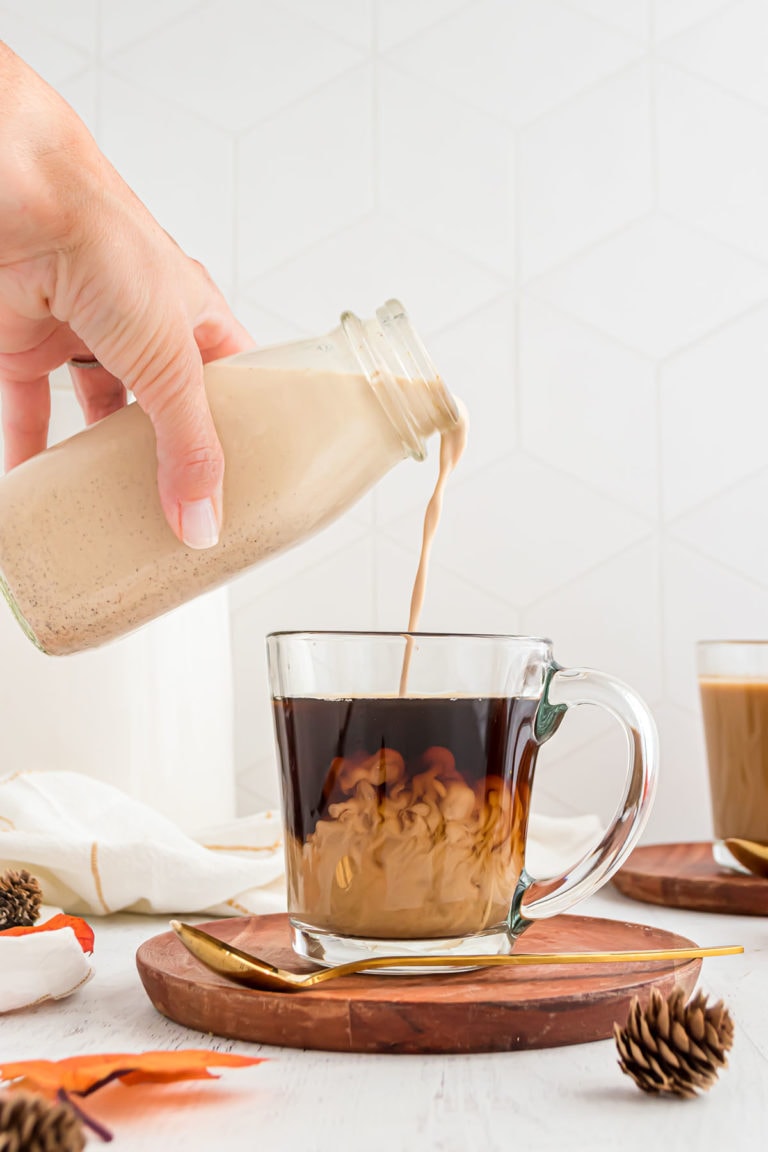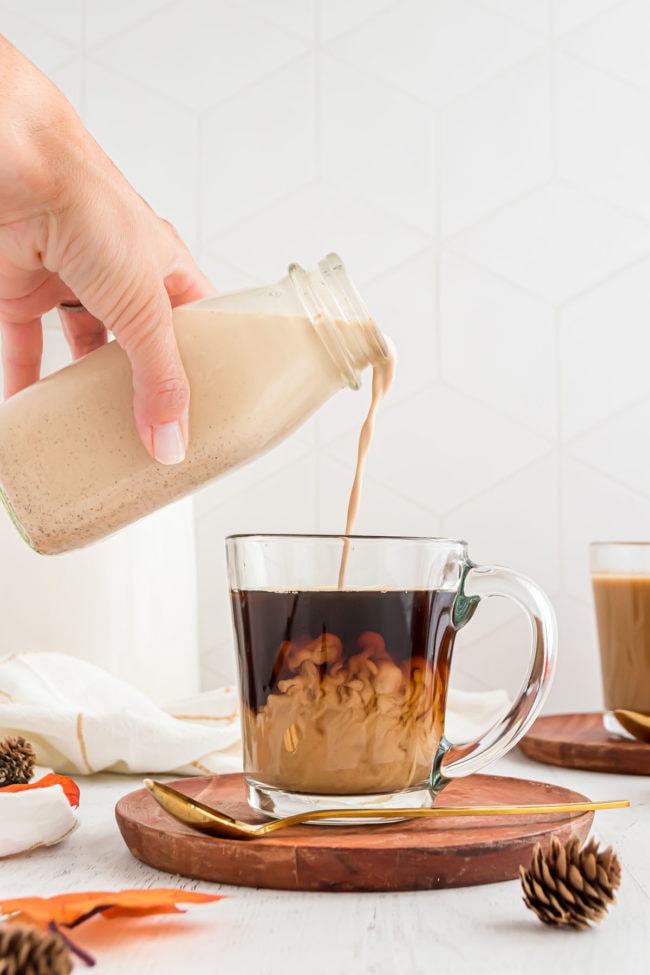 Why We Love Homemade Pumpkin Spice Creamer
Are you ready to transform your ordinary cup of joe into a cozy fall treat? Here's why you'll adore making your very own pumpkin spice coffee creamer:
Coffee with delicious notes of pumpkin, maple, vanilla, and cinnamon wafts straight to the nostalgic pleasures of autumn.
You can adjust this homemade creamer recipe's sweetness and spice levels so it's just right for you.
Nothing has fall vibes like the inviting aroma and flavor of creamy pumpkin spice in your coffee.
I love crafting my own coffee creamer instead of expensive store-bought options. (Who doesn't love saving money these days?)Say goodbye to artificial additives and preservatives; pumpkin spice coffee creamer is made with all-natural, wholesome ingredients.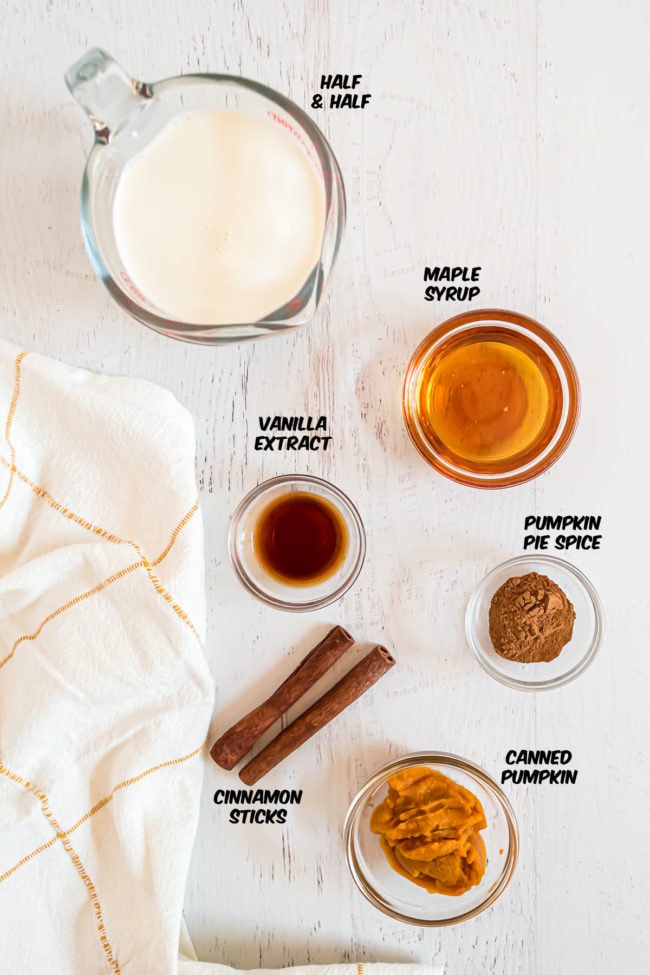 Pumpkin Spice Coffee Creamer Ingredients
This creamy, dreamy pumpkin creamer is made with simple ingredients you probably already have on hand. It's the perfect way to start your day or enjoy a cozy cup of coffee in the evening.
For specific amounts, please refer to the printable recipe card at the bottom of the post.
Homemade Pumpkin Pie Spice Or Store-Bought – A warm and fragrant blend of spices traditionally used to make pumpkin pies and containing various combinations of cinnamon, nutmeg, cloves, allspice, and ginger.
Half And Half – A combination of whole milk and cream in equal parts. When a creamer is labeled as "Half and Half," it must contain a minimum of 10.% milk fat, up to 18%.
Pure Pumpkin Puree (Not Pumpkin Pie Mix)* – Infuses natural pumpkin flavor into the creamer for an authentic taste.
Pure Maple Syrup – naturally sweetens pumpkin creamer with deep, rich maple notes in place of processed sugars.
Cinnamon Sticks – are highly fragrant and impart mild warmth and woody-spiced notes through the essential oils of the bark.
Vanilla Extract – adds sweetness and depth and lifts the other flavors to the forefront.
*FYI – Pumpkin pie mix comes pre-sweetened and spiced, while canned 100% pure pumpkin is just pureed pumpkin. Using pure pumpkin allows you to add your own sweetener and spices, giving your homemade coffee creamer a wonderfully natural flavor.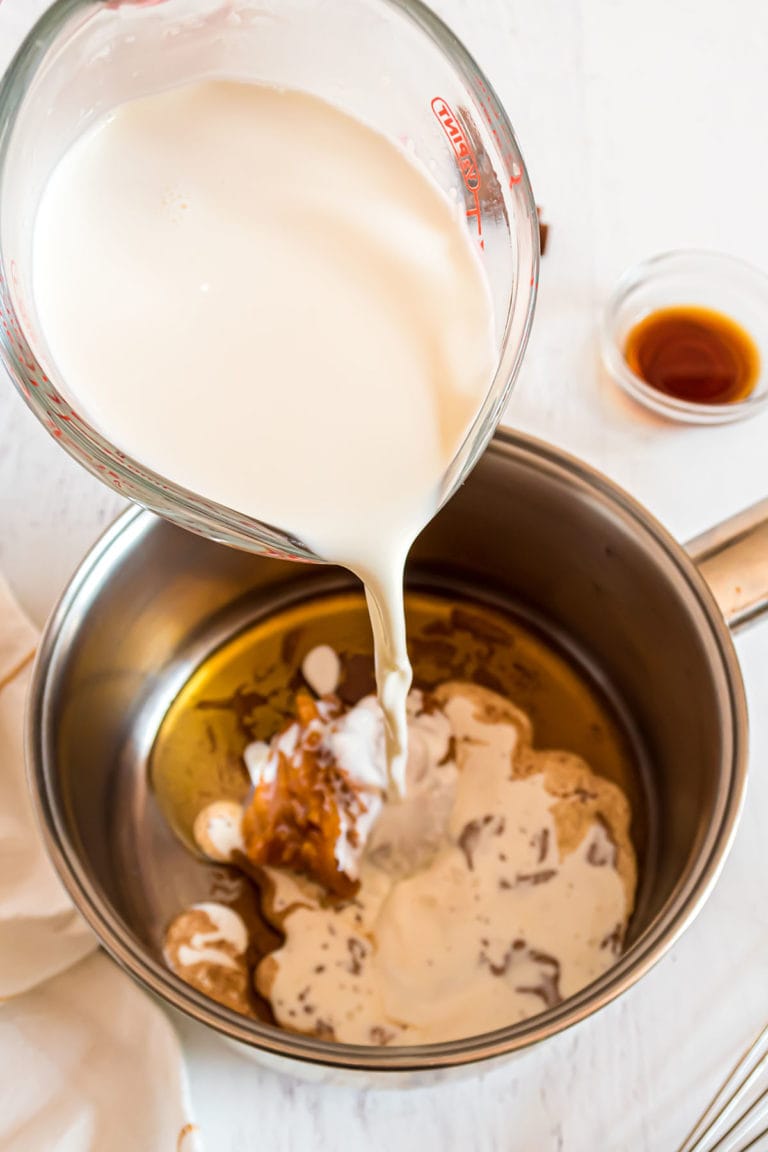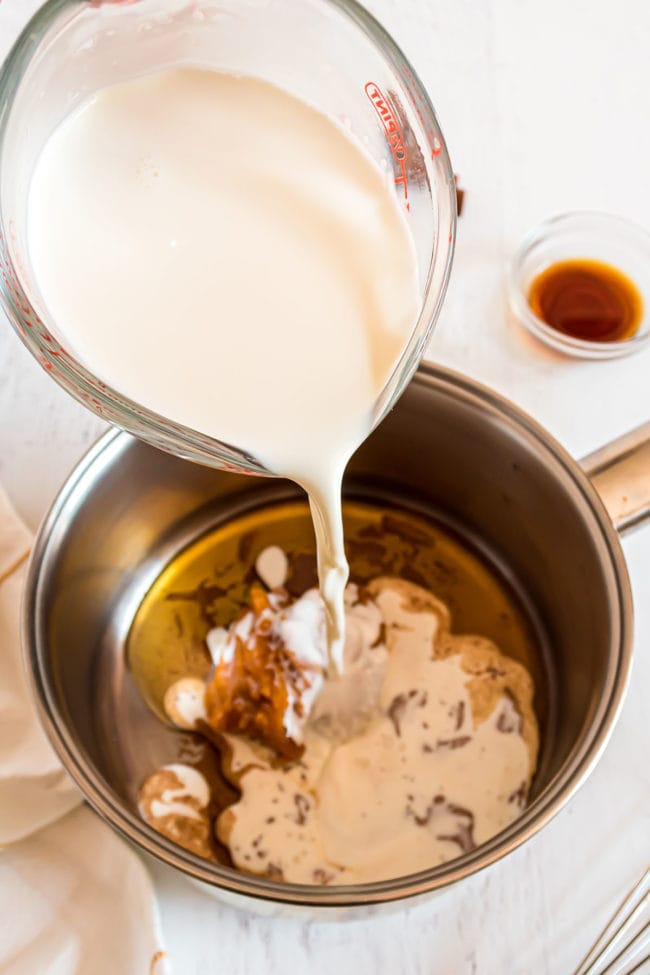 This post may contain affiliate links. Please read my disclosure policy here.
How To Make Pumpkin Spice Creamer
Pour some creativity into your daily routine by making your own pumpkin-flavored coffee creamer. All you need is a small saucepan, an airtight glass container or milk jar with a convenient pour spout, and about 10 minutes.
When you are baking, you'll want to use the full recipe at the bottom of the page.
"Toast" pumpkin pie spices in a dry saucepan, then whisk in cream, pumpkin, and syrup.
Stir and warm cinnamon sticks in the creamer mixture and remove from heat.
Add the vanilla and let the pumpkin spice creamer cool.
Take cinnamon sticks out before jarring; refrigerate coffee creamer immediately.
Shake, serve, and savor!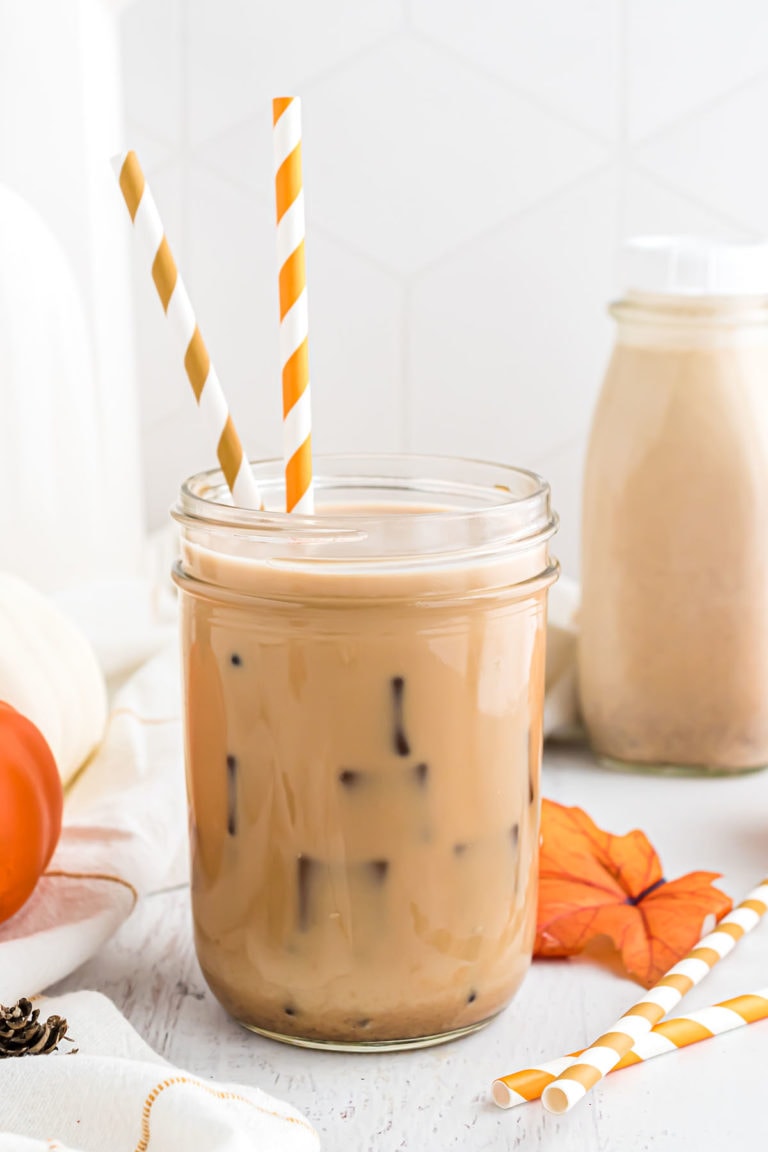 Recipe Notes And Tips
You can use your preferred dairy or non-dairy milk to make a homemade coffee creamer. You get all the flavor and aroma without messing with your perfected consistency!
Always shake a coffee creamer well before adding it to a steaming cup to evenly distribute the spices.
Whether whole milk, regular cream, whipping cream, heavy cream, or your favorite combination, it's the milkfat that impacts the density of a natural coffee creamer.
Plant-based dairy alternatives are a good source of varying fats and flavors. Use the one you currently like and are accustomed to using; it will give your delicious pumpkin-flavored coffee creamer a familiar taste and texture you will love!
Keep in mind a delicious homemade, all-natural coffee creamer will be thinner than store-bought creamers that add cornstarch, heavy syrups, or other fillers; regular milk will also make it thinner.
Many wonderful pumpkin recipes like this pumpkin creamer recipe don't require the use of an entire can. When I won't use the rest within the week, I freeze it for the next batch of pumpkin coffee creamer.
*Best Way To Freeze Leftover Pumpkin Puree: Measure leftover pumpkin in easy, preportioned-controlled ziptop bags for convenience, or labeled freezer bags for up to three months. Remove as much air as possible, and freeze flat. Put all the frozen pre-measured bags into a heavy-duty freezer bag or airtight container for added protection. Pumpkin puree used for baked goods can last longer if properly frozen. Still, for the freshest flavor to shine through in a pumpkin coffee creamer, it is best to use it within 90 days.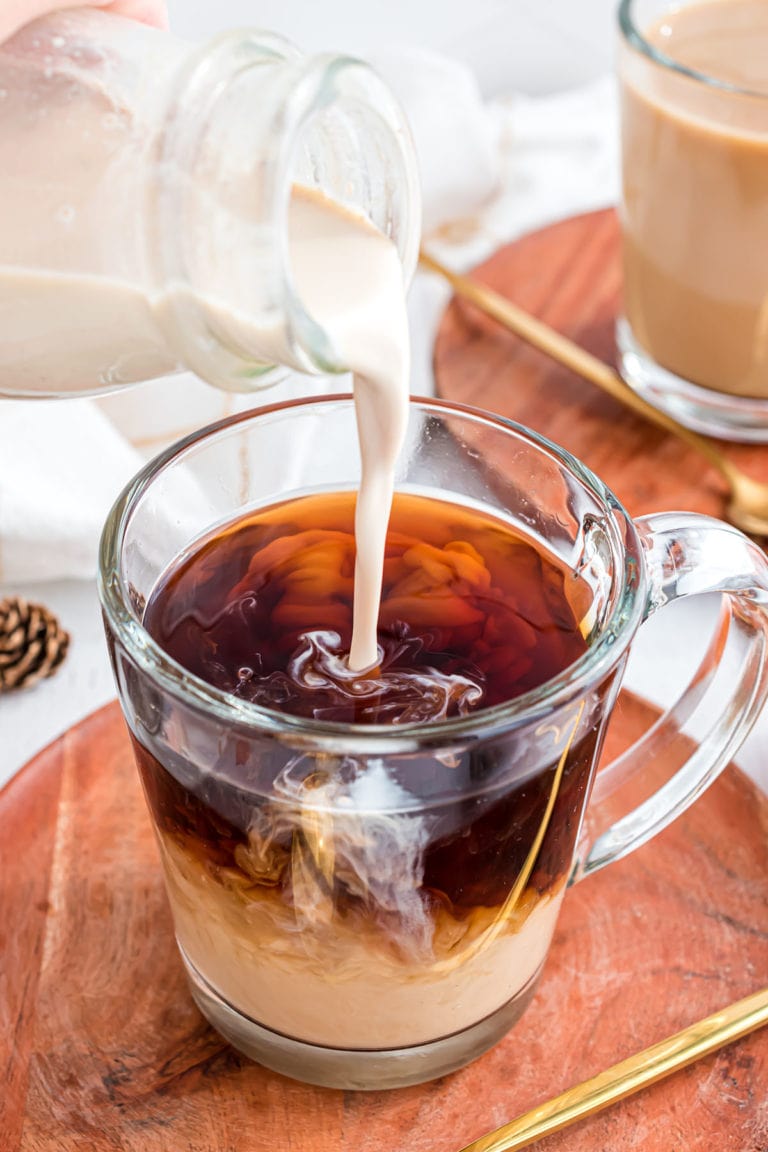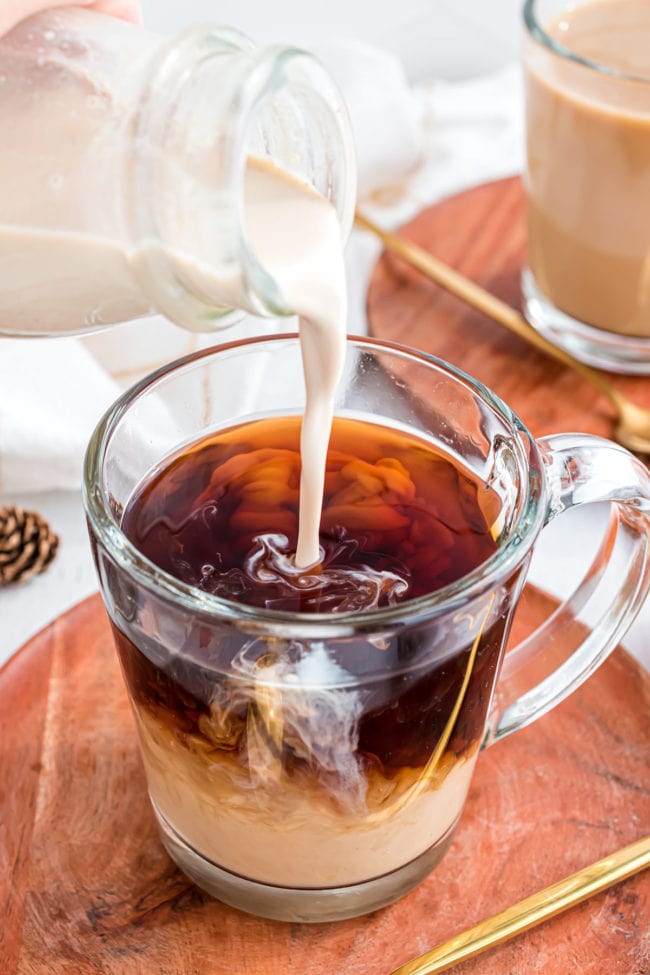 Storing Pumpkin Spice Creamer
Keep your homemade coffee creamer fresh and delicious in an airtight glass jar. Be sure to keep unused portions refrigerated.
Refrigerate/Leftovers
Store your homemade pumpkin spice creamer in the fridge to keep the quality and flavor.
Freeze
If you've made an extra-large batch, you can freeze the creamer for up to three months. Thaw in the refrigerator and shake well before adding to your coffee.
How to Freeze Homemade Coffee Creamer in Individual Servings
The best way to save your pumpkin spice creamer to enjoy later is to freeze it into individual servings. So simple, yet so handy! You only need an ice cube tray or mold and a freezer-proof plastic bag.
Pour homemade creamer evenly into ice cube trays and freeze.
Pop the creamer cubes out of the tray and seal them into labeled/dated freezer bags.
Allow a creamer cube to thaw in the cup while your coffee brews. Instant happiness whenever the mood strikes!
These delightful little frozen treats can be added to hot coffee, iced coffee, or mixed into hot chocolate. Try charming mini pumpkin ice cube molds or fun coffee bean molds if you need smaller portions than a traditional-sized cube.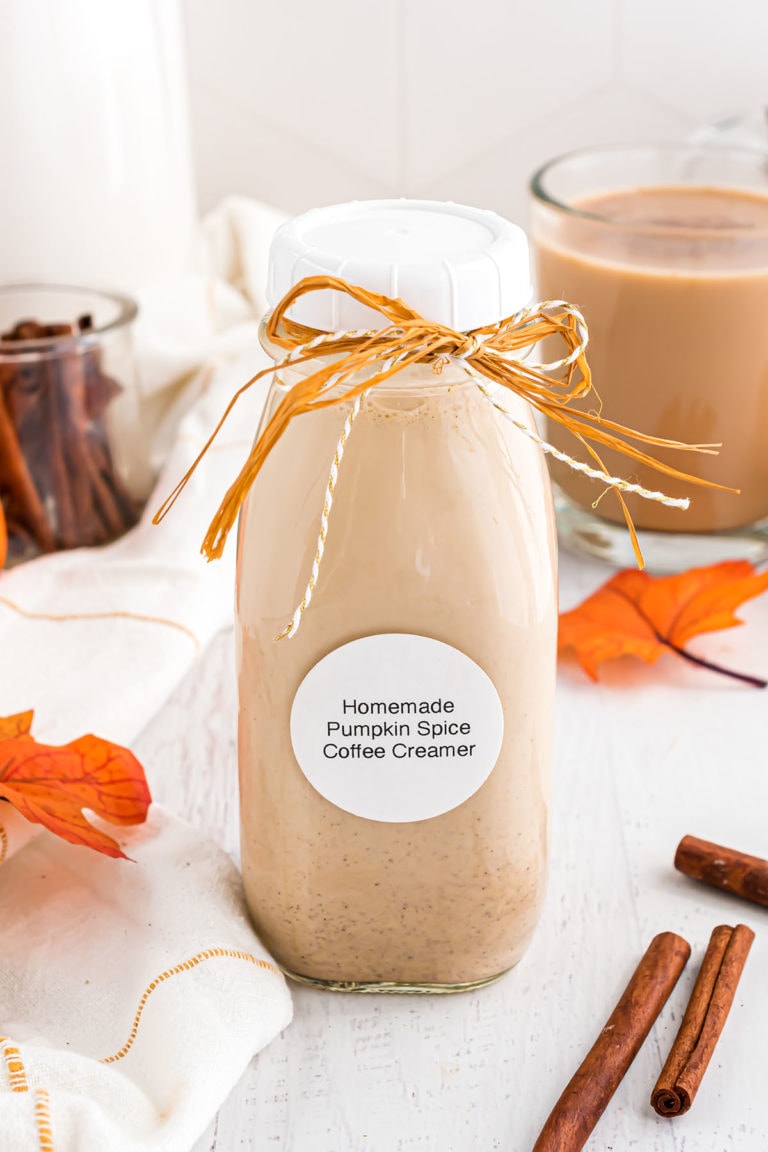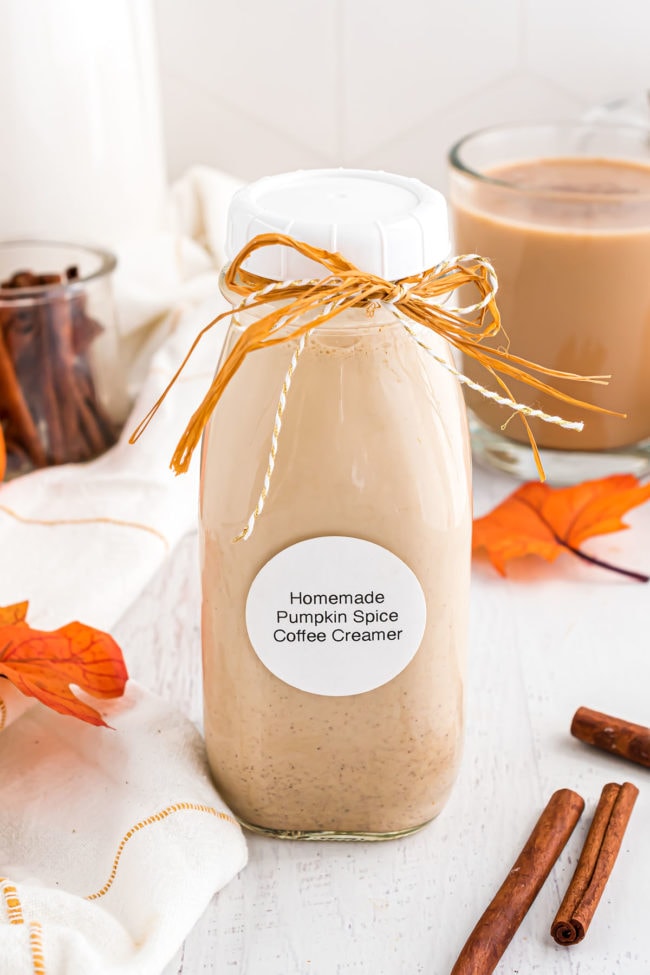 Recipe FAQs
What are the benefits of homemade pumpkin creamer?
Homemade is a healthier alternative to store-bought creamers, which are often high in sugar and artificial ingredients. It's also a great way to use up leftover pumpkin puree.
What are some dairy-free alternatives for half and half in this recipe?
You can use a dairy-free alternative* to half and half in this coffee creamer recipe, like coconut cream, almond milk, oat milk, or cashew milk. These milk alternatives will give your pumpkin spice coffee creamer a slightly different flavor but will still be delicious.
Why do so many people love pumpkin spice?
We love pumpkin spice for its warm, comforting blend of spices like cinnamon, nutmeg, and cloves that evoke cozy feelings of fall and remind us of delicious seasonal treats. Its nostalgic and aromatic qualities make it a beloved flavor during autumn.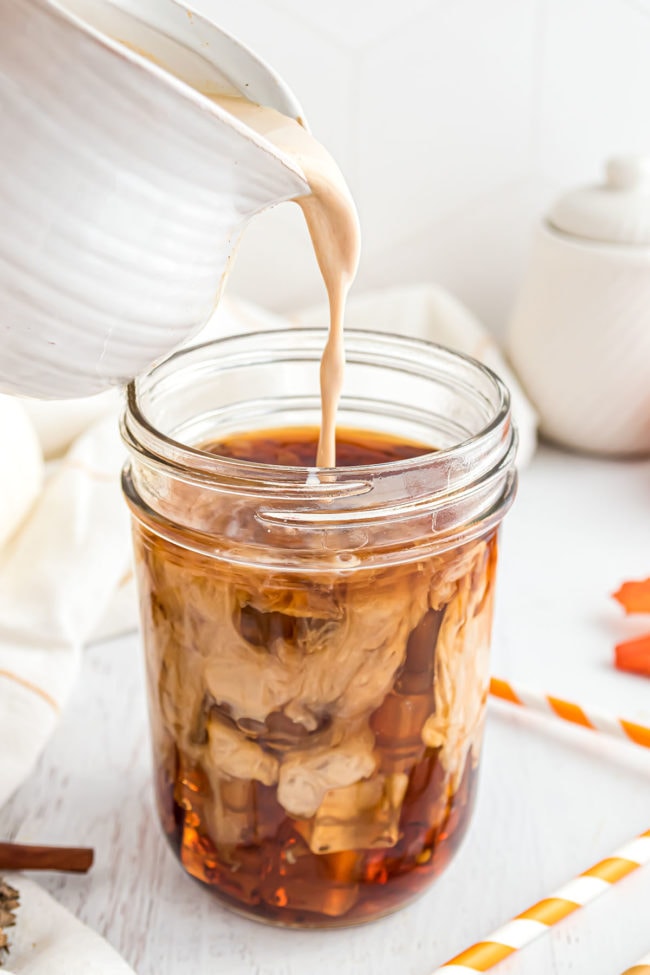 Serving Suggestions
Use a coffee frother (or whisk) with a generous amount of pumpkin spice creamer in your coffee, top with cinnamon whipped cream, for a café-worthy treat.
Pour a bit of homemade creamer over your morning oatmeal for a delightful fall-inspired breakfast.
Use your creamer as a base for creating seasonal desserts like pumpkin-flavored ice cream or custard.
Drizzle warmed pumpkin creamer over pancakes, waffles, or French toast for an exciting autumn breakfast treat.This pumpkin spice coffee creamer recipe is just as exciting when used in the ultimate breakfast bowl with homemade Snickerdoodle Granola as it is for coffee.
Recipe Variations
Use light or heavy whipping cream instead of half and half for a richer coffee creamer.
If you like your coffee sweeter, add more maple syrup to taste. Or…
Add 6-7 ounces of sweetened condensed milk and heat it with half and half and other ingredients.
Add more pumpkin puree for a more intense pumpkin flavor.
Swap half and half with your favorite non-dairy milk for a dairy-free option.
Add or change the balance of spices to pumpkin coffee creamer, such as more nutmeg, ginger, or cloves.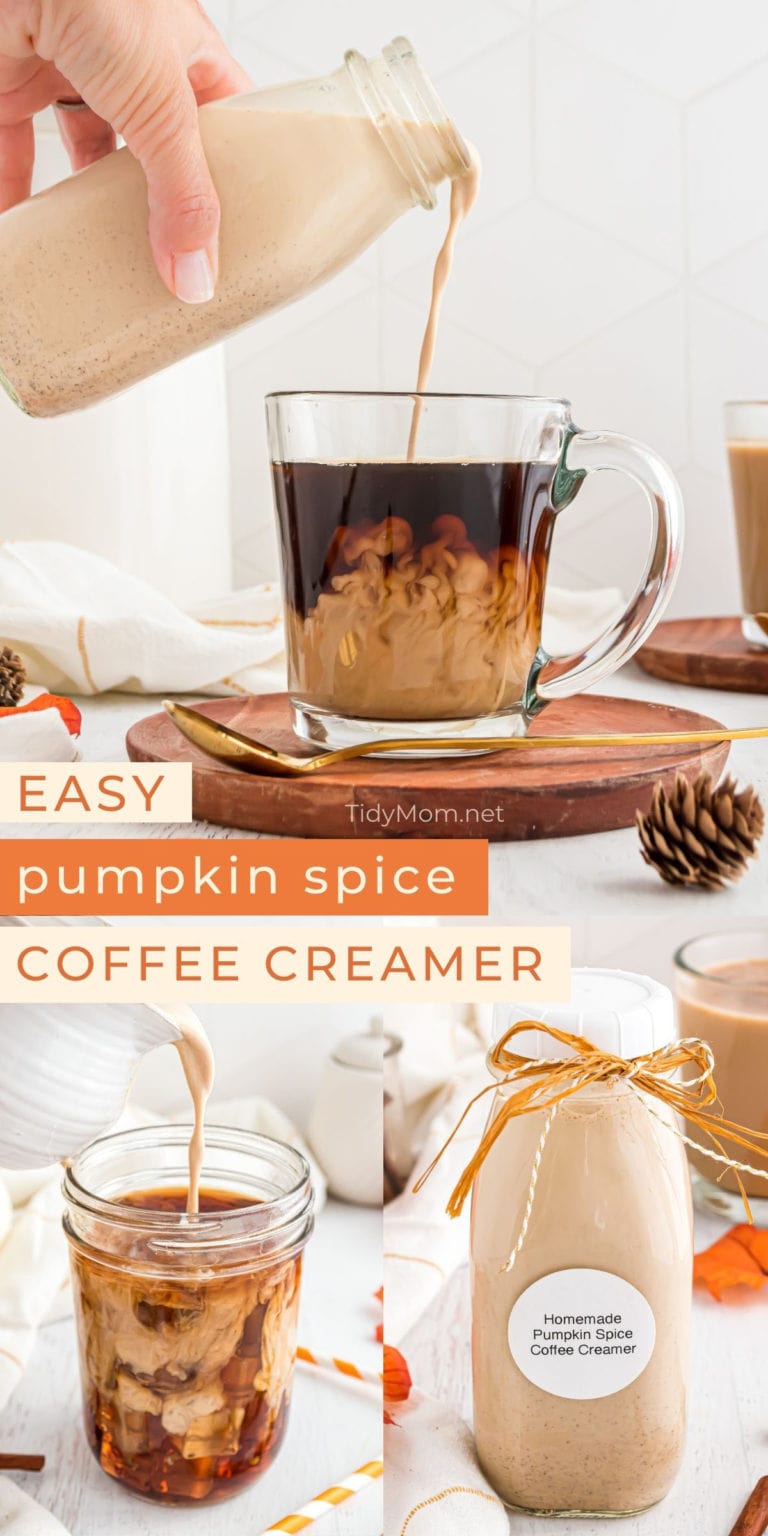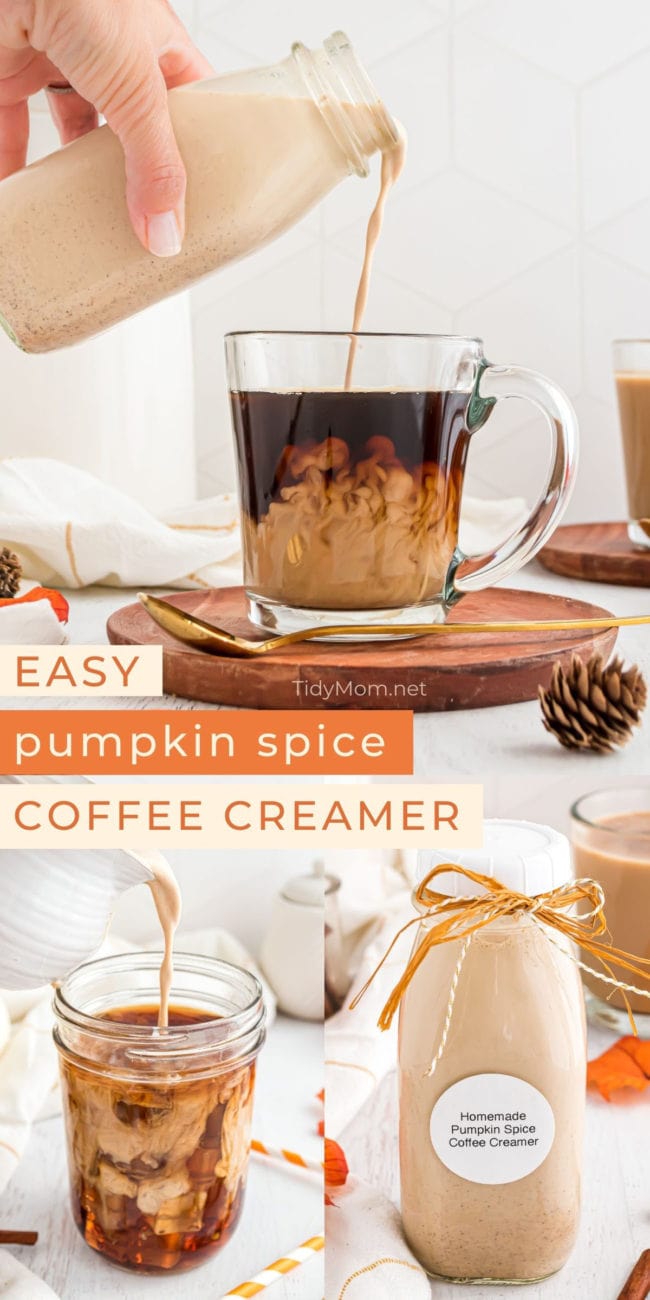 Like This Recipe?
I'd love to hear what you think! Leave a review below and let me know how you liked the recipe!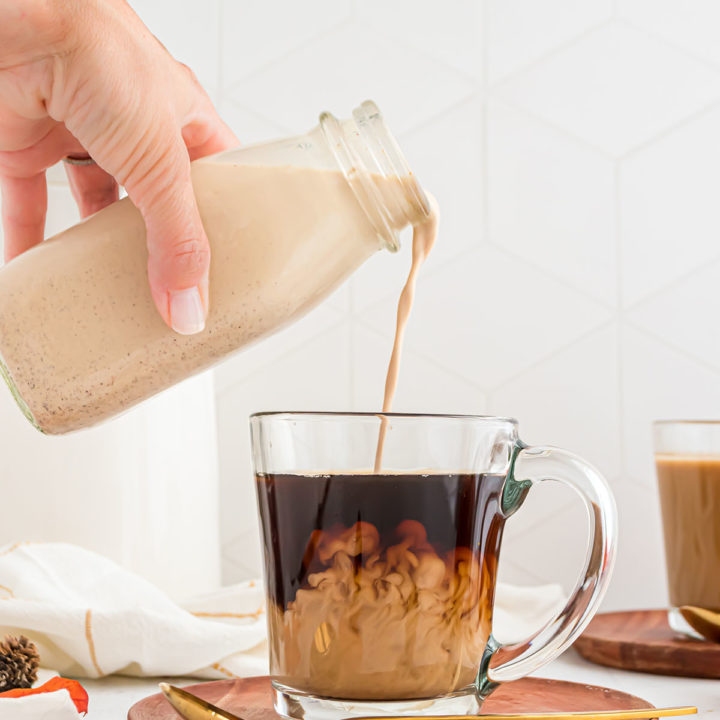 Pumpkin Spice Creamer
Yield: 1 1/4 cups
Prep Time: 10 minutes
Total Time: 10 minutes
Craft a fall-inspired Homemade Pumpkin Spice Coffee Creamer - a delightful blend of pumpkin pie spice, maple syrup, and real pumpkin for a cozy coffee experience.
Ingredients
1 teaspoon homemade pumpkin pie spice or store-bought
1 cup half and half
2 tablespoons canned pure pumpkin (NOT pumpkin pie mix)
2 tablespoons pure maple syrup
1-2 cinnamon sticks
1/2 teaspoon vanilla extract
Instructions
In a small dry saucepan over medium-low heat, toast pumpkin pie spices (1-2 minutes) or until fragrant stirring often.
Whisk in half and half, pumpkin, and syrup. Add cinnamon sticks and cook until warmed through, stirring frequently (2-3 minutes). Remove from heat, stir in vanilla, and let cool.
Remove cinnamon sticks and transfer to a resealable container and refrigerate for up to 10 days.
Shake before using. Add to your coffee as desired.
Notes
You can use whole milk, or heavy cream in place of the half and half. Or use your favorite dairy-free milk.
This recipe can easily be doubled.
Want your creamer sweeter? Add 6-7 ounces of sweetened condensed milk and heat in saucepan with milk and other ingredients.
Use with hot or iced coffee or hot chocolate.
Pour into ice cube trays to freeze, and add frozen creamer cubes to hot coffee, iced coffee, or hot chocolate.
Nutrition Information:
Yield: 13
Amount Per Serving:
Calories: 33
Total Fat: 2g
Saturated Fat: 1g
Trans Fat: 0g
Unsaturated Fat: 1g
Cholesterol: 7mg
Sodium: 12mg
Carbohydrates: 3g
Fiber: 0g
Sugar: 3g
Protein: 1g
Nutrition information is estimated based on the ingredients and cooking instructions as described in each recipe and is intended to be used for informational purposes only. Please note that nutrition details may vary based on methods of preparation, origin, and freshness of ingredients used and are just estimates. We encourage, especially if these numbers are important to you, to calculate these on your own for most accurate results.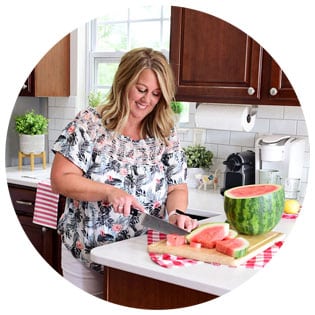 Hi there, I'm Cheryl!
As a wife, mom, and caffeine enthusiast, my journey has taken me from bustling mornings with my family to sharing delicious recipes, home care tips, and heartfelt decorating insights with wonderful readers like you. My love for baking, photography, and tidiness shines through every post I craft. Dive into my world and discover the art of homemaking, one tidy moment at a time. Read more...
Tidymom is a participant in the amazon services llc associates program, an affiliate advertising program designed to provide a means for sites to earn advertising fees by advertising and linking to Amazon.com.
Please respect my work, recipes and photographs. If you do use a recipe in your own writing, please give proper credit and link back to the original post.