No-Cook Strawberry Freezer Jam Recipe
Strawberry Freezer Jam – sweet red summer strawberries can be enjoyed year-round when preserved by this delectable no-cook freezer jam recipe. Keep in the freezer for over a year and easy enough to prepare for those with no canning skills!
Strawberry Jam is pretty amazing on just about everything! Use it as a topping for Vanilla Ice Cream, on Sheet Pan Pancakes, or on Homemade Cheese Danishes. Peanut butter and jelly sandwiches made with Homemade Bread and Strawberry Jam will blow their minds!
Be sure to sign up for my email… to get new recipes and ideas in your inbox!
Why You'll Love This Strawberry Freezer Jam Recipe
The best way to take advantage of classic summer strawberries is to make strawberry jam to enjoy in any season. Infinitely easier than water bath canning, freezer jam sets up beautifully with MCP pectin. It will keep that fresh strawberry flavor for over a year. With this fantastic and delicious strawberry freezer jam recipe, you can't go wrong!
Four simple ingredients
No cooking is needed for this strawberry freezer jam recipe
Freezer jam retains the color of the fresh berries you started with.
You can control the sweetness when using MCP pectin
Strawberry freezer jam is vegan (gelatin-free)
Makes enough freezer jam to share (lucky people)
Strawberry jam lasts in the freezer for 1-2 years (only if you don't share)
Maybe I should have started with, it's delicious?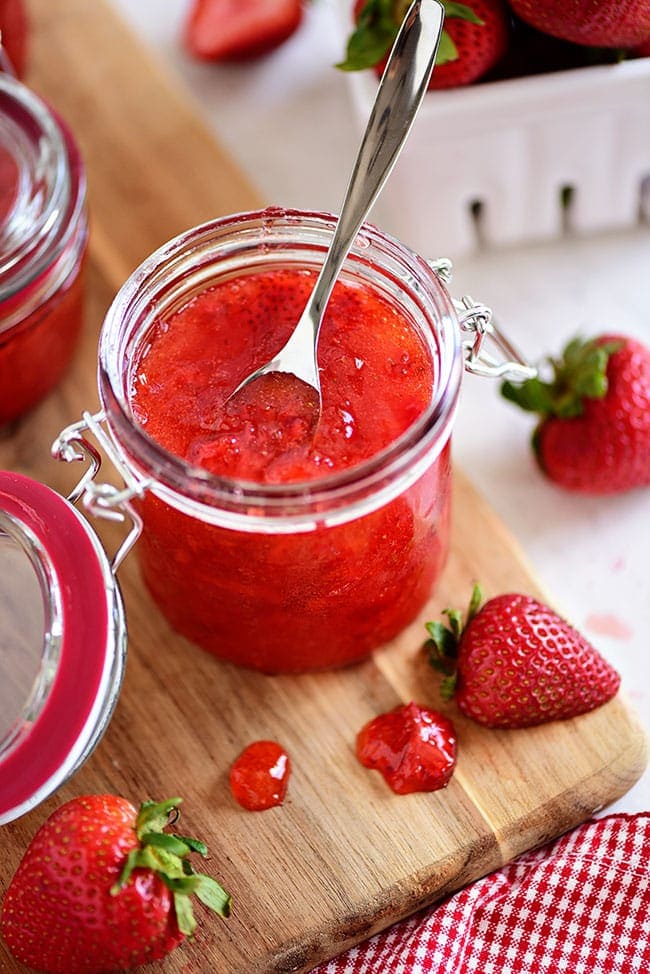 What Is The Difference Between Regular Jam And Freezer Jam?
The short answer is: Regular jam is cooked, and freezer jam is not.
The less short answer: Preserving strawberries with sugar is done by either hot water bath canning or by freezing. Freezer jams usually require little to no cooking, like this strawberry freezer jam recipe. Yay!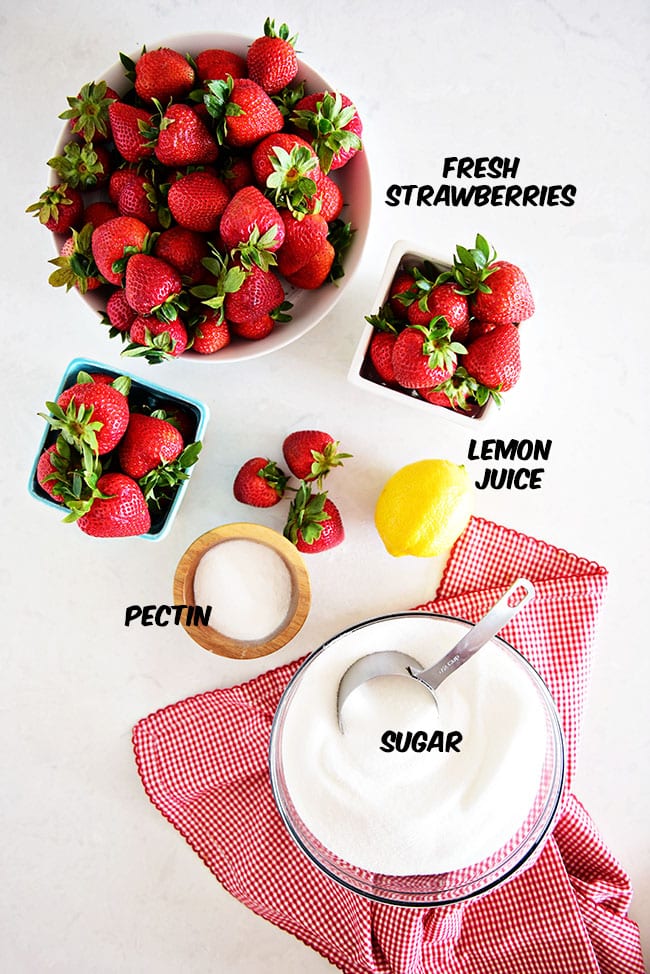 What You Need To Make This Strawberry Freezer Jam Recipe
Strawberries – select red ripened fruit, remove calyx (green part), wash, and drain in a colander.
Lemon Juice – Surprise, fresh is not best! Bottled lemon juice has a USDA-regulated uniform acidity. A consistent acidity level is essential for making jams gel properly. The acidity of fresh lemons is affected by growth and storage conditions and can vary greatly.
MCP Pectin – a thickener used with fruits containing high levels of natural pectin and freezer jams.
Sugar – use a granulated cane or beet sugar for freezer jam. Sugar is the "magnet" that draws the water and pectin into forming a gel.
The Difference Between Pectin And MCP Pectin?
Pectin is a soluble fiber and long-chain indigestible sugar; MCP pectin is modified citrus pectin where chains are split into smaller pieces. These two types of pectin are usually not interchangeable in jam recipes due to the inherent sugar properties of fruits.
Pectins are natural gelling/thickening agents from plant cell walls, usually apples and citrus fruits. When canning fruit, natural pectin requires a high sugar level to work as a binder.
MCP, the modified citrus pectin, will reliably set freezer jam recipes and low-sugar jam recipes. Sometimes MCP pectin can be hard to find, in this case, I will use Sure-Jell pectin.
This post may contain affiliate links. Please read my disclosure policy here.
How To Make Strawberry Jam In The Freezer
Ok, you've prepped the fruit, made room in the freezer (super important step!), and are ready to start.
Grab These Ingredients To Make This Strawberry Freezer Jam Recipe
Get the equipment together: fruit wash, colander, large mixing bowls, measuring cups, potato masher, rubber spatula, canning/jar funnel, and jars* for strawberry freezer jam.
Meticulously wash and dry freezer jam containers, including the lids. I recommend using one cup (8oz) or two cups (16oz) jars with tight sealing lids.
One batch will make seven ½ pint size jars, or the pint sized will make 3 ½ pints.
*You can use almost any freezer-appropriate container as long as it has a tight sealing lid. Strawberry jam is easier to give away in a cute mason jar!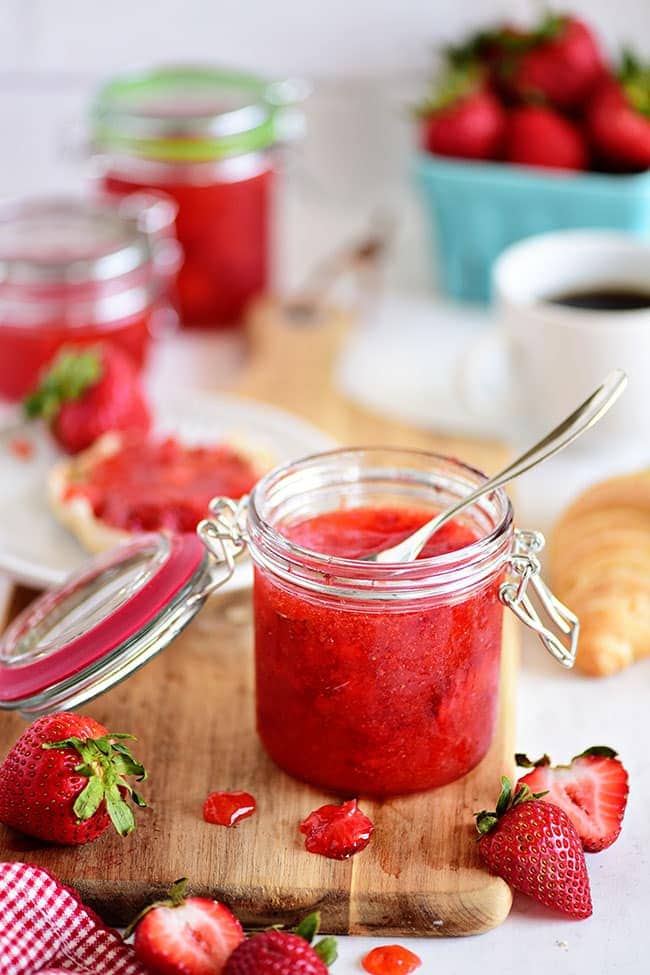 Simple Step By Step Directions For Strawberry Jam
ONE: Mash clean, halved strawberries in a large bowl, Have at it with the potato masher until the berries are crushed but still chunky. Measure exactly 3 ¼ cups of the crushed berries and add lemon juice to another bowl; stir to combine.
TWO: Add pectin to the fruit gradually, mixing thoroughly, then let it sit for 30 minutes. Stir every five minutes, so the pectin dissolves.
THREE: Stir sugar in with a rubber spatula until it is dissolved, about five minutes. Taste to make sure there are no sugar crystals left and continue to stir until they are all gone.
FOUR: Pour strawberry freezer jam into prepared jars, leaving ½" at the top to accommodate expansion during freezing. Wipe jar rims with a clean, lint-free cloth and seal tightly.
FIVE: Wait 24 hours for the strawberry jam sets up, standing at room temperature.
Done! Put the containers in the refrigerator and/or freezer and enjoy!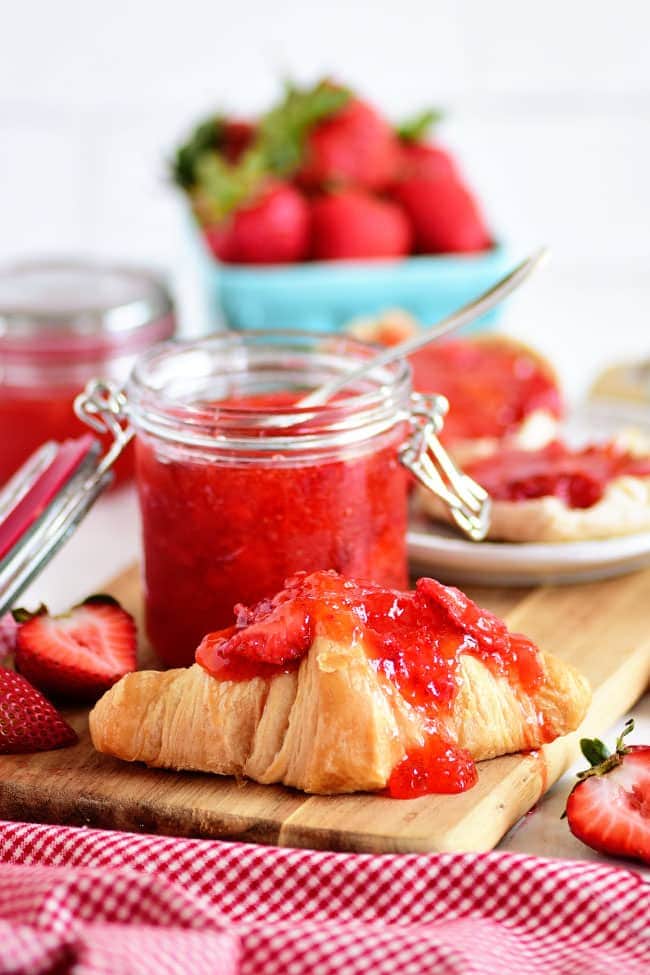 Storing And Using Strawberry Freezer Jam
Strawberry freezer jam can be stored in the freezer for 1 to 2 years. Once thawed in the fridge, it can remain refrigerated 3-4 weeks for once opened.
Notes For Thawing And Refrigerating Freezer Jam Recipes
Allow up to four hours for the strawberry jam to thaw in the fridge to get the best consistency. Always keep thawed freezer jam refrigerated.
Strawberry jam recipes for the freezer usually retain peak quality* for up to four weeks in the fridge. Some cooks swear they have no problem refreezing their freezer jams. The stuff will still taste great, regardless.
*Note that freezer jams can start "weeping" once defrosted due to syneresis when the gel separates from the liquids. (I say just give it a good stir because it will be better than anything store-bought!)
Like This Strawberry Jam Recipe? Pin It!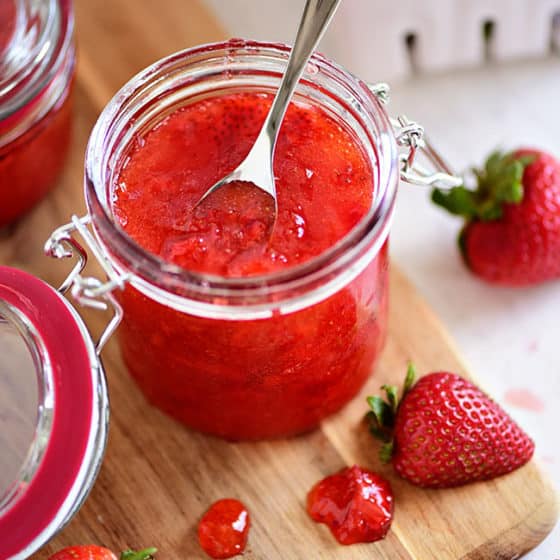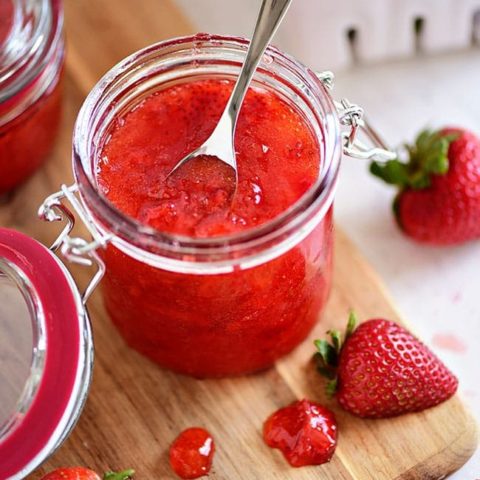 Strawberry Freezer Jam Recipe
Yield: 7 half pint jars
Prep Time: 30 minutes
Additional Time: 1 day
Total Time: 1 day 30 minutes
Strawberry Freezer Jam - sweet red summer strawberries can be enjoyed year-round when preserved by this delectable no-cook freezer jam recipe. Keeps in the freezer for over a year and easy enough to prepare for those with no canning skills!
Ingredients
2 quarts of fresh strawberries, stems removed, washed and drained in colander
¼ cup lemon juice
1 box of MCP pectin
4 ½ cups sugar
Instructions
Cut strawberries in half and place in a large bowl. Using a potato masher, crush berries until slightly chunky (NOT pureed). Measure exactly 3¼ cups of crushed strawberries into a large bowl and add the lemon juice, stir to combine.
Gradually add pectin to the fruit. Mix thoroughly and let sit for 30 min, stirring every 5 min to dissolve pectin completely.
Using a rubber spatula stir in sugar gradually until completely dissolved (roughly 5 minutes). Taste a little sample to see if sugar is dissolved. If not, continue stirring for 1-3 more minutes.
Pour into prepared containers leaving 1/2" headspace for expansion during freezing. Wipe rims of containers; seal. Let stand at room temperature for about 24 hours or until set.
Refrigerate for up to 3 months, or store in the freezer for 1 to 2 years.
Notes
If you can't find MCP pectin, you can use Sure-Jell pecitn
Recommended Products
As an Amazon Associate and member of other affiliate programs, I earn from qualifying purchases.
Nutrition Information:
Yield: 112
Serving Size: 1 tablespoon
Amount Per Serving:
Calories: 37
Total Fat: 0g
Saturated Fat: 0g
Trans Fat: 0g
Unsaturated Fat: 0g
Cholesterol: 0mg
Sodium: 1mg
Carbohydrates: 9g
Fiber: 0g
Sugar: 9g
Protein: 0g
Nutrition information is estimated based on the ingredients and cooking instructions as described in each recipe and is intended to be used for informational purposes only. Please note that nutrition details may vary based on methods of preparation, origin, and freshness of ingredients used and are just estimates. We encourage, especially if these numbers are important to you, to calculate these on your own for most accurate results.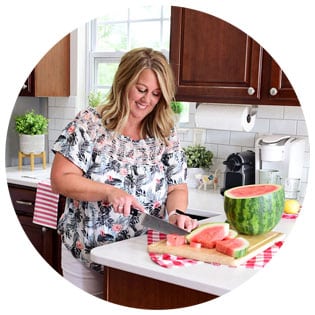 Hi there, I'm Cheryl!
As a wife, mom, and caffeine enthusiast, my journey has taken me from bustling mornings with my family to sharing delicious recipes, home care tips, and heartfelt decorating insights with wonderful readers like you. My love for baking, photography, and tidiness shines through every post I craft. Dive into my world and discover the art of homemaking, one tidy moment at a time. Read more...
Tidymom is a participant in the amazon services llc associates program, an affiliate advertising program designed to provide a means for sites to earn advertising fees by advertising and linking to Amazon.com.
Please respect my work, recipes and photographs. If you do use a recipe in your own writing, please give proper credit and link back to the original post.