Homemade Artisan Bread {in five minutes a day}
I'm Lovin' It {linky party}
I've found a way to make delicious homemade Artisan Bread in 5 Minutes a Day.  It's so easy, this bread almost makes itself!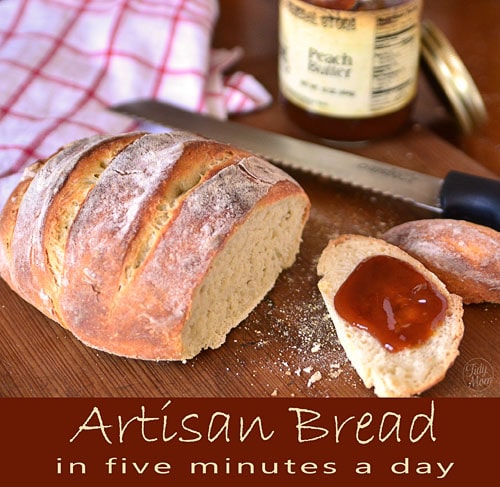 This post may contain affiliate links. Please read my disclosure policy here.
I think it's time I tell you……….
My husband has an addiction.
An addiction to bread.  Not just any bread, but good homemade bread.  And I've never been good about making it for him.
I got rid of my bread machine a few years ago, because it was just too big and was taking up valuable space, for how little I used it.  I would occasionally buy the loaves you find in the freezer section of your grocery store, that you just put in a pan to rise then bake.  Those are good, but it's just not the same as making your own.
Yeast can be intimidating.  It's particular.  It usually involves kneading, rising, fussing, and time!  You have to worry about temperature and humidity.  All very different than my affair with sugar.  Sugar is easy going and rarely lets me down.  Yeast, on the other hand, is usually a little "high maintenance for me".  I could live with the fact that would never own title of "bread maker".
So for years, I rarely fed my husband's addiction.  Probably for the best, really.  I saved his waistline and my sanity.  (where's my cape for THAT ?)
Naturally, I was intrigued several weeks ago when Kristen mentioned she made the easiest loaf of bread. EVER!  Artisan Bread in Five Minutes a Day.
At first, I was a bit skeptical, after all, she holds bragging rights to bread making.  But she claimed that this bread changes everything I think about bread making! (Let's be honest, I wanted her mad bread making skills)
How to Make Rustic Homemade Artisan Bread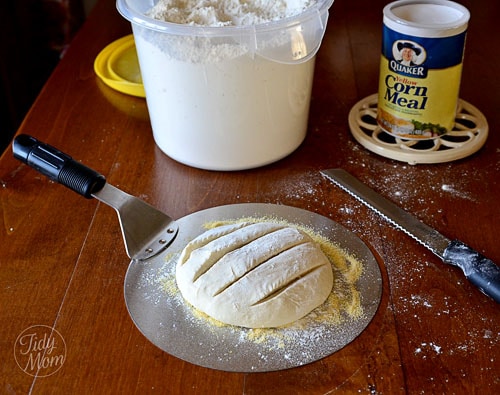 Mix 4 ingredients in a bowl with a wooden spoon! That's it!  Cover and let it sit and rise for about 2 hours (no babysitting required).  Then pop in the fridge and cut off a big chunk when you are craving a warm hearty loaf.  It's that easy.
The dough can keep in the fridge up to two weeks, and the longer it stays in the refrigerator, the more flavorful it becomes and the larger the air holes will be in the loaf.  But I have to say, I haven't had the chance to experience that yet, as we have been making a loaf nearly every other day for the last two weeks.  Yeah, it's THAT good!
The day you want to make your bread, it's just five minutes of active effort (hence the name 5 minutes a day).   You cut off about one pound of dough (you can get about 3 loaves out of one recipe) shape it, let it rest for 40 minutes, add a few pretty slashes to the top and throw it in the oven for 30 minutes.  Can't get any easier than that!
TidyDad is begging for bread each day.  He can hardly wait for it to cool after it comes out of the oven (or for me to get a picture) – you should let the bread cool before slicing.
This has really rocked our world!!  You can follow the recipe and instructions at ArtisanBreadinFive.com or you can buy the book for even more recipes using this basic dough.
Don't be jealous………….
whiskers, camo and ALL! HA!
Homemade Artisan Bread Supplies
you may want, but you don't NEED all of these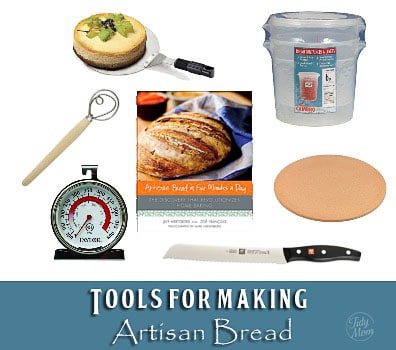 Pizza Peel | 6 Qt. Food Storage Container | Pizza Stone | Bread Knife | Oven Thermometer | Danish Dough Whisk | Artisan Bread in Five Minutes a Day by Jeff Hertzberg and Zoë François
Do you make homemade bread?
 You may also want to read:
Like this Homemade Artisan Bread?! Pin It!
Thank you for sharing so many wonderful projects, recipes and crafts again last week ! You can link up thru Sunday evening or come back next week and link up for another
I'm Lovin' It
, who knows maybe next week I will be featuring you!
Let's get this party started!!  It's time to link up all your great ideas to "I'm Lovin' It Party"  (remember, each week I will share some of my favorites who link up!)

I'm Lovin'…….Homemade Artisan Bread in Five
Now it's your turn!
Let us know what you're lovin' this week!
What is I'm Lovin' It? get all the info here *All photos submitted to the I'm Lovin It linky party, grant the rights to display their photo on this website and other sites I write for.  Proper credit will always be given.  TidyMom is not responsible for stolen images or the mis-use by others who have found your image through TidyMom.net.