Rocky Road Homemade Ice Cream (Without Machine)
No-Churn Rocky Road Ice Cream Recipe – a rich, creamy frozen confection of chocolate ice cream woven with a nutty almond crunch and vanilla marshmallow chewiness throughout. Delicious ice cream with condensed milk and no machine required!
If you're looking for more frozen treats like homemade ice cream, you can't beat 2-Ingredient Peach Sherbet, Philadelphia Style Vanilla Ice Cream, Roasted Peach Frozen Custard, (Un) Fried Ice Cream, and Piña Colada Sorbet.
Be sure to sign up for my email… to get new recipes and ideas in your inbox!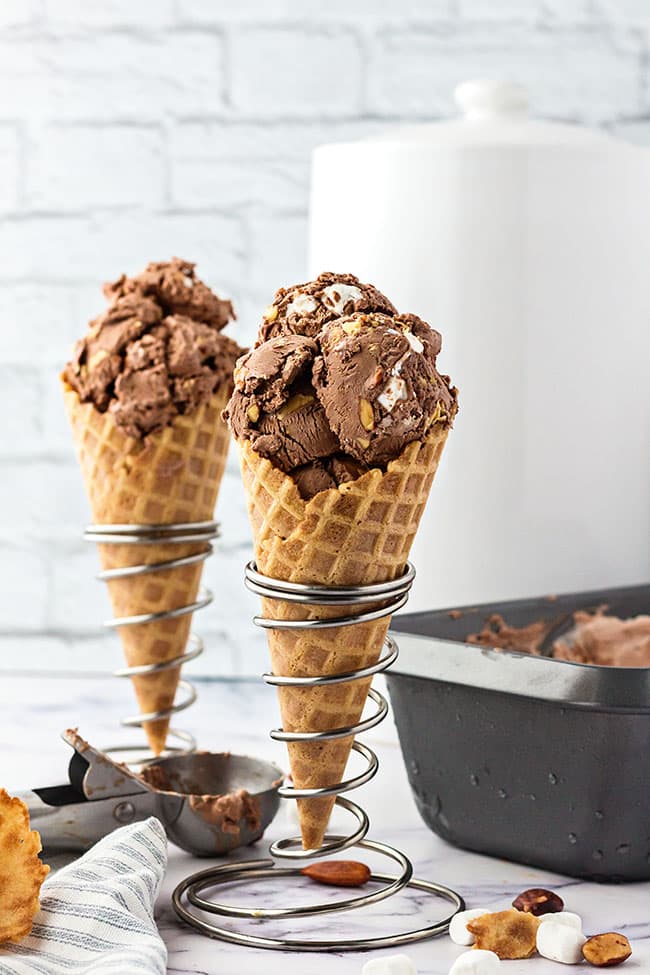 Nothing says summer fun like homemade ice cream, especially the beloved rocky road flavor. Now there is no need to run to the grocery store, use an expensive machine, or spend hours cranking an ice cream churn. (Does anyone do that anymore? It might be a good arm workout!)
Rocky road ice cream was a pioneer flavor when it burst onto the scene almost a hundred years ago. The classic rocky road ice cream was born by taking smooth chocolate ice cream and adding the wonderful flavors, contrasts, and textures of nuts and marshmallows. So grab the kiddos or your grands and make your own rocky road ice cream for an easy, fun, and delicious frozen treat!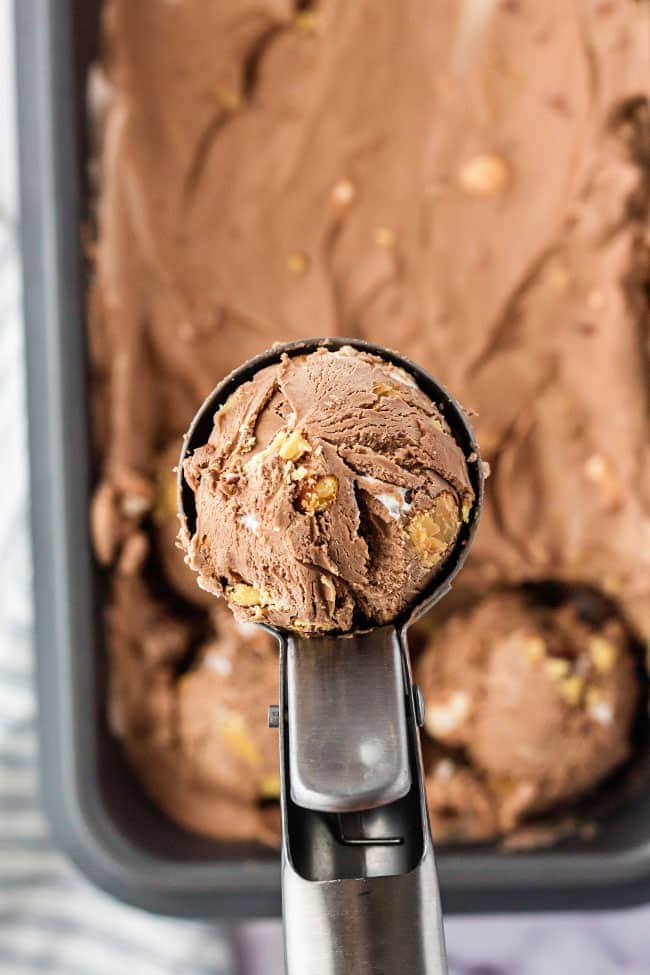 Why You'll Love This Rocky Road Ice Cream Recipe
Creamy, delicious, and classic, this rocky road ice cream recipe only takes 15 minutes to throw together. The hardest part is waiting for it to freeze!
Sensational homemade no-churn ice cream without a machine! No chemical additives or preservatives.
Just five ingredients and four simple steps.
This homemade ice cream with condensed milk recipe has all kinds of options for add-ins! You can make your road as "rocky" as you like!
This post may contain affiliate links. Please read my disclosure policy here.
Gather Up Your Five Rocky Road Ice Cream Ingredients And Get Started!
Yay! A delicious rocky road ice cream recipe without a machine or hours of slow churning. All you need is a hand mixer, a spatula, a metal loaf pan, and the following five homemade ice cream ingredients:
Heavy Cream – coats ice crystals with fat for a smooth, creamy texture, and the fat helps trap air in the rocky road mixture to create and hold volume.
Sweetened Condensed Milk – contains a high level of milk solids that control crystal size. Condensed milk also provides lactose (milk sugars) that lower the freezing point to keep the ice cream softer.
Unsweetened Cocoa Powder – you know I'm always partial to the high quality of Ghirardelli Cocoas, but as long as you use a fresh, quality cocoa powder, your rocky road flavor will "rock!"
Miniature Marshmallows – are fluffy, squishy, air puffed, chewy vanilla flavored confections.
Chopped Almonds – add a burst of nutty crunchiness. You can use any nut your preference; even the original rocky road ice cream recipe used walnuts. I like to lightly toast nuts to bring out a deeper flavor and crunch for a personal touch.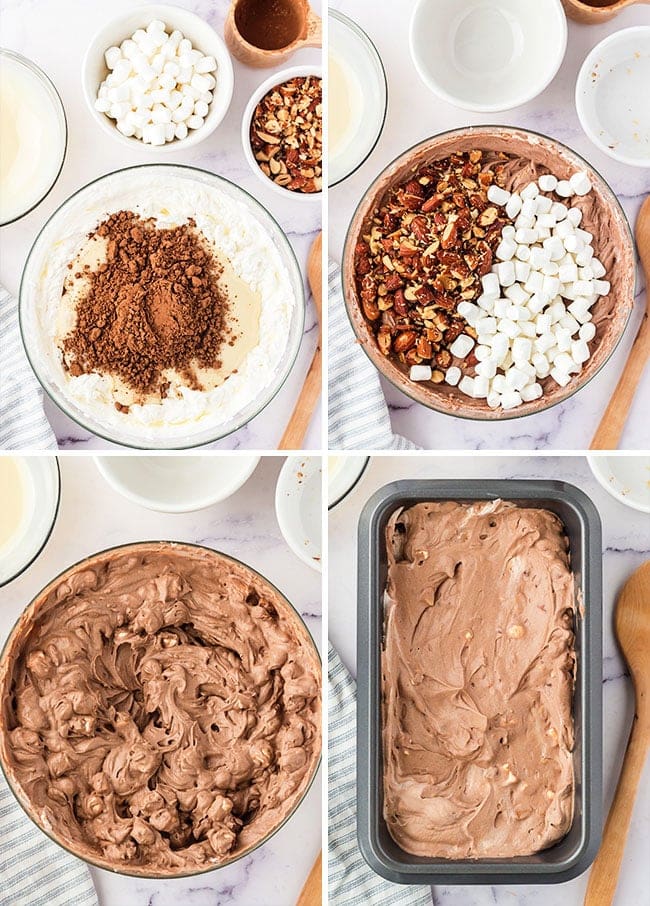 How To Make Rocky Road Ice Cream Without A Machine
(full printable recipe at the end of this post)
Whip, Mix, Fold, & Freeze! Four easy steps to this rocky road no-churn homemade ice cream recipe!
Whip the heavy cream until it reaches soft peaks.
Mix the sweetened condensed milk and cocoa powder until just combined.
Fold the mini marshmallows and chopped almonds into the rocky road ice cream base.
Freeze for 4-6 hours in a metal loaf pan.
Scoop, serve, and enjoy!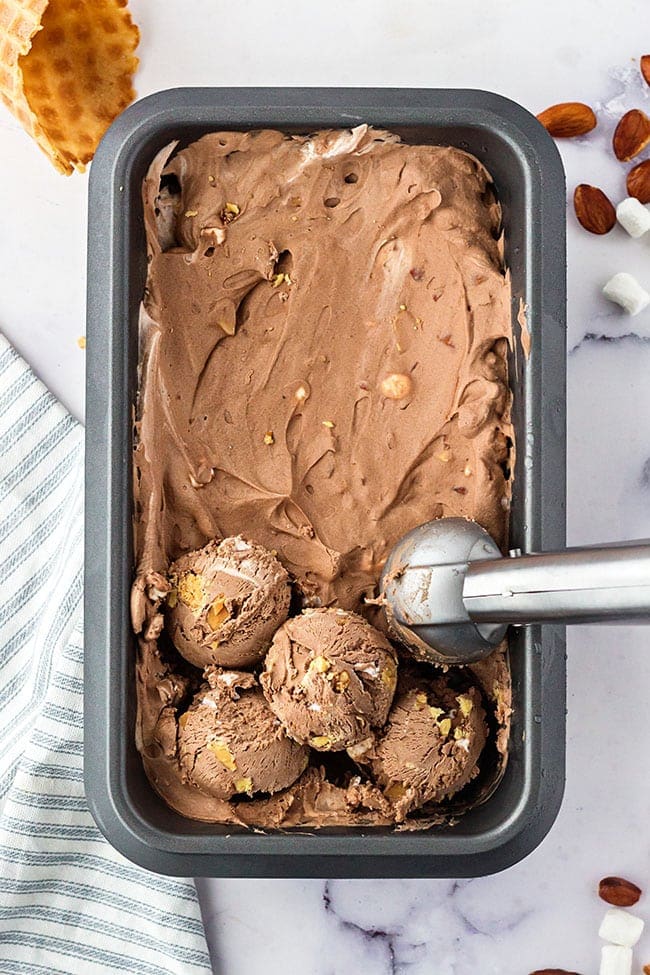 Popular Variations & Additions For Rocky Road Ice Cream Recipes
During a time when chocolate, strawberry, and vanilla ice cream were the only commercially available flavors, rocky road ice cream exploded into popularity. The masses were delighted with the new flavor combinations and texture. Some of the original blends were said to include walnuts and chocolate chunks.
Here are some of the more popular variations. Don't be shy; feel free to add some different "rocks" to your "road!" 🙂
Chocolate Chunks
White Chocolate Chunks
Walnuts
Chocolate Chips
Hazelnuts
Marshmallow Fluff/Cream
Fudge Swirls
Peanuts
Chocolate Covered Almonds
If you let the kids in on the fun, they can make their own rocky road ice cream cups with muffin tins and liners. It's also an opportunity to use up some treats you might have on hand like jelly beans, gummy bears, peanut butter chips, broken cookies, or M&M's! They'll love it!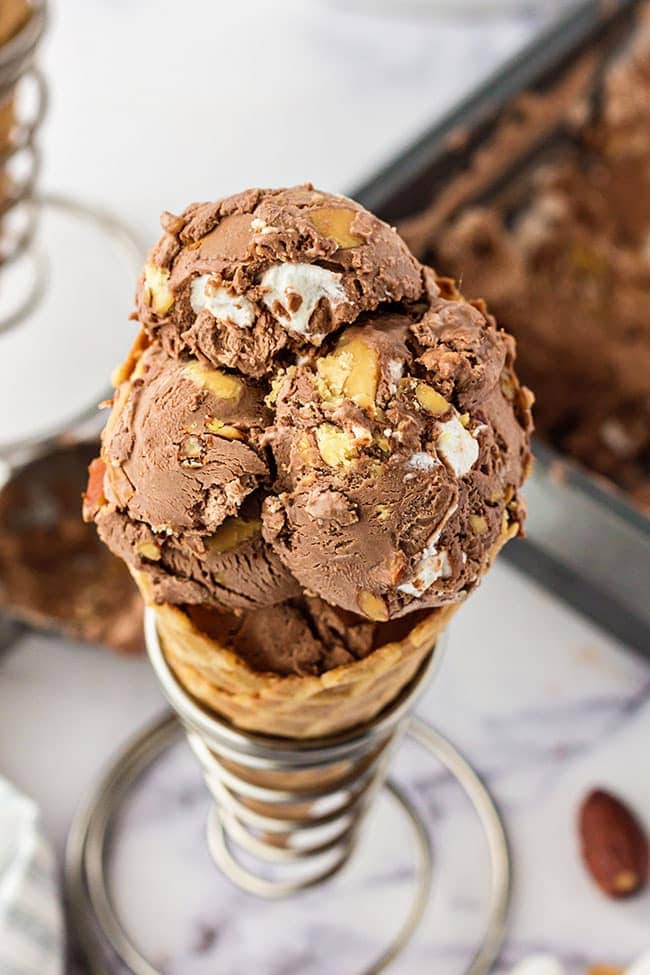 How Long Will Homemade Rocky Road Ice Cream Last In The Freezer?
This rocky road ice cream will last for about two months when covered in plastic wrap or stored in an airtight container in the freezer. Ok, who are we kidding? You'll be lucky once everyone tastes it if it "lasts" two days!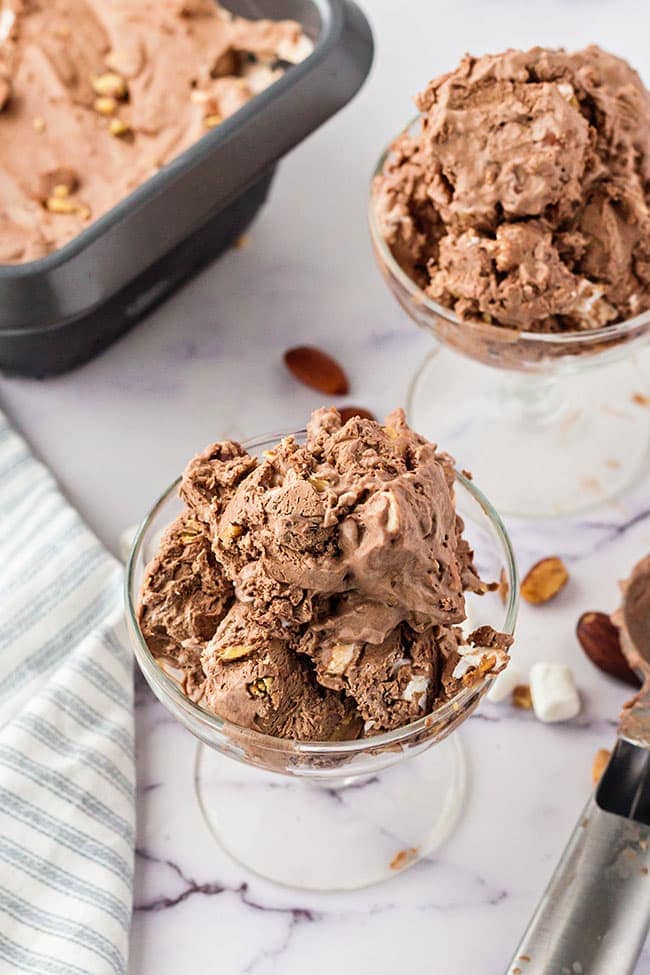 Rocky Road Ice Cream FAQs:
Why is it called rocky road?
The name was a jeu de mots nod to the bumps/lumps in the ice cream itself, and the difficult road ahead in the aftermath of the infamous Wall Street Crash. In 1929 when William Dreyer and Joseph Edy brought Rocky Road ice cream to market their marketing slogan was, "Share a scoop, share a smile." They wanted to give people something to enjoy during the hard times ahead. They did, and people have been smiling about Rocky Road Ice Cream for almost a hundred years!
What is the difference between rocky road and heavenly hash ice cream flavors?
It actually depends on which company is making it! The broad answer is as follows:
Rocky Road: Chocolate ice cream, almond pieces, & mini-marshmallows.
Heavenly Hash: Chocolate & vanilla ice cream swirled, chopped almonds, mini-marshmallow pieces, and chocolate chunks.
What does condensed milk do in ice cream?
Sweetened condensed milk is the magical ingredient that makes it simple to make homemade ice cream without an ice cream machine. Sweetened condensed milk is simply regular cow's milk that has had most of the water cooked out of it, making it thicker and creamier than regular milk.
The consistency and texture of sweetened condensed milk help to create soft, scoopable ice cream even though the high sugar content prevents it from freezing solid.
Like This Easy Rocky Road Ice Cream Recipe? Pin It!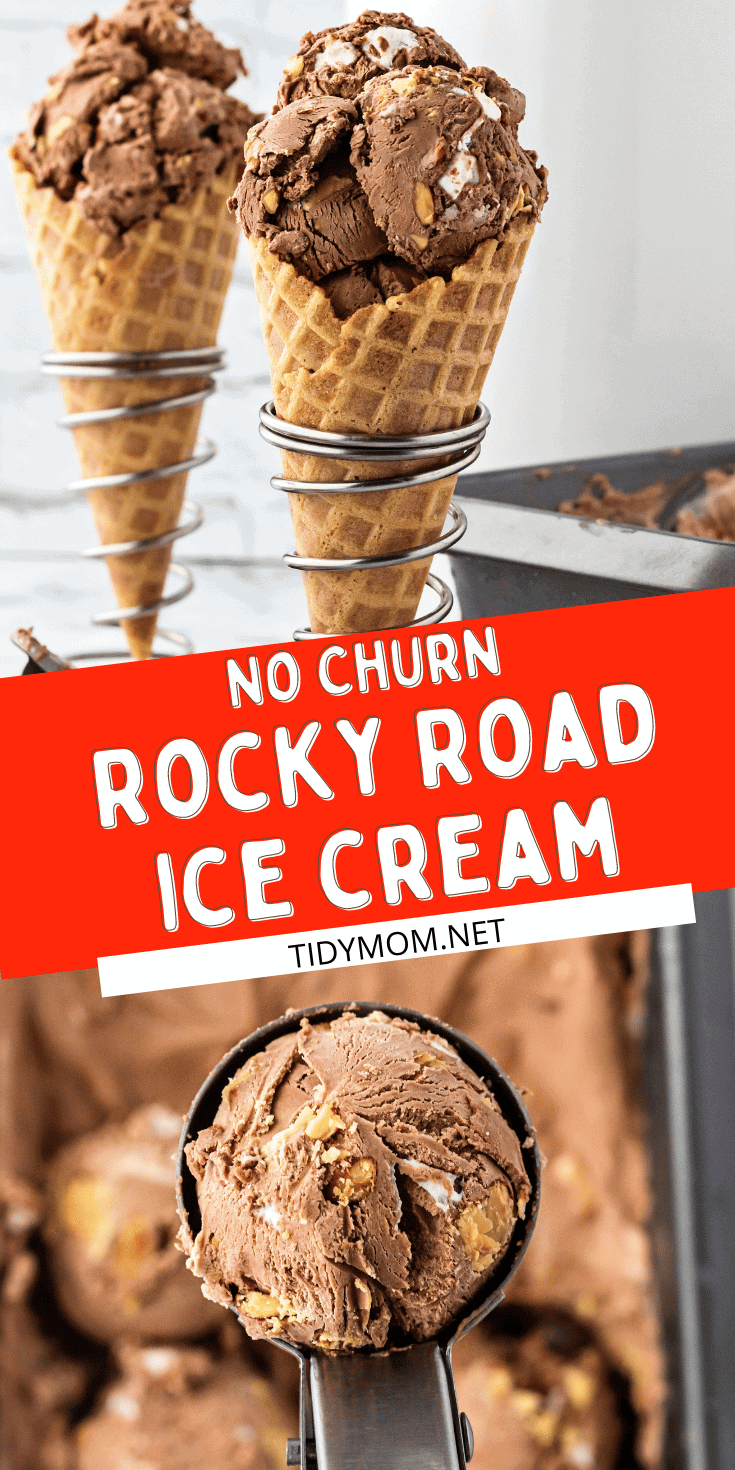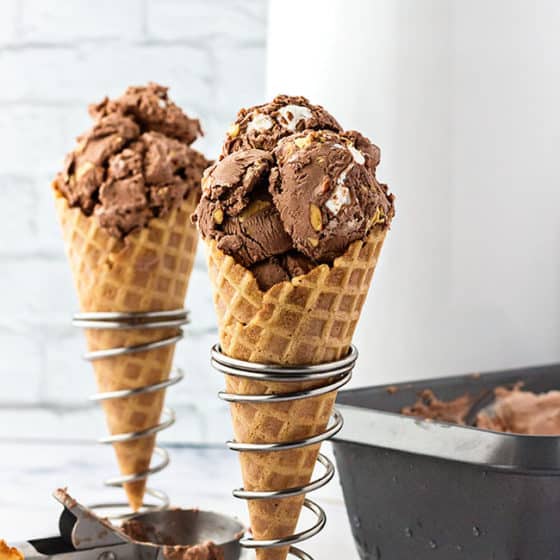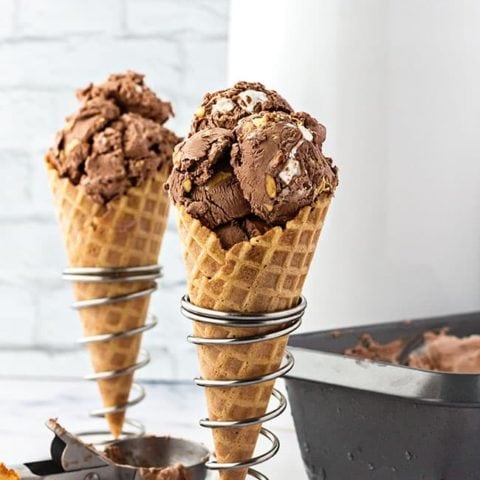 No-Churn Rocky Road Homemade Ice Cream
Yield: 8
Prep Time: 15 minutes
Minimum Freezer Time: 4 hours
Total Time: 4 hours 15 minutes
Ingredients
2 cups heavy cream
1 ½ cups sweetened condensed milk
1/3 cup unsweetened cocoa powder
1 cup miniature marshmallows
1 cup chopped almonds
Instructions
Using an electric hand mixer, whip the heavy whipping cream until it reaches soft peaks.
Add the sweetened condensed milk and cocoa powder and slowly mix until just combined.
Use a rubber spatula to gently fold the mini marshmallows and chopped almonds into the chocolate ice cream base.
Transfer the entire mixture to a metal loaf pan and let set in the freezer for 4-6 hours.
Scoop, serve, and enjoy!
Notes
This ice cream will last for about 2 months when covered in plastic wrap or stored in an airtight container in the freezer.
You can use either raw almonds or roasted almonds in this recipe. Whatever you choose will not have a big effect on the final product.
You can swap the miniature marshmallows out for ¾ cup of marshmallow fluff.
It is important to gently fold in the marshmallows and almonds to prevent knocking out the air in the whipped cream. This can cause the added ingredients to sink to the bottom of the loaf pan.
Recommended Products
As an Amazon Associate and member of other affiliate programs, I earn from qualifying purchases.
Nutrition Information:
Yield: 8
Serving Size: 1
Amount Per Serving:
Calories: 510
Total Fat: 35g
Saturated Fat: 17g
Trans Fat: 1g
Unsaturated Fat: 15g
Cholesterol: 87mg
Sodium: 169mg
Carbohydrates: 43g
Fiber: 2g
Sugar: 37g
Protein: 10g
Nutrition information is estimated based on the ingredients and cooking instructions as described in each recipe and is intended to be used for informational purposes only. Please note that nutrition details may vary based on methods of preparation, origin, and freshness of ingredients used and are just estimates. We encourage, especially if these numbers are important to you, to calculate these on your own for most accurate results.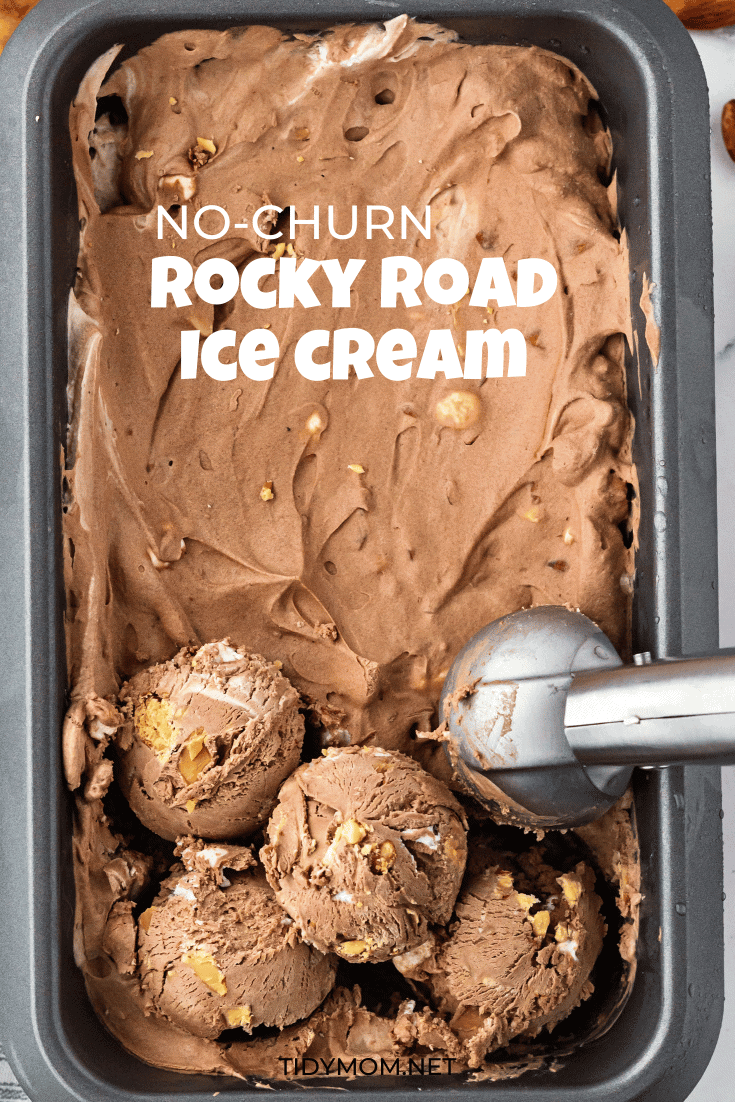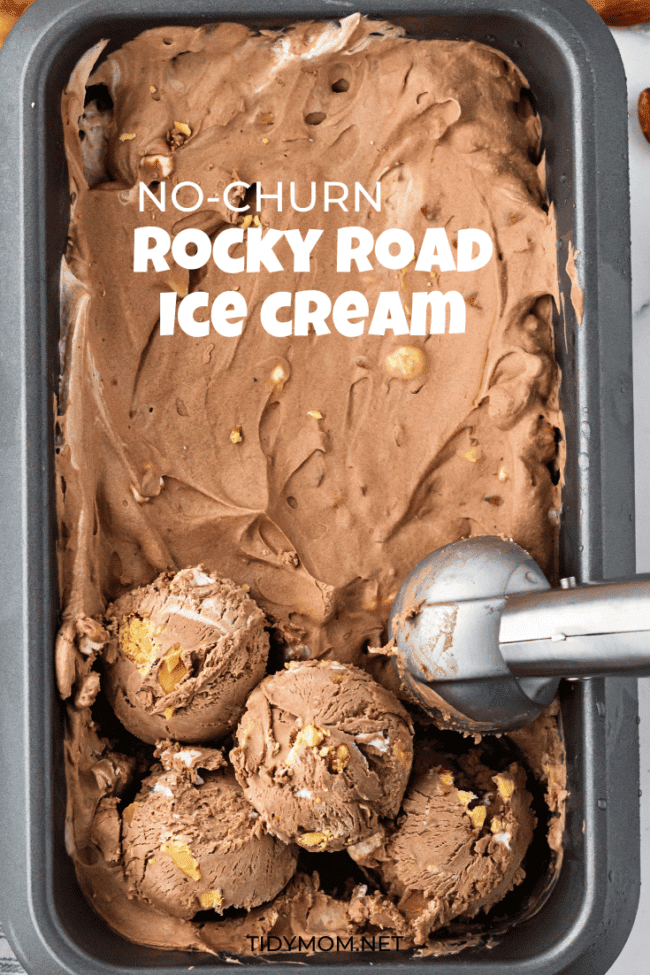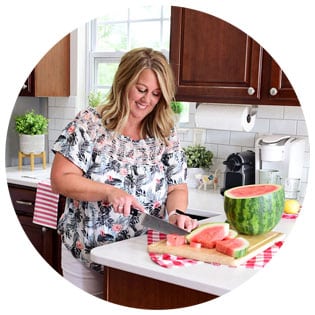 Hi there, I'm Cheryl!
As a wife, mom, and caffeine enthusiast, my journey has taken me from bustling mornings with my family to sharing delicious recipes, home care tips, and heartfelt decorating insights with wonderful readers like you. My love for baking, photography, and tidiness shines through every post I craft. Dive into my world and discover the art of homemaking, one tidy moment at a time. Read more...
Tidymom is a participant in the amazon services llc associates program, an affiliate advertising program designed to provide a means for sites to earn advertising fees by advertising and linking to Amazon.com.
Please respect my work, recipes and photographs. If you do use a recipe in your own writing, please give proper credit and link back to the original post.