Cheese Danish with Lemon or Raspberry
Skip the trip to the bakery. This Cream Cheese Danish recipe is made with a tender, sweet yeast bread, a sweet cream cheese center plus a generous drizzle of a powdered sugar glaze.
Top the classic cheese filling with a dollop of lemon curd or raspberry preserves before baking, if you like. Frozen dinner rolls make them simple and delicious for breakfast, brunch or dessert!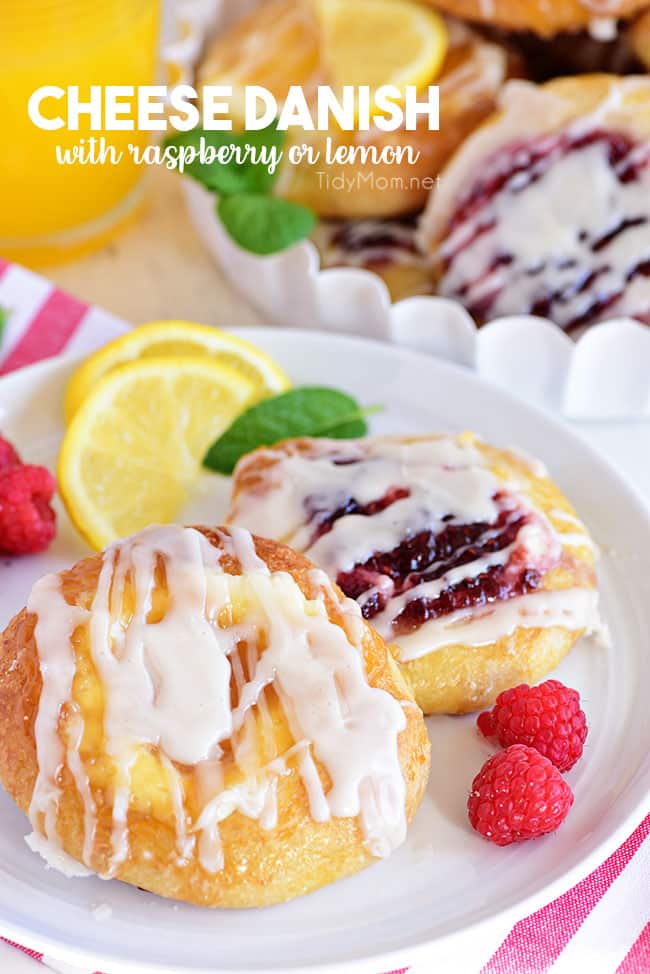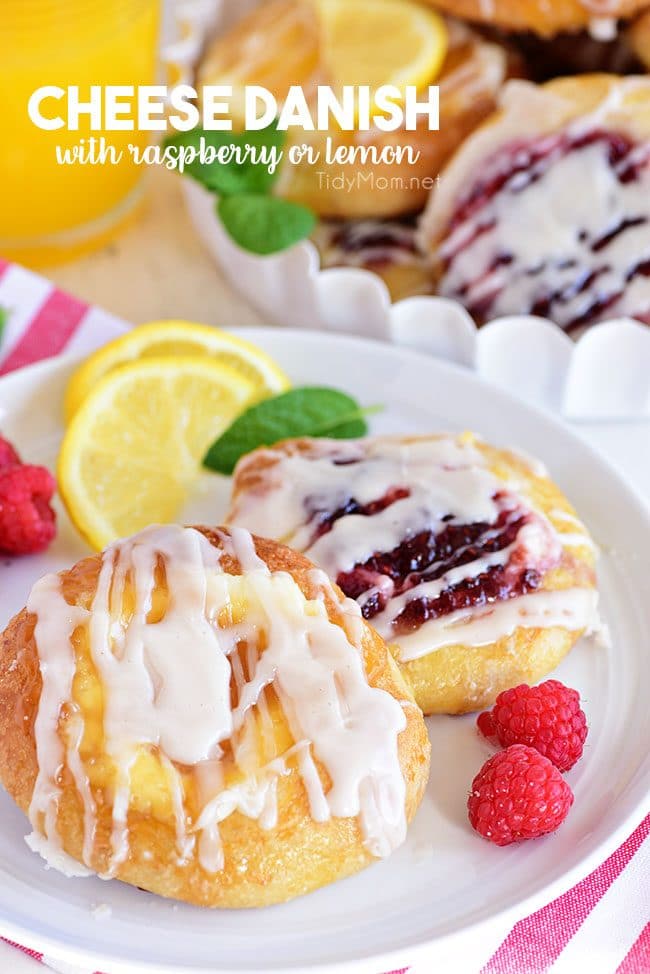 Click HERE to save recipe to Pinterest!
Cheese Danish With Lemon and Raspberry
Just imagine, you walk into your kitchen and you're hit with the sweet smell of a freshly baked danish, then you take the first bite, and you immediately fall in love. This could be your future if you keep reading.
With the help of Rhodes Bake-N-Serv® frozen roll dough you can turn home into your own upscale pastry shop, no mixing or kneading necessary…..just fresh baked bread goodness. You don't even have to taste one to fall in love, it will be love at first sniff with this cream cheese danish recipe.
Before you even take a batch out of the oven, you'll already have an audience waiting to get their hands on some. I don't blame them though, because with toppings like sweet cream cheese, luscious lemon curd and raspberry, and a drizzle of homemade icing, what's not to love?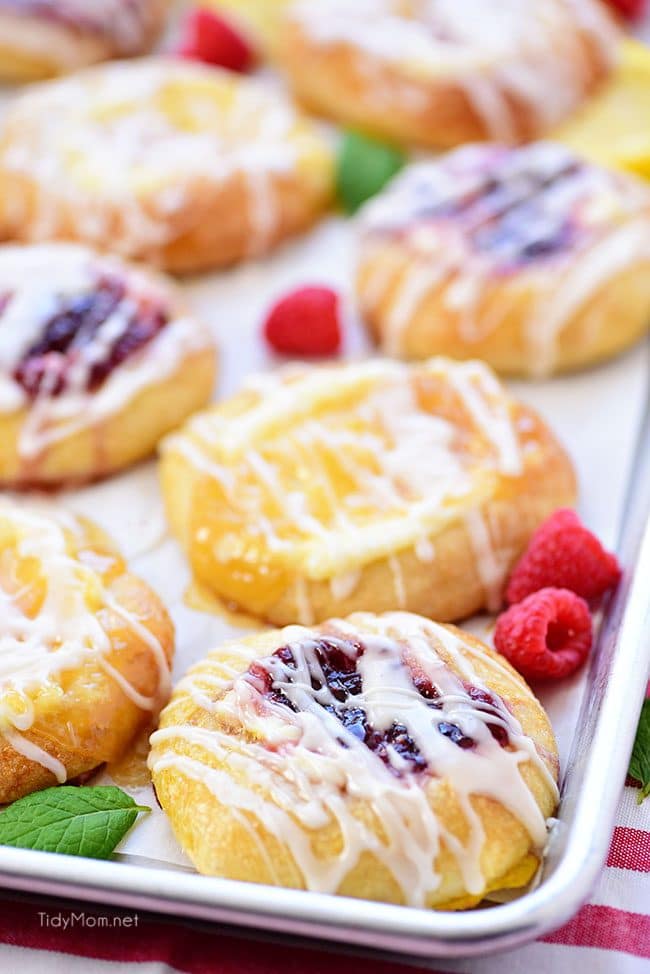 What is A Cheese Danish?
In Denmark, Danish pastries (which ironically did not originate in Denmark but that's a whole other story) encompass a wide variety of baked goods.
While Americans, along with much of the western world, think of the iconic Danish as a round pastry with a sweet custard or fruit filling with a drizzle of white icing.
So basically a cheese danish is an amazing dessert, you won't want to pass on.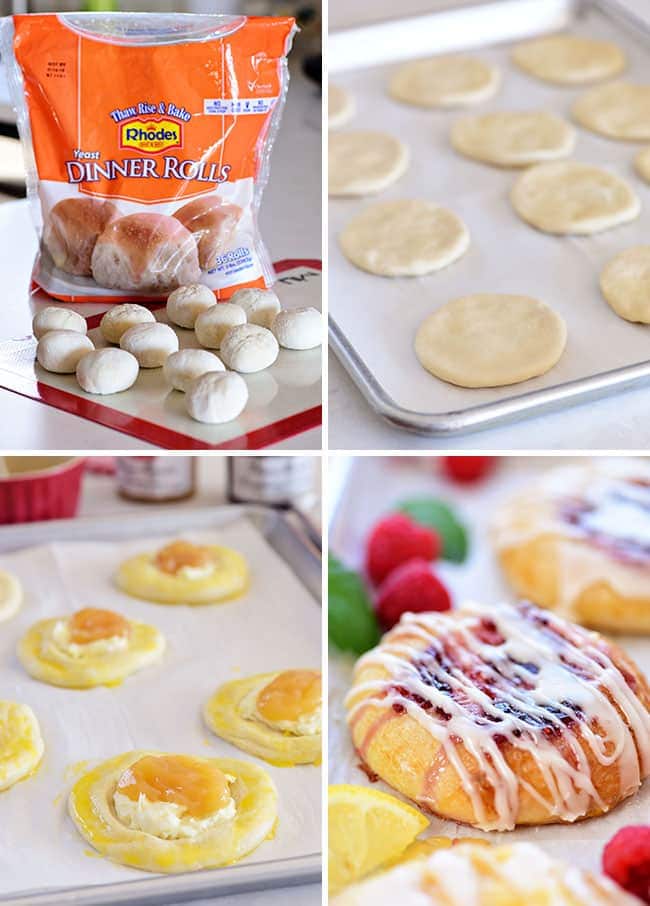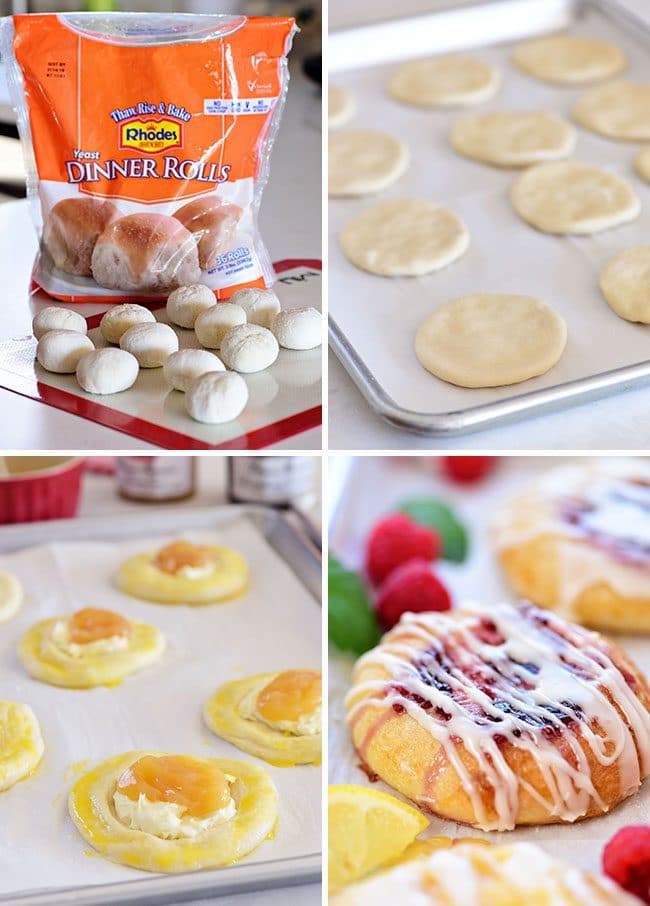 How To Make Cheese Danishes With Frozen Rolls
Danishes are traditionally made with a puff pastry but I made them with Rhodes frozen dinner rolls, which provided a sweet yeast bread as a base to these danishes.
The ease of using frozen rolls is one of the reasons I love this recipe so much. With no bread-making involved, using frozen dough takes all the stress out of making pastries. All you have to do is let the dough thaw, rise, bake.
The dough portioned just right to divide and flatten each roll into a 3-inch disc – perfect for holding the amazing cream cheese filling, lemon curd or raspberry topping, and white icing.
After rising, and baking they look so incredible and they taste even better. To finish, drizzle the top with a decadent cream cheese glaze, and they're guaranteed to disappear in a snap.
Tips For Using Frozen Rolls
FOR THAWED BUT STILL COLD ROLLS: Remove frozen rolls from freezer and place on counter for an hour or two so they start to thaw, but not rise yet. They may become room temperature while you handle them, which is fine.
HOW TO LET ROLLS RISE: Let rolls rise in a warm spot, such as the top of the refrigerator, in an oven with just the light on, near a heat register, on top of a heating pad or in direct sunlight.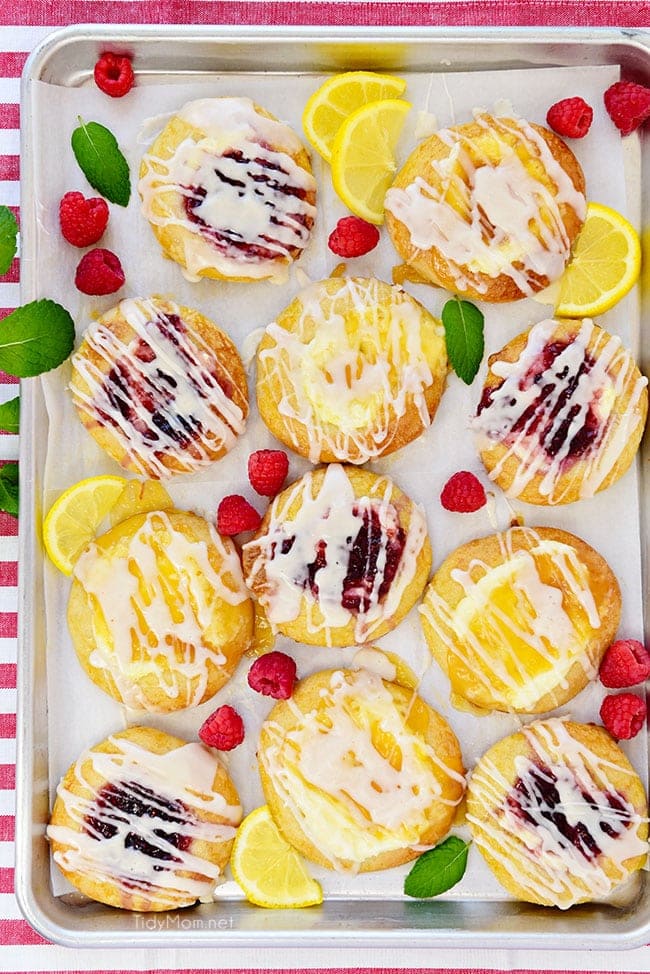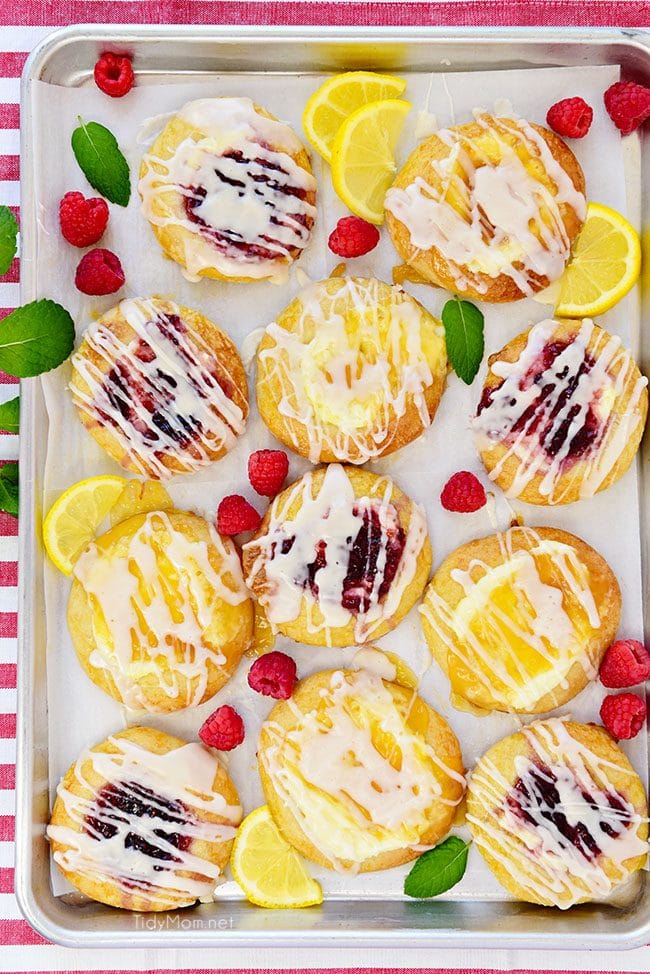 Tips For Keeping Pastries Fresh
Wait to add the white icing: I suggest serving these immediately, but if you want to make them a day ahead before serving, wait and add the white icing before until ready to serve.
Put them in a paper bag: To help keep the pastry crisp, place them in a paper bag first, then place in a plastic bag. This combo of paper and plastic helps them to retain their crisp texture without the sogginess that can be caused by condensation on the inside of a plastic bag.
Don't refrigerate: If you don't want soggy pastries, avoid putting them in the fridge. The moist air inside a fridge can affect the crispness of a pastry's crust.
Avoid the microwave: These cheese danishes are best served warm, but that doesn't mean you should pop them in the microwave. Simply place them in the oven on 350 for a few minutes to warm them up instead.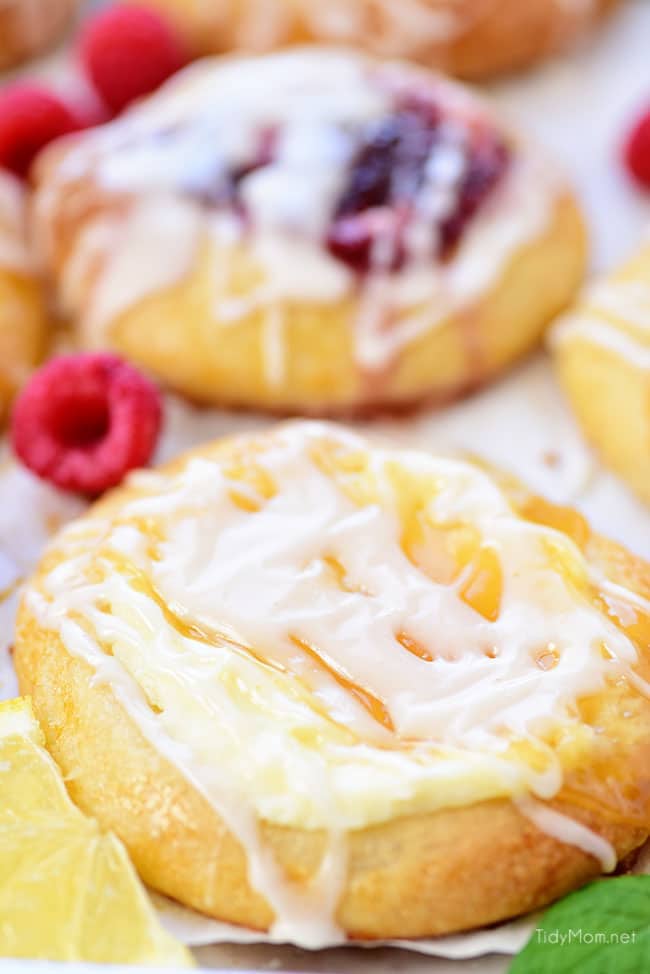 Cream Cheese Danish – The Perfect Brunch Treat!
Wow, your guests next time you host weekend brunch with this recipe that will have them thinking you bought bakery desserts.
This recipe makes for the best brunch treat because of how customizable they are. Make them as I did with lemon and raspberry, or try out another favorite preserve of your own, like peach or blackberry. No matter what flavor you make, you'll have a crowd pleaser ready to serve up.
Try Out This Spread To Complete Your Brunch Lineup:
Sweet Heat Chickpea Avocado Salad Sandwich
Raspberry Kir Royale Champagne Cocktail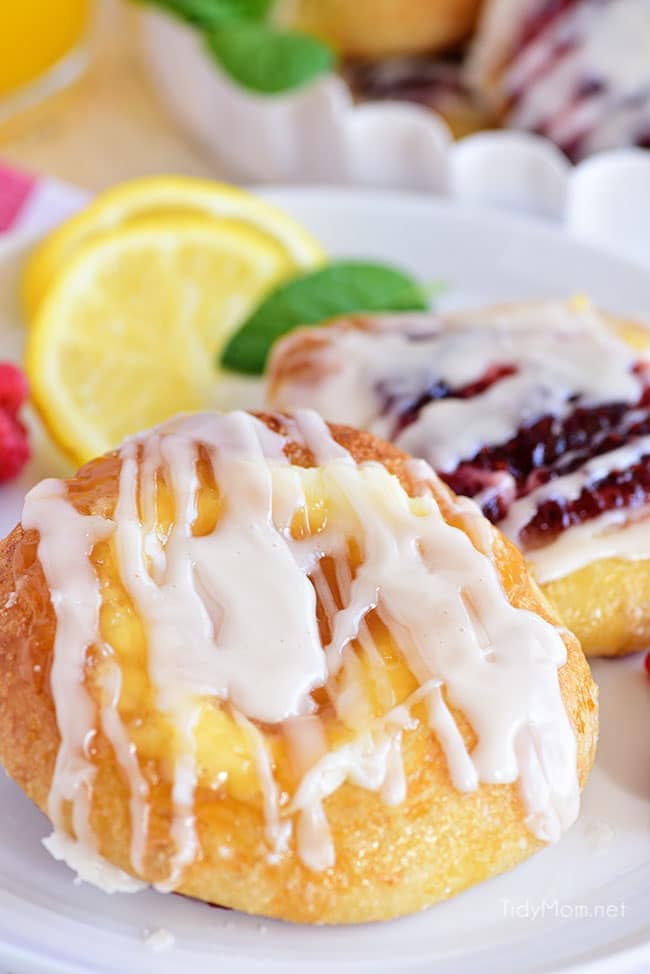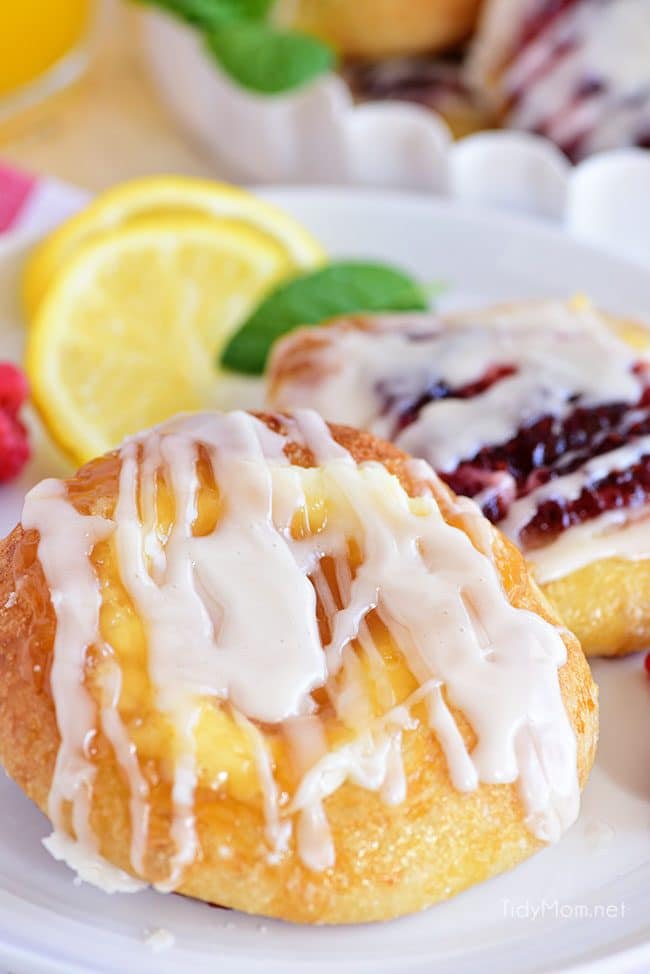 If Pastries Are Your Weakness, You'll Love These
Easy 3-ingredient Cherry Coffee Cake A can of pie filling and a few tubes of cinnamon rolls help make this delicious breakfast or dessert. It's the perfect addition to a hot cup of coffee and good conversation.
Strawberry Shortcake The quintessential summer dessert recipe. This light and refreshing easy shortcake recipe is simple to make and SO beautiful, too!
Pineapple Banana Hummingbird Loaf The same great flavors as the popular layer cake but simplified by baking in mini loaf pans. It's easy as can be when you use a cake mix, instant pudding mix, and canned pineapple.
Best Peach Tart The perfect easy dessert to make for summer guests, gatherings, picnics, potlucks, or holidays is this tart recipe! It's quick, easy, and will immediately put you into summer mode with the taste of juicy fresh white peaches.
Rustic Blueberry Pie This sweet and juicy pie gives a whole new meaning to "simple as pie" No pie crust skills necessary. The pastry crust is folded up around the fruit filling. Best served warm with a scoop of vanilla ice cream!
Fudge Filled Vanilla Bundt Cake A SUPER moist vanilla pound cake around a thick cream cheese fudge center that stays a fudgy consistency. You'll love the buttery and moist consistency with a super fudgy cream cheese filling inside!
Like This Cheese Danish Recipe? Pin It!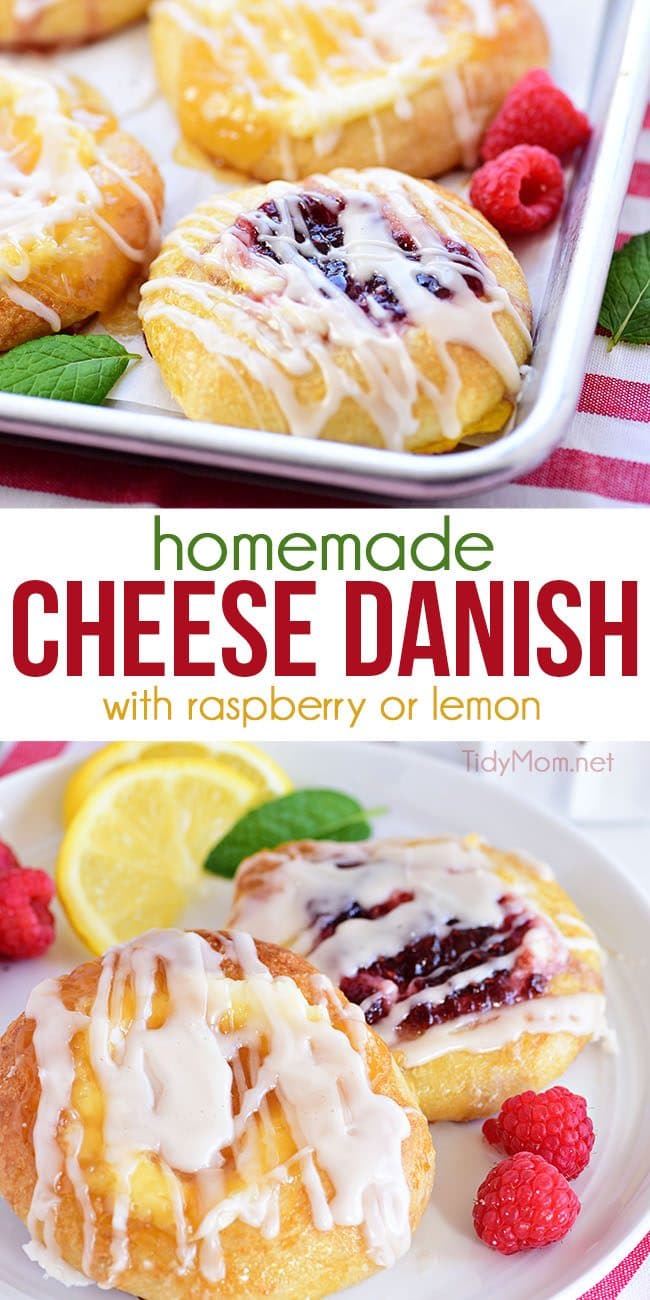 Get Ready For A New Obsession!
A little known fact about me, pastries are my #1 weakness! I can never say no to a good pastry and come home with a batch after almost every grocery trip which is why I knew I needed this recipe in my life!
It really doesn't get easier than this when it comes to a good danish recipe, and I know you're going to love them as much as I do! Don't just take my word for it though. Go make this easy cream cheese danish recipe NOW!
I created a fun little group on facebook and I'd love for you to join in! It's a place where you can share YOUR favorite recipes, home tips, creative ideas and ask questions and see what's new with TidyMom! If you'd like to check it out, you can request to join HERE. Be sure to follow me on Instagram and tag #tidymom so I can see all the wonderful TidyMom recipes YOU make and tips YOU use!
Connect with TidyMom! Facebook | Twitter | Google+ | Pinterest | Instagram
Sign up to receive an email in your inbox for each new recipe: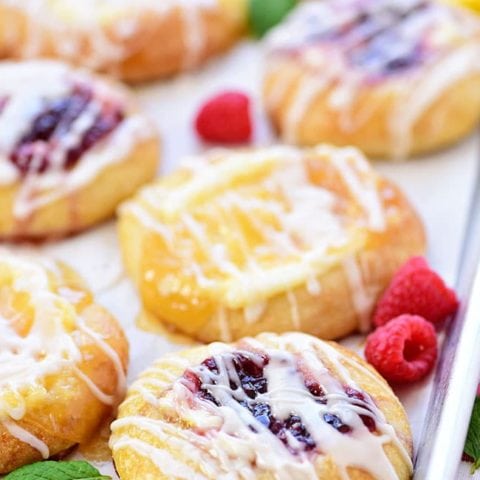 Cheese Danish Recipe with Lemon and Raspberry
Total Time:
1 hour
35 minutes
This Cream Cheese Danish recipe is made with a tender, sweet yeast bread, a sweet cream cheese center with a dollop of lemon curd or raspberry preserves plus a generous drizzle of a powdered sugar glaze. 
Ingredients
Danishes
12 Rhodes Dinner Rolls, thawed but still cold
2 tablespoons granulated sugar
2 tablespoons butter, melted
4 ounces cream cheese, softened
1/4 cup powdered sugar
1 teaspoon lemon juice
1 large egg, beaten
12 tablespoons lemon curd and/or raspberry preserves
White Icing
1 cup powdered sugar
4-5 teaspoons milk
Instructions
Using a little flour on your hands, flatten each thawed roll into a 3-inch disc and place on a 2 bakings sheet lined with parchment paper.
Brush each disc with melted butter and sprinkle with granulated sugar.

Cover with sprayed (non-stick spray) plastic wrap. Let rise in a *warm spot until double in size. This will vary based on the temperature in your home, mine took about 1 hour and 15 minutes in the oven* with just the light on.

While rolls are rising combine cream cheese, sugar and lemon juice with an electric mixer until smooth and set aside.

Heat oven to 350° F and remove plastic wrap from rolls. Using your fingertips press an indentation in the center of each roll and fill with approximately 1 tablespoon of cream cheese mixture and a teaspoon of lemon curd or raspberry preserves. Brush the edges of the rolls with the beaten egg and bake for 15-20 minutes or until light golden brown.
Let danishes cool on the pan for 5 minutes. In a small bowl combine powdered sugar and vanilla, and 4 tablespoons of milk. Add more milk as needed to thin icing as desired (if you get it too thin, add a little more sugar). Drizzle icing over danishes. Serve warm or room temperature.
Enjoy within 1-2 days.
Notes
These are really best served the same day. But, if you like to make these cheese danishes the day before, follow the recipe up until icing. Cool completely then put the danishes into a paper bag, put the paper bag inside a zip-top plastic food storage bag, and gently remove excess air from the plastic bag as you close it. Store in a pantry. Remove from bags and drizzle with icing before serving.
Recommended Products
As an Amazon Associate and member of other affiliate programs, I earn from qualifying purchases.

This post is in partnership with Rhodes Bake-N-Serv® All views, opinions, and love of good bread are all my own. Thanks for supporting the brands we love.