Glazed Almond Poppy Seed Bread
This Poppy Seed Bread is soft, moist, and melts in your mouth. With nutty flavor, dots of poppy seeds, and topped off with an amazing almond glaze, you'll want to devour this non-yeast quick bread for breakfast, brunch, or a snack. Freezes well too!
And if you enjoy a slightly sweet and delicious treat that works for day or night like we do, you might fall in love with oatmeal cake, cinnamon swirl quick bread, or zucchini bread. A few of our other all-day favorites are pumpkin bread, apple cider donuts, and lemon cheesecake crescent rolls
Be sure to sign up for my email… to get new recipes and ideas in your inbox!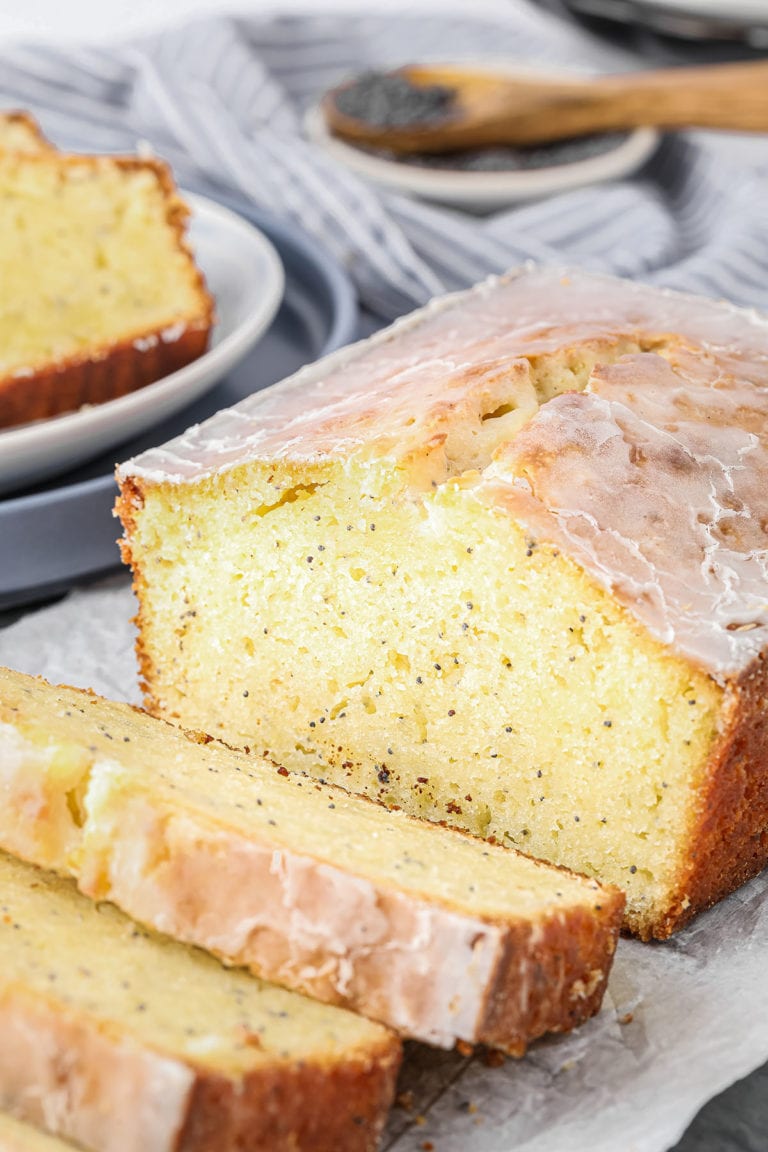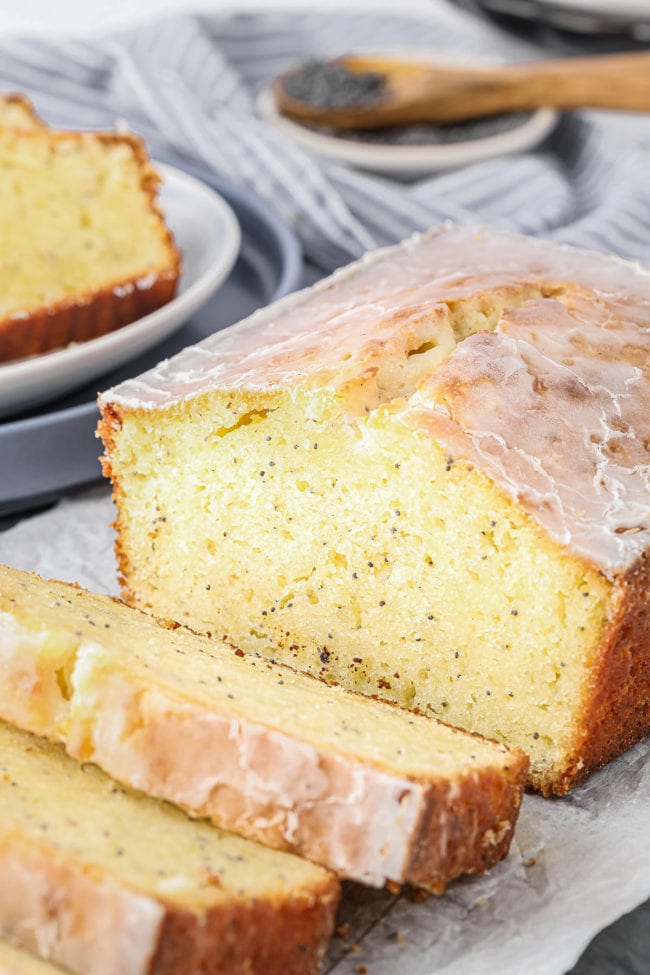 Why We Love Poppy Seed Bread With Almond Glaze
What's not to love about a sweet, delicious quick bread that's so beautiful?
Easy – A simple quick bread recipe. Whether you're a novice baker or a whiz in the kitchen, you'll be able to whip up this poppy seed bread easily in no time.
Versatile – Dessert that can also be enjoyed for breakfast! It's great any time of day.
Freezer Friendly – great for gifting too.
Ingredients for Almond Poppyseed Bread With Glaze
This might sound like a fancy bread but it actually just uses easy simple ingredients. You probably have most of them in your fridge or pantry already!
For specific amounts, please refer to the printable recipe card at the bottom of the post.
Dry Ingredients
All-purpose flour – Be sure to measure properly, using the spoon and level method, or use a kitchen scale to weigh the flour.
Poppy seeds – This key ingredient lends flavor but also speckles the bread beautifully.
Baking powder – A leavening agent, baking powder helps to give the poppy seed loaf the perfect rise. For best results test to make sure it's fresh.
Salt – You can use your typical table salt, it will round out the flavors and bring out the flavors.
Sugar – provides sweetness.
To test baking soda, place a few tablespoons of vinegar in a small dish and stir in about a teaspoon of baking soda. The mixture should immediately begin to fizz if the baking soda is still active; if there's little to no reaction, it's time to replace it.
Wet Ingredients
Milk – Full-fat milk is the best to use to bring the maximum moisture to the bread but you can use a lower-fat version if needed.
Oil – Any neutral cooking oil will work. Vegetable oil and canola oil are top choices.
Sour cream – This ingredient adds tang but it's also a miracle worker that adds unexpected moisture, too.
Eggs – Always use room-temperature large eggs in a baking recipe.
Vanilla bean paste (or extract) – You can use the paste or vanilla extract, but make sure either is of high quality (not imitation) to ensure the best flavor.
Almond extract – Brings the nuttiness of the almond (in addition to the vanilla that's already added).
Butter flavoring extract – Butter extract adds more sumptuous flavor to baked goods.
For the sweet almond glaze:
Powdered sugar – Confectioner's sugar is the best way to add silky smoothness to a glaze.
Milk or heavy cream – The more fat, the more flavor. Use what you prefer or have on hand.
Almond extract – This adds even more nutty flavor.
Vanilla bean paste (or extract) – Use either vanilla paste or extract to round out the flavors in the glaze.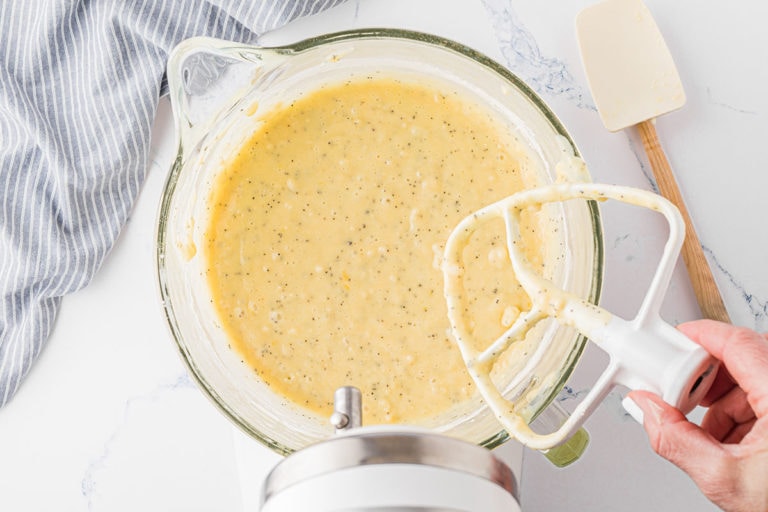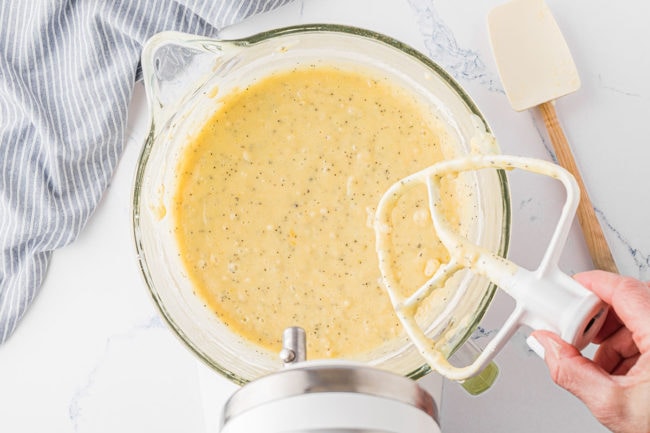 This post may contain affiliate links. Please read my disclosure policy here.
How to Make Poppy Seed Bread With Almond Glaze
Grab two loaf pans, a mixer, and bowls, and let's get baking!
When you are baking, you'll want to use the full recipe at the bottom of the page.
PREP: Preheat oven and grease two 9×5-inch loaf pans
MIX: Slowly combine the dry ingredients with the wet ingredients just until everything is combined. Avoid over-mixing. Pour the batter into the prepared pans and place in the pre-heated oven.
BAKE: The poppy seed bread until it passes the toothpick test. It should come out clean with only a moist crumb or two on the toothpick.
GLAZE: While the poppy seed loaf is baking, make the almond glaze by combining the glaze ingredients in a large mixing bowl and whisking until silky smooth. Pour over warm loaf.
COOL: Remove the bread from the pan once cooled enough to the touch and allow the loaf to remain cooling to room temperature on a wire rack.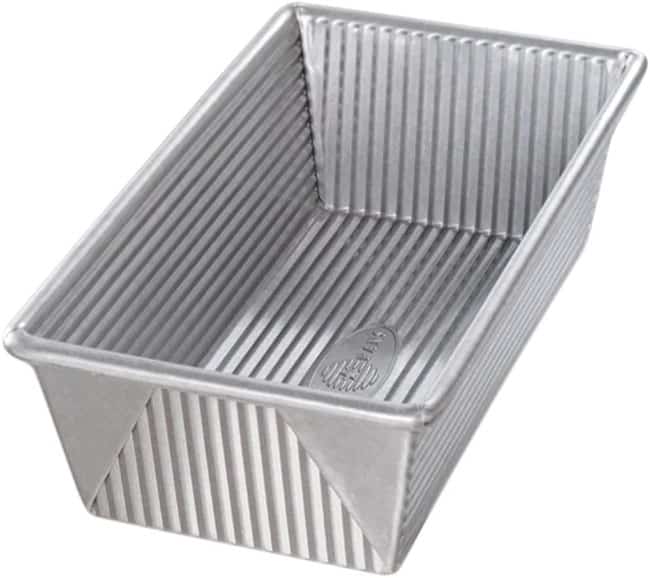 Featured Product Aluminized Steel 1.25 Lb Loaf Pan
Corrugated surface facilitates air circulation for evenly baked goods and quick release. Measures 9x5x2.75-inches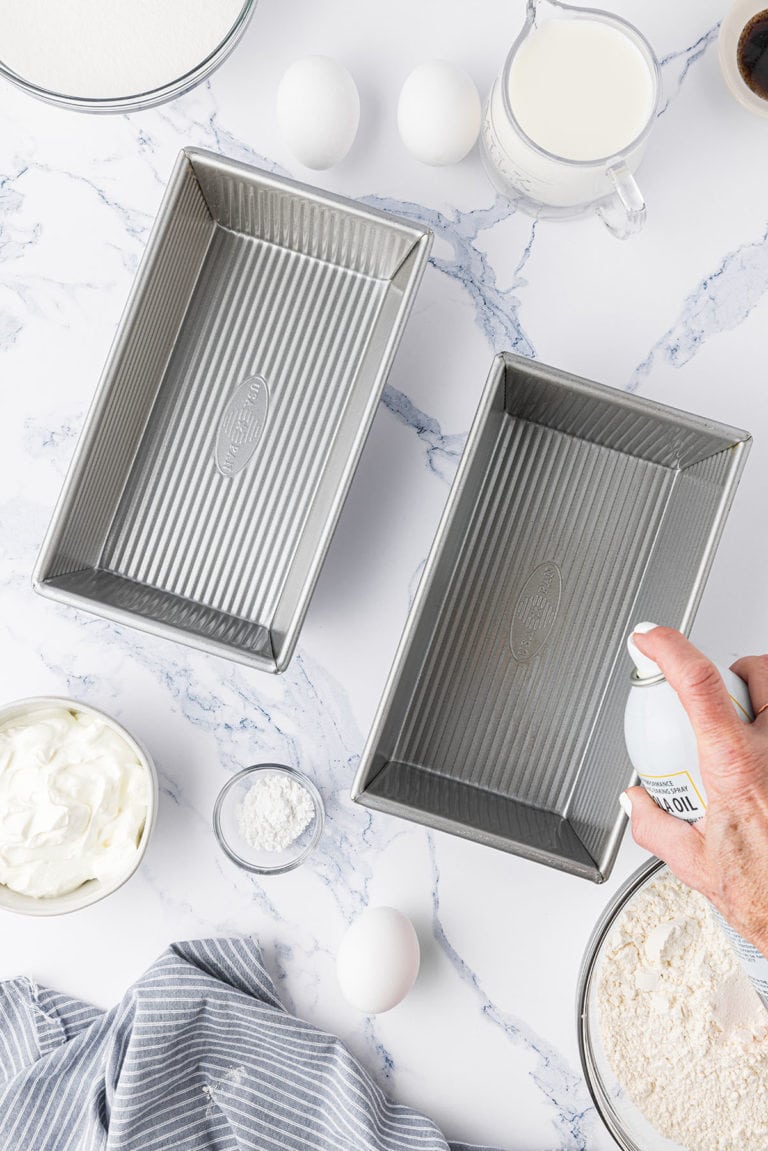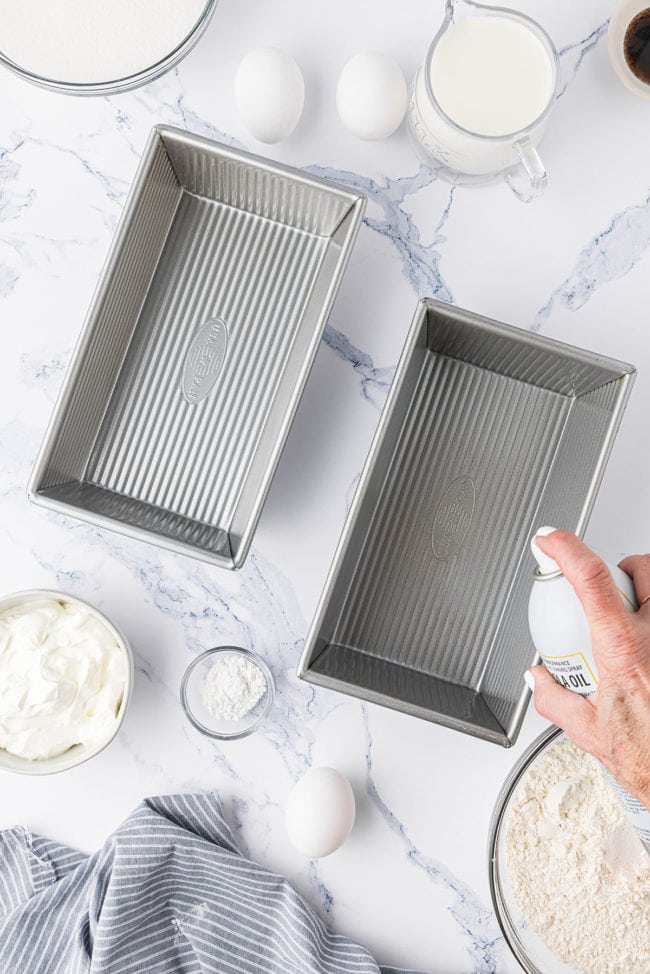 Tips and Tricks for the Best Glazed Poppy Seed Bread
This is a really simple quick sweet bread to make. However, we have a few tips for making sure you get the best results
For best results, grease pans with our favorite baking spray for perfect release of baked goods! It doesn't leave a sticky residue on your pans for easy clean-up!
Be sure not to overmix the batter — if you do, it will be dense and less airy. It's best to mix just until all of the ingredients come together.
You can use 8×4 (1 pound) or 9×5 (1.25 pound) aluminized steel loaf pans for the best bread recipe.
Leave the oven door closed. Repeatedly opening the oven will allow hot air out which equates to uneven cooking.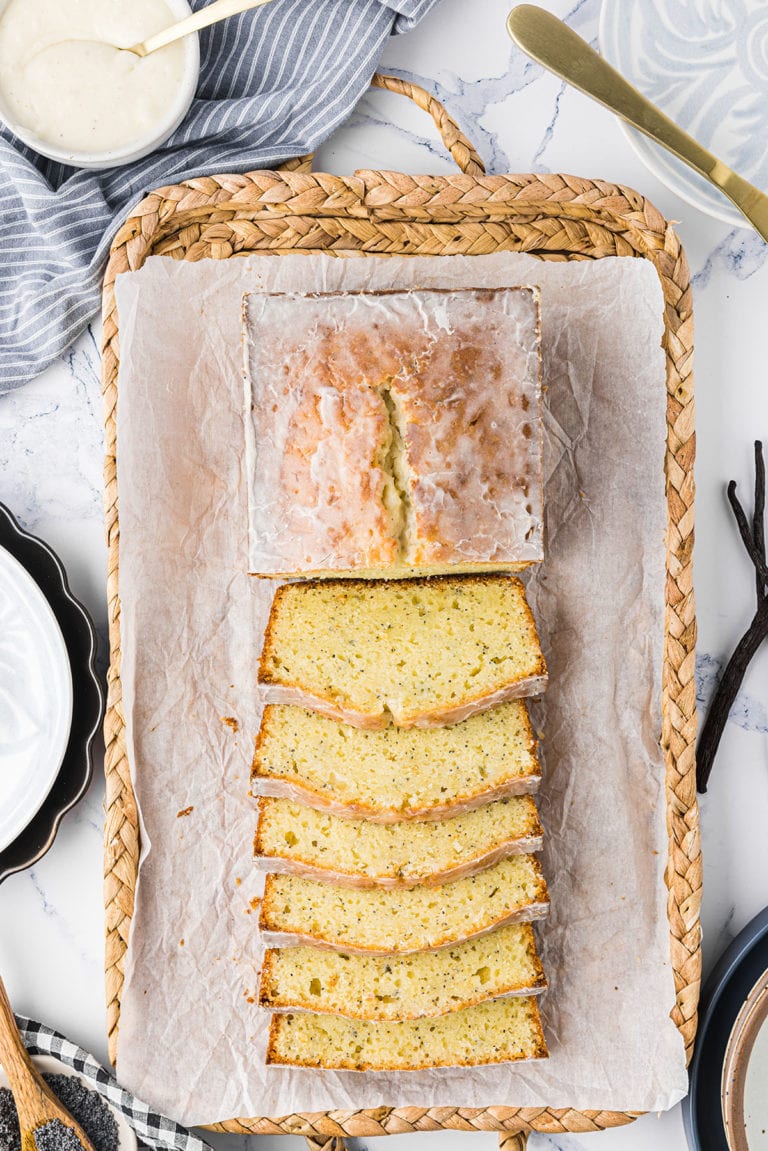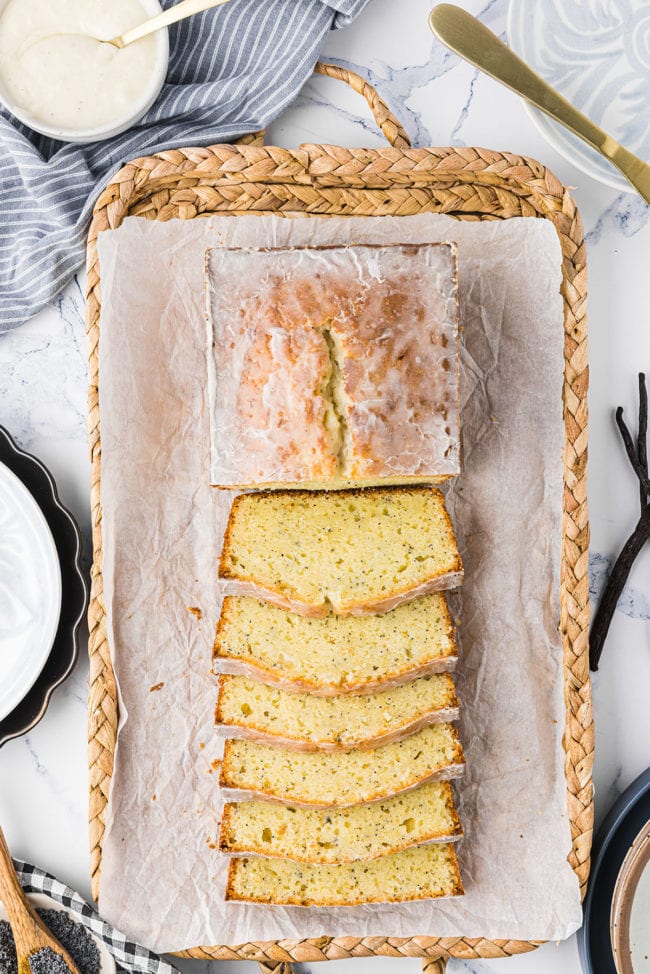 How To Store A Poppyseed Loaf
Refrigerate/Leftovers
You can keep this bread wrapped in plastic wrap or aluminum foil on the counter for up to 5 days or you can keep it similarly wrapped or in an airtight container for up to 1 week in the refrigerator.
Freeze
Keep this bread frozen for up to 3 months wrapped tightly in plastic wrap and placed in a zip-top freezer bag.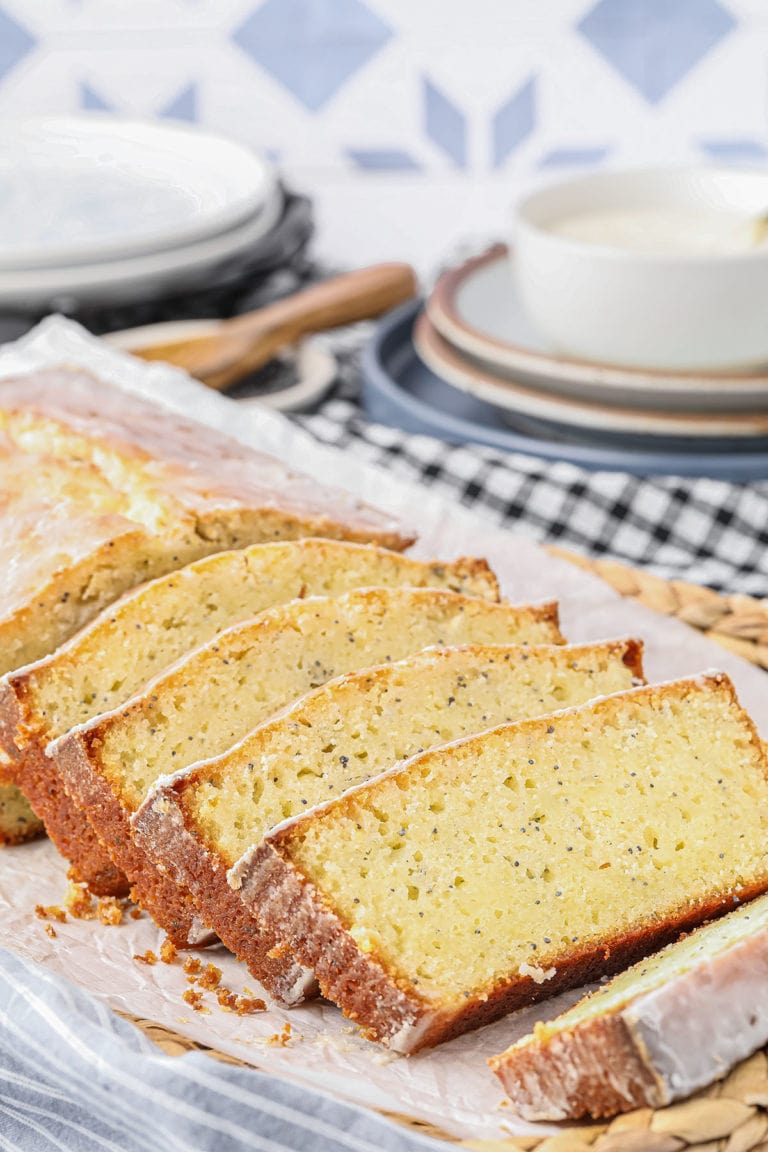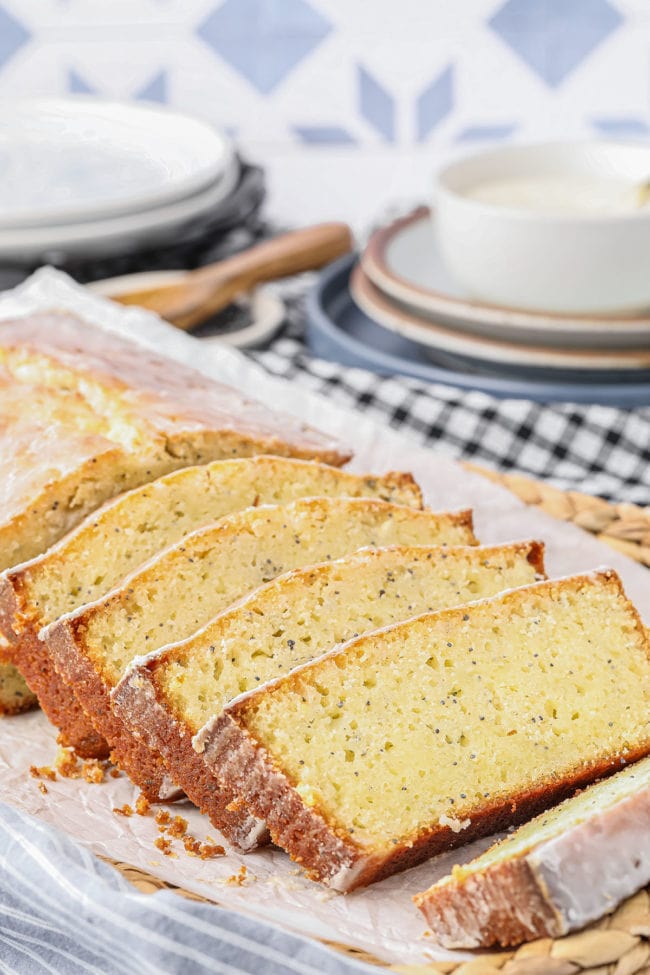 Recipe FAQs
Why put poppy seeds in bread?
While they seem like a minor addition, their nutty flavor and distinct aroma make them a perfect, balanced addition to a sweet quick bread.
Should I soak poppy seeds before I bake?
Soaking poppy seeds in water or milk, or even oil, can help to soften them. It's not essential, but it can help release more flavor.
Do poppy seeds add flavor?
Poppy seeds absolutely add nutty flavor with a bit of both sweet and spicy flavor. They're also great for adding texture and visual interest to a baked good.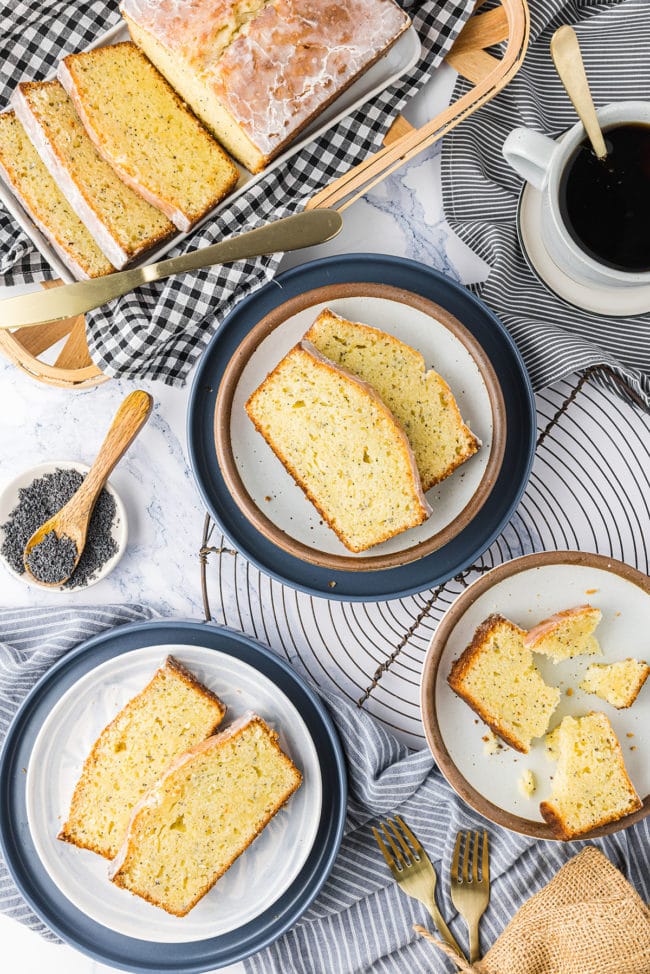 Variations For Glazed Poppyseed Bread
You can add your own ideas to make this sweet bread your own signature recipe.
Nuts – Add crushed nuts.
Citrus – Add lemon juice to make a lemon glaze or add it to the batter for bright flavor. If you prefer, you can use orange zest or add orange juice or any other citrus fruit to create a delicious citrus glaze.
Berries – Fresh blueberries or other fruit will add extra flavor to the bread.
Muffins – Pour the batter into a muffin tin to make almond poppy seed muffins. Simply line a 12-cup muffin pan with papers and divide the batter into the cups. Bake for 18-20 minutes. You can also put the batter in smaller sizes pans to make mini loaves.
Lemon – Add a few teaspoons of fresh lemon juice to the batter or glaze and sprinkle lemon zest over top for a brighter flavor and appearance to your poppy seed loaf.
Like This Recipe? Pin It!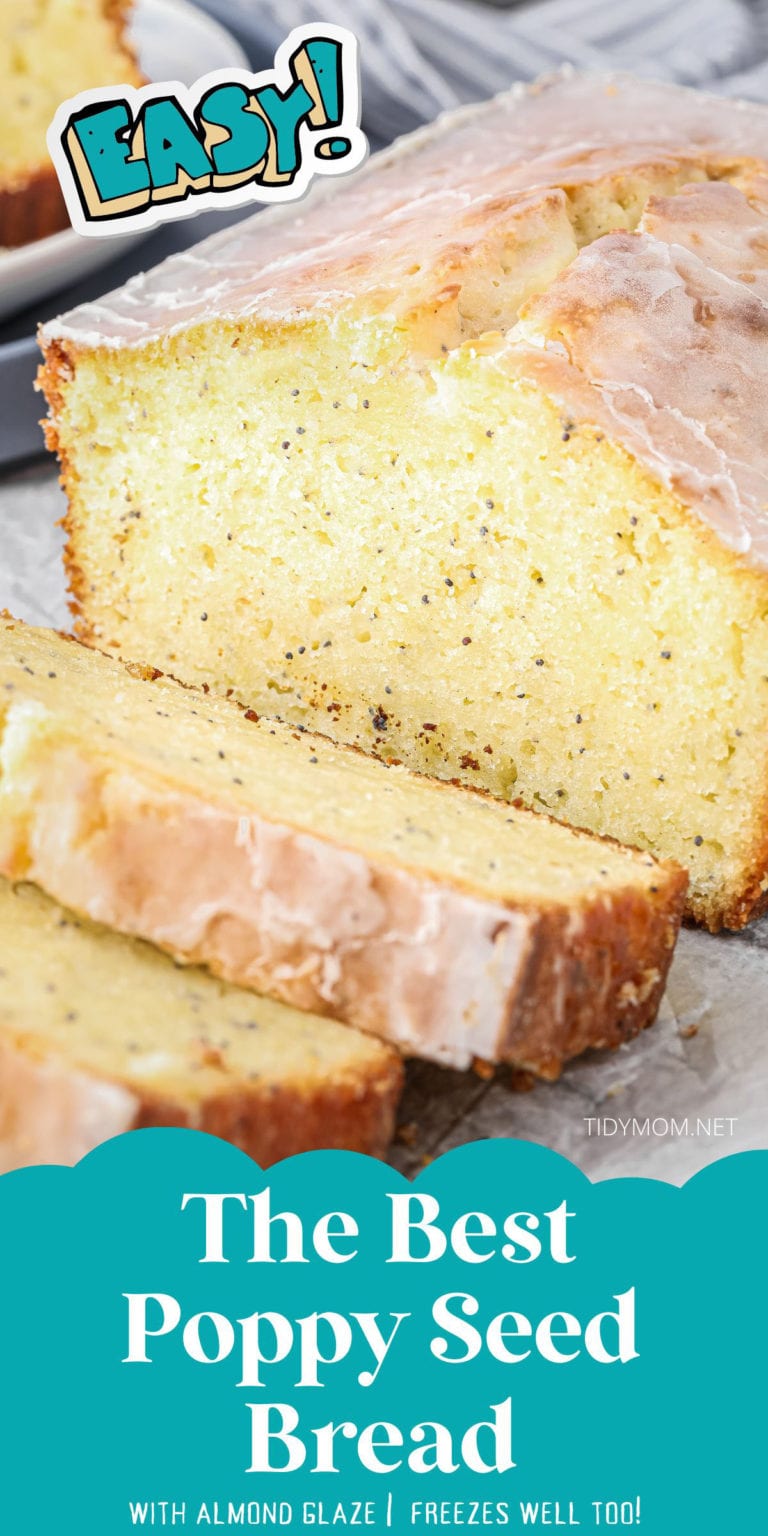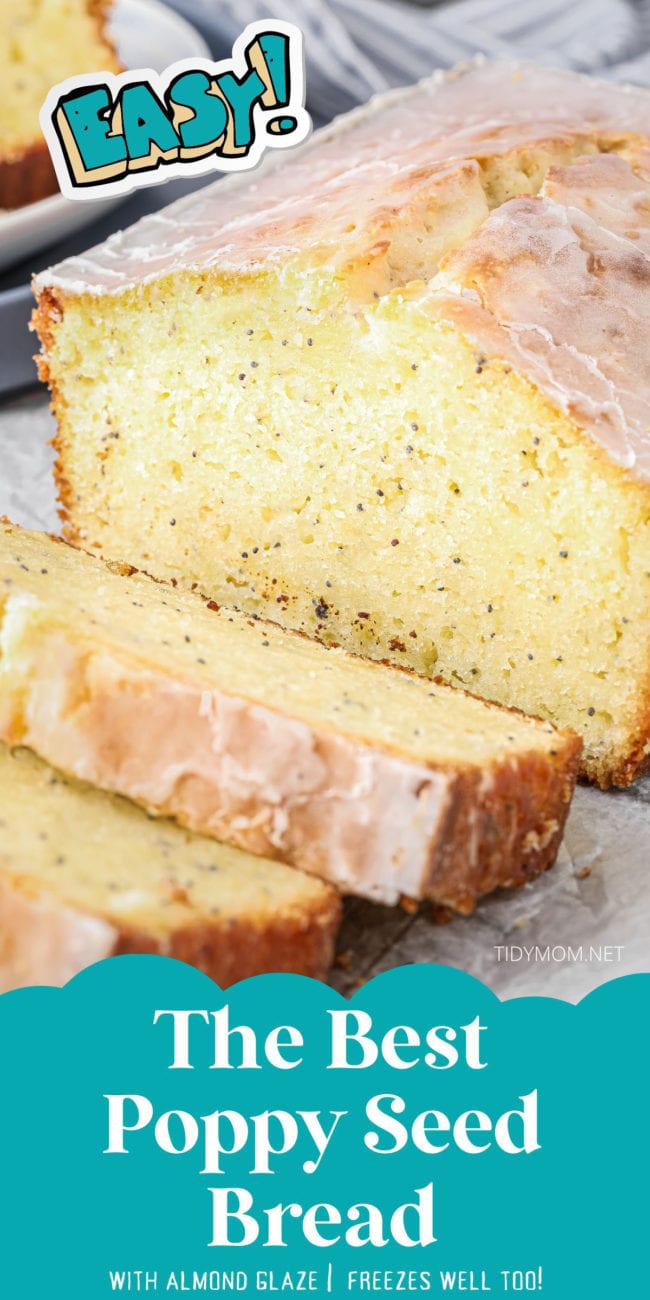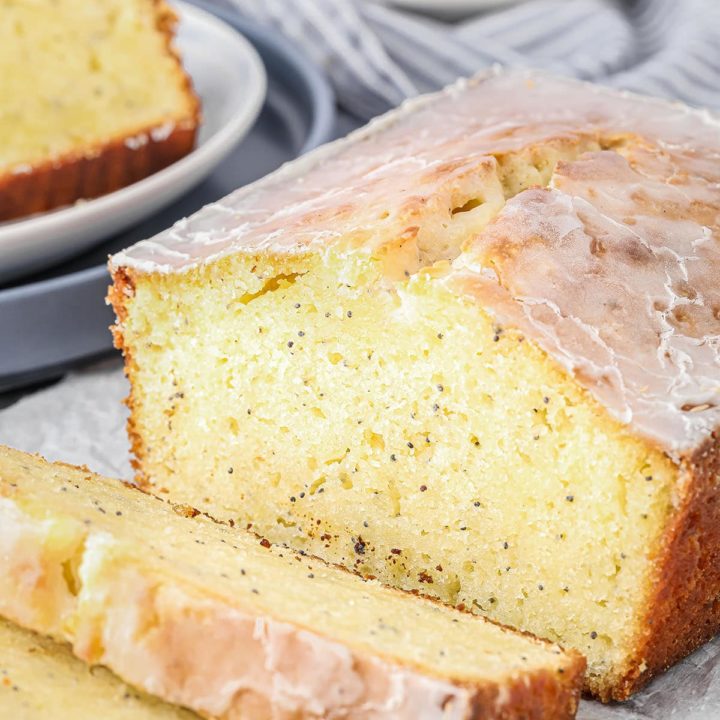 Glazed Almond Poppy Seed Bread
Yield: 2 loaves
Prep Time: 15 minutes
Bake Time: 1 hour
Total Time: 1 hour 15 minutes
This Poppy Seed Bread is soft, moist, and melts in your mouth. With nutty flavor and topped off with an easy almond glaze, you'll want to devour this non-yeast quick bread for breakfast, brunch, or a snack. Freezes well too!
Ingredients
3 Cups all-purpose flour
2 tablespoons poppy seeds
1 ½ teaspoons baking powder
1 teaspoon salt
2 ¼ cups sugar
1 ½ cups milk
1 cup + 2 tablespoons cooking oil (vegetable or canola oil)
1 cup sour cream
3 large eggs , room temp
1 ½ teaspoons vanilla bean paste (or extract)
1 ½ teaspoons almond extract
1 ½ teaspoons butter flavoring extract
For the Almond Glaze
2 cup powdered sugar
¼ cup milk or heavy cream (+ extra if needed)
½ teaspoon almond extract
½ teaspoon vanilla bean paste (or extract)
Instructions
Preheat oven to 350° F degrees. Spray two 9×5-inch loaf pans with nonstick cooking spray.
In a medium mixing bowl combine: flour, poppy seeds, baking powder, and salt; Set aside.
In the bowl of an electric mixer combine sugar, milk, oil, sour cream, eggs, and extracts. Beat until well blended. Add flour mixture, then mix on medium-low until just combined. (don't overmix). Pour into prepared pans.
Bake until a toothpick inserted into the center comes out clean, about 1 hour. If needed, tent the loaves with foil halfway through the baking process to prevent over-browning.
While the loaves are baking, mix powdered sugar, milk, and extracts in a bowl until well combined. Begin with 3 tablespoons of milk and add more as needed to the preferred consistency.
Pour glaze evenly over warm bread. Allow the bread to cool for at least 30 minutes before removing it from the pans. Cool completely and serve.
Notes
To store your poppy seed bread
place the loaf in an airtight container or wrap it tightly in plastic wrap. You can leave it at room temperature for up to 5 days. Or, you can store it in the refrigerator for up to 7 days. If you want, you can also freeze it. Double-wrap it in plastic wrap and place it in a freezer zip-top bag to freeze. It lasts in the freezer for up to 3 months.
For Muffins:
Bake at 375°F, for 23 to 28 minutes. You should get about 24 standard-size muffins out of this recipe, or you could make 1 loaf and 12 muffins.
If you're not familiar with butter flavoring or extract, it can be found at most grocery stores. A few drops can elevate the flavor in a recipe.
Nutrition Information:
Yield: 32
Serving Size: 1
Amount Per Serving:
Calories: 168
Total Fat: 4g
Saturated Fat: 1g
Trans Fat: 0g
Unsaturated Fat: 2g
Cholesterol: 24mg
Sodium: 107mg
Carbohydrates: 31g
Fiber: 0g
Sugar: 22g
Protein: 3g
Nutrition information is estimated based on the ingredients and cooking instructions as described in each recipe and is intended to be used for informational purposes only. Please note that nutrition details may vary based on methods of preparation, origin, and freshness of ingredients used and are just estimates. We encourage, especially if these numbers are important to you, to calculate these on your own for most accurate results.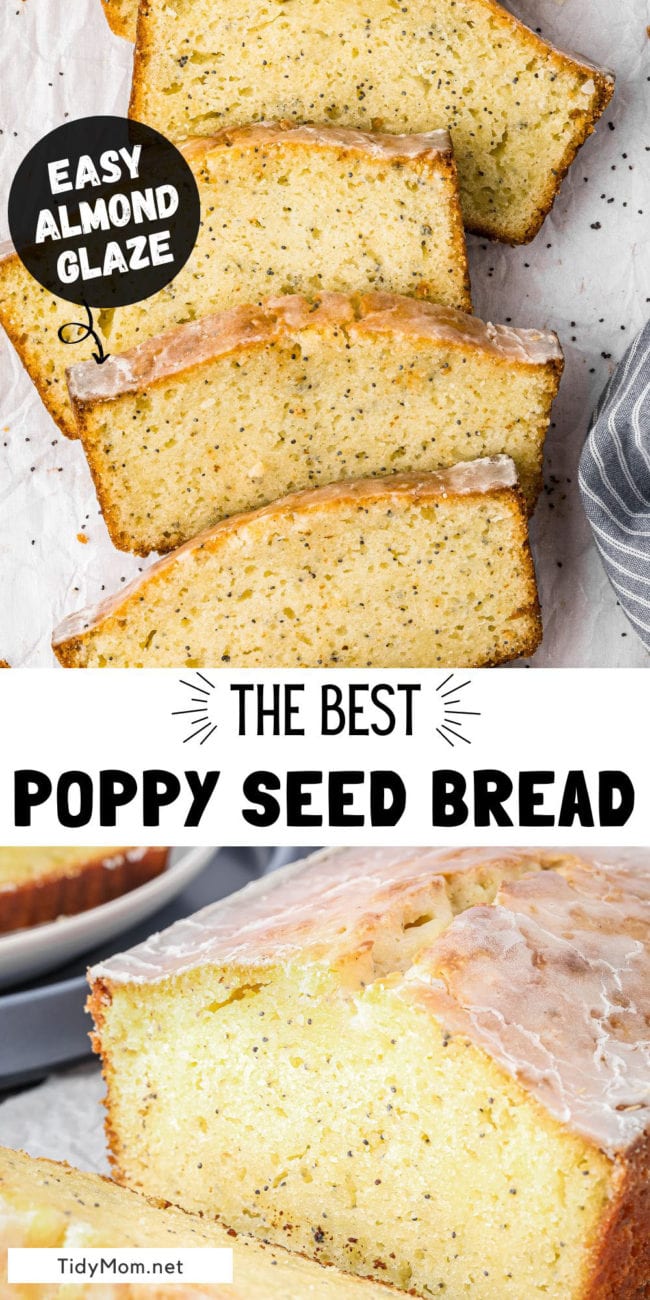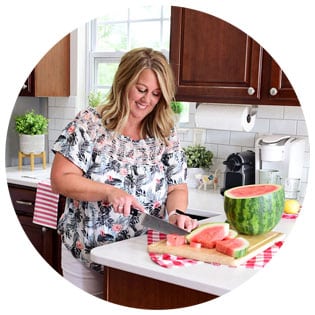 Hi there, I'm Cheryl!
As a wife, mom, and caffeine enthusiast, my journey has taken me from bustling mornings with my family to sharing delicious recipes, home care tips, and heartfelt decorating insights with wonderful readers like you. My love for baking, photography, and tidiness shines through every post I craft. Dive into my world and discover the art of homemaking, one tidy moment at a time. Read more...
Tidymom is a participant in the amazon services llc associates program, an affiliate advertising program designed to provide a means for sites to earn advertising fees by advertising and linking to Amazon.com.
Please respect my work, recipes and photographs. If you do use a recipe in your own writing, please give proper credit and link back to the original post.