Caprese Pasta Salad
Caprese Pasta Salad is a fresh, easy and simple summer pasta salad perfect for BBQs. It has all the flavors of a traditional Caprese salad in pasta form!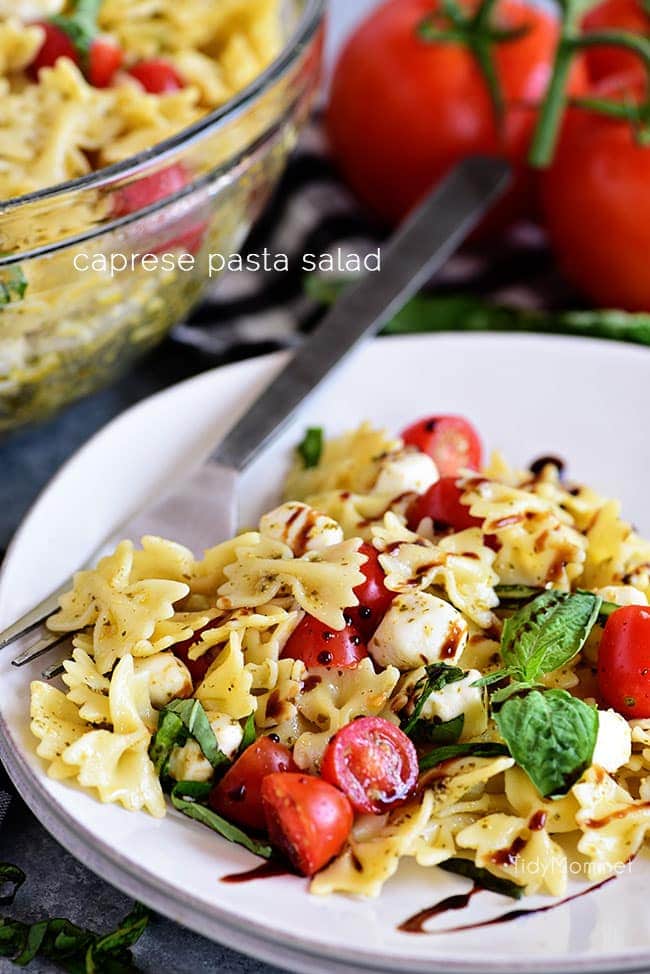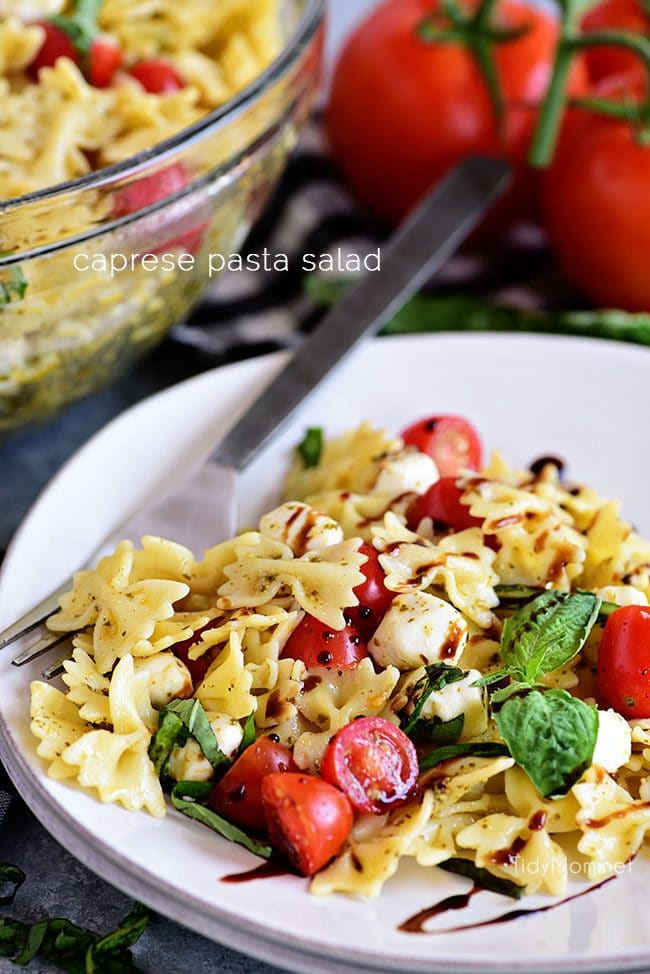 Caprese Pasta Salad
If you follow me on IG stories, you probably know how much I love Caprese salad. Fresh and juicy tomatoes, creamy fresh mozzarella, and fresh basil leaves dressed with olive oil and balsamic glaze! What's not to love?
With summer in full swing, good quality tomatoes are once again easy to come by and I'm taking full advantage of it! I'm constantly switching between Caprese salad and these Cheesy Baked Tomatoes!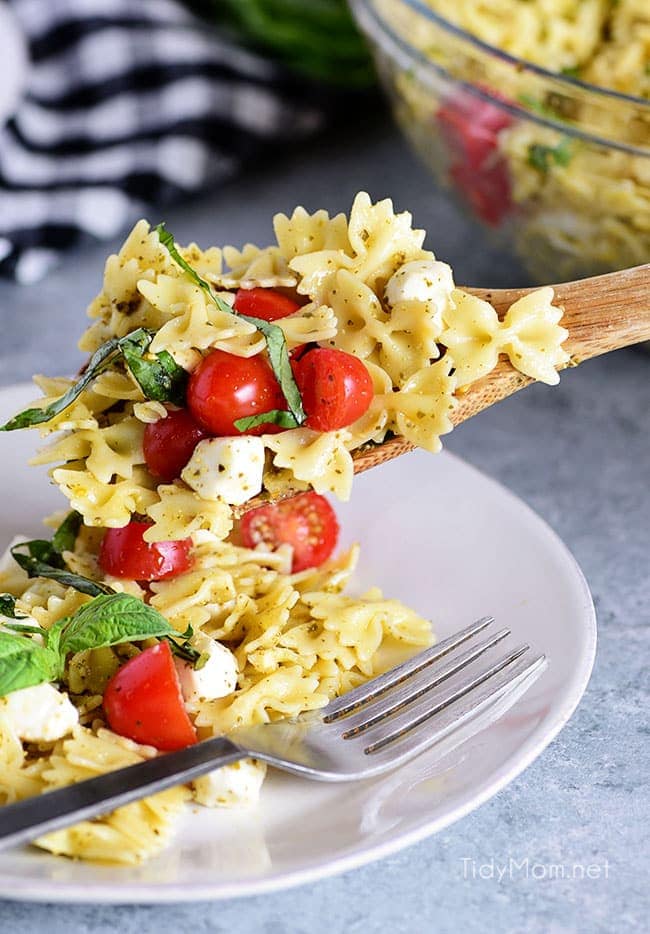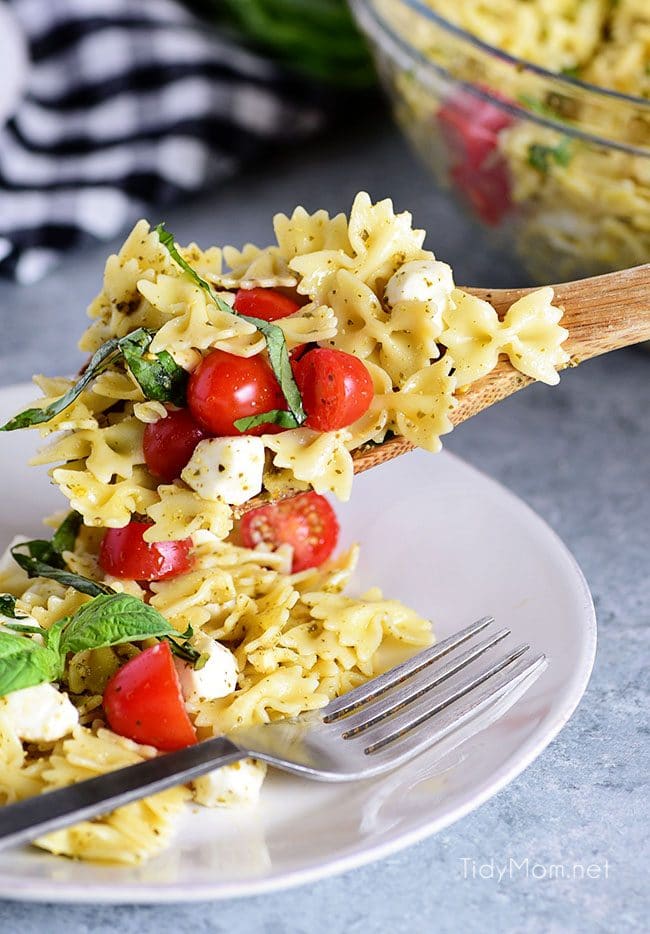 Simple and Refreshing Caprese Pasta Salad
The amazing tomatoes have put me into a Caprese salad frenzy, I can't remember the last dinner we had without the dish as a side. Unfortunately, my family didn't share my never-ending love for caprese salad and got tired of having the same side dish almost every night.
That's when I knew I had to find a way to make a different dish that allowed me to still enjoy my favorite combination of flavors. That's when the Caprese Pasta Salad was born!
All of the fresh ingredients and flavors were perfect for a summer pasta salad recipe! I've never seen my family devour a pasta salad so fast.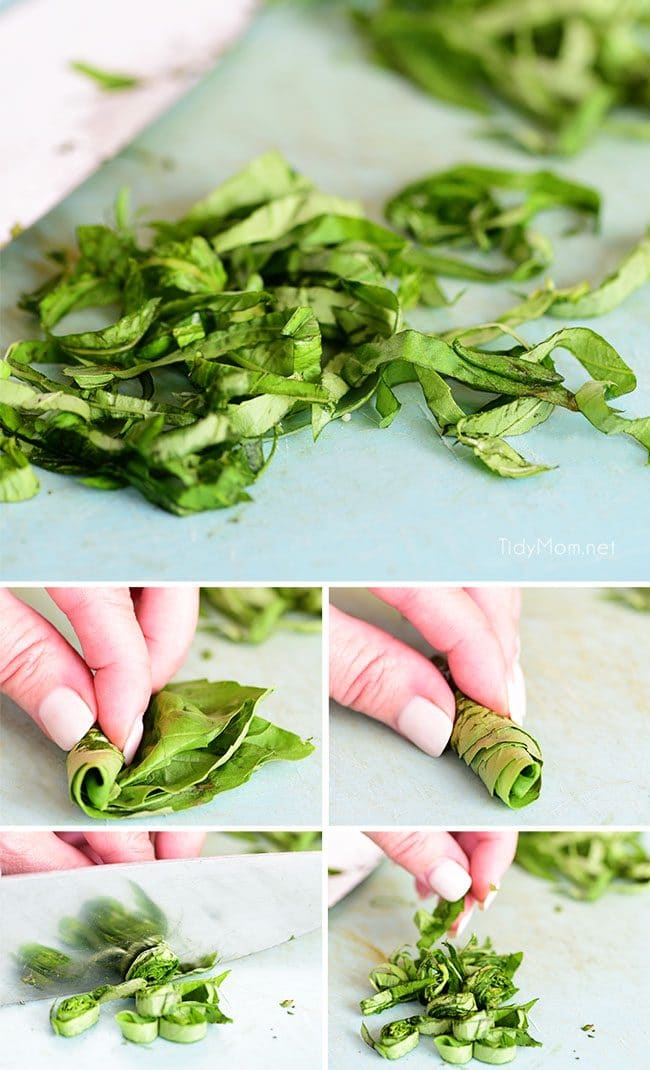 How To Chiffonade Fresh Basil Leaves
The fresh basil really makes this pasta salad stand out from the others. I recently learned a trick to make basil leaf strips that are perfect for inserting into dishes like this pasta salad. Heres how:
Stack the leaves on top of each other Try to line them up as much as possible
Tightly roll up the leaves into a cigar shape
Cut thin slices into the roll until gone
Unroll the slices, and insert the strips into the dish
If you're still unsure of how to do the steps correctly, here's a great how-to video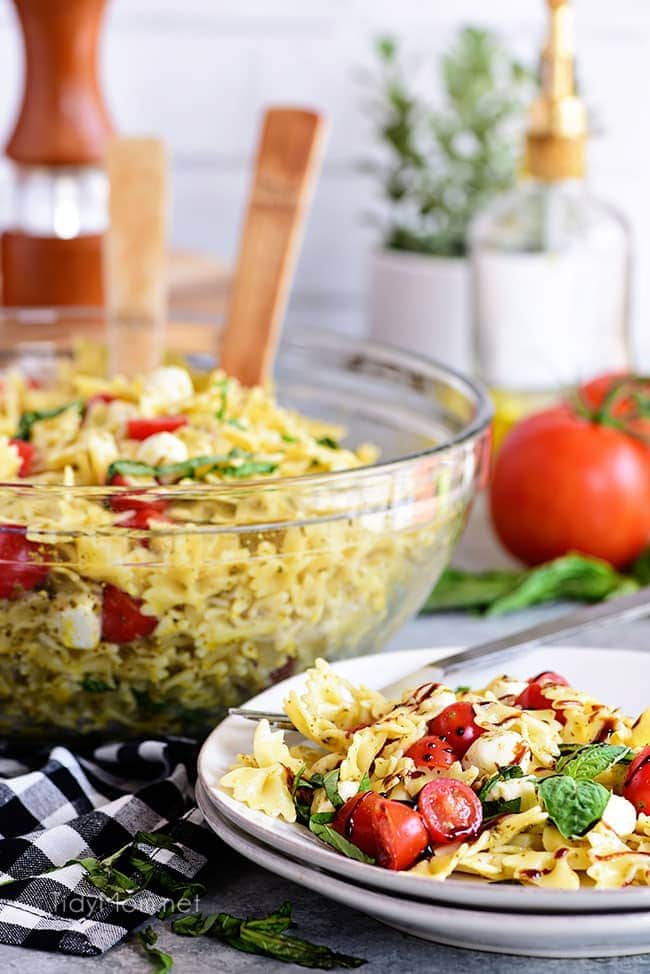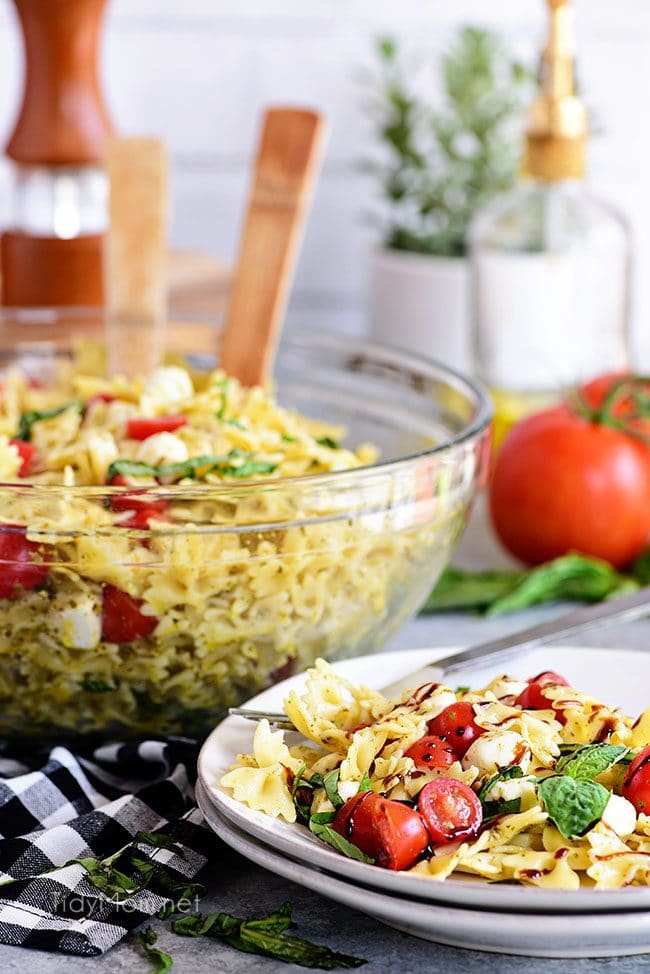 A Summer Pasta Salad With a Twist
Traditionally, Caprese salad does not include a balsamic glaze. Personally, I love it with the slightly sweet and tangy glaze but feel free to leave it off if you wish. With all the fresh Caprese salad flavors, balsamic glaze just takes this pasta salad to a whole other level.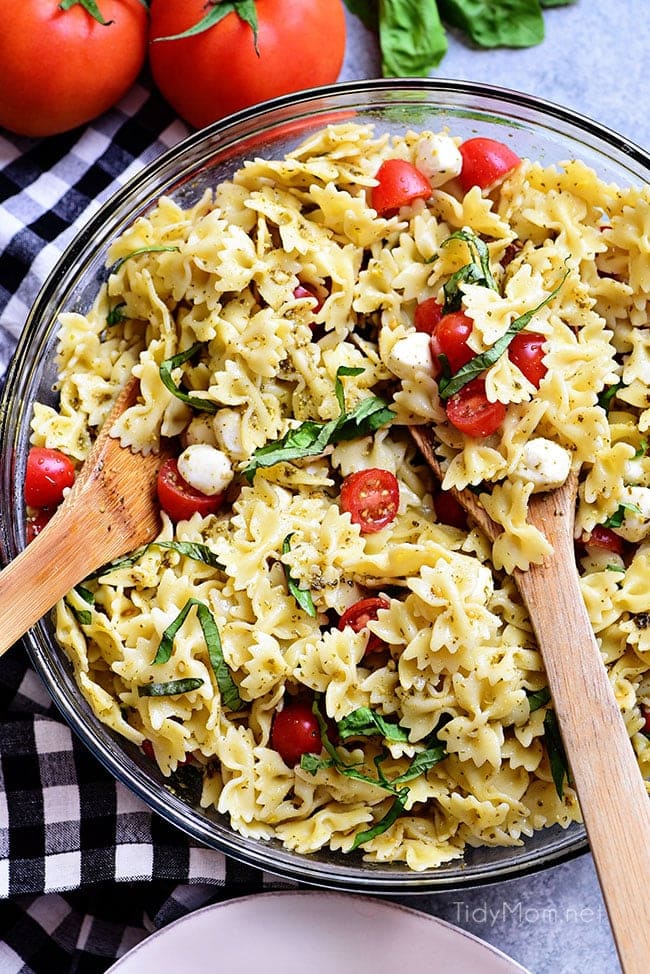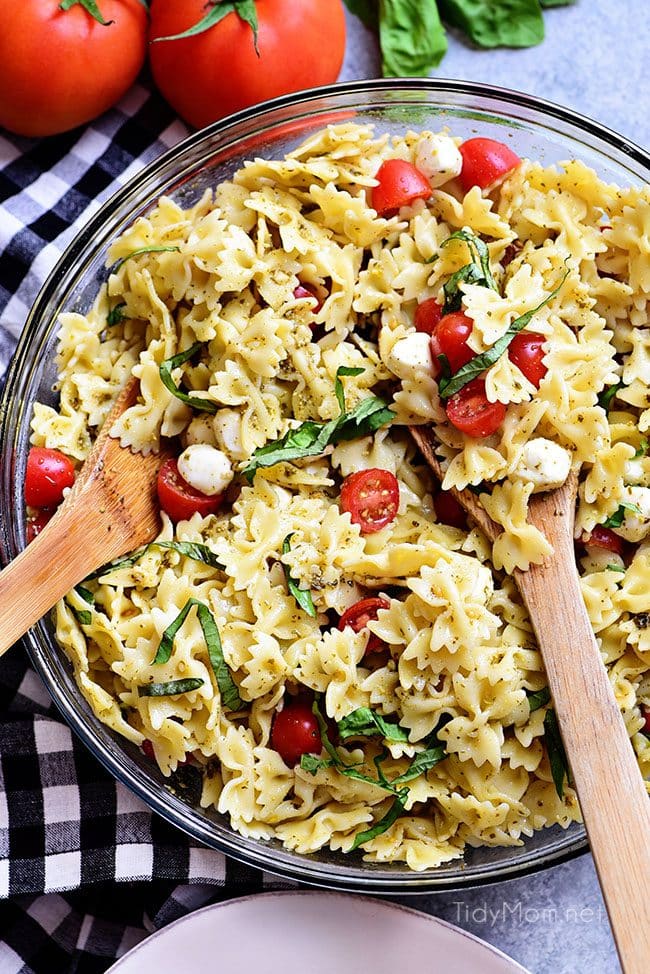 Caprese Pasta Salad – A Dish for Any Occasion
Pasta Salad is a summer bbq staple, and with this recipe, your dish will be the talk of the party.
If you're in charge of hosting the cookout this time, check out some of my Backyard BBQ Tips to make planning, and setting up easy as pie.
Last week we had a little party with some friends and served up this salad along with my Garlic and Dill Flank Steak Sliders, and Roasted Cauliflower with Feta and Garlic Crumbs. Everyone raved over how amazing everything was, especially the pasta salad!
LIKE THIS RECIPE? PIN IT!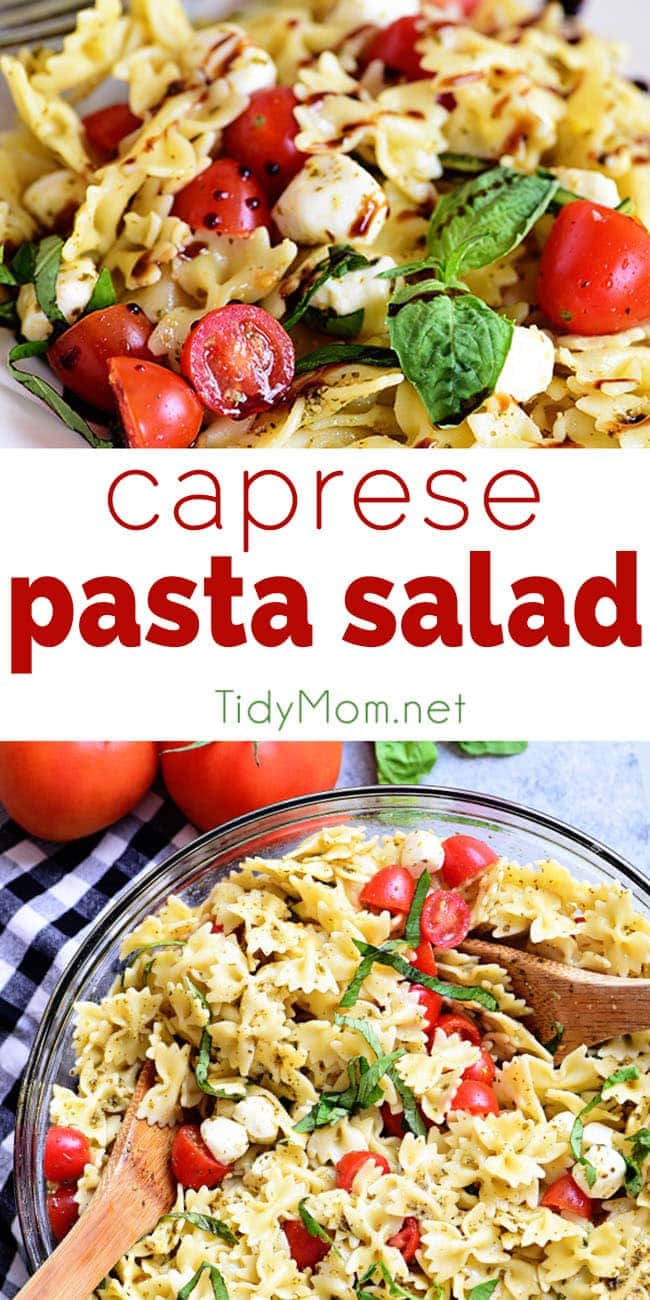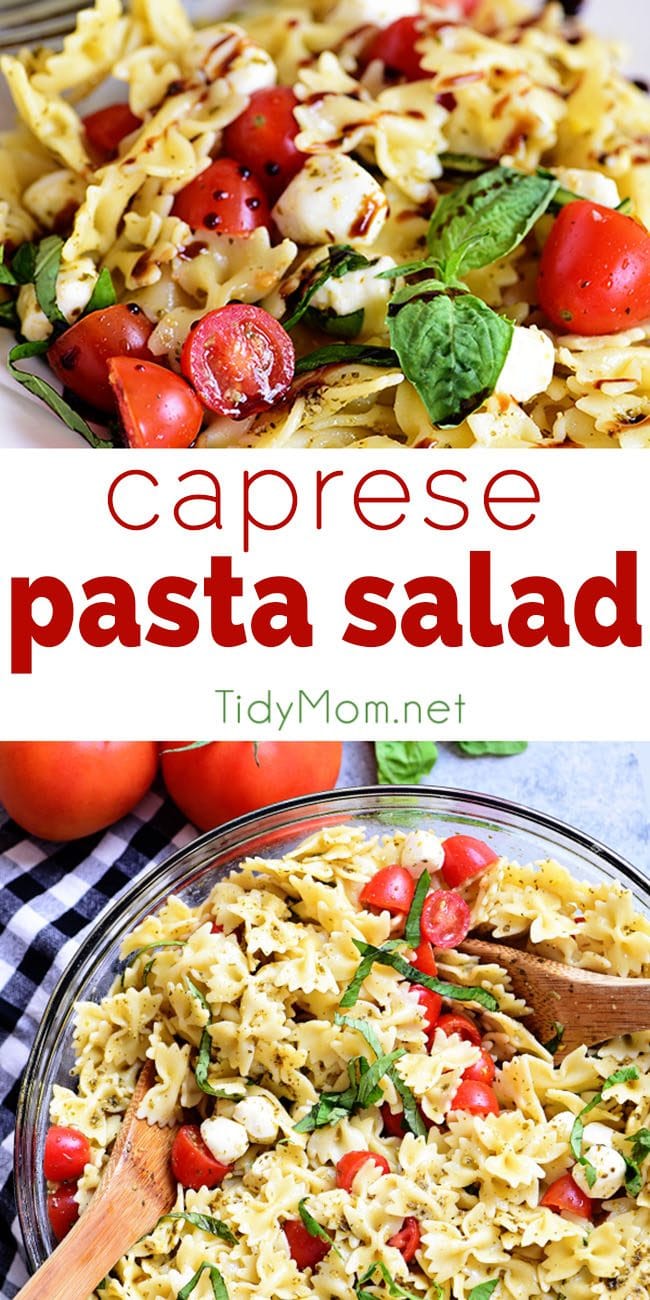 SEE THE RECIPE CARD BELOW FOR DETAILS ON HOW TO MAKE THIS EASY CAPRESE PASTA SALAD RECIPE. ENJOY!
Super easy, and super delicious, I hope that you all enjoy it as much as we do.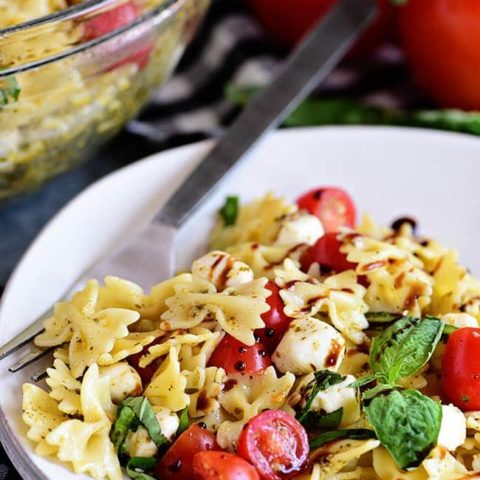 Caprese Pasta Salad
Additional Time:
15 minutes
Caprese Pasta Salad is fresh, easy and a perfectly simple for summer potlucks and BBQs. It has all the flavors of a traditional Caprese salad in pasta form!
Ingredients
16 ounces uncooked mini farfalle (bow tie pasta)
12 ounces cherry tomatoes (or grape tomatoes), cut in half
8 ounces fresh cherry-sized mozzarella balls
1/2 cup fresh basil leaves, cut into ribbons (or chopped)
1/2 cup pesto
1/4 cup olive oil
1 tablespoon balsamic vinegar
1 teaspoon minced garlic
Salt and pepper, to taste
balsamic glaze, for drizzling (optional)
Instructions
Cook the pasta according to package directions, then drain and rinse with cold water.
Using a large bowl, add cooled pasta, tomatoes, mozzarella, *basil ribbons, pesto, olive oil, vinegar, garlic and toss to combine. Salt and pepper to taste. *If not serving immediately, cut and add the basil just before serving to prevent basil from darkening.
Serve with a drizzle with balsamic glaze, if using.