Recipe for Homemade Vanilla Extract
Last year I wondered how to make vanilla.  I use a lot of vanilla in my baking so I thought why not look for a recipe for homemade vanilla extract not to mention, it makes a really cool homemade gift as well!  Download and print a pretty label and you have an easy and affordable gift for friends, family or co-workers!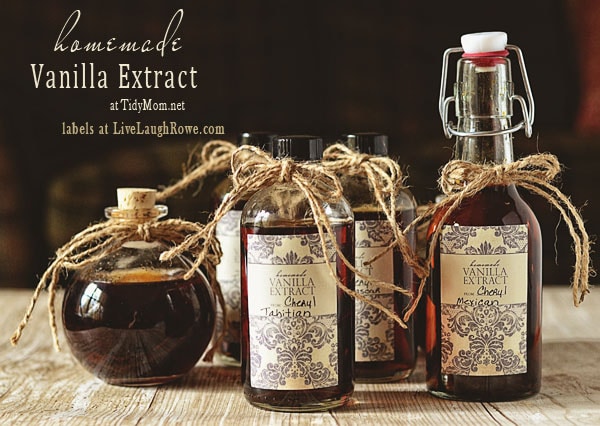 With as much baking as I do, I go through a lot of vanilla extract.  Since I prefer the Mexican Vanilla, it can get rather costly at $20+ for an 8-ounce bottle! That's what happens when you get hooked on the good stuff!
Thanks to Beanilla.com I found out, making your own vanilla couldn't be easier and it is far more economical than buying the store-bought variety.  By making my own vanilla extract, I could also try more varieties than just Mexican.  Beanilla sells bottles and  7 different variety of vanilla beans, each of which has a unique flavor!  Using premium grade vanilla beans will provide significantly better flavor and aroma than commercially produced extracts.
According to Beanilla.com:
Do you prefer bold and smokey? If so, try Mexican vanilla beans. Rich and creamy? Use Madagascar Vanilla Beans! Floral aroma and unique cherry-chocolate? Venture to the Tahitian vanilla beans. Each type is excellent for homemade vanilla extract.  You can even blend various varieties together.  The floral, fruity, cherry like notes of the Tahitian variety blend wonderfully with the nutty-chocolate character of the Bourbon varieties.
Christmas is just two months away! How did that happen?  So now is the perfect time to start making Homemade Vanilla Extract if you want to hand some out during the holidays and have some for your own holiday baking!
How to Make Homemade Vanilla Extract Recipe
What you need to make Vanilla Extract
How to make Vanilla Extract for a homemade gift
First be sure to wash your bottles in hot soapy water.  Rinse well, then allow your bottles to air dry.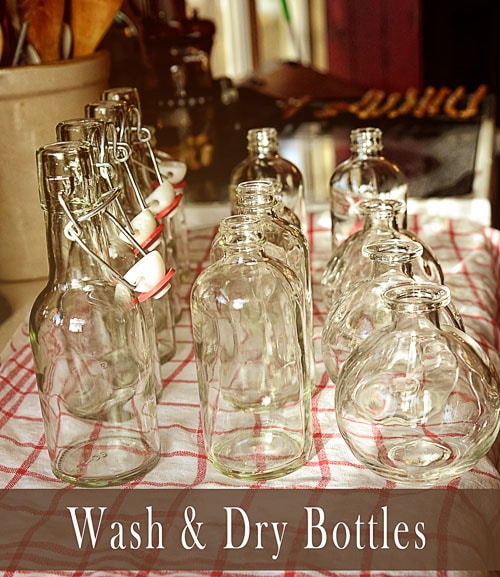 Using a sharp knife, slice each vanilla bean in half.  then starting about 1/4″ from one end, cut the vanilla bean lengthwise (see picture below)
Place 6-8 vanilla bean pieces (that would be 3-4 whole beans) in each 8-ounce bottle. Using a measuring cup or funnel, pour vodka into each bottle completely covering the beans in the liquid.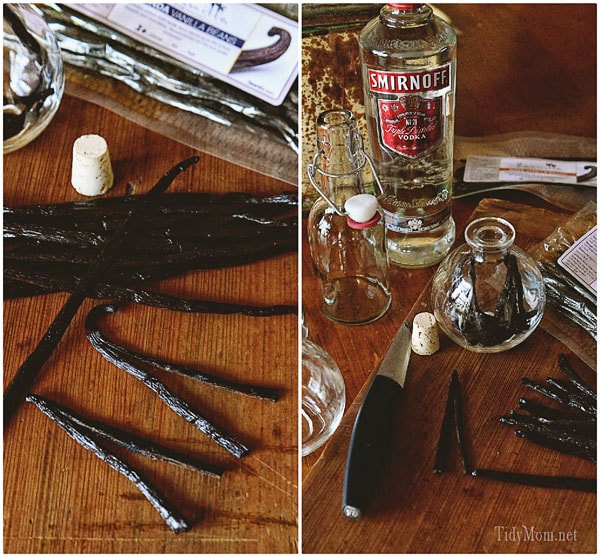 Next, place the caps/lids on tightly and store bottles in a cool, dark environment (I put mine in a closet) Give them a good shake about once a week. The vanilla will be ready to use as soon as 6 weeks, and the longer you allow it to age, the darker it will become and the more intense the vanilla flavor will be.
After 8 weeks the majority of the extraction process is complete and the vanilla is ready to use.  The vanilla beans can be removed or you can leave the vanilla beans in the jar for the flavor to continue to evolve – just be sure to add vodka so the beans are always submerged in alcohol.
Worth mentioning:  Vanilla Beans can be VERY pricey at the grocery store, so if you plan to make more than a bottle of extract I highly suggest purchasing your beans at Beanilla, right now they have 25 Madagascar Vanilla Beans for $25 + FREE shipping! that's a fantastic price!
Homemade Vanilla Extract FREE Labels to print
If you'd like to dress up your vanilla extract before gifting, you can head over to LiveLaughRowe.com and download and print the free Vanilla Extract labels Kelly made for me and YOU!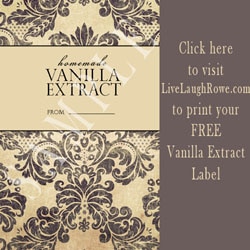 You'll be seeing more of Kelly around here, she is will be a new contributor here at TidyMom sharing more fabulous printables!
GIVEAWAY has ENDED

What? you need supplies?  I've got you covered there too!
The great people at Beanilla.com would like to give four lucky TidyMom & LiveLaughRow readers 5 Madagascar vanilla beans,5 Uganda vanilla beans, and two 8 oz decorative glass bottles and a 2 oz bottle of flavoring (for other baking needs).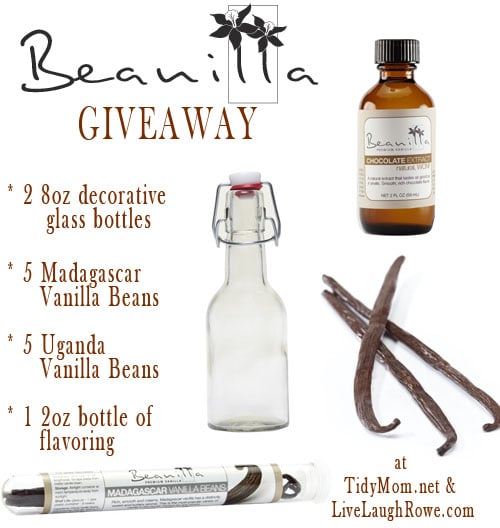 To enter simply follow the instructions on the Rafflecopter widget below (if you are reading this post via email or reader, as always you must click over to the blog to enter)

Disclaimer:  Beanilla found out I was making my own Vanilla Extract and offered to send me the supplies and some to giveaway.  As always, all opinions, views and love of good quality vanilla are my own.