Mexican Black Bean Pizza (With Tortillas) +VIDEO
Black Bean Mexican Pizza With Tortillas – oven-crisped double-decker flakey flour tortillas smothered in tangy Mexican cheese blend, tender pulled chicken, zesty salsa, and savory black beans. Muy delicioso!
If you're looking for easy Mexican-inspired weeknight meals your kids will love you should also try Oven-Baked Pineapple Chicken Quesadillas, Chicken Enchilada Puffs, Mini Taco Bites and Honey Lime Chicken Enchiladas. Mom and Dad deserve a little something too, right? Try Rose Summer Sangria or Mexican Sangria Mule. Want to spice it up? A new favorite Spicey Ranch Water!
Be sure to sign up for my email… to get new recipes and ideas in your inbox!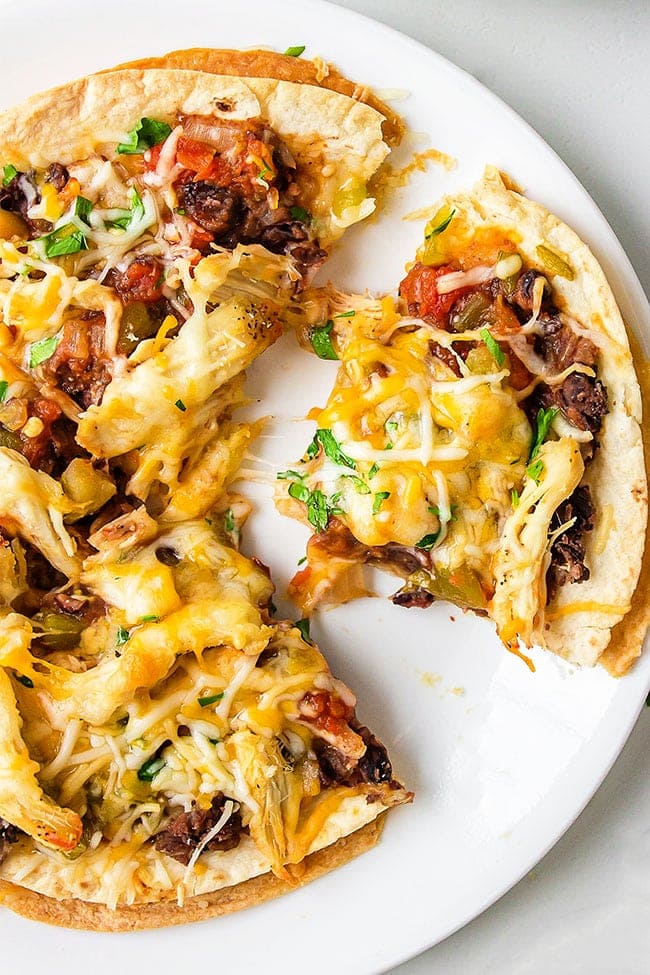 Black bean pizza with tortillas is a delicious take on a family favorite, without the pepperoni but always with a lot of panache! The salsa and green chiles give these tortilla pizzas a zesty (or spicey, if that's the way you roll) Mexican spin with as many variations as you have toppings!
These crunchy cheesy bean pizzas are very easy and convenient to make at home. Since the fast-food giant, Taco Bell, took Mexican Pizza off their menu almost a year and a half ago, this homemade Mexican bean pizza recipe has become even more popular! And rightly so!
Note: to all Taco Bell Mexican Pizza fans, the fast-food chain is bringing back the Mexican Pizza as of May 19, 2022. But be careful; you might be just a bit disappointed with Taco Bell's Mexican Pizza after making this flavor-packed pizza with tortillas recipe!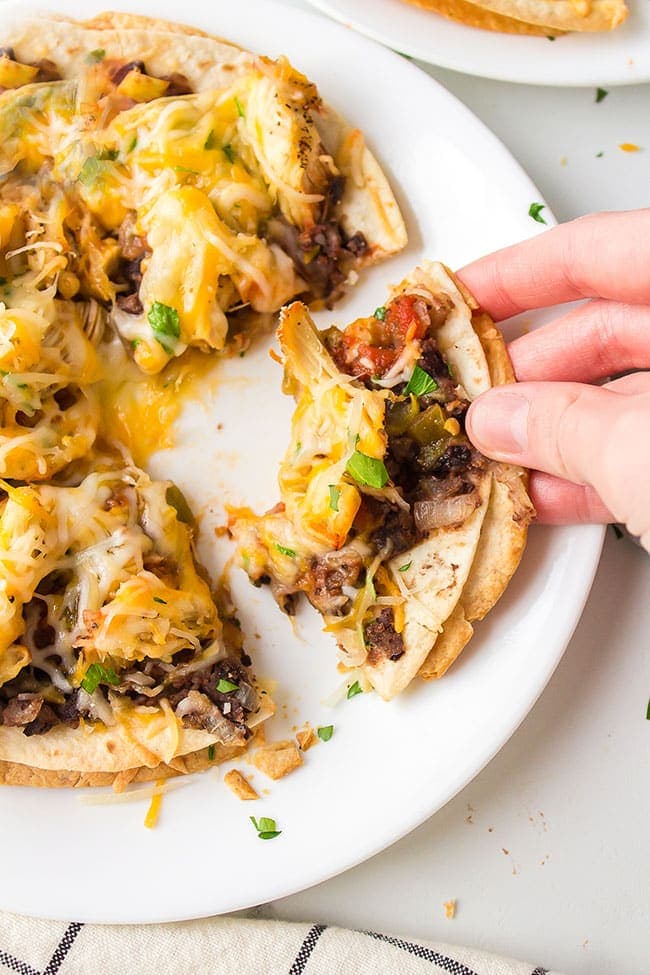 Why You'll Love This Chicken And Black Bean Pizza
Mexican chicken pizza is quick enough for a weeknight meal and easy enough for teens to make for lunch or a snack.
Each 6-inch Mexican Pizza is one serving, so each flour tortilla pizza can be customized to please everyone in the family!
Using canned black beans means no lard, fat-laden beans, or extra oils in this tasty tortilla pizza with chicken.
Bean pizza with chicken is so much healthier than stopping at the fast-food joints!
Mexican bean pizza makes excellent snacks or finger food for family time and game nights.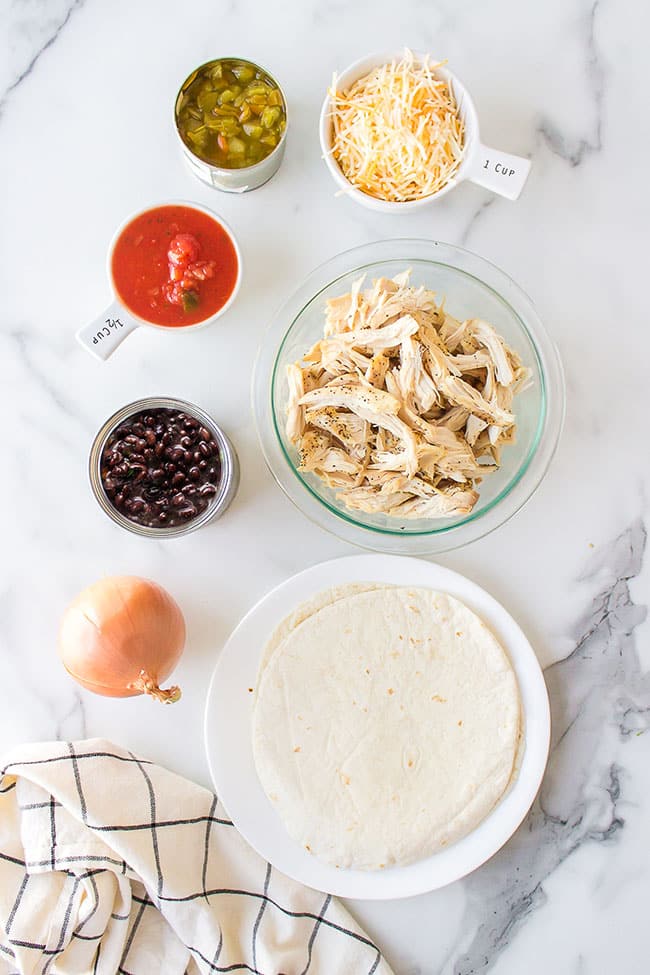 Ingredients For Your Black Bean Pizza With Tortillas
Shredded Mexican Blend Cheese – use your favorite blend or make your own DIY Mexican cheese blend (see FAQs) and add a dash of taco seasoning.
Olive Oil – to brush on tortillas before baking. You can also use grapeseed oil or avocado oil.
Flour Tortillas – are the base for black bean pizzas. For parties or get-togethers, use larger "wrap" size tortillas to make Mexican bean pizzas; cut into slices.
Small Onion – white onions are most commonly used in Mexican cuisine, but any onion will work.
Black Beans – cooked or canned and thoroughly drained.
Salsa, Mild Or Spicy
Canned Green Chiles – diced and drained green chilis add that something special to black bean pizza. If you don't want a lot of heat, check the label for "mild."
Pulled Chicken – you can use shredded rotisserie chicken pieces or small diced grilled or sauteed chicken pieces.
How To Make Mexican Black Bean Pizza With Tortillas
(full printable recipe at the end of this post)
STEP ONE: To start, arrange four tortillas on a greased baking sheet in a single layer. Evenly sprinkle ½ cup of cheese over the four tortillas, then top with the remaining tortillas. Bake 5-6 minutes or until browned slightly.
STEP TWO: While tortillas bake, heat a little oil in a skillet and cook onions until browned. Add beans and partially mash them with a potato masher or the back of a fork.
STEP THREE: Remove cheese tortillas from the oven and top each with bean mixture, salsa, green chiles, pulled chicken, and remaining cheese.
STEP FOUR: Return the Mexican pizzas to the oven and bake until the cheese melts, about 10-20 minutes.
Cut into slices like a pizza and enjoy!!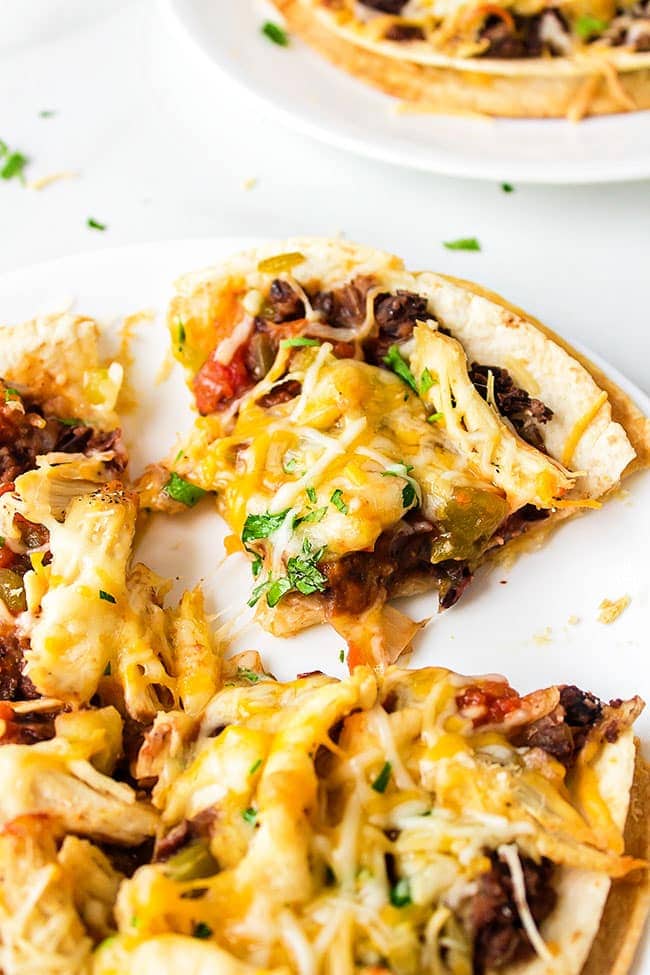 What to Serve With Mexican Pizza
Tasty side dishes add excitement to the main course. These vibrant and delicious sides complement the flavors of any Mexican-inspired meal.
What goes well with Mexican Black Bean Pizza?
Spanish Rice – also known as Mexican Rice
Cilantro Lime Rice – This flavor full rice is my go-to with most Mexican dishes.
Roasted Corn And Black Bean Salad – Tender smokey grilled corn, plump juicy tomatoes, creamy avocado, black beans, and tangy blue cheese tossed in a lively lime dressing is a refreshing hit at any meal! It's incredibly delicious, easy to make, and travels well.
Mexican Street Corn – Grilled corn on the cob with a tangy, creamy sauce, sprinkled with crumbled cojita cheese is a must-have!!
White Chili Bean Queso Dip – Whether you use it as a dip with tortillas, a topping for tacos, or a filling for burritos, this queso will not disappoint.
(UN) Fried Ice Cream – crunchy, cool, and creamy deliciousness of deep-fried ice cream without frying! The perfect ending to your favorite Mexican-inspired meal.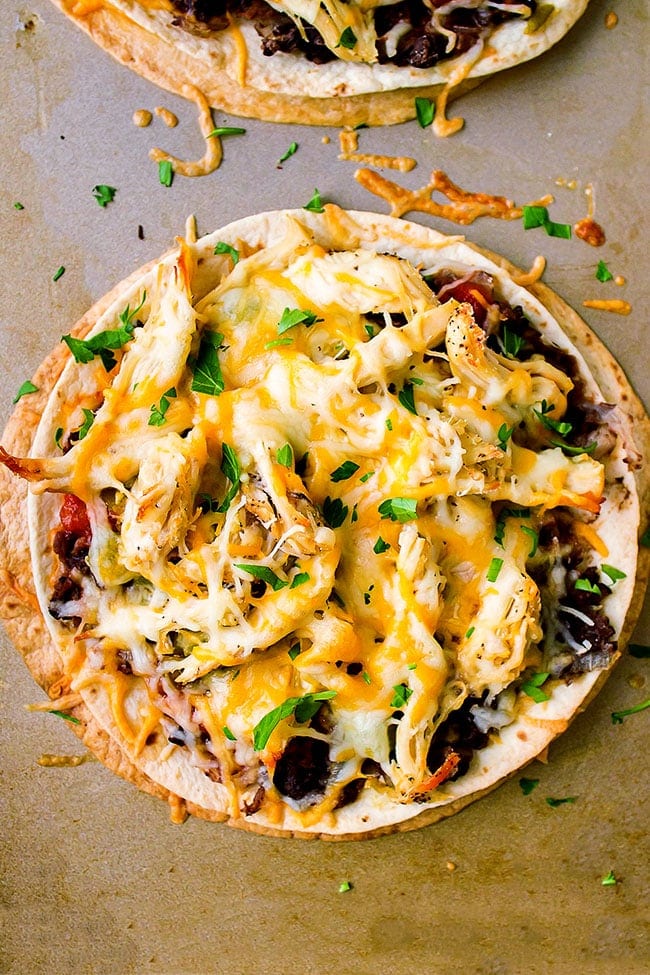 Mexican Bean Pizza With Tortilla Additions & Toppings
Mexican pizza with flour tortillas is easily changed up for individual taste or dietary restrictions. You can always use whatever meat you have on hand. Since one cup of black beans contains 15 grams of protein and 15 grams of fiber, you can skip meat altogether. There are many topping options for Mexican pizza with beans; check it out!
Black bean pizza Meat* ideas for your carnivores:
Carnitas/Pulled Pork
Chorizo/Ground Pork Sausage
Pollo Asada/Grilled Chicken
Rotisserie Chicken Makes It Easy
Ground Beef with Taco Seasoning
Barbacoa/Shredded Post Roast
*For your family's health and safety, all raw meats, including ground beef, bacon, pork, or chicken, should always be pre-cooked before adding to a pizza! (I don't care what Martha Stewart acolytes say!)
Bean alternatives for pizza made with tortillas:
Black Beans
Refried Black Beans
Refried Pinto Beans
Chili Beans
Seasoned White Beans
Bean pizza sauteed Veggie options:
Onions
Red or Green Pepper
Spinach or Shredded Kale
Anaheim Peppers (Mild)
Hatch Peppers (Hot)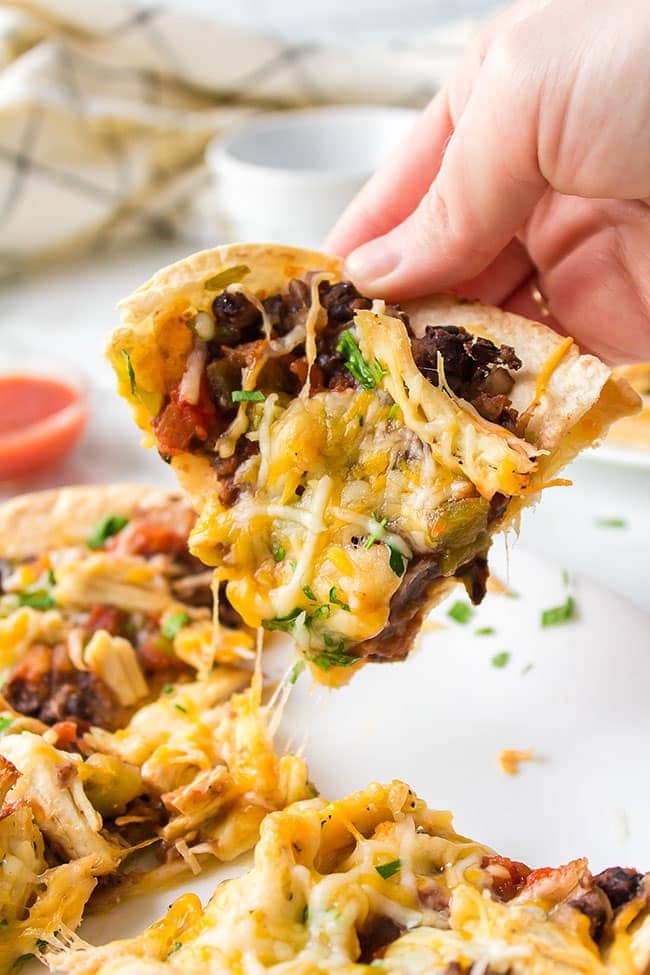 Fillings for pizza with tortillas:
Green Chilies
Jalapeno Peppers
Banana Pepper Rings
Roasted Corn
Cheese Blends – see FAQs
Toppings and Condiments for Mexican black bean pizzas:
Green Onions
Diced Tomato
Shredded Lettuce
Fresh Cilantro
Black Olives
Tomatillo Sauce
Sour Cream
Guacamole
When making Mexican bean pizza, there are many Tortilla options available on the market: low-carb, gluten-free, almond, cauliflower, and vegan tortillas.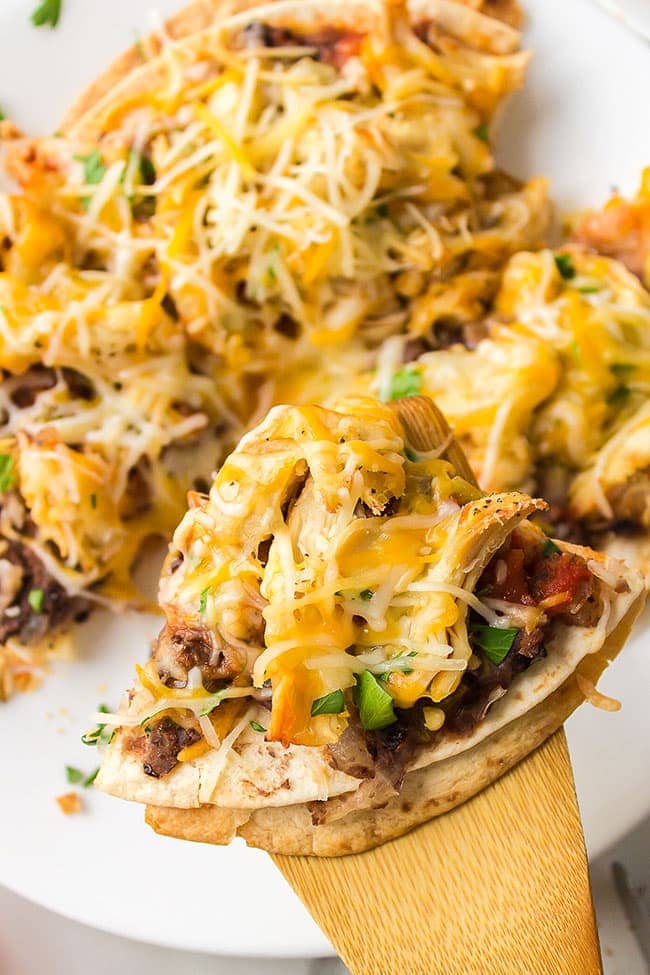 Black Bean Pizza FAQs
Can I use corn tortillas instead of flour tortillas with black bean pizza?
Yes, you can buy prepared tostada shells at your grocer or make your own at home by frying or baking them in the oven until crispy.
Chef's Tip: When frying tortillas, line a rimmed baking sheet with foil and place a wire rack over it for draining and easy cleanup.
What cheeses are in a Mexican cheese blend?
Several kinds of cheese can make up a Mexican cheese blend: Cheddar, Monterey Jack, Queso Quesadilla, Asadero, Cojita,
Chihuahua, as well as Colby Jack. Most store-bought versions of Mexican cheese blends use three to four different cheeses.
How do you make Mexican cheese blend at home?
Finely shred or crumble the equal amounts of each cheese for ideal melting(a food processor is a blessing here!). If you love, love, love Mexican seasoning like I do, sprinkle your DIY Mexican cheese blend with taco seasoning or cumin!
Like This Black Bean Mexican Pizza Recipe? Pin It!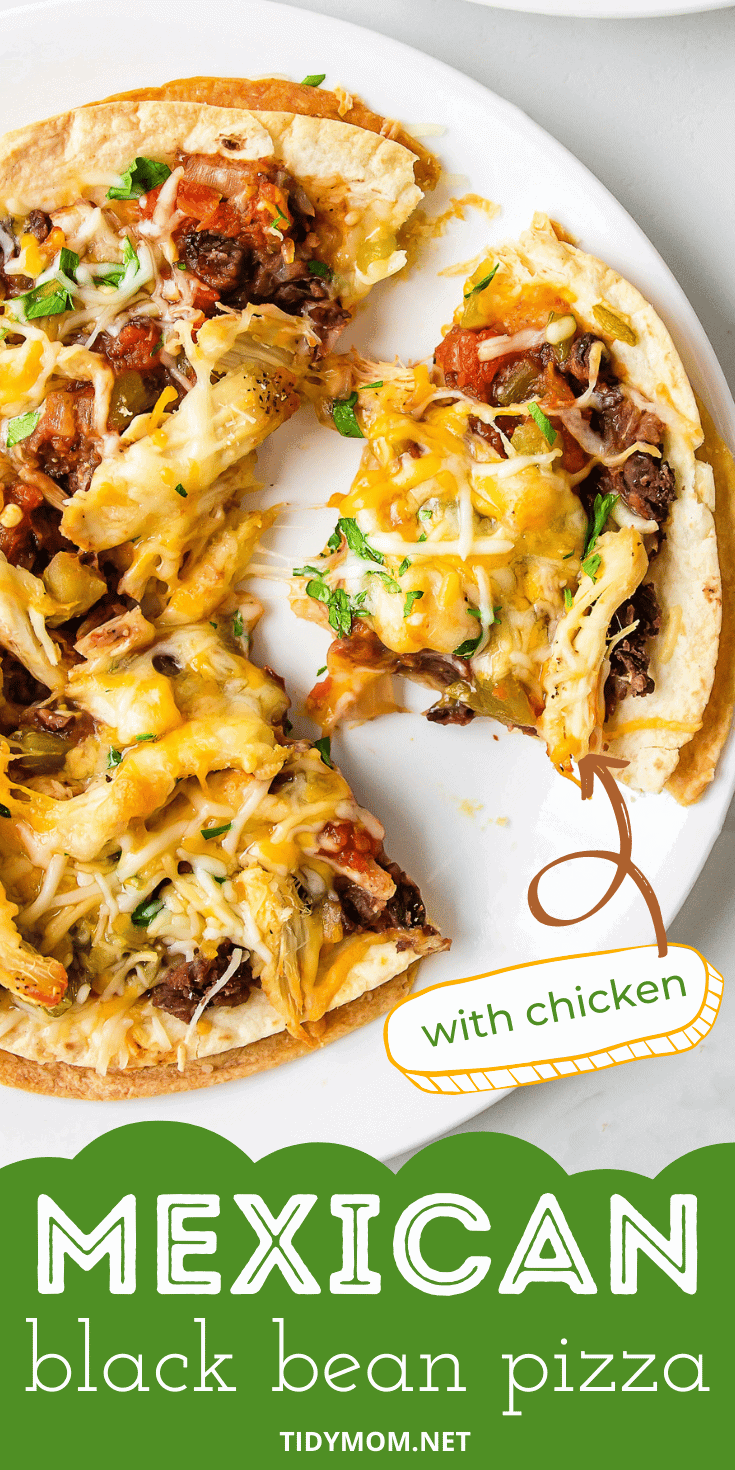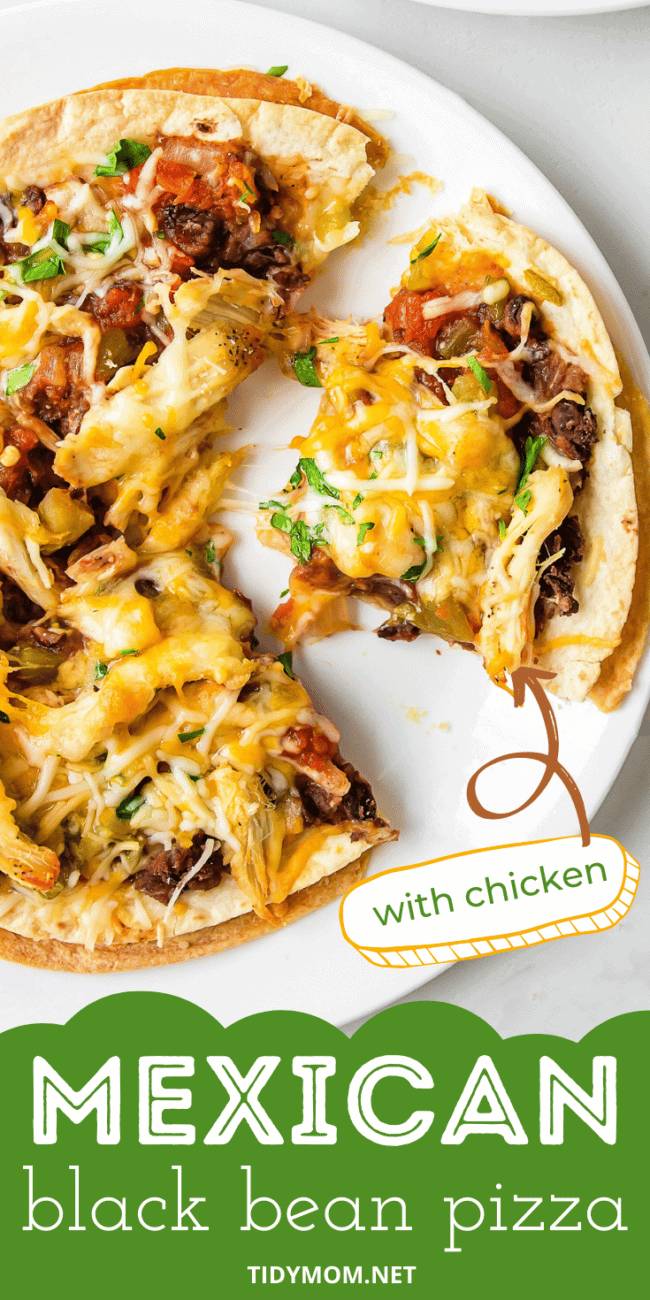 If you're looking to switch up your Taco Tuesday or celebrate Cinco de Mayo, Mexican Pizza is the perfect twist on dinner!
Originally posted in June 2013. UPDATED MAY 2022. We spiffed up this post with more info and better pictures! No changes to the original recipe.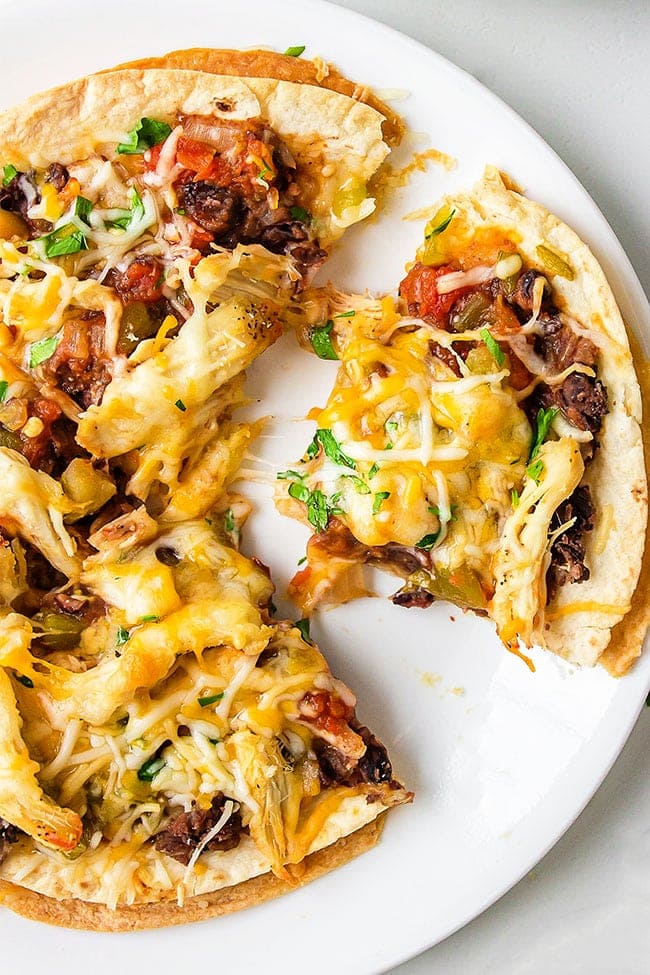 Mexican Black Bean Pizza
Yield: 4 pizzas
Prep Time: 20 minutes
Cook Time: 25 minutes
Total Time: 45 minutes
Lots of cheese, black beans, salsa, green chiles, and chicken give these tortilla pizzas a spicy, Mexican spin.
Ingredients
1 ½ cups shredded Mexican Blend cheese
2 tablespoons olive oil
8 (6-inch) flour tortillas
1 small onion, chopped
1 (15 ounce) can BUSH'S® Black Beans, drained
½ cup salsa, mild or spicy
2 ounces canned chopped green chiles
2-4 ounces pulled chicken
Instructions
Heat oven to 350°F.
Brush a baking sheet with 1 tablespoon of oil and arrange four tortillas in a single layer. Puncture each tortilla a few times with a fork. Sprinkle about ½ cup of cheese evenly over the four tortillas, then cover each with a remaining tortilla. Bake 5-6 minutes or until browned slightly.
While cheese tortillas bake, heat remaining oil in a skillet and cook onions until browned. Add beans and partially mash with a potato masher or the back of a fork.
Remove tortillas from the oven and top each with bean mixture, spreading evenly. Top with salsa, green chiles, pulled chicken and cheese mixture.
Return to oven. Bake until cheese melts, about 10-20 minutes. Serve immediately.
Recommended Products
As an Amazon Associate and member of other affiliate programs, I earn from qualifying purchases.
Nutrition Information:
Yield: 4
Serving Size: 1
Amount Per Serving:
Calories: 354
Total Fat: 21g
Saturated Fat: 9g
Trans Fat: 0g
Unsaturated Fat: 11g
Cholesterol: 47mg
Sodium: 535mg
Carbohydrates: 26g
Fiber: 5g
Sugar: 6g
Protein: 18g
Nutrition information is estimated based on the ingredients and cooking instructions as described in each recipe and is intended to be used for informational purposes only. Please note that nutrition details may vary based on methods of preparation, origin, and freshness of ingredients used.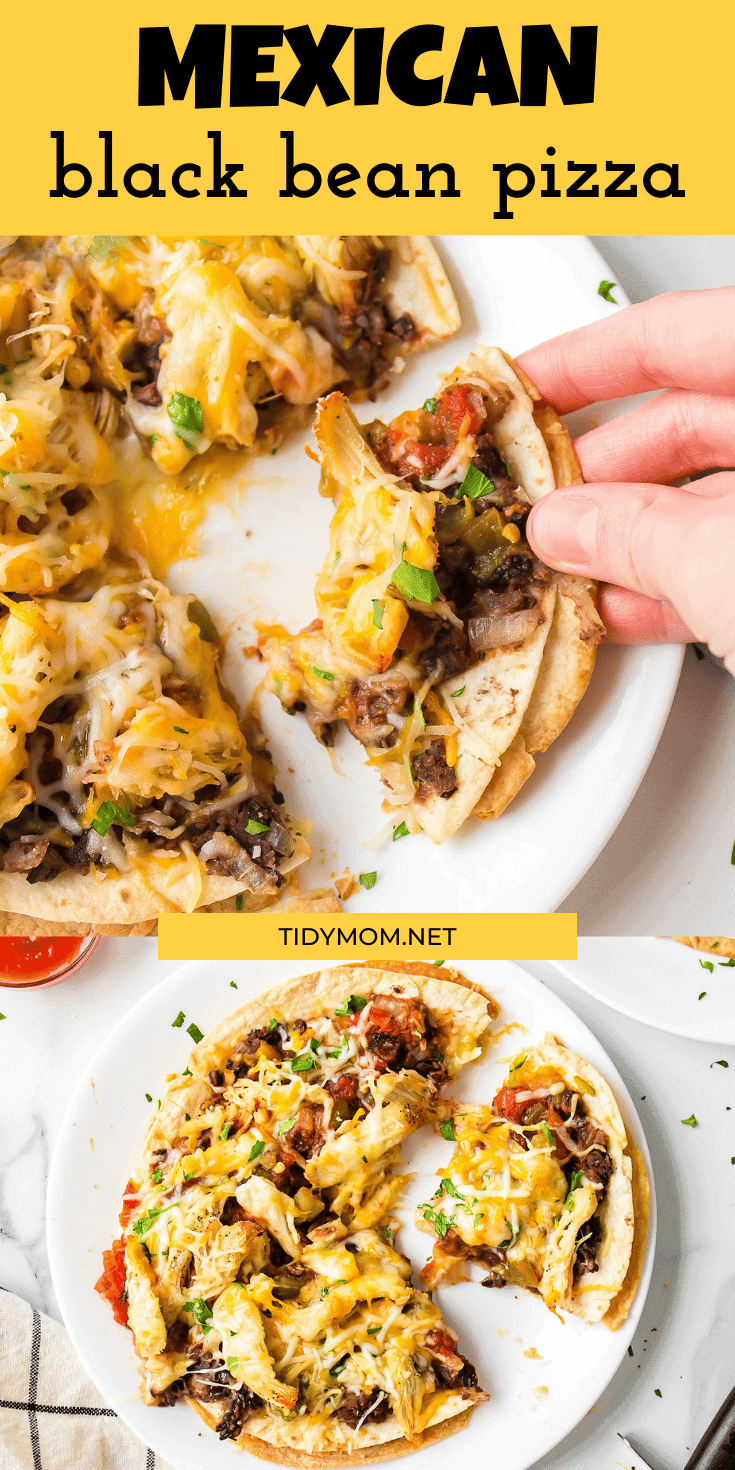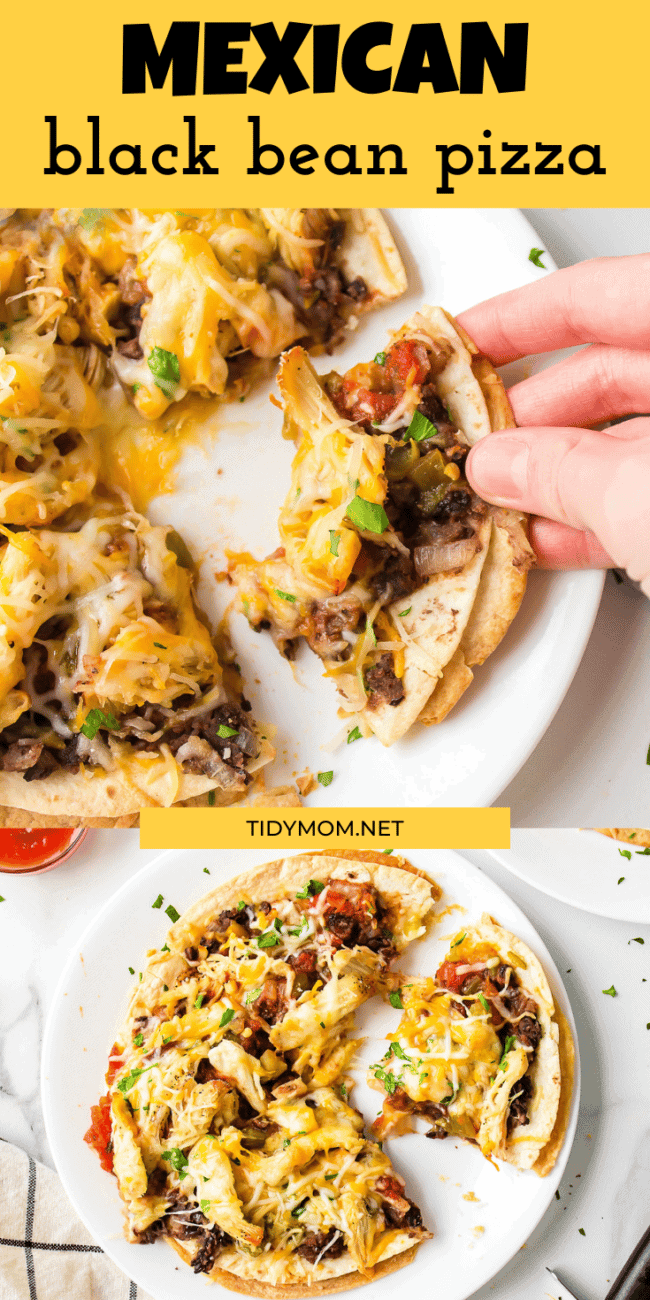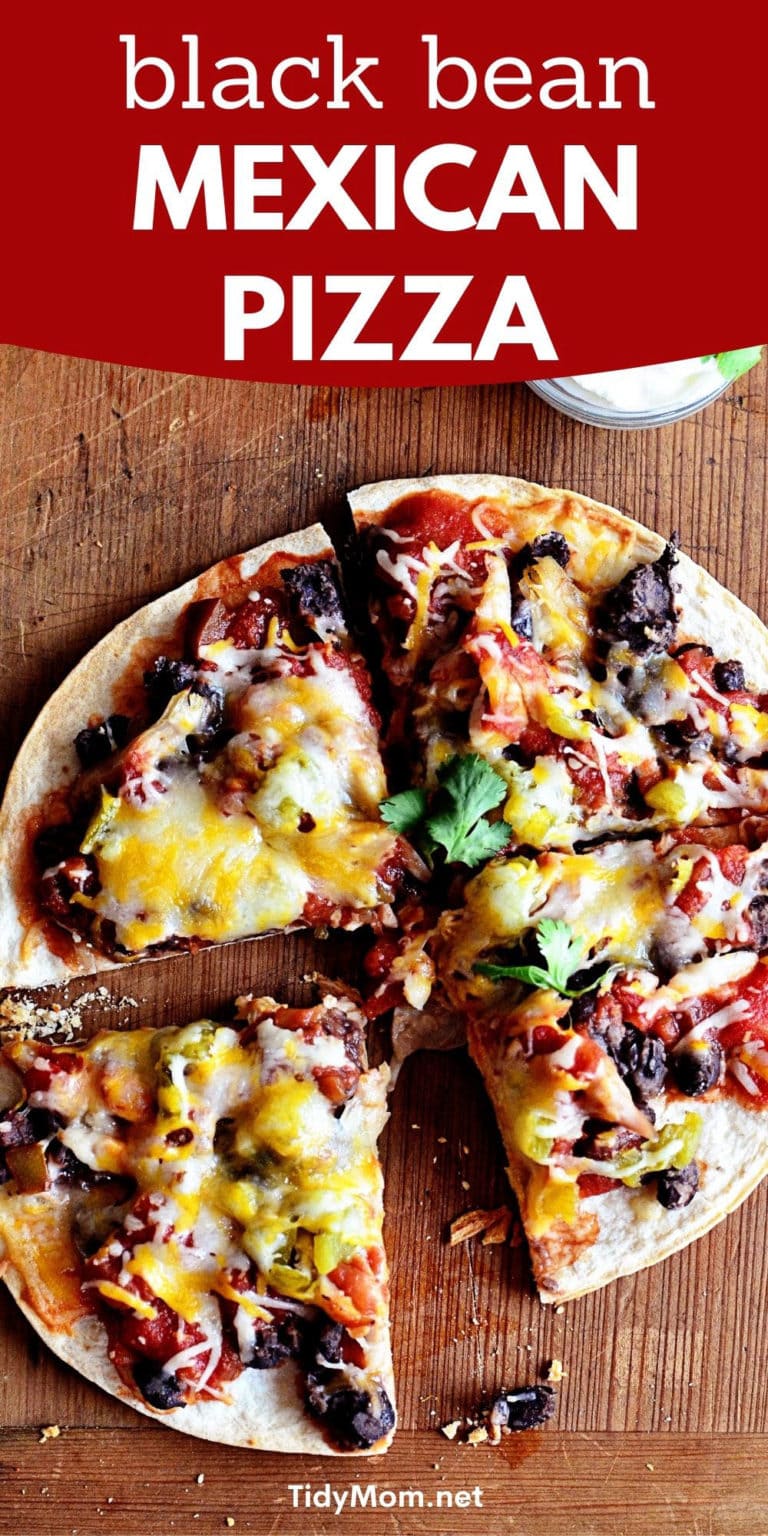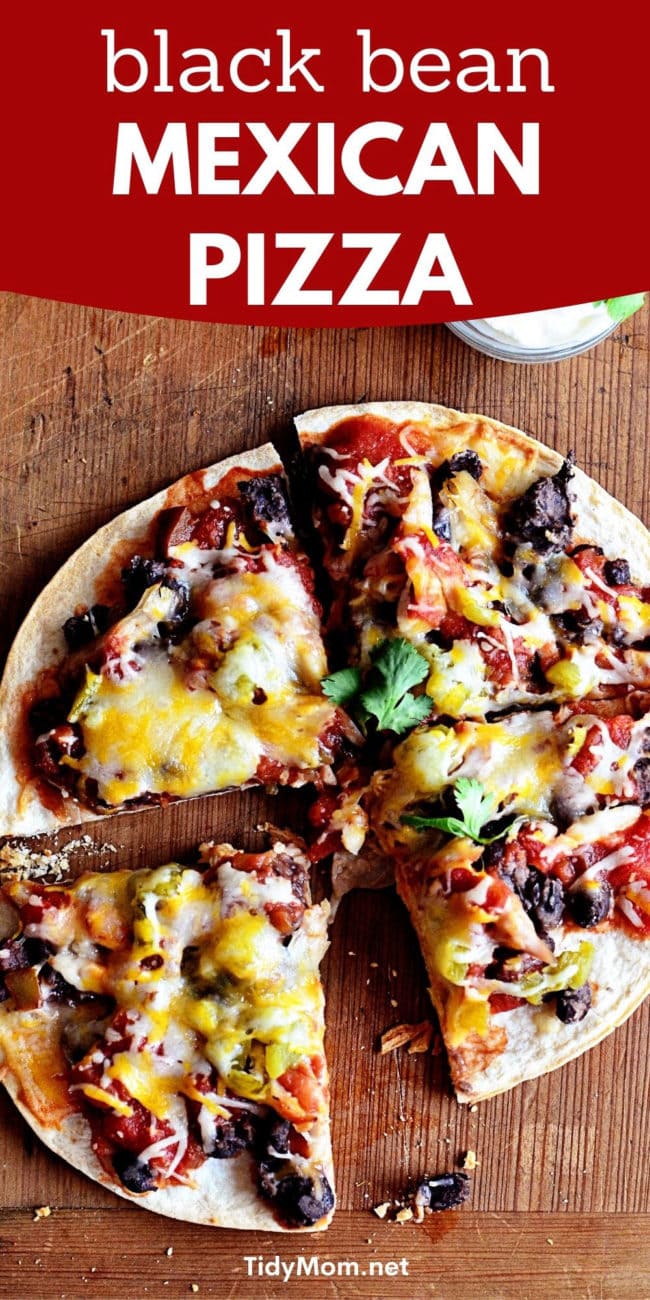 Tidymom is a participant in the amazon services llc associates program, an affiliate advertising program designed to provide a means for sites to earn advertising fees by advertising and linking to Amazon.com.
Please respect my work, recipes and photographs. If you do use a recipe in your own writing, please give proper credit and link back to the original post.