Mississippi Pot Roast Slow Cooker Recipe
This post may contain Amazon or other affiliate links. As an Amazon associate, I earn from qualifying purchases.
Crowd-pleasing one-and-done Mississippi Pot Roast is the perfect antidote for busy families! A robust, savory, and fork-tender pot roast souped up on tangy pepperoncini peppers. An authentic dump-and-go slow cooker recipe!
A no-fuss slow cooker recipe deserves fuss-free dishes to go with! These are a few of my favorite hits: Make-Ahead Mashed Potatoes, Cheesy Hashbrown Casserole, Green Bean Casserole, Oven Roasted Asparagus, and Garlic Cheese Bread. A tried-and-true Peach Cobbler recipe is easier than pie!
Be sure to sign up for my email… to get new recipes and ideas in your inbox!
Why This (Truly Easy) Mississippi Pot Roast Recipe Works
You know convenience when you see it! This pot roast recipe with pepperoncini is all that and more! Nothing better than walking in the door after a long day and sitting down to a yummy roast!
A simple one-and-done dump slow cooker recipe
Time saver, full flavor, fork-tender pot roast
Pepperoncini juice and slow cooking tenderize Mississippi pot roast
Flavorful, zesty shredded beef makes great sandwiches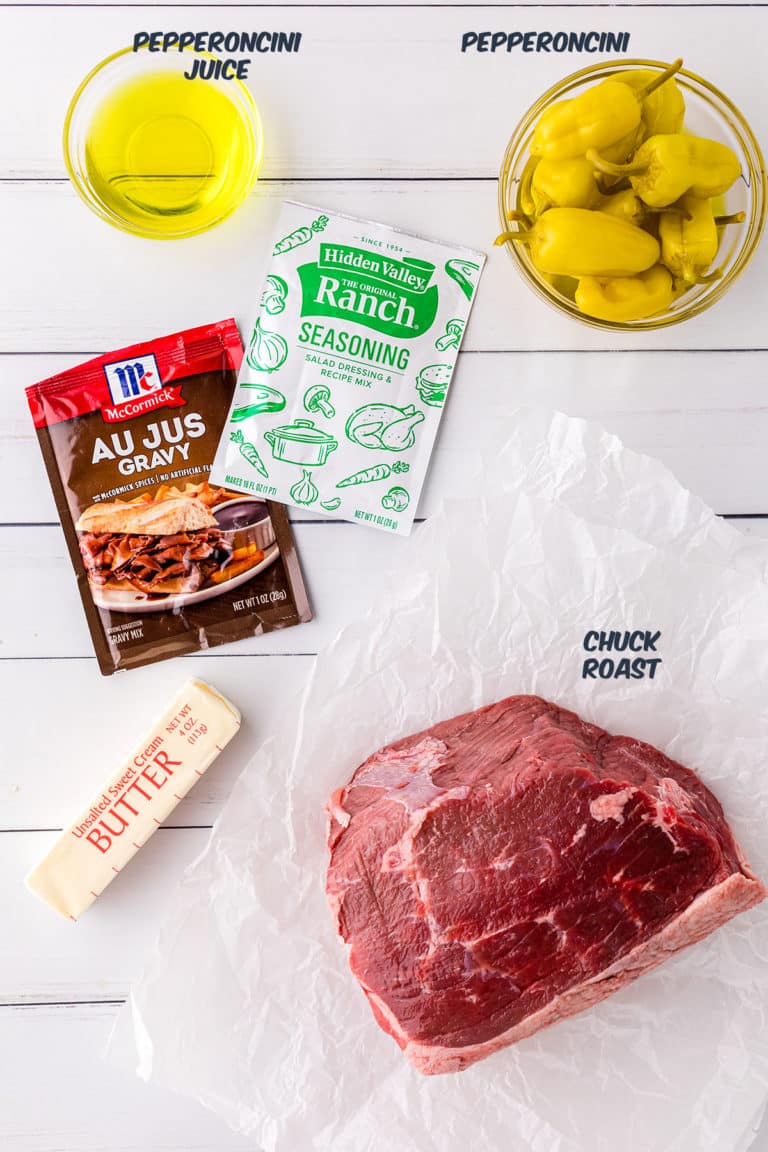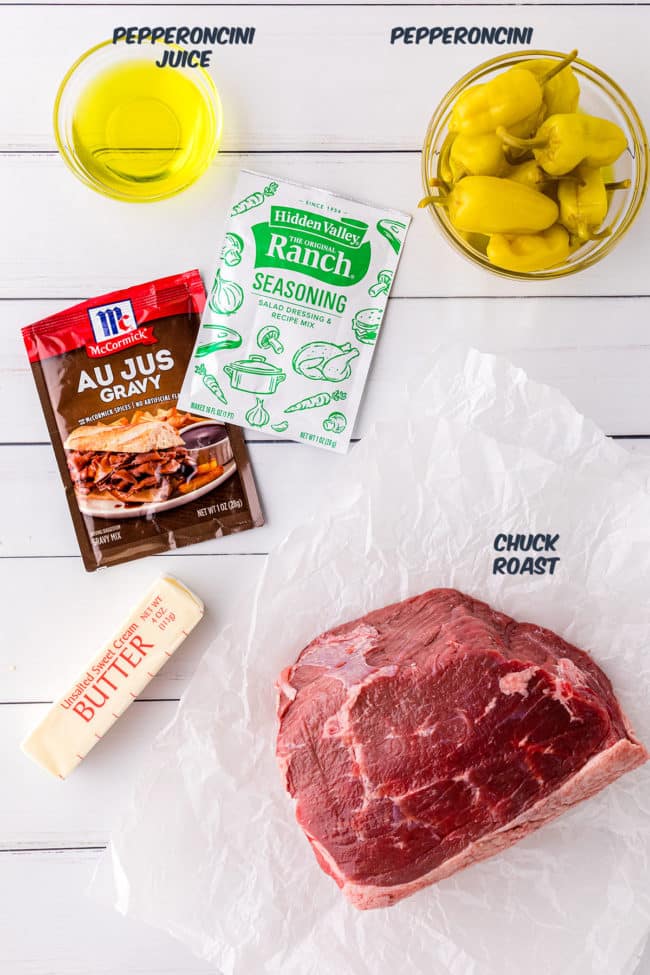 Mississippi Pot Roast Ingredients List
Unlike traditional pot roast, Mississippi Pot Roast has a bit of zesty, tangy flavor thanks to the combination of the ranch dressing mix, brown gravy, and pepperoncini.
For specific amounts, please refer to the printable recipe card at the bottom of the post.
Chuck Roast (Or Rump Roast) – nicely marbled
Dry Ranch Dressing Mix – or two tablespoons of a homemade ranch mix
Au Jus Gravy Mix or Brown Gravy Mix – either will work beautifully in Mississippi pot roast
Unsalted Butter*– if you have it. The ranch, au jus, and pickled pepperoncini contain plenty of salt.
Pepperoncini Peppers – pickled and jarred, you will use the peppers and some of the juice. They are found in the condiment aisle at the grocery store.
This post may contain affiliate links. Please read my disclosure policy here.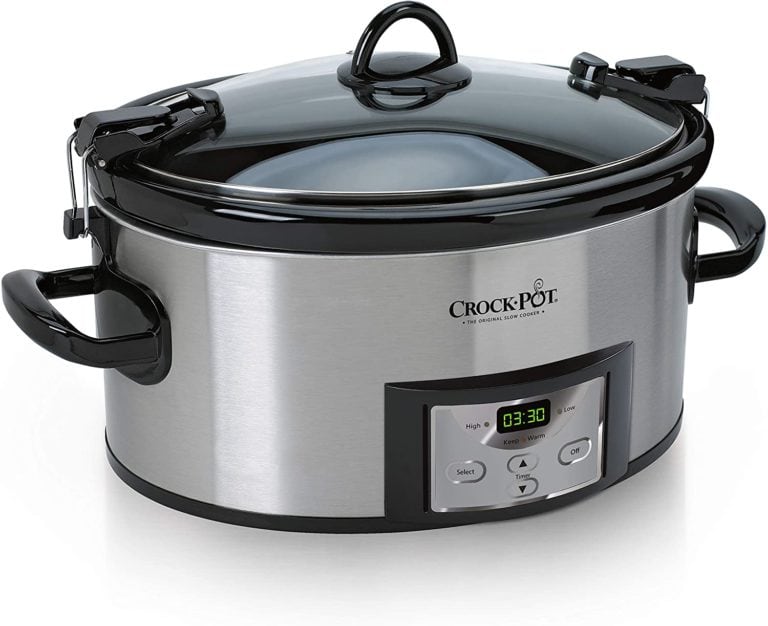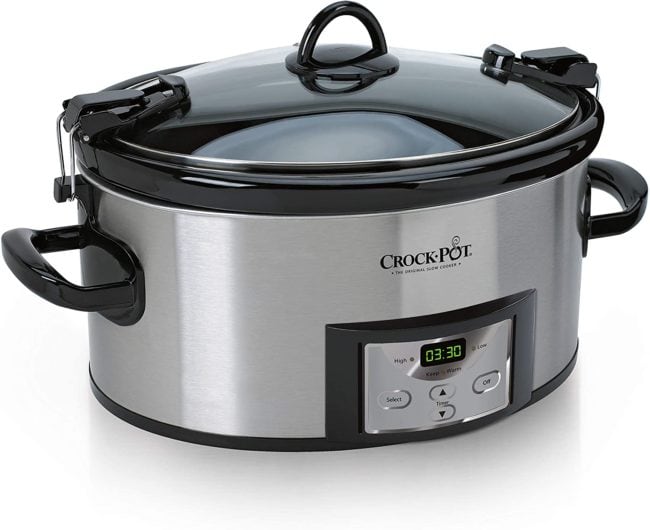 Featured Product 6-qt Cook & Carry Slow Cooker
Digital countdown control lets you program cook times anywhere from 30 minutes up to 20 hours; shifts to Warm setting automatically once cook time completes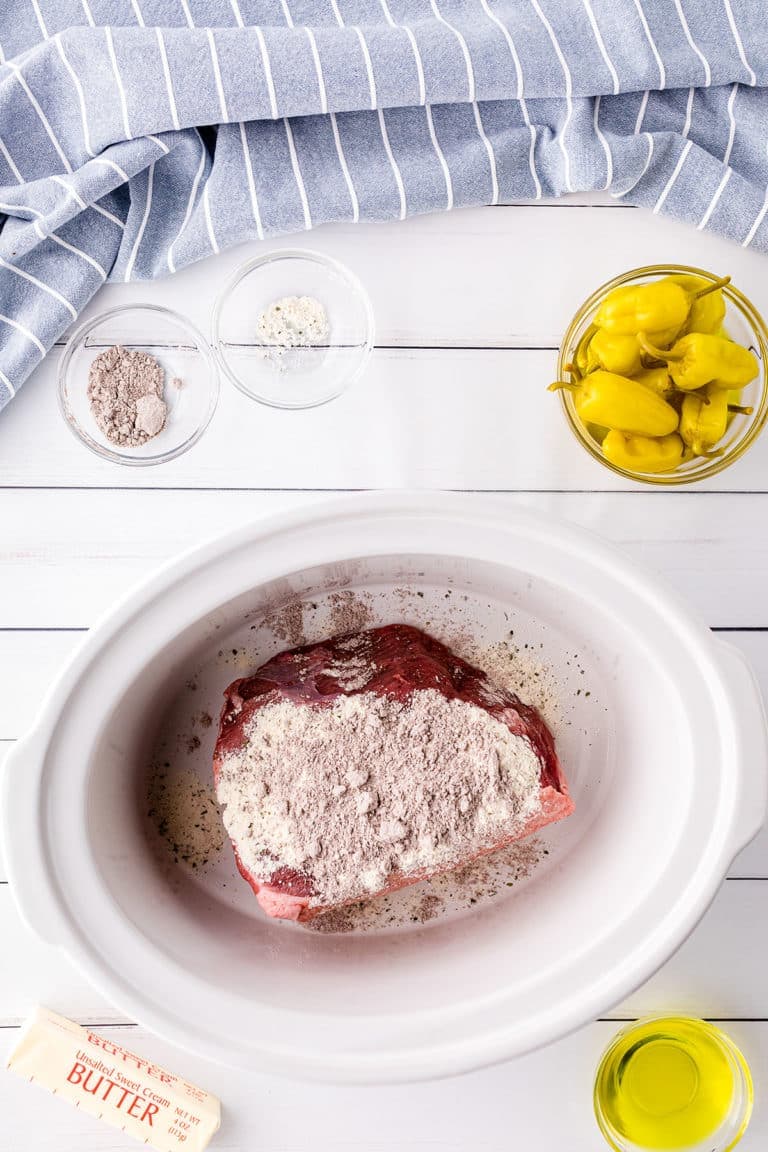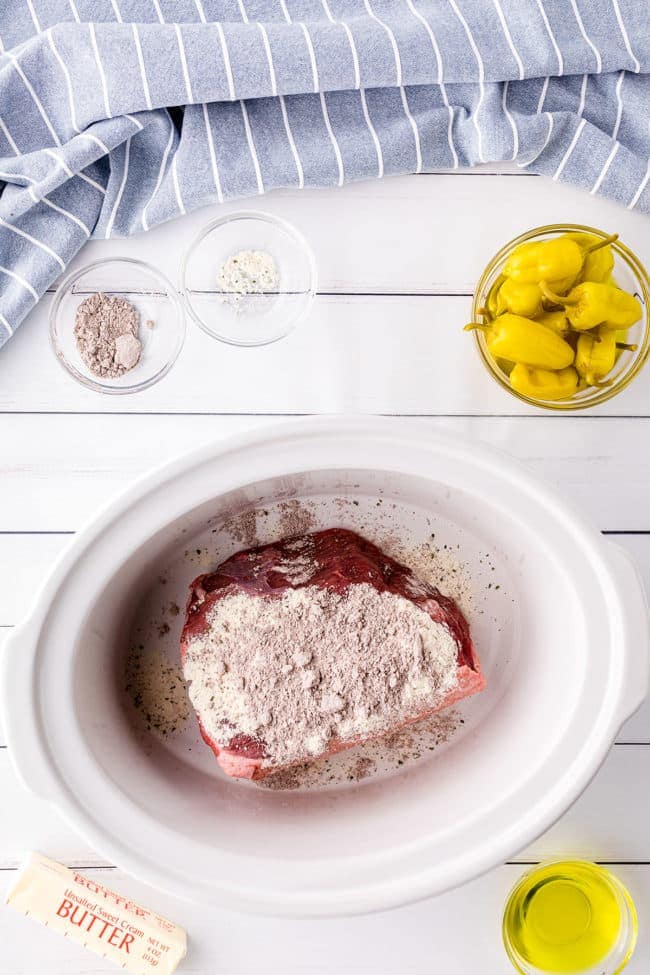 How To Make Super Easy Mississippi Slow Cooker Pot Roast
I'm all about the time-saving factor (and the fantastic flavor, of course) for this savory, tender Mississippi pot roast. That means dump and done! No pre-searing is required! Grab your slow cooker and let's get started!
When you are cooking, you'll want to use the full recipe at the bottom of the page.
Throw the roast in the slow cooker and dump both seasoning packets, evenly over the roast.
Dump the pepperoncini peppers and juice in, then put the stick of butter on top of the pot roast.
Set the slow cooker on low for 7-8 hours or high for 4-6 hours.
Use two forks (or these cool meat claws) to shred your Mississippi slow cooker roast when it's done.
Serve the amazingly savory, tender roast with gravy and a pepperoncini on the side.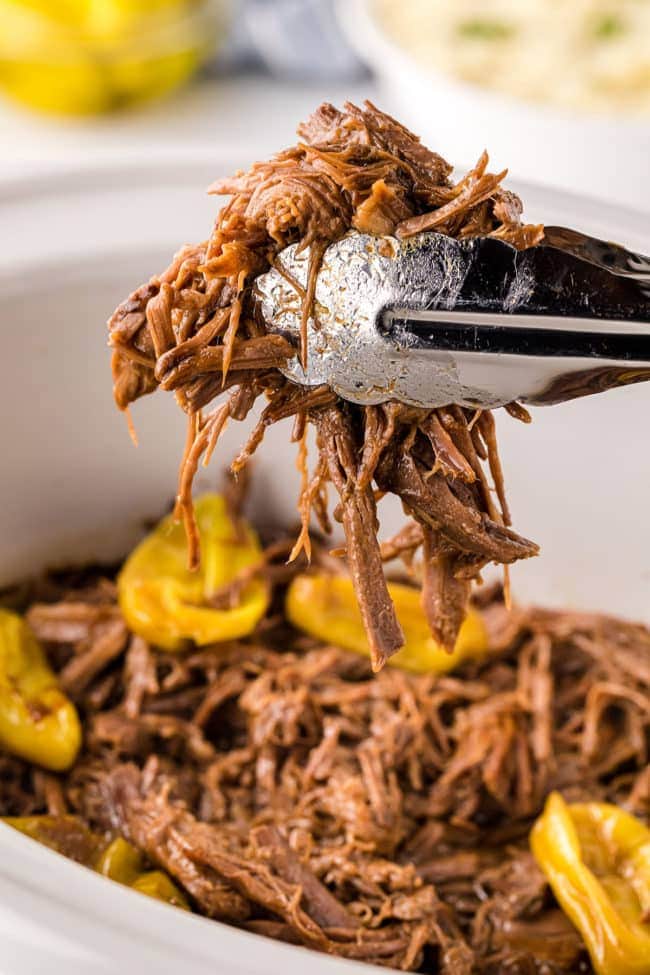 Slow Cooker Pot Roast FAQs
Why is my Mississippi pot roast tough?
Typically it hasn't cooked long enough or was cooked too fast at a higher temperature. A long, slow cooking process aids in breaking down the collagen fibers that cause a pot roast to be tough.
Do you have to brown a roast before putting it in the crockpot?
You'd be surprised how many slow cooker recipes really don't need the extra step or the dirty pan. The full, robust flavor is all there between the seasoning mix and the pepperoncini juice!
Is Mississippi Pot Roast too salty?
The original Mississippi pot roast recipe called for salting the roast, but it's not necessary. The seasoning packets have plenty of sodium, so there is no need to add salt.
What does pepperoncini taste like?
Pickled pepperoncini have a crunchy texture with a tangy, sweet vinegar taste with a mild kick.
Can you make Mississippi Pot Roast in the oven?
You sure can!! In a dutch oven, sear the roast on each side until brown. Let it cool down a bit then add the seasoning packets, peppers, juice, and butter. Then cover and place in a 300°F oven for 1 hour per pound.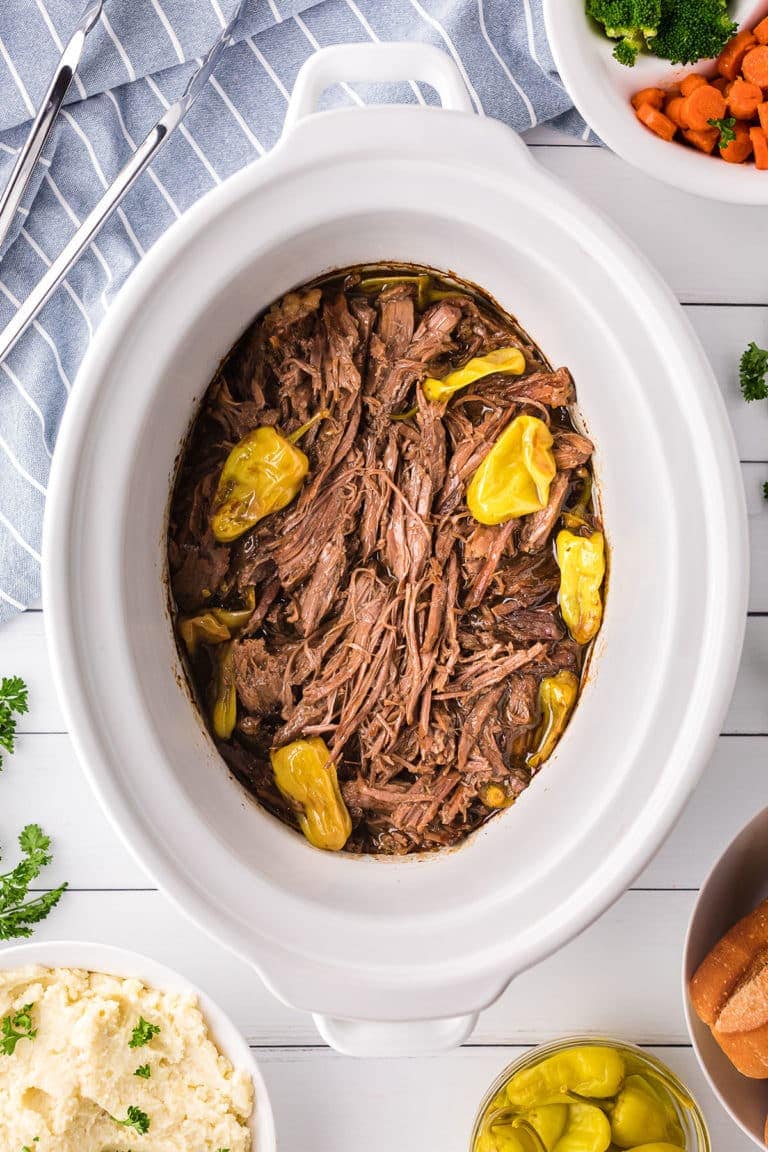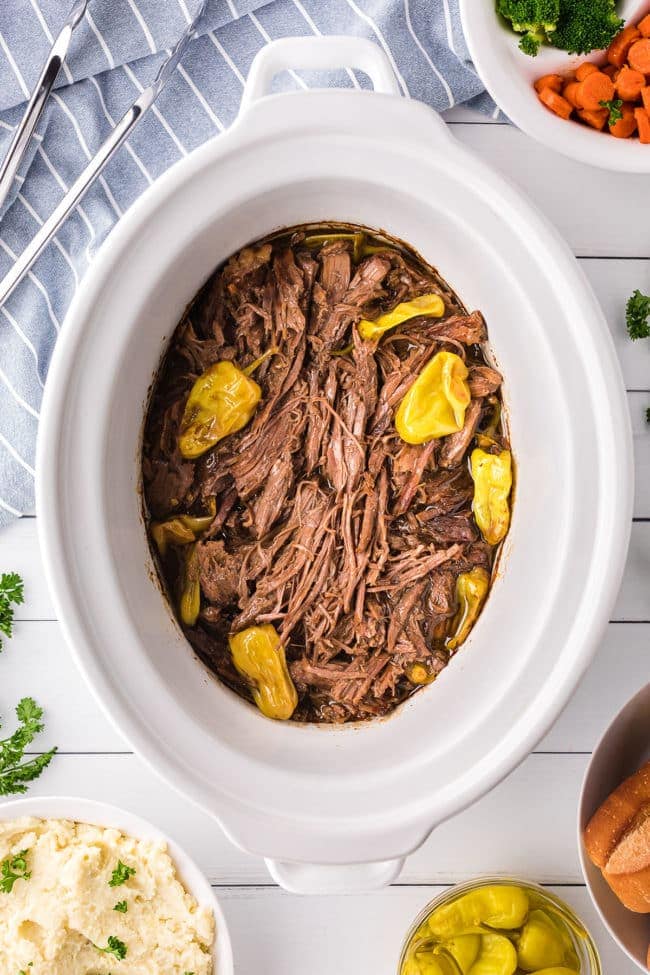 Mississippi Roast Recipe Notes and Tips
DON'T MIX ANYTHING!! This pot roast is an authentic dump-it-and-leave-it slow cooker recipe! (The thicker your Mississippi pot roast, the longer you will need to cook).
The Roast: A rump roast is usually more tender than a chuck roast. A rump roast is classified as an extra-lean cut of meat, while a chuck roast is just considered lean. Both the chuck and rump roasts are inexpensive cuts of beef. These cuts can produce a tasty, tender Mississippi roast in the slow cooker when cooked on low for a long period of time.
To Sear or Not to Sear: Some people sear their roast first; I do not. If I'm going to use my slow cooker, why dirty another pan to cook the pot roast before it goes into the slow cooker? If you'd like to take that extra step to sear it first, I'm sure the slow cooker roast will be extra flavorful, although I can't imagine it tasting any better than it does without searing.
The Salt: The first time I made this pot roast recipe several years ago, I seasoned it with salt and pepper. The pepperoncini roast turned out SO salty! As a matter of fact, we disliked it so much I didn't make it again for two years. The ranch and gravy mixes have a lot of sodium, so there's no need to add salt! I also recommend unsalted butter and prefer to buy a low-sodium gravy mix if I can find it. Mississippi pot roast now makes an appearance on our table quite often.
The Butter: I think I have used a whole stick (½ cup) of butter a few times, but most of the time, I only use half of a stick (¼ cup), and we can't really tell any difference. If I buy a larger roast, I'll use the whole stick of butter on the pot roast.
The Peppers: My family is usually not a big fan of spicy peppers or even sweet peppers, so I wasn't sure how this pepperoncini roast recipe would go over. I'm happy to report everyone gave it a big thumbs up and loves the unexpected flavor and tenderness the pepperoncini add. I usually discard most of the peppers when serving the shredded beef, but I will save a few in case anyone wants them.
The Gravy: The au jus gravy and brown gravy mix are both excellent in a Mississippi pot roast recipe. The brown gravy mix makes the roasting liquid a little thicker than the au jus.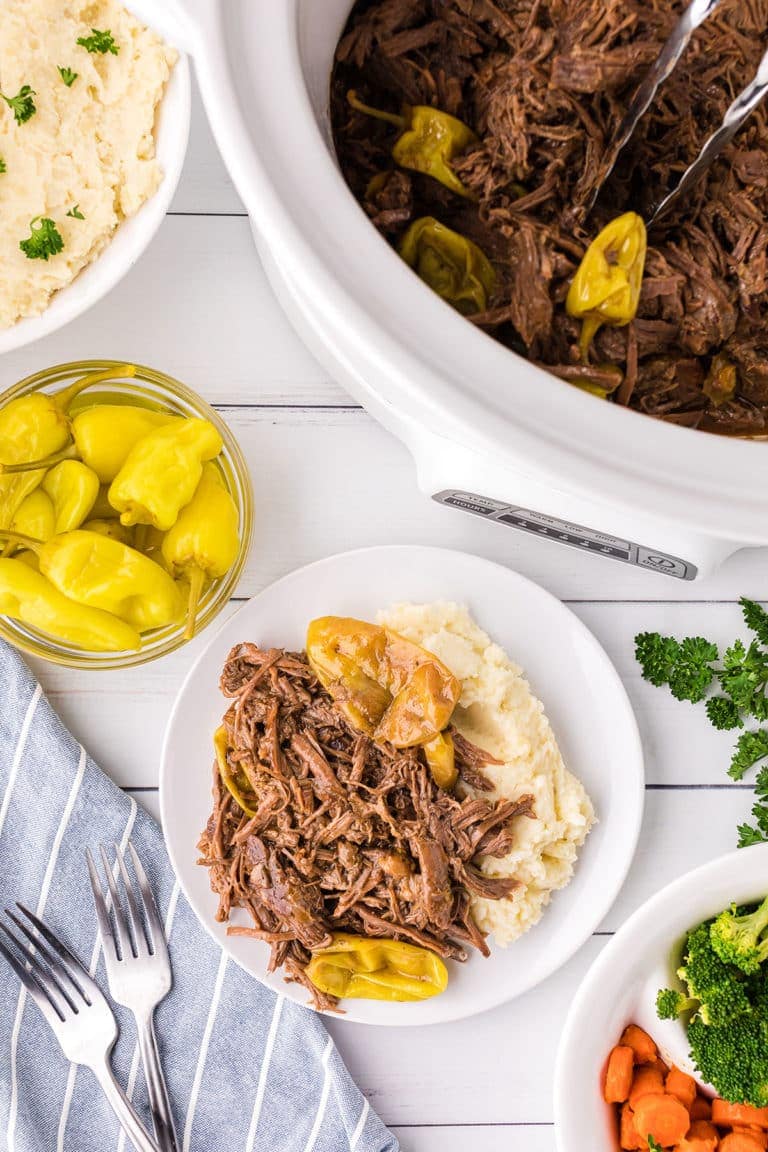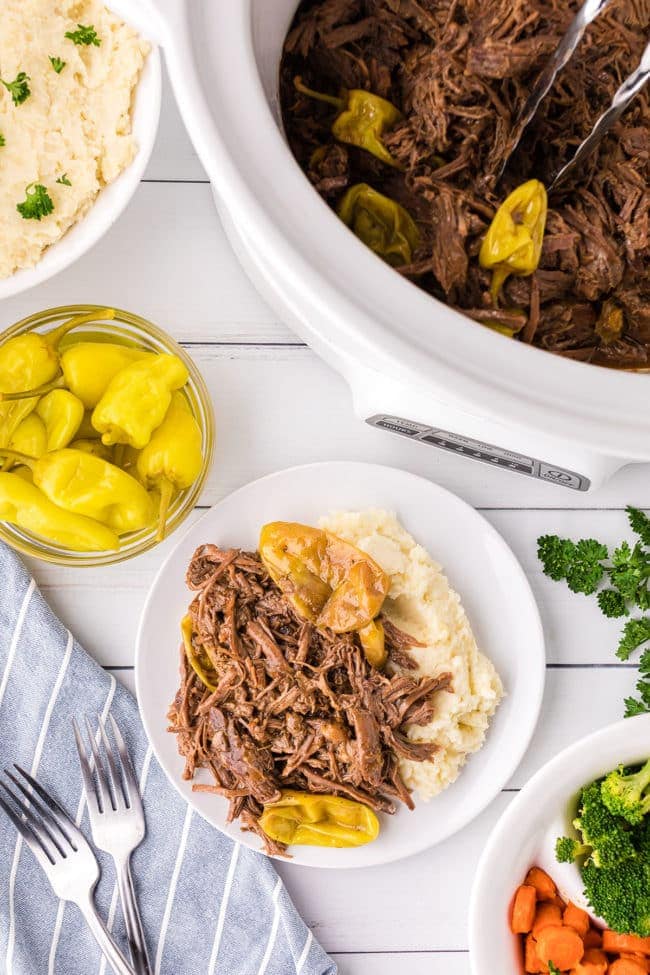 How To Store Slow Cooker Pot Roast
Slow cooker roast with pepperoncini is terrific as leftovers. This shredded beef roast recipe will keep in an airtight container for 3-4 days in the fridge.
Freeze
Mississippi pot roast leftovers can be frozen for up to 3 months. A time-saving hack is to freeze shredded beef in individual portions for sandwiches or enough for a dish you plan to make.
Reheat
You want to be careful when reheating shredded beef so it doesn't dry out.
Microwave – Always add some gravy/au jus to the shredded beef when microwaving. Cover it with a microwave-safe cover to trap the steam and retain moisture in the Mississippi pot roast. Run 60-90 seconds, then stir and check for hot spots. Return to the microwave, checking every 30-45 seconds, depending on the strength of your unit, until it's as hot as you like.
Oven or Toaster Oven – Use a glass dish and a piece of aluminum foil in a 325°F oven to reheat slow cooker beef. Spread shredded Mississippi pot roast evenly in a baking dish with juice and cover, baking until heated through. If your slow cooker roast seems dry, putting some thin butter pats here and there is a good hack.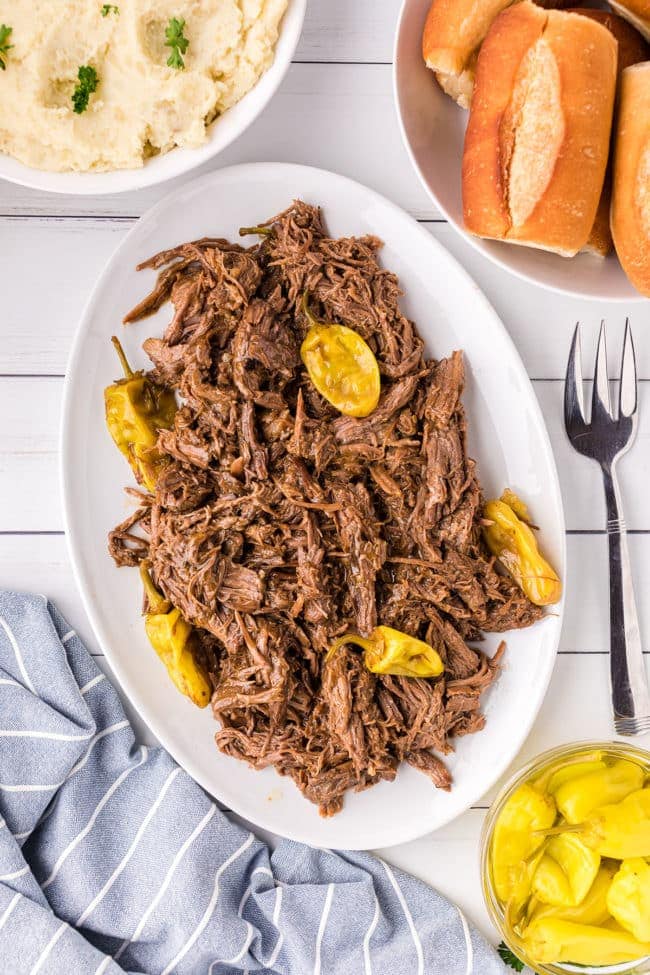 Recipe Variations
Sub in banana peppers for pepperoncini. They don't have quite the tangy "bite" as pepperoncini. However, they are also very flavorful in a Mississippi pot roast, a touch sweeter, and pre-sliced into nice little wheels.
Some folks like the added enhancement of a bay leaf in their Mississippi pot roast. And some claim a slow cooker roast doesn't have status without the addition of garlic, and garlic, and more garlic!
Baby carrots tossed in with the roast as it cooks are a bright and flavorful addition to a slow cooker pot roast.
Make a cornstarch slurry if you use the au jus mix, and prefer the Mississippi pot roast gravy to be a tad thicker. Add by the teaspoonful when you have lifted the roast out to shred. Stir and give the cornstarch a few minutes to do its thickening magic. Continue adding the slurry until you get the consistency you'd like.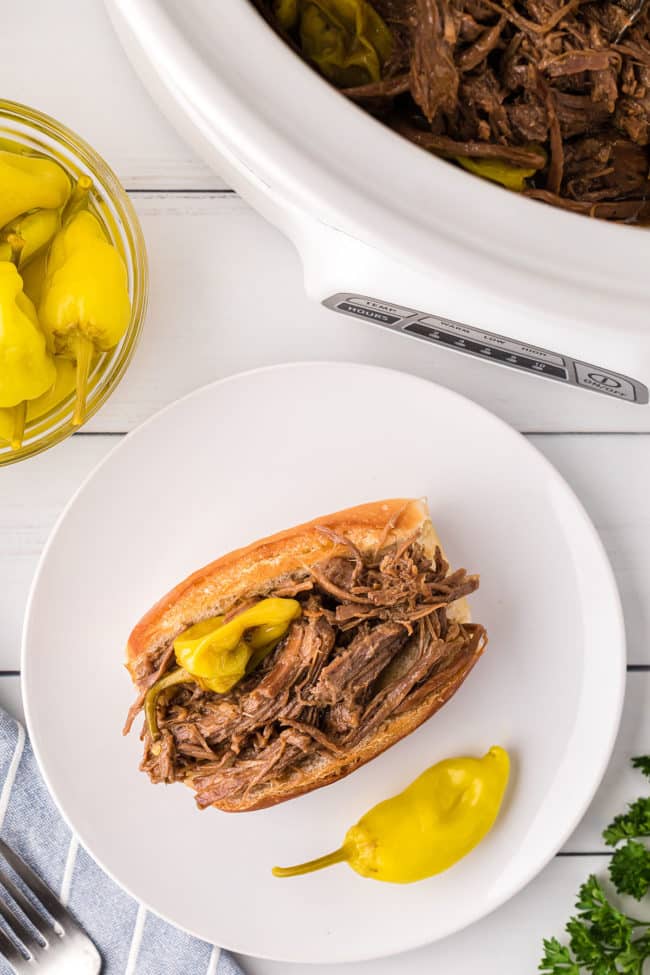 Slow Cooker Mississippi Pot Roast Serving Suggestions
We like to serve Mississippi pot roast with potatoes, carrots, green beans, or broccoli. (Or Fall Roasted Veggies!) Really almost any veggies go with this slow cooker roast.
Lightly toast hoagie rolls with butter and powdered garlic, add a layer of smoked provolone cheese, and top with reheated Mississippi pot roast. (That there's a "Mississippi Cheese Steak" to y'all)
Pair warm, slow cooker beef sandwiches with Easy Roasted Tomato Soup or Creamy Bacon & Potato Soup for a hearty winter soup and sandwich night!
Leftover pot roast makes a delicious sandwich! (Warm the shredded beef up a little, add some mayo and sweet pickles or cheese). We also love it in burrito bowls, shredded beef omelets, or tacos.
Like This Recipe? Pin It!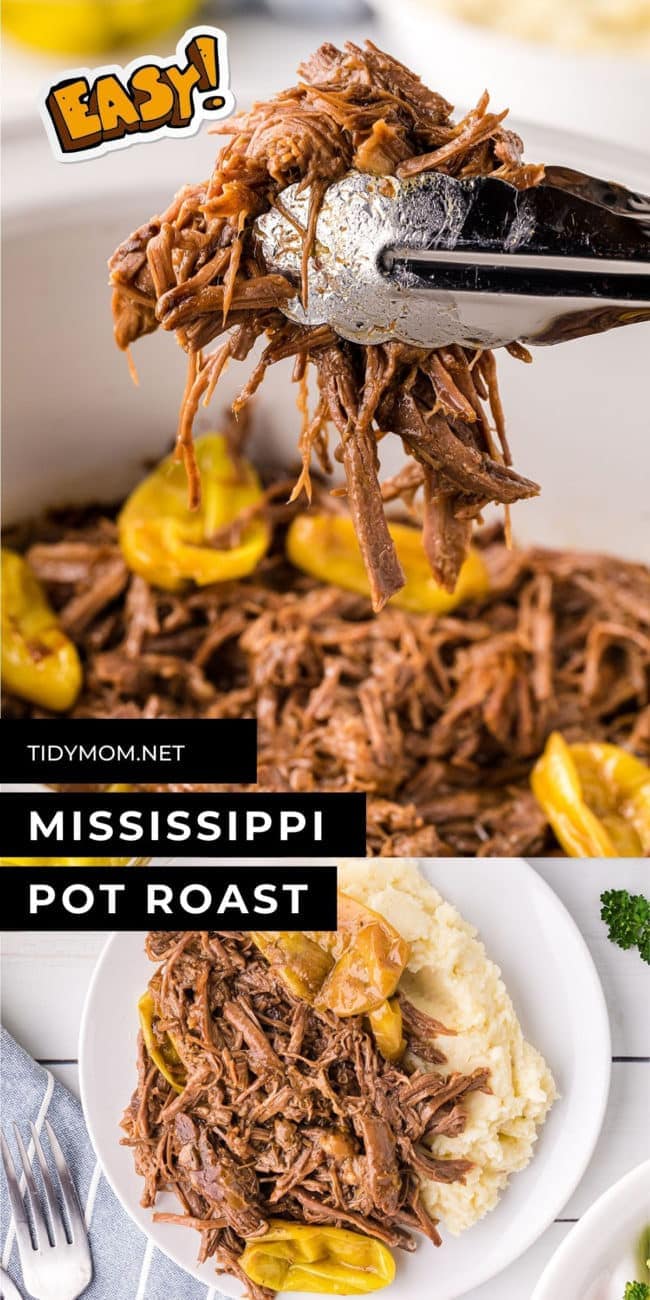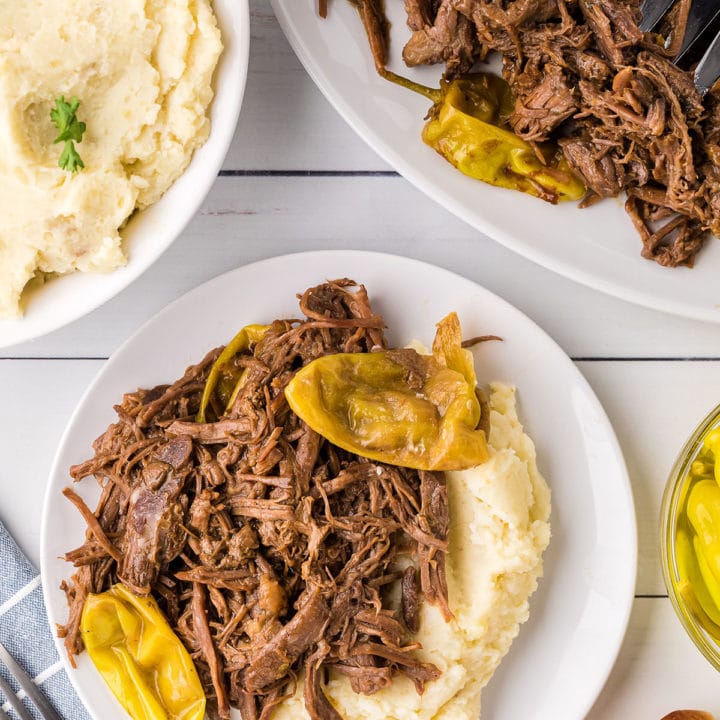 Mississippi Pot Roast Slow Cooker Recipe
Yield: 8 servings
Prep Time: 5 minutes
Slow Cook Time: 6 hours
Total Time: 6 hours 5 minutes
Crowd-pleasing one-and-done Mississippi Pot Roast is an authentic dump-and-go slow cooker recipe! Fall-apart tender and flavorful with tangy pepperoncini.
Ingredients
3 pound chuck roast (or rump roast)
1 packet dry ranch dressing mix
1 packet au jus gravy mix (or brown gravy mix)
¼-½ cup unsalted butter*
6-8 pepperoncini peppers
¼ cup Pepperoncini juice (from the jar of pepperoncini)
Instructions
Place the roast inside your slow cooker.
Sprinkle both the ranch dressing and au jus dry seasoning packets over the roast.
Place the peppereroncini peppers on or around the roast. Pour the juice around the roast and place ½ stick of butter on top of the roast.
Turn on low for 7-8 hours or on high for 4-6 hours (the thicker your roast the longer time you will need to cook). Once fork tender, use 2 forks to shred the roast, discard any fatty pieces and serve warm with the gravy, and with or without the pepperoncini.
Notes
The leftovers are wonderful will keep in the fridge in an airtight container for 3-4 days in the fridge.
Leftover can be frozen for up to 3 months. Freeze individual portions.
Leftover pot roast makes a wonderful in a sandwich (warm it up a little then add some mayo and sweet pickles or cheese). We also love it in burrito bowls or tacos.
To cook in the oven: In a dutch oven, sear the roast on each side until brown. Let it cool down a bit then add the seasoning packets, peppers, juice, and butter. Then cover and place in a 300°F oven for 1 hour per pound.
Nutrition Information:
Yield: 8
Serving Size: 1
Amount Per Serving:
Calories: 516
Total Fat: 33g
Saturated Fat: 15g
Trans Fat: 2g
Unsaturated Fat: 16g
Cholesterol: 157mg
Sodium: 1516mg
Carbohydrates: 13g
Fiber: 2g
Sugar: 7g
Protein: 44g
Nutrition information is estimated based on the ingredients and cooking instructions as described in each recipe and is intended to be used for informational purposes only. Please note that nutrition details may vary based on methods of preparation, origin, and freshness of ingredients used and are just estimates. We encourage, especially if these numbers are important to you, to calculate these on your own for most accurate results.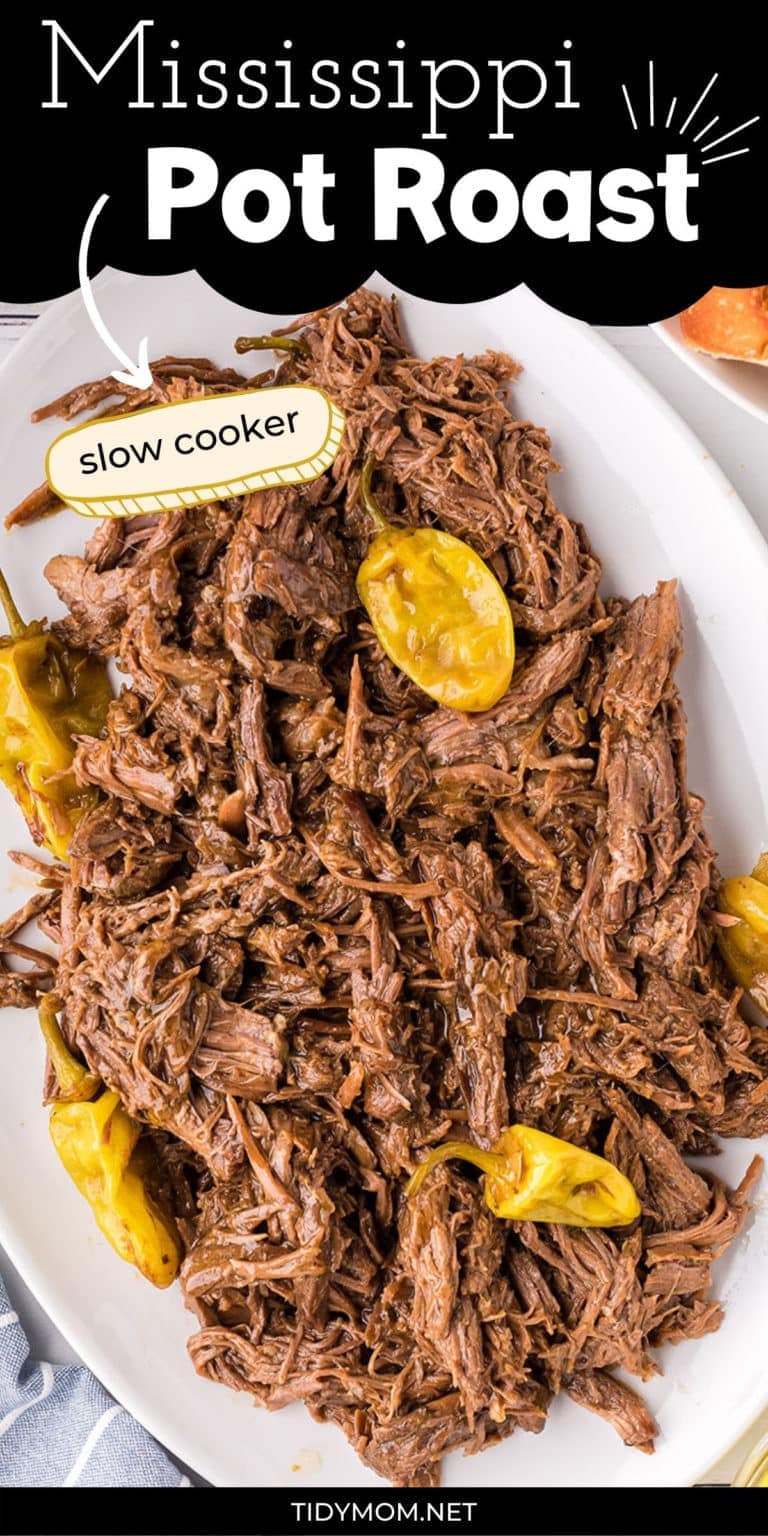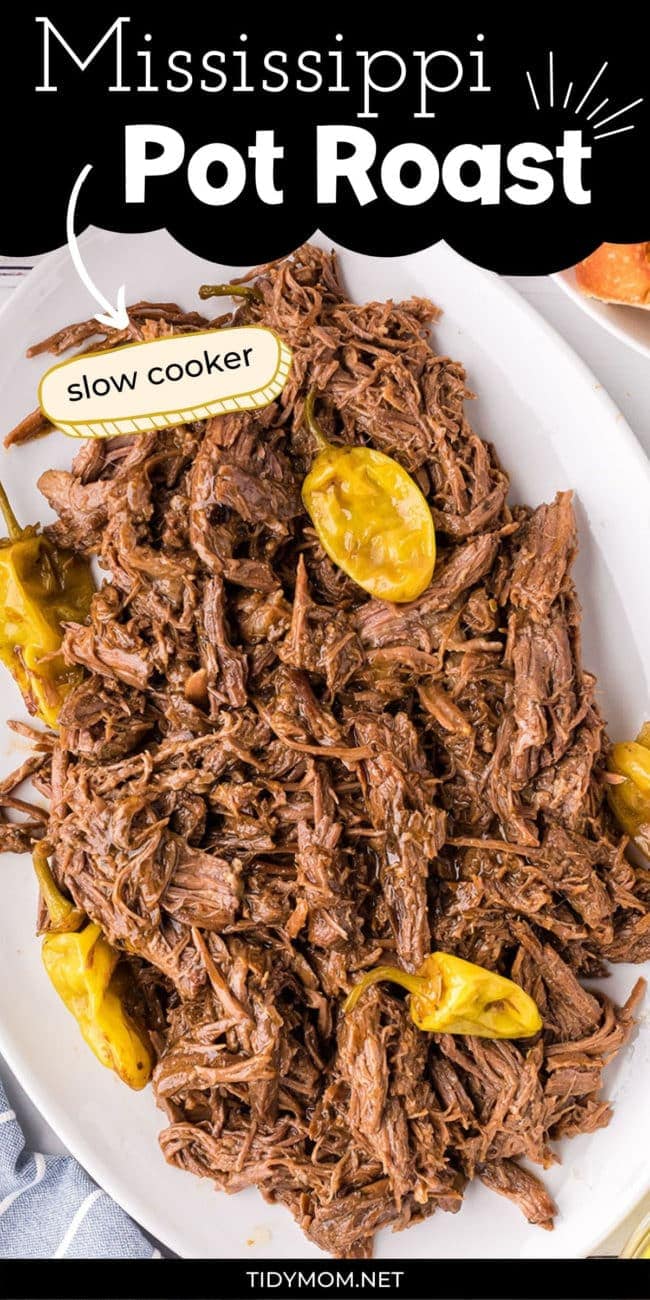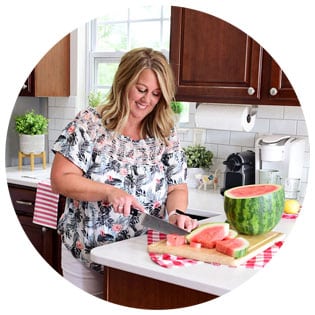 Hi there, I'm Cheryl!
As a wife, mom, and caffeine enthusiast, my journey has taken me from bustling mornings with my family to sharing delicious recipes, home care tips, and heartfelt decorating insights with wonderful readers like you. My love for baking, photography, and tidiness shines through every post I craft. Dive into my world and discover the art of homemaking, one tidy moment at a time. Read more...
Tidymom is a participant in the amazon services llc associates program, an affiliate advertising program designed to provide a means for sites to earn advertising fees by advertising and linking to Amazon.com.
Please respect my work, recipes and photographs. If you do use a recipe in your own writing, please give proper credit and link back to the original post.