Garlic Cheese Bread Recipe With Cream Cheese
Cheesy Garlic Bread takes your dinner loaf from dull to delectable with cream cheese! French bread slathered in creamy, cheesy garlic with a hint of heat. The incredible flavor that makes any meal special!
Cheese-centric garlic bread is made for pasta recipes, especially those "all-in-one" meals like Cheesy Chili Mac, Homemade Lasagna, Three Cheese Baked Mostaccioli, or One-pot Lemon Artichoke Pasta. Want to throw a refreshing cocktail into the mix to cleanse the palate? How about an Aperol Spritz or a Sparkling Cucumber Gimlet?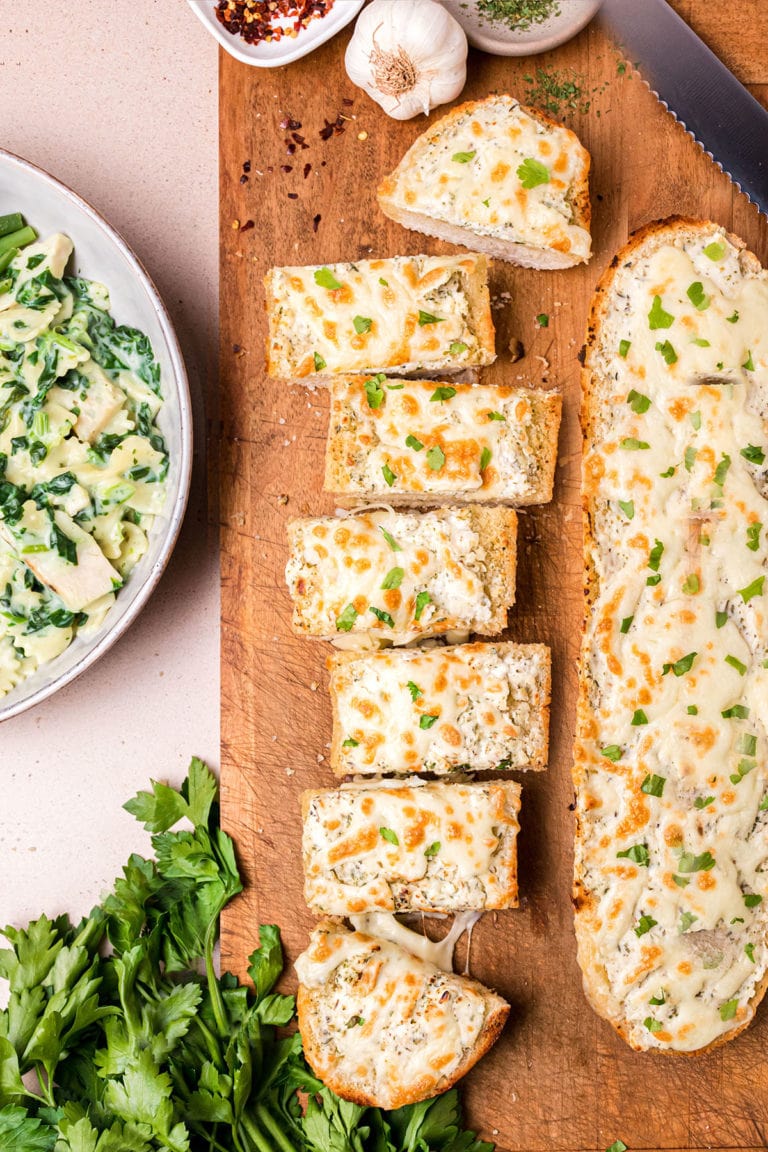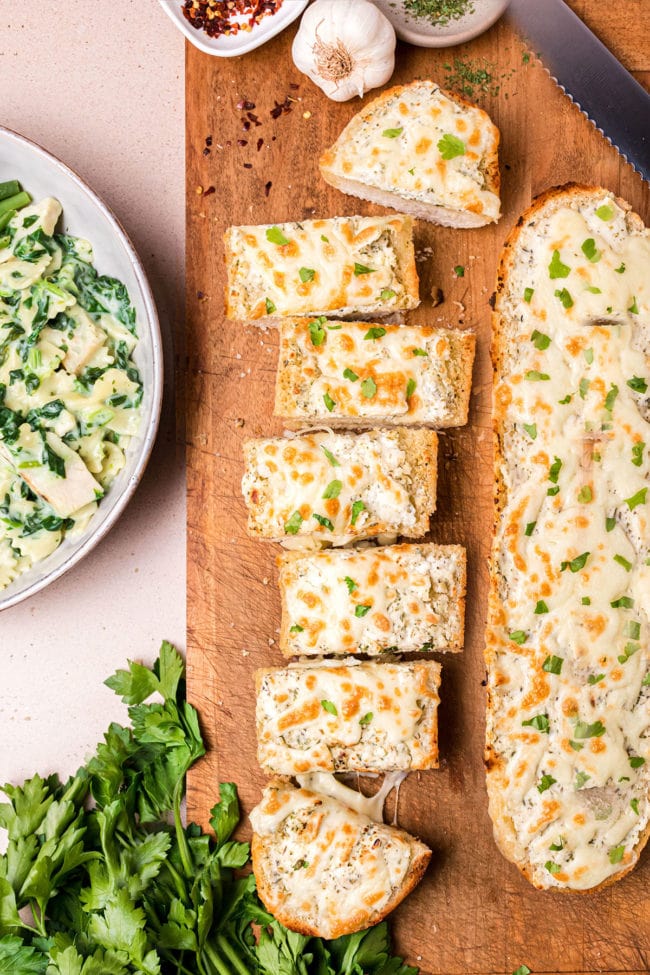 Why You'll Love Cream Cheese Garlic Bread
This garlic cheese bread is foodie nirvana. A thick, smooth layer of cream cheese, herbs, and garlic – transforms blase bread into bites of bliss.
Three creamy, melty cheeses are delectable on garlic bread.
The addition of Italian seasoning adds flavorful depth.
Crushed red pepper flakes provide a complementing touch of warmth.
Garlic cheese bread is a side dish all on its own.
Convenient using a store-bought loaf of bread.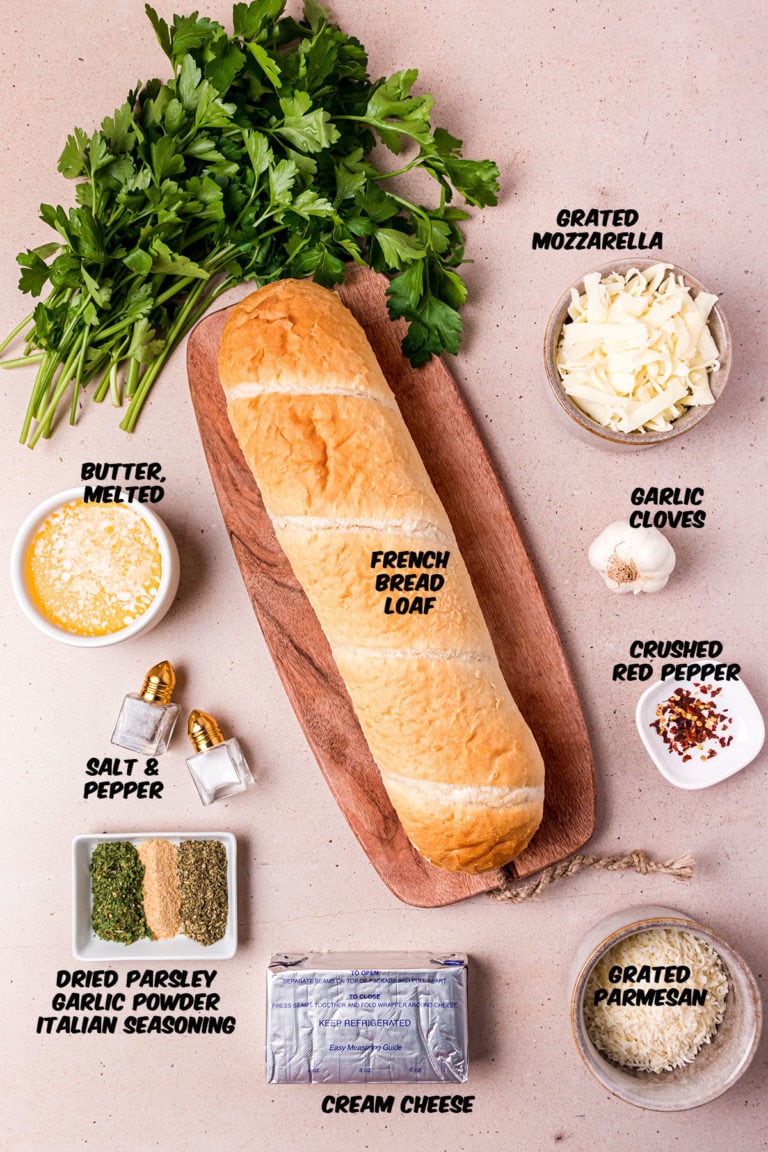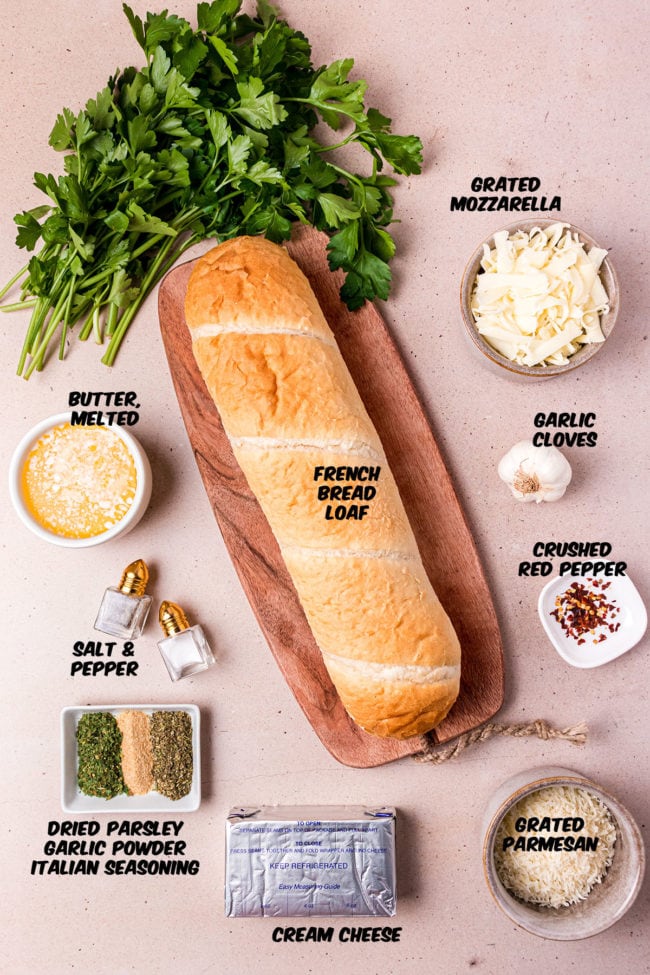 Ingredients To Make The Best Garlic Cheese Bread
Just a few simple ingredients can transform a basic loaf of French bread into pure golden, gooey cheesy bliss.
For specific amounts, please refer to the printable recipe card at the bottom of the post.
Seasoned Garlic Butter Mixture
Butter – nearly melted
Garlic Powder
Dried Parsley
Double Cheese Garlic Mixture
Cream Cheese – softened 8oz brick
Parmesan Cheese – freshly grated
Cloves Garlic – minced
Italian Seasoning -a dried herb mix that can vary with oregano, thyme, basil, marjoram, parsley, and sometimes sage or rosemary, among others.
Crushed Red Pepper – just a pinch; crushed red pepper flakes can also be used but are slightly hotter than chili flakes.
Salt & Pepper – to taste
Final Toppings
Mozzarella – grated part-skim, low-moisture. Raw mozzarella is soft, wet, and does not melt smoothly.
Parsley – for garnish
This post may contain affiliate links. Please read my disclosure policy here.
How To Make Garlic Cheese Bread With Cream Cheese
Cheese toast is pretty basic- I'll give you that. But it doesn't have to taste that way! The secret to really great cheesy garlic bread is multiple cheeses and a dash of heat. As for basics, you'll need a serrated edge knife, parchment paper, aluminum foil, and a sheet pan to make this garlic bread recipe.
When you are baking, you'll want to use the full recipe at the bottom of the page.
Place the two halves of horizontally sliced bread on a parchment-lined baking sheet, with the cut side up. Combine and spread the garlic butter mixture evenly over each side of the bread.
Put the cut and buttered sides together, cover in aluminum foil, and bake in preheated oven for 15 minutes.
Meanwhile, combine the double cheese garlic mixture to spread evenly on each half once it's removed from the oven, then sprinkle grated mozzarella over the creamy garlic cheese spread.
Watching closely, broil garlic bread 4-6 inches from the broiler element for a couple of minutes until the cheese is bubbly and golden brown.
Remove garlic cheese bread from the oven and cool slightly before slicing. Garnish with parsley and serve warm.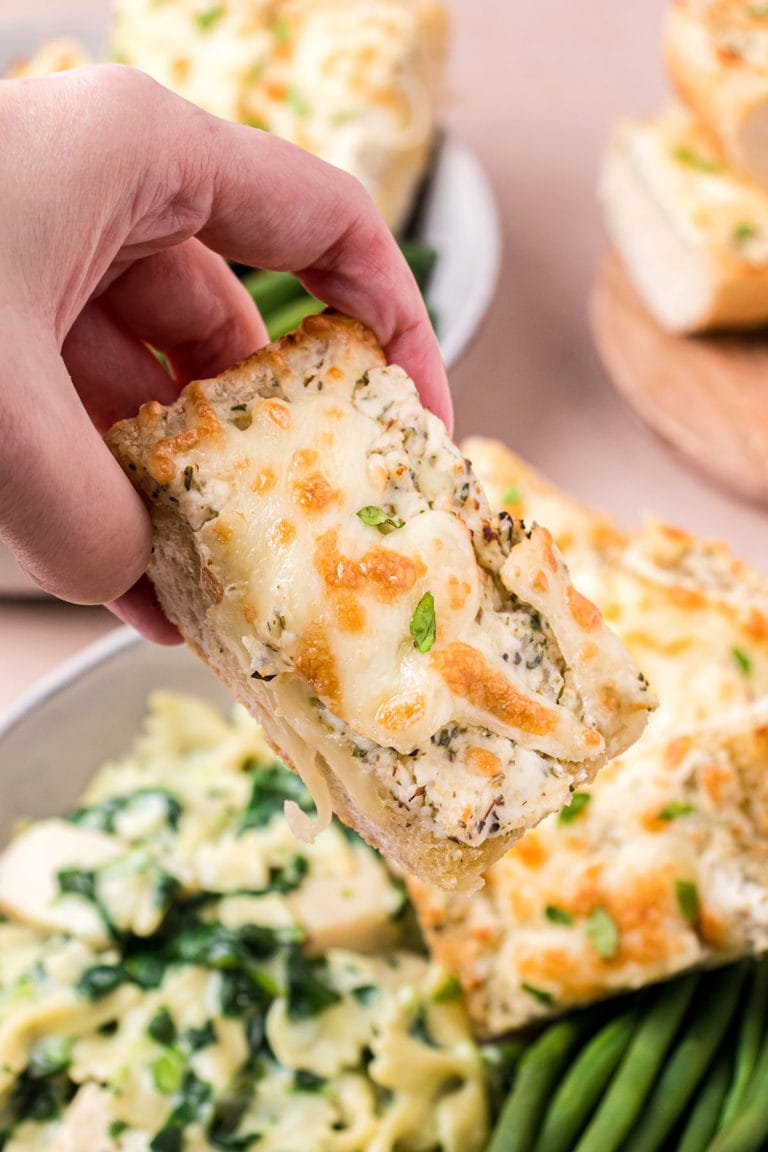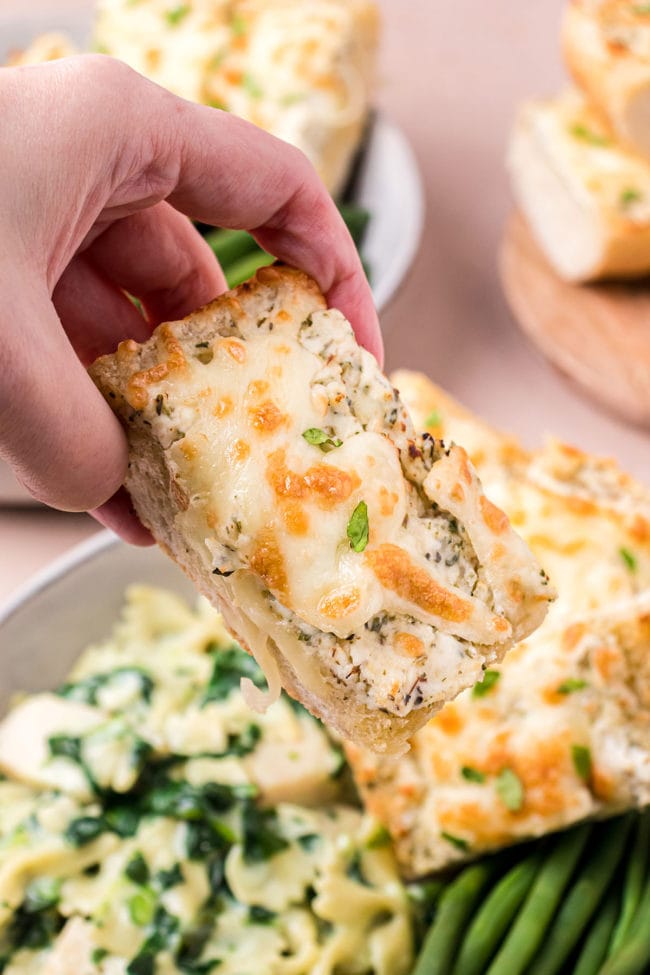 Cheesy Garlic Bread Recipe Notes
Be sure to let the cheese get nice and golden brown because that's cheese bread gold, baby! At our house, there have even been fights for the crispy, almost burnt pieces……. so be warned.
You want your butter melty but not completely liquified/overheated, so start the melting process but remove from heat when it is only half melted and stir until softened throughout. Overheated butter will begin to bubble/foam when the water separates from the solids. When the bubbles collapse, the residue is oily as opposed to buttery.
You can use regular or low-fat cream cheese as long as it is brick cheese. The soft, whipped cream cheese tub has a higher water content and will not create the creamy, gooey cheese layer everyone craves on garlic cheese bread.
Chili flakes are not the same as red pepper flakes. Chili flakes are made from one type of chile pepper with the seeds and stem removed. On the other hand, crushed red peppers are usually a combination of red peppers that include the seeds and stems, run a bit "warmer," and carry a more intense spice impact than chili flakes. Use whichever you prefer.
If you are a teensy bit worried about the heat from the pepper flakes, go with pepper jack cheese instead of the mozzarella, and you'll love it!
For cheesy garlic bread, density matters. You want to have a crust and crumb that can hold up to the topping layers. Baggettes and ciabatta are good options; sourdough loaves provide excellent structure and bake well, adding a savory tang.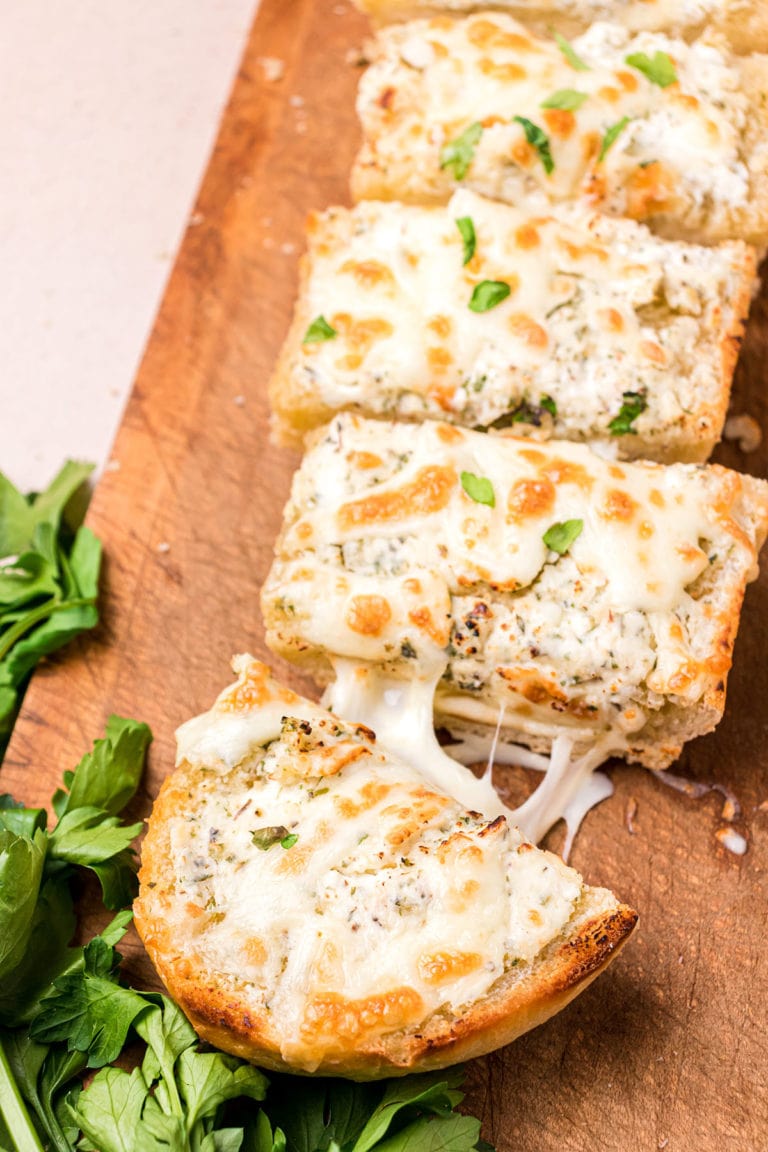 How To Store Garlic Bread With Cream Cheese
Use the parchment paper between pieces of leftover garlic bread where the cheese will overlap, then wrap with the foil used earlier in the recipe. (Reuse-repurpose!)
Refrigerate/Leftovers
Leftover garlic cheese bread should be kept in the fridge for up to 2-3 days.
Freeze
You can freeze leftover garlic bread as long as it is well-wrapped for a short period of time. Slide the foil-wrapped loaf into a freezer bag, removing as much air as possible.
Reheat
Take frozen garlic bread out of the freezer and thaw overnight. Allow refrigerated garlic cheese bread to warm to almost room temp, then reheat it in the oven at 350°F until the cream cheese layer is hot. Do not overcook.
Cheesy Garlic Bread FAQs
What is the best cheese for garlic cheese bread?
The obvious answer is the kind you like, with a caveat or three…:) We are all aware that some cheeses melt better than others. Creamy cheeses like Monterey Jack, colby, cheddar, mozzarella, and provolone will melt and blend well on a garlic cheese bread recipe with cream cheese.

For that creamy consistency, you want to avoid low-fat, wet, or hard cheese that won't melt. Packaged shredded cheese is coated in starches and anti-caking ingredients that won't melt well.
Can you use Italian bread instead of French bread for cheesy garlic bread?
Yes! You can use almost any (unsliced) loaf to make golden garlic cheese bread. Bread with a firmer crumb is optimal as it can hold the weight from the creamy cheese layers.
What is the difference between garlic bread and garlic toast?
Although the phrase garlic bread or garlic toast is often used interchangeably, garlic bread formally refers to a loaf of bread buttered, seasoned, and broiled. Garlic toast is a single slice of bread following the same process.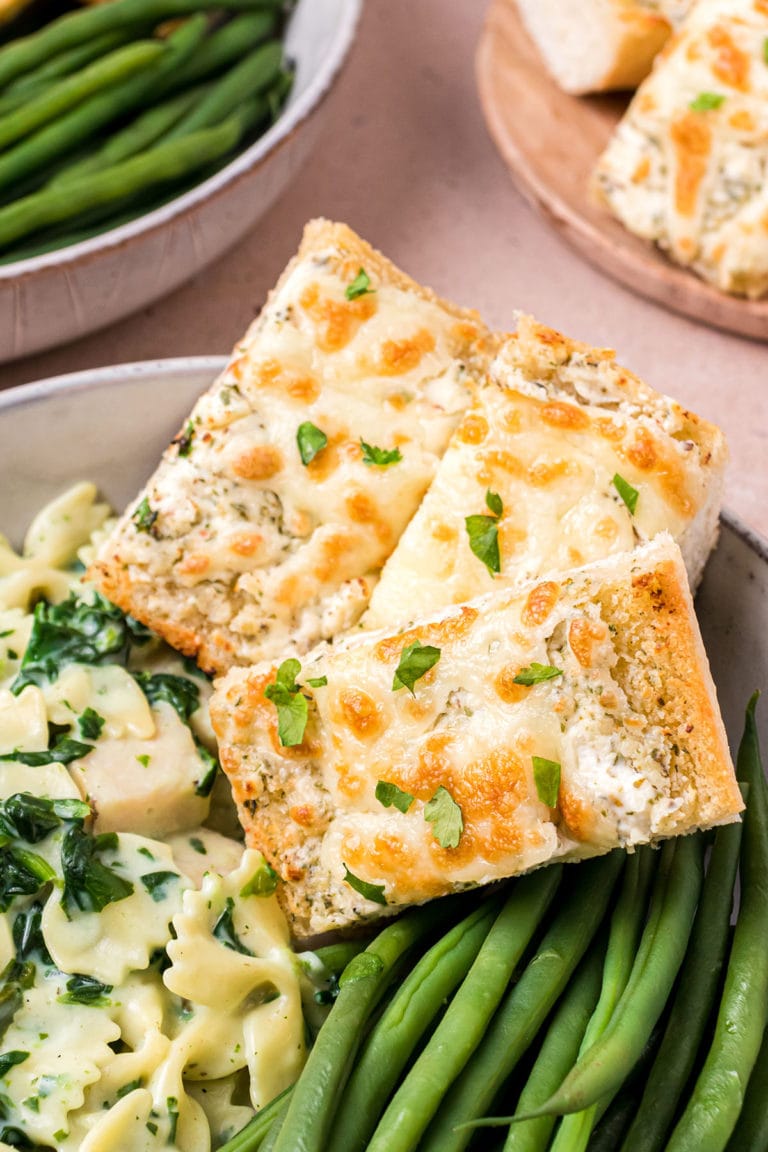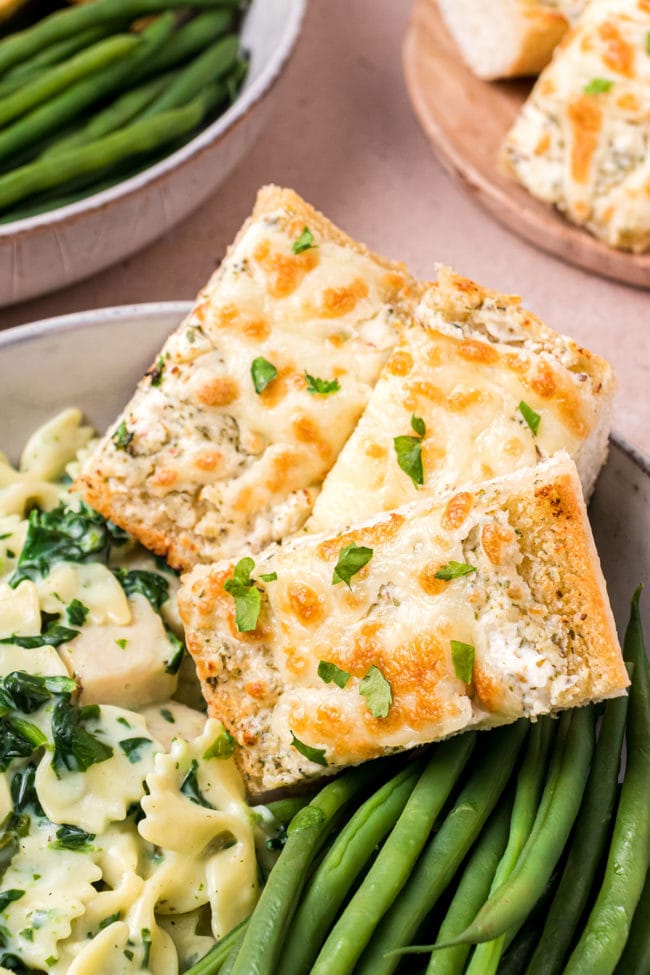 Garlic Cheese Bread Serving Ideas
Garlic bread can really punch up a simple single-bowl meal or fancy up a dinner party for friends or family.
Want a worthy I-deserve-it cheat day delight? Combine golden cheese garlic bread with a simple one-pan Chicken Gnocchi With Sun-Dried Tomato dish. OMGood!
While writing this article, I got inspired to try this bread recipe with my Mississippi Pot Roast as a sandwich. My mouth is watering thinking about it.
You can always serve cheesy bread as an appetizer, cut into 1" thick slices, and topped with meat or veggies. Mushrooms broiled under the mozzarella layer sound divine!
Try serving garlic cheese bread with a Caprese Pasta Salad or a lighter Cherry Tomato & Basil Salad.
Of course, you can't beat garlic cheese bread with homemade pizza!
Like This Recipe? Pin It!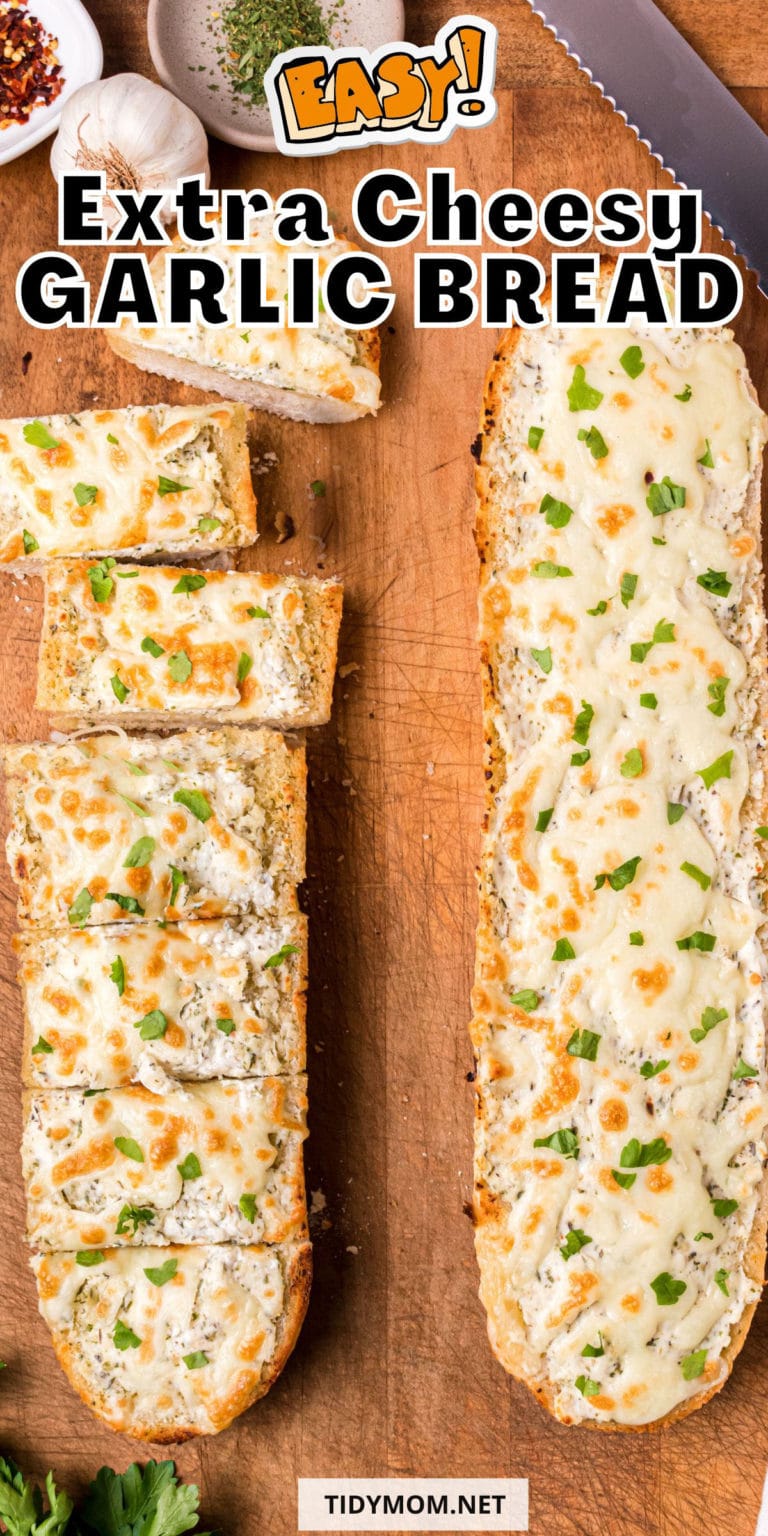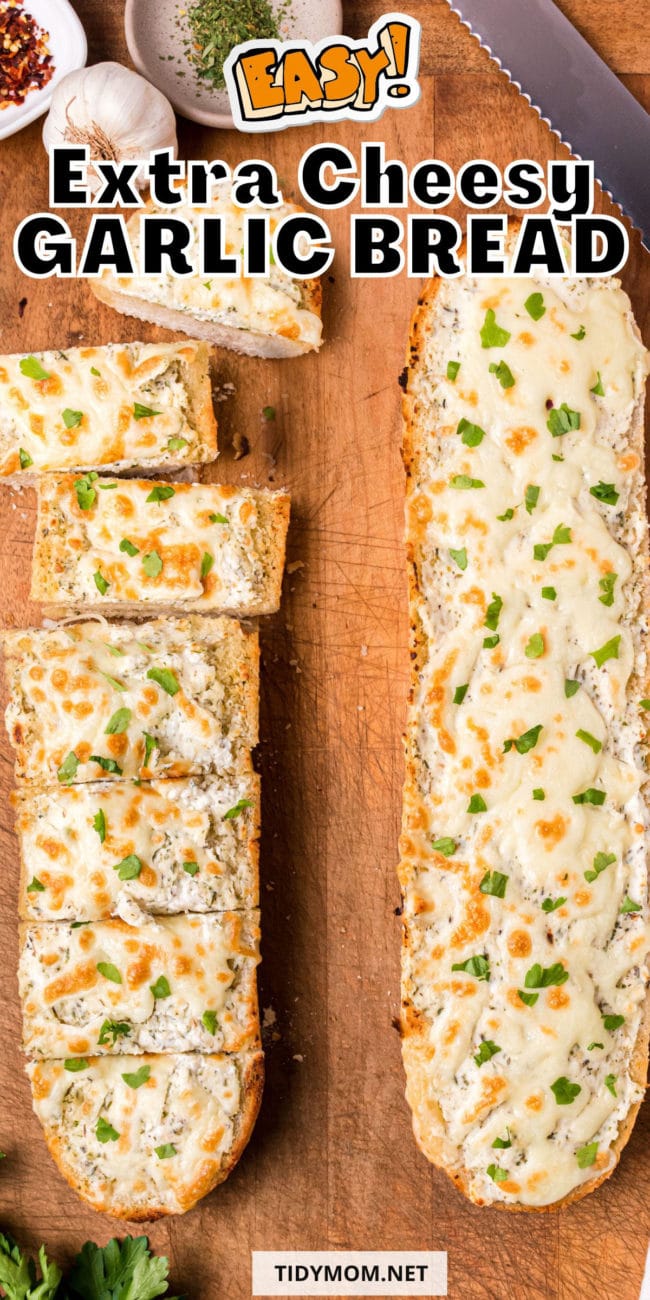 Originally posted in October 2009. UPDATED November 2018 and September 2023. We spiffed up this post with more information and 1 change to the recipe: I now use white chili beans in place of cannellini beans.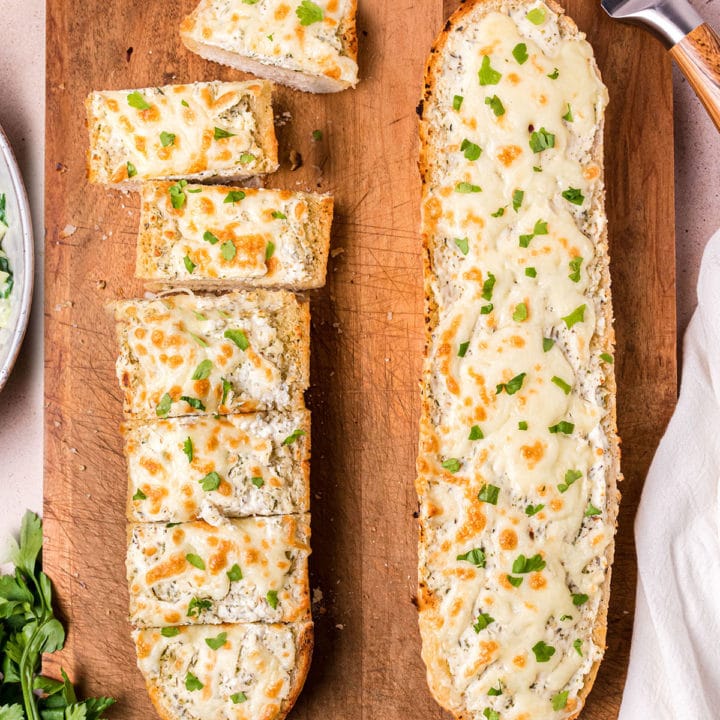 Garlic Cheese Bread
Yield: 10 servings
Prep Time: 10 minutes
Cook Time: 18 minutes
Additional Time: 5 minutes
Total Time: 33 minutes
Cheesy garlic bread takes your dinner loaf from dull to delectable with cream cheese! French bread slathered in creamy, cheesy garlic with a hint of heat is terribly easy to make.
Ingredients
1 loaf of Italian Baguette or French Bread
1/2 cup butter, nearly melted
3/4 teaspoon garlic powder
1 teaspoon dried parsley
8 ounces cream cheese, softened
4 tablespoons grated parmesan cheese
2-3 cloves garlic, minced
1 teaspoon Italian seasoning
pinch crushed red pepper (optional)
salt and pepper, to taste
1 cup grated mozzarella
parsley for garnish
Instructions
Pre-heat oven to 400° degrees F. Line a baking sheet with parchment paper.
Slice loaf of bread lengthwise so that you have two long pieces to work with. Place the bread on the baking sheet, cut side up.
Using a small bowl, stir garlic powder and parsley into the melted butter and spread or pour evenly over each half of bread.
Put the bread back together (cut and buttered sides together), cover in aluminum foil and bake in the oven for 15 minutes.
While bread is in the oven, use a small bowl to combine cream cheese, parmesan, minced garlic, Italian seasoning, and crushed red pepper. Season with salt and pepper to taste.
Remove bread from oven, and turn oven to broil.
Open bread back up, place cut side up on parchment lined baking sheet. Using a spatula, spread the cheese mixture onto the cut sides of the bread. Sprinkle with grated mozzarella.
Leave bread open faced at this point. Place in the oven, 4-6 inches from the broiler, and heat until cheese is bubbly and brown, about 2-3 minutes. (stay close by and keep checking, this happens pretty quickly)
Remove from the oven and allow to cool slightly before slicing. Garnish with parsley and serve warm
Notes
leftover garlic cheese bread, wrapped in foil should be kept in the fridge for up to 2-3 days.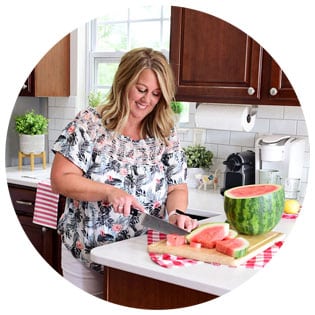 Hi there, I'm Cheryl!
As a wife, mom, and caffeine enthusiast, my journey has taken me from bustling mornings with my family to sharing delicious recipes, home care tips, and heartfelt decorating insights with wonderful readers like you. My love for baking, photography, and tidiness shines through every post I craft. Dive into my world and discover the art of homemaking, one tidy moment at a time. Read more...
Tidymom is a participant in the amazon services llc associates program, an affiliate advertising program designed to provide a means for sites to earn advertising fees by advertising and linking to Amazon.com.
Please respect my work, recipes and photographs. If you do use a recipe in your own writing, please give proper credit and link back to the original post.