Chili Mac, Cheesy Chili And Macaroni Casserole
This post may contain Amazon or other affiliate links. As an Amazon associate, I earn from qualifying purchases.
A simple combination of dynamic flavors for a tasty, Cheesy Chili Mac recipe the whole family will love. Tender macaroni bathed in flavorful homemade chili and smothered in bubbly melty cheese. Hello, delicious!
We'll take a chili or pasta dish around here any way we can! Check out these yummy dishes and shake up your dinner routine: Smoked Sausage & Roasted Red Pepper Fettuccini, Creamy Taco Chili, Buffalo Chicken Mac n Cheese, or One-Pot Lemon Artichoke Pasta.
Be sure to sign up for my email… to get new recipes and ideas in your inbox!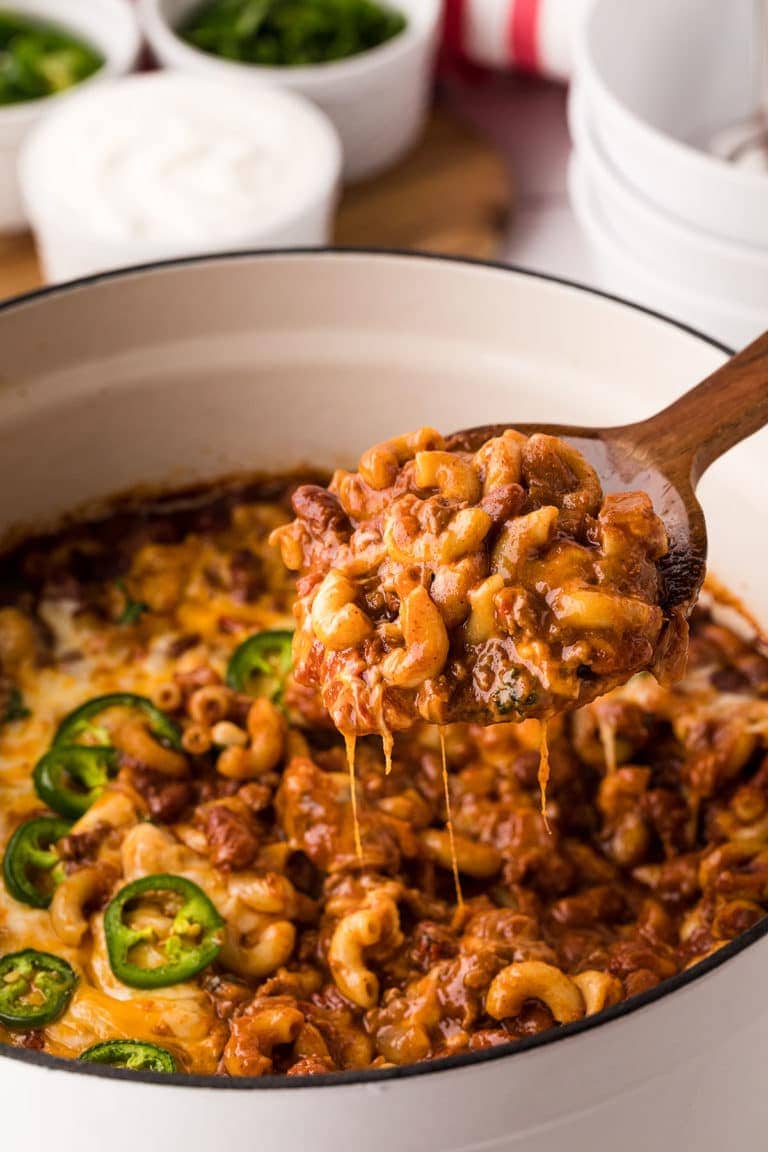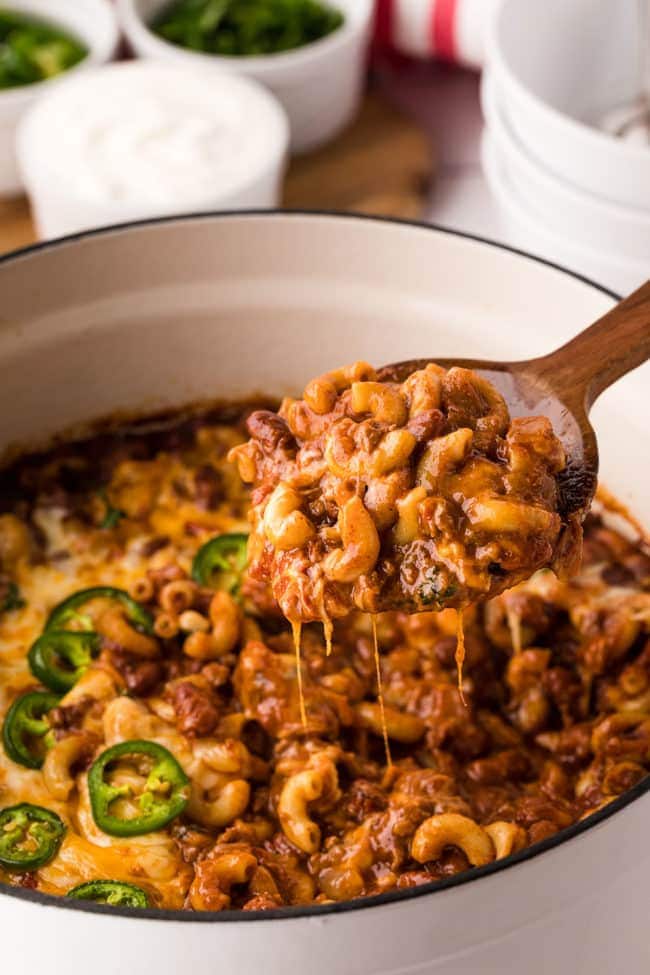 Why Cheesy Chili Mac Is Love At First Bite!
Once chili season starts, it's fun to find dishes that incorporate this hearty, protein-rich, and satisfying "meat and bean stew" into a different type of meal. Cheesy chili mac is a nutritious and satisfying mouthful of happiness with the robust combination of two comfort foods in one dish!
Chili mac is an excellent one-pot meal. Fewer dishes and more flavor.
A simple and flavor-packed saute, simmer and savor chili mac recipe.
Chili mac and cheese is a tasty dish everyone will enjoy.
Easily customizable with various toppings.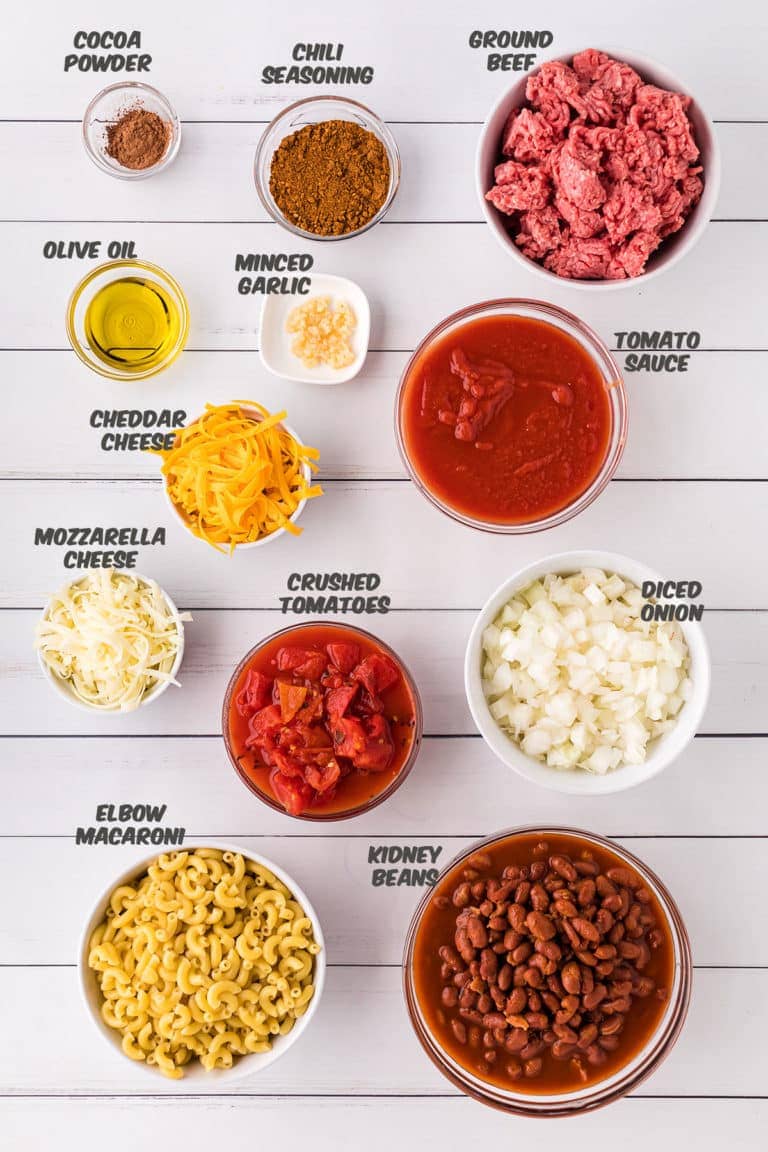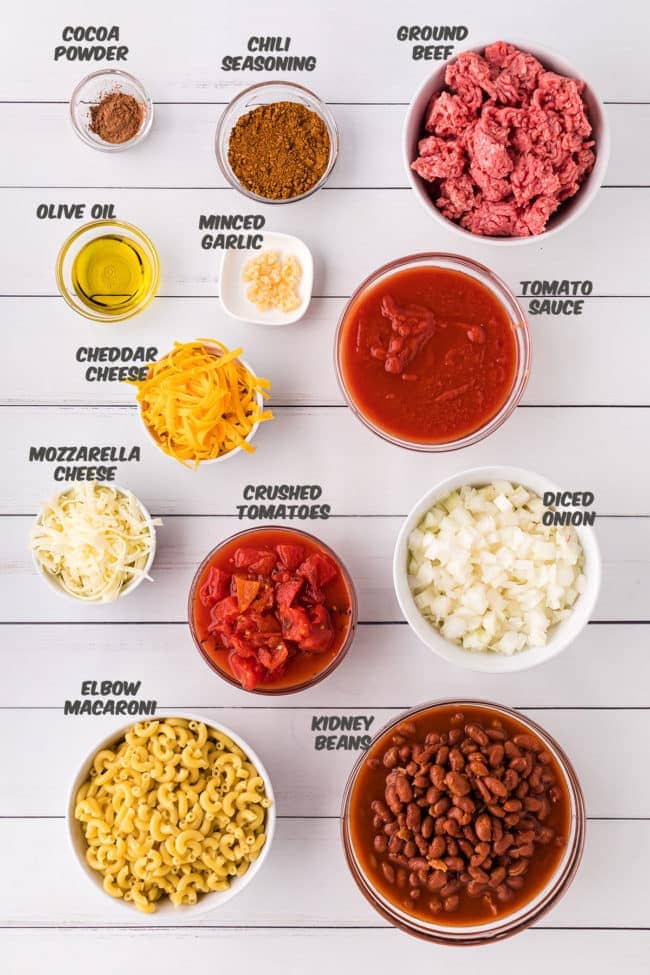 Chili Cheese Mac Ingredients
For specific amounts, please refer to the printable recipe card at the bottom of the post.
Elbow Macaroni Pasta – cooked al dente and drained
Olive Oil
Yellow Onion – Diced
Garlic Cloves – minced
Ground Beef – for the most flavor, it's always better to use a higher fat content of 80/20 beef for chili or a chili mac recipe.
Kidney Beans – I use Bush's chili beans in mild chili sauce.
Crushed Tomatoes – my go-to is fire-roasted crushed tomatoes for the sweet, smoky notes.
Tomato Sauce
Chili Seasoning Packet – or 4-5 tablespoons of easy homemade chili seasoning.
Cocoa Powder – unsweetened, of course; dark cocoa will add deeper, smokier notes than lighter cocoa.
Cheddar Cheese – shredded block cheese is the best for flavor and melting without anti-caking stuff added. But, hey, sometimes a pre-shredded cheese is just gonna have to suffice! 😁
Mozzarella Cheese – shredded mozzarella is typically low moisture, so no problem. If you opt to grate your own, you definitely want a low-moisture block for melting. Fresh Mozza only partially melts and releases a lot of water!
Toppings: Jalapeños, Chopped Cilantro, And Sour Cream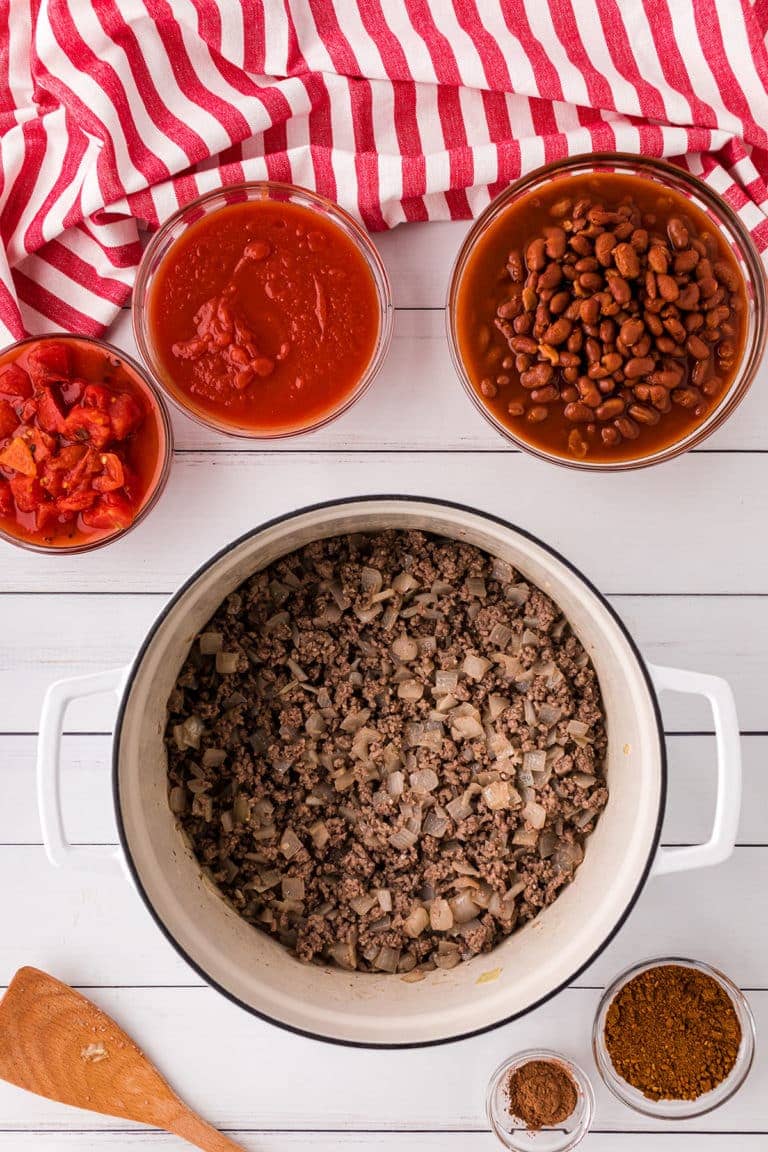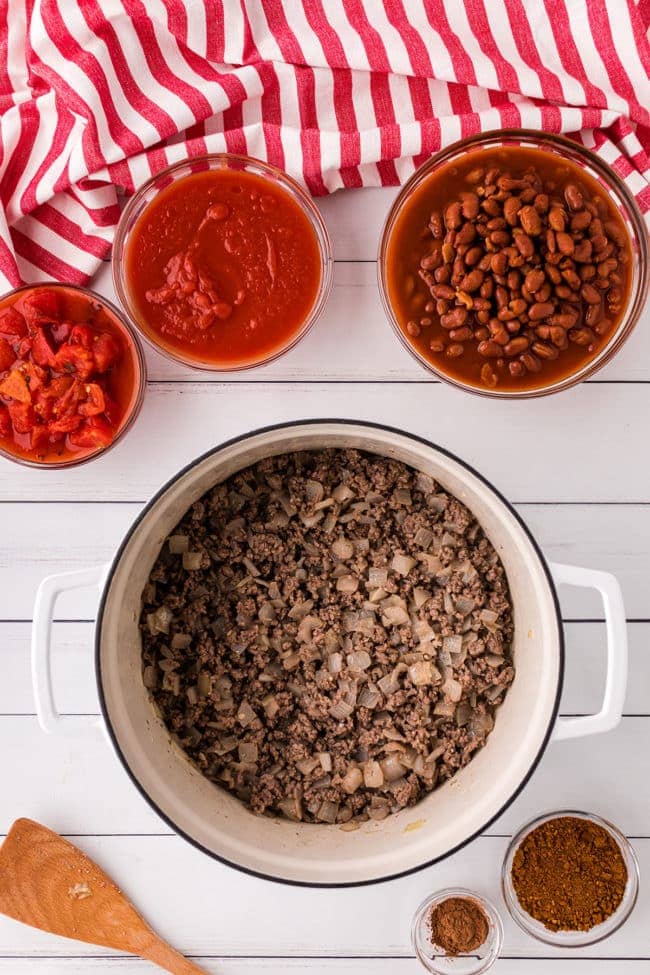 This post may contain affiliate links. Please read my disclosure policy here.
How To Make Cheesy Chili And Macaroni Casserole
This chili goes in the oven for a few minutes to melt the cheese, so you're going to need an oven-proof pot, like a dutch oven.
When you are baking, you'll want to use the full recipe at the bottom of the page.
Start with olive oil, diced onions, and minced garlic; add and brown the ground beef.
Stir chili beans, tomatoes, tomato sauce, chili seasoning mix, and cocoa powder into the pot, cover, and simmer.
Meanwhile, cook and drain the pasta, then combine it with chili.
Top chili mac with cheese and broil until cheese is melted and bubbling.
Serve chili mac hot with sliced jalapeños, chopped cilantro, sour cream, or any of your favorite toppings. Enjoy!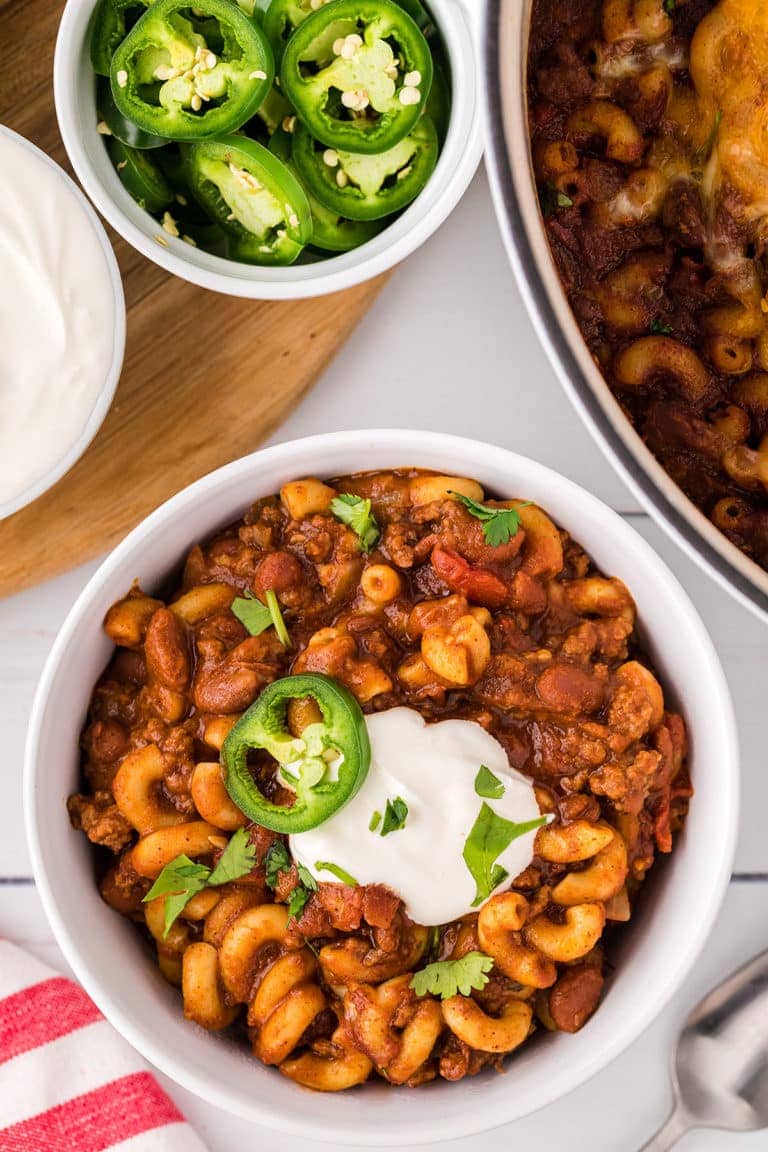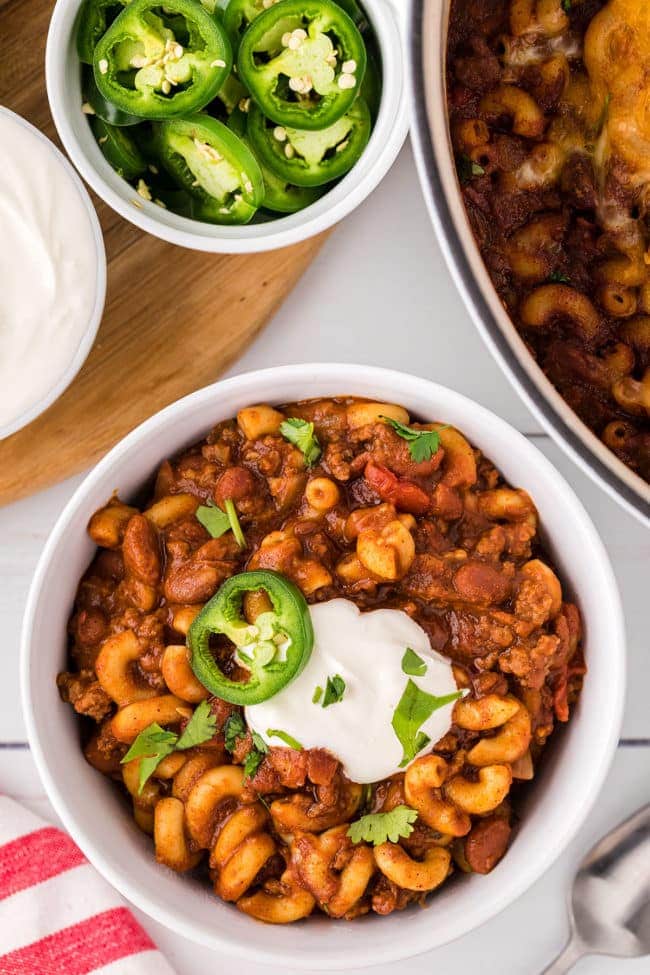 Recipe Notes and Tips
Bush's beans come in a chili sauce, which is why I love their chili beans! All that flavorful sauce goes right in the pot with the beans (do not drain).
If you use regular kidney beans or any bean not canned in chili sauce, drain them for this chili mac recipe.
Cocoa powder is optional, but if you've never added unsweetened cocoa to a chili mac recipe, I highly recommend it!
You can substitute any ground meat you prefer: like chicken, pork, or turkey, for example.
Need the heat? Add dried pepper flakes, green chiles, pepper jack cheese, or cayenne pepper.
Watching calories or dairy? I've been known to skip the cheese and simply serve the chili over pasta!
Kick your chili mac recipe up a notch by adding banana pepper rings right before broiling. The acid in the pepper juice adds tang and brightens the cheesy, savory elements in a cheesy chili mac.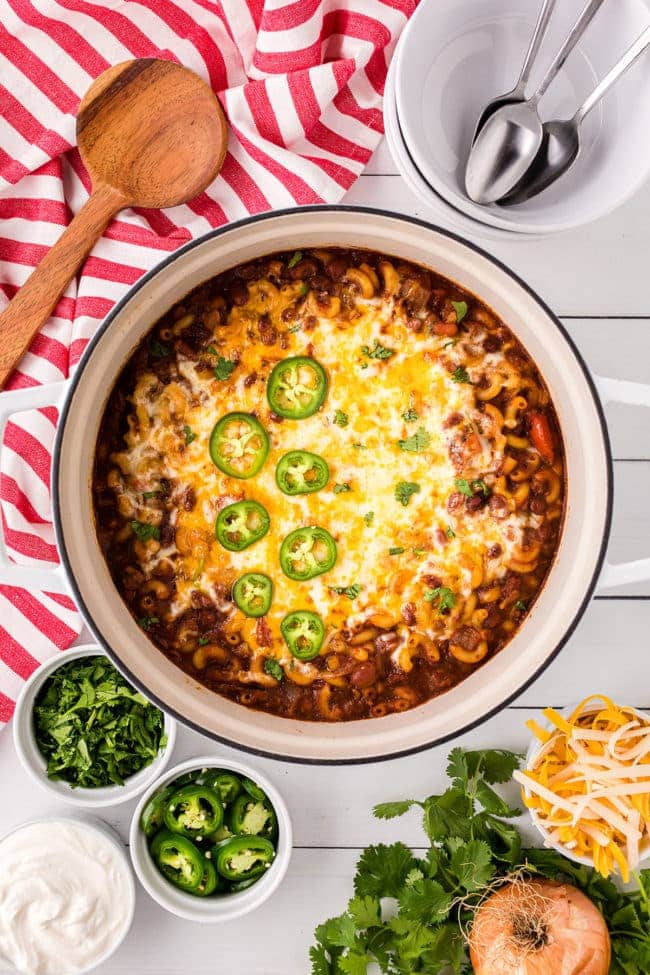 Cheesy Chili Mac FAQs
What does cocoa powder do in a chili?
Unsweetened cocoa adds a rich, earthy undertone that enhances the meaty flavors of chili. You'll find cocoa powder in many vegetarian chili recipes for this reason! Cocoa powder in a chili-based dish may sound unusual, but don't knock it until you try it!
What is the difference between chili and chili con carne?
Beans. Texas is known for being anti-bean when it comes to chili. Chili "con carne" is understood to be bean-free. It actually means "chili [peppers] with meat" or spicy meat stew. I get chili "purists," but I like my chili packed with hearty and nutritious beans!
How do you thicken chili?
Either take a whole or half can of prepared beans, drain, and puree in a blender or food processor. Easier yet, start with half a can of refried beans until you get the consistency you prefer.
How do you thin chili that's too thick?
Add beef broth or water to thin down the chili mac and cheese to your desired consistency.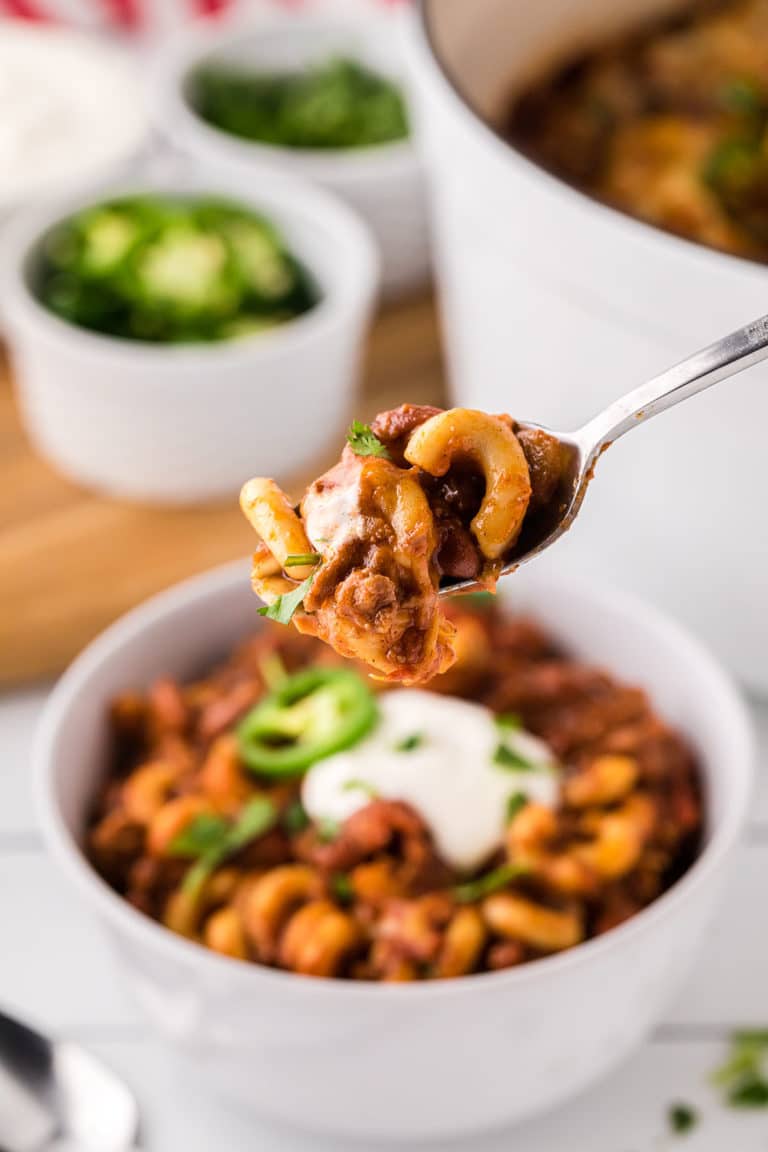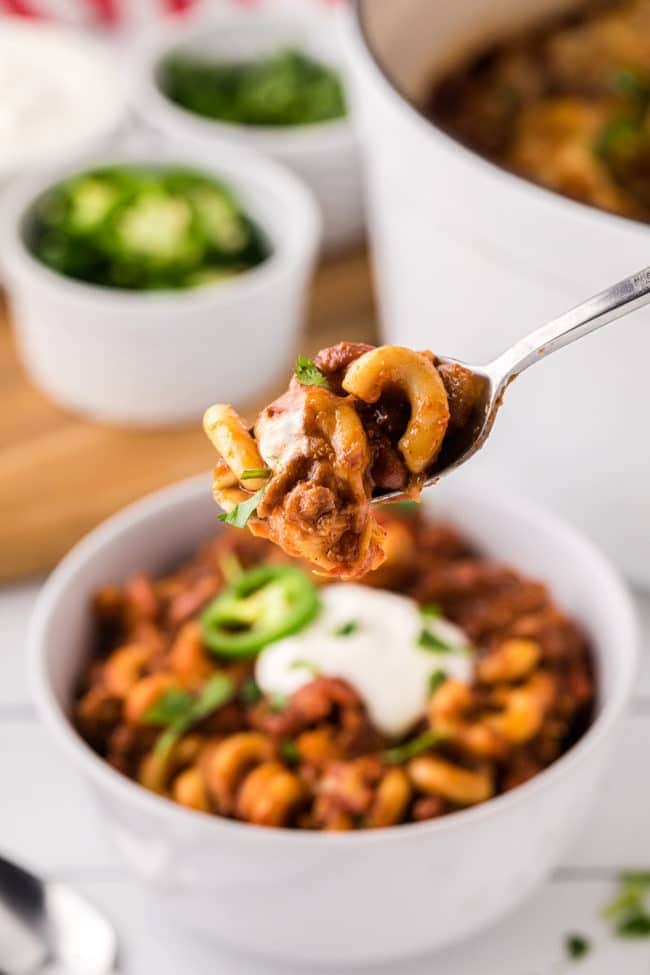 How To Store Cheesy Chili And Macaroni Casserole
Refrigerate/Leftovers
Cheesy chili mac lasts 3-4 days in the fridge. Leftovers are great for a filling lunch and can be frozen and portioned into individual servings.
Freeze
Chili mac can be frozen in airtight glass containers for easy reheating in the microwave. The recipe can be made ahead and frozen for up to three months. Pull the chili the night before and thaw it in the fridge.
Reheat
Reheat chili mac and cheese in the oven or the microwave. If the pasta has absorbed all the moisture, you can drizzle it with broth, water, cream, olive oil, or butter pats. Cover it with foil for the oven or plastic wrap for the microwave.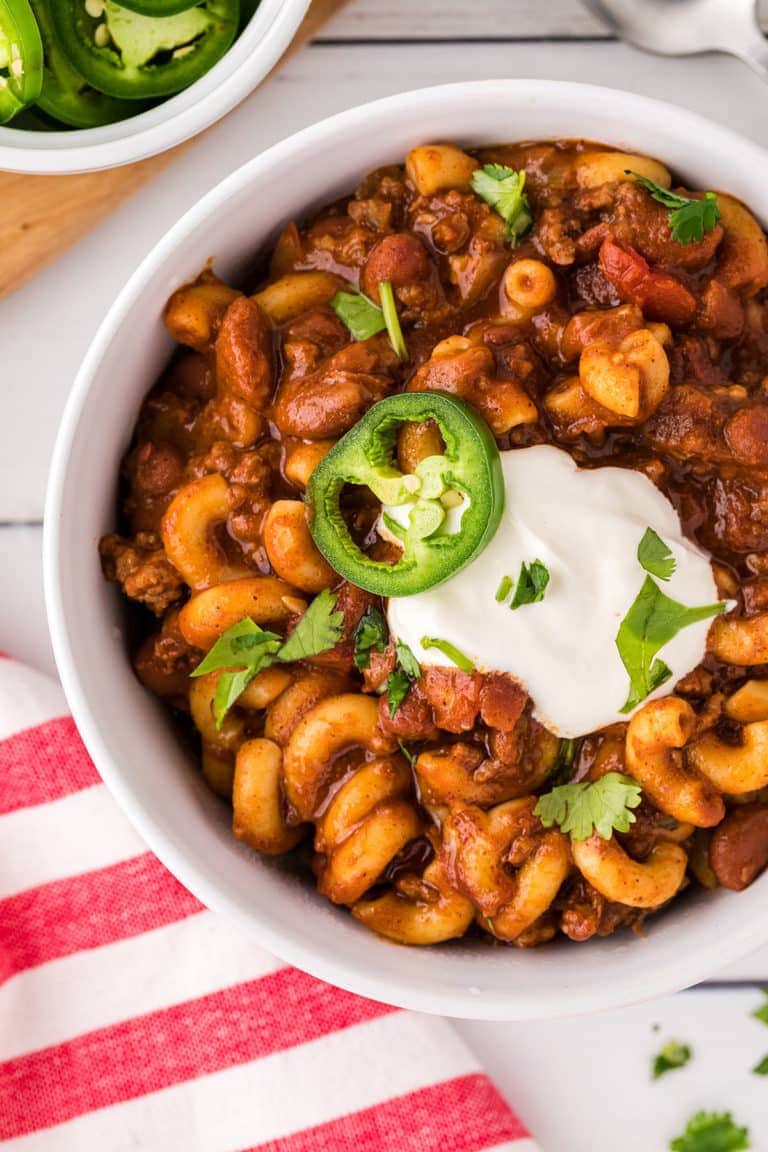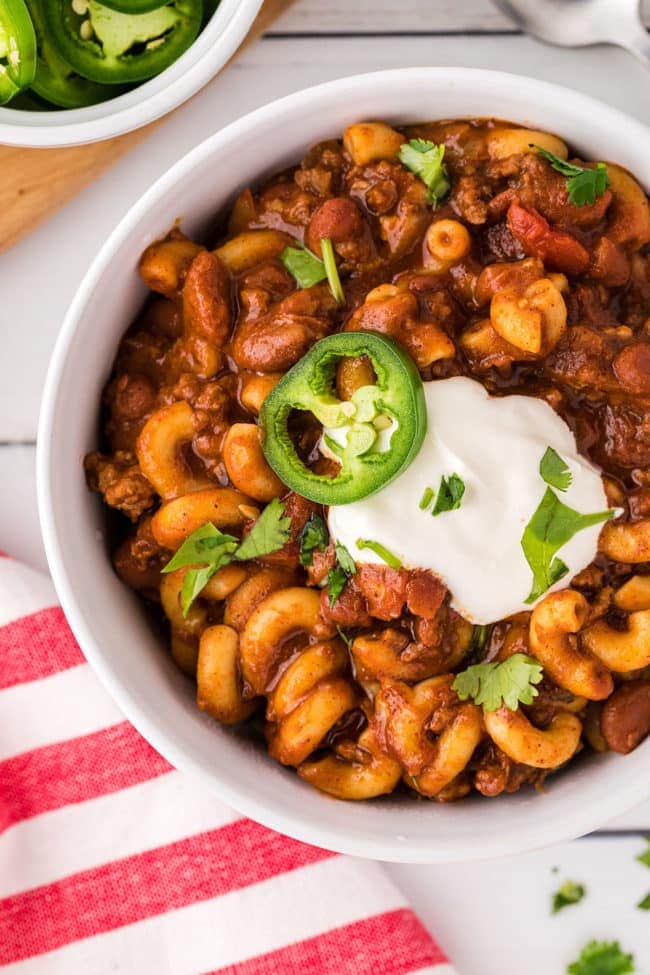 What Type Of Canned Beans Are Best For Chili?
In a perfect world, the best beans for chili are the beans you like and enjoy in your "meat and bean stew." The dark red kidney bean is traditionally the most popular for its durability in a long-cooking chili. Although plenty of pinto bean enthusiasts would beg to differ. There are many opinions about the best type of bean for chili. So, let's explore a few options for those with no hard preference.
Kidney Beans:
Dark red, light red, pink, and white kidney beans are ideal for chili because of their versatility. The hearty kidney-shaped legumes have a smooth, creamy center and easily take on the flavors and spices of your recipe.
Dark red kidney beans can be thrown into the chili pot from the beginning. The lighter color kidney beans are excellent when added to chili in the last 20-30 minutes of simmering time. This quick and easy chili mac recipe can use any kidney bean variety.
Chili Beans:
Commercially canned "chili beans" are conveniently packaged with a flavored sauce that usually includes: tomato puree, oil, onion, and garlic powder. Chili beans make quick work of pulling together a chili mac recipe. You can find cans of "chili beans" as red beans, pinto beans, black beans, kidney beans, or a combination of kidney and pinto beans.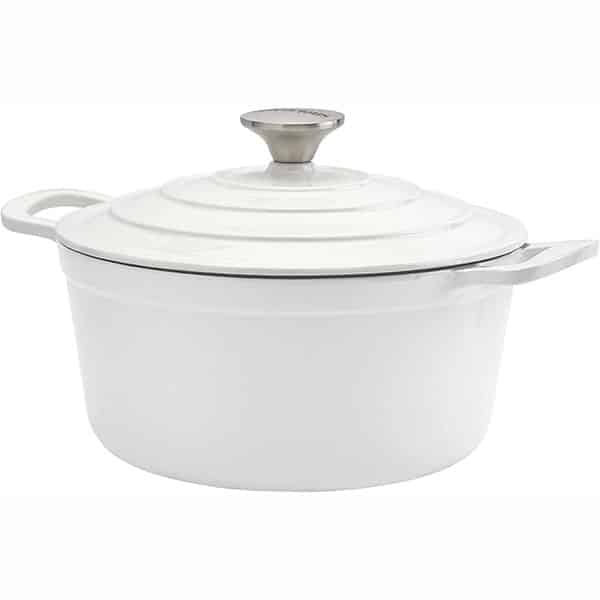 Featured Product White Dutch Oven
Durable cast iron construction delivers superior heat retention and ensures even cooking
Brown Beans:
Brown beans aka Pinto beans are a great alternative to kidney beans in chili recipes. They have a creamy texture with an earthy, nutty finish.
White Beans:
Cannellini beans are a great addition to any white chili recipe. They have a mild flavor, so they will not overpower the other flavors in your chili
White beans can break down if cooked too long. Navy beans are the softest and mush up quickly, a favorite if I want to "thicken" something.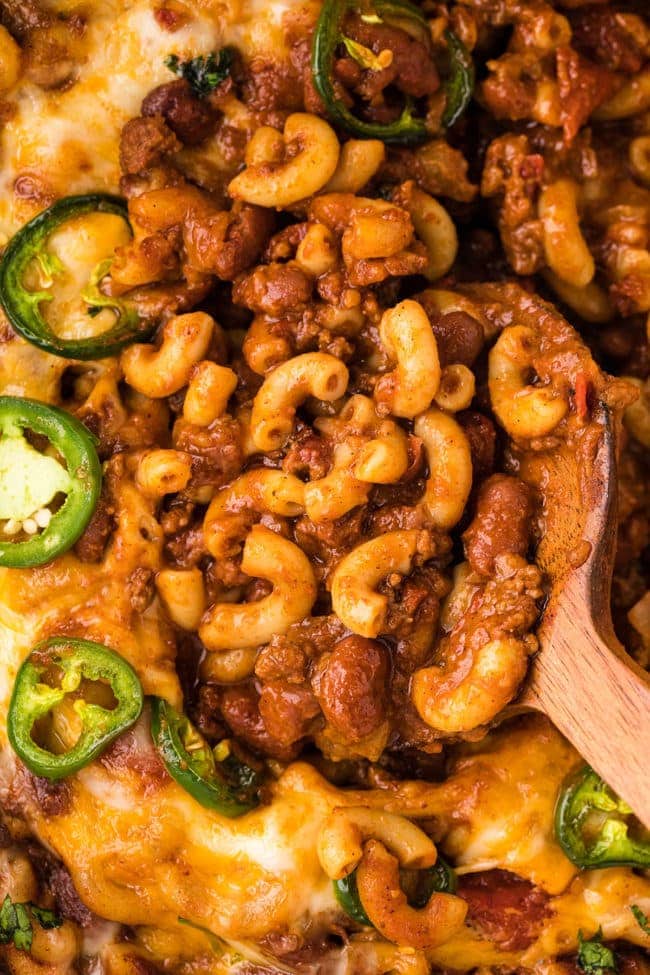 Cheesy chili mac goes great with a Simple Italian Salad and cornbread or Cheesy Pull-Apart Garlic Bread. Throw in a Beergarita (or three) for the grown-ups and Strawberry Lemonade for the littles.
Like This Recipe? Pin It!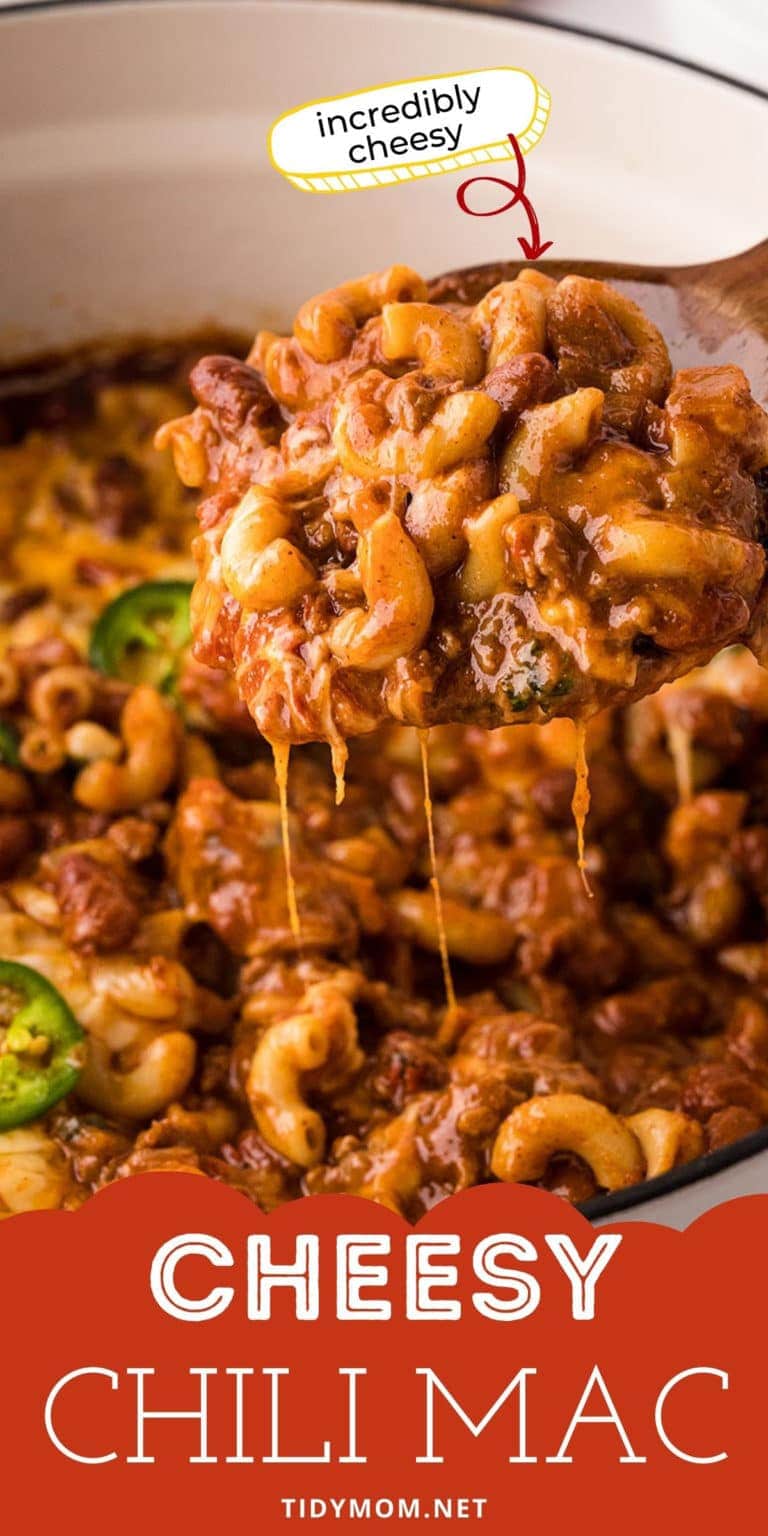 Cheesy Chili Mac
Yield: 6 servings
Prep Time: 5 minutes
Cook Time: 45 minutes
Total Time: 50 minutes
A flavorful Cheesy Chili Mac recipe the whole family will love. Tender macaroni and homemade chili smothered in bubbly melty cheese. Hello delicious!
Ingredients
6 ounces dry weight elbow macaroni pasta, cooked to al dente and drained
2 tablespoon olive oil
1 yellow onion, diced
2 cloves garlic, minced
1 pound ground beef
2 (16 ounce) cans kidney beans (I use Bush's chili beans in mild chili sauce)
1 (15 ounce) can crushed tomatoes (I like to use fire-roasted)
1 (15 ounce) can tomato sauce
½ tablespoon cocoa powder
¾ cup shredded cheddar cheese
¾ cup shredded mozzarella cheese
Toppings: jalapeños, chopped cilantro, and sour cream
Instructions
Add olive oil, diced onions, and minced garlic to a large dutch oven (oven-safe pot) and cook over medium heat until transparent. Add the ground beef and cook until fully browned.
Add the beans (do not drain if using the beans with chili sauce), tomatoes, tomato sauce, chili seasoning mix, and cocoa powder to the pot. Stir to combine, cover and simmer over low heat for at least 30 minutes, stirring occasionally. (this is a good time to cook and drain the pasta).
Add the cooked pasta to the chili and stir well to combine. Top with cheese and place in the oven and broil for 2 minutes, or until cheese is bubbling and melted. Watch closely.
Serve hot with sliced jalapeños, chopped cilantro, and sour cream or your favorite toppings. Enjoy!
Notes
STORAGE: Cheesy chili mac lasts 3-4 days in the fridge. Leftovers are great for a filling lunch and can be frozen for up to 3 months.
If your chili is too thick, add a little water or beef broth to thin it down.
If you use regular canned kidney beans, you will want to drain them before adding them to the chili. The Bush's beans come in a chili sauce, which is why I love their chili beans! You will want to add that sauce along with the beans to the chili, do not drain them.
Feel free to use kidney beans, black beans, red beans or any combination of 2 of them.
Nutrition Information:
Yield: 6
Serving Size: 1
Amount Per Serving:
Calories: 566
Total Fat: 31g
Saturated Fat: 11g
Trans Fat: 1g
Unsaturated Fat: 15g
Cholesterol: 105mg
Sodium: 762mg
Carbohydrates: 33g
Fiber: 4g
Sugar: 4g
Protein: 39g
Nutrition information is estimated based on the ingredients and cooking instructions as described in each recipe and is intended to be used for informational purposes only. Please note that nutrition details may vary based on methods of preparation, origin, and freshness of ingredients used and are just estimates. We encourage, especially if these numbers are important to you, to calculate these on your own for most accurate results.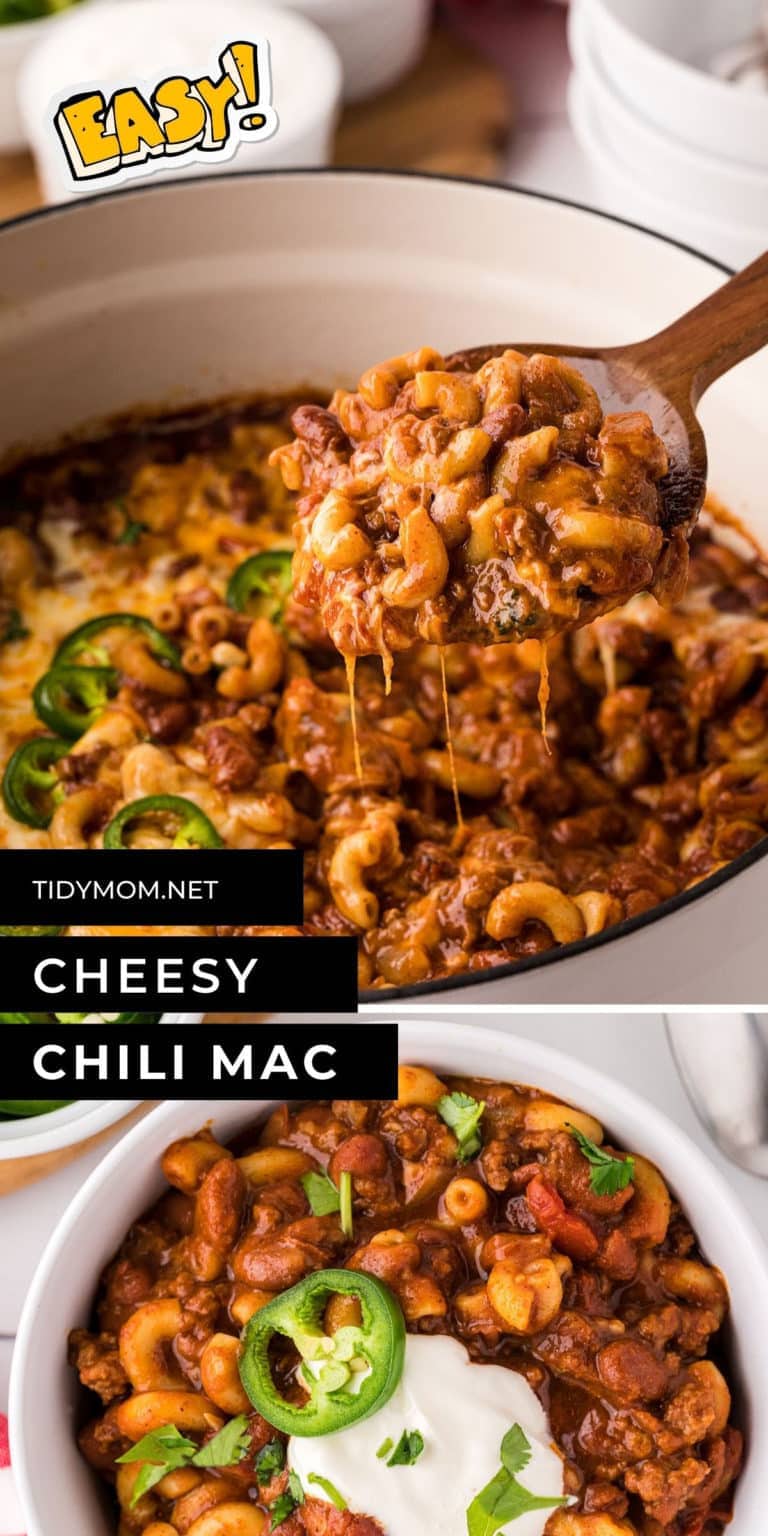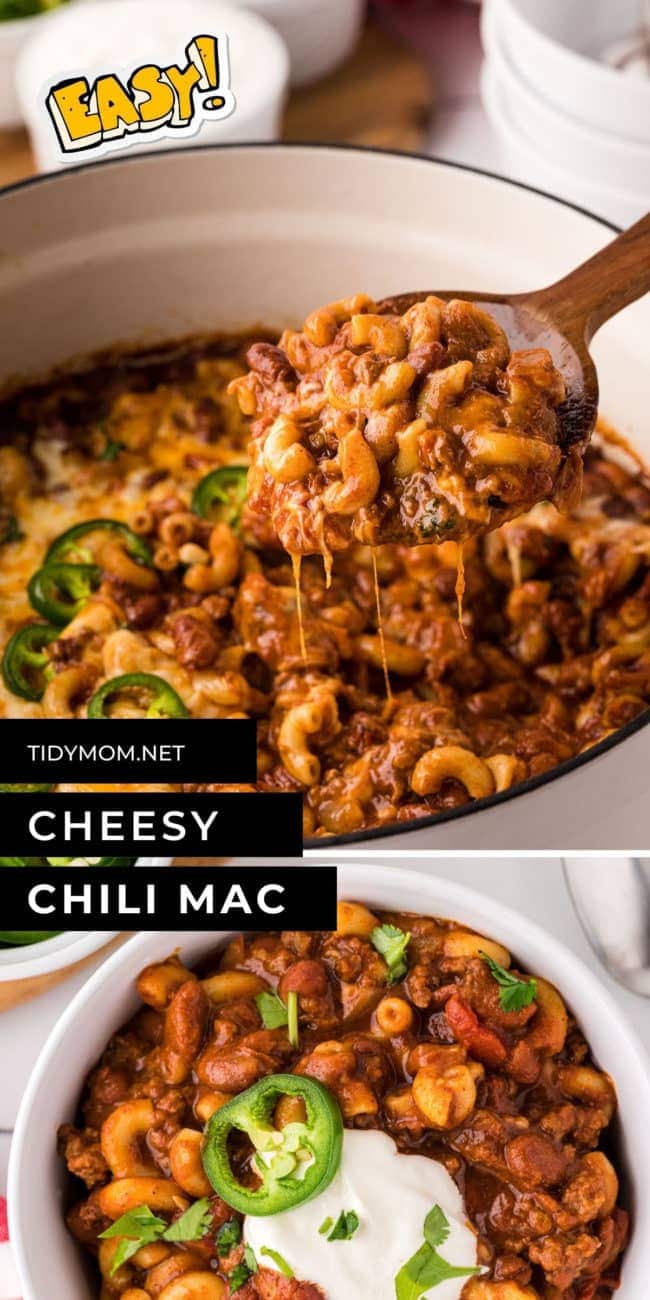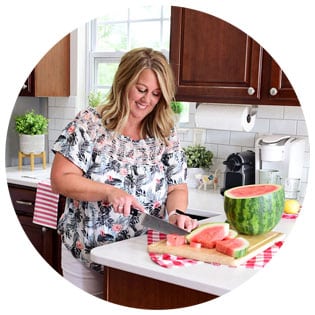 Hi there, I'm Cheryl!
As a wife, mom, and caffeine enthusiast, my journey has taken me from bustling mornings with my family to sharing delicious recipes, home care tips, and heartfelt decorating insights with wonderful readers like you. My love for baking, photography, and tidiness shines through every post I craft. Dive into my world and discover the art of homemaking, one tidy moment at a time. Read more...
Tidymom is a participant in the amazon services llc associates program, an affiliate advertising program designed to provide a means for sites to earn advertising fees by advertising and linking to Amazon.com.
Please respect my work, recipes and photographs. If you do use a recipe in your own writing, please give proper credit and link back to the original post.