Homemade Chili Seasoning Recipe
Making chili for dinner? Ditch the store-bought chili mix and make your own blend. Homemade chili seasoning is a vibrant mix of rich, fragrant, earthy spices that you probably already have in your own pantry.
A big pot of chili is one of my favorite easy recipes for busy weeknights, Game Days, and potlucks. White Chicken Chili, Pumpkin Chili, and Creamy Taco Chili are a few crowd-pleasing favorites.
Be sure to sign up for my email… to get new recipes and ideas in your inbox!
Why This Chili Seasoning Recipe Works!
When you make the best pot of chili you've ever made, you're gonna get grilled about your DIY chili seasoning. If you spill the "beans, you'll be asked, "is homemade chili seasoning healthy?" You can decisively answer yes! That so works for me.
Homemade chili seasoning is entirely customizable for your taste and preferences.
It's simple and healthier to make chili seasoning DIY!
You have complete control over what goes into your chili powder recipe and not into your body.
Fun to test and create your own signature chili seasoning blend by tweaking it over time.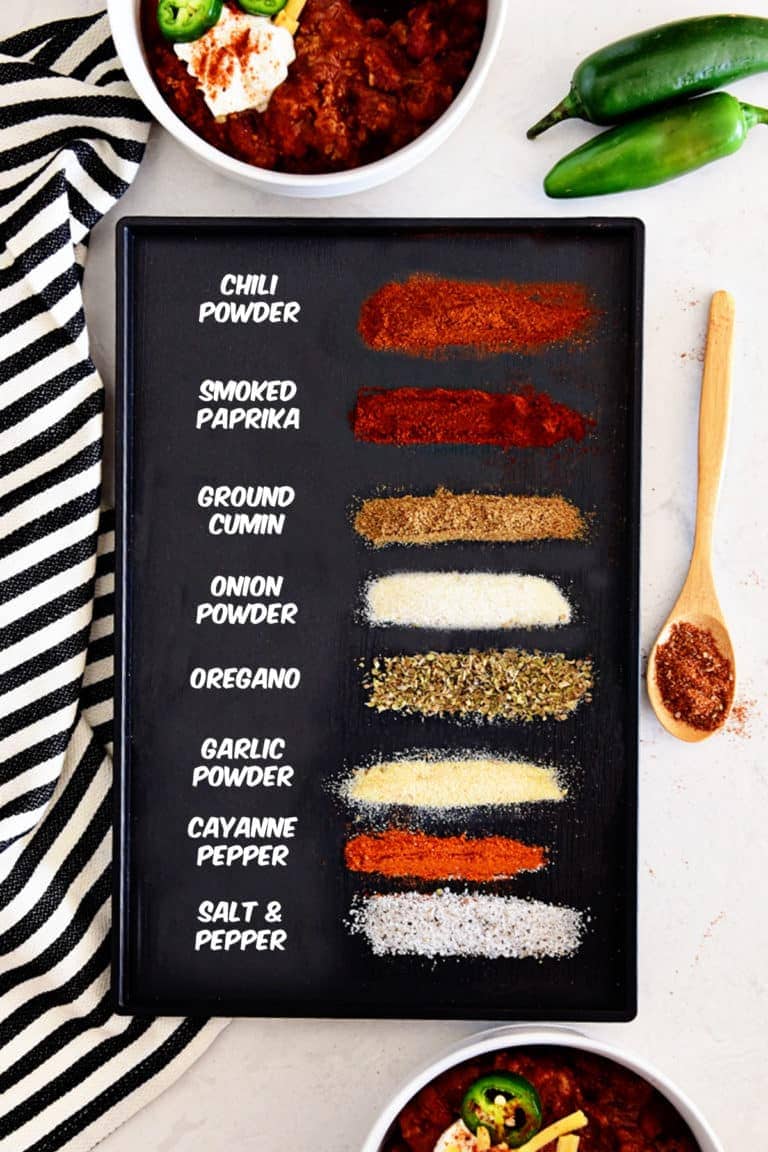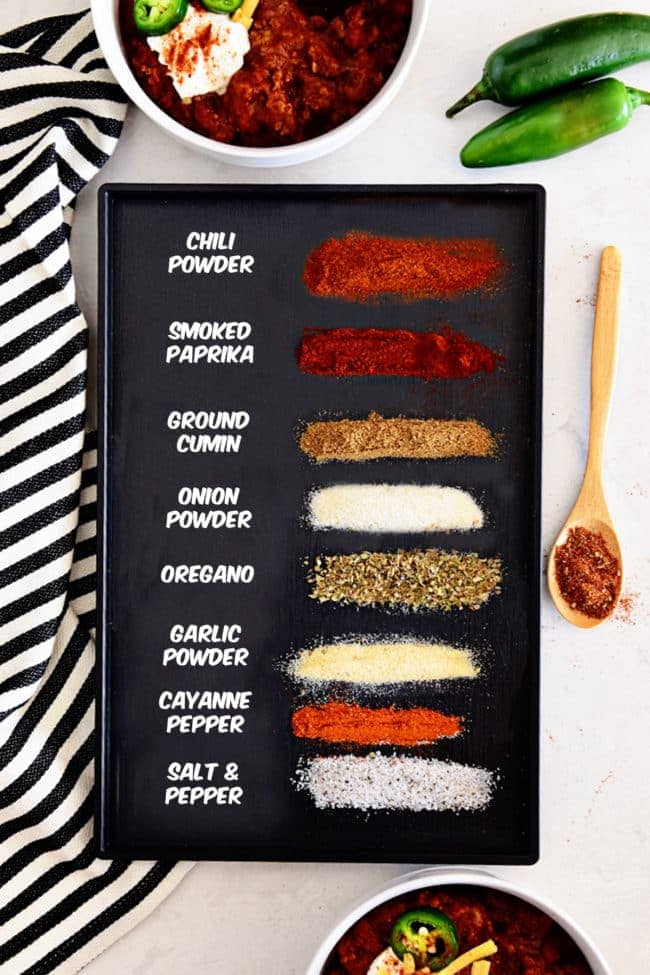 DIY Ingredients For Homemade Chili Seasoning
As written, the chili seasoning DIY recipe makes 5 tablespoons of chili mix for a robust, well-seasoned, hearty pot of chili. So you won't have to do the work, I calculated the best homemade chili seasoning recipe ratios. I recommend trying it as is, then adjusting it if you need to fine-tune it.
(full printable recipe at the end of this post)
Chili Powder – dried ground chili peppers
Smoked Paprika – savory oak smoked peppers
Ground Cumin – adds warmth and a distinct flavor
Onion Powder – potent sweet and savory onion flavor
Oregano – an unsung yet traditional component of chili
Salt – omit if needed
Garlic Powder – diffuses mellow garlic notes
Cayenne Pepper (Or Crushed Red Peppers) – bring the heat
Ground Black Pepper – to taste
When you make homemade chili mix you leave out: gluten, sugar, modified starches, and MSG!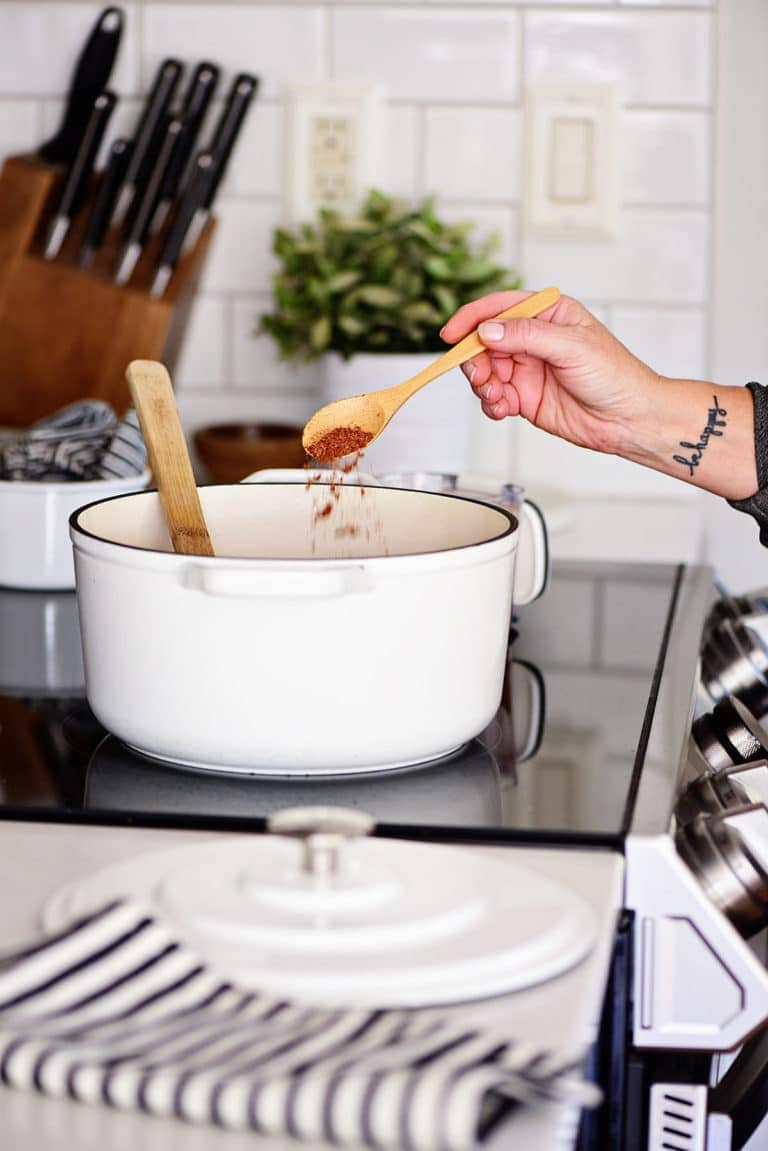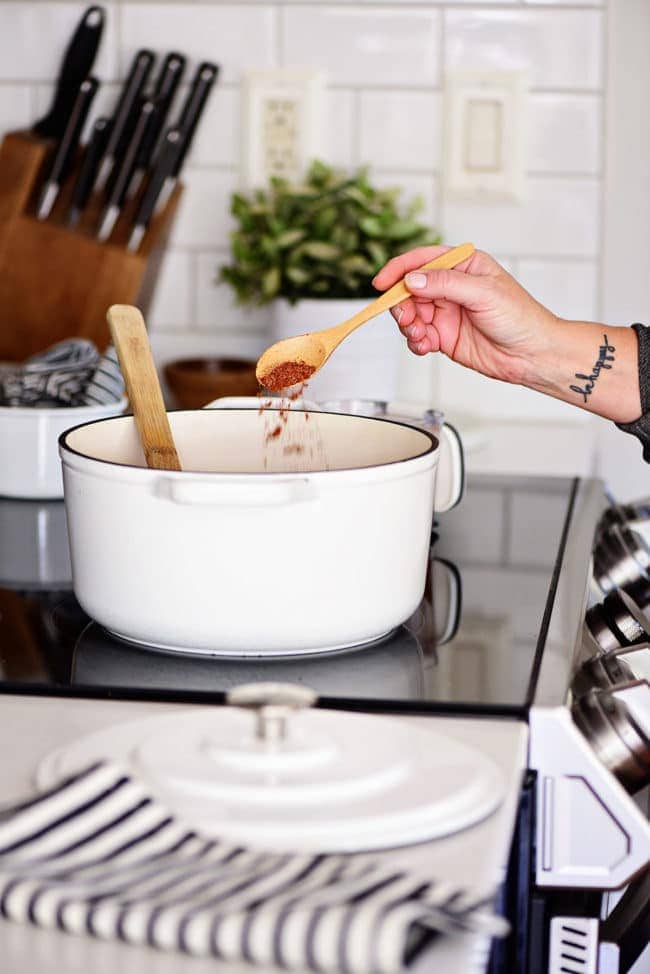 This post may contain affiliate links. Please read my disclosure policy here.
How To Use Homemade Chili Seasoning
Mix all the seasonings together, or add them one by one to a pot of chili.
Double or triple the recipe and store it in a glass jar for future use.
It's best to keep DIY chili seasoning in a cool dark cupboard or pantry.
Homemade chili mix will last a year in an airtight container, but it "won't." 🙂
How Much Homemade Chili Seasoning Should I Use In Place of One Chili Seasoning Packet?
A single batch of this DIY chili seasoning recipe replaces one store-bought chili packet. When you make a large quantity of homemade chili seasoning mix, use 4-5 tablespoons per 6-8 servings or 1-2 pounds of meat.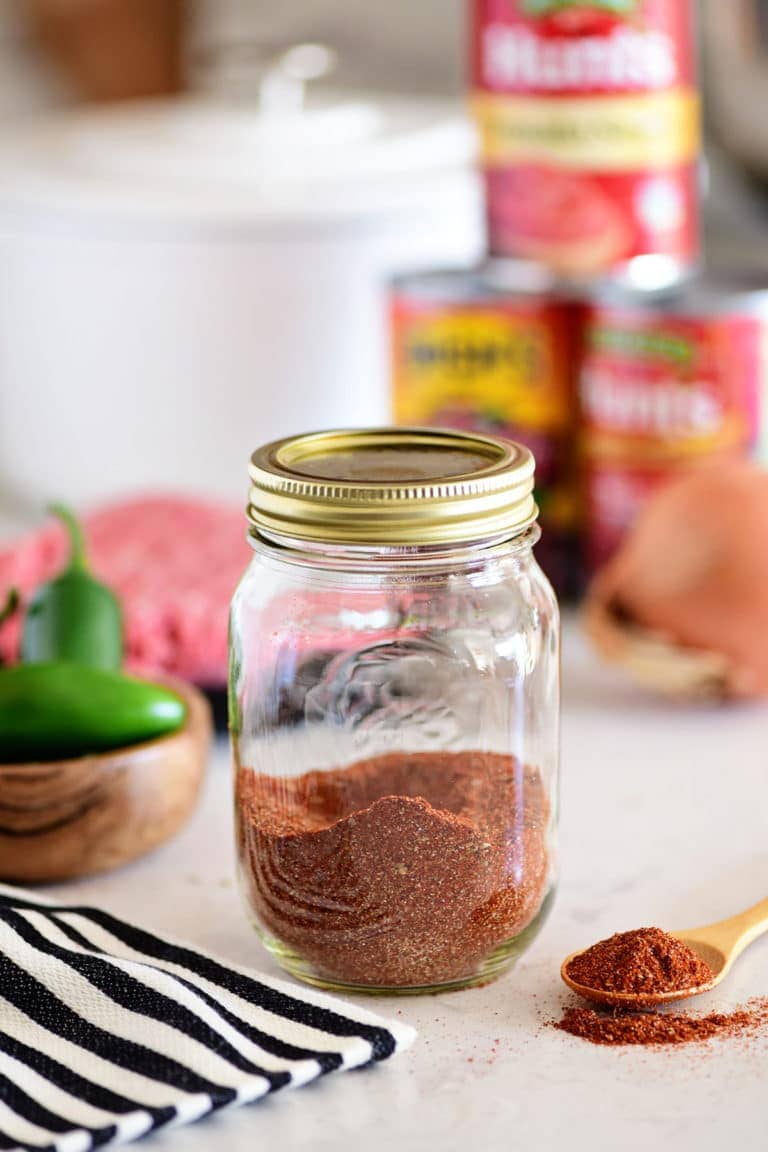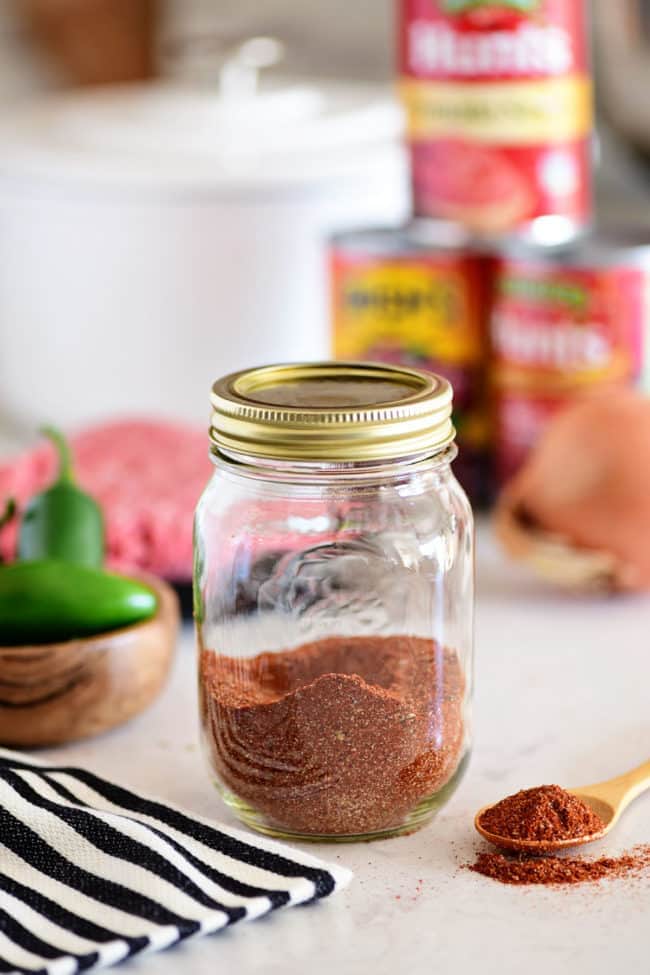 Homemade Chili Seasoning Recipe Notes & Tips
Most of us grew up with chili seasoning packets as our reliable, almost "sacred" go-to for homemade chili. This DIY chili seasoning recipe will shake your "faith" it's so great and easy to customize to your tastes!
Sweet or hot paprika can be used instead of smoked paprika for homemade chili seasoning.
Out of cumin? Another culinary horror! Ha ha – Turmeric can be used instead of cumin.
Mexican oregano is optimum for homemade chili seasoning, with its bold citrusy notes, and isn't subdued by more pungent spices.
Omit cayenne pepper for a mild chili seasoning DIY. Increase cayenne pepper to step up the heat for spicier chili.
Caution! Cayenne or red pepper flakes turn up the heat quickly, so add a pinch to ¼ teaspoon increments.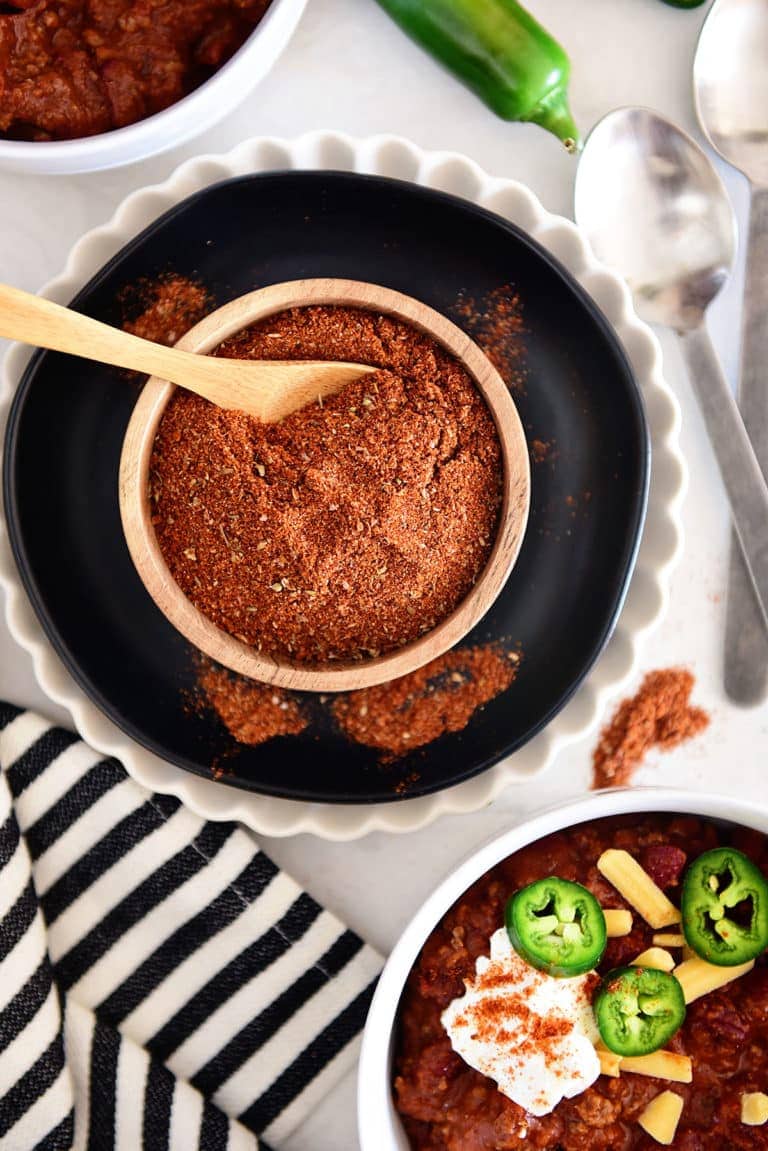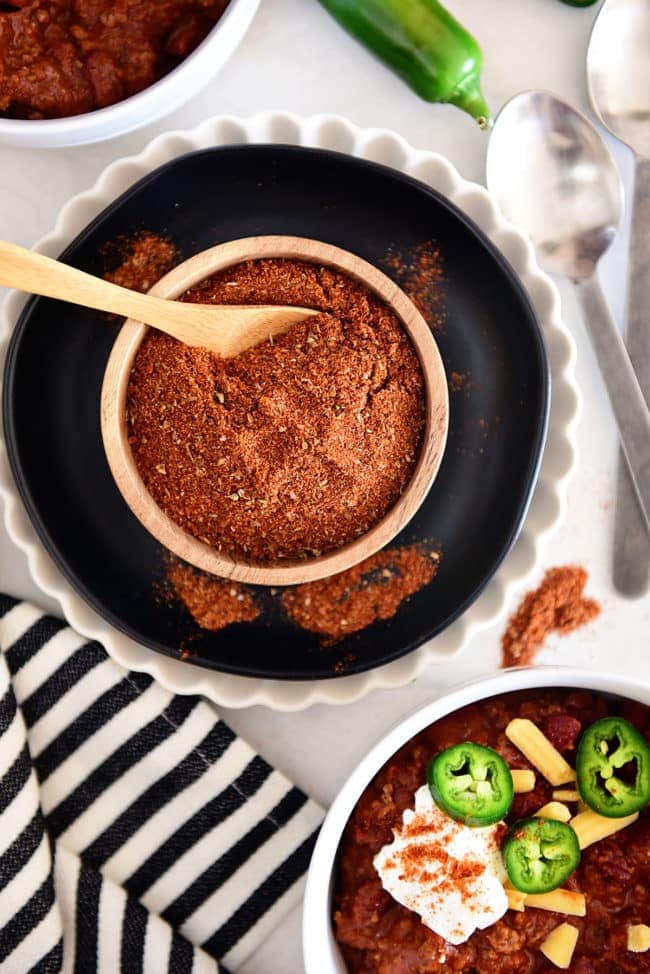 FAQs
What Can I use for a thickener for chili?
If your chili recipe feels naked without a thickening agent, you can grind rice into a powder with a food processor and add ⅛ to ¼ cup. A better option is to blend up a whole or half of a can of drained pinto or navy beans. (Crazy quick trick? add a can of refried beans, smart, right?) 🙂

Don't skip the simmer! Simmering your chili thickens your sauce and intensifies the flavors.
What's the #1 best tip for next level chili?
Do the bloom! If you haven't tried blooming your chili seasoning blend, either homemade or packets, you're in for a revelation! Add directly to browned meat and stir for a minute or two before adding wet ingredients. Blooming chili spices makes a huge difference in the depth and infusion of chili spices; the aroma alone says it's the right choice!
What else can I do with homemade chili seasoning?
Don't stop at just chili! Chili seasoning is not only delicious in a pot of chili, you can use it to season veggies, meat, seafood, potatoes, and even tacos.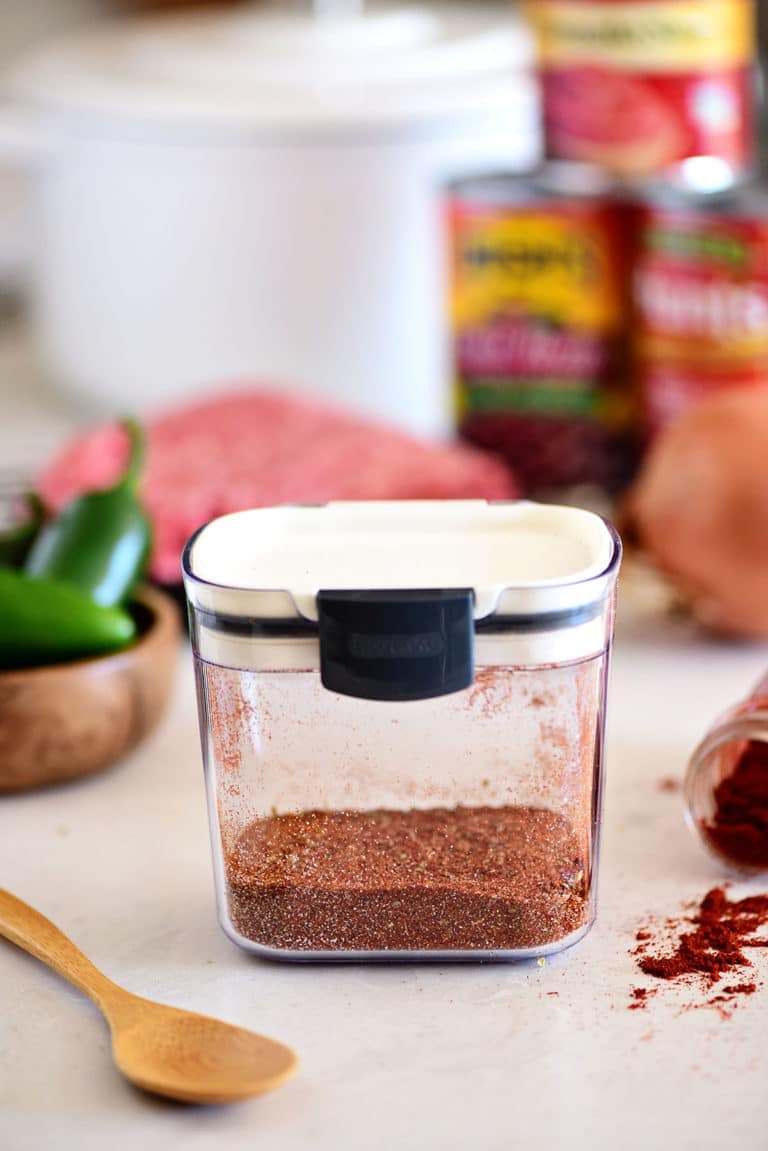 Why Should You Want To DIY Chili Powder?
In the "olden days," it was a horror of horrors if you were out of Chili-O and needed a pot of chili on the fly! If you had to patch up a chili seasoning blend, it almost felt like you were somehow cheating or committing injustice. (Ok, maybe you didn't feel that way, but I certainly did!)
Worse, a DIY chili mix never seemed to taste as good back then. So weird! Now the exact opposite is true; homemade chili seasoning is fantastic! Some home cooks now refuse to make chili with a seasoning packet. Now that's a horror because it is possible to find a few without junk for emergencies, and when you need chili, you need chili!
However, you should DIY chili seasoning because, without notice, the ingredients in your favorite seasoning packet can change. Commercial chili seasoning formulations are modified with fillers and flavor enhancers or swapping and reducing key spices for many reasons. Bottom line, we end up with junk ingredients that aren't necessary for a healthy, robust, full-flavored chili!
This homemade chili seasoning recipe makes a hearty, savory, expertly seasoned chili that goes quickly. A great reason to DIY chili seasoning is it's empowering to control the ingredients in homemade chili mix.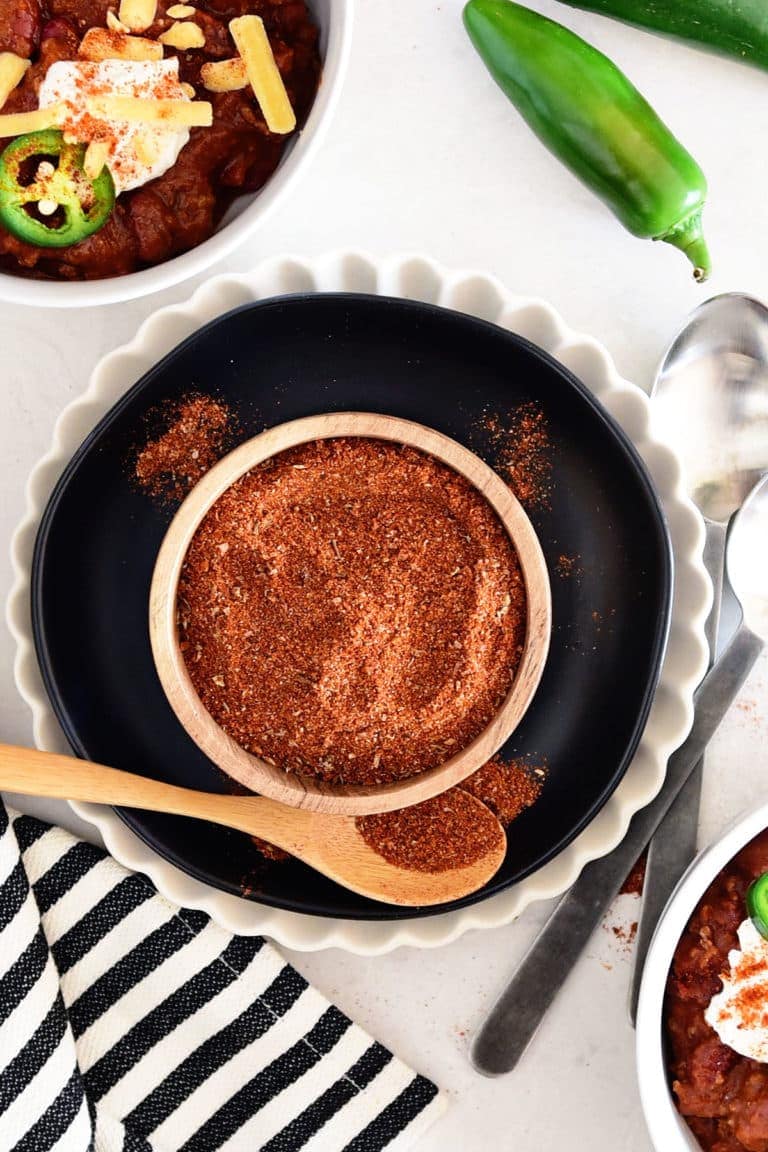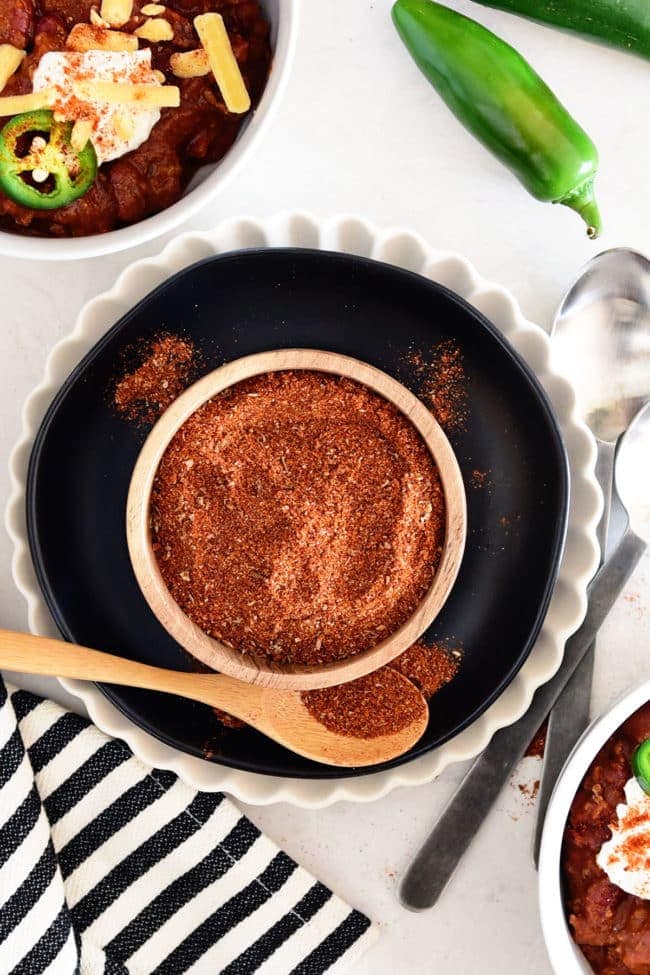 Is Homemade Chili Seasoning Better Than Chili Seasoning Packets?
In most cases, the answer is yes! Too many store-bought chili seasoning mixes contain at least one or more of the following: flour (gluten), artificial sweeteners (dextrose), and preservatives (modified food starch), among others!* If you aren't a dedicated label scrutinizer, you could be dumping unappetizing, unnecessary, and unhealthy ingredients into your chili!
Like This Recipe? Pin It!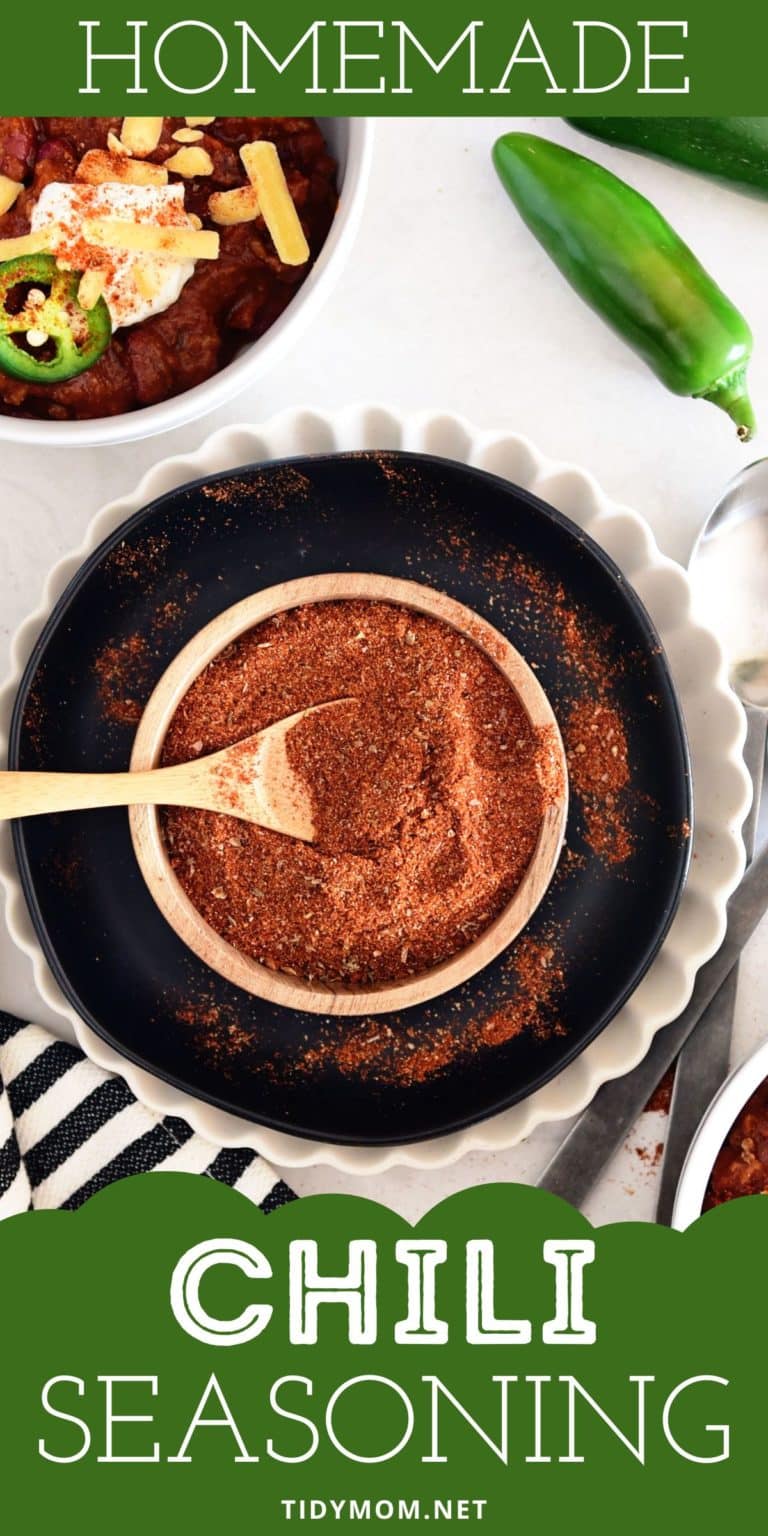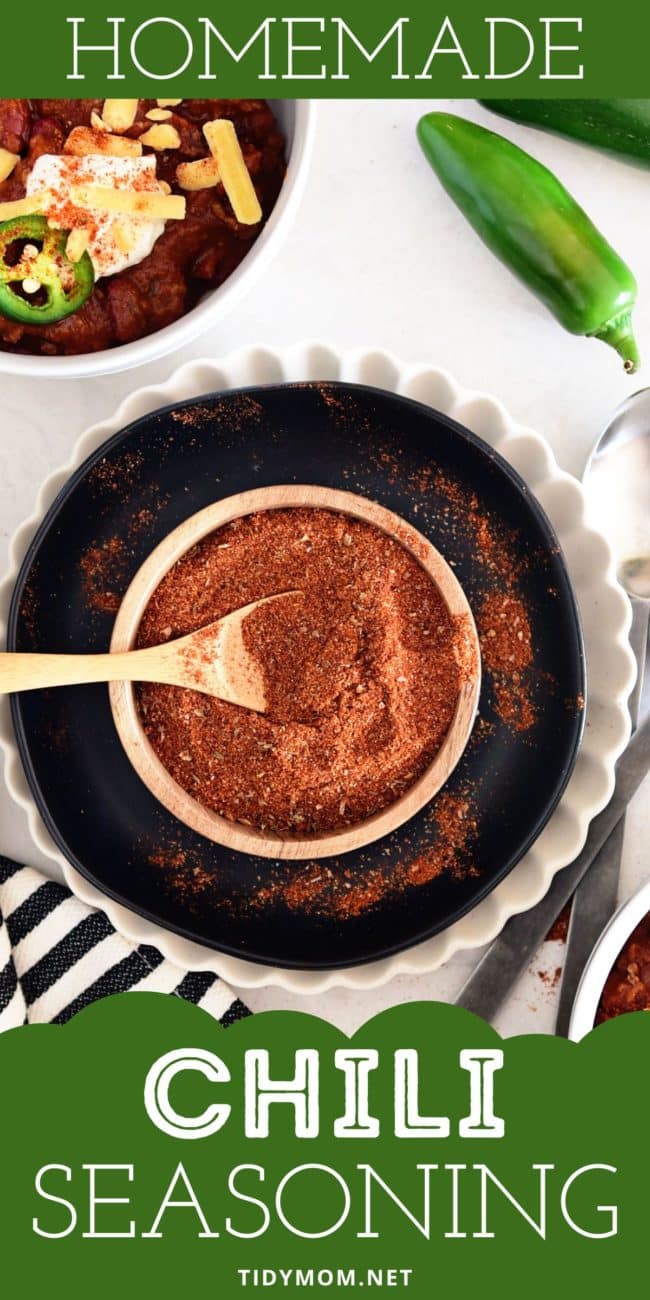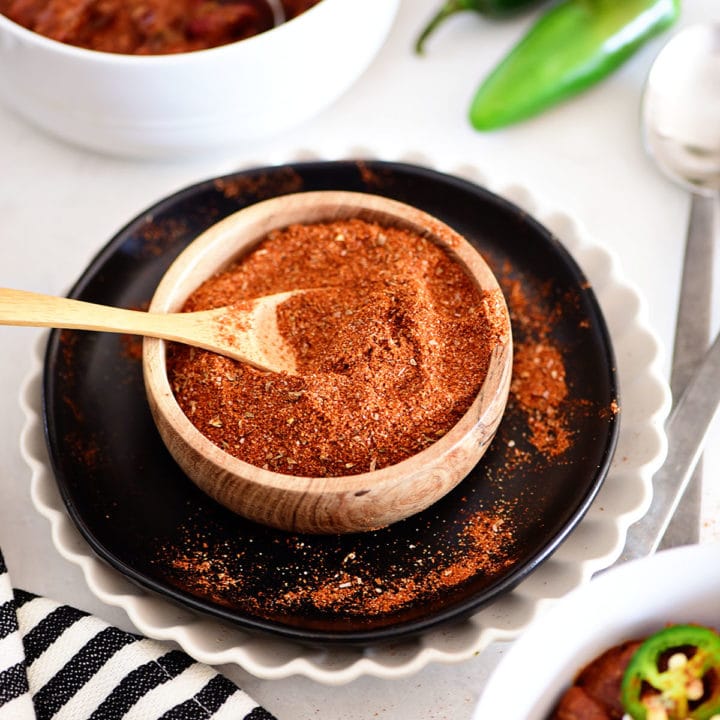 Homemade Chili Seasoning
Yield: 1 pot of chili (6-8 servings)
Prep Time: 5 minutes
Total Time: 5 minutes
Making chili for dinner? Ditch the store-bought chili mix and make your own blend. Homemade chili seasoning is a vibrant mix of rich, fragrant, earthy spices that you probably already have in your own pantry.
Ingredients
2 tablespoons chili powder
1 tablespoon smoked paprika
2 teaspoons ground cumin
1 teaspoon onion powder
1 teaspoon oregano
1 teaspoon salt
½ teaspoon garlic powder
¼ teaspoon cayenne pepper (or crushed red peppers)
¼ teaspoon ground black pepper
Instructions
In a small bowl or jar, add all of the spices and stir or shake to combine.
Use immediately for your favorite chili or store in an airtight container in a cool dry place for up to one year.
Makes enough for one (6-8 servings) pot of chili.
Notes
For a large batch, double or triple the recipe. Use 4-5 tablespoons per pot of chili (6-8 servings)
Recommended Products
As an Amazon Associate and member of other affiliate programs, I earn from qualifying purchases.
Nutrition Information:
Yield: 6
Serving Size: 1
Amount Per Serving:
Calories: 17
Total Fat: 1g
Saturated Fat: 0g
Trans Fat: 0g
Unsaturated Fat: 1g
Cholesterol: 0mg
Sodium: 432mg
Carbohydrates: 3g
Fiber: 2g
Sugar: 0g
Protein: 1g
Nutrition information is estimated based on the ingredients and cooking instructions as described in each recipe and is intended to be used for informational purposes only. Please note that nutrition details may vary based on methods of preparation, origin, and freshness of ingredients used and are just estimates. We encourage, especially if these numbers are important to you, to calculate these on your own for most accurate results.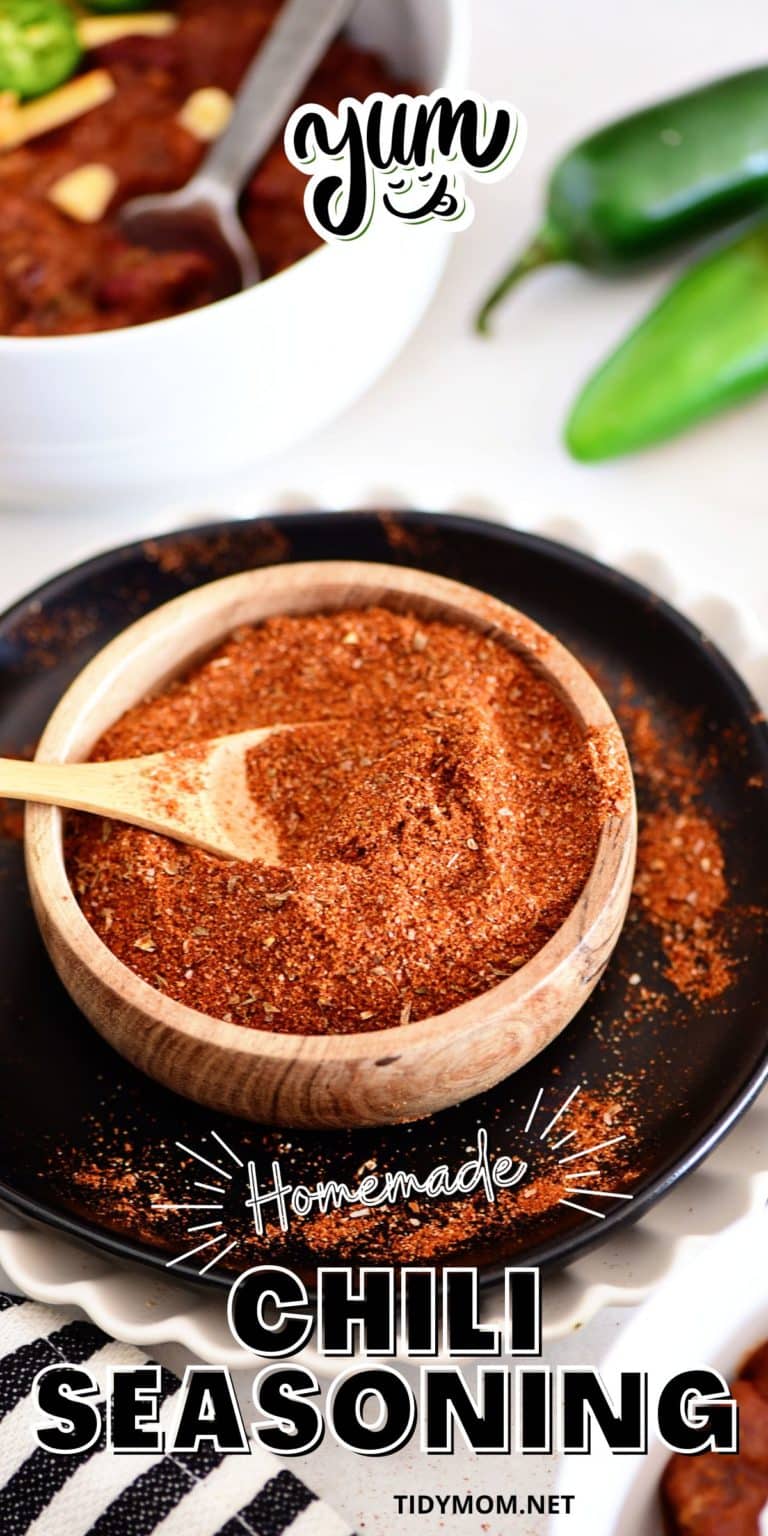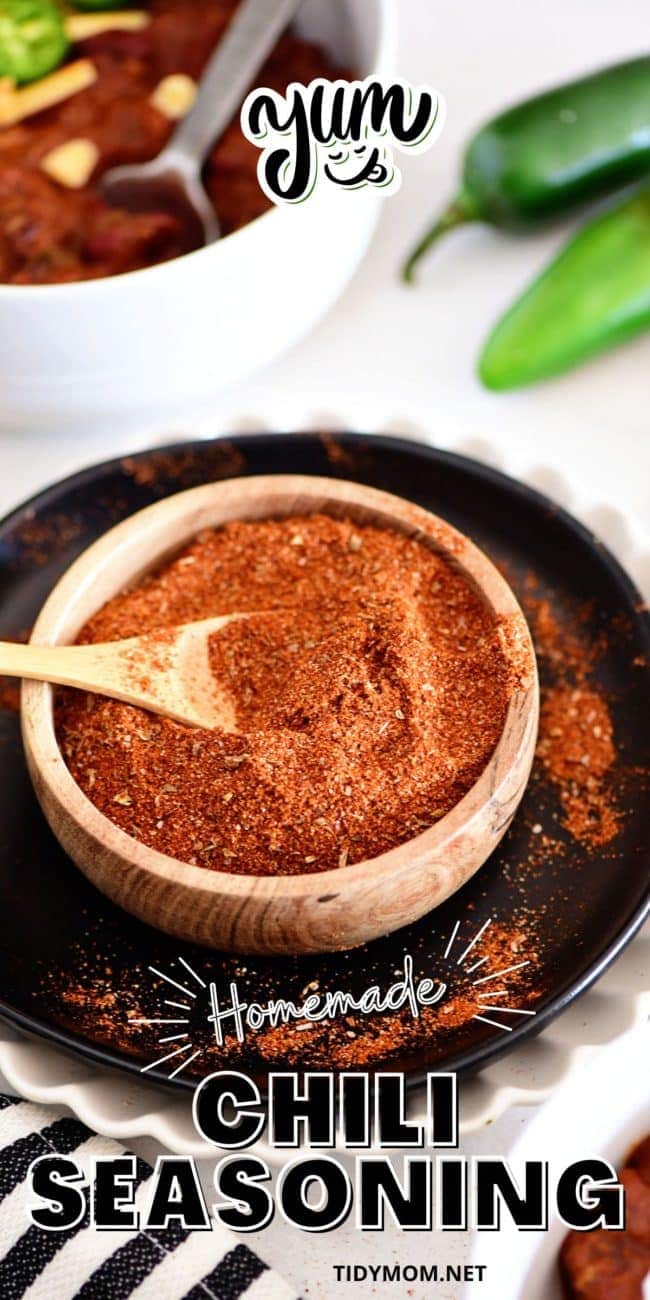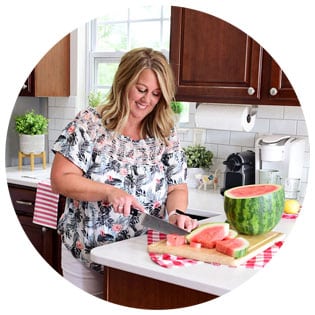 Hi there, I'm Cheryl!
As a wife, mom, and caffeine enthusiast, my journey has taken me from bustling mornings with my family to sharing delicious recipes, home care tips, and heartfelt decorating insights with wonderful readers like you. My love for baking, photography, and tidiness shines through every post I craft. Dive into my world and discover the art of homemaking, one tidy moment at a time. Read more...
Tidymom is a participant in the amazon services llc associates program, an affiliate advertising program designed to provide a means for sites to earn advertising fees by advertising and linking to Amazon.com.
Please respect my work, recipes and photographs. If you do use a recipe in your own writing, please give proper credit and link back to the original post.