Red Velvet Cake & Cinnamon Buttercream Frosting Recipe
RED VELVET CAKE WITH CINNAMON BUTTERCREAM. This rose cake is sure to make any birthday or special occasion spectacular. The red velvet cake made from scratch is soft, moist, and tender, with the perfect red velvet flavor. Inside you will find fluffy cinnamon buttercream between the layers and topped with a delicious cream cheese frosting. A cake they will never forget!
Whether for a birthday cake, Valentine's Day, Christmas, or a weekend dessert you can't go wrong with red velvet recipes like Red Velvet Gooey Butter Cookies, Red Velvet Pancakes, and Red Velvet Hot Chocolate.
Be sure to sign up for my email… to get new recipes and ideas in your inbox!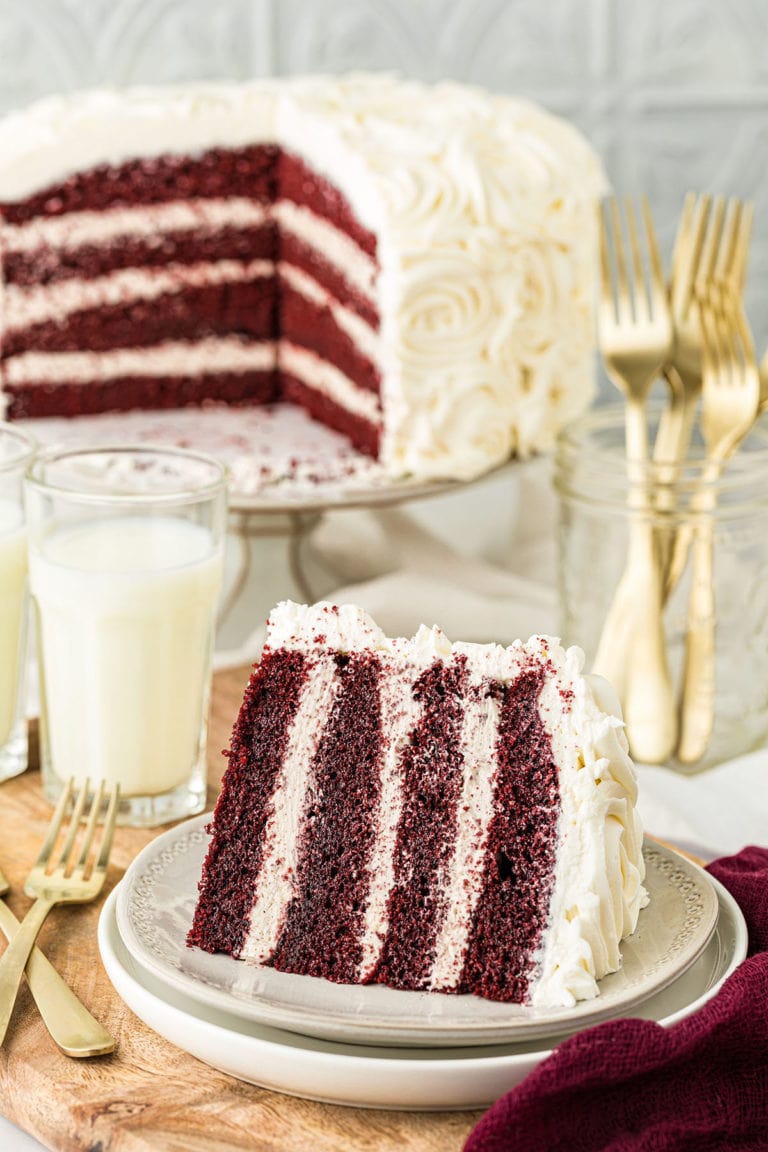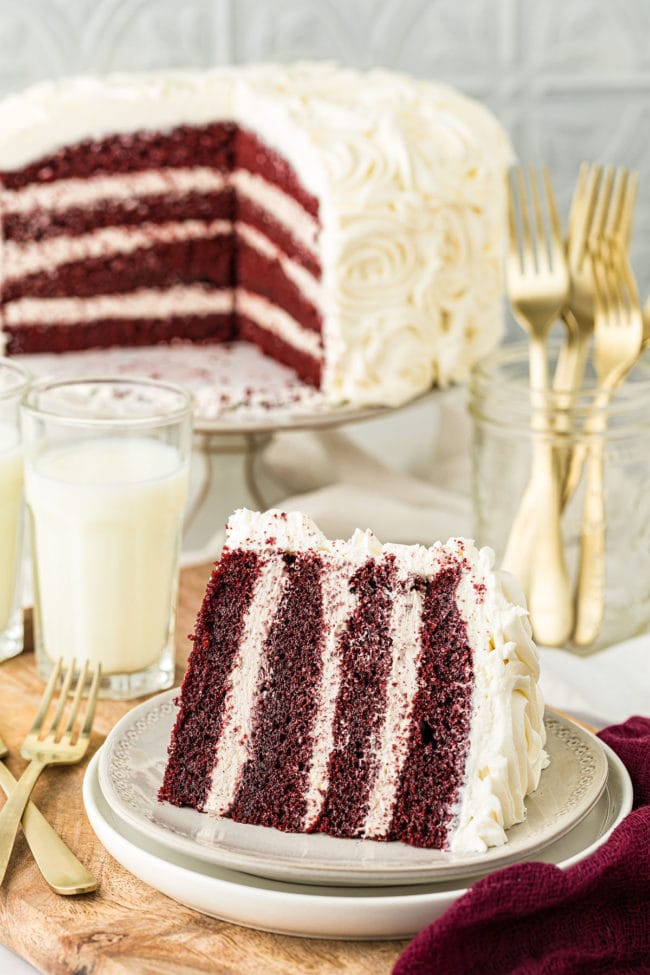 Why I Love This Red Velvet Rose Cake Recipe
As you can see, a rose cake looks intricate, beautiful, and visually stunning. It's SO easy you won't believe it until you try it for yourself! I really love making this red velvet rose cake, not just for the wow factor, but because it tastes spectacular too!
I love the unexpected addition of a fluffy cinnamon buttercream nestled between the red velvet layers. (It's even more of a wow factor than the piped rose frosting.)
You'll love the delicious chocolate undertones, the tang of buttermilk, and that heavenly melt-in-your-mouth crumb.
We all love a brilliantly hued red velvet cake made from scratch; soft, moist and tender.
Everyone will love that piping rosettes on the cake is easier than icing a smooth birthday cake–EVERY day of the week!
Anyone will love receiving this gorgeous red velvet rose cake, special occasion or not!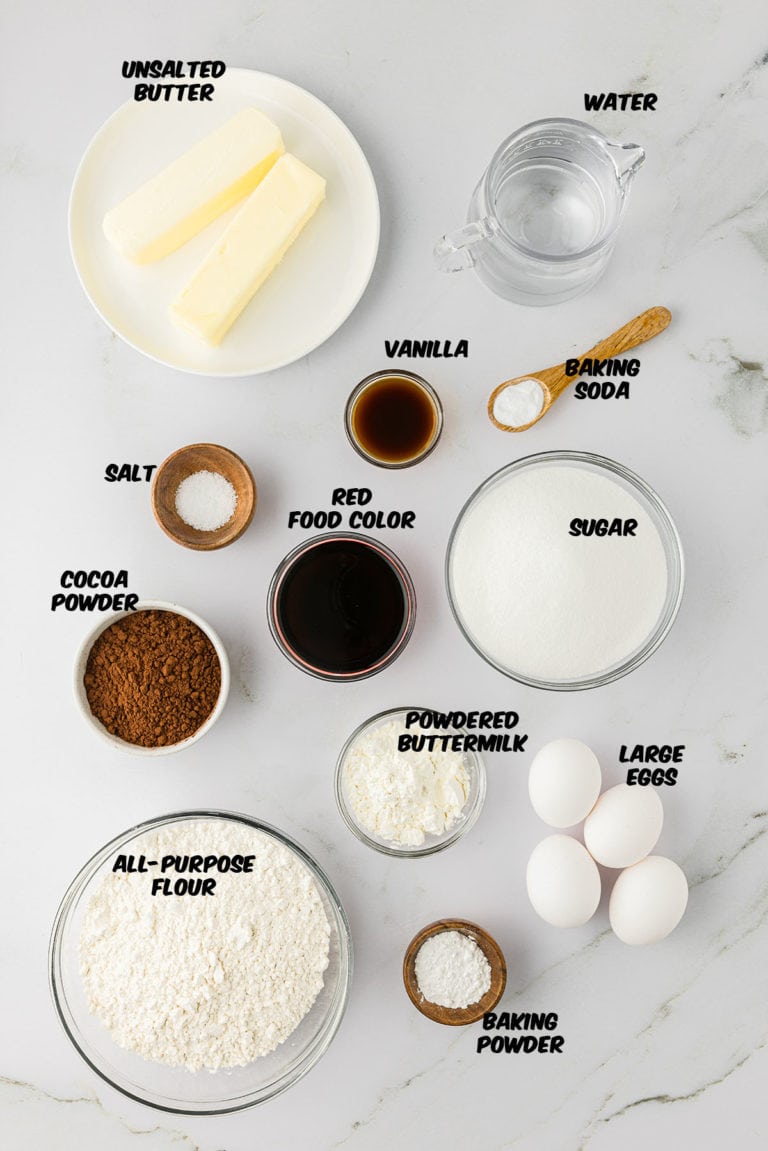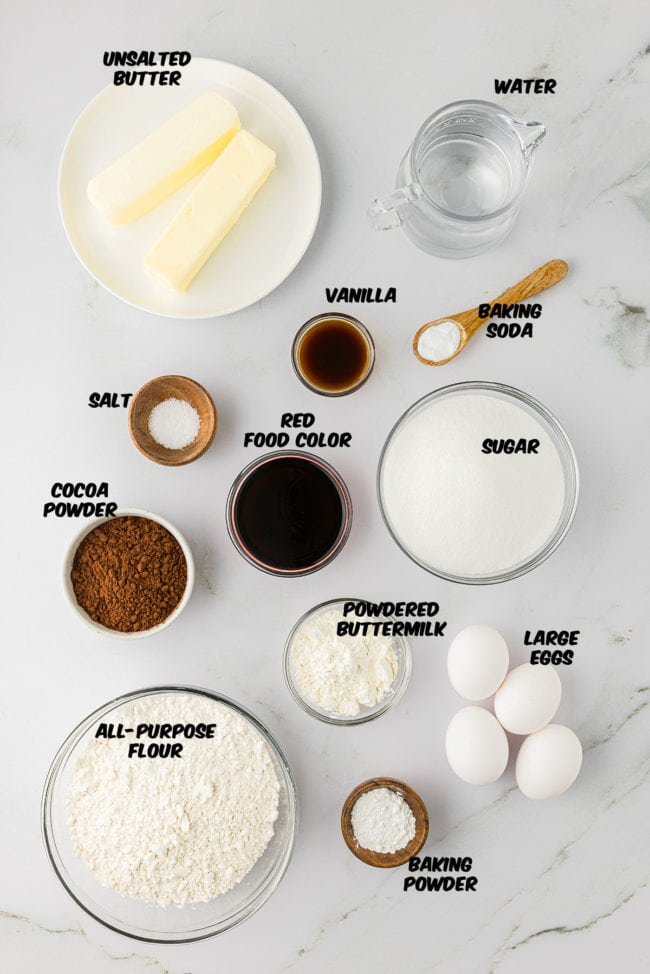 This post may contain affiliate links. Please read my disclosure policy here.
Homemade Red Velvet Cake Ingredients
First, grab the equipment you're going to need for this red velvet cake: grab two 9" x 2" cake pans, non-stick spray, mixing bowls, measuring implements, a sifter, wooden spoon, stand mixer with a paddle attachment, large spatula, and a cooling rack. Highly recommended but optional: kitchen scale and kitchen timer.
For specific amounts, please refer to the printable recipe card at the bottom of the post.
All-Purpose Unbleached Flour – Use a kitchen scale for the most successful red velvet cake texture; otherwise, fluff, spoon, and level the flour.
Natural Cocoa Powder – I usually use Hershey's unsweetened cocoa powder.
Baking Powder & Baking Soda – make sure they are fresh and have not expired.
Water
Salt
Red Food Coloring – You can use liquid food coloring or a super red gel . Gel color is concentrated, so you need less than you would with liquid food coloring- either will work. (use 1-2 teaspoons if using gel)
Unsalted Butter – you don't have to wait until it is room temperature.
Sugar – white granulated
Large Eggs – should be at room temperature.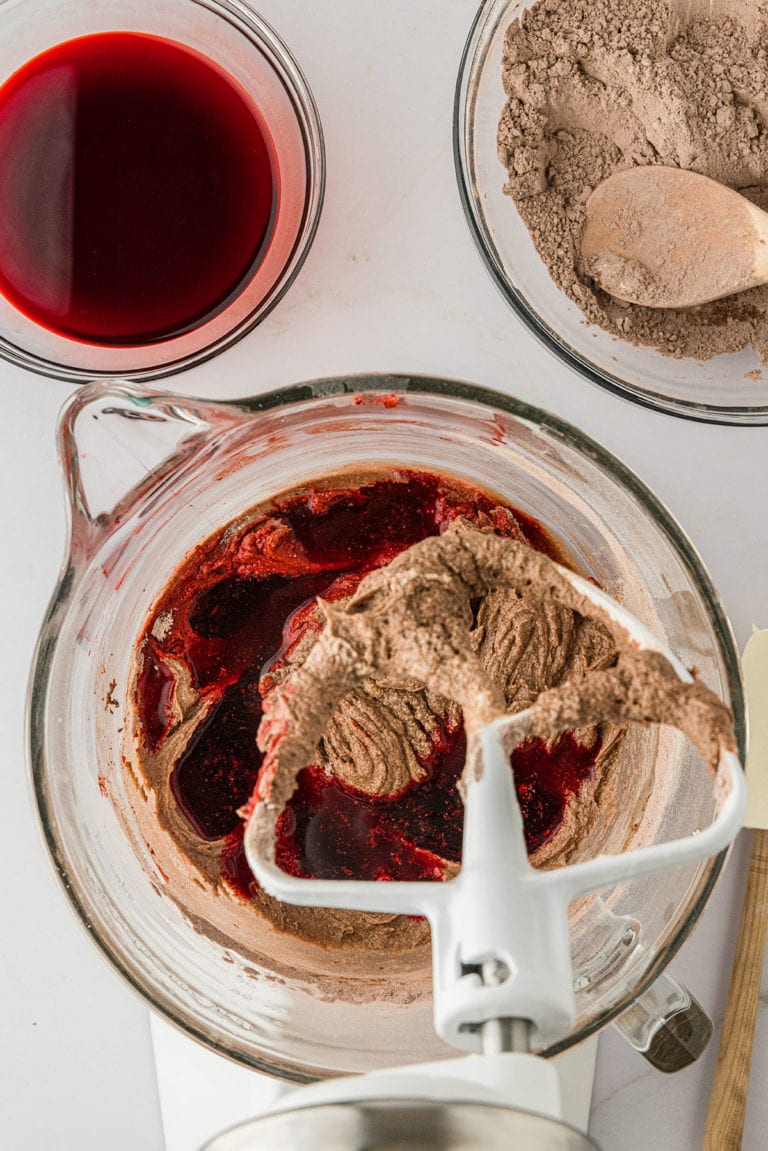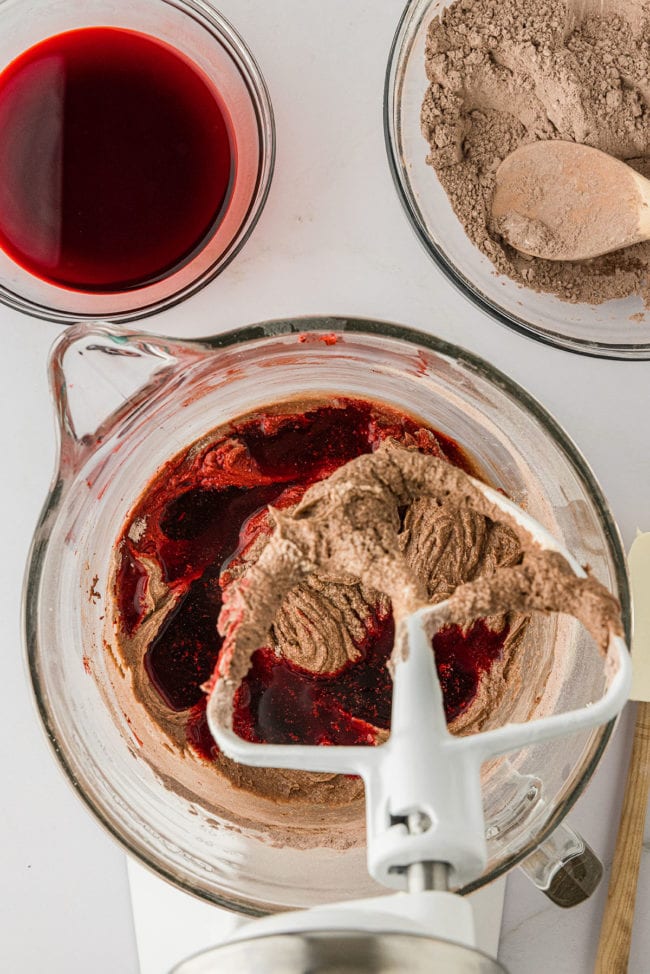 How To Make A Red Velvet Cake From Scratch
Now, now, bear with me. The instructions may seem longer than some for a red velvet cake recipe, but keep this in mind, it's a homemade cake from scratch with two types of frosting! All the steps are simple, and there is more detail in the recipe card! So don't miss out on making this delectable red velvet cake. You can bake the cake one day; frost and pipe the super easy rosettes the next!
When you are baking, you'll want to use the full recipe at the bottom of the page.
Sift the dry cake ingredients, stir, and set aside.
Mix the wet ingredients in a separate bowl and set aside.
Beat the butter in a stand mixer, then slowly add sugar until light and fluffy.
Add the eggs one at a time.
Start combining the dry flour mixture, with the wet ingredients.
Divide the cake batter equally into the prepared pans.
Bake the red velvet layers in preheated oven.
Allow the cakes to cool completely.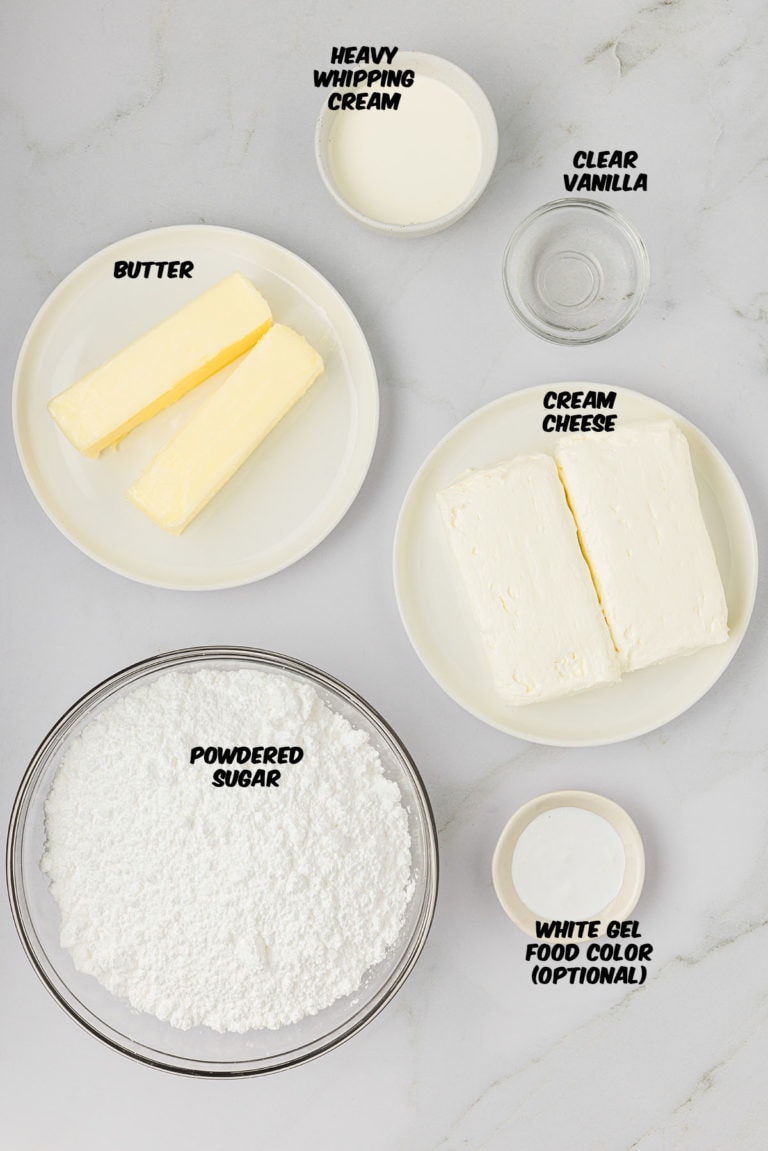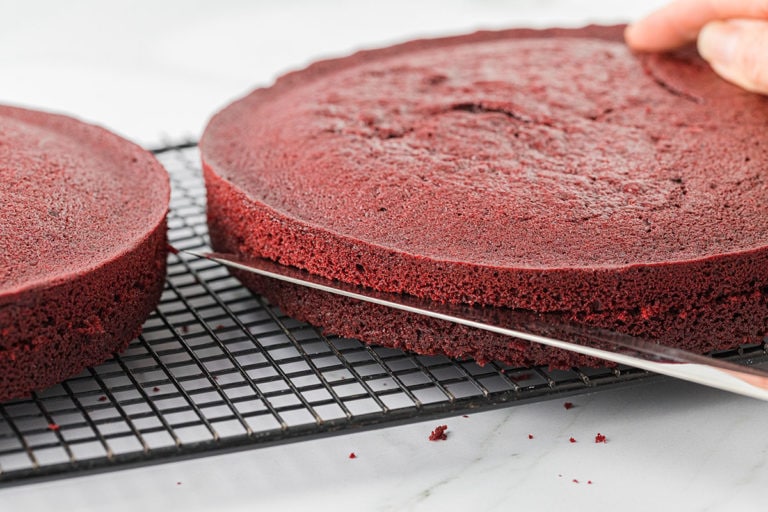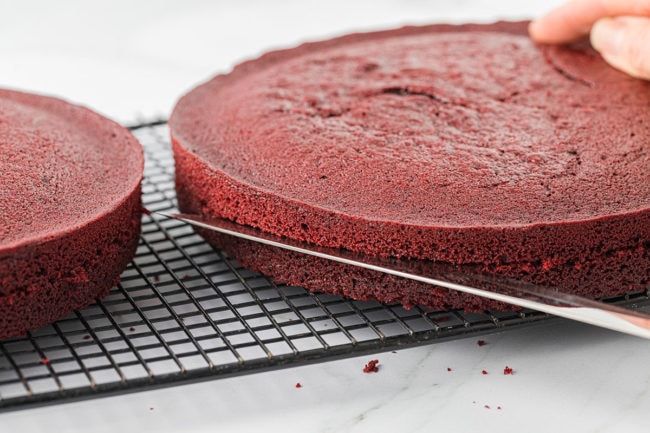 Assembling Red Velvet Cake With Rose Decorations: Rose Cake
Use a long serrated knife (or nifty cake slicer/leveler) to slice cooled cake layers in half horizontally for four cake layers.
Slather each red velvet cake layer with one cup of cinnamon buttercream filling.
Frost the outside of the rose cake with vanilla cream cheese frosting.
For stunning frosted roses, check out this easy rose cake tutorial video.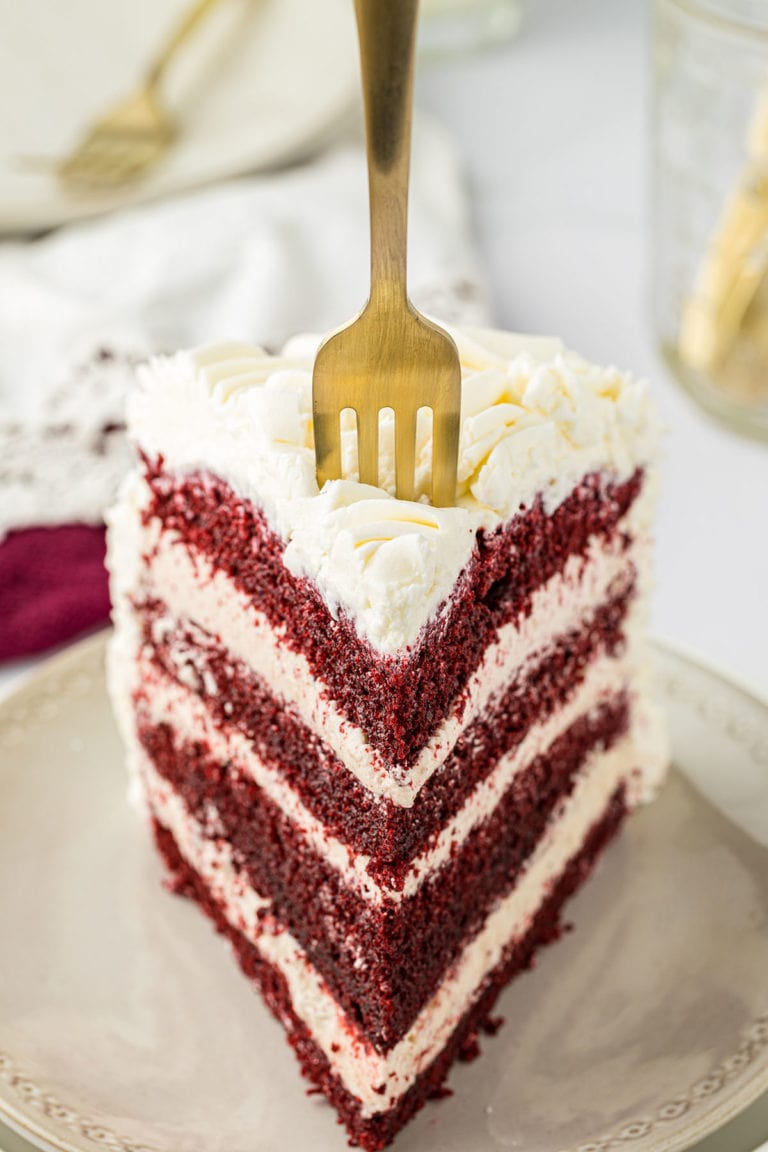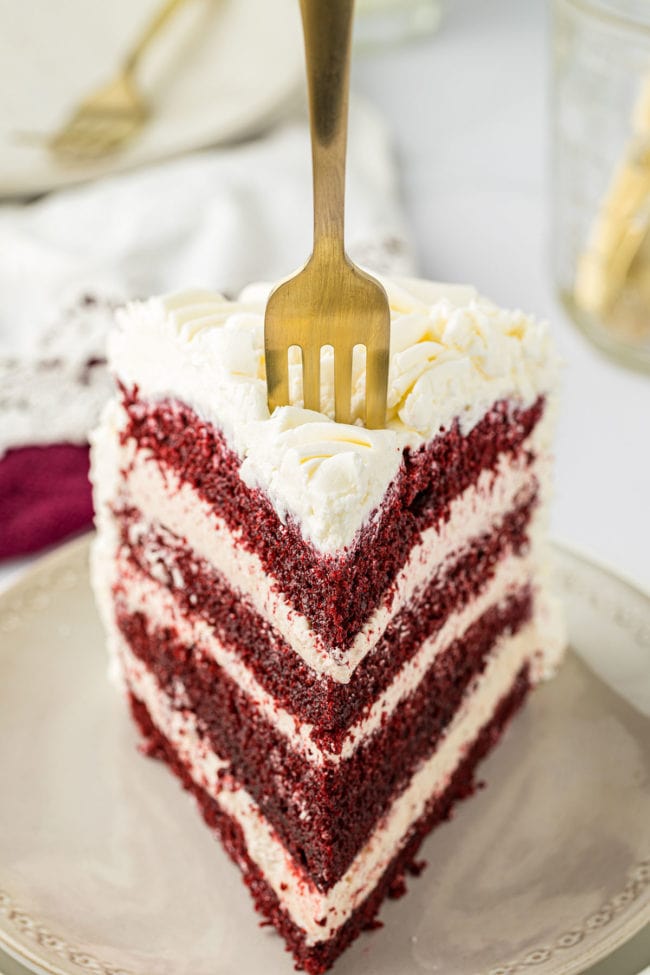 Red Velvet Rose Cake Recipe Notes/Tips
If the butter is cold for the red velvet cake, it will warm quickly from the beaters.
You may notice the batter will curdle slightly if the water is too cold; this is ok, as It will come together when you add the flour.
I use a kitchen scale to be sure both pans are filled equally with cake batter.
Unlike other baked goods, when you insert a toothpick to check for doneness, you should have a few moist crumbs attached, but not batter.
You don't have to halve the two cake layers, you can just make a two-layer cake (you might want to only make half of the cinnamon buttercream if you make a two-layer cake).
Spread a thin "crumb coat" layer of frosting over the whole cake then refrigerate for several hours or overnight before piping the roses.
It's better to prep two frosting bags for piping rosettes if it's overly warm in your kitchen or you have hot hands!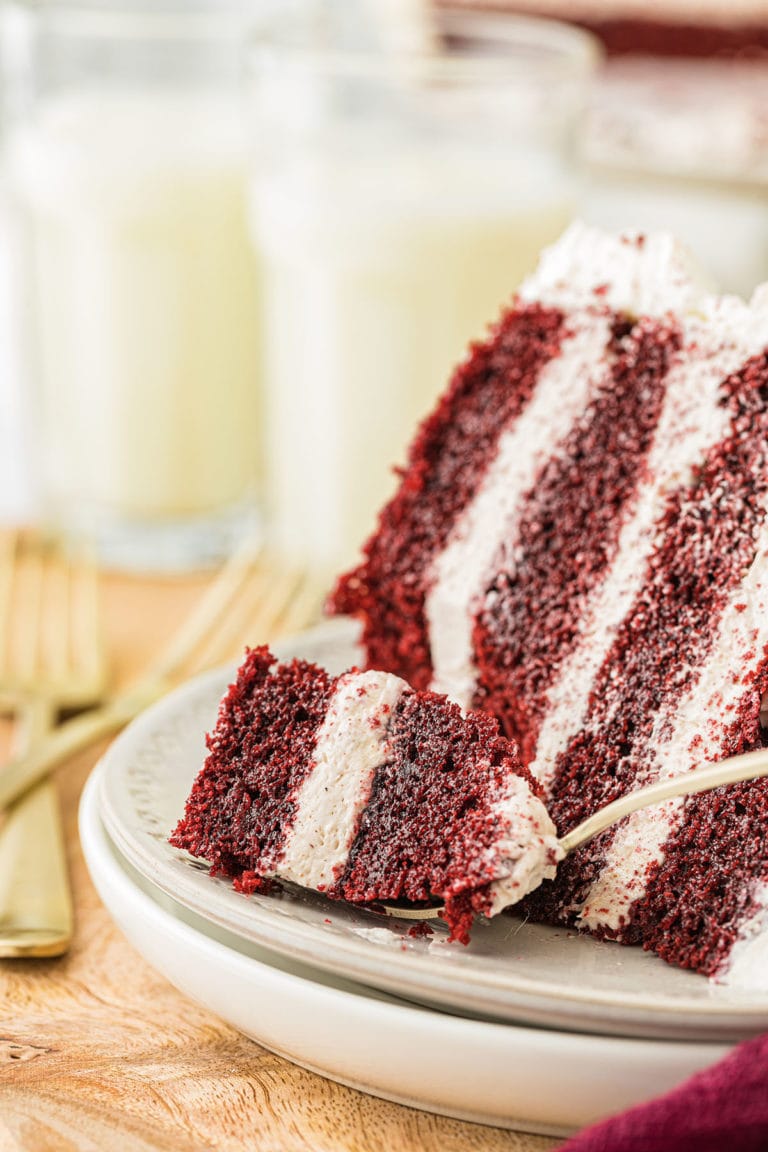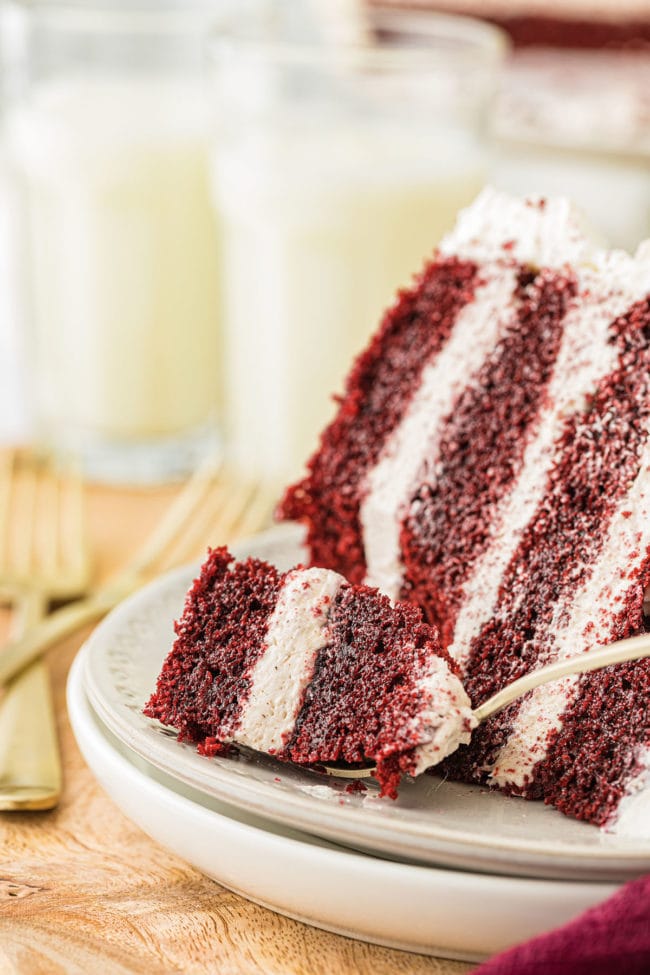 How To Store Red Velvet Rose Cake
You will want to refrigerate the cake layers before frosting. Wrap the red velvet cake layers in plastic (wrap well so they don't dry out) and put them in the refrigerator for at least a few hours or overnight.
Refrigerate/Leftovers
Red velvet cake frosted with cream cheese rose decoration needs refrigeration. Use an airtight cake container to refrigerate it for a few days. Red velvet rose cake MUST be refrigerated because of the cream cheese frosting.
Freeze
Unfrosted cake layers can also be frozen for over a month, well-wrapped. Thaw at room temperature.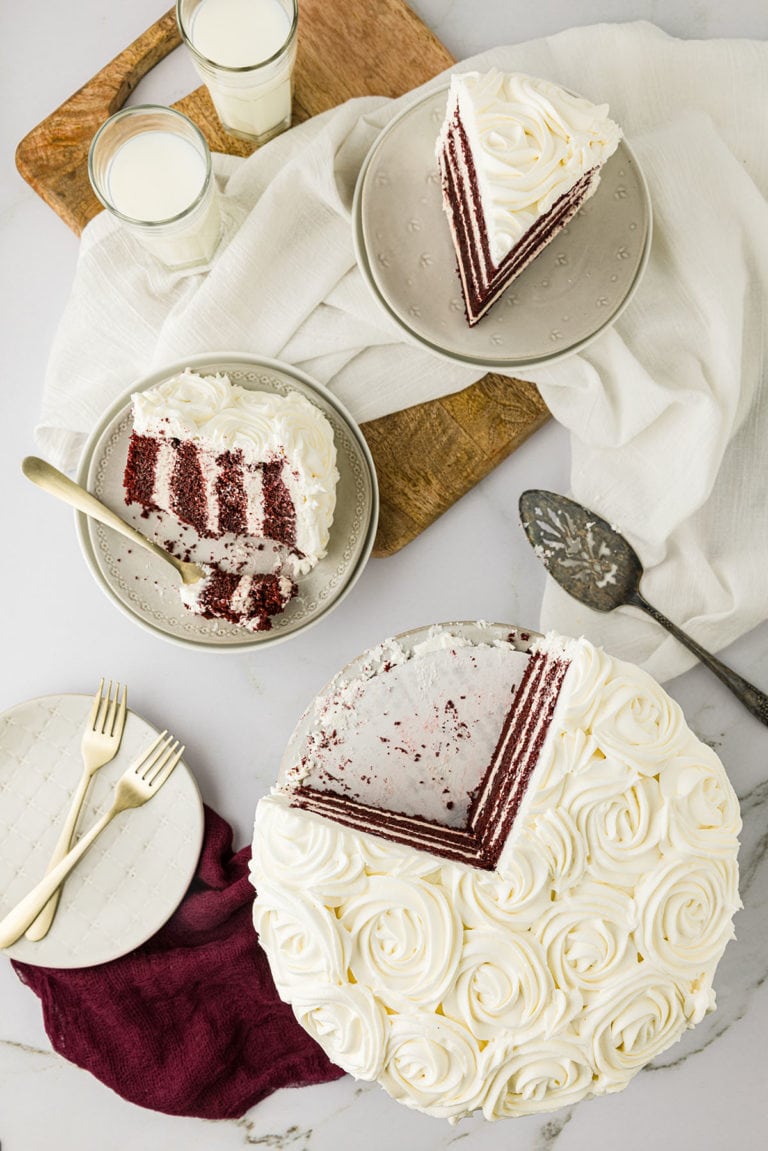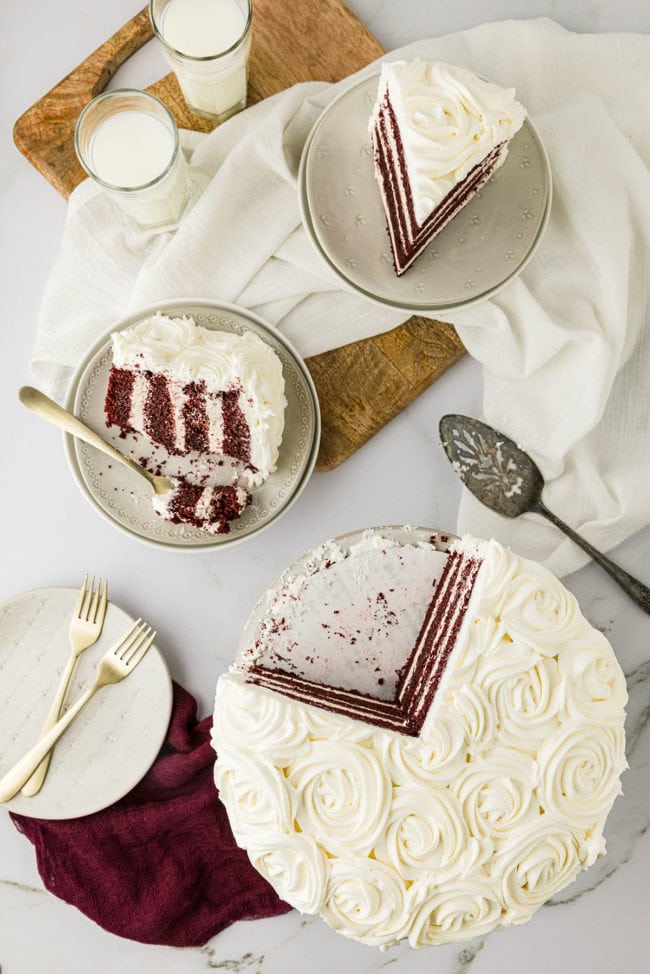 Like This Recipe? Pin It!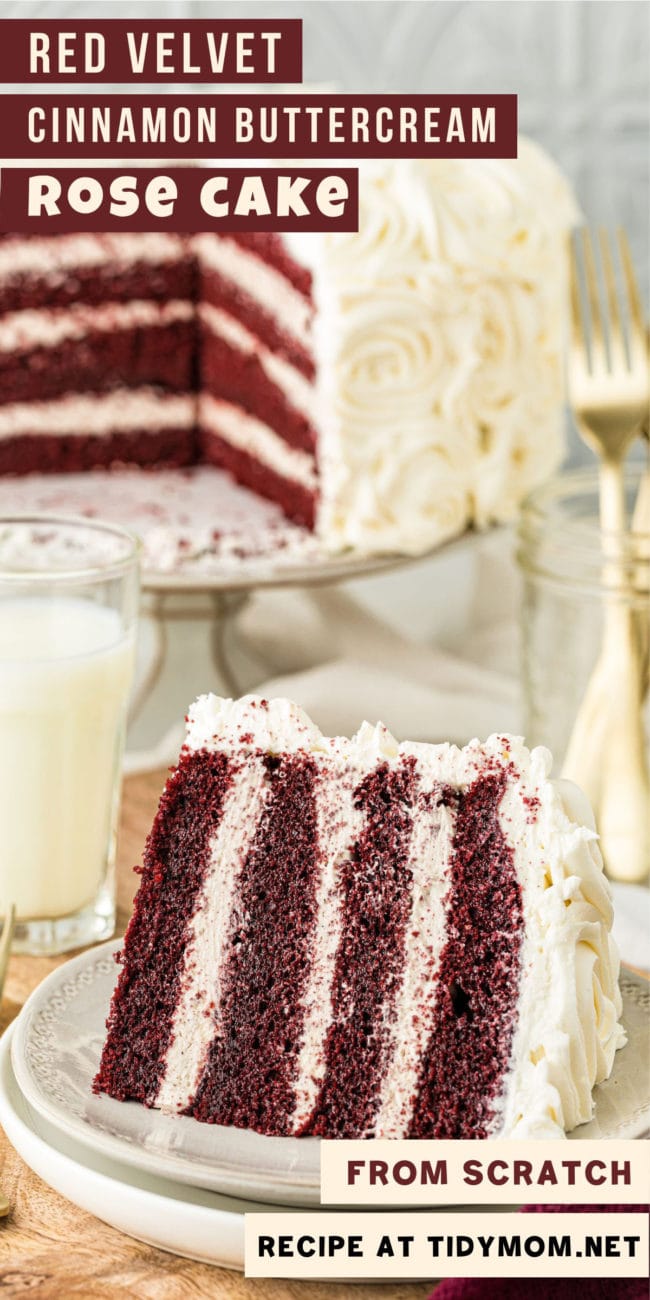 Originally posted in November 2011. UPDATED May 2023. We spiffed up this post with more info and new photos.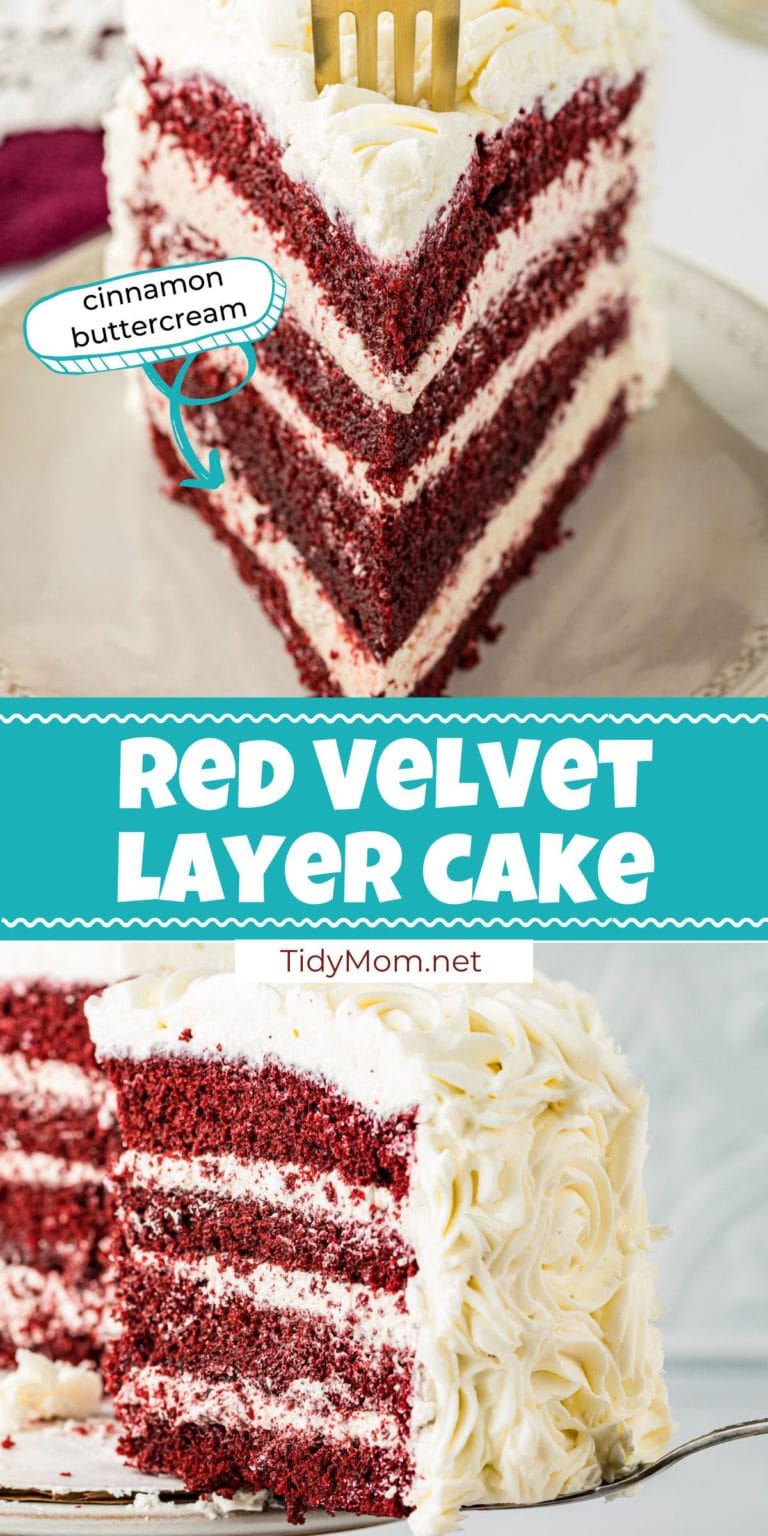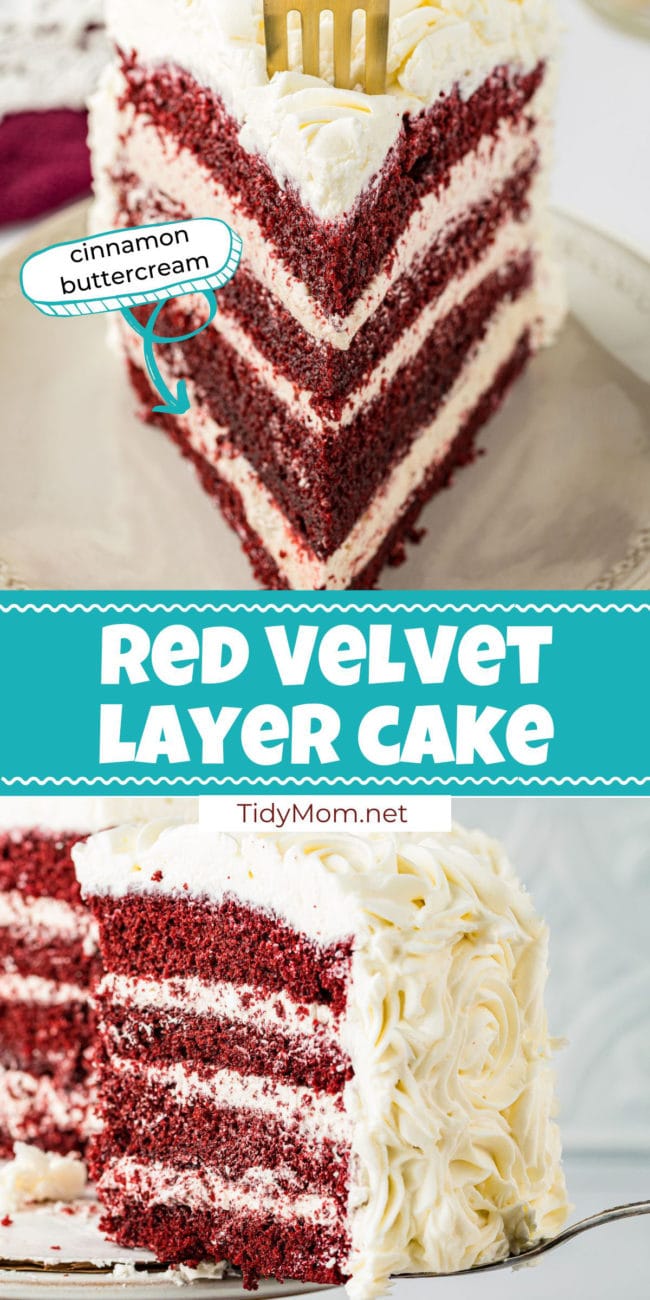 Tidymom is a participant in the amazon services llc associates program, an affiliate advertising program designed to provide a means for sites to earn advertising fees by advertising and linking to Amazon.com.
Please respect my work, recipes and photographs. If you do use a recipe in your own writing, please give proper credit and link back to the original post.