Pico de Gallo-The Rooster's Beak (Salsa Fresca)
Pico de gallo looks and tastes like a party on your palate! A colorful salsa fresca with meaty Roma tomatoes, zippy onion, aromatic cilantro, and snappy jalapeno is bursting with authentic Mexican flavor.
Looking for more appetizers and party foods? Here are a few fantastic party snack recipes we love! Honey & Walnut Baked Brie, three-ingredient Gruyere Asparagus Puff Pastry Tart, and "who needs wings" with Easy Baked Buffalo Chicken Dip! I kid you not; make these appetizers, and you'll see why "taste testing" and "one more bite" leads to "oh my gosh, I can't believe I ate all that…by myself!"
Be sure to sign up for my email… to get new recipes and ideas in your inbox!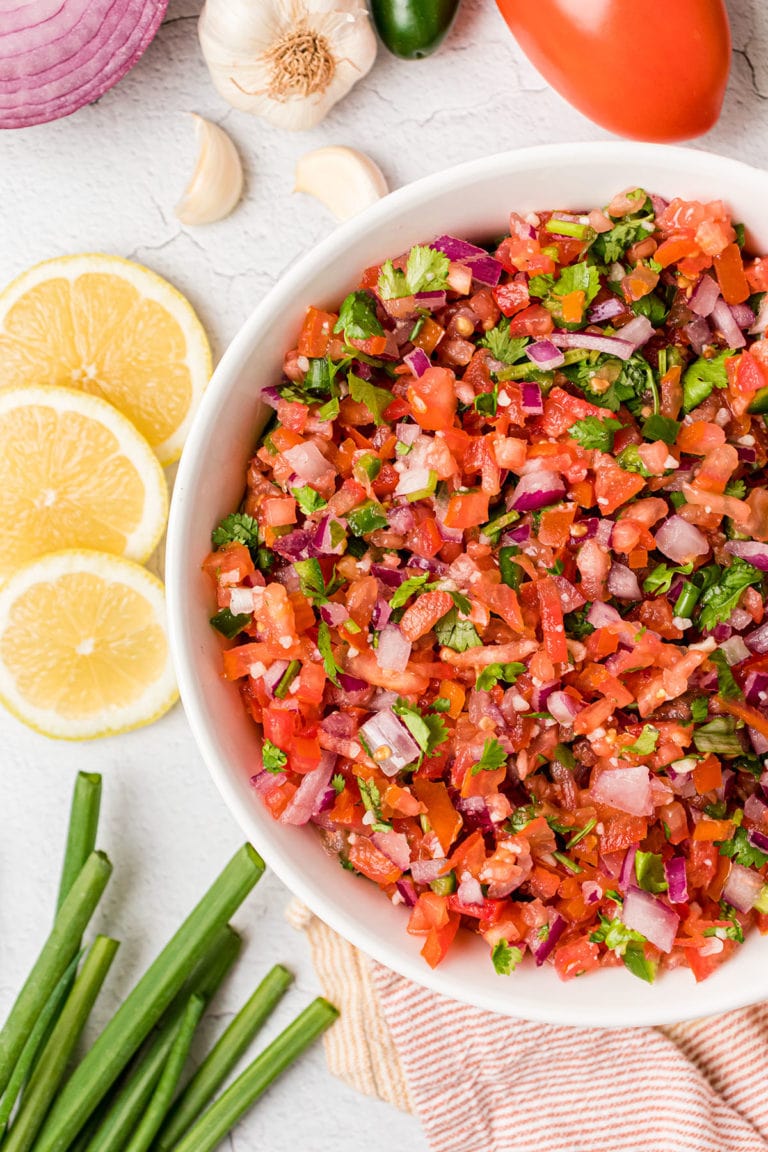 Why Is Pico de Gallo Also Called "Rooster's Beak?"
Because that's what pico de gallo translates to in Spanish, more precisely, "beak of the rooster." Who knew?! There are a few ideas about how this Mexican dish was named rooster's beak. Some say pico was initially eaten by pressing the index finger to the thumb, mimicking a rooster's beak. People native to the Northwest region of Mexico use serrano peppers shaped similarly to roosters' beaks in their salsa fresca recipes.
Tortillas chips' festive forever partner, pico de gallo, has more than one name, such as salsa fresca (fresh sauce), salsa cruda (raw sauce), and salsa bandera (flag sauce). Flag sauce references the Mexican flag's bright red, green, and white colors. Pretty cool, right? No matter what you call this super simple chop-and-toss salsa recipe, everyone else will call it fantastic!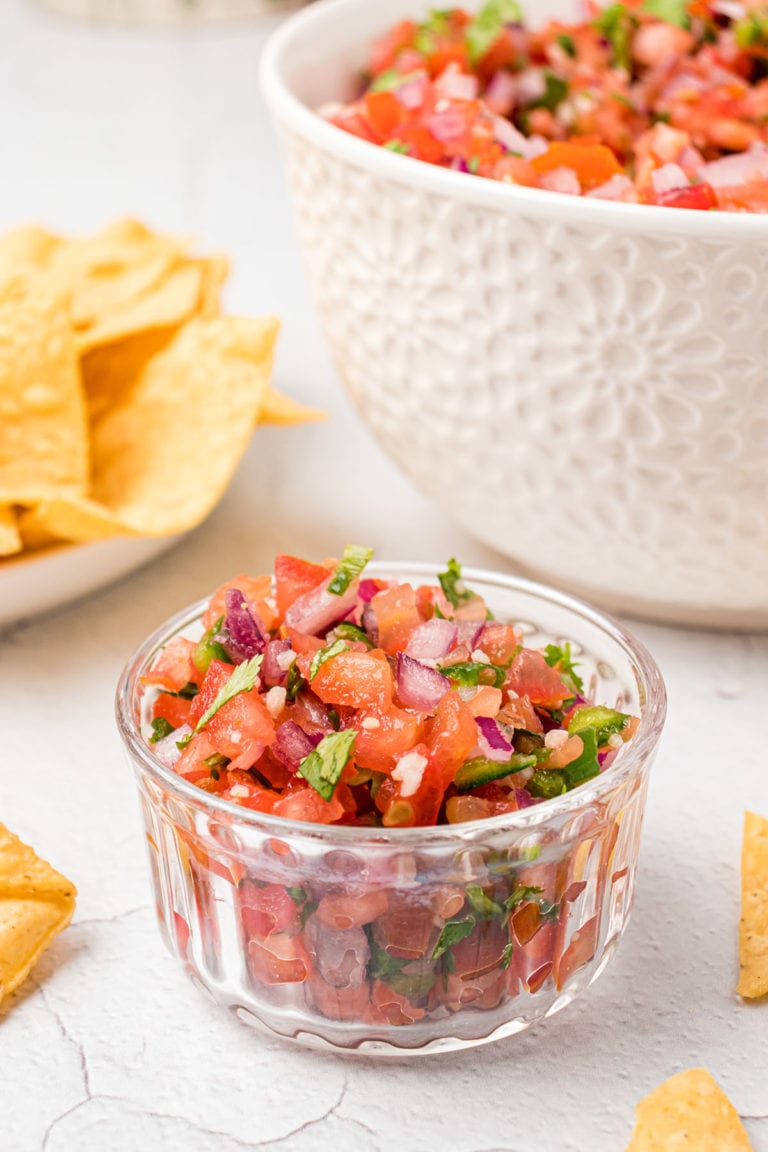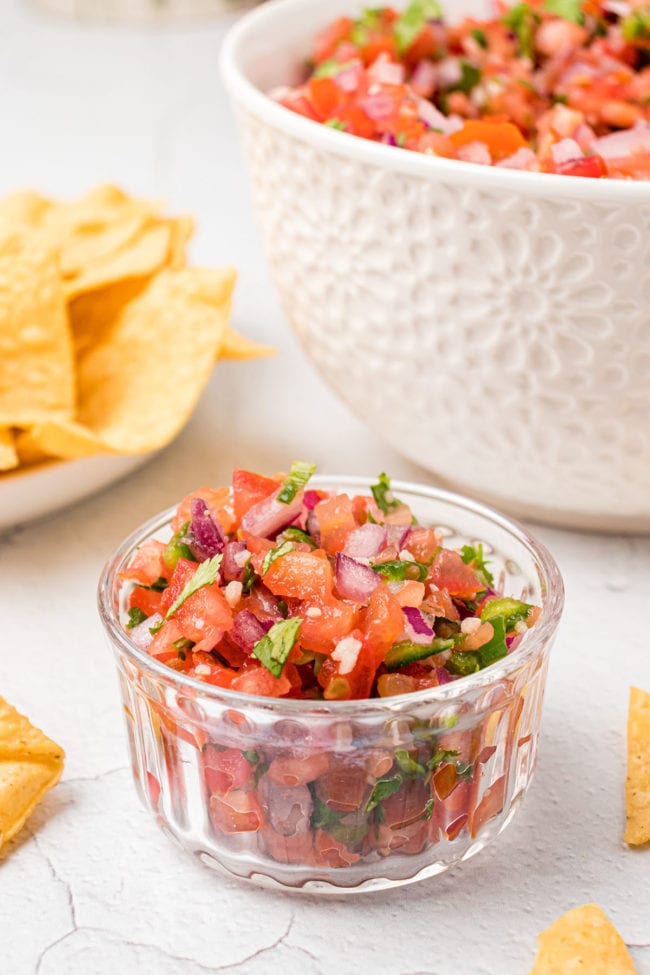 Why You'll Want To Make Pico de Gallo Over & Over
Homemade pico de gallo is a lively, zesty, and refreshing combination of fresh herbs and vegetables with the piquant tang of citrus. This stuff always lightens up and balances other heavy cheese or meat-intensive appetizers.
Quick and easy to throw together
A healthy, low-calorie snack
Packed with anti-oxidants
Other uses besides a chip dip
Make ahead for more intense flavor
Fresh pico just tastes good!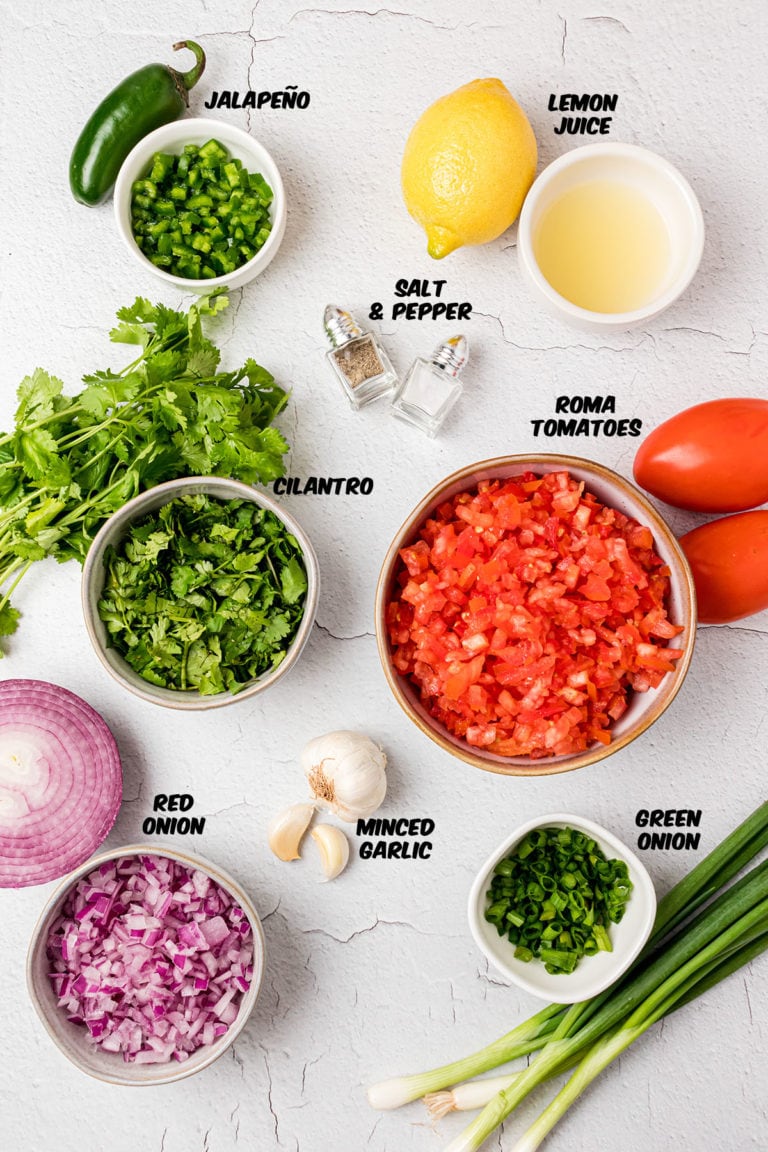 Simple Pico de Gallo Ingredients
You get a zesty-tangy and zippy kick with a fresh pico de gallo salsa! Look for fresh, firm, and colorful fruits and vegetables to make this fresh pico recipe!
For specific amounts, please refer to the printable recipe card at the bottom of the post.
Roma Tomatoes – a firm, meaty pulp that holds up well for fresh salsa recipes. They are also called Italian or plum tomatoes.
Red Onion – is milder and a bit sweeter than yellow onion and adds a nice pop of color.
Fresh Cilantro – is a vibrant, aromatic herb commonly used in Mexican cuisine.
Green Onions – are also called spring onions or scallions.
Garlic Cloves – minced
Medium Jalapeno*– finely diced and deseeded with the membrane removed.
Fresh Lemon Juice – if you've got a gorgeous yellow lemon, zest it before juicing and freeze the zest to use at another time.
Salt & Black Pepper
*DYK? Tabasco is actually 6-10 times hotter than a jalapeno on the Scoville Heat Unit Scale; the SHU shows how much capsaicin ("hot") a pepper contains. The SHU for jalapenos ranges in heat/capsaicin from 2.5K – 8K, but tabasco (cultivar) peppers range between 30K – 50K! That's a huge difference!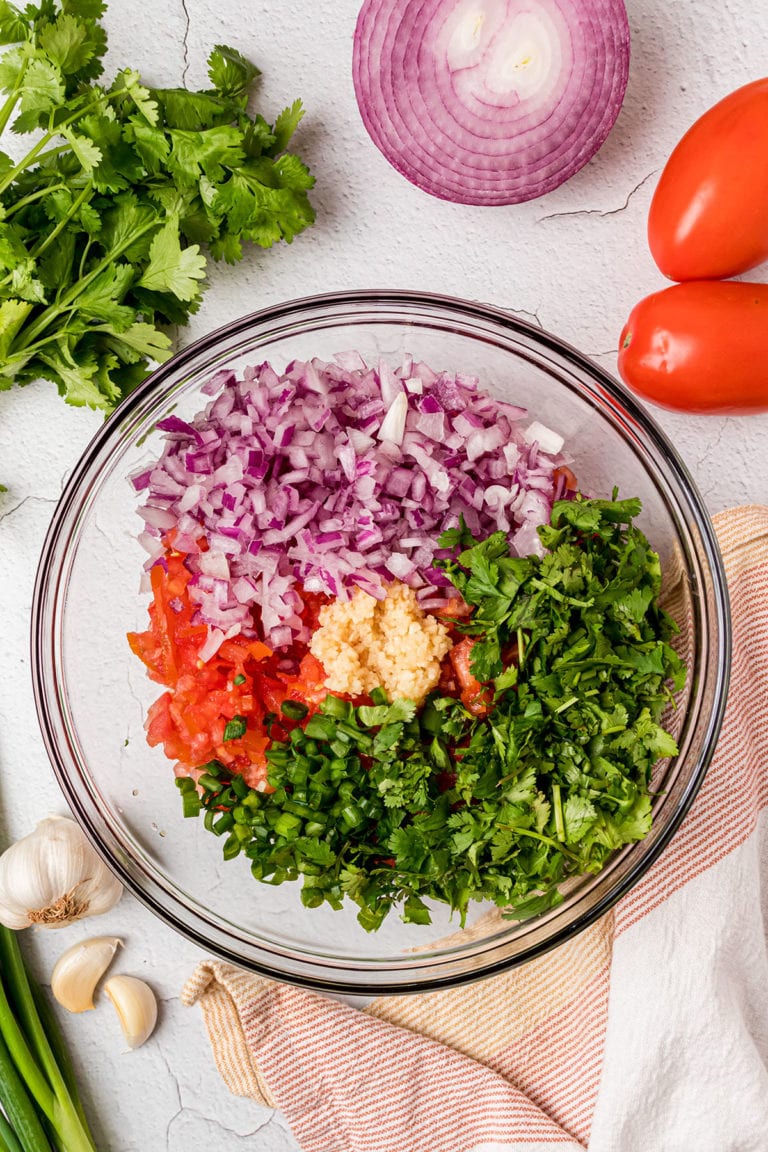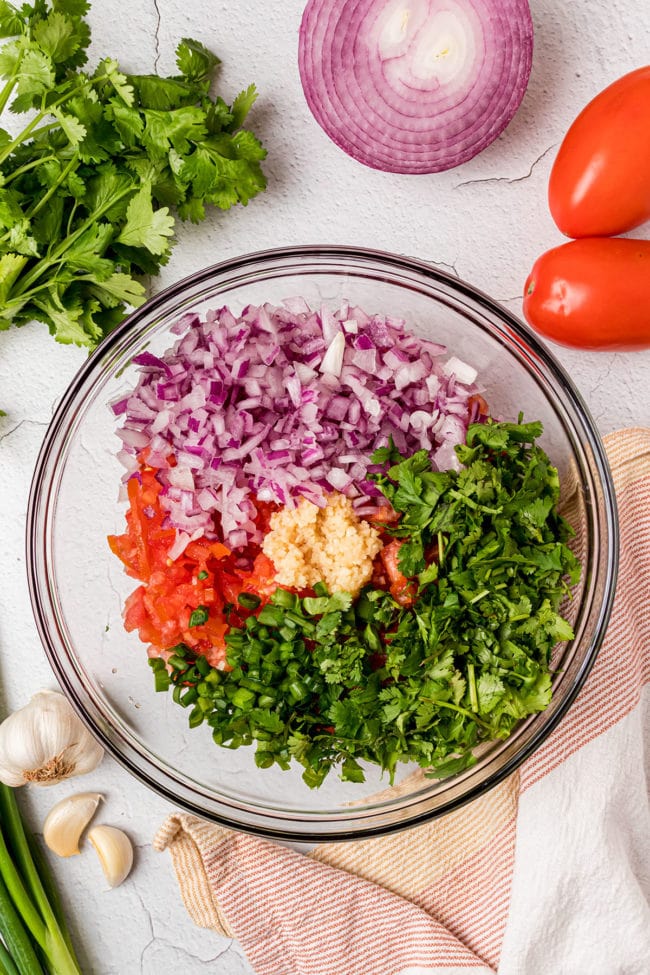 This post may contain affiliate links. Please read my disclosure policy here.
Throwing Together The Best Pico de Gallo Salsa
This fresh salsa recipe is so tasty and adds up to be as simple as chopping and tossing everything together. So gather a sharp knife, spoon, cutting board, festive bowl, and a lemon juicer, and let's get to it!
When you are baking, you'll want to use the full recipe at the bottom of the page.
As always, wash, drain, and prep all of your veggies. (See notes about jalapeno preparation)
Toss everything in a bowl and squeeze lemon over the top.
Season with salt and pepper, stir, cover, and chill.
Serve pico with chips, and enjoy! It's that easy!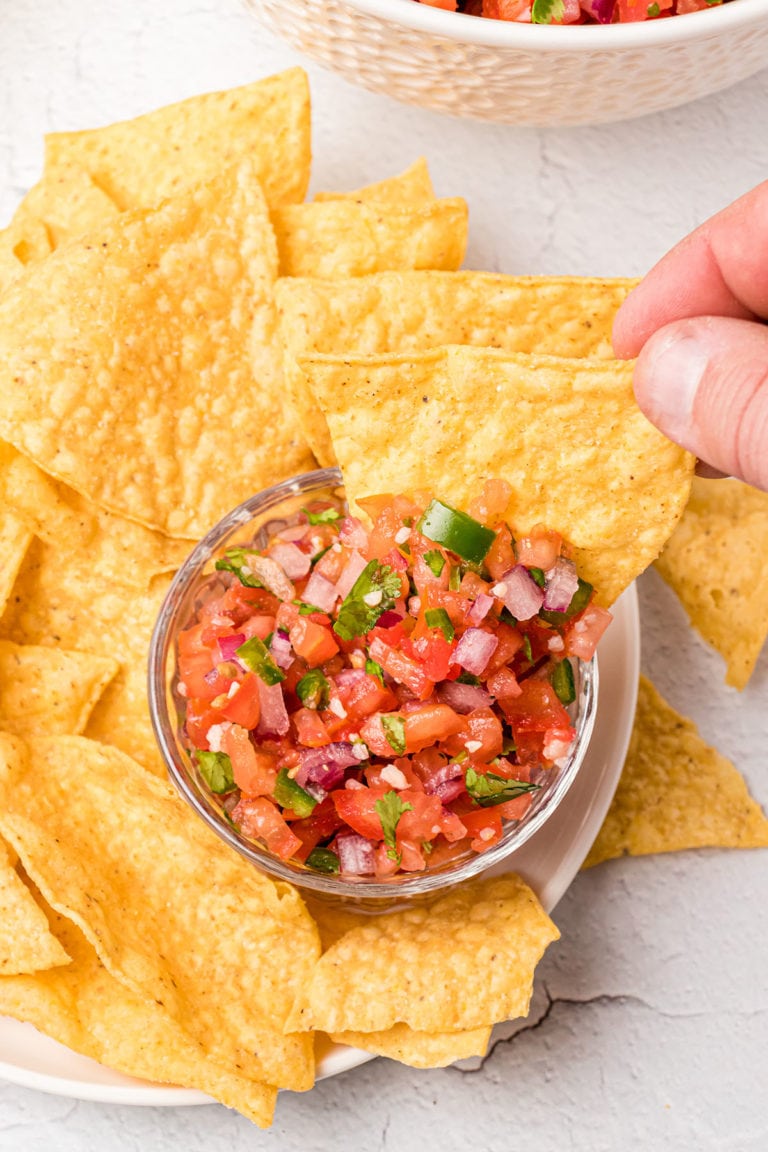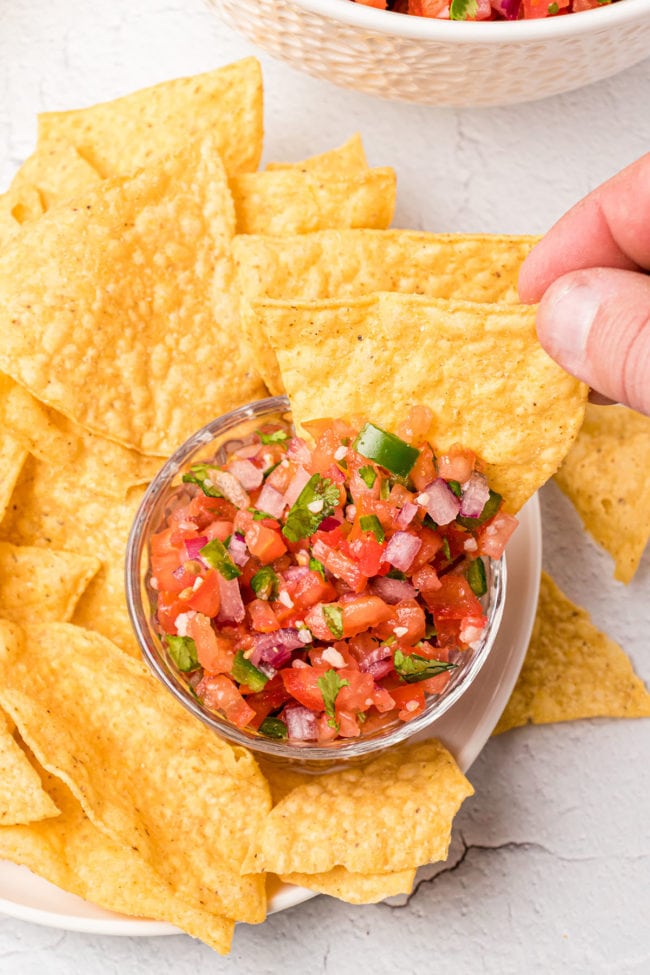 Pico de Gallo Con Jalapeño Recipe Notes
When prepping fresh jalapenos for pico, wear disposable gloves. For goodness' sake, don't touch a thing (especially your eyes or face) before taking them off. The oils can light you up, and not like a Christmas tree! 🫣
Feel tetchy about jalapeno heat in a salsa fresca? Remove the seeds and light membrane to reduce the spice factor.
I recommend adding only one jalapeno to start unless you like heat. Taste at the end and add more if needed when serving immediately.
If you chill pico de gallo and plan to serve it hours later or the next day, the oils from the jalapeno continue to release into the salsa. So, the spice factor ratchets up the longer your pico marinates.
Freshly squeezed lime (especially key limes) in place of lemon juice (or a combo of the two) is muy bueno! (Vinegar works in a pinch.)
Some Extra Pico de Gallo Ingredient Ideas
Want an additional authentic flair to spice your salsa up? Try a pinch or two of cumin or chili (pepper) powder.
For the best melding of flavors, chill homemade pico for at least an hour. Make the salsa recipe early afternoon, chill, and remove from the fridge 15 minutes before serving for optimum flavor.
Easy additions for salsa fresca:
Watermelon
Pineapple
Mango
Avacado chunks
No lemon? No problemo! Use lime juice or some vinegar when making a pico de gallo recipe. The added acid brightens all of the robust salsa ingredients.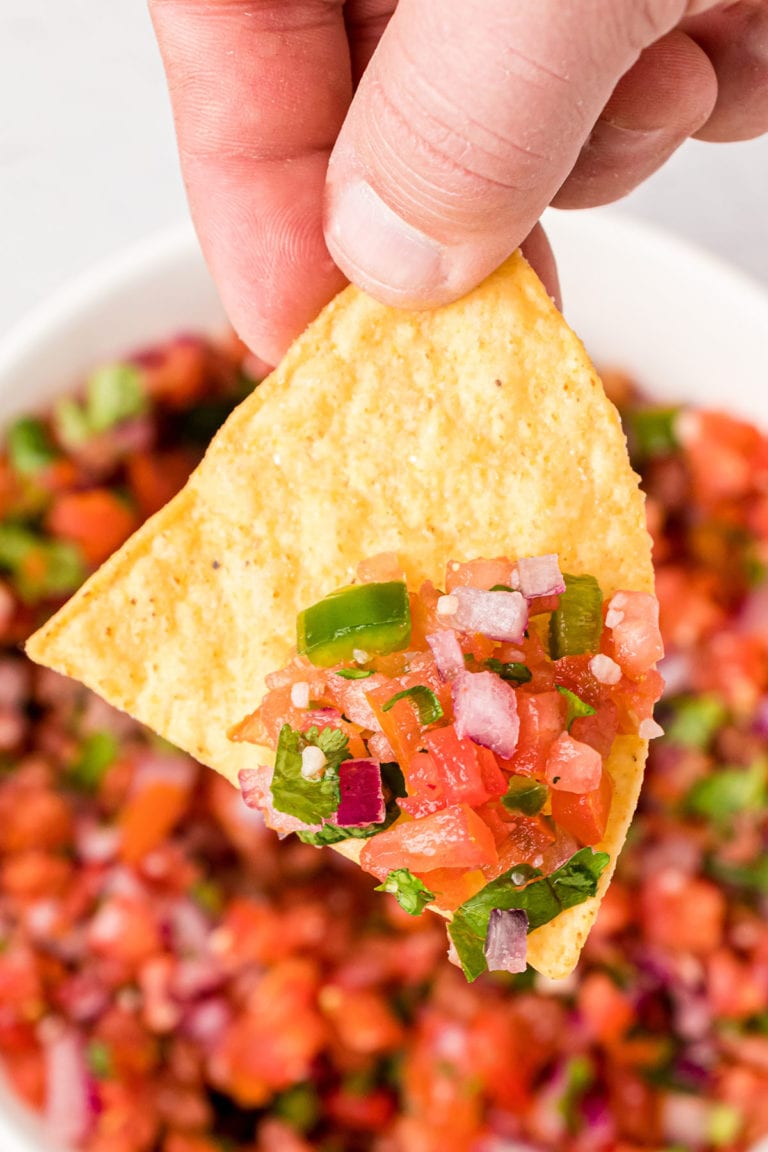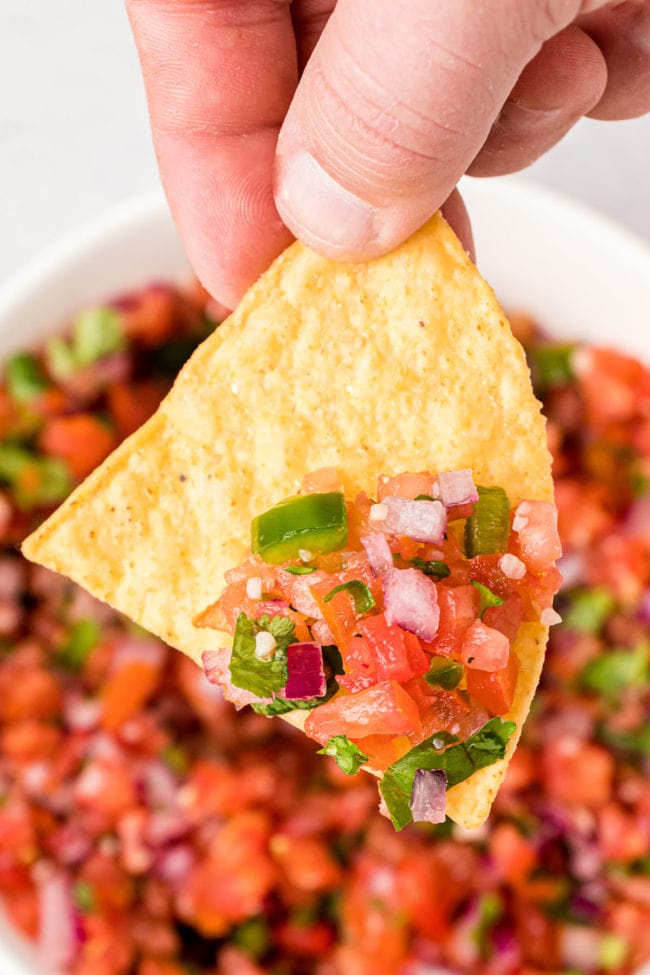 Storing Homemade Pico de Gallo
An excellent advantage of a salsa recipe is that it can go from cutting board to table. Still, I think pico de gallo always benefits from a siesta in the fridge before serving.
Refrigerate/Leftovers
Refrigerate unused portion in an airtight container or tightly covered in plastic wrap. Pico de gallo will keep for 1-2 days in the fridge.
Storage Note: With double batches, serve a half portion for smaller crowds, replacing it as it is used up with a fresh bowl of pico.
If you or your guest are directly dipping, then store leftover pico de gallo separately from any not set out.
When other foods are dipped into salsa, it will break down quickly, so use that up first.
Pico de Gallo FAQs
Is salsa fresca the same as pico de gallo?
Yep! (Translation "fresh sauce" and "beak of the rooster" are the same condiment.) The names are synonymous with a traditional Mexican raw veggie salad made of fresh, diced ingredients, seasonings, and citrus juice.
What is the difference between salsa and pico de gallo?
The consistency. Salsa is made with juicy tomato varieties, canned tomatoes, and/or juice as the base of the cold sauce. Whereas pico de gallo (aka salsa cruda) uses the meaty pulp, but far less juicy, Roma tomatoes and diced vegetables with a toss of citrus and spices. Salsas may also incorporate roasted or cooked elements: tomatoes, jalapenos, peppers, etc.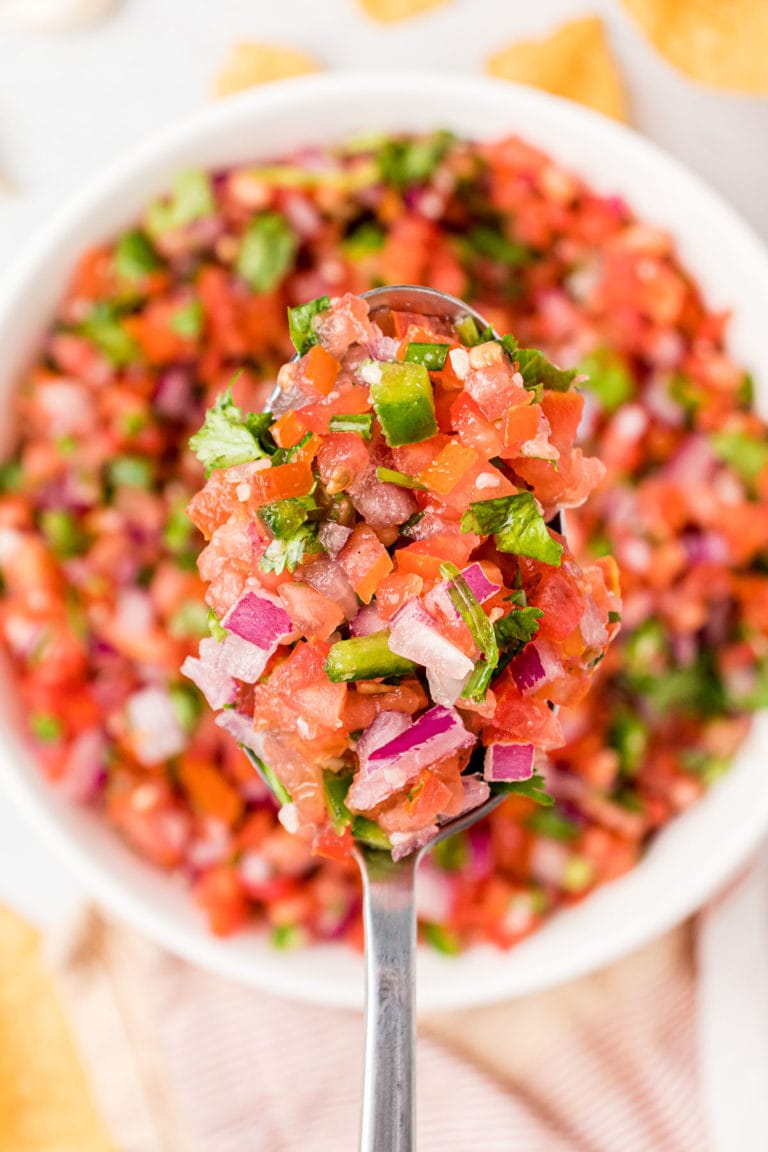 Serving Suggestions & Recipe Ideas
Pico de gallo has more uses than un chucho has fleas. 😀(mutt) You'll be surprised how easily pico salsa can be incorporated into any meal, including breakfast. Think fajita omelet with sour cream and pico. Wow, I'm hungry now!
For an amazingly simple and scrumptious "lazy guacamole," mix this homemade pico de gallo recipe with ripe, smashed avocado. Viola!
Spoon it on tacos and quesadillas.
Mix up a delicious "salsa ranch dressing" by combining pico de gallo and sour cream, kefir, buttermilk, or plain yogurt. Add liquid, if needed, and seasonings: salt, garlic powder, and a pinch of cumin to taste. Yum!
Fresh pico de gallo is the bee's knees on Southwest Baked Egg Cups, with Mini Taco Bites, over Black Bean Pizza, or as a garnish (double scoop for me, please!) on Cheesy Chili Mac.
Serving ideas for homemade pico de gallo are incomplete without a shout-out to salsa fresca's forever friend and the mainstay of Tex-Mex, authentic tortilla chips. Simple, classic, and always welcomed!
Like This Recipe? Pin It!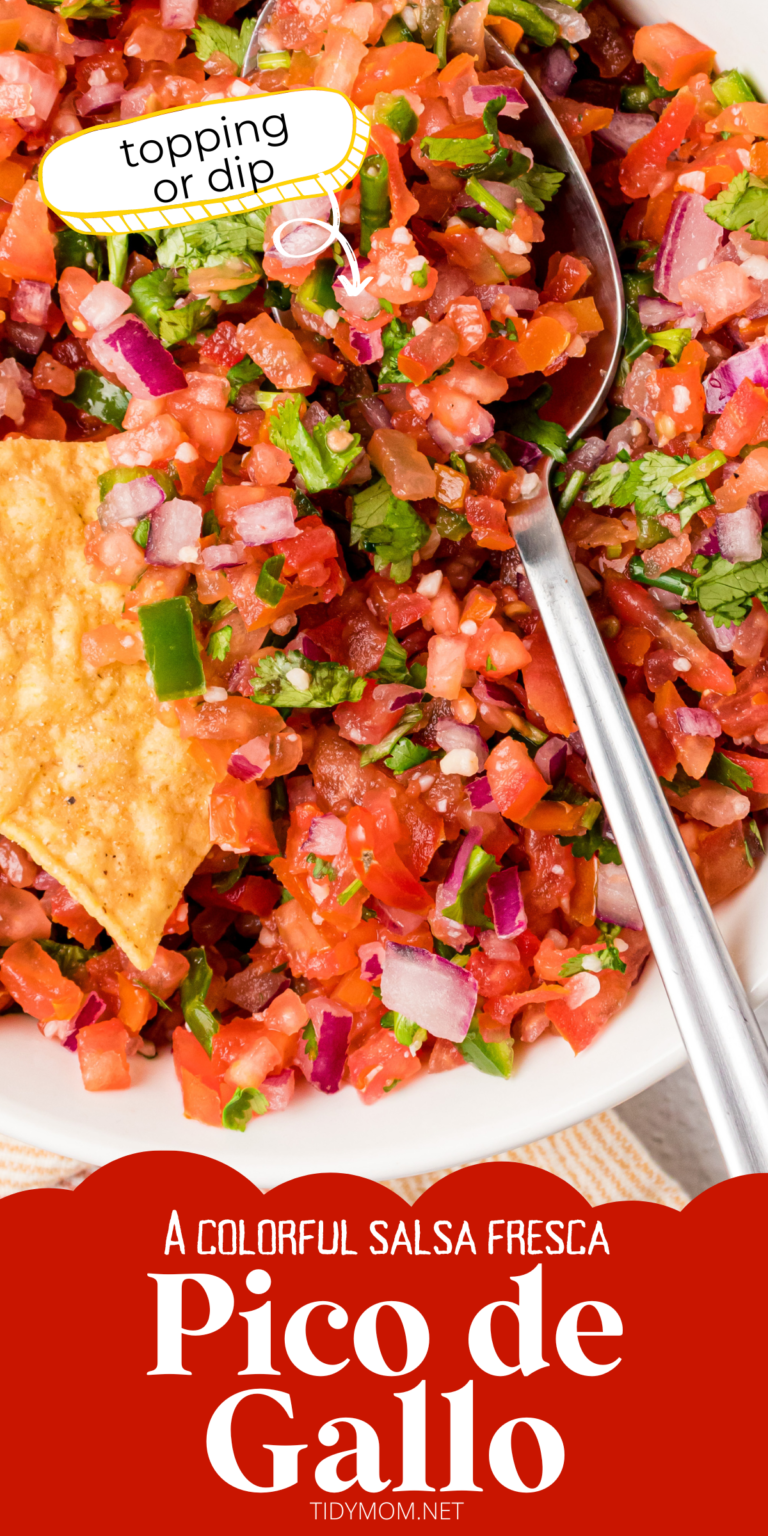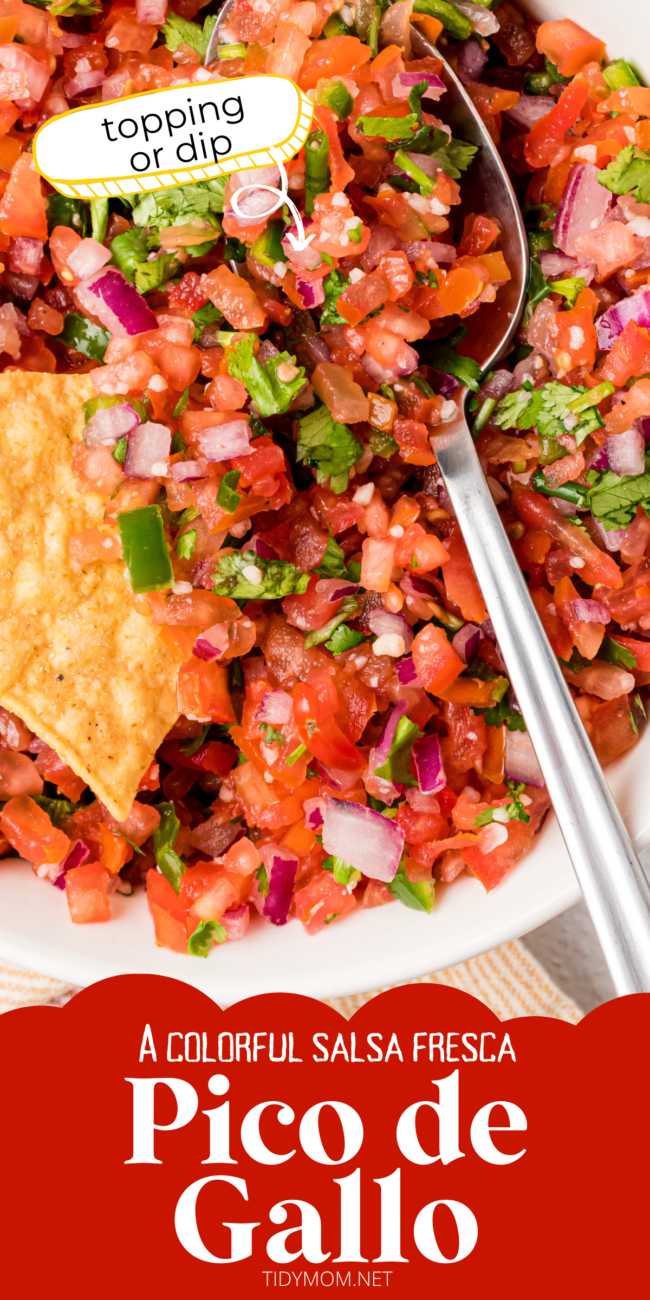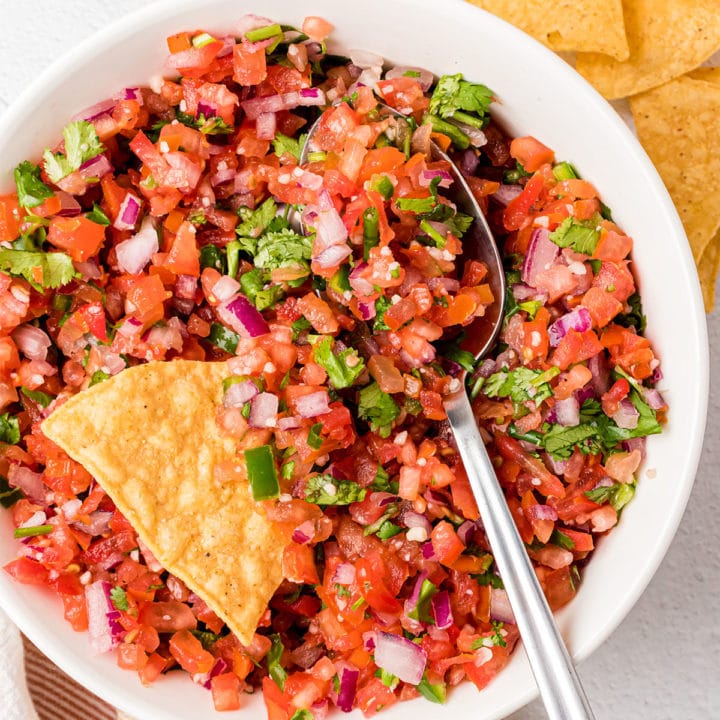 Pico de Gallo Recipe
Yield: 4 cups
Prep Time: 15 minutes
Minimum Chill Time: 15 minutes
Total Time: 30 minutes
Pico de gallo is like a party on your palate! Easy to make, this zesty salsa Fresca is loaded with authentic Mexican flavor. Use it as a topping or as a dip with tortilla chips.
Ingredients
6 roma tomatoes
1 medium red onion, chopped
1 cup fresh cilantro, chopped
¼ cup green onion, chopped
2 clove garlic, minced
1-2 medium jalapeno
Fresh lemon juice from 1 large lemon (about 1/2cup)
1.5 teaspoon salt
1 teaspoon black pepper
Instructions
Dice tomatoes into small cubes. Place them in a mixing bowl along with onions, cilantro and garlic. Set aside.
Using a sharp knife, carefully cut the jalapeno in half, lengthwise. Use a spoon to scrape out the seeds and white membrane (leave a little membrane if you like it spicy). Finely dice the jalapeno and add to the bowl
Cut the lemon in half and squeeze over the bowl.
Sprinkle with salt and pepper and stir well to combine (you should see some of the juices coming out). Taste and adjust to taste.
Serve with chips and enjoy!!
Notes
Unless you really like heat, I recommend only adding 1 jalapeno to start - taste at the end and add more if needed. Remember, removing the seeds a membrane will help cut down on the spicy.
Nutrition Information:
Yield: 8
Serving Size: 1
Amount Per Serving:
Calories: 104
Total Fat: 6g
Saturated Fat: 4g
Trans Fat: 0g
Unsaturated Fat: 2g
Cholesterol: 22mg
Sodium: 705mg
Carbohydrates: 6g
Fiber: 1g
Sugar: 2g
Protein: 7g
Nutrition information is estimated based on the ingredients and cooking instructions as described in each recipe and is intended to be used for informational purposes only. Please note that nutrition details may vary based on methods of preparation, origin, and freshness of ingredients used and are just estimates. We encourage, especially if these numbers are important to you, to calculate these on your own for most accurate results.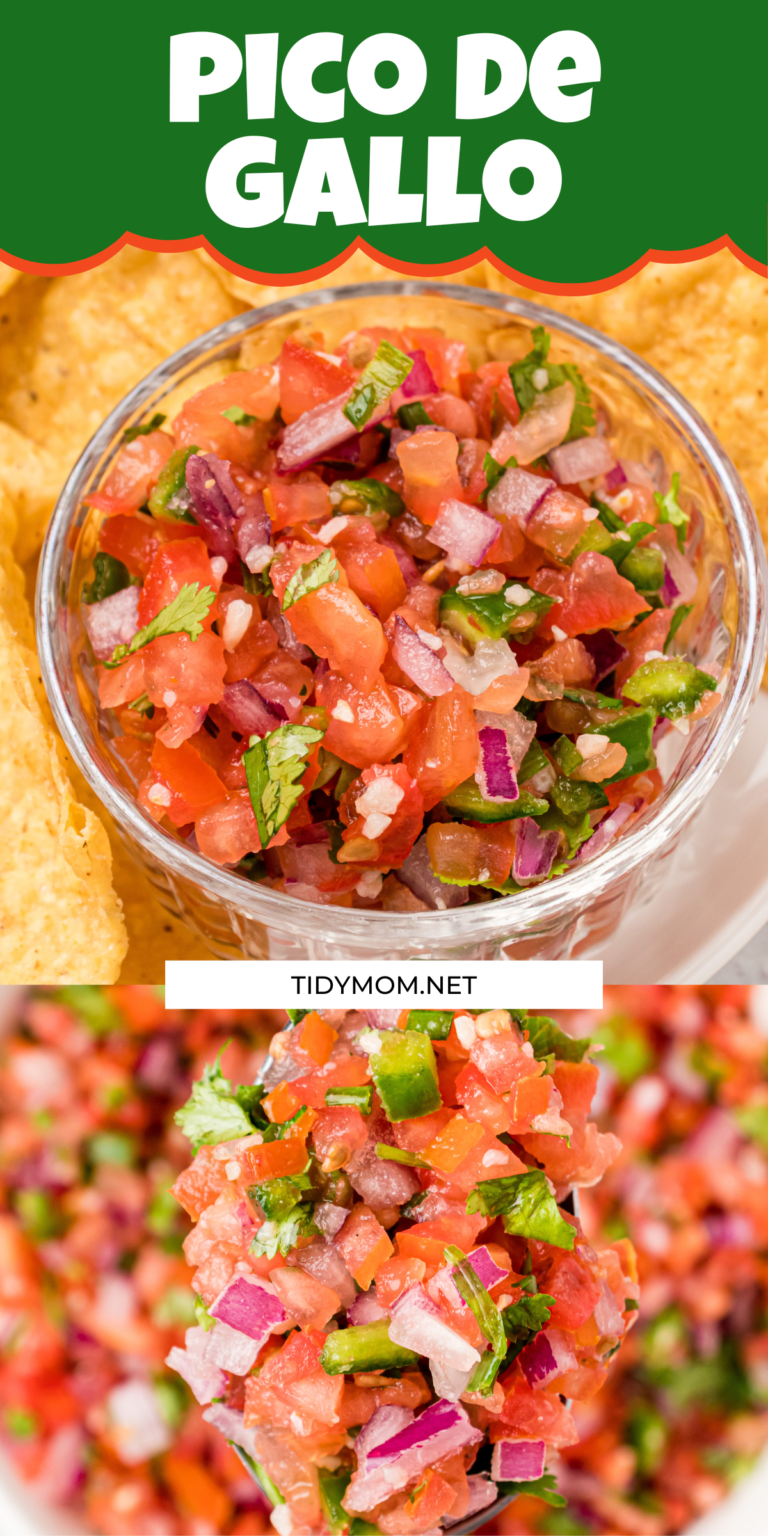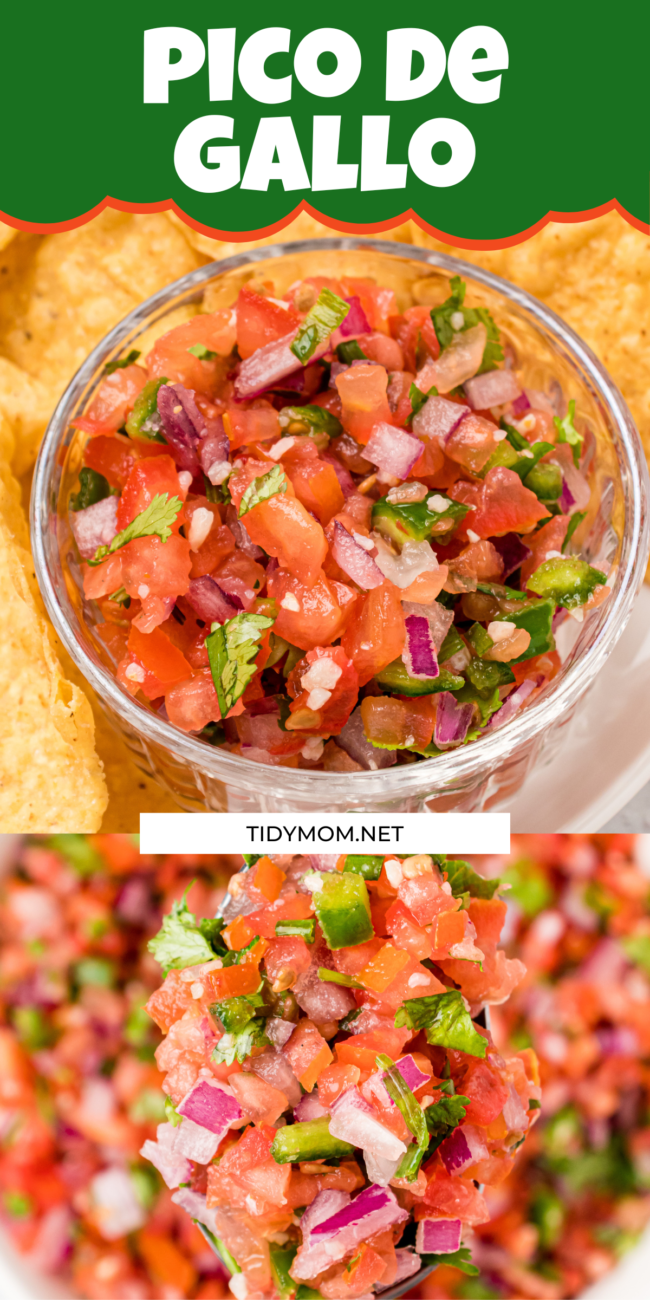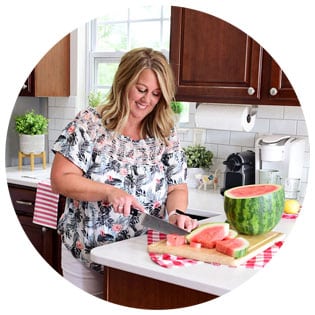 Hi there, I'm Cheryl!
As a wife, mom, and caffeine enthusiast, my journey has taken me from bustling mornings with my family to sharing delicious recipes, home care tips, and heartfelt decorating insights with wonderful readers like you. My love for baking, photography, and tidiness shines through every post I craft. Dive into my world and discover the art of homemaking, one tidy moment at a time. Read more...
Tidymom is a participant in the amazon services llc associates program, an affiliate advertising program designed to provide a means for sites to earn advertising fees by advertising and linking to Amazon.com.
Please respect my work, recipes and photographs. If you do use a recipe in your own writing, please give proper credit and link back to the original post.