Southwest Baked Egg Cups & Streamlining Morning Routines
This post may contain Amazon or other affiliate links. As an Amazon associate, I earn from qualifying purchases.
Southwest Baked Egg Cups are easy to make, nutritious and delicious but fast and portable. Perfect for busy mornings.
Be sure to sign up for my email… to get new recipes and ideas in your inbox!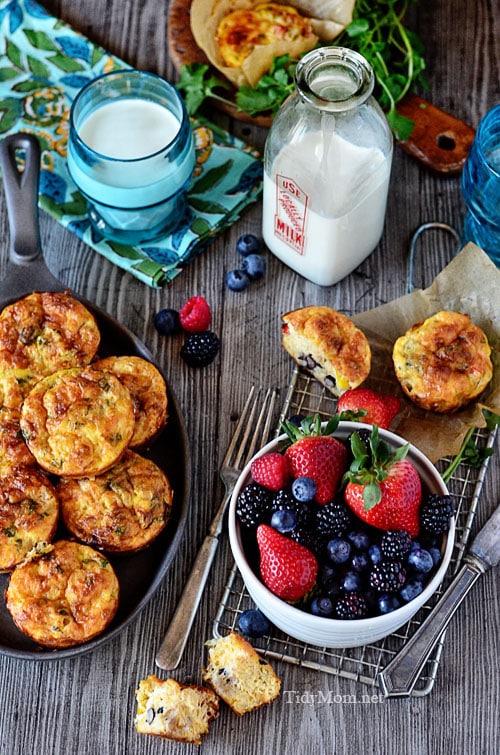 To know me is to know my love of mornings. I'm very much a morning person. I'm not worth much after 8 pm, and I actually go to bed, looking forward to getting up. Weird, I know.
I recently have teamed up with the California Milk Advisory Board to help moms streamline the morning routine. As a mom myself, I know I don't like to be rushed in the mornings, I'd much rather get up at 5 am to leave the house for an 8 am meeting, than to be rushing around because I slept in later. I'm a planner, so I plan for the unexpected, it's just my nature. But for some, no matter how early they wake up, getting out the door on time can be a challenge in the morning. Laundry, phone calls, scrambling to make breakfast or lost objects are common time sucks.
I actually had this VERY conversation with our 16-year-old just the other day. She gets up each morning before school 25 minutes before she has to leave the house. If ONE thing does not go as planned, then her morning turns in to total chaos.
How to streamline your morning routine
For many of us, morning routines include showering, getting dressed, brushing teeth, eating breakfast, drinking coffee/tea, and possibly helping a small human go through similar steps. Your routine might vary a little bit, but for the majority of days, you do the same things over and over and over again.
Lay everything out the night before. Collect and lay out all your clothes and any other items you'll need the night before, so you don't have to make those decisions in a sleepy state. If you have little ones, do this for them as well, and as they get older, they can learn to make this a habit as well.
Gather what leaves with you. Get in a nightly habit of gathering everything that needs to go out the door with you in the morning, and place it directly in front of the door where you will be leaving in the morning. Homework, signed permission forms, backpacks, musical instruments, lunch boxes, bank deposit, keys, iPad/laptop etc.
Make lunch the night before. Put yogurt or cheese sticks in the freezer the night before, so they stay cold and will be thawed in time for lunch.
Plan make-ahead breakfast ideas. Make pancakes for dinner one night, and make extras to keep in the freezer for breakfast (just heat frozen pancakes in the microwave). Over the weekend, make Southwest Baked Egg Cups with California cottage cheese, store them in the refrigerator, quickly heat in the microwave.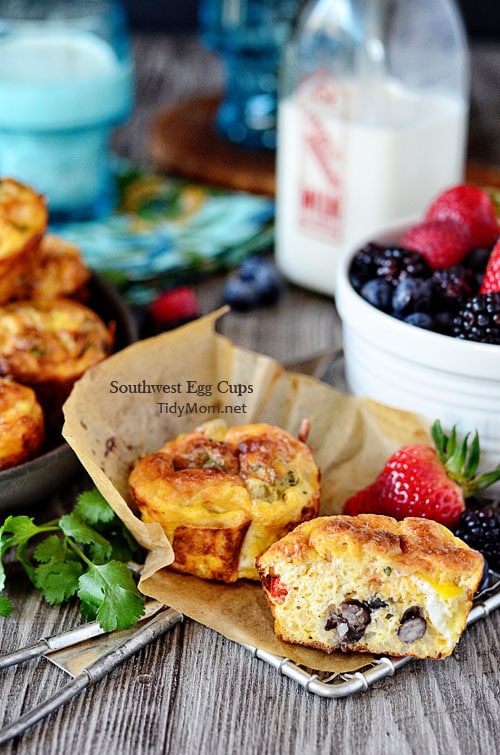 I love eggs baked in muffin pans! With an uber-busy life right now I'm always looking for ways to maximize my family's breakfast schedule while keeping it nutritious and delicious but fast and portable.
Kids that eat a nutritious breakfast do better in school. They won't get hungry before lunch, and the protein dairy provides, will keep them from getting sleepy, cranky or even headaches.
The best part about baked egg cups?….. you can customize them with whatever ingredients you have on hand. My family is a big fan of Southwest eggs. I started with refrigerated hash browns, then threw in some black beans, California cheeses, mixed some eggs with California cottage cheese and a few spices and topped with a little more cheese. (full recipe below)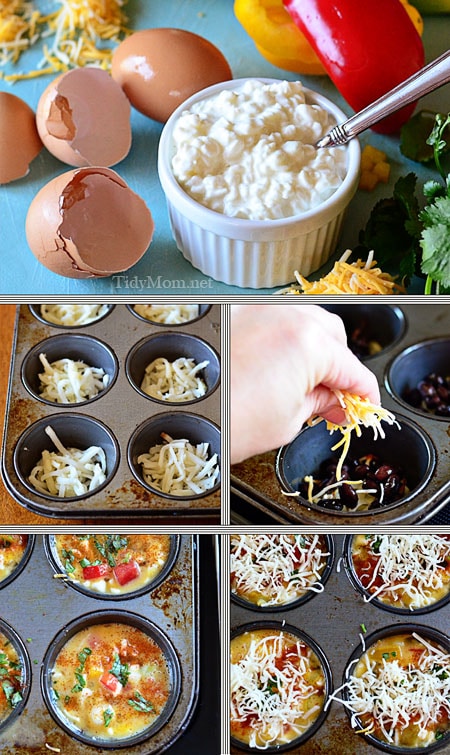 To ease the morning scramble, make these the night before or over the weekend, wrap in a paper towel and store in an airtight container in the refrigerator. In the morning just grab and reheat for a minute in the microwave for a fast delicious protein-packed hot breakfast at home or on the go.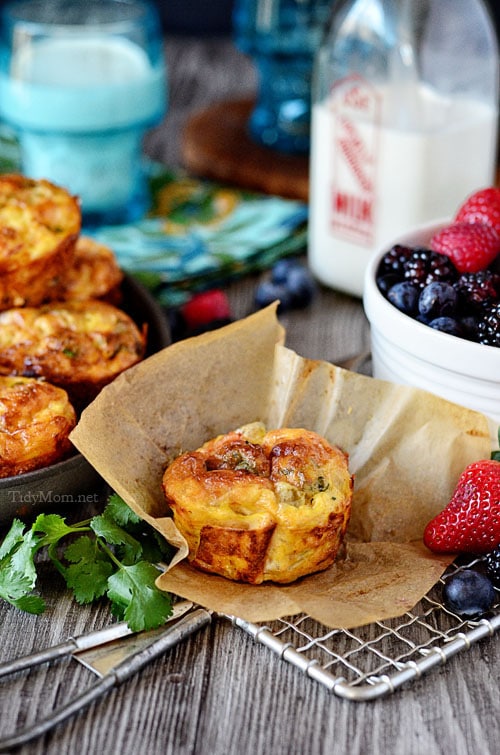 The more streamlined your morning routine, the more likely you are to have a smooth, stress-free morning.
Like this recipe for Southwest Baked Egg Cups? Pin It!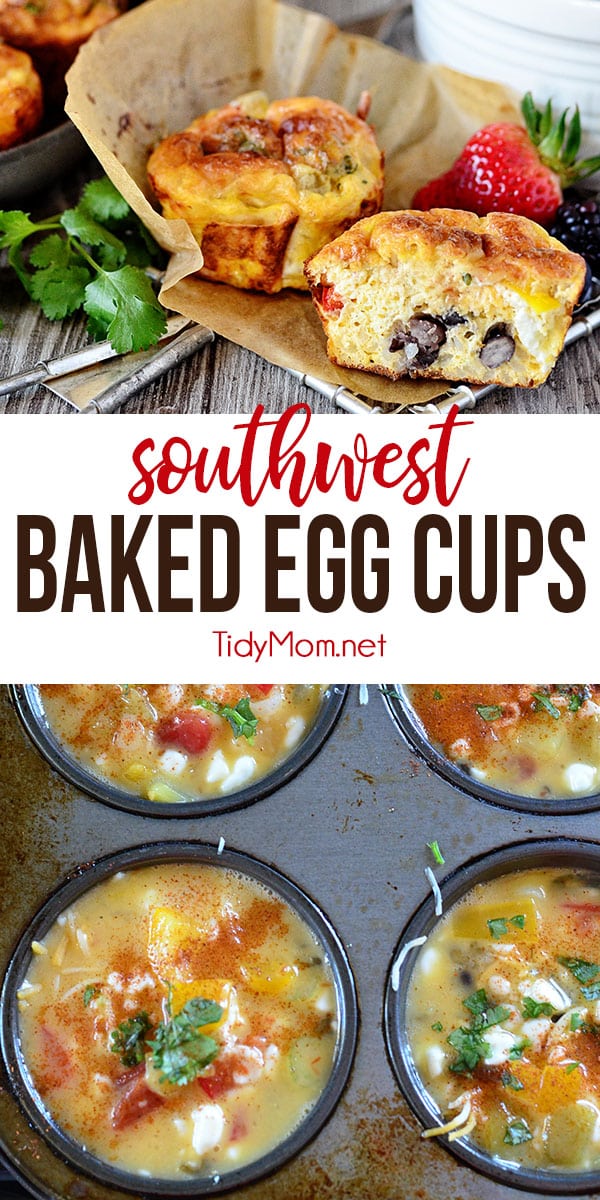 How about you? Are you a morning person? Do you have a favorite tip for streamlining your morning routine?

I created a fun little group on facebook and I'd love for you to join in! It's a place where you can share YOUR favorite recipes, home tips, creative ideas and ask questions and see what's new with TidyMom! If you'd like to check it out, you can request to join HERE. Be sure to follow me on Instagram and tag #tidymom so I can see all the wonderful TidyMom recipes YOU make and tips YOU use!

Connect with TidyMom! Facebook | Twitter | Google+ | Pinterest | Instagram

Sign up to receive an email in your inbox for each new recipe: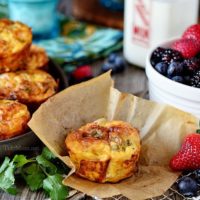 Southwest Baked Egg Breakfast Cups
Yield: 12 breakfast cups
Prep Time: 15 minutes
Cook Time: 45 minutes
Total Time: 1 hour
To ease the morning scramble, make these Southwest Baked Egg Cups the night before or over the weekend, wrap in a paper towel and store in an airtight container in the refrigerator. In the morning just grab and reheat for a minute in the microwave for a fast delicious protein-packed hot breakfast at home or on the go.
Ingredients
2 cups refrigerated hash browns, uncooked
8 whole eggs, large
1/2 cup California cottage cheese
1/2 teaspoon baking powder
1/4 cup diced bell pepper
2 tablespoons salsa, chunky
2 ounces green chiles, diced
salt and pepper to season
1/2 cup black beans
1/2 cup California Mexican cheese blend
1 teaspoon Smoked Paprika
2 tablespoons fresh Cilantro, chopped
1/2 cup California Queso Blanco cheese, shredded
Instructions
Preheat oven to 375. Coat a 12 cup muffin tin with cooking spray
Fill each muffin tin with approximately 1/8 cup of potatoes, season with salt and pepper.
Bake 15-20 minutes or until they start to turn golden brown on top.
While potatoes are baking, whisk eggs in a medium bowl and combine with cottage cheese, baking powder, bell peppers, salsa, green chiles and salt and pepper to taste.
Remove potatoes from oven, fill each cup with about 1 tablespoon of black beans and California Mexican cheese blend, then evenly divide egg mixture into each cup.
Top each egg cup with a sprinkle of cilantro and paprika and a pinch of shredded white queso Blanco cheese.
Return to the oven and bake an additional 25 minutes or until they puff up nicely and are just barely set on top (do not overcook or they will be spongy)
Enjoy warm, or let cups cool completely to room temperature and store leftovers in the fridge in an airtight container. To reheat, wrap the egg cup in a paper towel and reheat in the microwave for about 30-45 seconds. Be careful not to microwave too long or they will get tough.

Disclaimer: I'm excited to have a working partnership with the California Milk Advisory Board to talk about the importance of eating a nutritious breakfast complete with dairy and how to ease morning routines for moms. All opinions and views are all my own.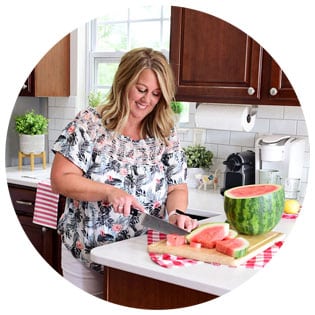 Hi there, I'm Cheryl!
As a wife, mom, and caffeine enthusiast, my journey has taken me from bustling mornings with my family to sharing delicious recipes, home care tips, and heartfelt decorating insights with wonderful readers like you. My love for baking, photography, and tidiness shines through every post I craft. Dive into my world and discover the art of homemaking, one tidy moment at a time. Read more...
Tidymom is a participant in the amazon services llc associates program, an affiliate advertising program designed to provide a means for sites to earn advertising fees by advertising and linking to Amazon.com.
Please respect my work, recipes and photographs. If you do use a recipe in your own writing, please give proper credit and link back to the original post.