Frosted Sugar Cookies Recipe (Lofthouse Style)
This post may contain Amazon or other affiliate links. As an Amazon associate, I earn from qualifying purchases.
Homemade Frosted Sugar Cookies are light, cakey, angelically soft vanilla cookies slathered with a sweet buttercream frosting. No more trips to the store for tender bakery-style Lofthouse cookies!
We love cookies, especially when you can curl up and enjoy them with a Pumpkin Spice Hot Chocolate or Bailey's Vanilla Martini Twist for an afternoon pick-me-up! Here are a few of my go-to cookie recipes White Chocolate Cranberry Cookies, Chocolate Peppermint Crinkle Cookies, Spritz Cookies, and Rice Crispy Peanut Butter Balls, perfect for holiday cookie trays!
Be sure to sign up for my email… to get new recipes and ideas in your inbox!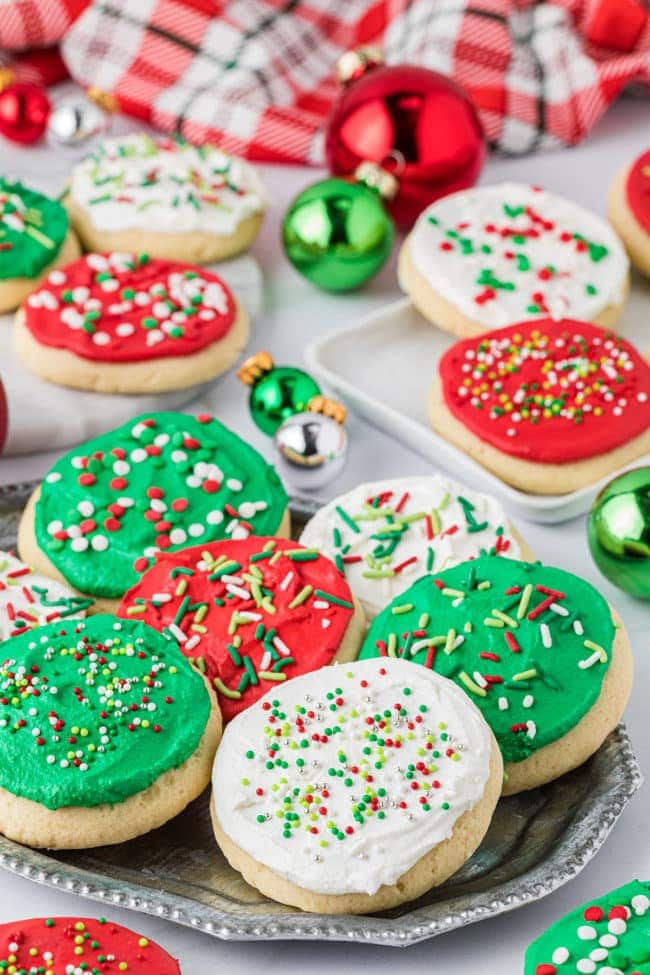 Why You'll Love This Frosted Sugar Cookie Recipe
Soft frosted sugar cookies are a two-in-one treat, the soft and moist marriage of a cookie and a cupcake! A beloved favorite and easily adaptable occasion cookie by switching up the gel coloring in the sugar cookie icing recipe.
Popular Lofthouse-style
Pillowy smooth texture
Creamy sweet icing
Festive for the holidays, birthdays, or any day!
Fun for kids to decorate
Perfect for cookie parties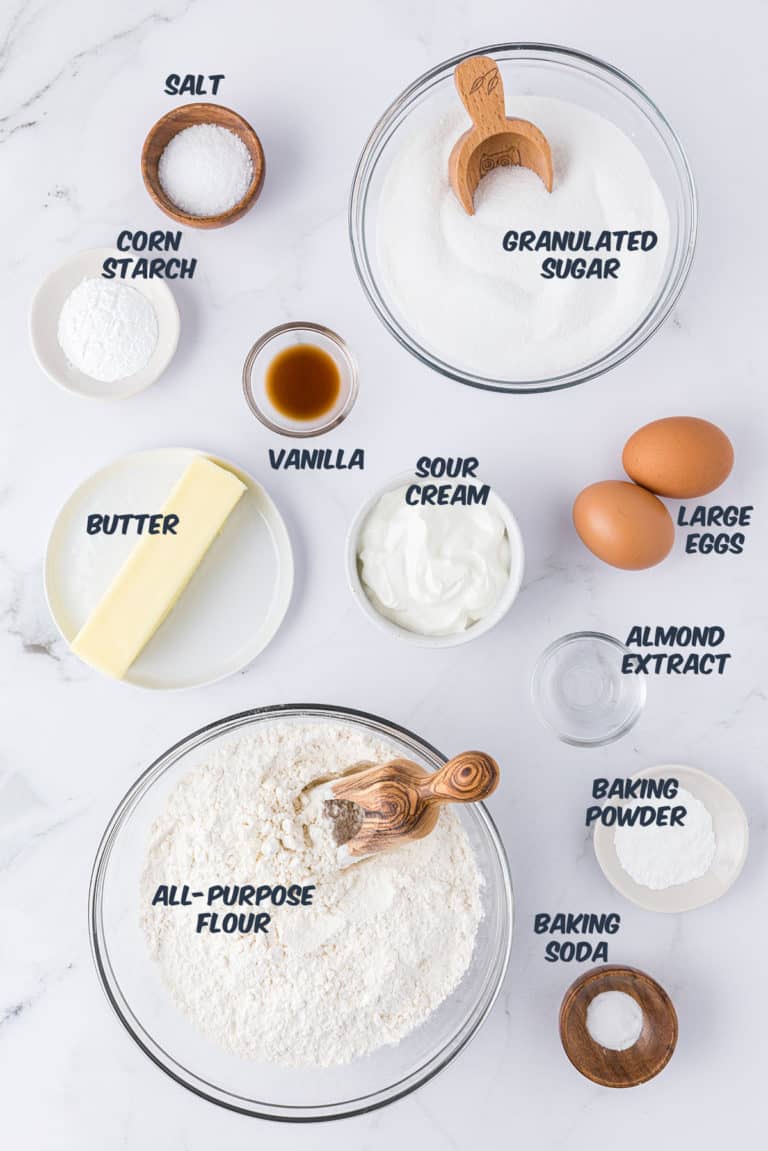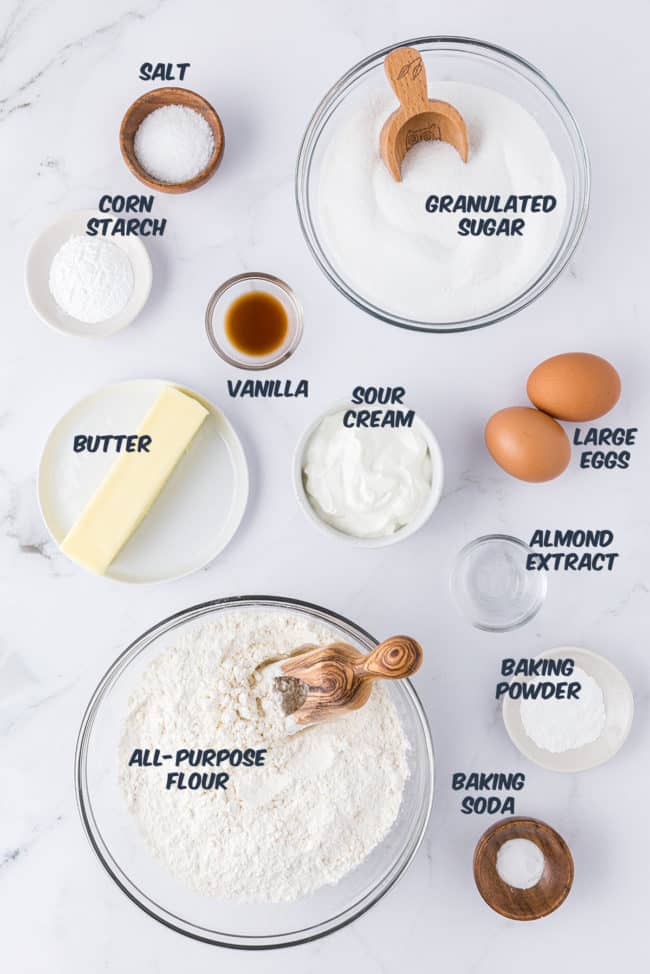 Frosted Lofthouse Style Sugar Cookie Recipe Ingredients
These sugar cookies are pillowy soft, frosted with sweet buttercream icing and a decorative splash of sprinkles! Simple to pull together, and no trip to the grocery for fancy ingredients! A soft frosted sugar cookie is color customizable for any occasion. (BTW, "Me-time" is an occasion in my world!) 🙂
For specific amounts, please refer to the printable recipe card at the bottom of the post.
Lofthouse Style Cookies Pantry Staples
The Dry Stuff – Granulated White Sugar, All-Purpose Flour, Corn Starch, Baking Powder, Salt, & Baking Soda
The Cold Stuff – Butter, Sour Cream, & Large Eggs (all room-temp)
The Tasty Stuff – Vanilla Extract* & Almond Extract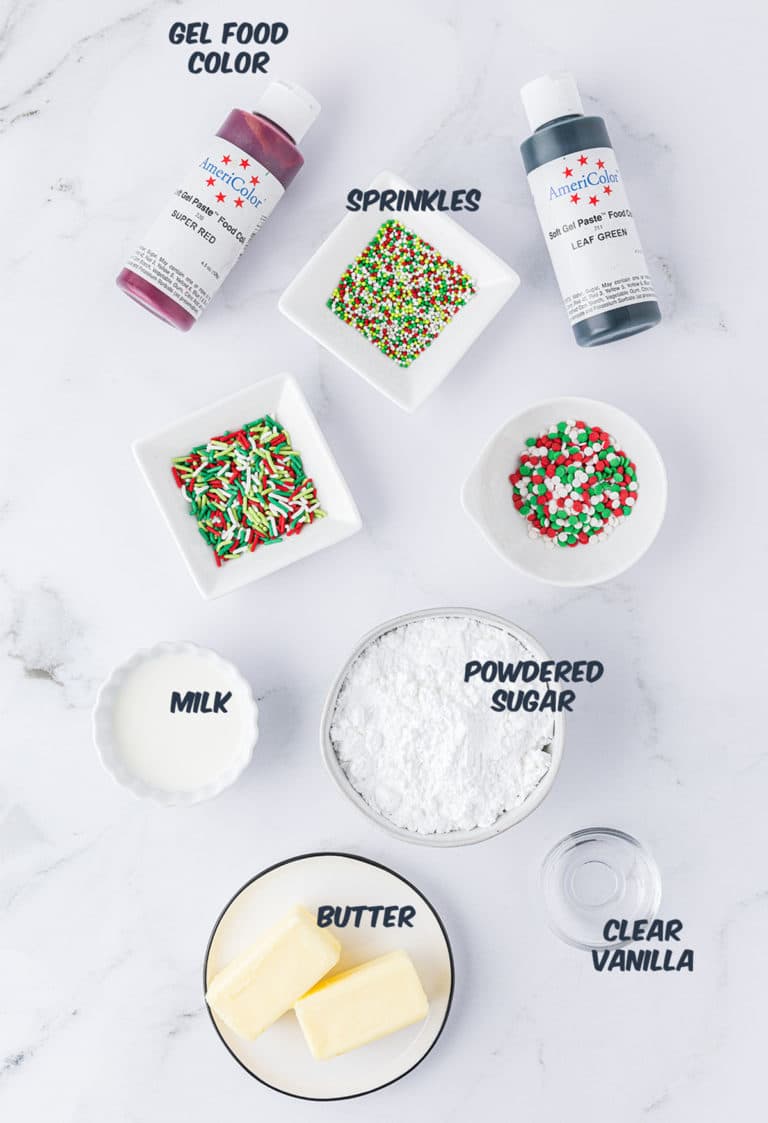 What You Need for Buttercream Sugar Cookie Frosting
Softened Butter – unsalted
Powdered Sugar – sifted
Vanilla Extract – clear
Whole Milk
Gel Food Color And Sprinkles
*Baker's Note:
Clear vanilla or vanilla flavoring produces a whiter cookie and brighter sugar cookie icing.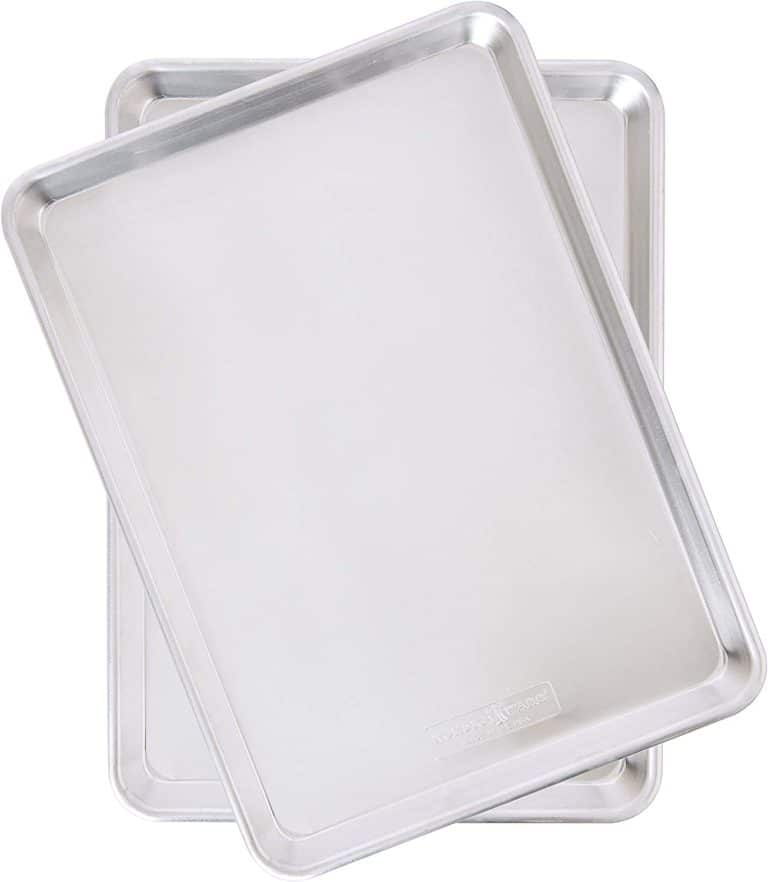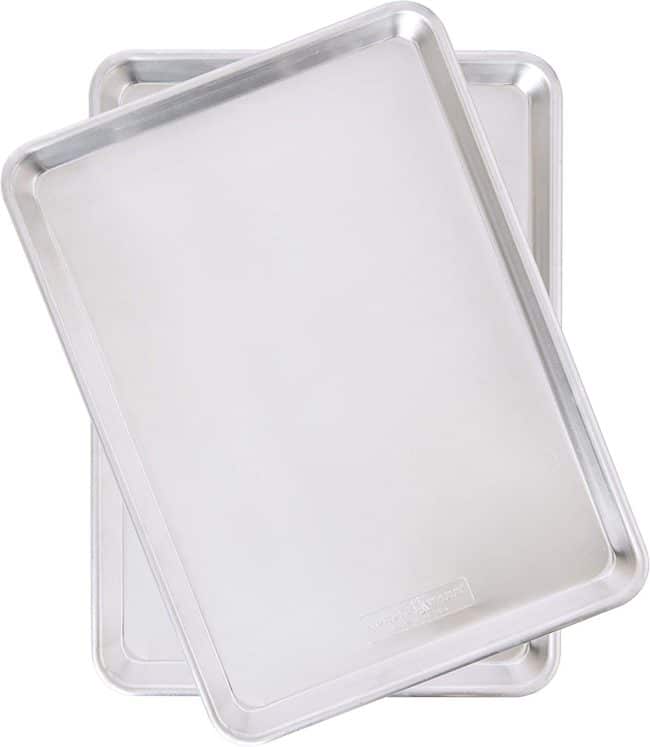 Featured Product Aluminum Half Sheet Pans
These are my favorite sheet pans! They will never rust for a lifetime of durability. Perfect for sweet or savory baking; from cookies to sheet pan dinners, this is the pan you'll reach for.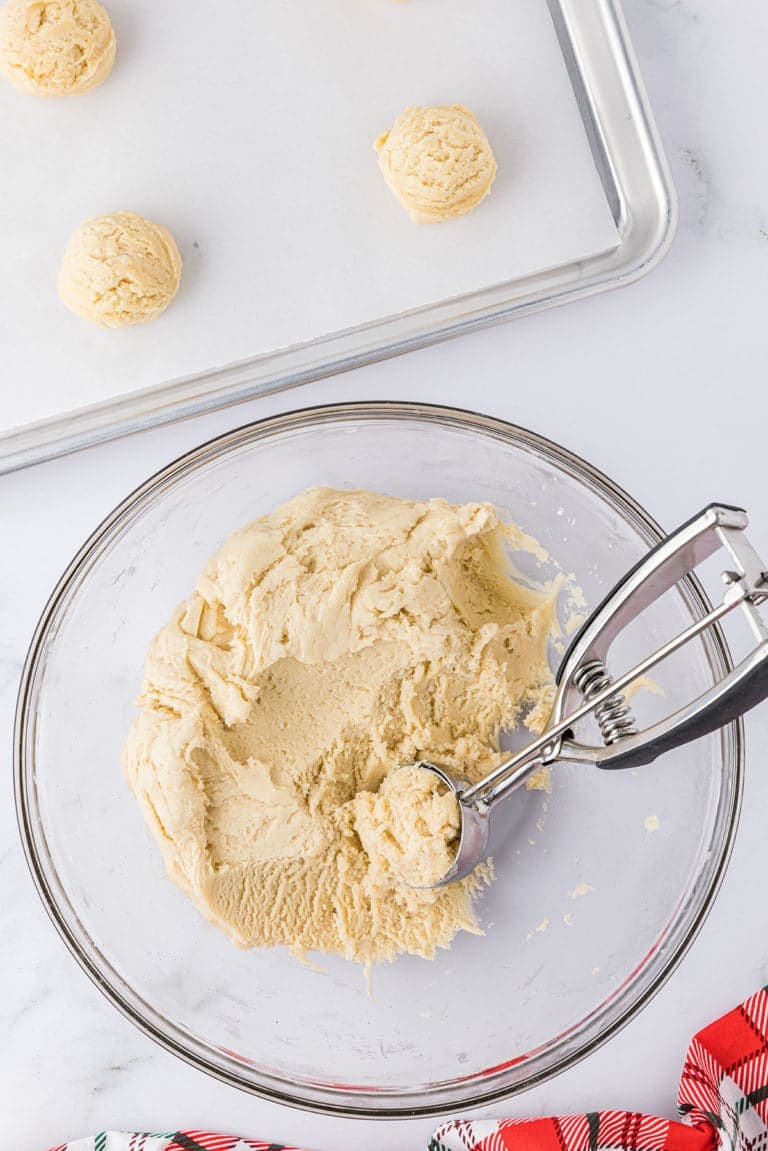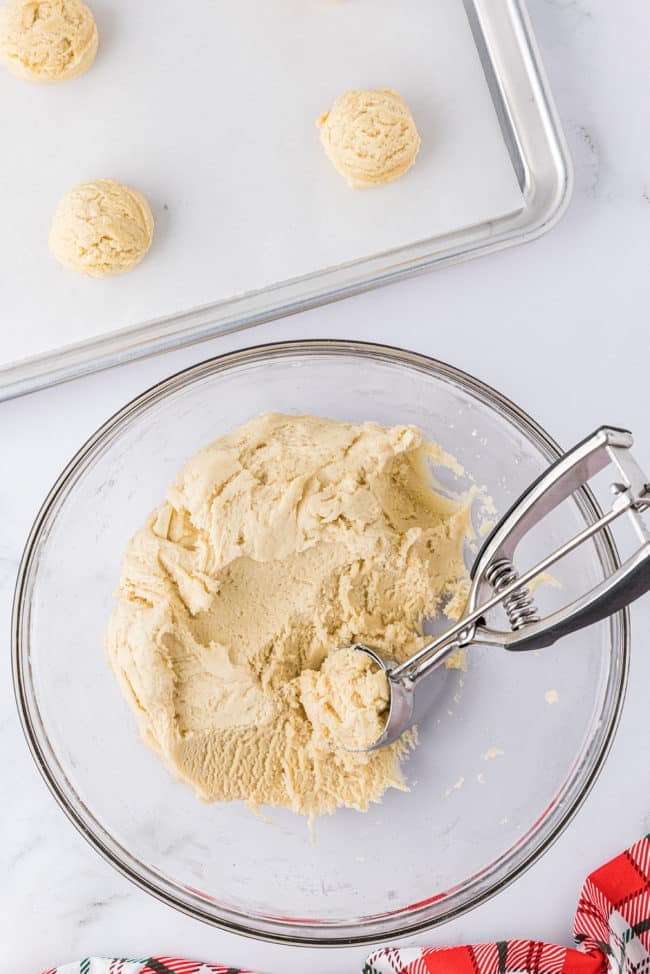 This post may contain affiliate links. Please read my disclosure policy here.
How To Make Frosted Lofthouse-Style Sugar Cookies
Gather up the following equipment: mixing bowls, electric mixer, whisk, plastic wrap, 2-tablespoon cookie scoop, baking parchment or baking mat, cookie sheets, and cooling racks. Let's go!
When you are baking, you'll want to use the full recipe at the bottom of the page.
Step 1: Combine the wet ingredients using an electric mixer until smooth and light in color.
Step 2: In another bowl, whisk together the dry ingredients and add slowly to the wet ingredients, mixing on low until combined. (don't over mix).
Relax: Cover and chill the sugar cookie dough in the refrigerator for 30 minutes to 1 hour.
Step 3: Preheat the oven while rolling cookie dough into 2" balls; place sugar cookies on parchment-lined cookie sheets approximately 2.5 inches apart.
Step 4: Flatten Lofthouse cookies to ½-inch thick with the bottom of a greased glass.
Step 5: Bake sugar cookies until puffed, pale, and just lightly golden around the edges. Cool soft sugar cookies on the pan.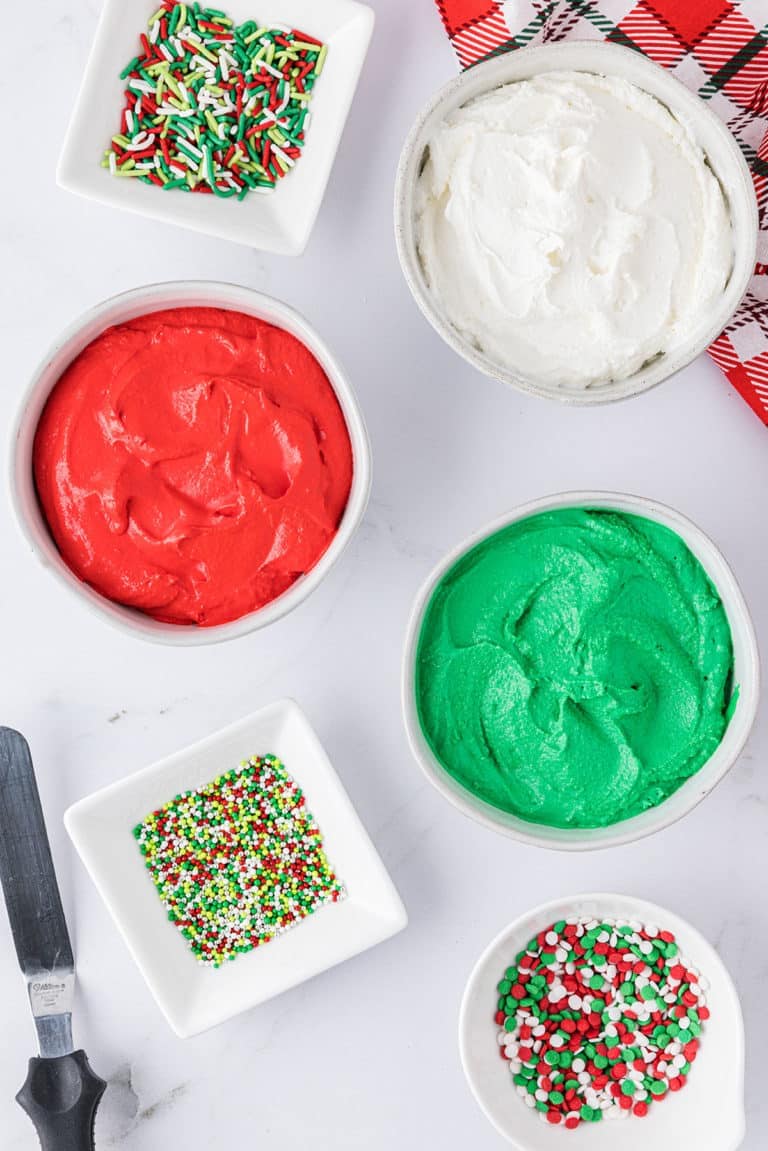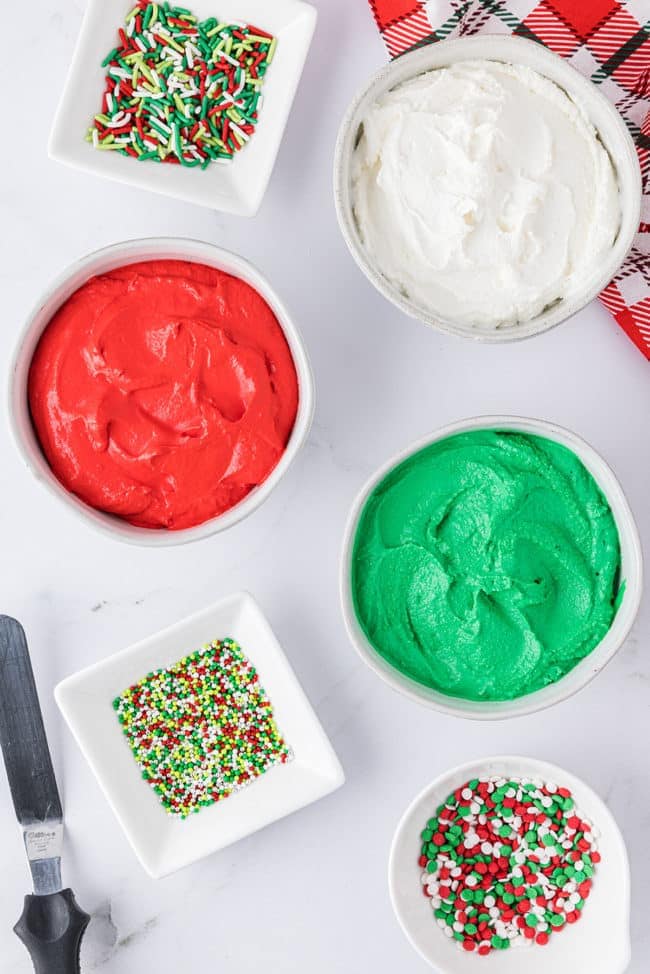 Homemade Lofthouse Cookies Icing Recipe
Now assemble the buttercream icing recipe ingredients and an electric mixer to get this party started! You only need an offset spatula or a dinner knife to spread the buttercream on the sugar cookie.
First, cream the softened butter, then add the powdered sugar and vanilla, mixing until well incorporated.
Slowly add milk, mixing on low and increasing the speed to high; blend until smooth. If the buttercream frosting seems too thick, adjust it with milk in small increments.
Color frosting with gel food coloring to make your soft sugar cookies pop! Frost and add the sprinkles right away.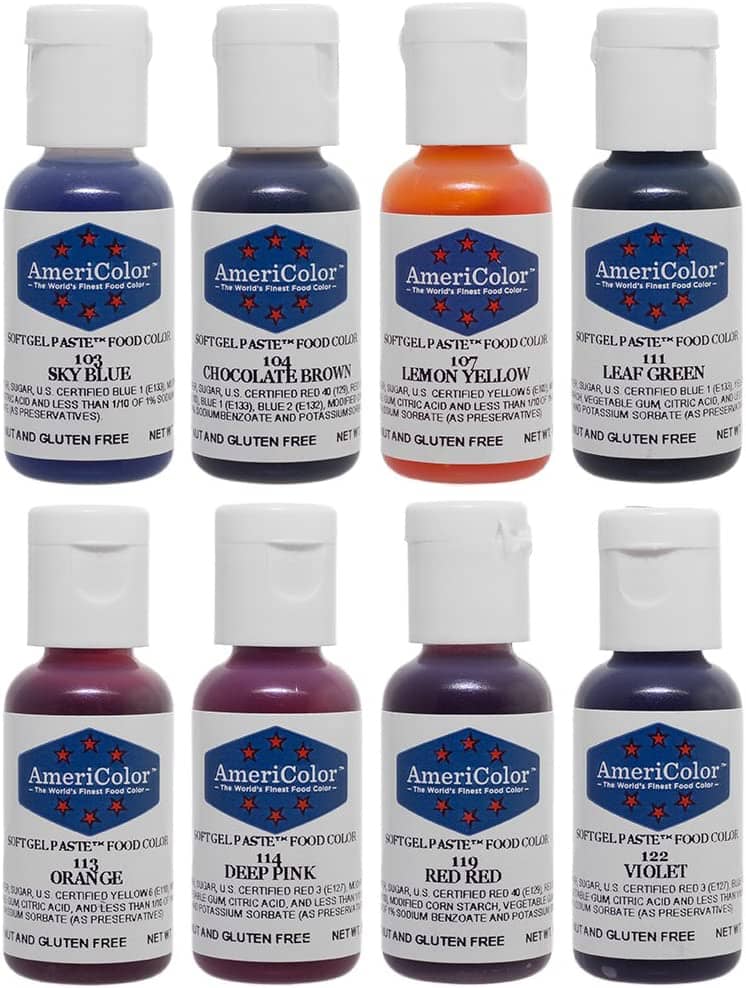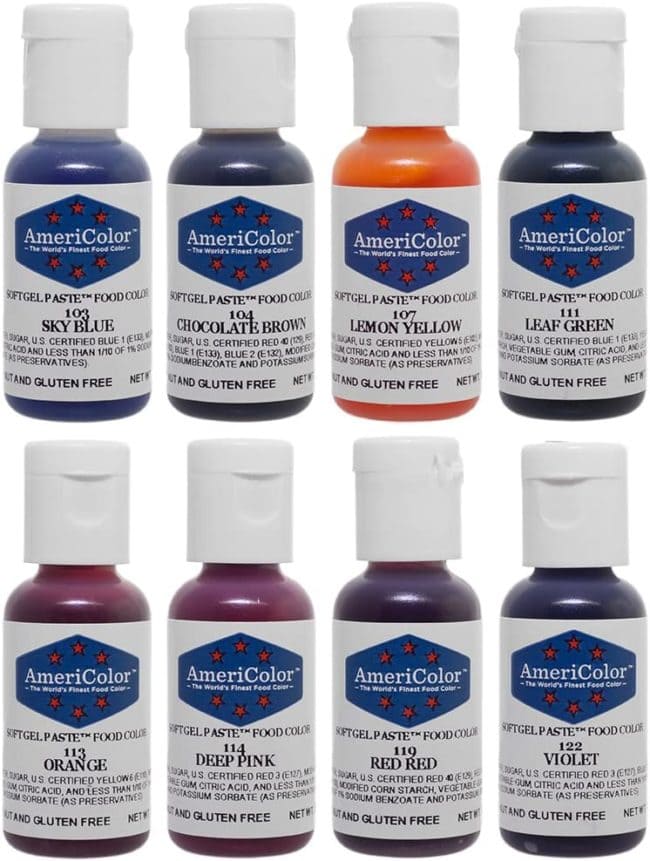 Featured Product Gel Food Coloring
Convenient squeeze bottles with a flip-top lid. By mixing and measuring using "drops" of Soft Gel Paste, you can achieve precise, easy-to-repeat colors every time.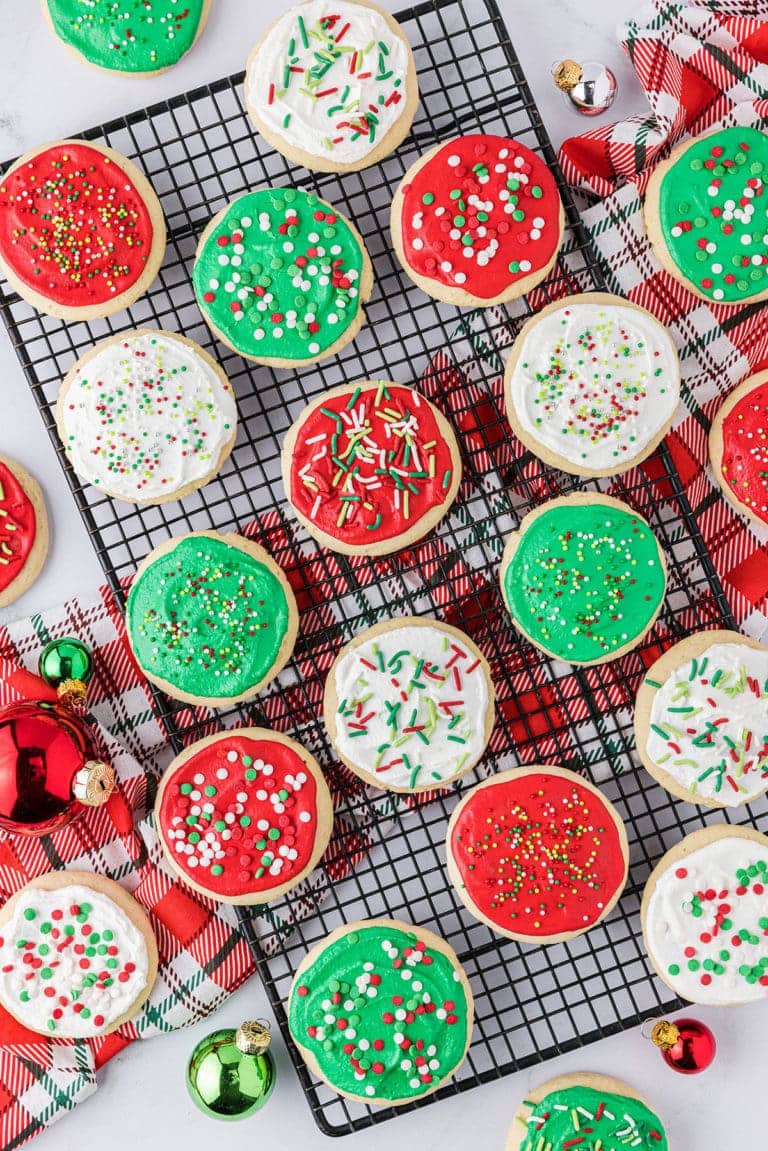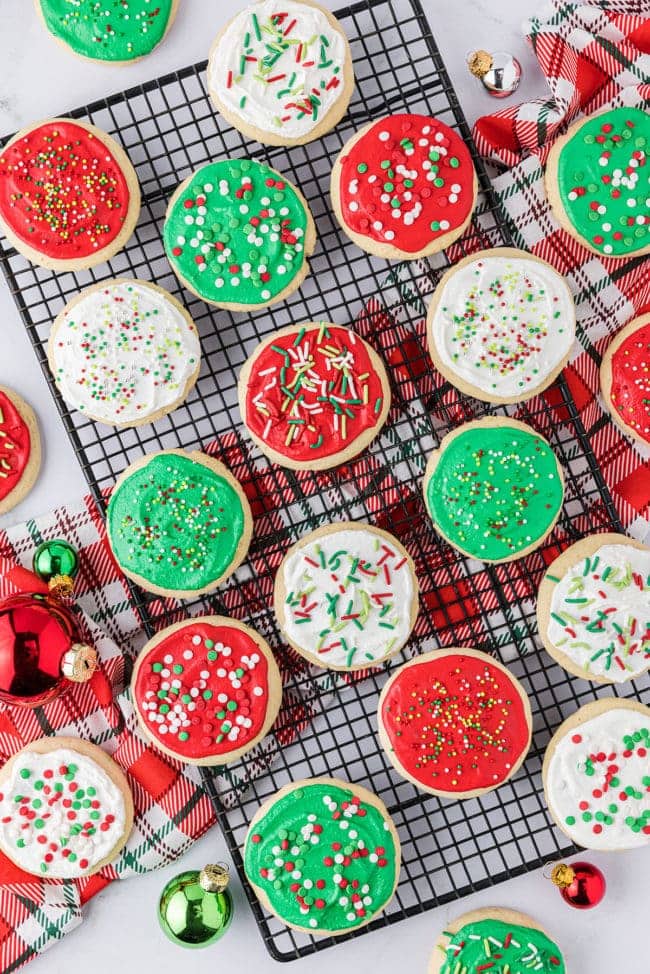 Frosted Sugar Cookie Recipe Notes/Tips
#1 Baking tip for Lofthouse-style sugar cookies: TEST YOUR BAKING POWDER AND SODA! People! This is an absolute must! I can't tell you how many baking recipe "fails" are purely from stale leavening agents! These two crucial ingredients are what give Lofthouse cookies their lift and soft, cakey texture!
I know this "record done broke," but butter, sour cream, and eggs need to be at room temperature, so soft sugar cookies are sure to have a fluffy texture. (And your baking powders are fresh!) 🙂
Speaking of butter, properly softened butter will make a small dent when pushed with a fingertip. You don't want it to melt or take on an oily sheen.
Be sure to use the scoop and level method when measuring your flour. Or use a kitchen scale to weigh it; three cups of all-purpose flour weighs 384 grams.
Depending on the size you roll your sugar cookie dough, you get about 24-28 Lofthouse-style cookies with this recipe. It can easily be doubled for 4 dozen.
As noted above, soft baked sugar cookies are pale in color and ever so slightly golden around the edges. Do not overbake! It's best to err on the side of underdone for this frosted sugar cookie recipe. Don't forget; the cookies continue to cook on the cookie sheet until they cool.
For white buttercream frosting, you can use bright white gel food color. Clear vanilla will help to keep the frosting white. Gel food color is best for frosting; you don't need much to get a nice vibrant color.
Remember, buttercream frosting will set up at room temp to form a crust. The best practice is to frost and sprinkle as you go!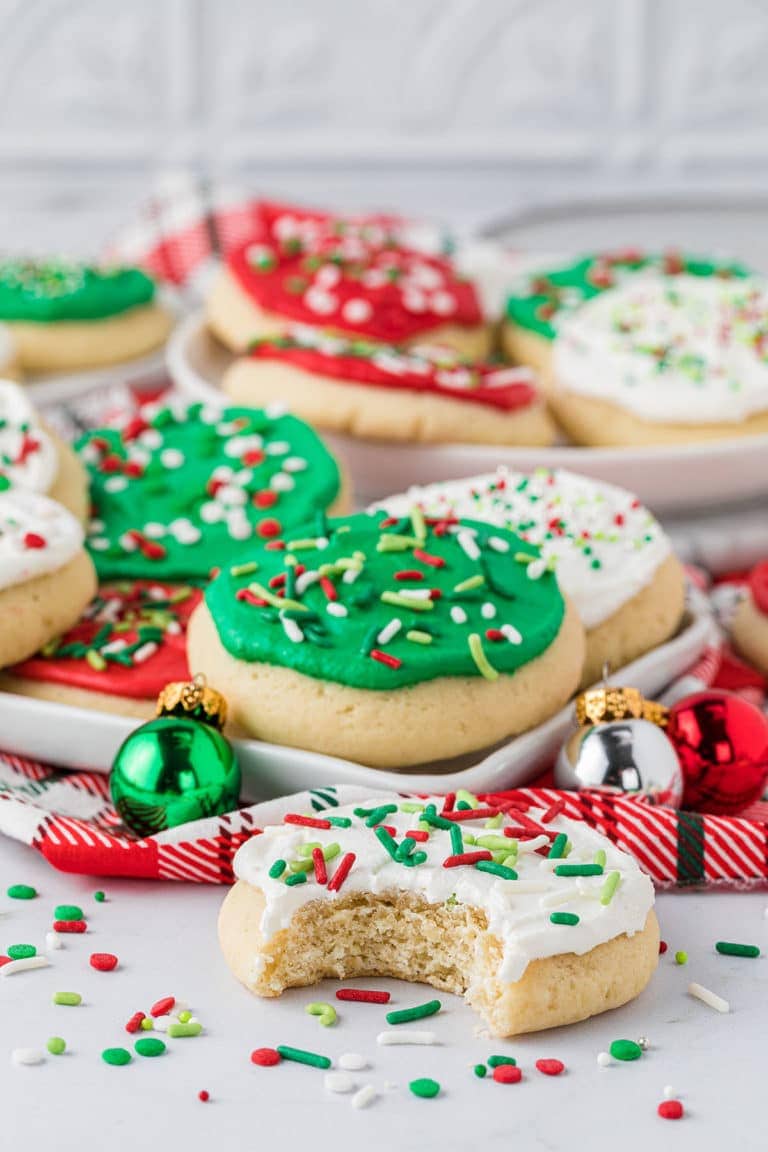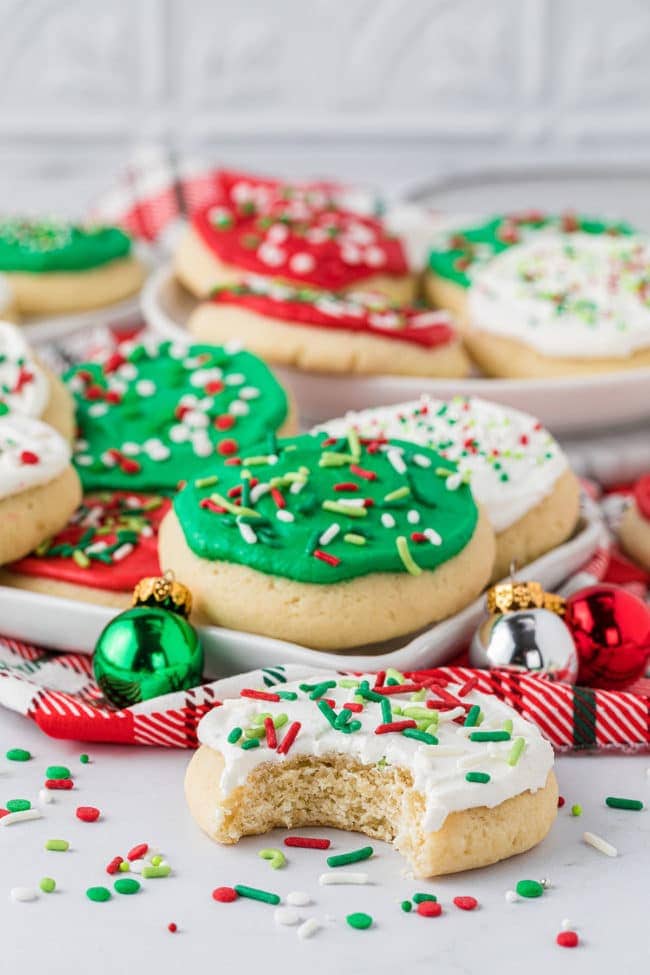 How To Store Frosted Lofthouse-Style Sugar Cookies
Set – Let the frosted cookies stand at room temperature until frosting forms a crust; then, they can be transferred to an airtight container.
Store – When placing in an airtight container, layer the frosted sugar cookies between wax paper layers so the buttercream icing doesn't get messed up.
Freeze – Frosted sugar cookies can be stored for up to 3 days at room temperature, 1 week in the refrigerator, or up to 3 months in the freezer.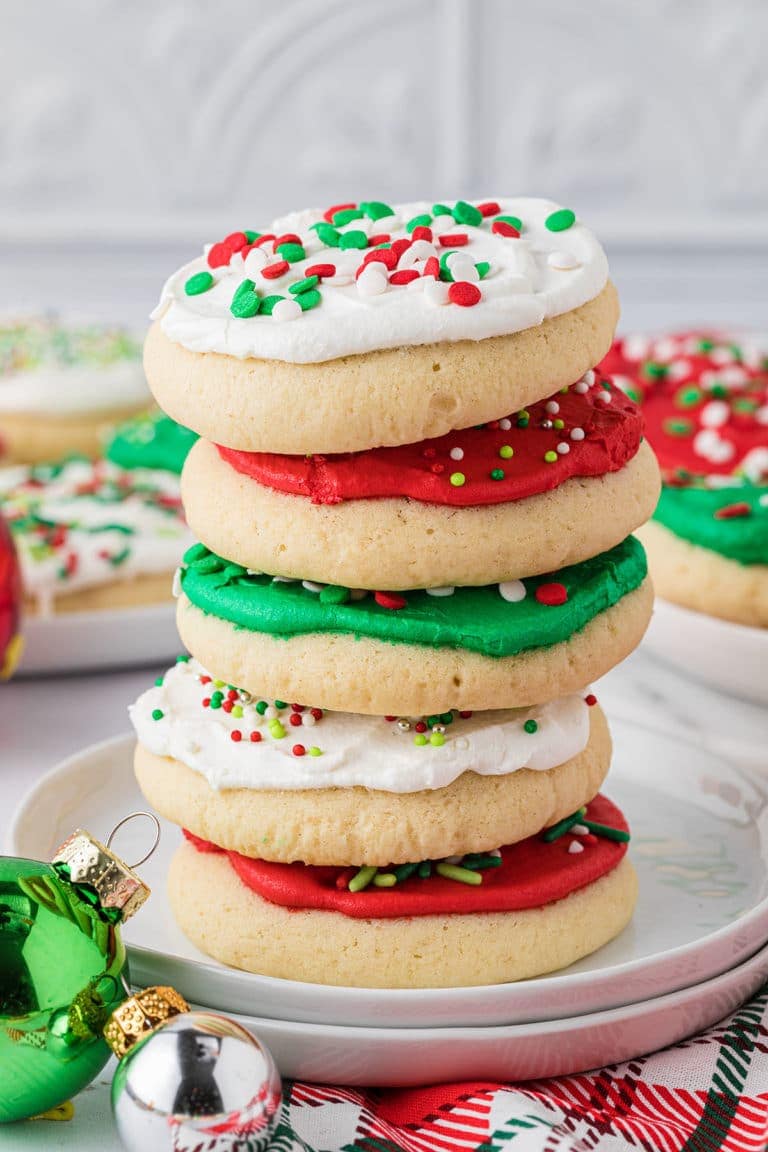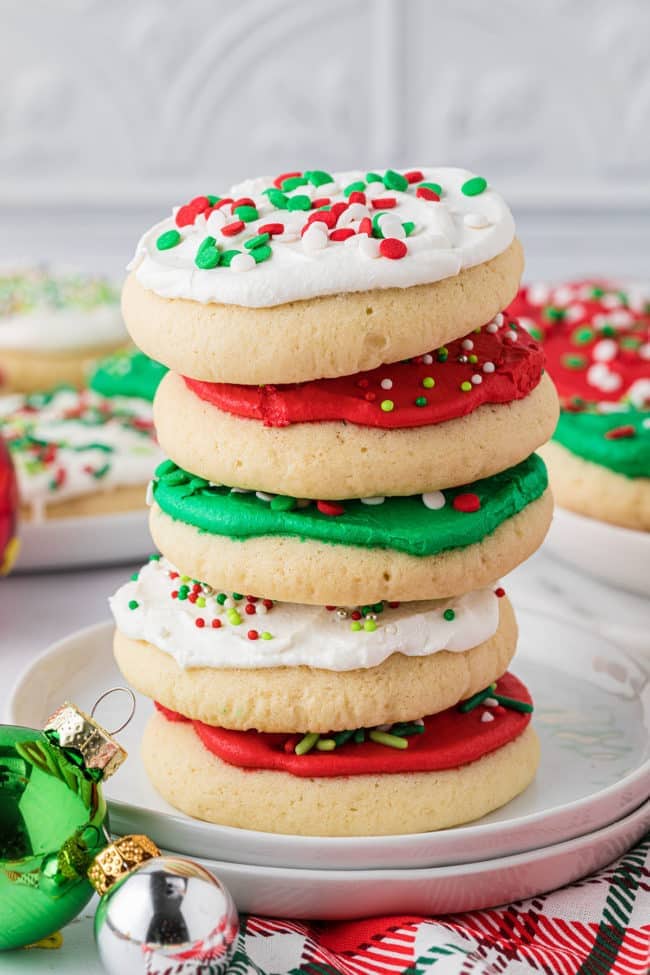 Homemade Lofthouse Style Cookie FAQs
Is there a difference between a sugar cookie and Lofthouse sugar cookies?
The standard sugar cookie varies from the Lofthouse version in both texture and ingredients. A Lofthouse cookie recipe is singularly different since it uses both baking powder and baking soda to get the signature cakey texture.

Sugar cookies generally have a sturdy dough making them ideal for rolling and cutting into shapes and icing with decorative details. They can also be formed by hand or dropped/scooped for a quick and easy treat.
Why are they called Lofthouse cookies?
The Stone family in Utah originally baked and sold Lofthouse cookies in local grocery and convenience stores. "The big pink sugar cookie" was the creation of Dave Stone in 1994 with $2,000 of the family savings. At that time, he and his wife had six children, and he would bake all night while his family slept. In 1995 they incorporated under Lofthouse Foods, and thus the "big pink sugar cookie" became known as the Lofthouse cookie, and the rest is history.

The Lofthouse brand became synonymous with thick, soft frosted sugar cookies, pretty much the same way that Kleenex is tissues, Q-Tips are cotton swabs, and Ziploc is a plastic storage bag. (FYI, there is a specific term for that; it's known as a "genericized trademark." Now your day is complete, right?)
Can I use canned store frosting on sugar cookies as a shortcut?
You can, but canned frosting is not formulated to "crust". You will not be able to stack the cookies, and the sprinkles may not stay on the cookies as well as it does with a crusting buttercream.
How long should I wait for the buttercream to crust before stacking cookies?
Allow crusting buttercream to airdry for several hours or overnight.
What is crusting buttercream?
It's an American buttercream that forms a slight crust on the outer layer. This allows the cookies to be lightly touched or stacked without getting messed up. It's not as hard as royal icing, but has more stability than other frostings.
Like This Recipe? Pin It!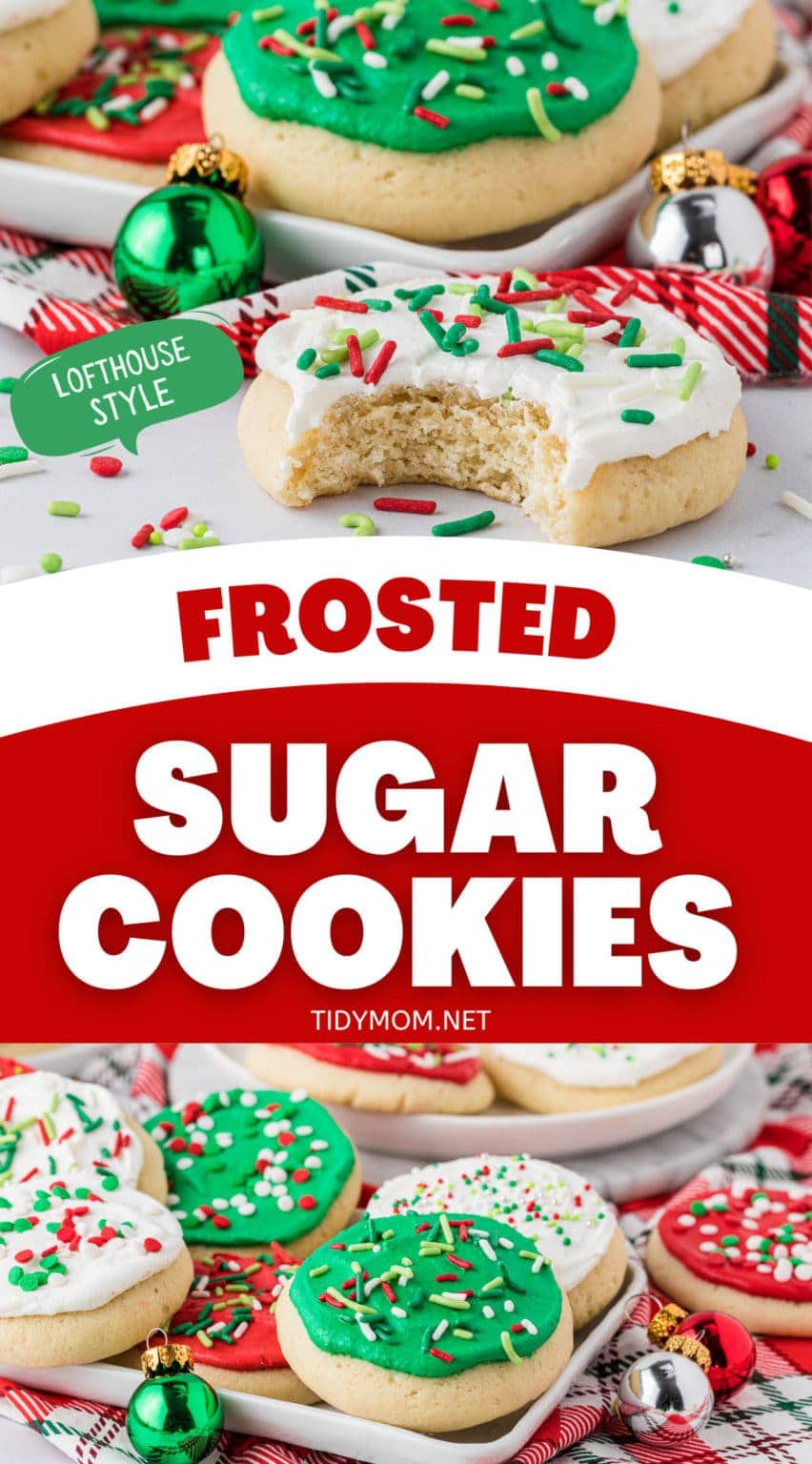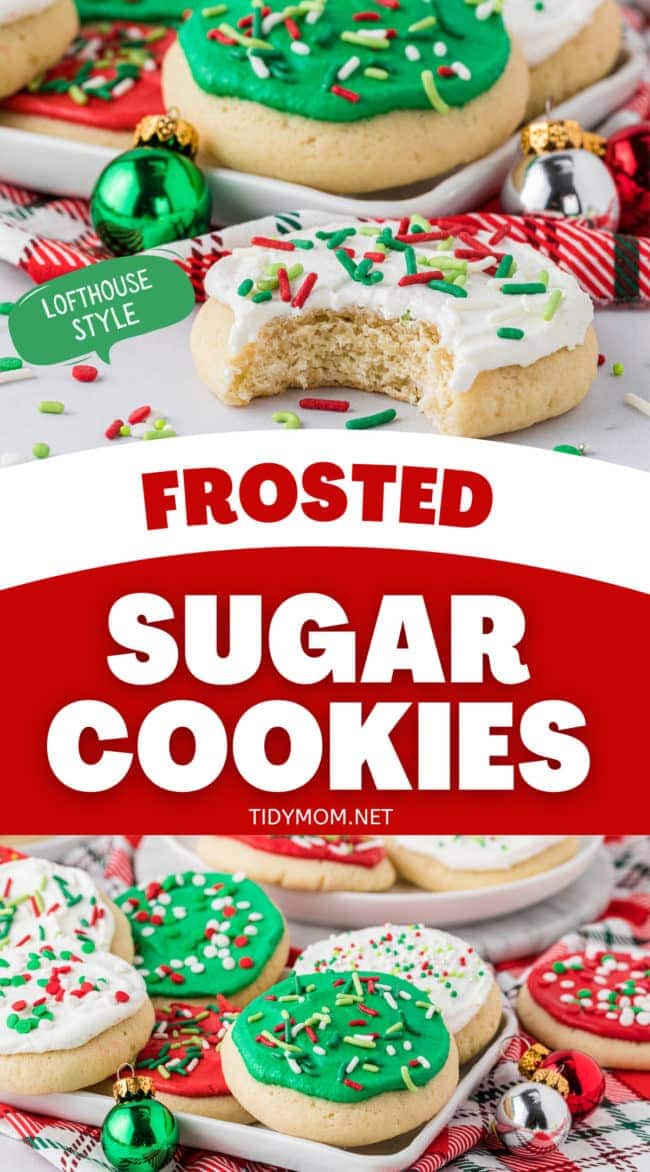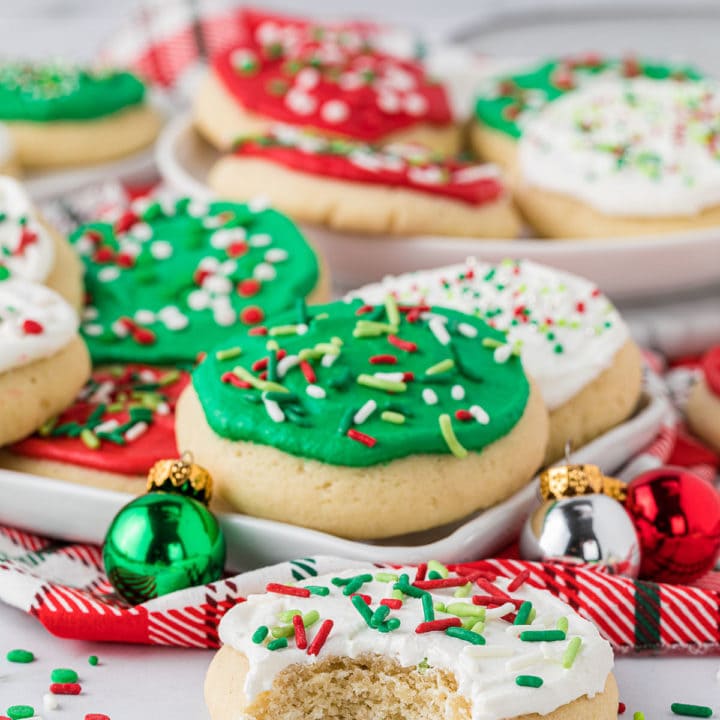 Frosted Sugar Cookies Recipe (Lofthouse Style)
Yield: 24-28
Prep Time: 30 minutes
Cook Time: 8 minutes
Minimum Chill Time: 30 minutes
Total Time: 1 hour 8 minutes
Homemade frosted sugar cookies are light, cakey, angelically soft vanilla cookies slathered with a sweet buttercream frosting. No more trips to the store for tender bakery-style Lofthouse cookies!
Ingredients
For Cookies:
½ cup (1 stick) butter, softened
½ cup sour cream
1 cup granulated white sugar
2 large eggs, room temp
½ teaspoon vanilla extract
¼ teaspoon almond extract
3 cups all-purpose flour
1 tablespoon corn starch
1 teaspoons baking powder
½ teaspoon baking soda
½ teaspoon salt
For Buttercream:
½ cup butter, softened
2 cups powdered sugar
1 teaspoon vanilla extract
1-2 tablespoon whole milk (more if needed)
Gel food color and sprinkles
Instructions
Using a large bowl and electric mixer combine sour cream and butter until smooth and light in color. Add sugar, eggs, and extracts and mix until combined.
In another bowl, whisk together; flour, corn starch, baking powder, baking soda, and salt. Add the dry mixture a little at a time to the wet ingredients and mix on low just until combined (don't over-mix). Cover with plastic wrap and chill the dough in the refrigerator for 30 minutes to 1 hour.
Preheat oven to 350°F and line baking sheets with parchment paper or a baking mat.
After chilling, use a 2-tablespoon cookie scoop to portion out dough and roll into 2-inch balls (damp hands will help if the dough is sticky). Carefully drop onto prepared pans, leaving 2 ½ inches between each dough ball. Flatten cookies with a greased flat bottom of a glass (or just dip the bottom of the glass in water). Cookies should be about ¼-inch to ½-inch thick.
Bake cookies in preheated oven until puffed and just lightly golden around the edges (they should be pretty pale in color) for about 8-10 minutes. Allow cookies to fully cool on the pan (they will continue to bake while cooling) before frosting.
While the cookies cool, make the frosting. Using an electric mixer cream the butter then add the powdered sugar and vanilla and mix until well incorporated. Slowly add the 2 tablespoons of milk while mixing on low, then increase speed to high and mix until smooth. If the frosting seems too thick add just a little more milk until you reach desired consistency. Color frosting as desired with gel food coloring.
Once cookies are completely cooled, frost and add sprinkles right away. Allow crusting buttercream to airdry for several hours or overnight before stacking or packaging.
Notes
Let the frosted cookies stand at room temperature until frosting forms a crust(several hours or overnight), then they can be transfer to an airtight container. Use a sheet of wax paper between layers. These cookies can be stored up to 3 days at room temperature, 1 week in the refrigerator, or up to 3 months in the freezer.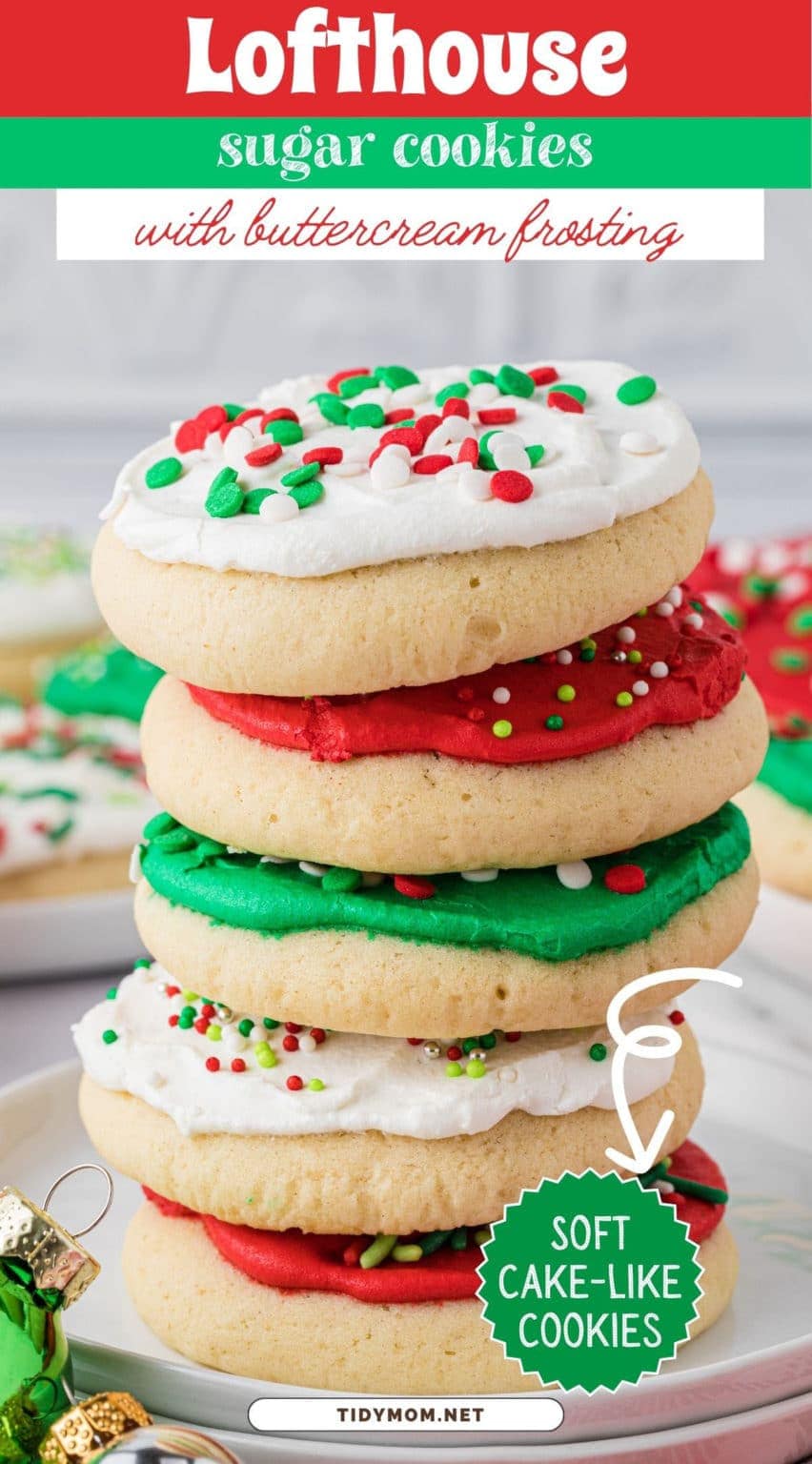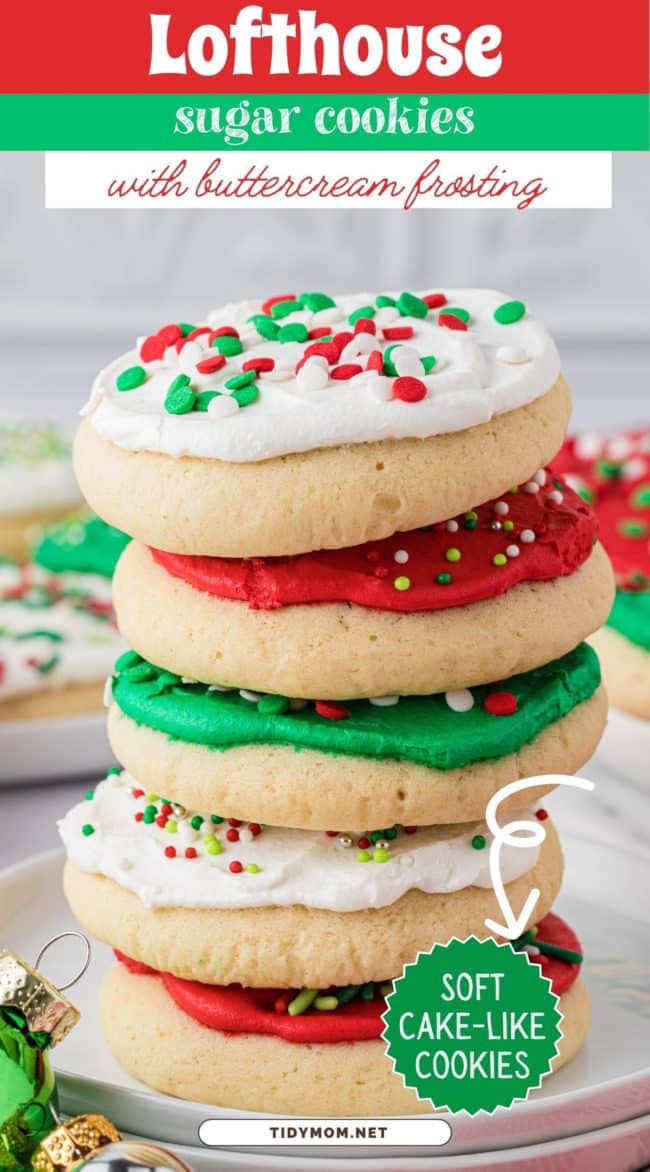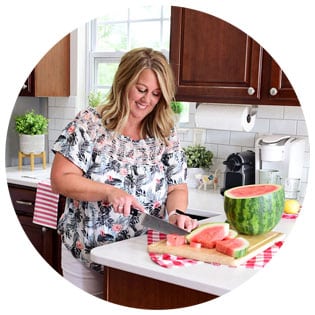 Hi there, I'm Cheryl!
As a wife, mom, and caffeine enthusiast, my journey has taken me from bustling mornings with my family to sharing delicious recipes, home care tips, and heartfelt decorating insights with wonderful readers like you. My love for baking, photography, and tidiness shines through every post I craft. Dive into my world and discover the art of homemaking, one tidy moment at a time. Read more...
Tidymom is a participant in the amazon services llc associates program, an affiliate advertising program designed to provide a means for sites to earn advertising fees by advertising and linking to Amazon.com.
Please respect my work, recipes and photographs. If you do use a recipe in your own writing, please give proper credit and link back to the original post.