Soup-a-Palooza: Link Up & Chicken Tortilla Soup Recipe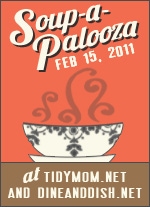 Today we celebrate SOUP!!
The act of combining various ingredients in a large pot to create a nutritious, filling,  simple to make/serve food is probably as old as the history of cooking!
Soup and stews have evolved according to local ingredients and tastes.  So today, we are celebrating those ingredients and traditions with our favorite recipes!!
Kristen of Dine and Dish and I along with our sponsors would like to invite YOU to share your favorite soup, stew or chili recipes!!
In the past I've shared several of my family's favorite soups and chili recipes, many made with Bush's Beans all pair perfectly with with Westminster Crackers or served along side a slice of Pillsbury Simply Rustic French Bread.  Today I'm sharing a recipe given to me by a friend (aren't those usually the best?!)  I fried some flour tortillas and it was the perfect meal for the extremely cold and snowy winter we've been having in St. Louis!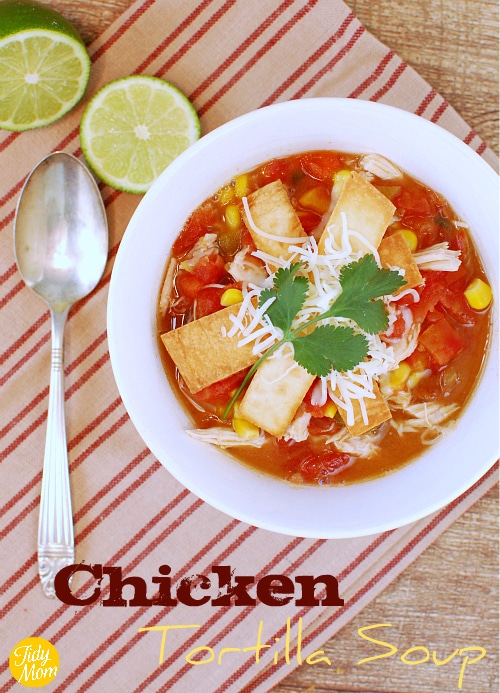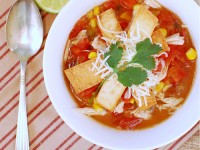 Ingredients
6 (6-inch) flour tortillas, (preferably a dried out)
1/4 cup vegetable oil
2 cans(14.5 oz) chicken broth
2 cans (14.5 oz) Rotel (Mexican Lime and Cilantro)
1 can (16 oz) Bush's BEST Refried Beans
1 can (4 oz) diced Green Chilies
1 cup frozen corn
2 cups chicken, cooked and shredded (I used a rotisserie chicken from the store)
Salt & pepper to taste
1 lime, cut into wedges (optional)
Monterrey Jack Cheese, shredded (optional)
Cilantro, chopped (optional)
Instructions
If you tortillas are fairly fresh and moist, you want them a little dried out. So, to dry them out a little, put them on a baking sheet and put them in a 200°F oven at for about 10 mins. (if your tortillas are older and more dried out, you can skip that step).
Cut tortillas in half, then cut halves into 1/4-inch strips. In 3-quart saucepan, heat oil over medium-high heat. Fry strips in oil, about a handful at a time, until they light brown and crisp. Remove with tongs from oil; drain on paper towel. Sprinkle with salt (optional). Set aside.
In a medium stock pot, over medium-high heat, combine tomatoes, broth, beans and chilies, bring to a boil.
Add corn, reduce heat and simmer about 5 minutes.
Add chicken and heat through.
To serve; ladle soup into bowls. Top with cheese, tortilla strips and cilantro. Serve with lime wedges.
Notes
https://tidymom.net/chicken-tortilla-soup-recipe/
Copyright© 2009-2013 TidyMom.Net
Head over to Dine and Dish and see what Kristen made!
What's a PARTY with out prizes?
We have some GREAT sponsors who have been SO generous to provide some incredible goodies for the Party!!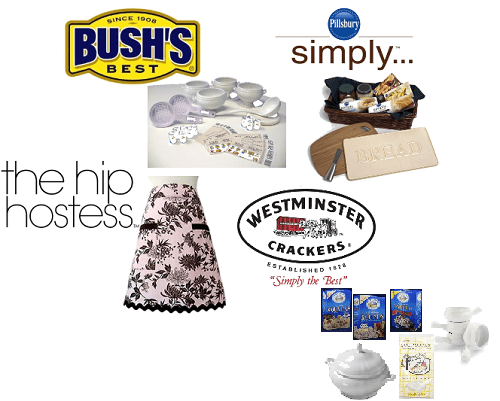 2 winners will win a Bush Beans Prize Pack
4 winners will win a Pillsbury Simply… Prize Pack
2 winners will win an Pink Mocha apron from The Hip Hostess
2 winners will win a Westminster Crackers Prize Pack
How to Participate in Soup-a-Palooza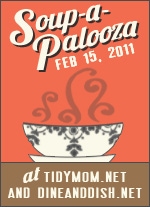 Required:

1.  Write and post a recipe on your blog featuring a soup, stew, chili, or chowder. (can be an old post…just PLEASE be sure to link back AND follow #2 below)
2.  Include "Come join Soup-a-Palooza with TidyMom and Dine and Dish sponsored by Bush's Beans, Hip Hostess, Pillsbury and Westminster Crackers" in your blog post. (you MUST include this to be eligible for prizes)

3. Add your link to your soup post to the widget on either TidyMom or Dine and Dish (we have the same widget code, so only add it on one site) and leave a comment letting us know you linked up. *you can link up to 2 posts
4.  Don't have a blog? no problem…..leave your recipe in the comments on this post
Extra Entries:
spread the word about Soup-a-palooza through social media outlets such as Facebook and Twitter (leave a comment)
Sample Tweet: Join @DineandDish & @TidyMom for #Soupapalooza  Share your recipes (and WIN) here: https://tidymom.net or http://dineanddish.net Pls RT
Let us know if you follow any of the sponsors on twitter or Facebook and give them a shout out telling them TidyMom and Dine and Dish sent you. (leave a comment letting us know)
TheHipHostess on Twitter, The Hip Hostess on FB
Pillsbury on Twitter, Pillsbury on FB
Bushs Beans on Twitter, Bushs Beans on FB
Westminster Crackers on Twitter, Westminster Crackers on FB
Ok, ready to link up?  We will keep the linky open through Sunday February 20th. Winners will be announced the following week .  All winners with a valid entry will be selected at random using random.org. Winners will be emailed and they will have 48 hours to claim their prize.   Giveaways  available to U.S. residents only. Thanks for participating!  Happy cooking!!

I wasn't paid by the sponsors or financially sponsored,  but I did receive some coupons and products that are provided in the giveaways from some of the sponsors.