Slow Cooker Taco Soup
Chilly days call for big pots of soup!
We have been cooking up a lot of soup in our house the past few months!!
One of our favorites, Slow Cooker Taco Soup, is a hearty combination of beans, corn, tomatoes, and taco seasonings, slow cooked with ground beef ! And the best part……the slow cooker does all the work, so you don't have to!!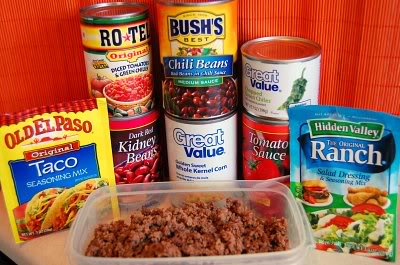 RELATED:  Creamy Chicken and Wild Rice Soup
Slow Cooker Taco Soup
Ingredients:
1 pound ground beef
1 pkg taco season mix
1 pkg ranch dressing mix
1 (16 oz) can Bush's chili beans
1 (15 oz) can Bush's kidney beans, drained
1 (15oz) can corn, drained
1 (15 oz) can tomato sauce
2 cups water
1 (14.5 oz) Rotel diced tomatoes
1 (4oz) can diced chopped green chilies
Directions:
Using a skillet, brown ground beef and drain
Add taco seasoning and ranch dressing mix to meat, stir and cook for 1-2 minutes.
Place seasoned meat in slow cooker
Add remaining ingredients
Mix to blend and cook low for 8-10 hours
Serve with tortilla chips, a dollop of sour cream and shredded cheddar cheese.
Making this recipe? Share it with us on Instagram using the hashtag #TidyMom so we can see what you're creating in the kitchen!
Want more great recipes like this? Follow my TidyMom Easy Recipes Pinterest Board