Chocolate Chip Banana Bread aka Best Mom in the World Banana Bread
Nothing says love in your belly like a favorite recipe. And this recipe for Chocolate Chip Banana Bread has earned me the title of Best Mom in the World for several years now.
I'm a lucky mom! My girls and I spend a lot of time laughing together! At 14 and 23, I think they may be laughing AT me more than with me…….but I don't care, I just love hearing their laughter and our togetherness. They grow up so fast! Many days I wish I could just hit rewind and pause, keep them little, back to a time when they thought their mom was "all that" ! HA!!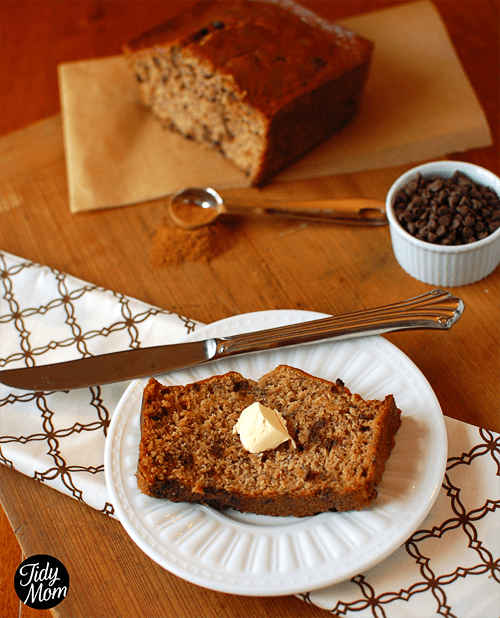 I love that my youngest enjoys getting in the kitchen with me some times. And even more so if it's to make something she loves and has been begging me to make, like chocolate chip banana bread. You see, my family would love if I made this banana bread every week!
As you see, she's messy like her mom when she bakes (yes…TidyMom is a messy baker!)
I try and not hover, I let her do most of the work…….with her chipped green nail polish and all.
Chocolate Chip Banana Bread is a Family Favorite Recipe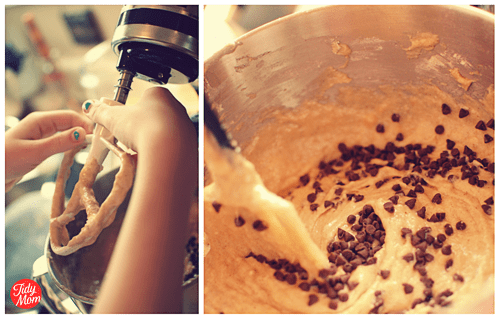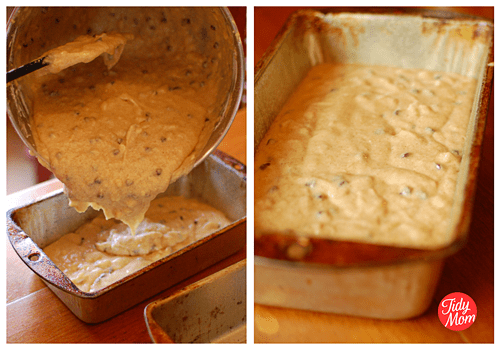 Today I want to urge you to spend time in the kitchen with your children, no matter what their age. I know you're tired, I know it's quicker to do it yourself, I know you work long days (many with out paycheck), but these are the days.  They wont last forever.  They make messes, forget to do things, distract you, change your radio stations, can text a whole conversation faster than you can dial a phone number and talk to you nonstop…….but before you know it,  the house will go silent.  Take a breath, close your eyes, and enjoy the moment, the memories and the laughter!
Rules for Living with a Teenage Daughter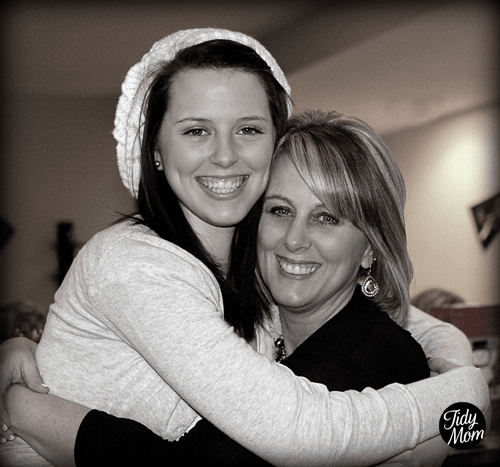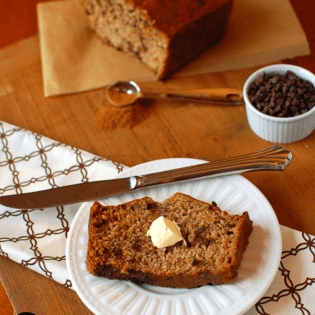 Chocolate Chip Banana Bread
The cinnamon and chocolate chips are the surprise flavors in this family favorite banana quick bread!
Ingredients:
1 1/4 cup sugar
1/2 cup butter, softened
2 eggs
1/2 cup milk
3-4 mashed bananas
1 teaspoon vanilla extract
2 1/2 cups flour
1 teaspoon salt
1 teaspoon baking soda
1 1/2 teaspoon cinnamon
1/4 – 1/2 cup mini chocolate chips
walnuts if desired
Directions:
Preheat oven to 350 degrees F
Cream together sugar and butter, add eggs one at a time. Mix in milk, bananas and vanilla.
Stir in dry ingredients. *do not over mix the batter. You don't want it smooth. Over mixing the batter will give you tough, rubbery bread
Pour into greased loaf pan.
Bake until bread is golden brown and a toothpick inserted in the center comes out clean, about 60 mins for regular loaf pan, or 30 mins for mini loaves
Making this recipe? Share it with us on Instagram using the hashtag #TidyMom so we can see what you're creating in the kitchen!
Want more great recipes like this? Follow my TidyMom Easy Recipes Pinterest Board