Easy Double Chocolate Zucchini Bread
Moist, flavorful zucchini bread with a twist: cocoa in the batter, and studded with chocolate chips. Double Chocolate Zucchini Bread is a winner every time!

Be sure to sign up for my email… to get new recipes and ideas in your inbox!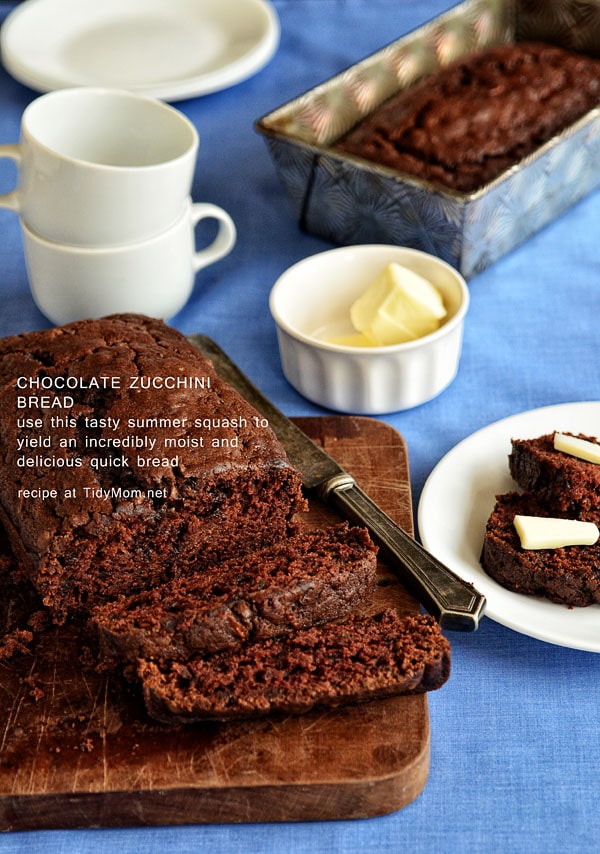 Here we are, heading into late summer and gardens seem to be overflowing with an abundance of zucchini just begging to be used up. If you don't have a garden of your own, hopefully, you have some generous neighbors or friends (or customers) willing to share their summer bounty with you, as we do! If not, you can't miss the mounds of beautiful squash at the grocery store or farmer's market.
We have a favorite banana bread recipe that I make all the time, so I thought zucchini bread would be a nice change of pace and let's make it chocolate. Everything is better with a little chocolate right?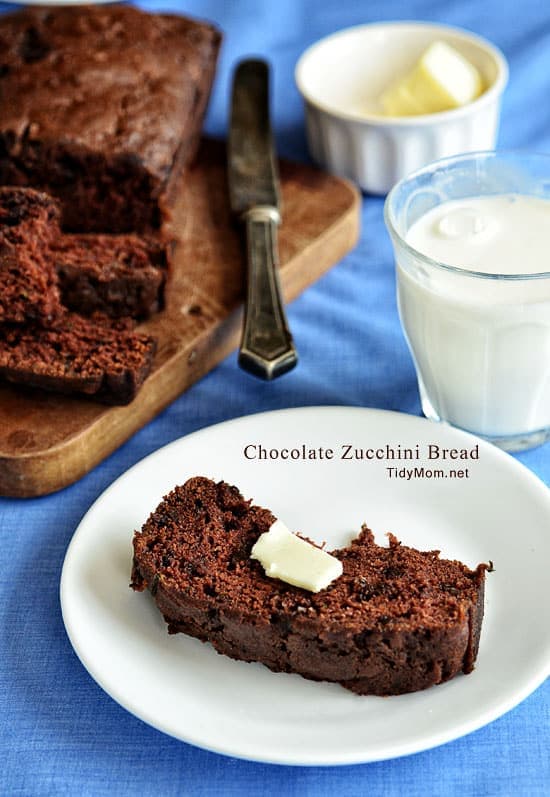 I love quick bread because there are so easy and well, quick. Usually, there is no need for a mixer and can have your bread in the oven in no time. Zucchini is 95% water, requiring you to drain it. So be sure to grate your zucchini first so you can let it drain while you get the rest of the recipe together. Once it's drained, you just stir everything together in a bowl, pour it into your loaf pans, and into the oven they go! See, so easy!!
RELATED: Homemade Artisan Bread
What makes a good chocolate zucchini bread?
Flavor: Zucchini, itself doesn't bring the flavor to this party, so a good zucchini bread recipe needs to be full of added flavors! This recipe brings on the flavor with the addition of cinnamon, almond extract, cocoa powder and chocolate chips.
Moist: This is where the zucchini can shine since this summer squash is 95 percent water. This recipe is unbelievably moist, without any oil!
Texture: Zucchini bread should be light and airy, not too dense or gummy. Both the flavor and the texture of the shredded zucchini should melt into the bread, creating a subtle sweetness and a soft texture. This recipe does all of that!
To make sure you don't end up with soggy loaves from all the moisture in the zucchini, be sure to drain the zucchini well or use this trick from Cook's Illustrated. Simply squeeze the shredded zucchini in a clean dishcloth before mixing it with the rest of the ingredients. Your loaves will end up light and airy, not weighed down.
How to Choose a Zucchini
You want a squash that is firm and heavy for their size; the skin should be brightly colored and blemish-free. Because they are harvested earlier, smaller squash is more tender than larger ones and have thinner skins; choose squash that are less than eight inches long.
How to Store Zucchini
Refrigerate in a plastic bag for up to four days; do not wash until ready to use.
Easy Chocolate Zucchini Bread Printable Recipe
I'm glad to be adding this quick bread to my zucchini recipe arsenal! if you're looking for a gluten-free version, try this gluten-free zucchini bread!
What's your favorite Zucchini Recipe?
Like this Chocolate Zucchini Bread Recipe? Pin It!


10 Zucchini Recipes you might enjoy
I created a fun little group on facebook and I'd love for you to join in! It's a place where you can share YOUR favorite recipes, home tips, creative ideas and ask questions and see what's new with TidyMom! If you'd like to check it out, you can request to join HERE. Be sure to follow me on Instagram and tag #tidymom so I can see all the wonderful TidyMom recipes YOU make and tips YOU use!
Connect with TidyMom! Facebook|Twitter|Pinterest|Instagram
Sign up to receive an email in your inbox for each new recipe: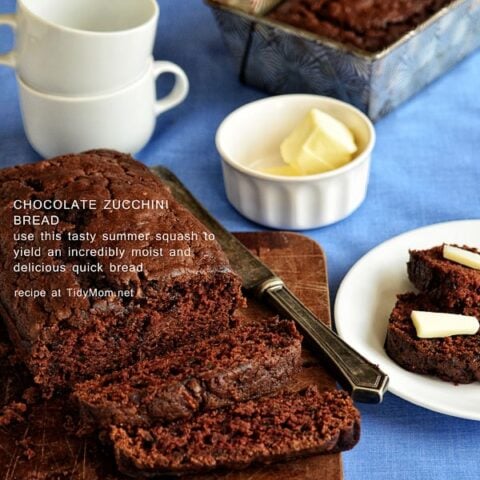 Chocolate Zucchini Bread
Yield: 2 loaves

Prep Time: 20 minutes

Cook Time: 50 minutes

Total Time: 1 hour 10 minutes

Moist, flavorful zucchini bread with a chocolate twist: cocoa in the batter, and studded with chocolate chips.
Ingredients
4 cups grated zucchini (from about a pound and a half of zucchini)
1 cup strong coffee (to soak zucchini in)
2 1/2 cups all purpose flour
1/2 cup unsweetened cocoa
2 teaspoons baking soda
1/2 teaspoon salt
1 teaspoon cinnamon
1 1/2 cups granulated white sugar
2 eggs
3/4 cup unsalted butter, melted
1/2 teaspoon almond extract
3/4 cup mini chocolate chips
Instructions
Place the freshly grated zucchini in a large bowl and pour cooled coffee over and let it soak for about 5-10 minutes. Then, squeeze all liquid from zucchini and place in a dishcloth to remove excess moisture or place in a sieve over a bowl to catch any excess moisture.
With rack in the middle, preheat oven to 350°F. Grease the bottom and sides of a 9 by 5-inch loaf pan; dust with flour, tapping out the excess
In a large bowl, whisk together the flour, unsweetened cocoa, baking soda, salt, and cinnamon until all ingredients are well combined, set aside.
In a separate large bowl, beat together the sugar and eggs until smooth, about a minute. Add the melted butter and almond extract and beat until smooth.
Gently stir in the grated zucchini Add the flour mixture to the batter and stir just until combined. Add chocolate chips and stir to combine.
Divide the batter between the two pans.
Bake for 50 minutes, or until a skewer inserted into the center comes out clean and easily. Let it cool on a rack for 5-10 minutes, then run a butter knife around the edges to separate the bread from the pan. Remove from the loaf pans and let cool completely on a rack.
Notes
Loaves can be wrapped with plastic wrap and stored at room temperature for up to 3 days. or wrap the bread in plastic wrap and then aluminum foil and freeze for up to 3 months.
Soaking zucchini in strong coffee will enhance the chocolate flavor
Recommended Products
As an Amazon Associate and member of other affiliate programs, I earn from qualifying purchases.
Nutrition Information:
Yield: 24 servings Serving Size: 1
Amount Per Serving: Calories: 191Total Fat: 8gSaturated Fat: 5gTrans Fat: 0gUnsaturated Fat: 3gCholesterol: 31mgSodium: 158mgCarbohydrates: 28gFiber: 1gSugar: 16gProtein: 3g

Nutrition information is estimated based on the ingredients and cooking instructions as described in each recipe and is intended to be used for informational purposes only. Please note that nutrition details may vary based on methods of preparation, origin, and freshness of ingredients used.