Creamy Chicken And Wild Rice Soup
Panera Copycat recipe
This Panera Copycat Creamy Chicken And Wild Rice Soup continues to be a family favorite. It's delicious and hearty, perfect for cold winter nights.
We are having the wettest and one of the coldest Octobers on record here in St. Louis. So I've been in a soup mood!! To be honest, I'm obsessed with soups like BBQ Chicken Pizza Soup, French Onion Soup and Smoked Sausage and White Bean Soup to name a few. Because there is something so wonderful eating something warm and hearty when it's cold outside.
I literally crave Creamy Chicken and Wild Rice Soup from Panera all year long and finally decided it was time to make it at home.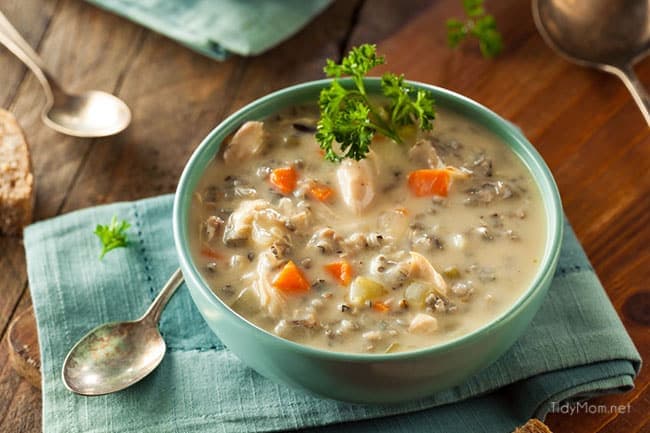 This cozy, creamy, stick-to-your-ribs soup is loaded with carrots, celery, boneless chicken and of course, wild rice!  Perfect to keep you nice and warm on a chilly night.
Halloween is just around the corner, Creamy Chicken and Wild Rice Soup Copycat Recipe is a GREAT Halloween meal, you can fix a big pot during the day, and easily eat before or after Trick-or-Treating!
It's filling, hearty, insanely easy to make and makes GREAT leftovers! What's better than that?
CHECK OUT HOW EASY THIS CREAMY CHICKEN AND WILD RICE SOUP IS TO MAKE! WATCH THE VIDEO!
click to see more of my recipe videos
It will definitely become a regular in our house!
If you're looking for more easy chicken soup recipes, check out 20-Minute Chicken Parmesan Soup, this Thai Coconut Chicken Soup, and this Verde Chicken Soup. Each of those recipes will warm their bellies in no time!
CREAMY CHICKEN AND WILD RICE SOUP RECIPE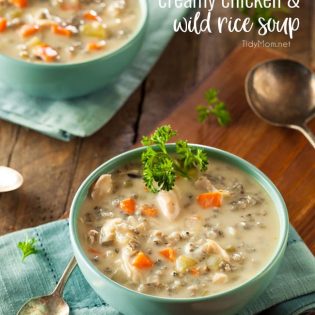 Creamy Chicken And Wild Rice Soup
This Panera Copycat Creamy Chicken and Wild Rice Soup is delicious and hearty, perfect for cold winter nights.
Ingredients:
2-3 Tablespoons Olive Oil
2 cloves garlic
 1/2 cup carrots
 1/2 celery
 4 cups chicken broth
 2 cups water
 2 cooked, boneless chicken breast halves, shredded
 1 (4.5 ounce) package quick cooking long grain and wild rice with seasoning packet
 1/2 teaspoon salt
 1/2 teaspoon ground black pepper
 3/4 cup all-purpose flour
 1/2 cup butter
 2 cups heavy cream
Directions:
In a large pot over medium heat saute garlic cloves in olive oil, then add carrot and celery and saute for a few minutes until softened.
Add broth, water, and shredded chicken. Bring just to boiling, then stir in rice, reserving seasoning packet. Cover and remove from heat.
In a small bowl, combine salt, pepper and flour and set aside.
In a medium saucepan over medium heat, melt butter. Stir in contents of seasoning packet until mixture is bubbly. Reduce heat to low, then stir in flour mixture with a wooden spoon by tablespoons, until thick, to form a roux. Whisk in cream, a little at a time, until fully mixed and smooth. Cook until thickened about 5 minutes.
Add cream mixture into broth and rice, stir slowly. Cook over medium heat until heated through, about 10 to 15 minutes.
Making this recipe? Share it with us on Instagram using the hashtag #TidyMom so we can see what you're creating in the kitchen!
Want more great recipes like this? Follow my TidyMom Easy Recipes Pinterest Board
ENJOY!
Like this Creamy Chicken And Wild Rice Soup recipe? Pin It!