Pecan Grilled Chicken Tender Salad
a healthier version copycat O'Charley's Pecan Chicken Tender Salad
Try this fruity Pecan Grilled Chicken Salad for a fresh, fast, and delicious meal any time of day! It's a healthier version of my favorite O'Charley's Pecan Chicken Tender Salad — Fresh greens topped with juicy mandarin oranges, ripe strawberries, dried cranberries, candied pecans, grilled chicken and bleu cheese, topped with balsamic vinaigrette dressing.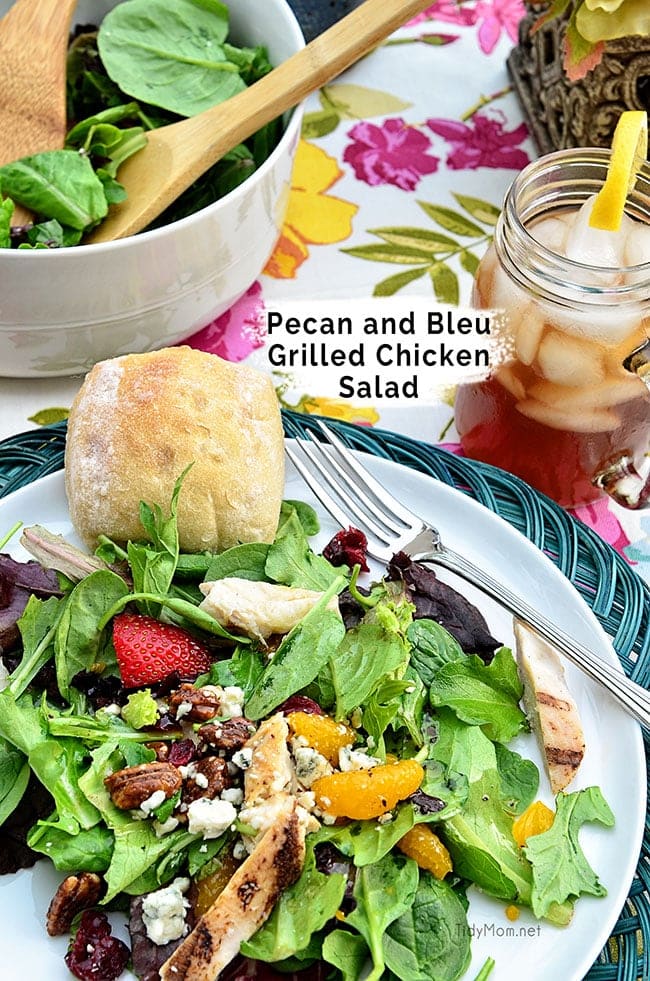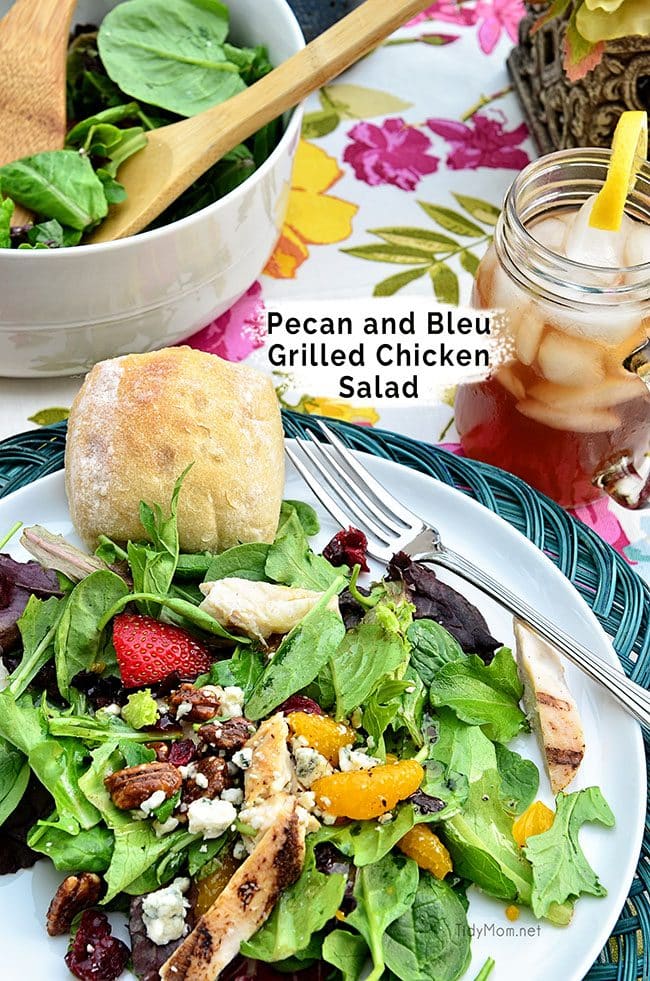 Oh sweet summer time. I've been anxiously awaiting it. I love the longer days and the warm nights.  Now if Mother Nature could just turn off the waterworks we'd be set!  So far we are half way thru June, and St. Louis has already seen 6 inches of rain, with another 5-7″ expected by the end of this week setting the stage for the wettest June in the recorded history of the St. Louis area.
We have managed to sneak in a few nice days, or hours here and there and I was craving a big delicious salad for dinner a few weeks ago.  If you know me, one of my favorite salads is from O'Charley's.  It's filled with a lot of good stuff, like candied pecans and pecan crusted breaded chicken tenders……which makes it heavy on the calories too.  It occurred to me that this tasty favorite could still knock your sock off if I made it at home with grilled chicken to make it a little lighter on the calories.  It's still full of so much flavor and texture….like a summertime party in your mouth!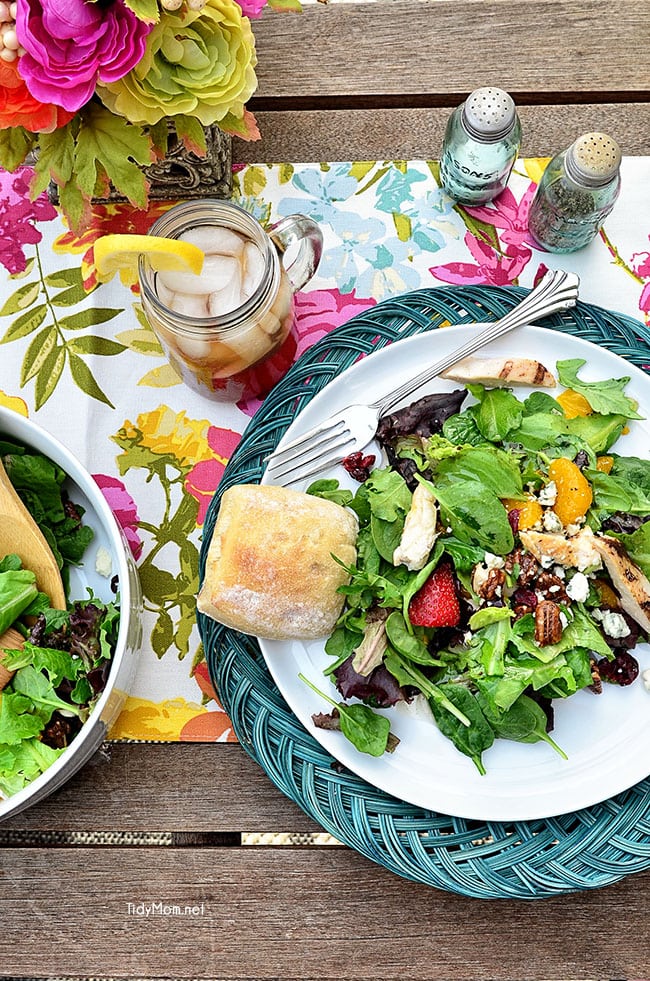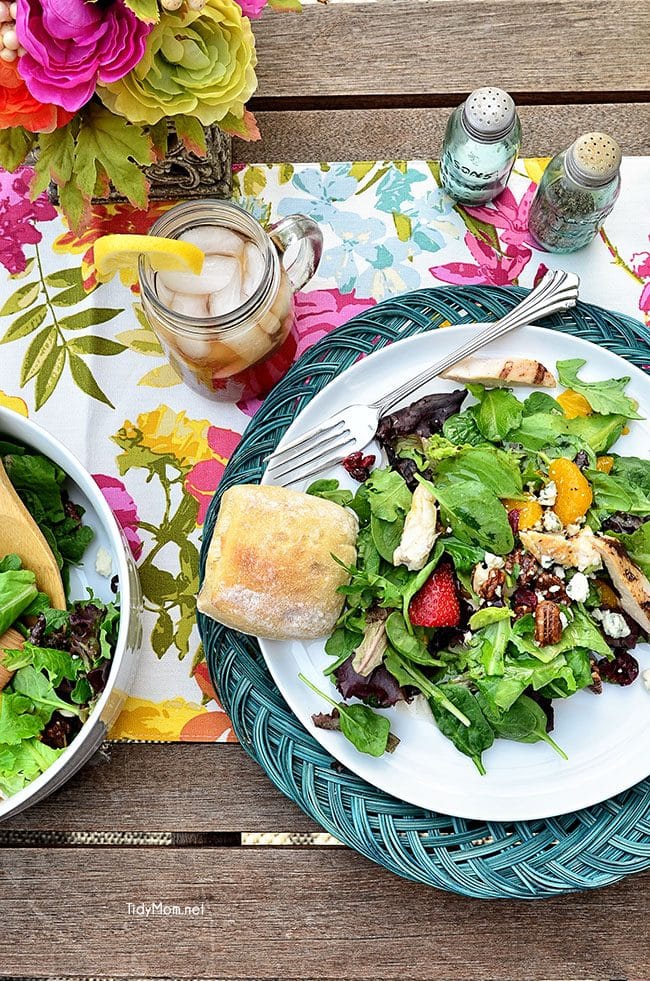 Copycat O'Charley's Pecan Grilled Chicken Tender Salad
This "recipe" couldn't be any easier, making it great for any time!  I use rotisserie chicken or the Tyson cooked grilled chicken strips.  I don't even heat the chicken, but you could if you'd like your chicken warm.  I also grab up a bag of glazed pecans from the salad topping section at the grocery store.  But if you'd like to make your own, drizzle pecans with a little honey and salt, place them on a baking sheet and bake for 15 minutes on 350° (stirring half way thru).  Cool on waxed paper before using in salad.
I also usually use a store-bought bottle of balsamic vinaigrette, but again, if you'd like to make your own, my friend Shaina has the perfect balsamic vinaigrette recipe you could use.
Sometimes we make a big batch and keep in the fridge to eat for lunches during the week.  Just add the chicken and dressing when ready to eat.
Since we don't have an O'Charley's too close to us, this works out perfectly 😉
Promise me you'll try this awesome Pecan Grilled Chicken Tender Salad  this summer!
Pecan Grilled Chicken Tender Salad
Ingredients:
8 ounces Spring Mix Salad Greens1/2 cup glazed pecans (I buy prepacked by the salad toppings)1/2 cup mandarin orange slices½ cup dried cranberries1/2 cup sliced strawberries2-3 ounces bleu cheese, crumbled8  ounces grilled chicken (I use the Tyson Cooked chicken strips or rotisserie chicken)balsamic vinaigrette
Directions:
Assemble buy dividing the first 6 ingredients between 2 plates. Top with the chicken, and serve with balsamic vinaigrette dressing.
Making this recipe? Share it with us on Instagram using the hashtag #TidyMom so we can see what you're creating in the kitchen!
Want more great recipes like this? Follow my TidyMom Easy Recipes Pinterest Board
**Making this recipe?  Take a picture and share it on Instagram! Make sure to tag it #TidyMom so we can see what you're creating in the kitchen!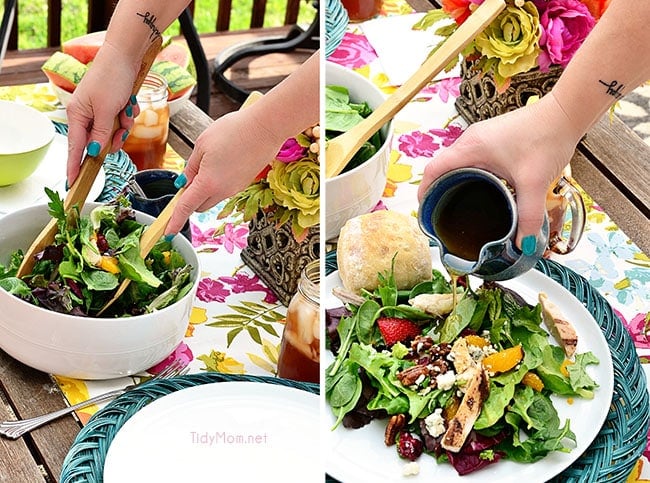 More Summer Salad Recipes you might enjoy
Feta, Peach & Prosciutto Salad at TidyMom
Copycat Houlihan's Asian Chop Chop Chicken Salad Recipe at Dine and Dish
Antipasti Chopped Salad recipe from Reluctant Entertainer
Steak Spinach Salad with Grilled Peaches and Red Onion recipe from Aggie's Kitchen
Black Bean Mexican Salad recipe from She Wears Many Hats
Watermelon, Feta and Arugula Salad recipe from Recipe Girl