Easy Mississippi Mud Cake With Marshmallow Creme
Indulge in the ultimate chocolate lover's dream with this irresistible Mississippi Mud Cake! Decadent layers of dense chocolate mud cake, gooey marshmallow fluff, and intense chocolate frosting come together for pure dessert bliss. Prepare to be enchanted by every delicious bite!
Rocky Road Ice Cream fans meet Mississippi Mud Cake, a delicious dessert cousin twice removed. A chocolate mud cake is a classic Southern dessert right at home with Mississippi Pot Roast, Creamy Cucumber Salad, and Chili Lime Corn on the Cob.
Be sure to sign up for my email… to get new recipes and ideas in your inbox!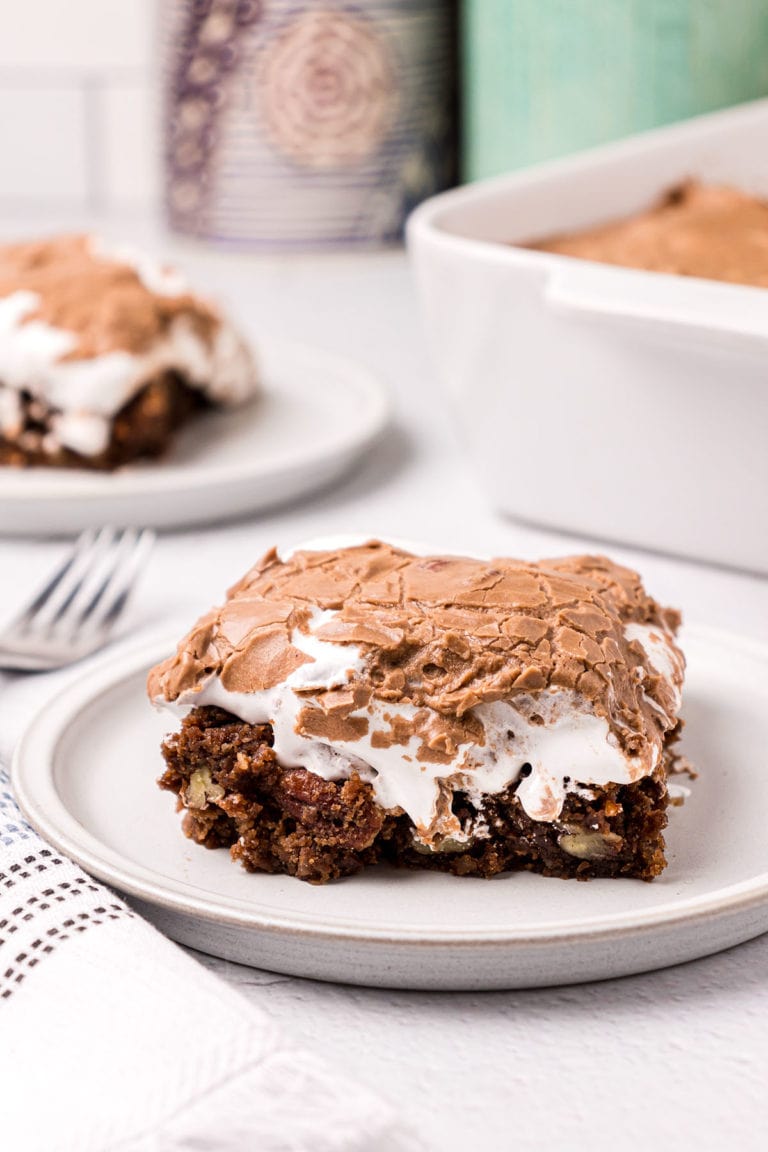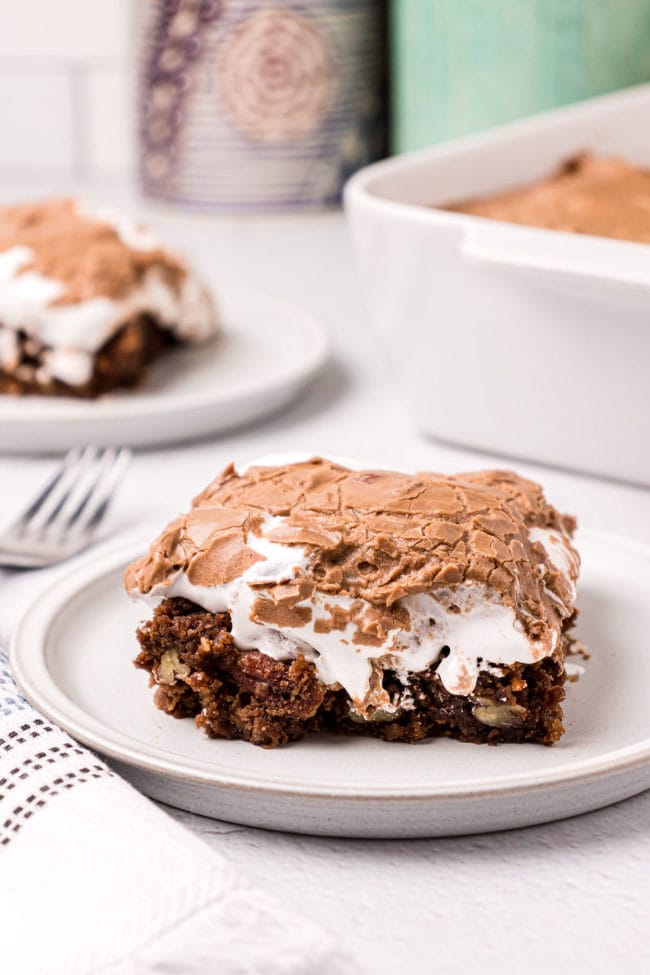 Why This Mississippi Mud Cake Is Awesome!
Mississippi mud cake is a delicious and decadent chocolate cake/pie hybrid perfect for any occasion. It is rich and fudgy, with a crunchy, chewy texture from pecans and coconut.
Mississippi mud cake is rich chocolate cake with a tight and fudgy crumb.
Chocolate frosting for mud cake is permeated with sweet, rich cocoa and crunchy, buttery pecans.
Dreamy, creamy mud cake is easy to make and easy to customize to your family's tastes.
Shamelessly over-the-top and delectable chocolate dessert, more than perfect for any occasion.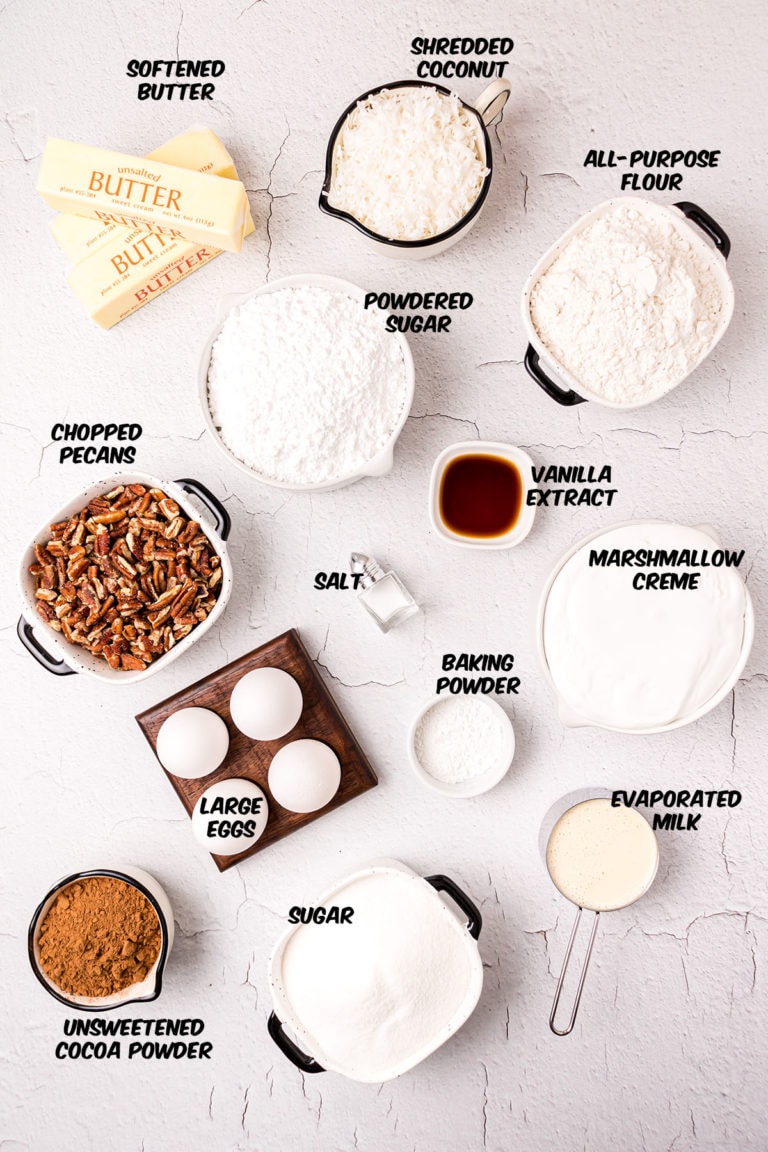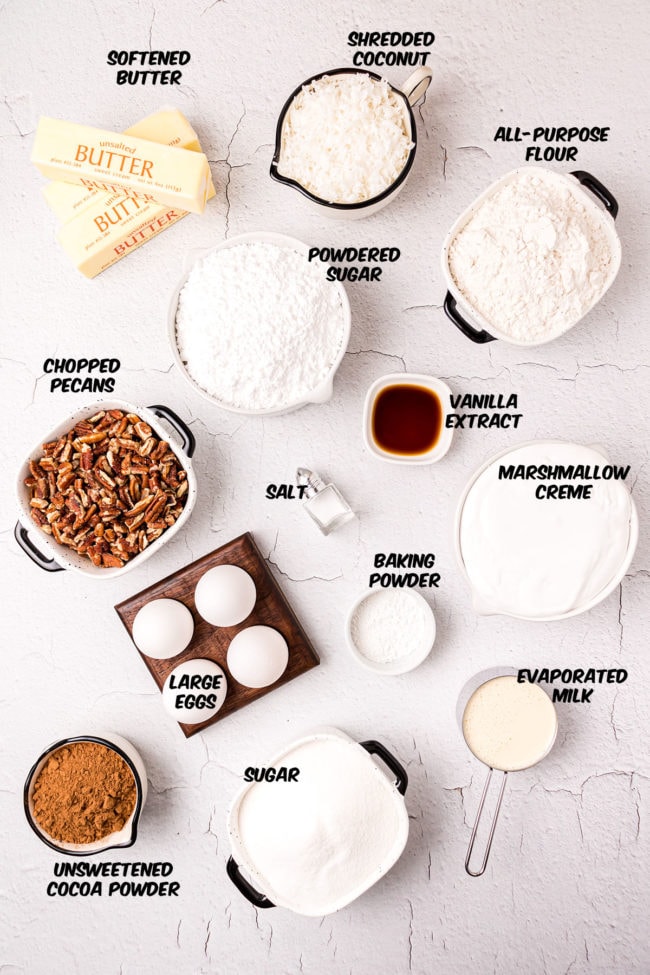 Ingredients For Your Mississippi Mud Cake Recipe
I've noted this important baking tip many times, but it bears repeating for an exceptional, fudgy chocolate mud cake! To avoid an undercooked center and overcooked edges, use ingredients at room temperature for even baking (unless the recipe specifies otherwise).
For specific amounts, please refer to the printable recipe card at the bottom of the post.
Chocolate Mud Cake:
Unsalted Butter – adds depth to a Mississippi mud cake and a firmer crumb(see Notes & Tips below).
Sugar – white granulated
Large Eggs – act as a binder and provide moisture to mud cake. The chill must be off the eggs before creaming them with sugar.
Vanilla Extract – For the best flavor, use real vanilla extract. You can even make your own vanilla extract; you'll be glad you did!
All-Purpose Flour – (187.5 G) If you don't have a kitchen scale, do not compress flour by scooping it into the measuring cup. Use the fluff, spoon, and level method.
Unsweetened Cocoa Powder – Usually, Dutched (alkalized) cocoa powder is used with recipes using baking powder as leavening. The alkalizing process neutralizes the acidity* of cocoa powder: it's less bitter, darker in color, and brings forward more chocolate flavor.
Baking Powder -make sure it's fresh. (see tip below)
Salt
Pecans – raw or lightly toasted and chopped.
Coconut – sweetened or unsweetened shredded coconut.
Marshmallow Cream – a large-sized jar. Jet-Puffed Marshmallow Creme or Marshmallow Fluff is easy to find at your local grocer.
TIP: You can test your baking powder for freshness. Simply, pour a little baking powder into hot water — if it fizzes, it's still good to use!
Frosting For Mississippi Mud Cake:
Powdered Sugar
Softened Butter
Chopped Pecans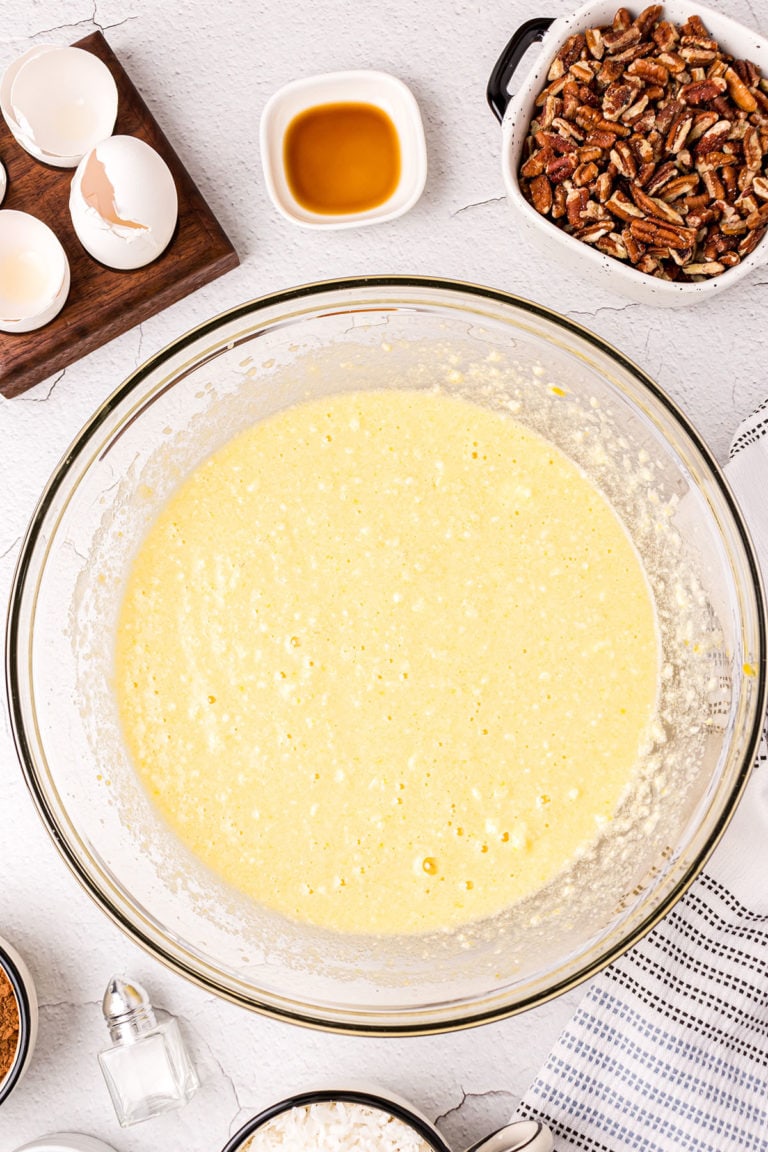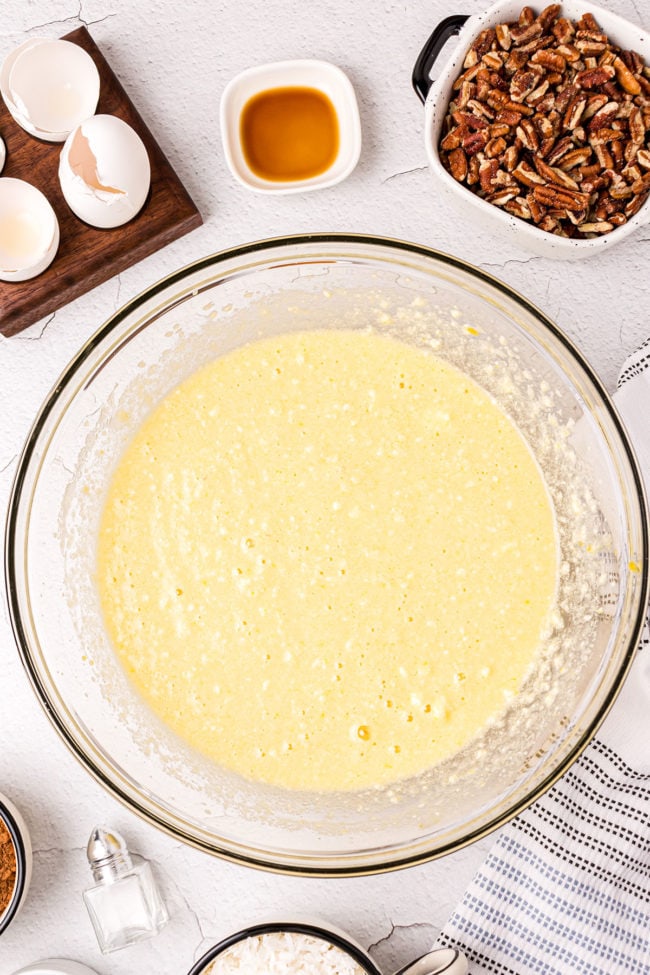 This post may contain affiliate links. Please read my disclosure policy here.
Directions For Mississippi Mud Cake
Preheat oven to 350° F. Grease a 9×13-inch baking dish with baking spray and set aside. You'll need a couple of mixing bowls, an electric mixer, a spatula, and the willpower not to swipe a finger through all that glorious chocolate mud cake batter!
When you are baking, you'll want to use the full recipe at the bottom of the page.
Beat butter and sugar until creamy; add eggs and vanilla and beat well.
Combine dry ingredients in a separate bowl.
Mix the wet and dry mud cake ingredients until just combined.
Bake in the center of the oven until the center is springy.
Soften spoonfuls of marshmallow creme on warm cake and spread; allow to cool completely.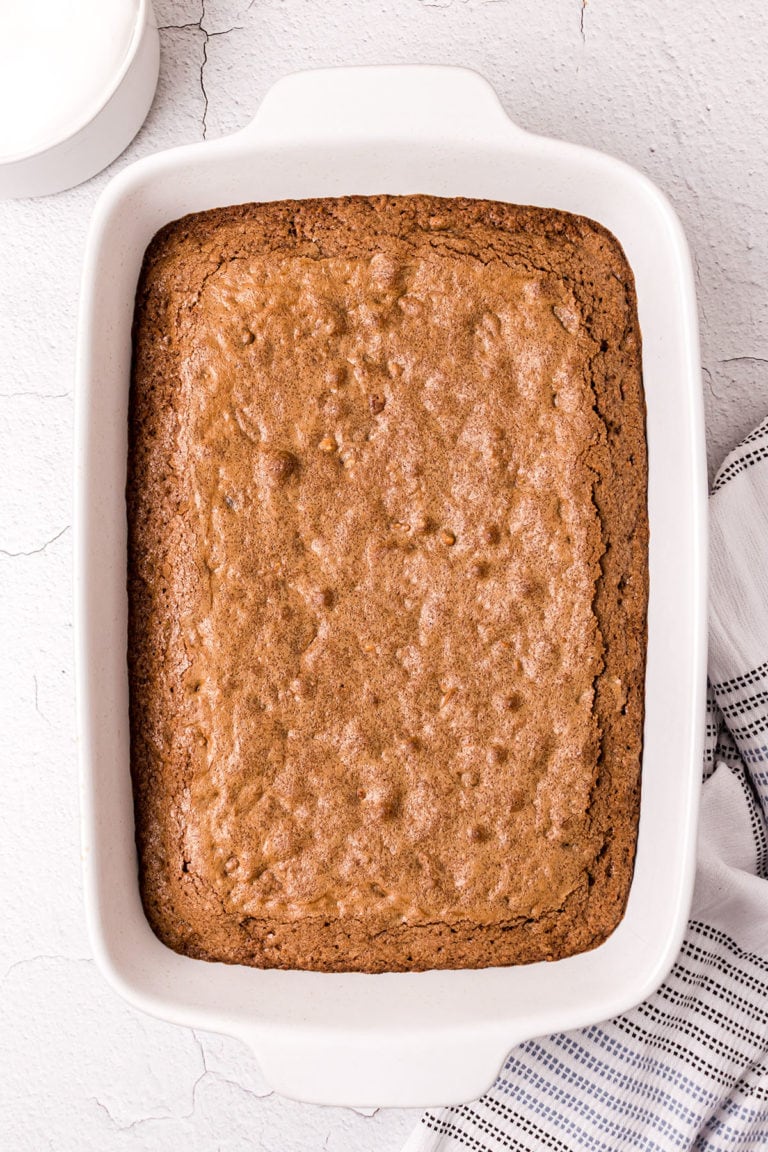 Mississippi Mud Cake Frosting Directions:
Cream butter and powdered sugar until light and fluffy.
Mix in milk, cocoa powder, and vanilla; fold in nuts.
Spread Mississippi mud cake frosting over the marshmallow fluff layer.
Chill the cake for 10-15 minutes before serving.
DYK? Unless otherwise noted, baking ingredients like eggs, milk, and butter, should always be at room temperature before being incorporated into a batter or dough. Recipes typically assume that ingredients are at room temperature before the batter is placed in the oven at a specific temperature for a certain amount of time. This ensures even baking, especially for treats like this mud cake recipe.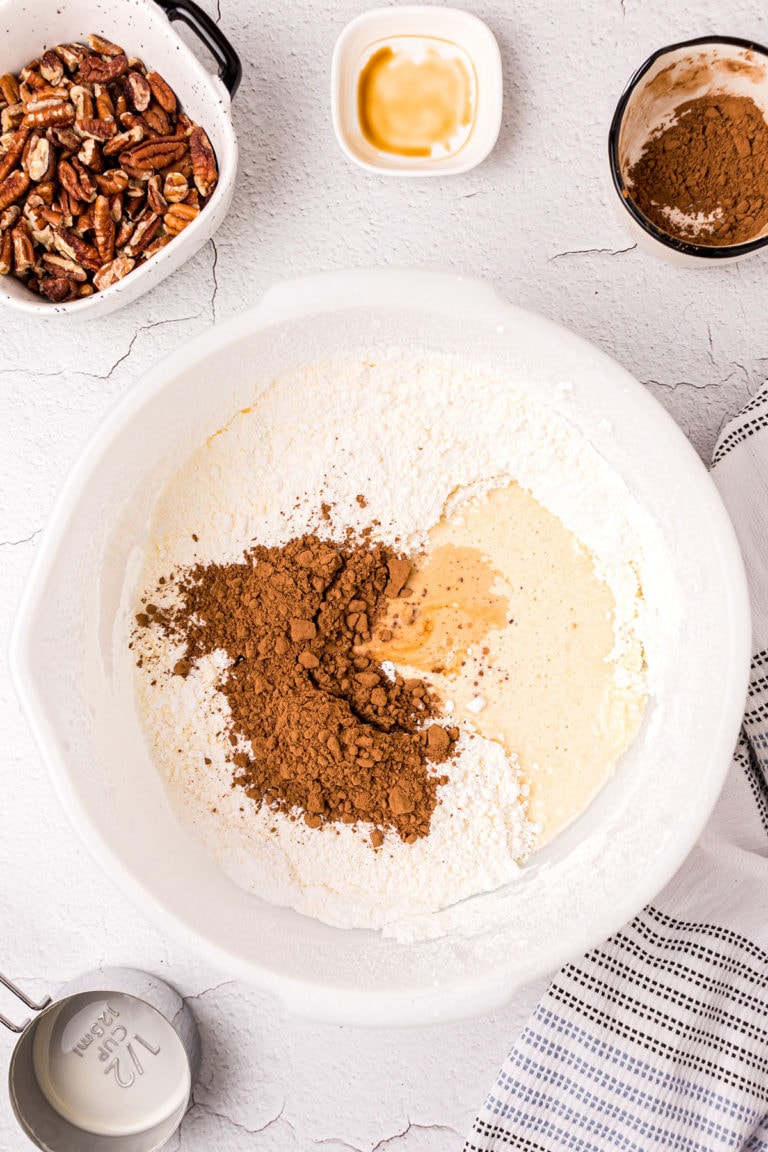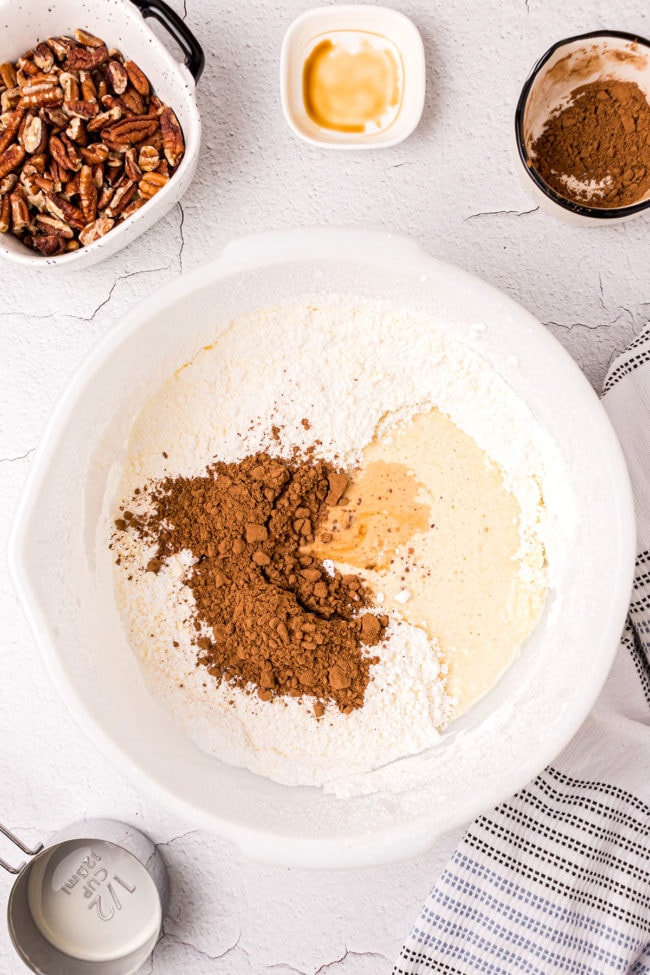 Recipe Notes/Tips
Using a kitchen scale can significantly impact the outcome when measuring flour and powdered sugar for baked goods.
You can choose between butter and vegetable oil in a cake recipe based on flavor preferences, as butter adds rich flavor while oil remains neutral in taste. Additionally, using oil typically yields a moister crumb, while butter contributes to a more structured texture in the cake.
If you use mini marshmallows instead of marshmallow creme, cover the chocolate mud cake with them until softened. Briefly set the mud cake under the broiler until the marshmallow peaks lightly caramelize to a golden yellow.
Marshmallow Fluff is quite a bit thicker (see FAQ) than Kraft's Jet-Puffed Marshmallow Creme and is usually a bit less expensive per ounce.
Cover the cake with plastic wrap while it chills to keep it moist and prevent the frosting from drying or becoming crusted.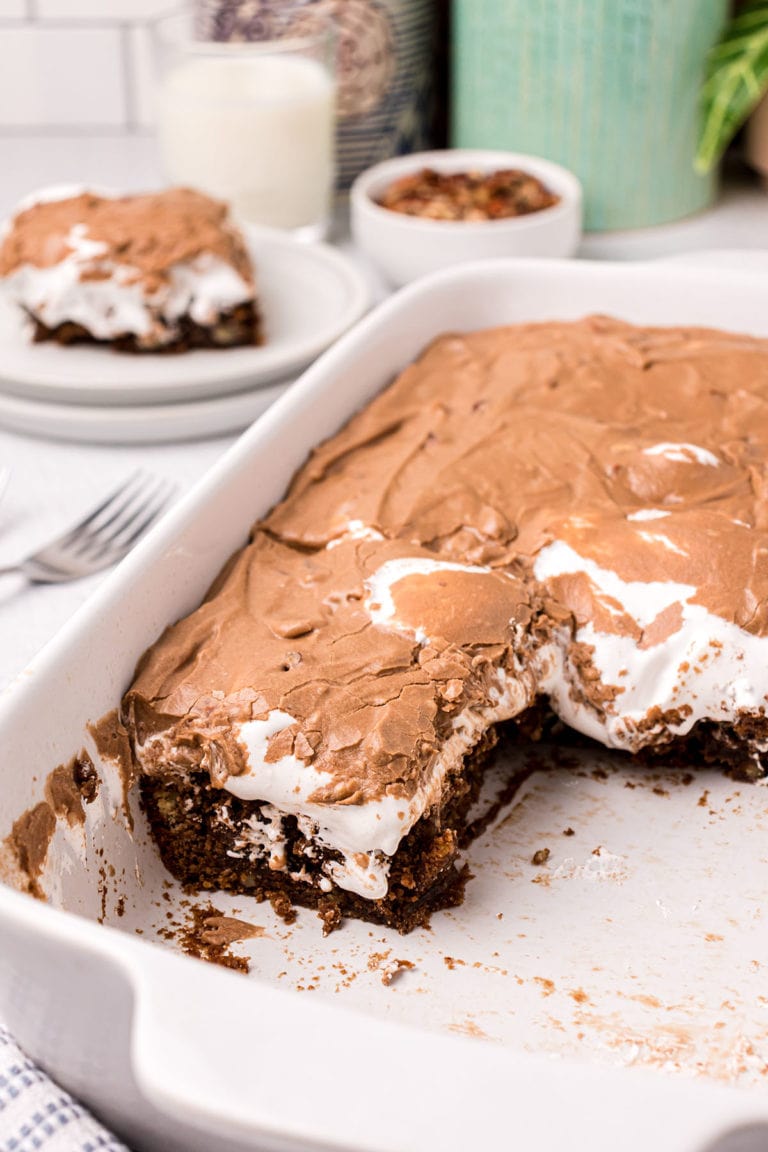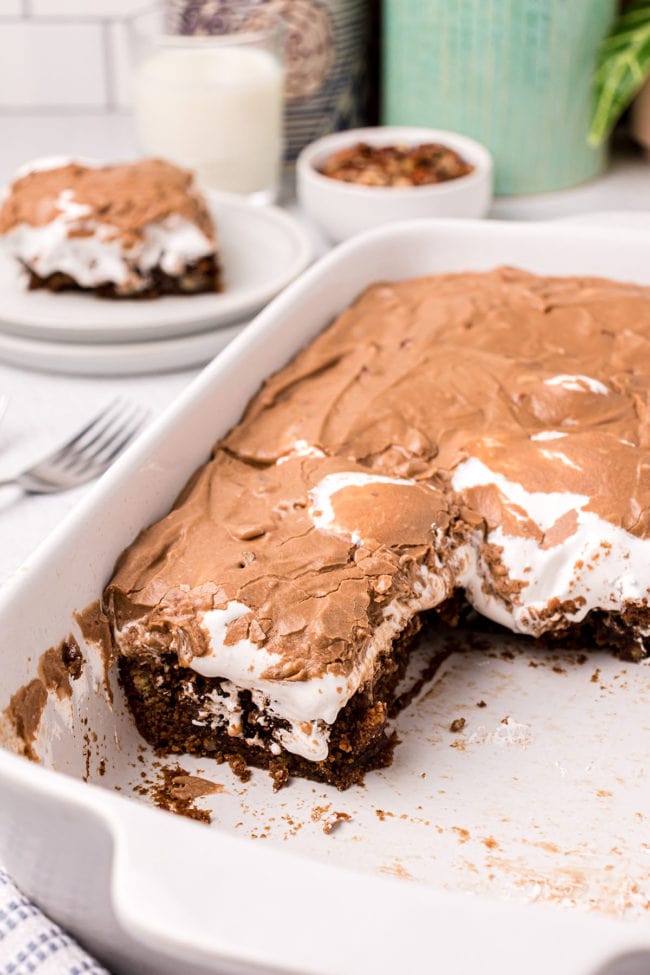 How To Store This Recipe
A mud cake will keep at room temperature for up to five days;* keep it covered so it won't dry out. If you want it to last longer, wrap it tightly and refrigerate.
Note:* I've read claims that Mississippi mud cake can last a week to ten days on the counter and up to three weeks in the fridge if wrapped really well. That has never been put to the test around here, for obvious reasons… it's gone!
Freeze Mud Cake
It is widely agreed that Mississippi mud cake is a great option for freezing, especially leftovers. If only two of you are in the household, portion leftover cake into double servings, wrap it tightly in plastic, followed by foil, and put them into a freezer bag or other airtight container. If wrapped to avoid freezer burn, mud cake can last over three months. Thaw for several hours in the fridge or overnight.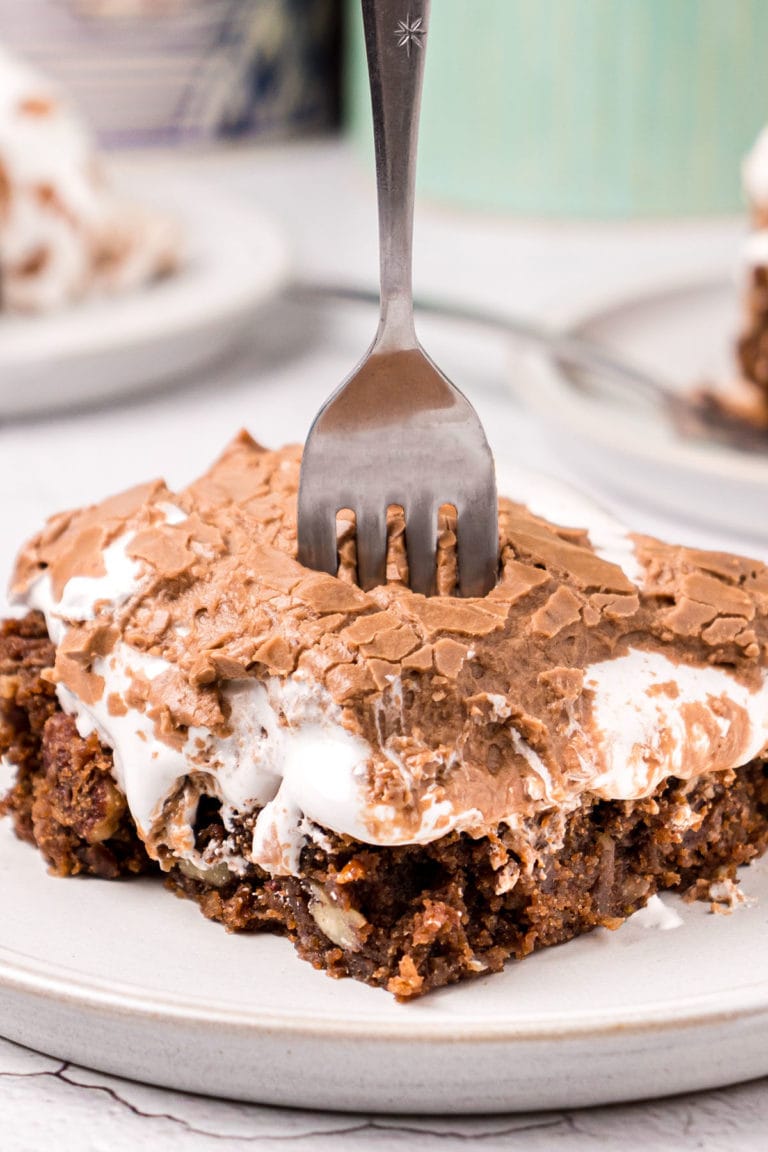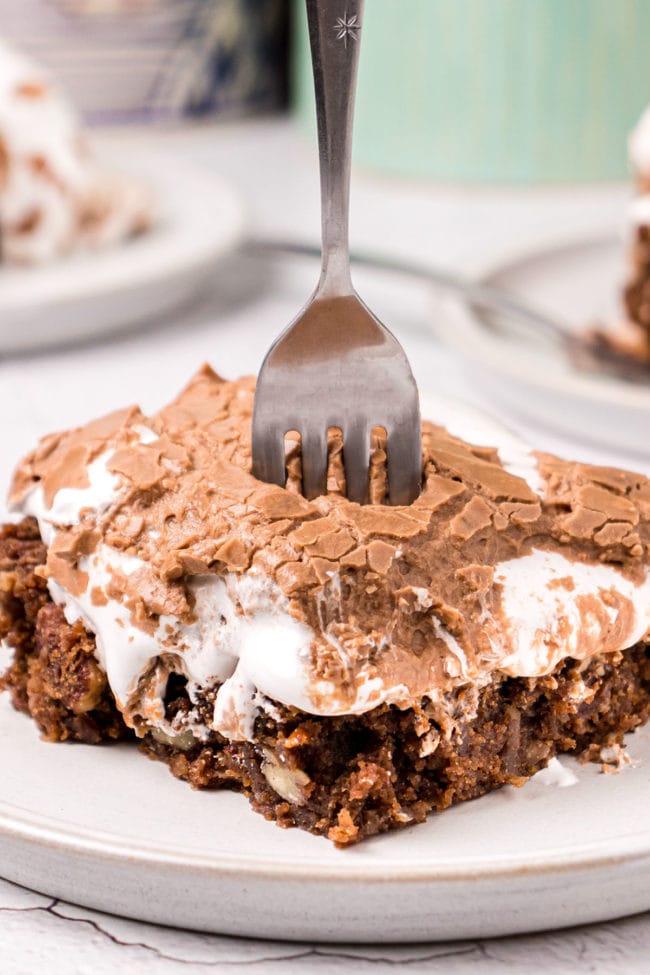 RecipeFAQs
What is the difference between marshmallow fluff and marshmallow creme?
There are only a few key differences between Marshmallow Fluff and Jet-Puffed Marshmallow Creme. For most of us, there's enough creamy marshmallow flavor in either to satisfy Mississippi mud cake recipe requirements. But, the differences become monumental for a marshmallow cream connoisseur.
Jet-Puffed Marshmallow Creme has xanthan gum and water to stabilize and moisten, creating a runnier consistency. The water in marshmallow cream makes the texture "less-than" and is glaringly apparent in a side-by-side comparison. Fluff is free of added water or gums, making it thicker and more viscous. Previously Fluff had an added advantage over Jet-Puffed because it used vanillin; now, both products' ingredient lists contain "artificial flavor." (sad but true, sigh!)

How did Mississippi mud cake get its name?
Mississippi mud pie is named after its appearance, resembling the Mississippi River mud. When it comes out of the oven (using an original recipe), this thick chocolate dessert looks like Mississippi River clay, sometimes parched and cracked. The top layer can be crunchy or textured, contrasting nicely with the moist, chewy cake. [I referenced MississippiEncyclopedia.org for a straight answer.]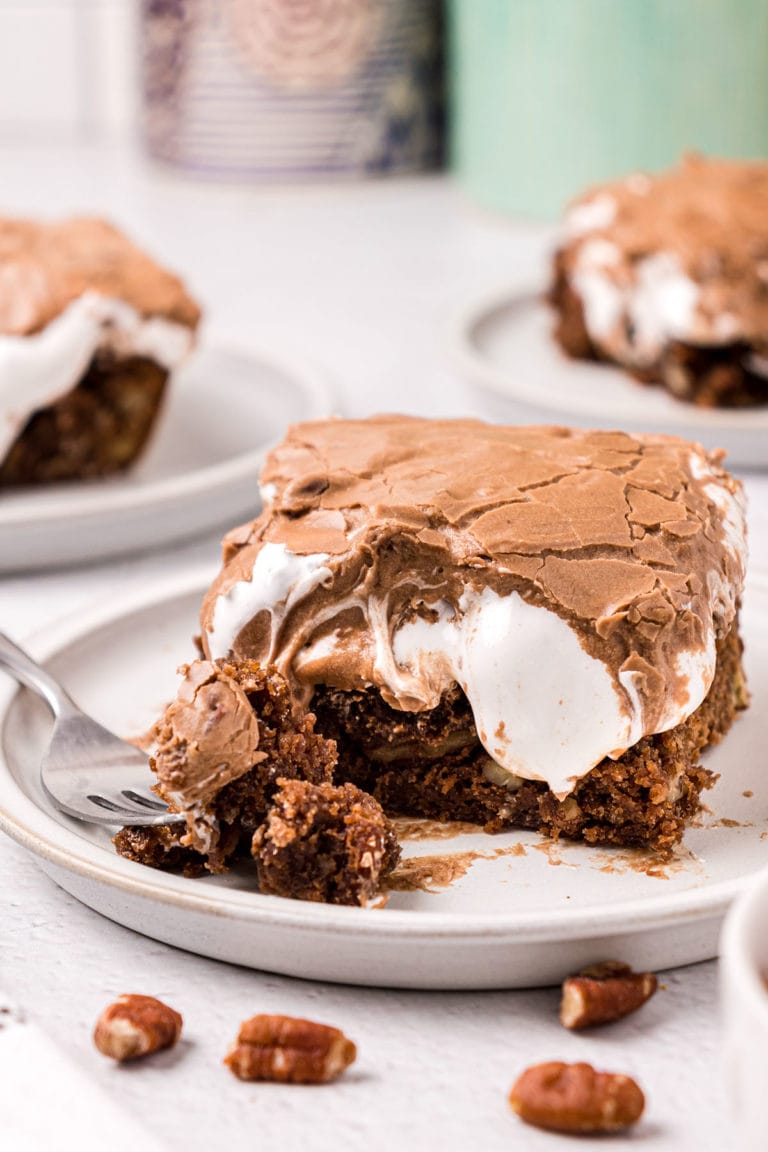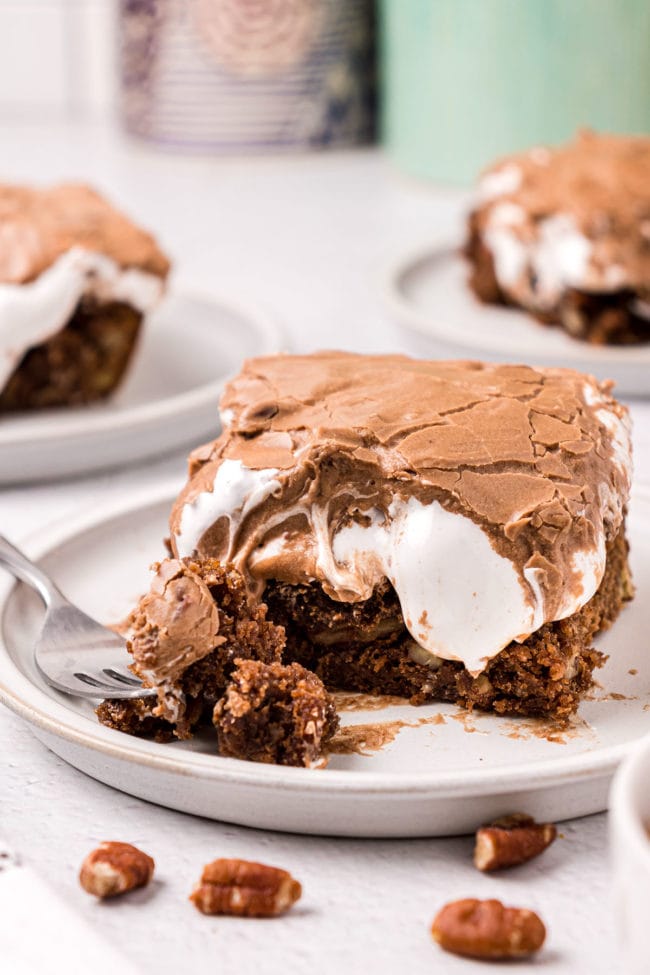 Variations and Substitutions
It takes talent to actually "mess up" a mud cake! It's all about the flavor and flair you want to add to the moist cake, gooey marshmallow layer, and chocolatey frosting.
If you come across Strawberry Fluff, that would be a tasty way to put a spin on Mississippi mud cake; plate it with some fresh slice strawberries, de-lish!
For visual effect, top Mississippi Mud Cake with small swirls of marshmallow creme or sprinkle with mini marshmallows, toasted coconut flakes, chocolate sprinkles, or white and chocolate chips.
If you like Almond Joy candy, you'll love chocolate mud cake using almonds instead of pecans. You may want to lightly toast the almonds if you sprinkle them over the icing.
Mini marshmallows can be used instead of marshmallow crème on a Mississippi mud cake. You can let marshmallows melt on the hot cake and smooth. Or sprinkle them on top, leaving them a little lumpy for a textured look.
Short on time? You can use a boxed cake mix if you like. I'd recommend you go for deeper chocolate cake flavors like Devil's Food or dark chocolate fudge. Add the coconut and nuts, but like any cake batter, avoid overmixing the batter.
Another time saver, or if you don't have all the stuff you need for Mississippi mud cake frosting, sprinkle chocolate chips over the marshmallow creme while it's still warm, allow the chips to turn shiny, then swirl them into the white cream in pretty patterns.
Don't like coconut? Leave it out. Not a fan of pecans or nuts? You don't have to include either ingredient to enjoy the dreamy chocolate layers in a Mississippi mud cake.
Don't have evaporated milk? Use whole milk – start with 5 tablespoons and add more as needed for desired consistency.
Like This Recipe? Pin It!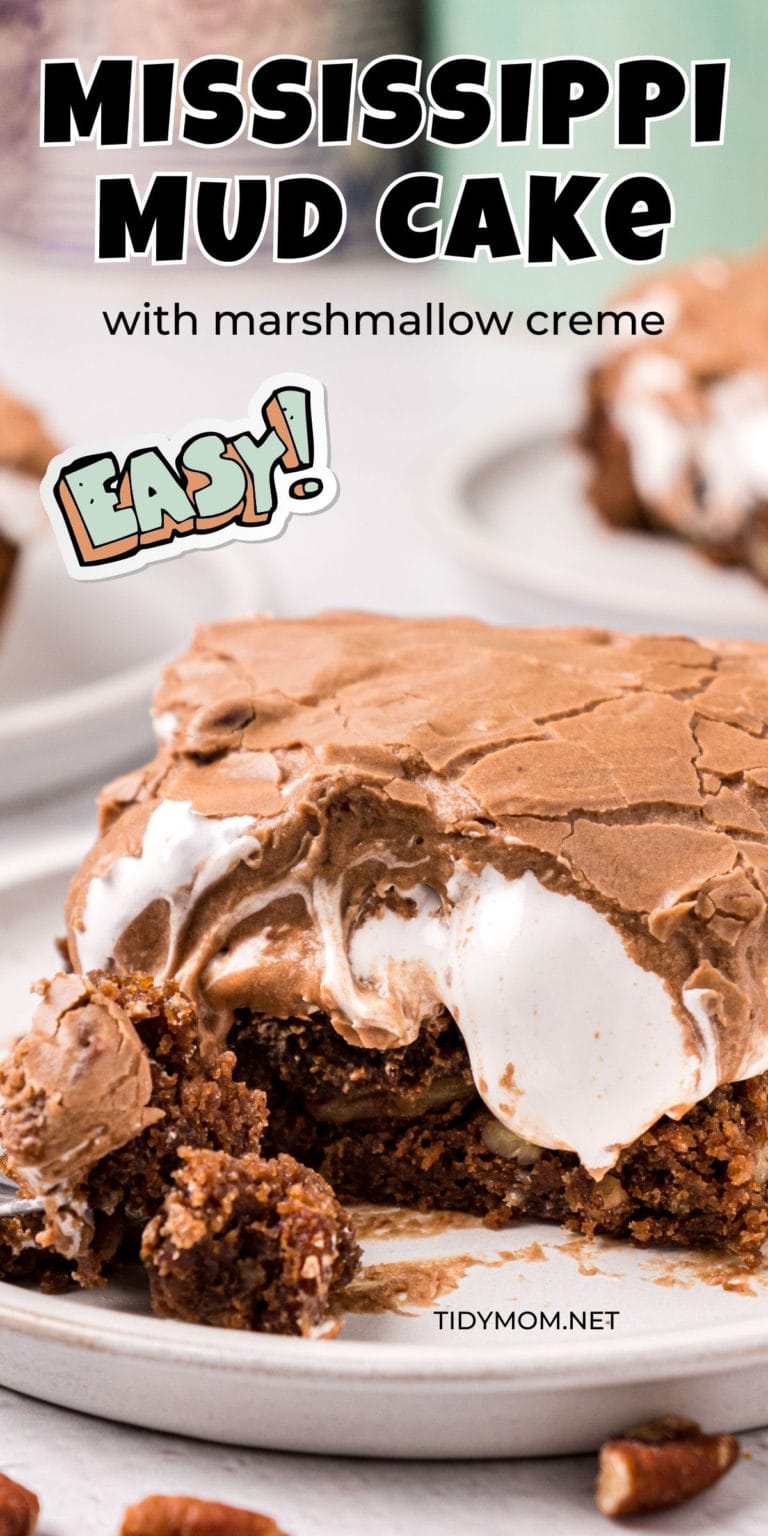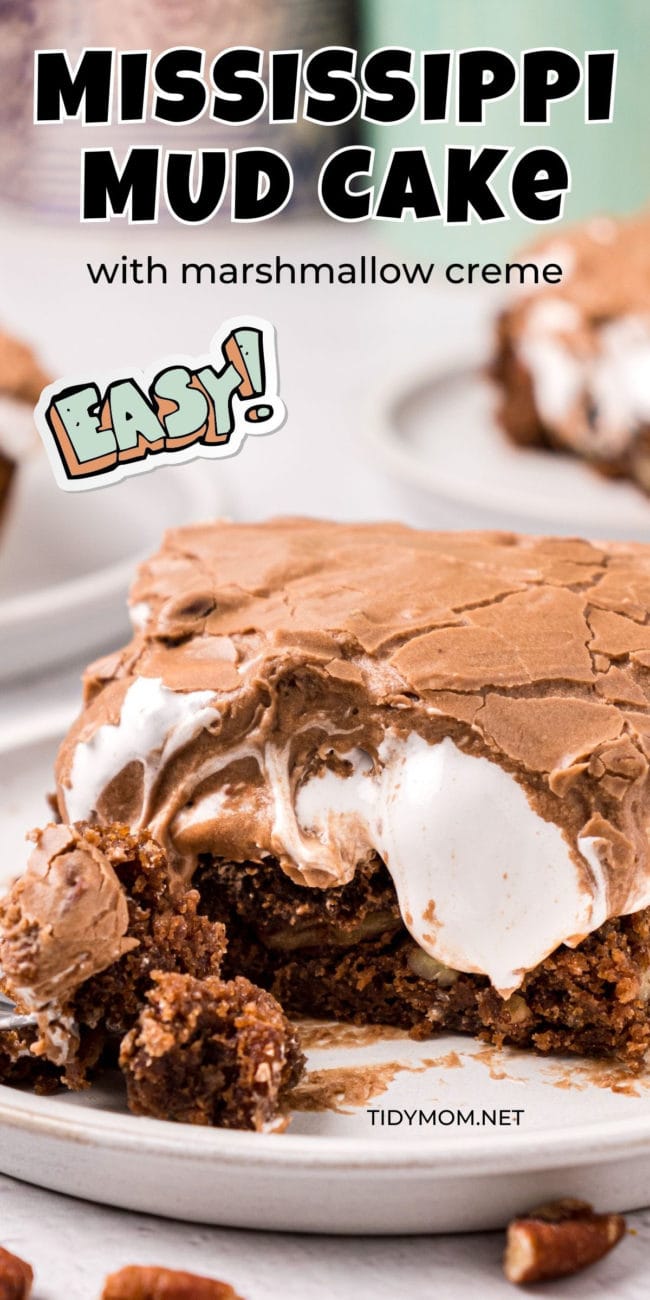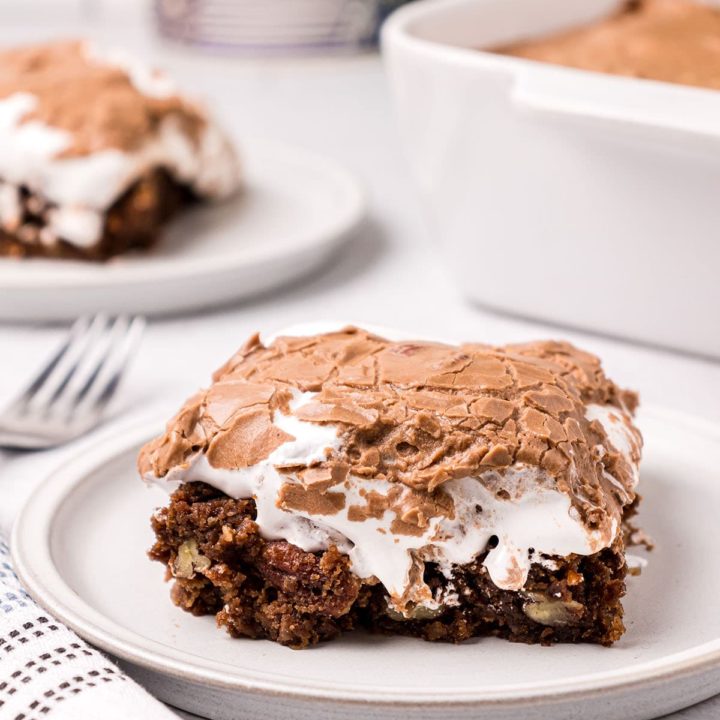 Mississippi Mud Cake
Yield: 12 servings
Prep Time: 10 minutes
Cook Time: 35 minutes
Chill Time: 10 minutes
Total Time: 55 minutes
Irresistible Mississippi Mud Cake! Decadent layers of dense chocolate mud cake, gooey marshmallow fluff, and intense chocolate frosting come together for pure dessert bliss.
Ingredients
1 cup butter, softened (or vegetable oil - see notes)
2 cups sugar
4 large eggs, room temp
1 teaspoon vanilla extract
1 ½ cups (187.5 g) all-purpose flour
¼ cup unsweetened cocoa powder
2 teaspoons baking powder
¼ teaspoon salt
1 cup pecans, chopped
1 cup coconut
1 jar (12 ounce) marshmallow creme
For Frosting
1 pound (about 3 ½ cups) powdered sugar
½ cup butter, softened
½ cup evaporated milk
⅓ unsweetened cocoa powder
1 teaspoon vanilla extract
½ cup chopped pecans
Instructions
Preheat oven to 350° F. Grease a 9x13-inch pan with baking spray and set aside.
Using a large mixing bowl, cream butter, and sugar. Add eggs and vanilla and beat well.
In another bowl, combine flour, cocoa powder, baking powder, salt, nuts, and coconut with a spoon. Add to wet ingredients and mix just until combined.
Pour cake batter into the prepared pan and bake in the center of the oven for 35-45 minutes or until the center of the cake springs back when gently touched.
Spoon marshmallow creme over warm cake. Let soften, then gently spread over the cake. Let cool completely.
FROSTING: In a mixing bowl cream butter with powdered sugar until light and fluffy; add milk, cocoa powder, and vanilla, mixing well. Fold in nuts and spread over the marshmallow layer. Allow the frosted cake to chill in the fridge for 10-15 minutes before serving.
Notes
Use all room-temp ingredients.
I highly recommend using a kitchen scale to measure flour and powdered sugar.
Swap the butter for vegetable oil for a more moist cake.
Don't like coconut? Leave it out.
Don't have evaporated milk? Use whole milk - start with 5 tablespoons and add more as needed for desired consistency.
You can use a bag of small marshmallows on the hot cake instead of marshmallow creme, if you prefer.
Cover and store at room temp for up to 5 days.
Nutrition Information:
Yield: 20
Serving Size: 1
Amount Per Serving:
Calories: 479
Total Fat: 22g
Saturated Fat: 11g
Trans Fat: 1g
Unsaturated Fat: 10g
Cholesterol: 76mg
Sodium: 232mg
Carbohydrates: 68g
Fiber: 2g
Sugar: 55g
Protein: 4g
Nutrition information is estimated based on the ingredients and cooking instructions as described in each recipe and is intended to be used for informational purposes only. Please note that nutrition details may vary based on methods of preparation, origin, and freshness of ingredients used and are just estimates. We encourage, especially if these numbers are important to you, to calculate these on your own for most accurate results.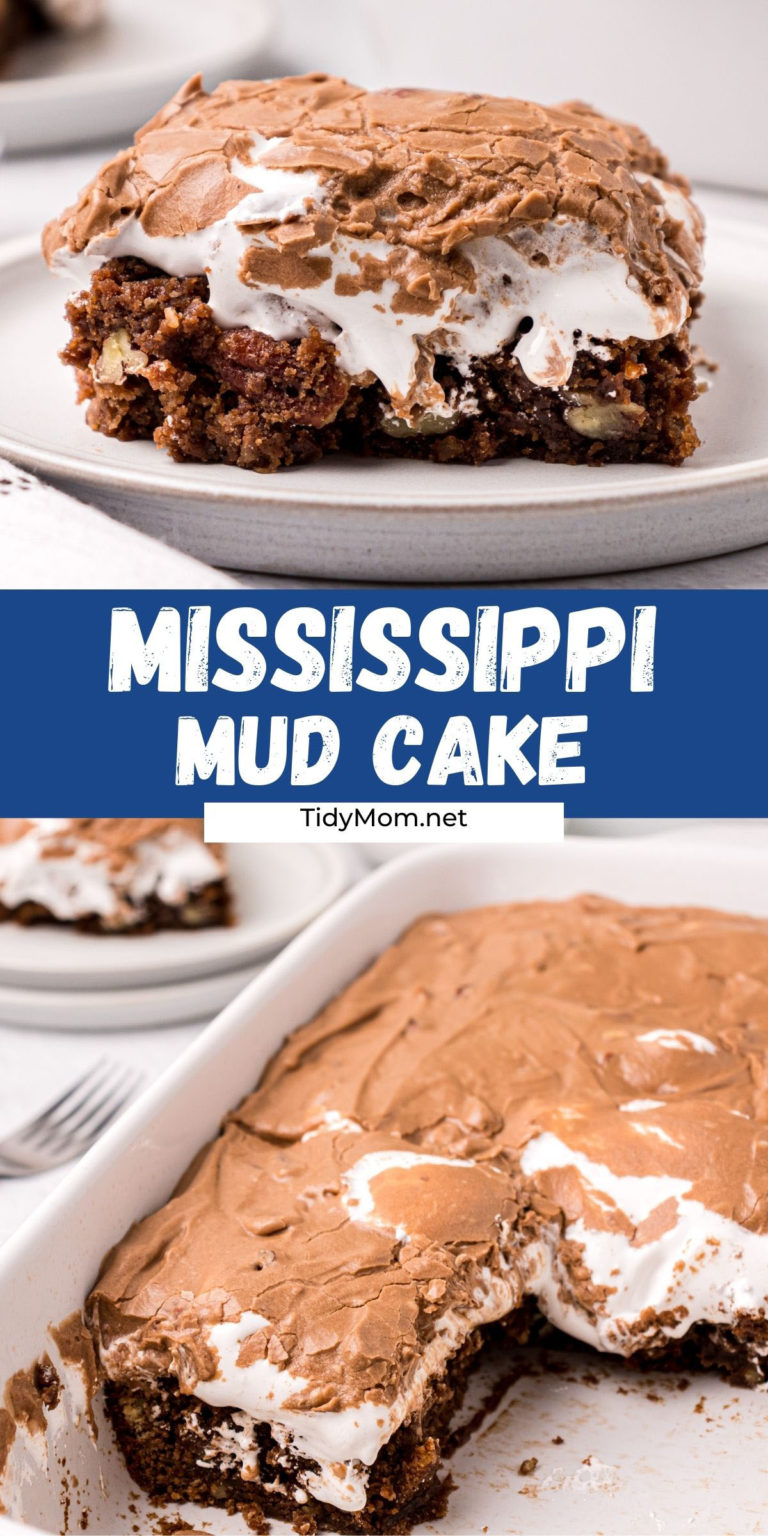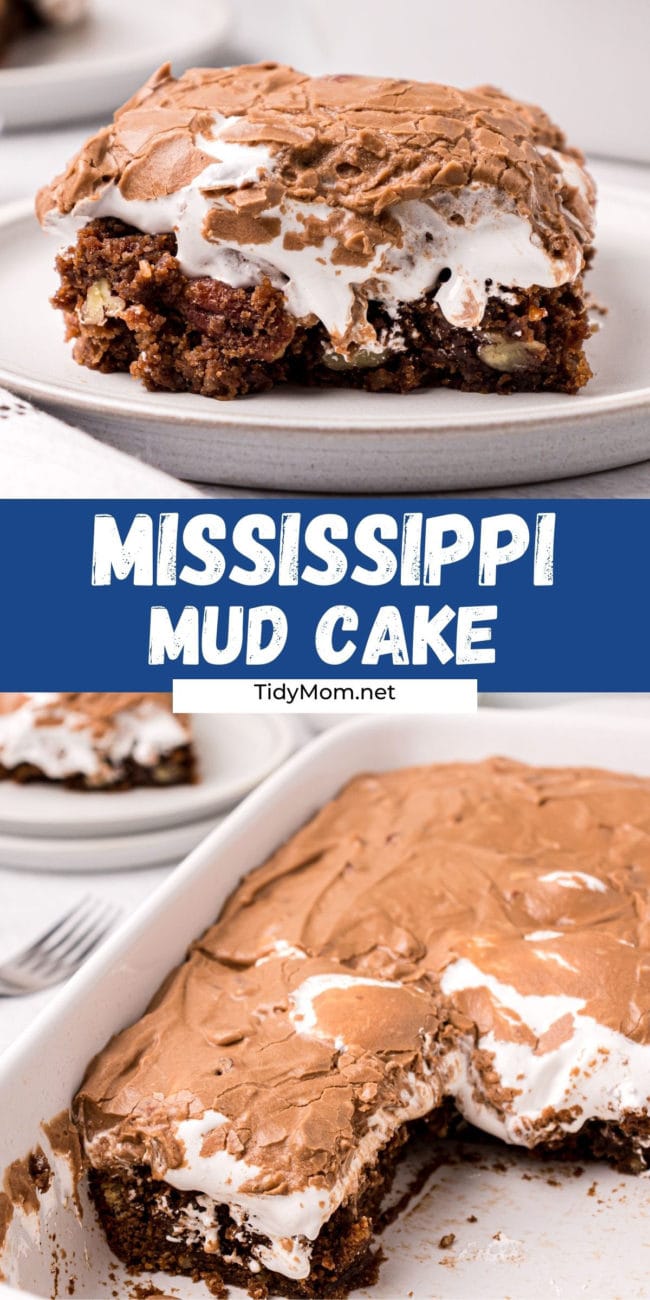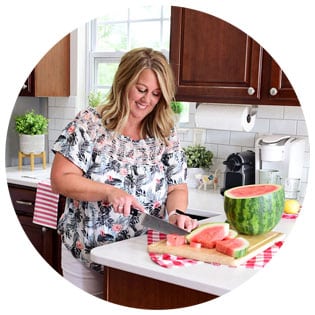 Hi there, I'm Cheryl!
As a wife, mom, and caffeine enthusiast, my journey has taken me from bustling mornings with my family to sharing delicious recipes, home care tips, and heartfelt decorating insights with wonderful readers like you. My love for baking, photography, and tidiness shines through every post I craft. Dive into my world and discover the art of homemaking, one tidy moment at a time. Read more...
Tidymom is a participant in the amazon services llc associates program, an affiliate advertising program designed to provide a means for sites to earn advertising fees by advertising and linking to Amazon.com.
Please respect my work, recipes and photographs. If you do use a recipe in your own writing, please give proper credit and link back to the original post.