Dreamy Creamy Loaded Twice-Baked Potato Recipe
This post may contain Amazon or other affiliate links. As an Amazon associate, I earn from qualifying purchases.
This Twice-Baked Potato Recipe is no dream! Creamy mounds of buttery potato, melty cheese, smoky bacon, and sauteed mushrooms all nestled in a crispy potato skin. So good you'll want to make extra to freeze for later!
I remember when meat and potatoes were standard fares. Although we have backed off the carbs a litte, sometimes only a potato will do! Any of these potato recipes will hit the spot: creamy Cheesy Hashbrown Casserole, tangy Hot German Potato Salad, or "fancy" Au Gratin Potato bake.
Be sure to sign up for my email… to get new recipes and ideas in your inbox!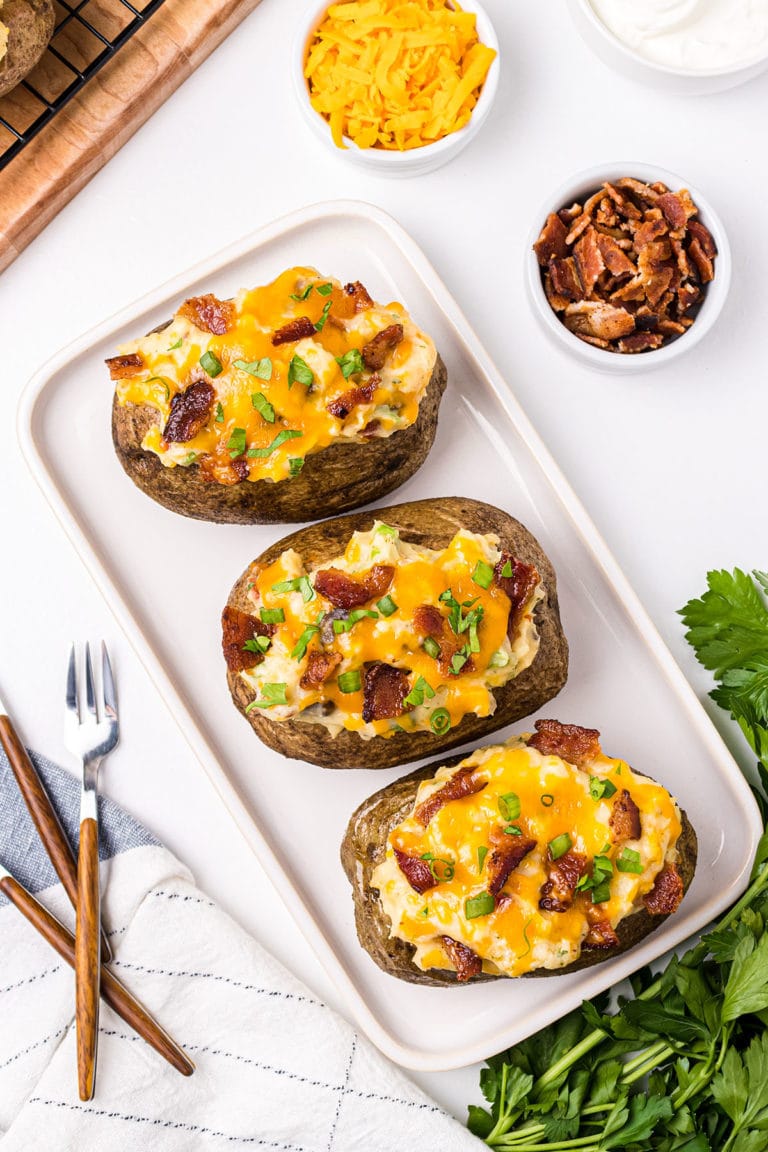 Why You'll Love This Stuffed Baked Potato Recipe
Creamy and Dreamy, the title says it all! Crispy, savory, cheesy twice baked potatoes are always such a hit! I don't think "twice" about serving a stuffed and loaded baked potato for any meal, even breakfast! Ha ha!
Twice-baked potatoes are loaded with creamy, savory flavor in each bite.
A cheeky little nosh that tastes just as good when made ahead.
Potato toppings are simple to customize for dietary restrictions or just mixing it up.
A perfect make-ahead and freeze side dish or appetizer that reheats like a dream.
Stuffed potato skins are easy to make and easy on the grocery budget.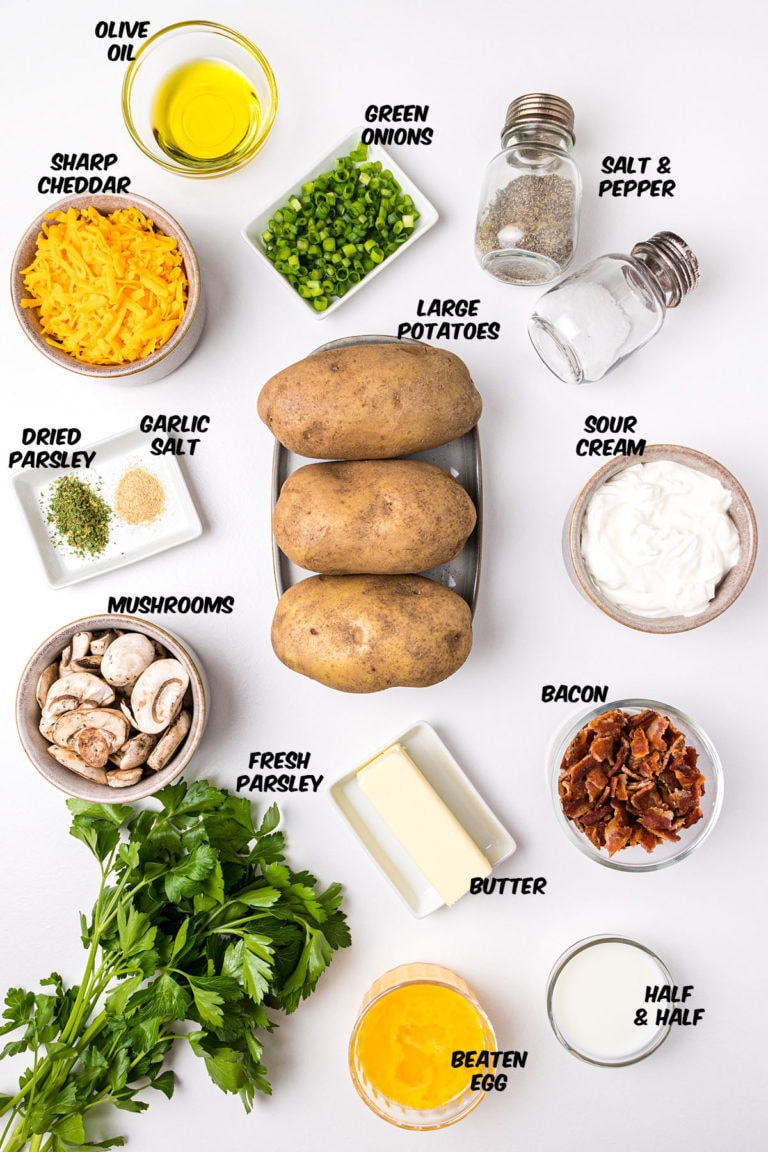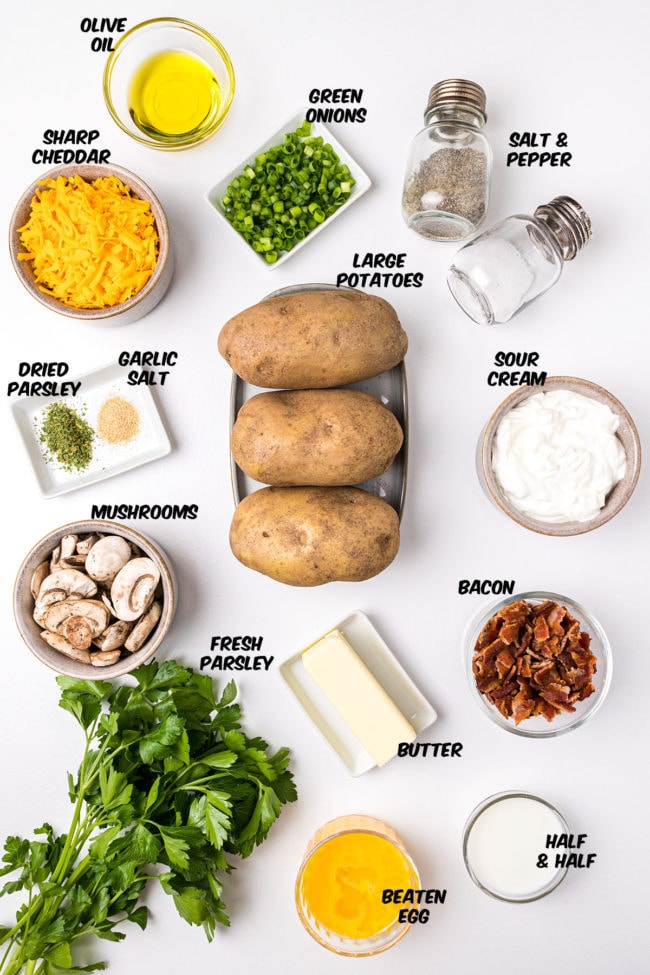 Twice-Baked Potato Ingredients
How about a hot "potato" tip right off the bat? Your dairy products should be at room temperature if not actually warmed. Cold dairy is not easily absorbed, leads to overmixing, and significantly cools the potatoes. (I can't tell you how many years I dumped cold milk and butter into mashed potatoes!)
For specific amounts, please refer to the printable recipe card at the bottom of the post.
Large Potatoes – Semi-starchy Yukon Golds make a heavier, more creamy filling. Use russet potatoes with high starch and have a fluffier texture.
Oil – rub on the potatoes before baking to help crisp the skins.
Mushrooms – sliced white button mushrooms or baby portabellas have a slightly richer, earthier flavor.
Butter – divided and warmed to room temperature or slightly melted is even better.
Half And Half – is a good balance for creaminess. You can up the fat/creamy factor with whipping cream or decrease fat content using whole milk.
Sour Cream – or plain Greek yogurt will increase the creamy consistency and adds a pleasant tanginess. Avoid dumping cold dairy into the hot stuffed potato mixture.
Green Onions – minced. You can use a regular onion and sautee it to balance the onion flavor.
Bacon – fried or microwaved until crispy, cooled, and crumbled into bits.
Egg – one beaten large egg at room temperature.
Grated Sharp Cheddar Cheese – plus extra for topping. Feel free to use any cheese you prefer. Pepper Jack can add a nice zip, and don't discount feta or herbed goat cheese for a different take.
Dried Parsley
Salt & Pepper
Garlic Salt -or regular garlic powder adjusted with salt to taste.
Fresh Parsley For Garnish
DYK? Not all russet potatoes are the same. The russet variety of stem tubers is currently grown in 30 U.S. states. Idaho russets are high starch, low moisture potatoes grown in rich volcanic soil. These conditions create excellent baking potatoes with thick brown skin and dry, fluffy flesh.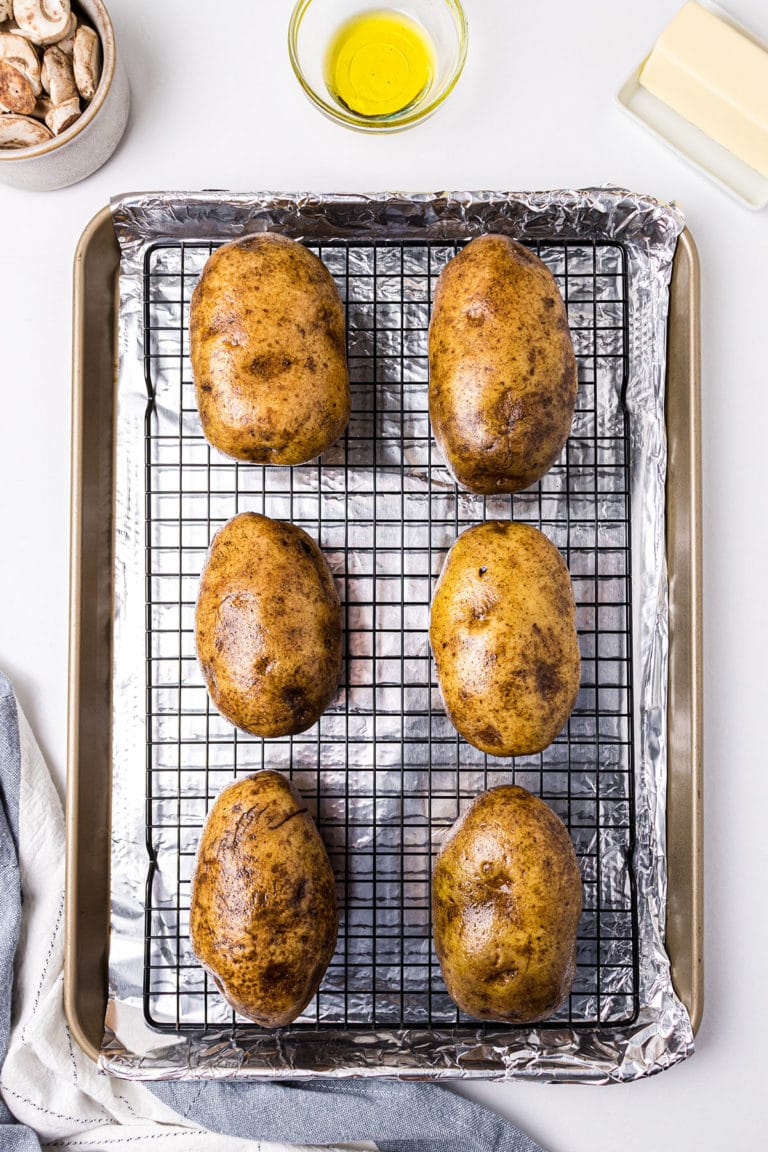 This post may contain affiliate links. Please read my disclosure policy here.
How To Make Dreamy Creamy Loaded Twice-Baked Potatoes
A deceptively simple stuffed potato skin recipe with mouthwatering complex flavors! You'll need a lined baking sheet with a wire cooling rack, a mixer and mixing bowl, a knife and spoon, and a frying pan. I'm so ready; let's do this!
When you are baking, you'll want to use the full recipe at the bottom of the page.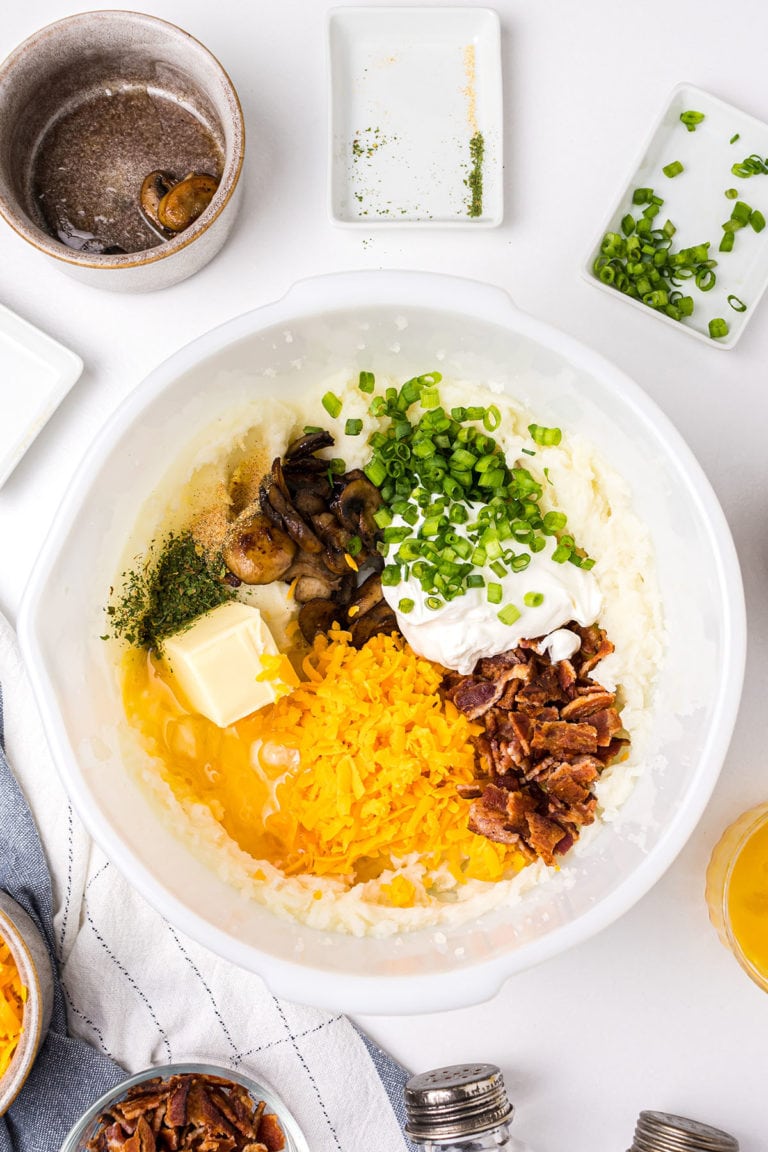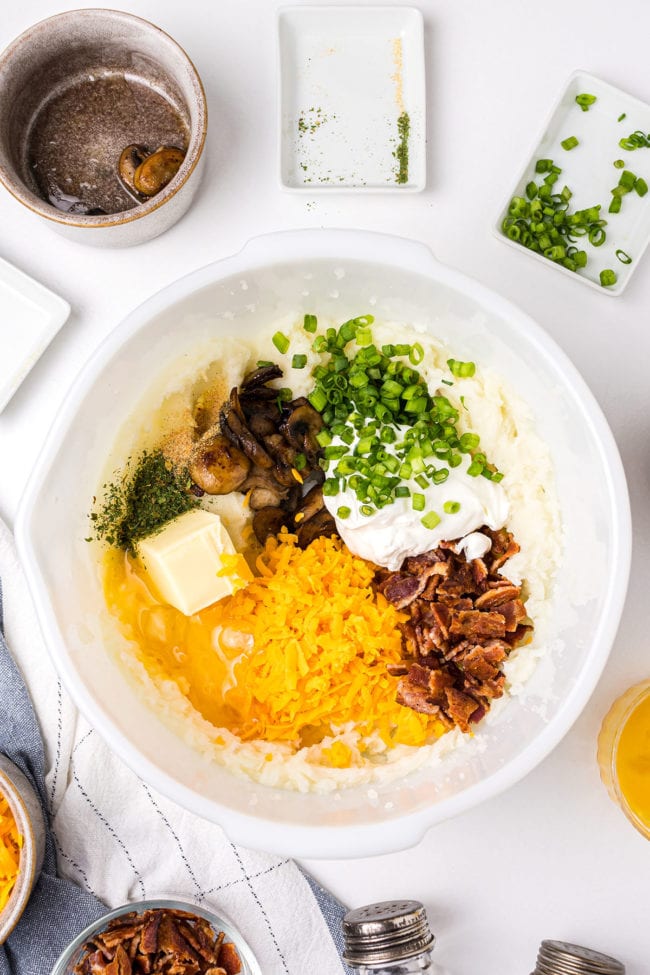 Fry bacon and saute mushrooms while baking the potatoes.
Slice the baked potatoes in half and use a spoon to scoop out the insides, leaving "potato boats," and put them back in the oven to crisp/firm.
Make the mashed potato mixture, stir in potato toppings, fill the potato skins, and top with cheese.
Bake the stuffed potatoes for another 10 minutes, broil to melt the cheese, and you're done!
Garnish with fresh parsley and serve your twice-baked potato masterpiece. Bon Appetit!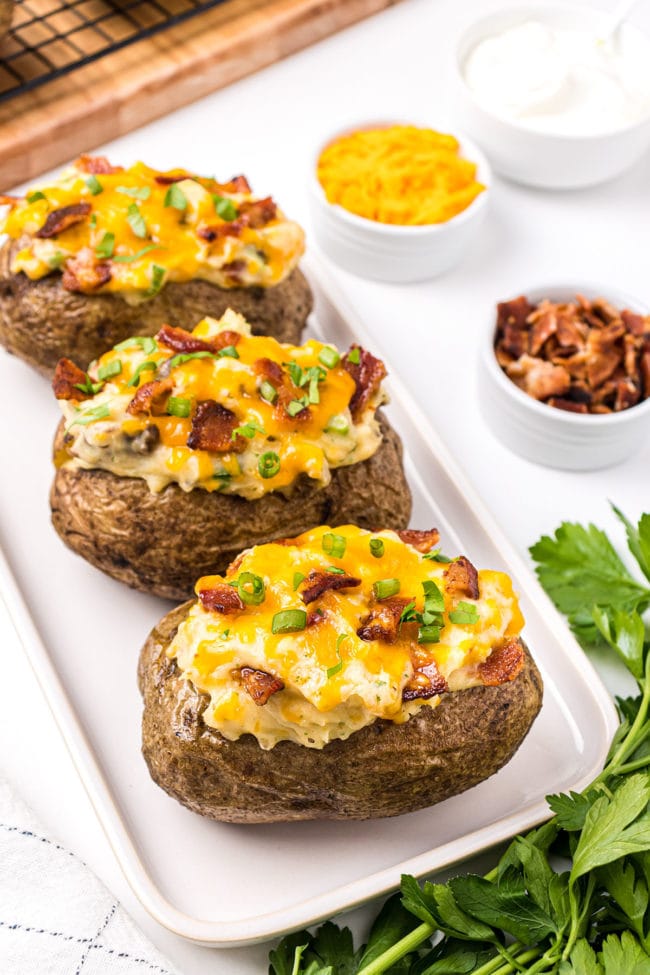 Helpful Tips For Twice Baked Potatoes
When you want crispy, crackly potato skins, skip the foil! A potato wrapped in foil will steam itself due to the water content, which means soft, soggy skin. Not something we want when stuffing potato skins.
Clean and dry potatoes, poke each potato with a fork a few times, rub with oil and sprinkle with salt for a delicious crisp shell.
Avoid placing baking potatoes directly on a sheet pan for a good, crispy, all-around bake.
A cooling rack on top of a sheet pan allows the air to circulate for even crisping.
You can also set baked potatoes directly on the oven rack, placing a pan or piece of foil on the rack below to catch any drips.
An oven-baked russet potato should reach a 210 internal temp.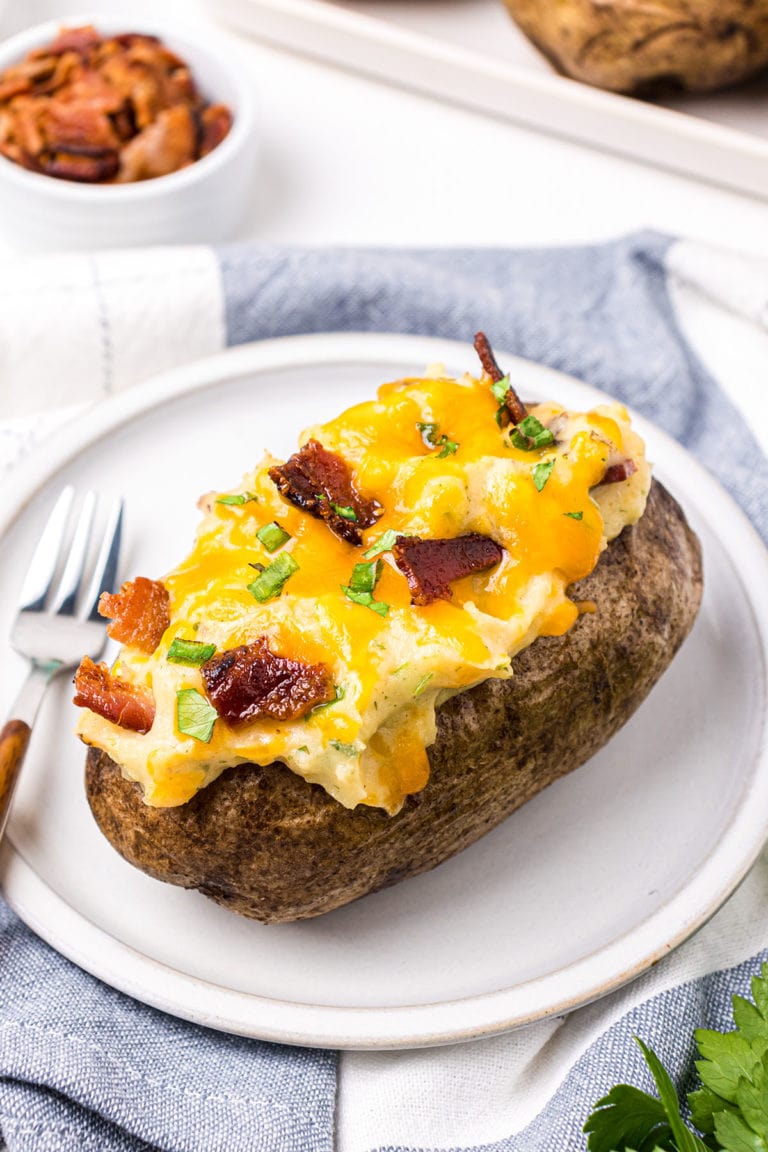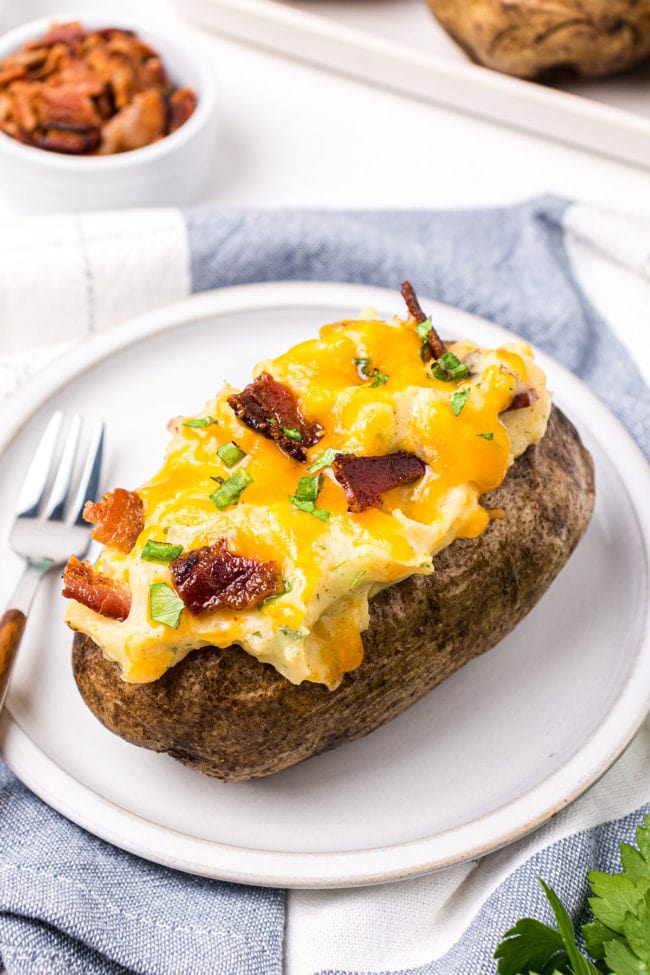 Other Ways To Cook "Baked Potatoes"
With all cook methods, pierce baking potatoes several times. I don't recommend fully cooking russet potatoes in a microwave for twice-baked potatoes. Starches can overcook, get gummy, and the skins aren't as sturdy.
Microwave A Baked Potato – But! You can reduce oven bake time by 15-30 minutes by microwaving pierced potatoes 4-6 minutes before baking in the oven.
Toaster Oven Baked Potatoes – you can bake 1-4 potatoes in a toaster oven, which uses less energy. Place potatoes on the rack with a drip tray, checking and turning at the halfway point.
Bake Potatoes In An Air Fryer – cook oiled potatoes in the air fryer for 30-40 minutes at 400° F, rotating halfway through. Start checking at 30 minutes and remove them when tender.
How To Store Twice-Baked Potatoes
If you have time, rustle up an oven full of baked potatoes and divide your loaded twice baked potato mash into two or even three flavor categories you can freeze and pull when needed!
Refrigerate/Leftovers
Leftover twice-baked potatoes keep nicely in an airtight container for 2-3 days.
You can make the stuffed potatoes 1-2 days ahead, simply bake, mash, stuff, and place in an air-tight container in the fridge. Then warm in the oven until heated through when ready to serve.
Freeze
Make-ahead twice-baked potatoes don't get double-baked off the bat. Once potato skins are filled, cool, wrap in plastic, and flash freeze. Once frozen, wrap in foil and store stuffed potatoes in a freezer bag or airtight container for up to 3 months.
Thaw
You can thaw loaded baked potatoes in the fridge overnight or bake straight from the freezer. It just takes a bit longer if frozen.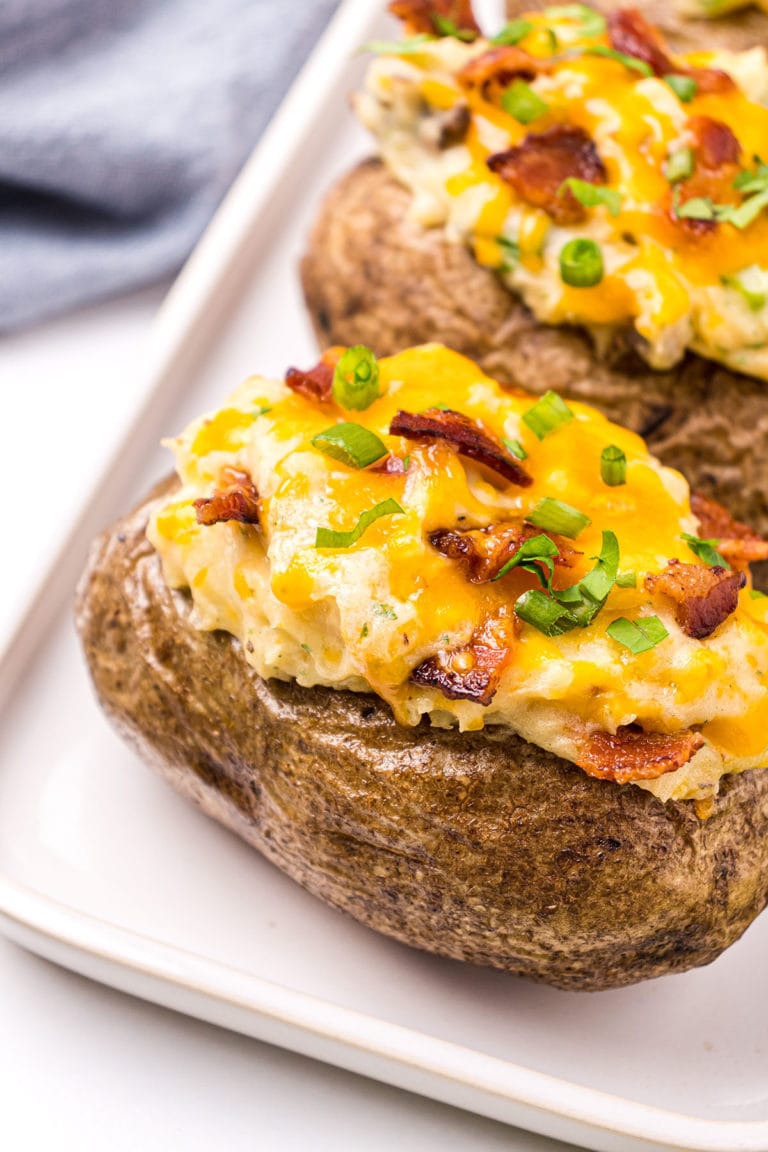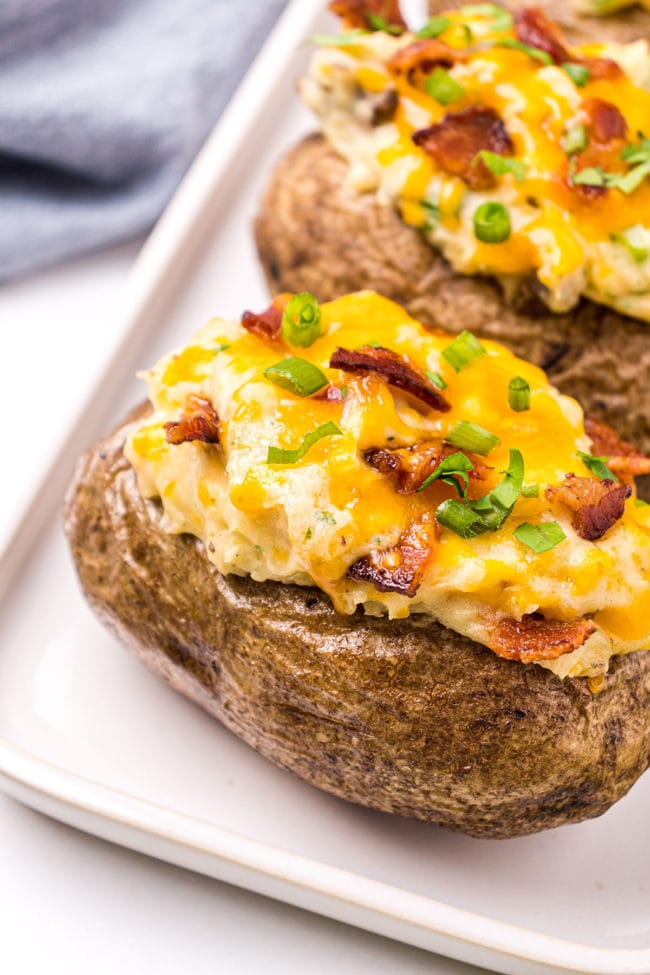 FAQs
What makes my twice baked potatoes turn out gummy?
Potatoes become gummy due to the starches breaking down from overcooking and/or overmixing while "mashing" the baked potatoes. Limit the amount that you handle the potatoes. Incorporating cold dairy is another culprit of gummy potatoes. Bring the butter and cream to room temp or gently warm them before adding them to the potatoes.
Can you eat the skin on a twice baked potato?
You can absolutely eat the crispy potato skins. It's one of the reasons a solid washing process to remove dirt and residue is a good idea. Baking the potato eliminates anything else that might like potato skins as much as I do!
Can you freeze leftover twice-baked potatoes?
Yes, you can freeze leftover twice baked potatoes. When making a large batch, it's better to freeze the stuffed potato skins before the second bake.
How To Clean Baking Potatoes
Always check baking* potatoes for brown spots and mold, discarding any soft and musty smelling. Use a potato brush or silicone scrubber for dirt and remove "eyes" that may have sprouted.
What Is The Best Way To Clean Potatoes?
Sometimes all you need is a little friction and running water to clean store-bought potatoes. Spuds straight from the farmer's market or right from your garden usually need more care!
Good: Water- with an appropriate brush or silicone scrubber to remove dirt and residue; rinse well. Good for pre-washed potatoes from the grocer.
Better: Vinegar – wash is better for especially dirty garden potatoes. A vinegar wash disinfects and kills certain bacteria. Brush, rinse, then soak spuds in 1 part vinegar to 3 parts water for 15-30 minutes.
Best: Baking Soda – removes acidic pesticides and chemical residue from potatoes. Swish 1 tsp of baking soda per 2 cups of cold water and soak potatoes for 12-15 minutes; brush, rinse, and dry.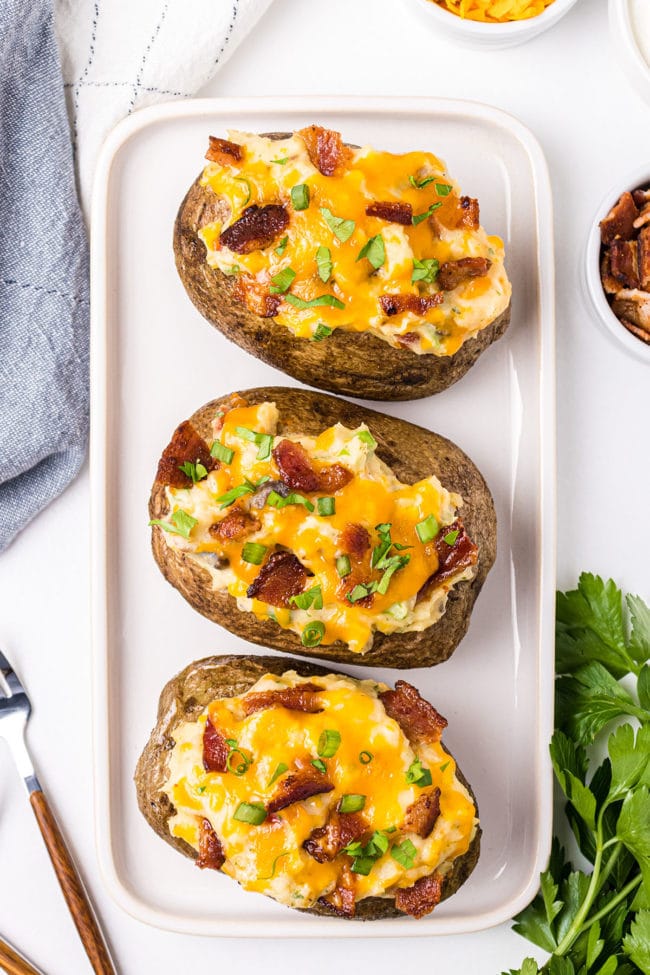 Twice-Baked Potatoes Variations & Substitutions
Add a unique spin using any number of additions or baked potato toppings.
Cream cheese – Instead of sour cream or yogurt, cut the cold cream cheese into pat-sized pieces, warm it to room temp, and mix with heated cream to reduce the need for extra blending.
Milk -If you aren't stocked up on half and half and can't wait to make this loaded baked potato recipe, whole milk subs perfectly – I've even used 2% milk.
Onion – Minced green onions won't overpower like a regular onion can. If you prefer regular onions, saute with the mushrooms to caramelize and sweeten the sulfur compounds.
Protein – Any protein you like can be used instead of bacon (or in addition! 🤣). Ground beef with chili seasoning sounds delish; breakfast sausage, diced ham, or a quick and easy cheat with leftover Buffalo Chicken Dip. Yowza!
Cheese – Use a good quality cheese that you love. If you want to try something other than cheddar, we love Gruyere, Blue cheese, mozzarella, Monterrey Jack, Feta, Gouda, and Fontina.
Vegetarian – You can skip the bacon and create a twice-baked vegetarian potato. Level it up with finely chopped broccoli, sauteed red peppers, and chopped, sun-dried tomatoes in oil
What To Serve With Loaded Twice-Bake Potatoes
Like This Recipe? Pin It!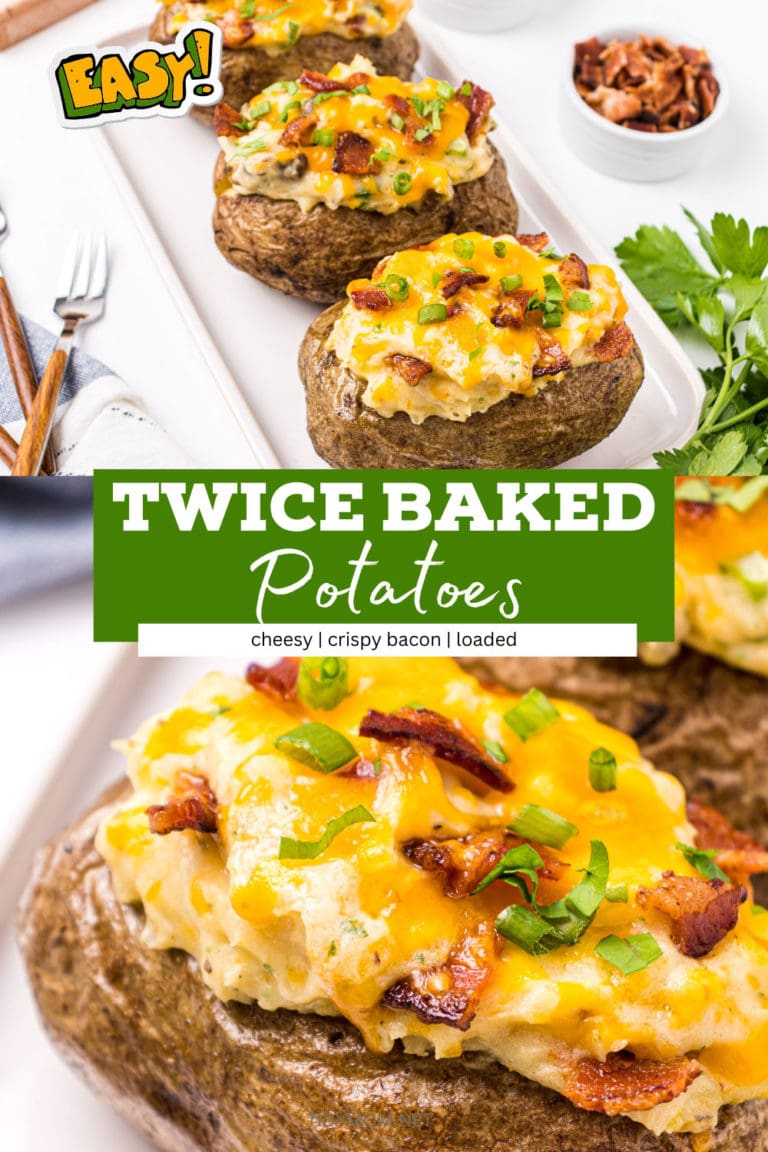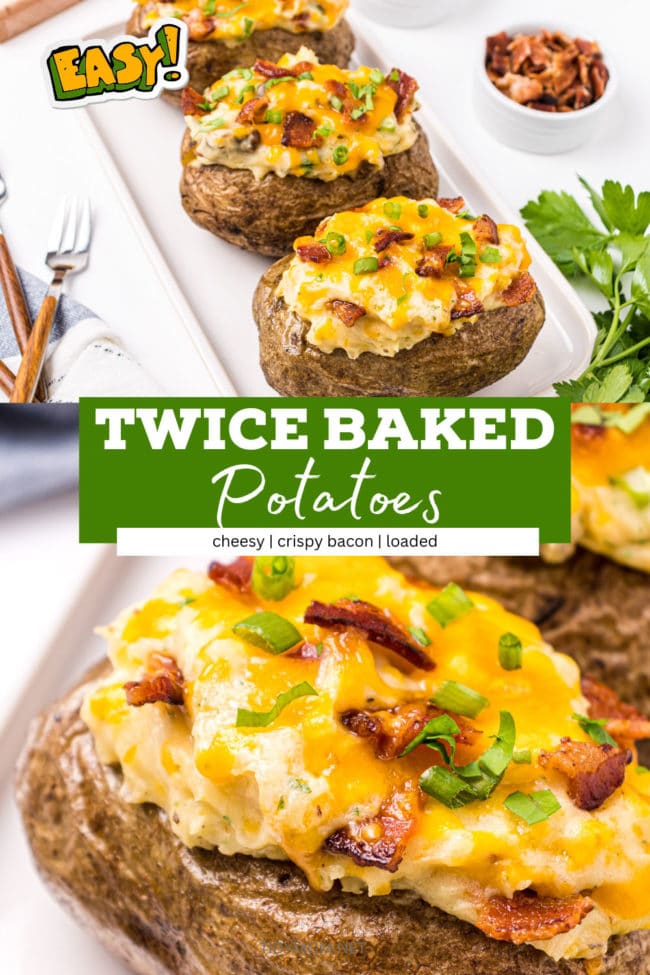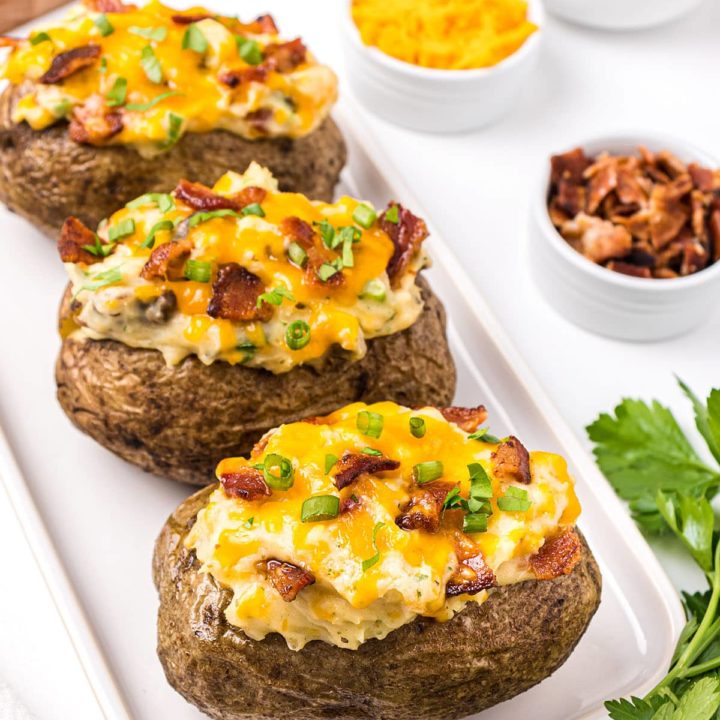 Twice-Baked Potatoes
Yield: 6 servings
Prep Time: 20 minutes
Cook Time: 1 hour 15 minutes
Total Time: 1 hour 35 minutes
If you're a fan of cheese and bacon, you won't want to miss out on these Loaded Twice-Baked Potatoes. Not only are they great for a simple dinner or holiday meal, they're easy to make and full of flavor. So good you'll want to make extra to freeze for later!
Ingredients
3 large potatoes (Yukon Gold are a good choice, Russet will work too)
1 tablespoon olive oil
1½ teaspoon salt (divided)
½ cup mushrooms, sliced
5 tablespoons butter, divided
3 tablespoons half and half
½ cup sour cream (or plain Greek yogurt)
2 tablespoons green onions, minced
2-3 strips bacon, fried and crumbled
½ teaspoon dried parsley
½ cup grated sharp cheddar cheese (plus extra for topping)
¼ teaspoon ground pepper
¼ teaspoon garlic salt
1 large egg, beaten
Fresh parsley for garnish
Instructions
Place a wire cooling rack on a foil-lined baking sheet. Preheat oven to 350° F.
Scrub the potatoes clean and poke them with a fork. Rub each potato with a little oil, season with 1 teaspoon of salt, and place on the prepared pan on the center rack in pre-heated oven for one hour or until tender in the center.
While potatoes are baking saute mushrooms. Heat 2 tablespoons of butter in a medium pan over medium-high heat. Add mushrooms to the hot pan and cook for 3-5 minutes before turning. Stir and allow mushrooms to finish cooking for a couple more minutes until the liquid has evaporated and the mushrooms are browned on both sides.
Remove potatoes from the oven and let cool (keep the oven on). Carefully cut in half lengthwise. Scoop out potatoes into a mixing bowl carefully so as to not tear the skins.
Place the empty skins back onto the prepared pan and put them back into the hot oven for 5-10 minutes to crisp up.
Mash potatoes with an electric mixer; add half and half and continue to beat until smooth. Do not overmix.
Add sauteed mushrooms, 3 tablespoons of butter, green onions, bacon, cheese, ½ teaspoon of salt, pepper, garlic salt, and beaten egg, and mix wel, being careful not to overmix. Mixture should be somewhat softer than regular mashed potatoes to prevent drying out when baking again.
Fill skin shells with mashed potato mixture and arrange them back on the prepared baking sheet.
Top each with extra grated cheese and bake at 350° F for 10 minutes, then on broil for 5 minutes until cheese is melted and tops are slightly crisp.
Nutrition Information:
Yield: 6
Serving Size: 1
Amount Per Serving:
Calories: 403
Total Fat: 25g
Saturated Fat: 13g
Trans Fat: 1g
Unsaturated Fat: 9g
Cholesterol: 93mg
Sodium: 592mg
Carbohydrates: 34g
Fiber: 4g
Sugar: 3g
Protein: 12g
Nutrition information is estimated based on the ingredients and cooking instructions as described in each recipe and is intended to be used for informational purposes only. Please note that nutrition details may vary based on methods of preparation, origin, and freshness of ingredients used and are just estimates. We encourage, especially if these numbers are important to you, to calculate these on your own for most accurate results.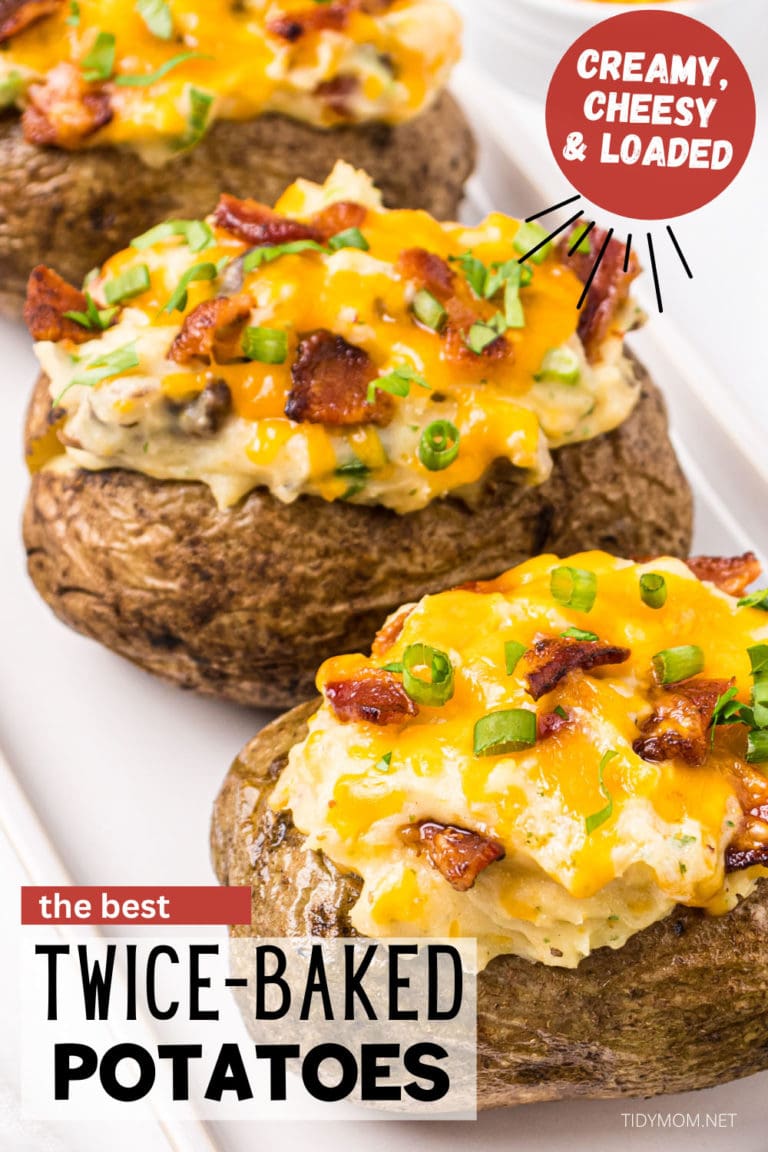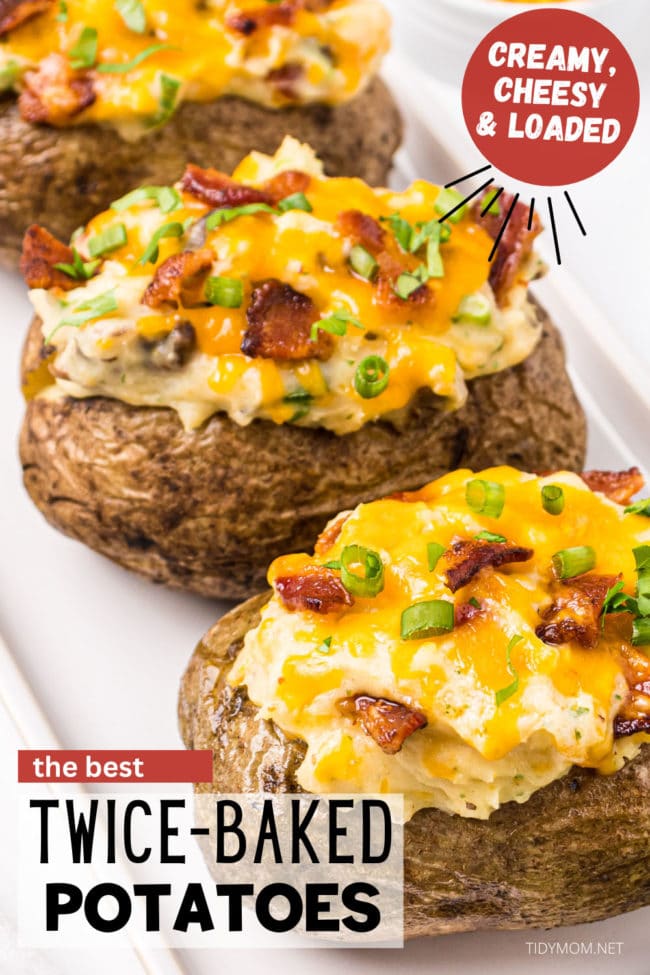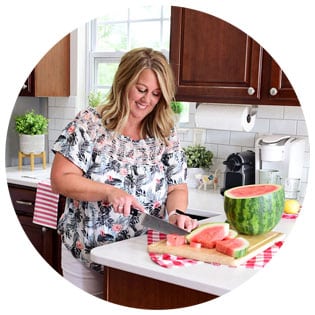 Hi there, I'm Cheryl!
As a wife, mom, and caffeine enthusiast, my journey has taken me from bustling mornings with my family to sharing delicious recipes, home care tips, and heartfelt decorating insights with wonderful readers like you. My love for baking, photography, and tidiness shines through every post I craft. Dive into my world and discover the art of homemaking, one tidy moment at a time. Read more...
Tidymom is a participant in the amazon services llc associates program, an affiliate advertising program designed to provide a means for sites to earn advertising fees by advertising and linking to Amazon.com.
Please respect my work, recipes and photographs. If you do use a recipe in your own writing, please give proper credit and link back to the original post.