Insanely Good Spinach Salad With Bacon and Eggs
This post may contain Amazon or other affiliate links. As an Amazon associate, I earn from qualifying purchases.
Hellooo Bacon Spinach Salad! The wait is over! Tender baby spinach with crispy bacon, hard-boiled eggs, crisp water chestnuts, and a tangy-sweet salad dressing! The whole family will love this fresh, festive, nutrient-packed super salad for a side dish, starter, or entree!
Be sure to sign up for my email… to get new recipes and ideas in your inbox!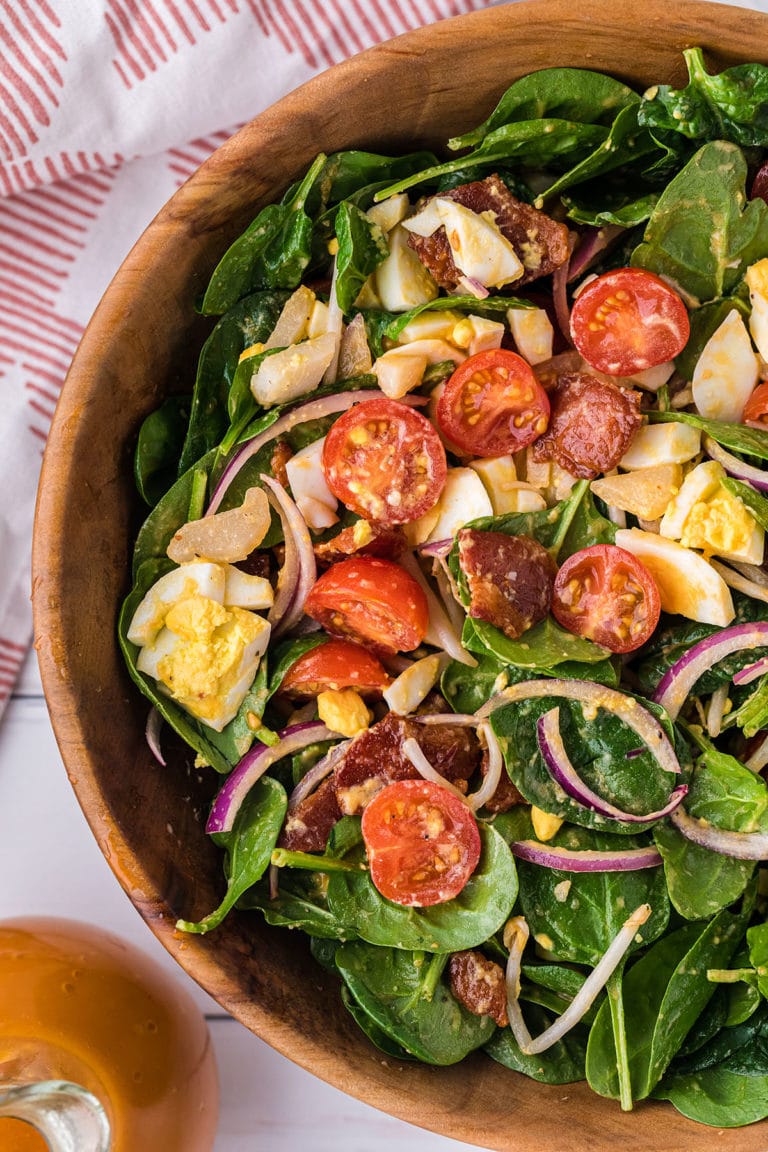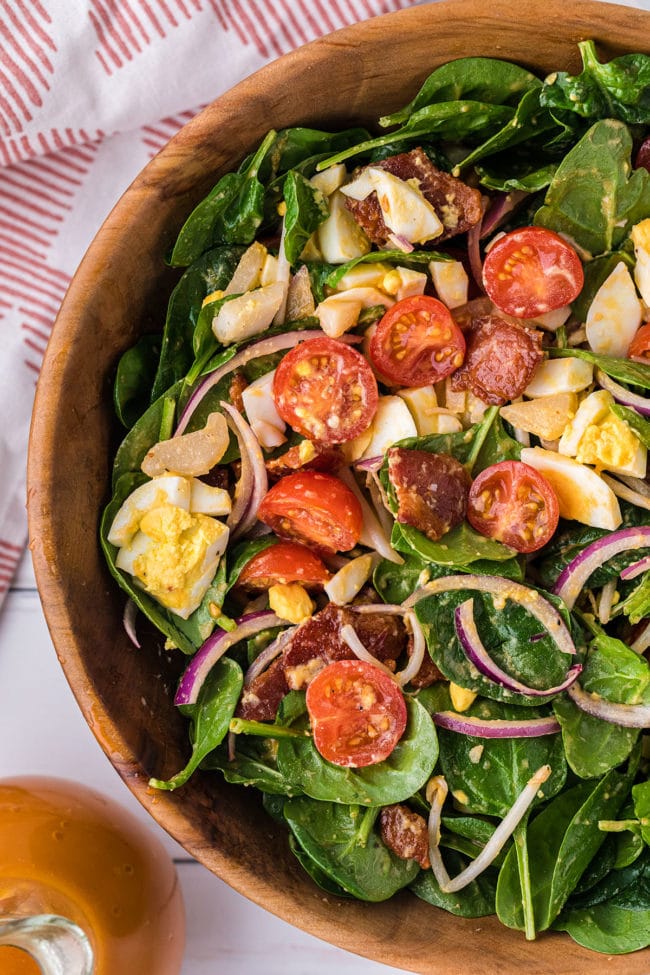 Why Spinach Bacon Salad Is Insanely Good
I'll say it; a spinach salad without salty, smoky bacon seems as bizarre to me as cupcakes without icing! This tangy twist on a classic bacon spinach salad is refreshing with the extra revitalizing crunch of water chestnuts and red onion. Throw in hard-boiled eggs and cherry tomatoes; you've got a seriously super salad! Did I mention the bacon?!
Best of both worlds; spinach salad with crispy bacon and a homemade salad dressing with less cholesterol and saturated fats.
A crisp crunch and tangy twist make this spinach salad recipe pop.
Create a nutrition-packed salad and a tangy homemade dressing in 20 minutes or less.
Only you need to know the health benefits of spinach while the fam focuses on how good it is.
Not only a starter course but this spinach salad with bacon and egg can also be served as an entree.
Whether you take this spinach salad as lunch or enjoy it as a light weekend meal, you can feel good about the super-food ingredients. We usually eat this salad as a stand-alone entree, no problem! (Ok, the hubby does like this insanely good Triple Cheese Garlic Bread, a perfect accompaniment.)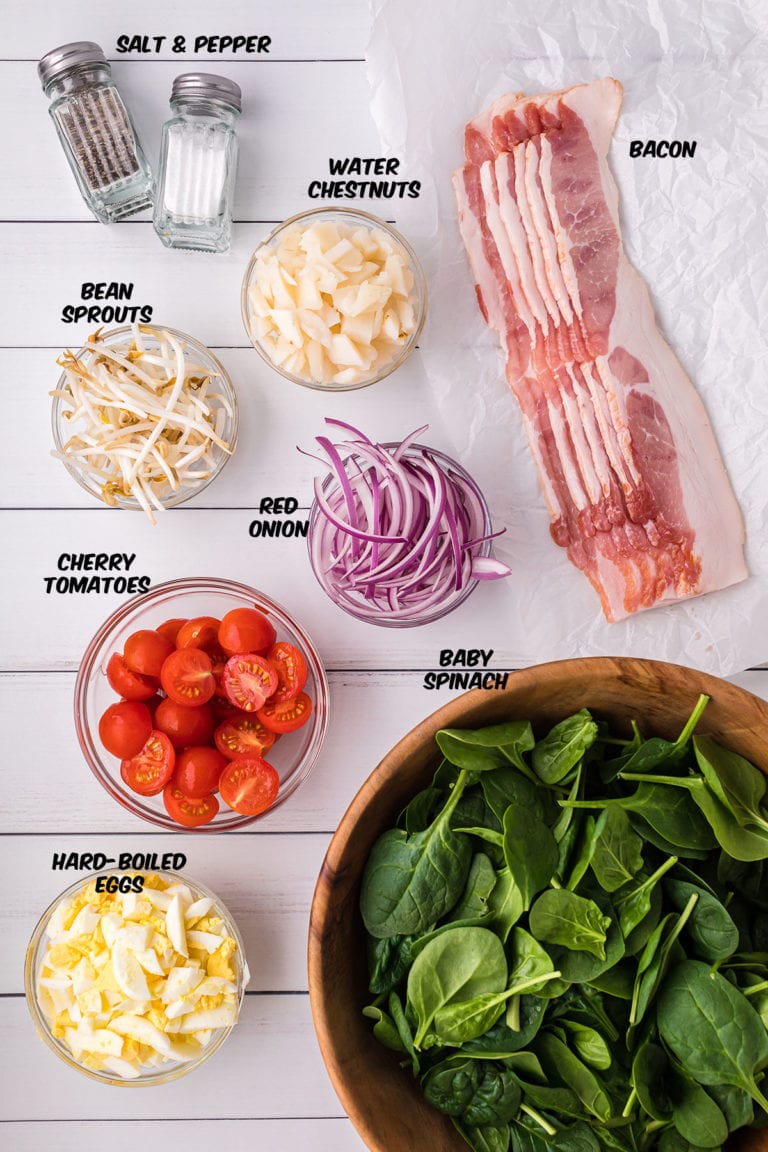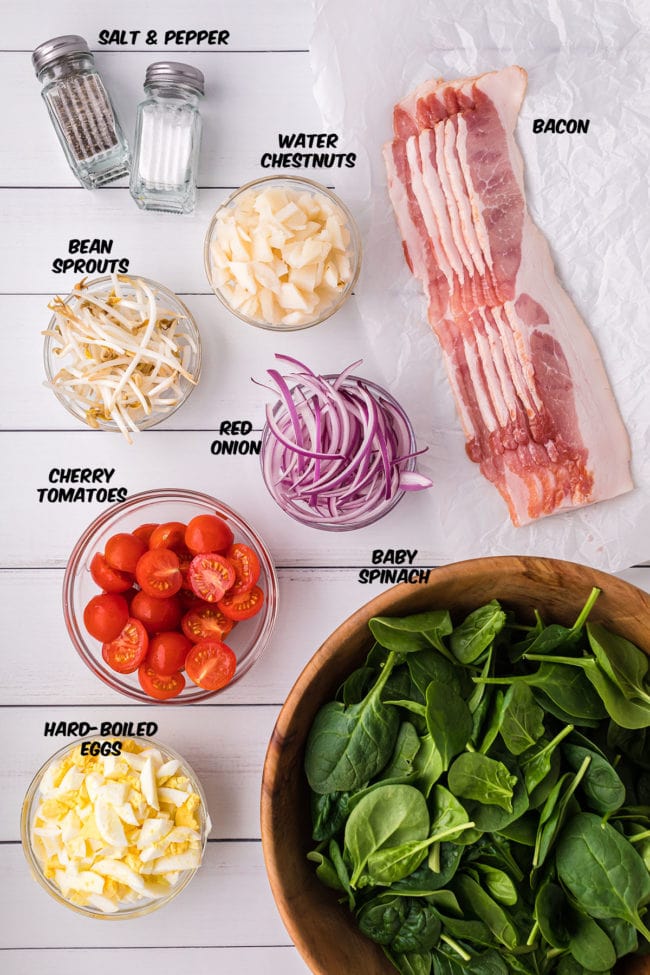 This post may contain affiliate links. Please read my disclosure policy here.
Insanely Good Spinach Salad Ingredients
No crazy ingredients to worry about, but keep an eye out at your local grocer for fresh, white bean sprouts. They shouldn't look "bruised" or smell musty. You'll want to make spinach salad within one to two days of bringing them home for the ultimate crunch.
For specific amounts, please refer to the printable recipe card at the bottom of the post.
For Fresh Spinach Salad:
Baby Spinach* – washed and drained. Baby spinach won't contain the tough, fibrous stems on a regular bunch of spinach leaves.
Hard-Boiled Eggs – sliced or diced. Learn how to cook and peel hard-boiled eggs.
Bacon – cut, cooked, and cooled. If you don't have ultra-convenient kitchen shears, you can crumble slices after they have cooled.
Cherry Tomatoes – rinse well, drain on a paper towel, and halve them.
Red Onion – a small onion thinly sliced.
Bean Sprouts – as a rule, rinse fresh bean sprouts really well. Canned bean sprouts don't work as well in a fresh spinach salad.
Water Chestnuts – drained and chopped. Water chestnuts add a neutrally flavored, crunchy texture.
Salt And Pepper To Taste
*Time-Saving Tip: Purchase a prepackaged bag of triple-washed baby spinach. A 6-7 ounce bag should give you the equivalent of six cups.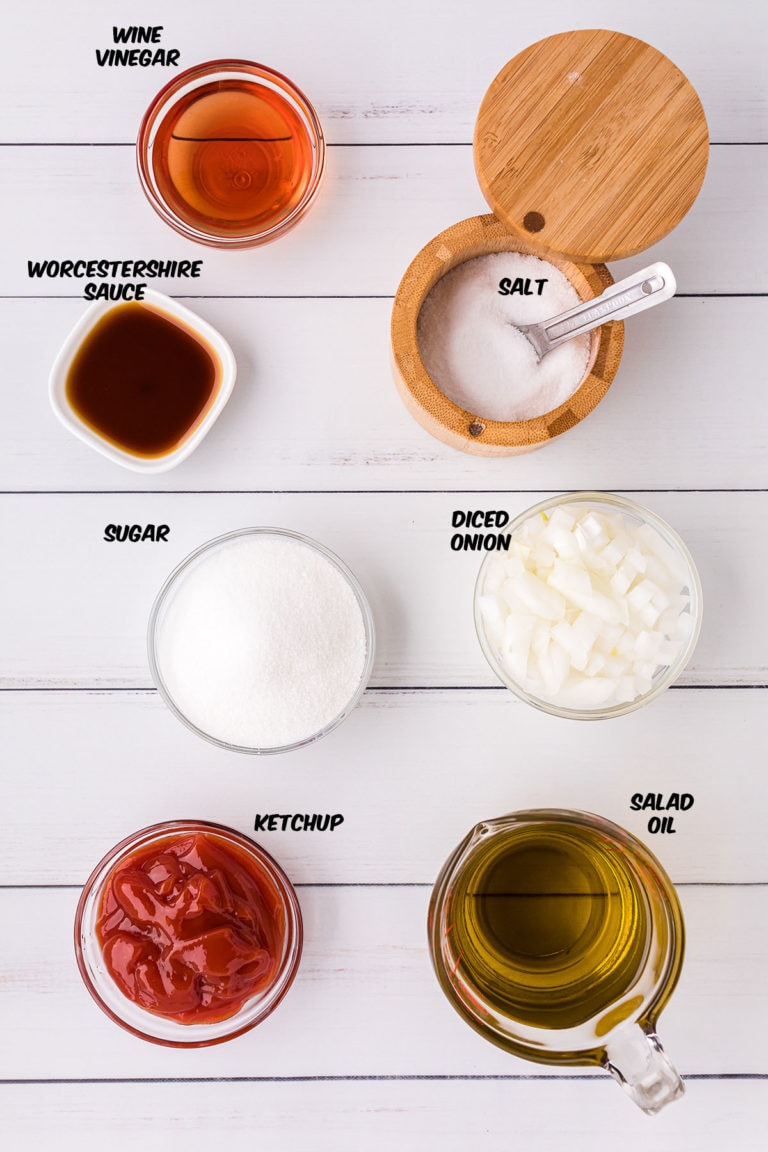 For Tangy Spinach Salad Dressing:
This homemade salad dressing is a bright, layered, and flavorful alternative to warm bacon salad dressing. Plus, it is easily customizable with the ingredients you have on hand!
Salad Oil – is your preference: olive oil, canola oil, avocado oil, sesame oil, or any other light oil you like!
Wine Vinegar – white, red, or sherry wine vinegar. I tried apple cider vinegar the night before I wrote this, and no complaints! 😉
Sugar – white sugar is best for this spinach salad dressing, be sure it gets dissolved completely.
Salt
Ketchup – if the sugar content in the brand of ketchup you use is high, you can adjust the white sugar content.
Worcestershire Sauce – adds a subtle "ah" umami flavor that enhances without overpowering.
Onion – finely diced.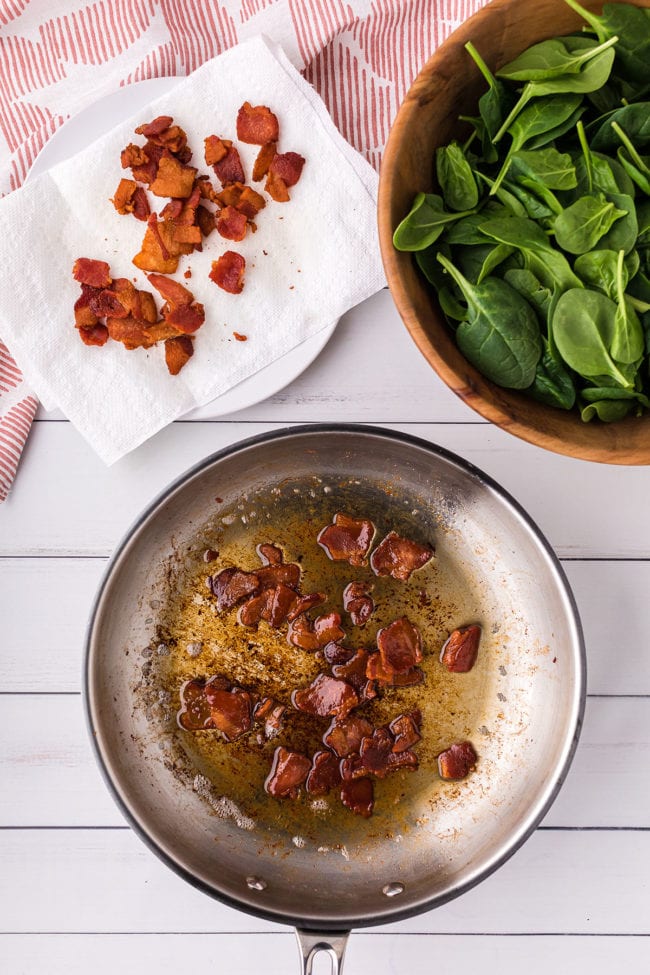 How To Make Spinach Salad With Bacon And Eggs, And Tangy Dressing
Looking forward to that warmer weather? Me too! That's why making a fresh spinach salad gets me excited. So let's grab a food processor or blender and a salad dressing container to make the dressing. Then, all you need for the salad is a frying pan and a large bowl. Ready? I am; easy-peasy. Let's go!
When you are baking, you'll want to use the full recipe at the bottom of the page.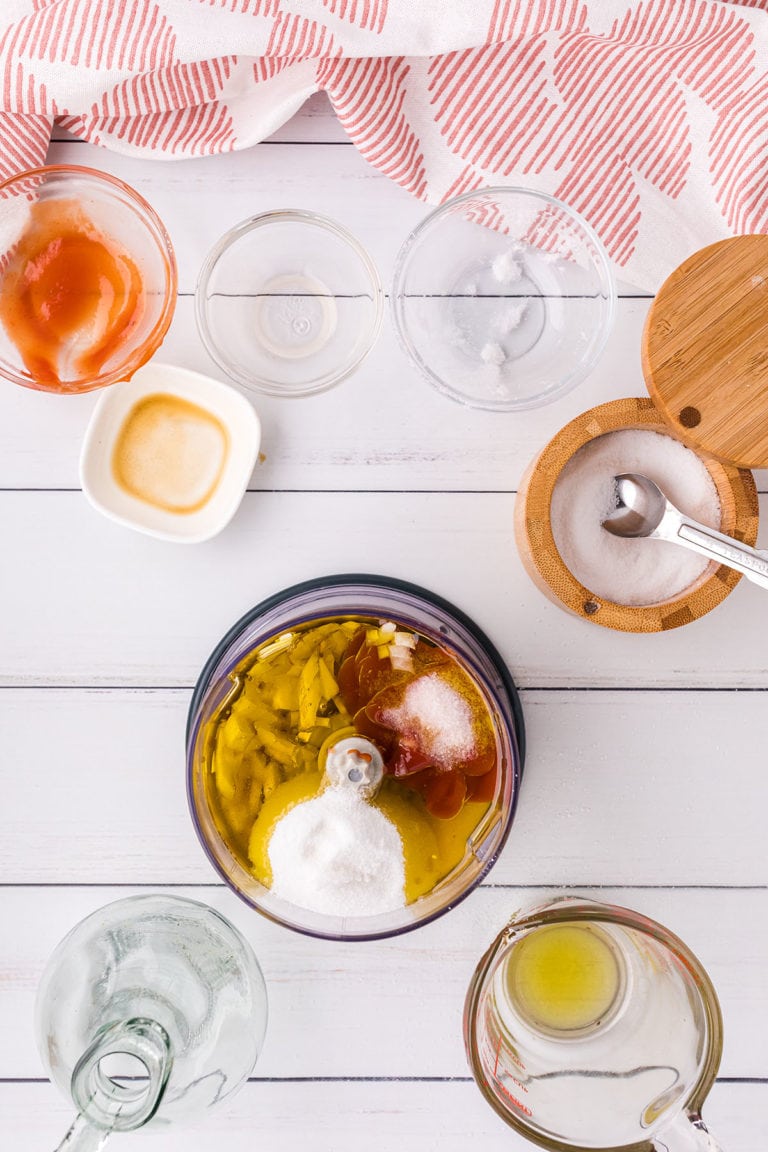 To Make Tangy Spinach Salad Dressing:
Puree dressing ingredients, fill the dressing container, and refrigerate.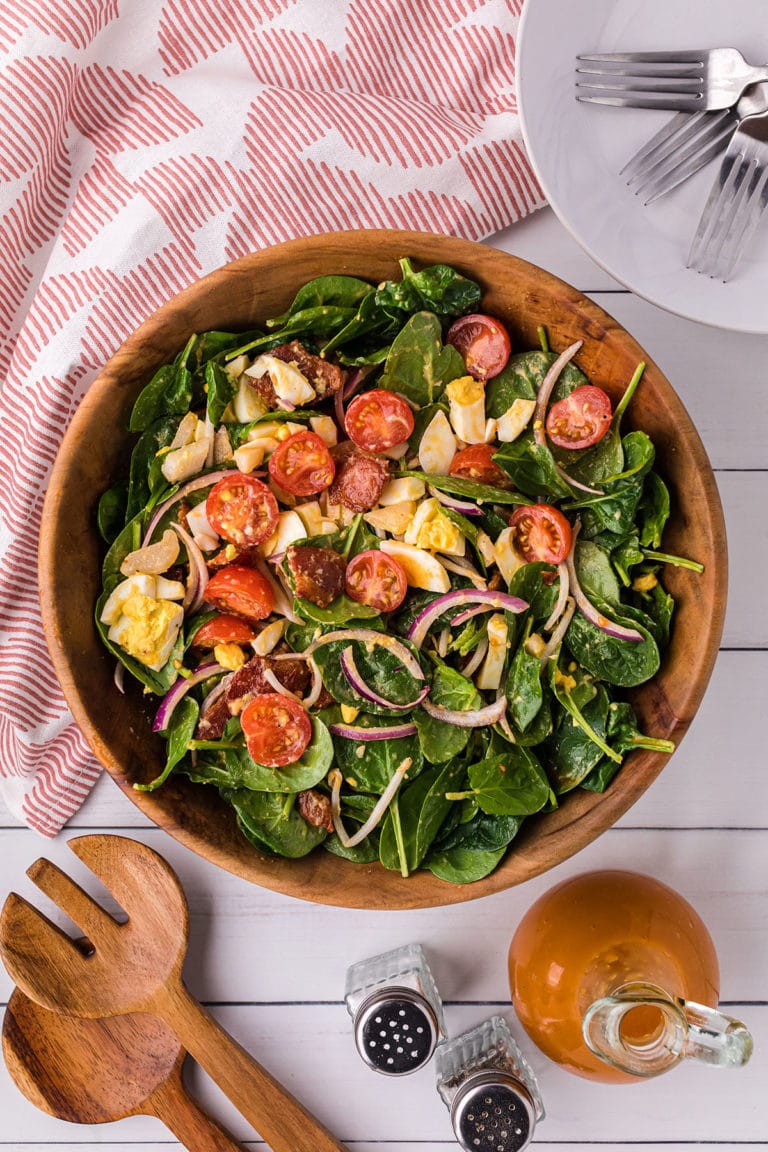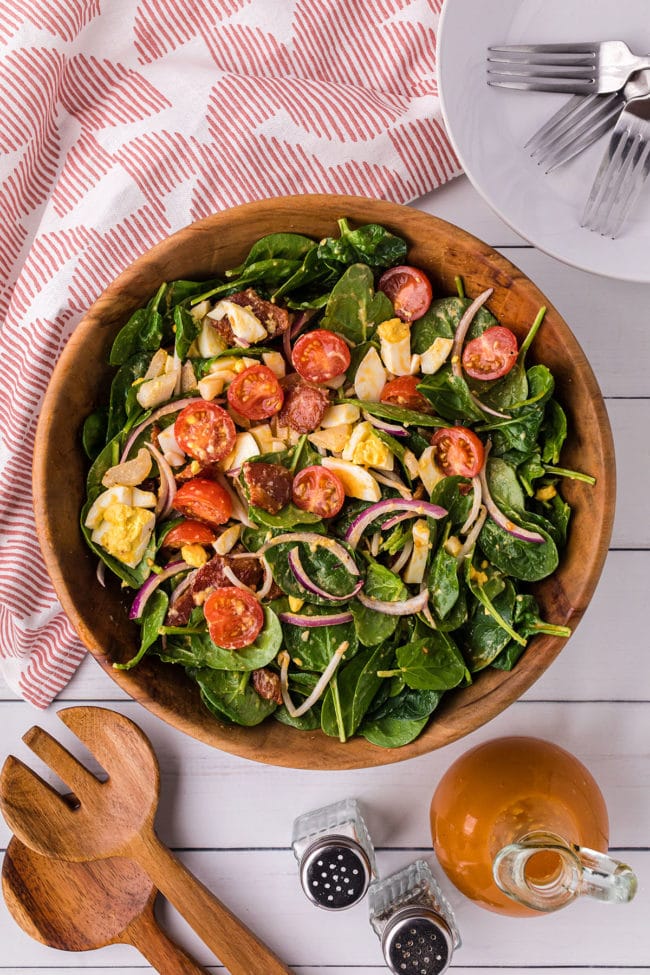 To Make Spinach Egg And Bacon Salad:
Cut bacon into bite-size pieces, fry until crispy, and drain on a paper towel-lined plate.
Combine spinach salad ingredients, season to taste, and toss carefully with the tangy spinach dressing.
Serve immediately. See, it really is that easy!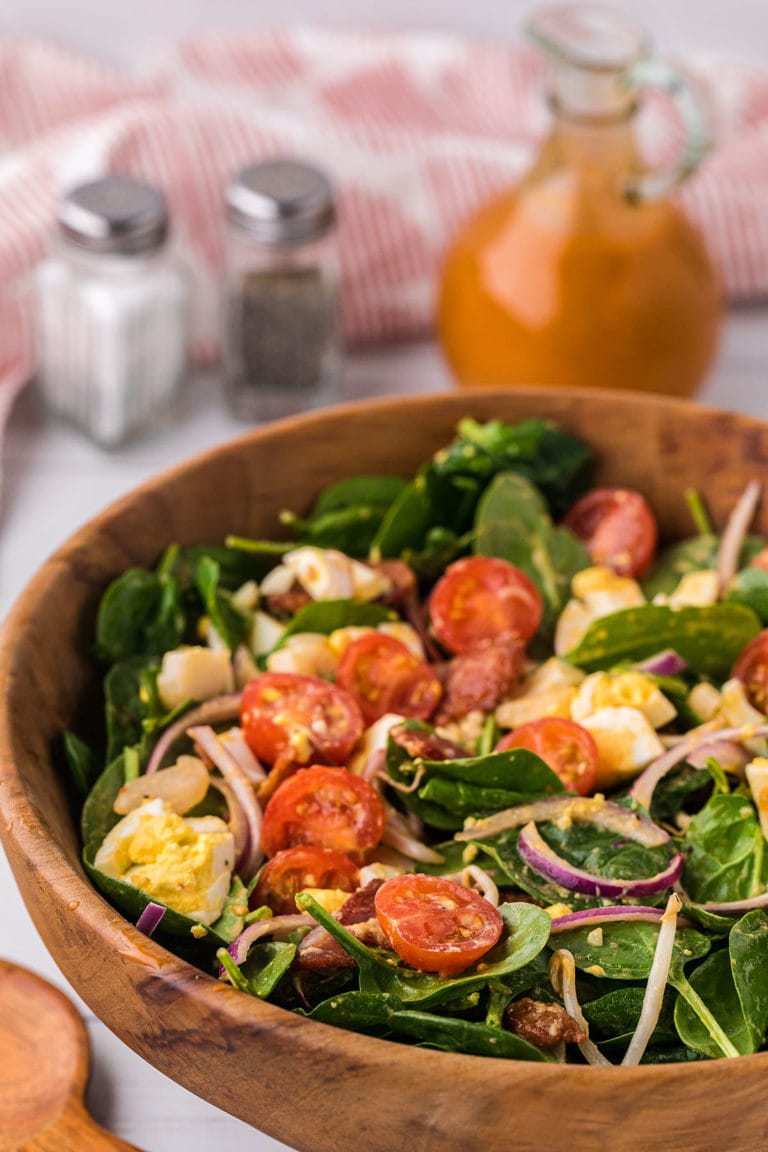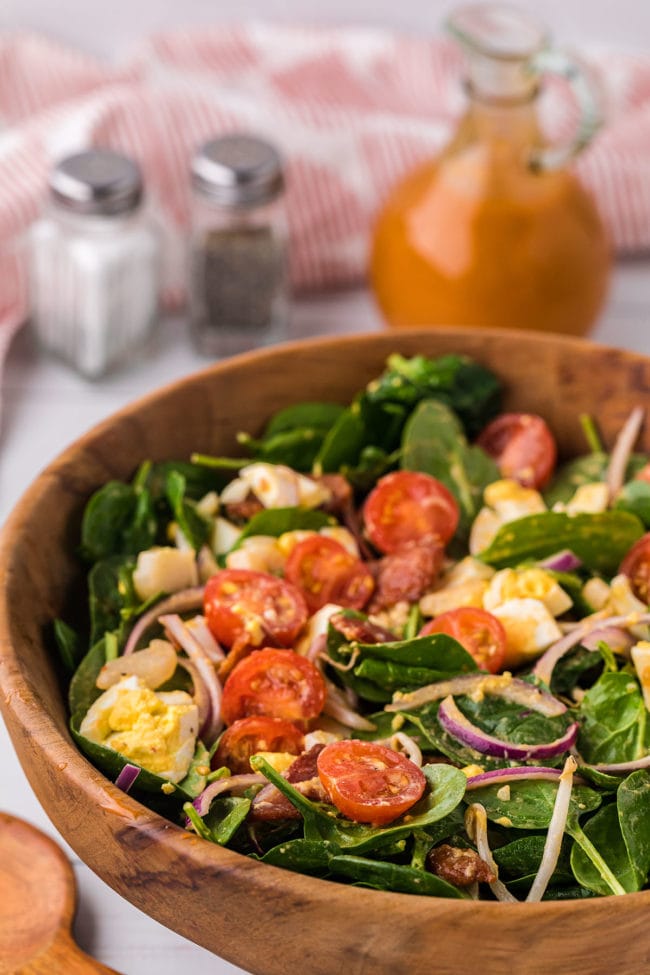 Spinach Salad With Bacon And Egg Notes & Tips
Make Ahead: You save even more time by making the salad dressing and cooking the bacon in advance. Store cooked bacon with a paper towel in a plastic baggie. Keep bacon and dressing in the fridge until you make the spinach salad.
'Bout Them Eggs: Safely store refrigerated, unpeeled hard-boiled eggs in their original carton for up to one week. Peel eggs the day you add them to your spinach salad.*
When it's only you and your significant other, easily halve the spinach salad recipe and store the remaining baby spinach leaves with a paper towel in the bag in the crisper drawer.
If you prefer to use a bundle of fresh spinach leaves, remove the fibrous stems after washing and patting dry.
To avoid smooshing cherry tomatoes, use a sharp knife or a serrated edge with a sawing motion to slice through the fruit easily.
If you can't find fresh bean sprouts in your local market, julienned bamboo shoots are the closest alternative for texture and a mild taste.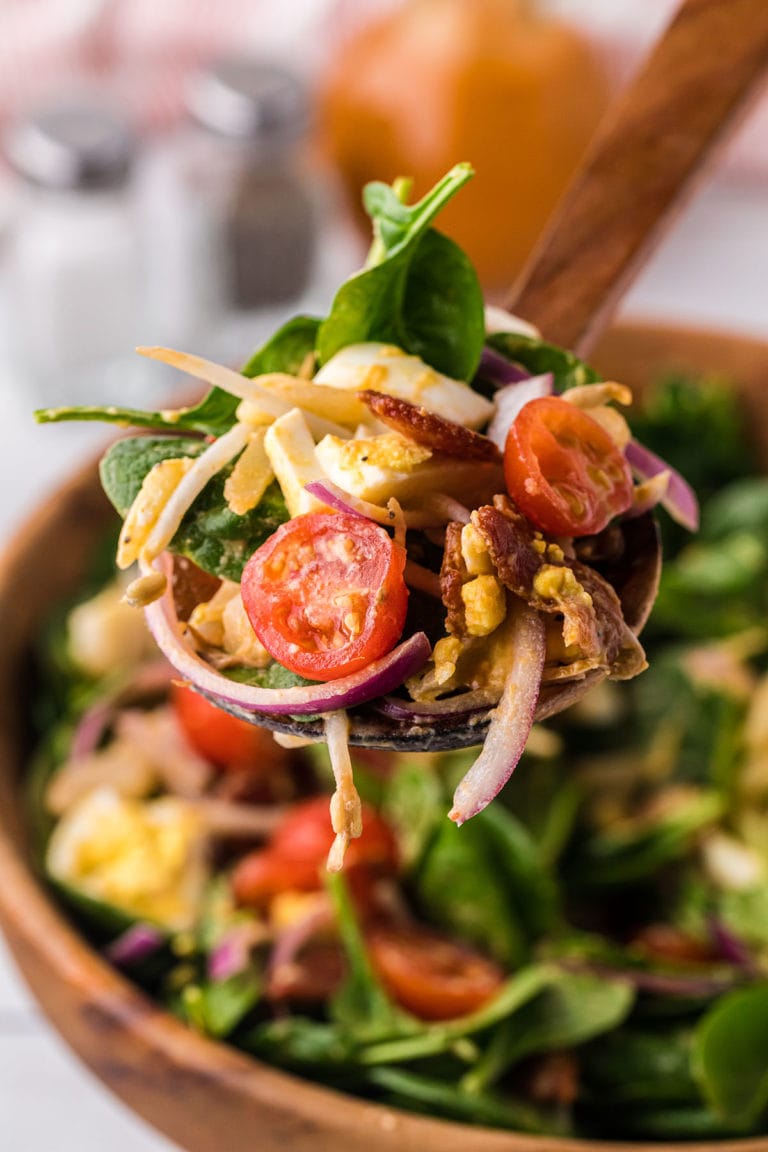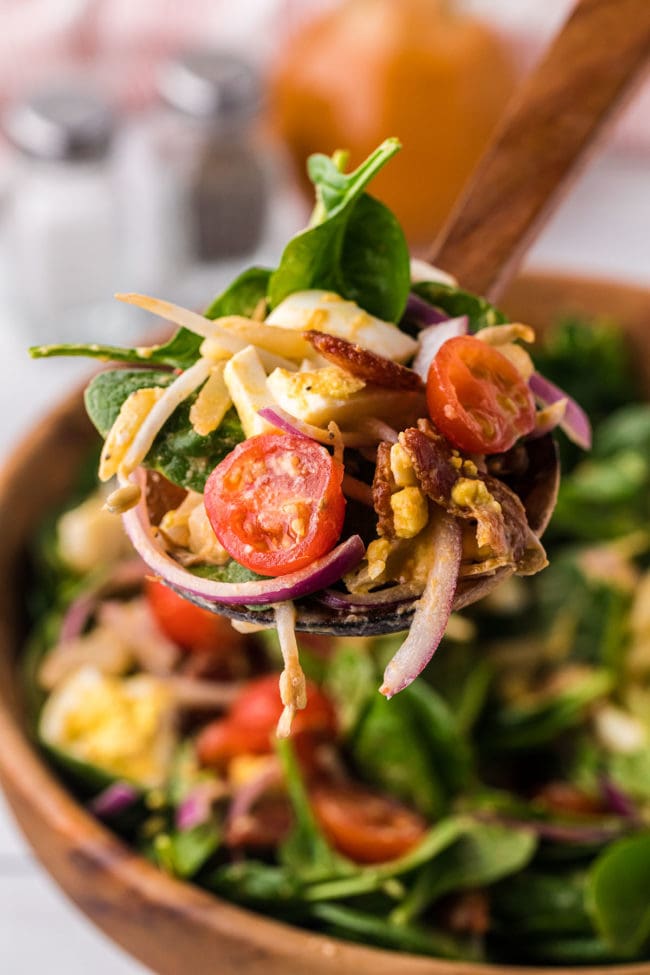 How to Store Spinach Salad And Tangy Spinach Dressing
This spinach salad with bacon and hard-boiled egg recipe serves six. For smaller servings, only dress the amount of salad mixture you need.
Refrigerate/Leftovers
Tightly cover and refrigerate the remaining undressed spinach salad mix and leftover dressing in an airtight container in the refrigerator.
FYI: I'm not saying to toss out leftover spinach salad, even if it already has dressing. Leftover salad will have a wilted salad consistency the next day, although that's never stopped me!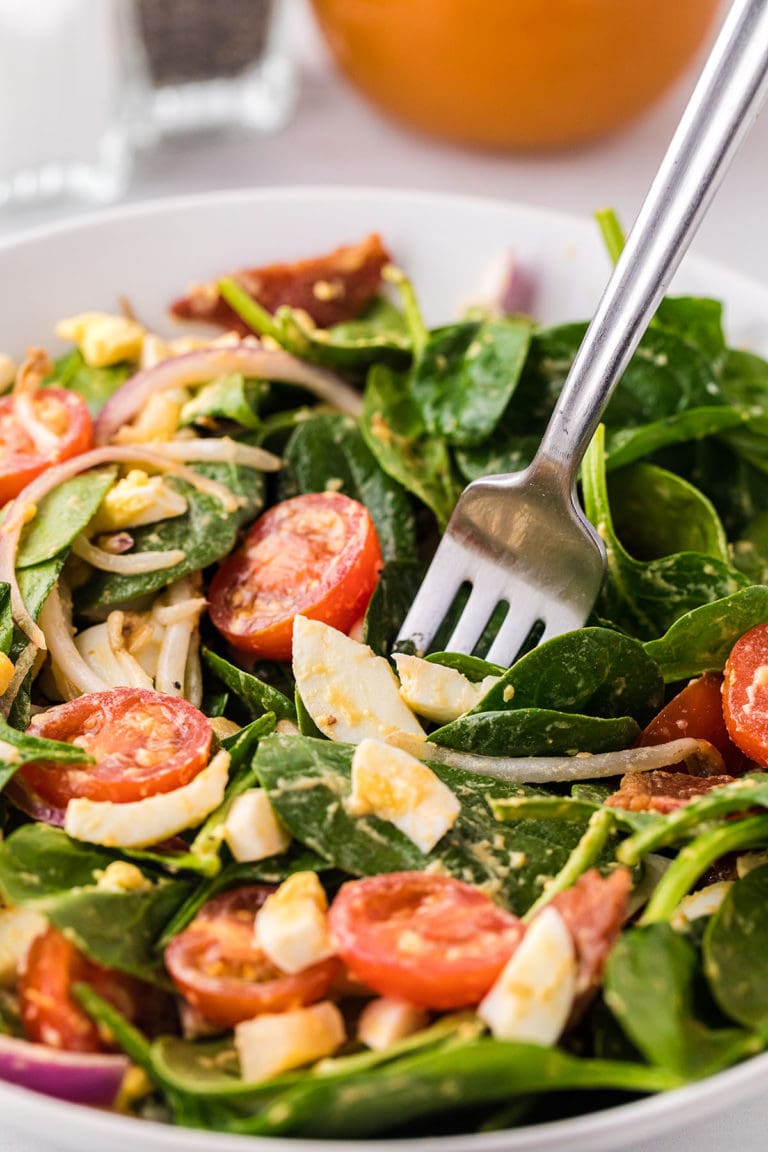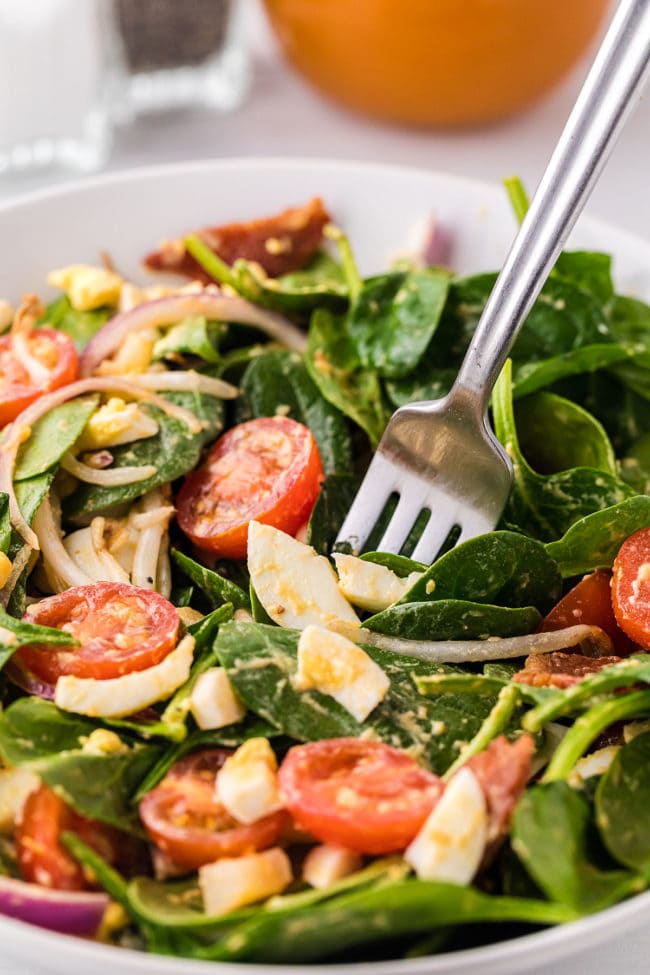 Spinach Salad With Eggs and Bacon FAQs
Are spinach and bacon salads healthy?
Spinach egg and bacon salad can be a healthy addition to a balanced diet. The level of "healthiness" comes down to the ingredients used and the salad dressing. The amount and type of fats used in the dressing and the sugar content are where the challenges come into play. Fortunately, most spinach salad dressings are homemade, and you can make dietary adjustments and tweaks as needed!
Is eating raw spinach bad for you?
Not at all; eating raw spinach isn't bad for most of the population.* Spinach is high in iron, nutrients, and carotenoids that can reduce age-related eye conditions. *Raw spinach is not recommended for people with kidney stones due to its high oxalate content. (Fortunately, cooking spinach can destroy oxalates.
Can I use canned bean sprouts instead of fresh bean sprouts?
Canned bean sprouts are typically not a suitable substitute for fresh ones in salad recipes. Raw sprouts are mildly sweet and grassy, but the tasty munch is in the snappy crunch. Canned bean sprouts are somewhat rubbery and lose the fresh snappy taste and texture.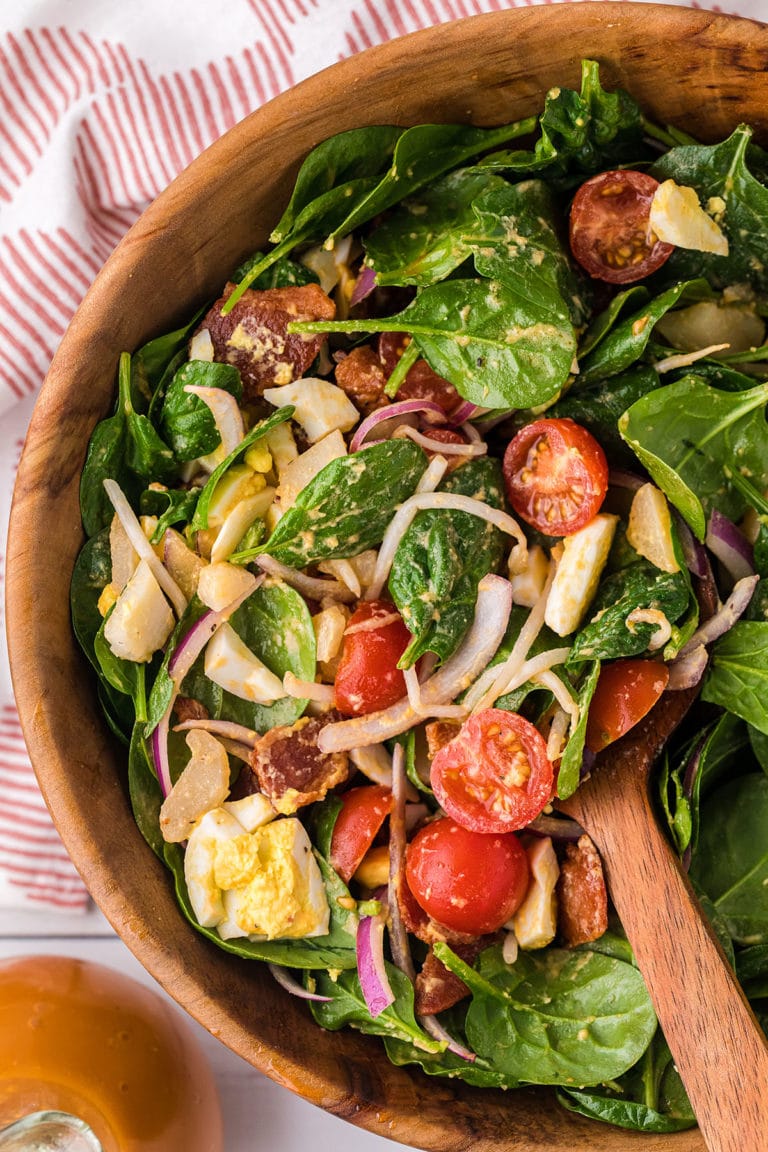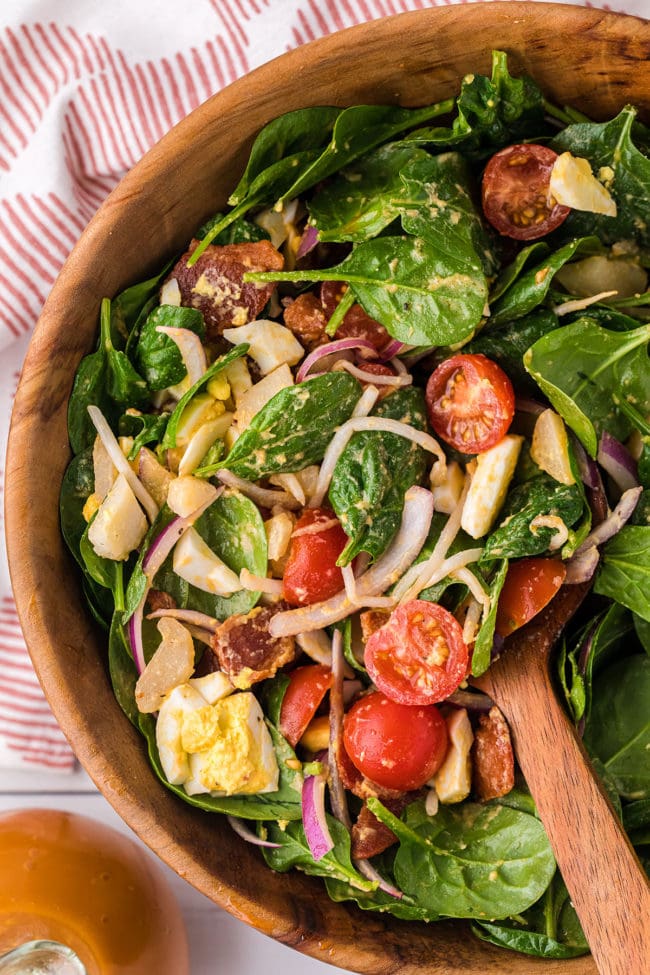 Spinach Egg And Bacon Salad Serving Ideas
Bacon spinach salad makes an excellent entree for a lighter meal. Adding another component or two for a more substantial fare is simple when you have an overly voracious bunch.
Take spinach salad up a notch with an easy, four-ingredient Irish Soda Bread bread or Grilled Grape Brie & Arugula Flat Bread.
Toss in savory blue cheese crumbles or feta cheese to add a touch of creamy tanginess and cut sweetness.
You can't go wrong with a soup and salad night featuring this spinach salad recipe.
Well, let's circle that right back around to salad and the Best Grilled Cheese Sandwich or Baked Reuben Sliders.
Like This Recipe? Pin It!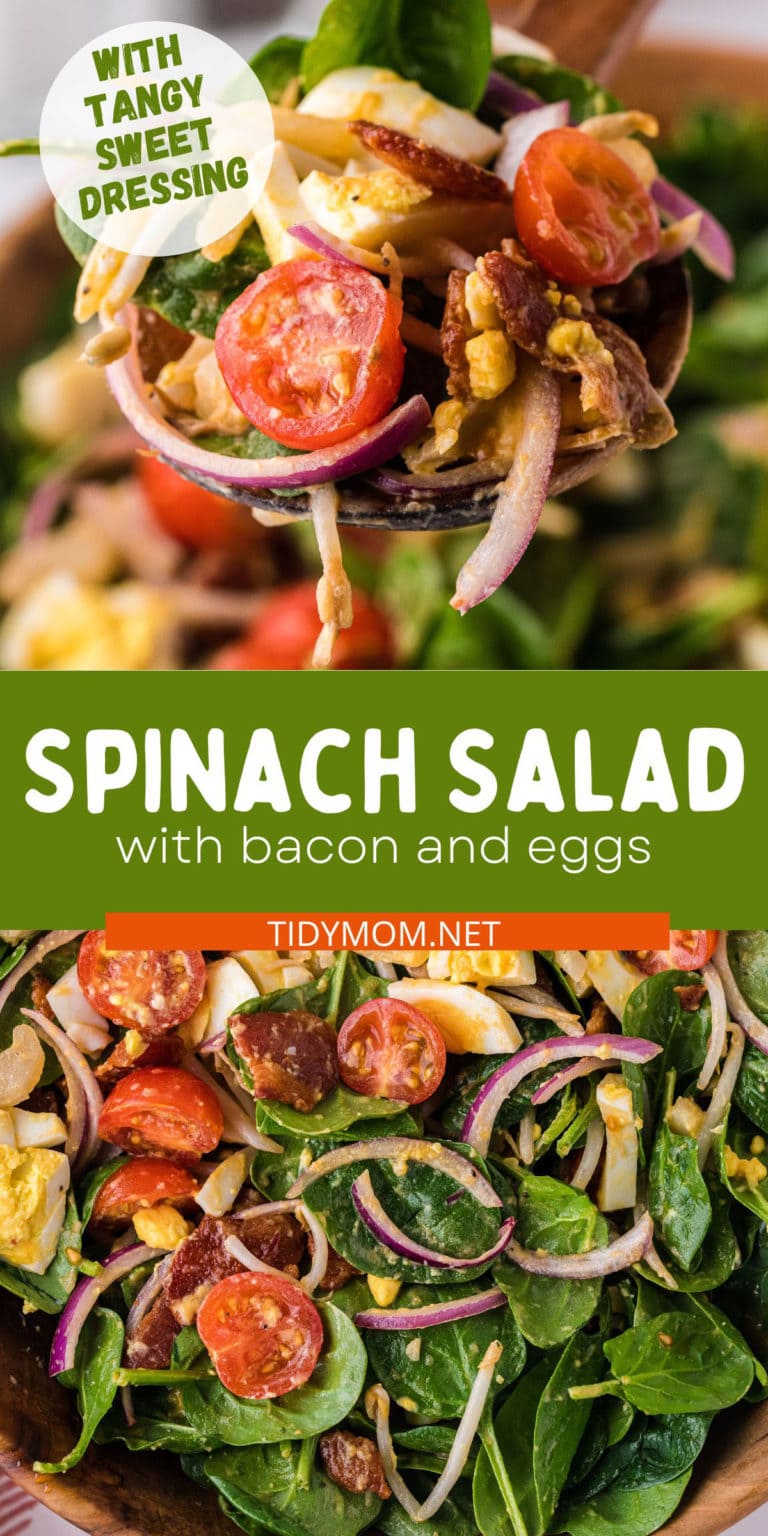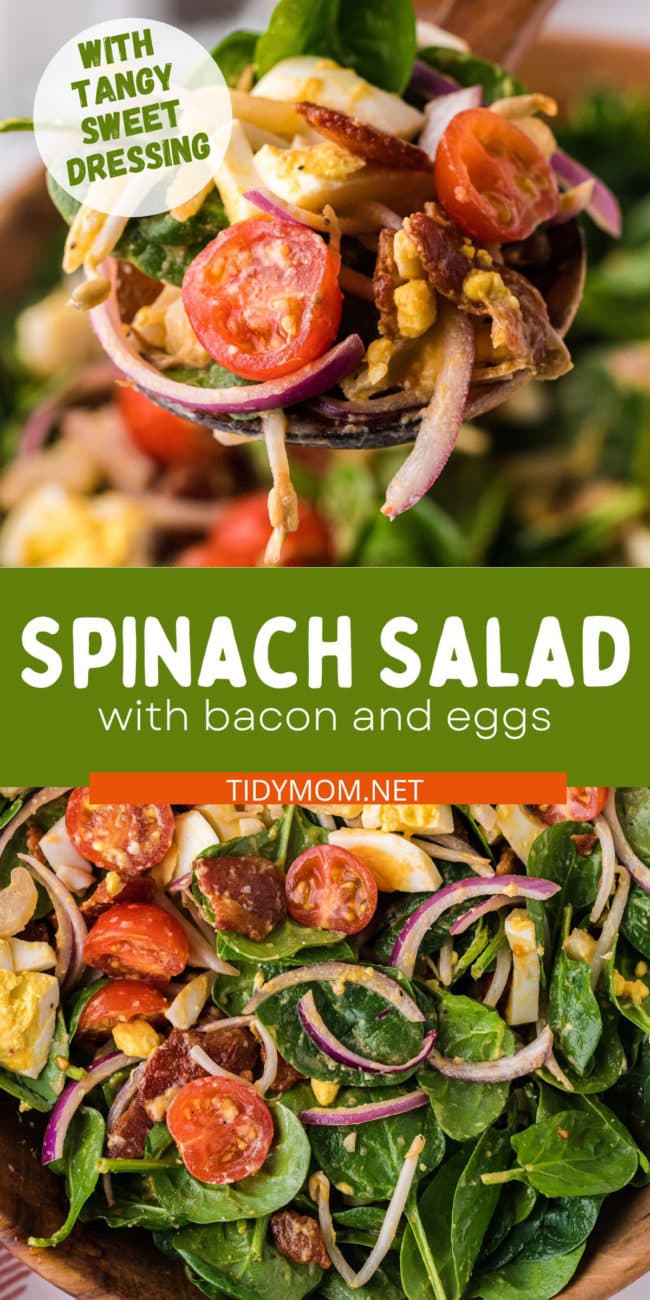 Spinach Salad With Eggs and Bacon
Yield: 6 large servings
Prep Time: 20 minutes
Total Time: 20 minutes
This easy spinach salad recipe is bursting with flavor! Crispy bacon, hard-boiled eggs, and a sweet-tangy homemade dressing will make this a new favorite!
Ingredients
For Salad:
6 cups baby spinach, washed and drained
4 hard-boiled eggs, sliced or diced
6-8 strips bacon
1 cup cherry tomatoes, halved
¼ of a small red onion, sliced thin
1 cup eady-to-eat bean sprouts (alfalfa sprouts)
1 small can water chestnuts, diced
salt and pepper to taste
For Tangy Dressing:
1 cup your preferred salad oil *see notes
¼ cup wine vinegar
¾ cup sugar
½ teaspoon salt
⅓ cup ketchup
2 teaspoons Worcestershire sauce
½ onion, finely diced
Instructions
To make the dressing:
Combine dressing ingredients in a food processor or blender and puree. Place in a jar or salad dressing bottle and set in the fridge while you prepare the rest of your salad.
To make the salad:
Heat a pan over medium heat and cut the bacon into bite-size pieces. Cook bacon until crispy. Transfer to a paper towel-lined plate to drain cool.
Combine salad ingredients in a large bowl, sprinkle with salt and pepper, and toss carefully with your desired amount of tangy dressing. Serve immediately.
Notes
*For salad oil you can use olive oil, canola oil, avocado oil, sesame oil or any other light oil you like!
How To Store Bean Sprouts:
To preserve the freshness of your bean sprouts, it's best to store them in their original ventilated container and ensure they remain dry. This container can be kept in the refrigerator for a maximum of 3 days. Purchase bean sprouts just before use and give them a thorough wash.
Nutrition Information:
Yield: 6
Serving Size: 1
Amount Per Serving:
Calories: 584
Total Fat: 44g
Saturated Fat: 7g
Trans Fat: 0g
Unsaturated Fat: 34g
Cholesterol: 136mg
Sodium: 630mg
Carbohydrates: 39g
Fiber: 2g
Sugar: 31g
Protein: 10g
Nutrition information is estimated based on the ingredients and cooking instructions as described in each recipe and is intended to be used for informational purposes only. Please note that nutrition details may vary based on methods of preparation, origin, and freshness of ingredients used and are just estimates. We encourage, especially if these numbers are important to you, to calculate these on your own for most accurate results.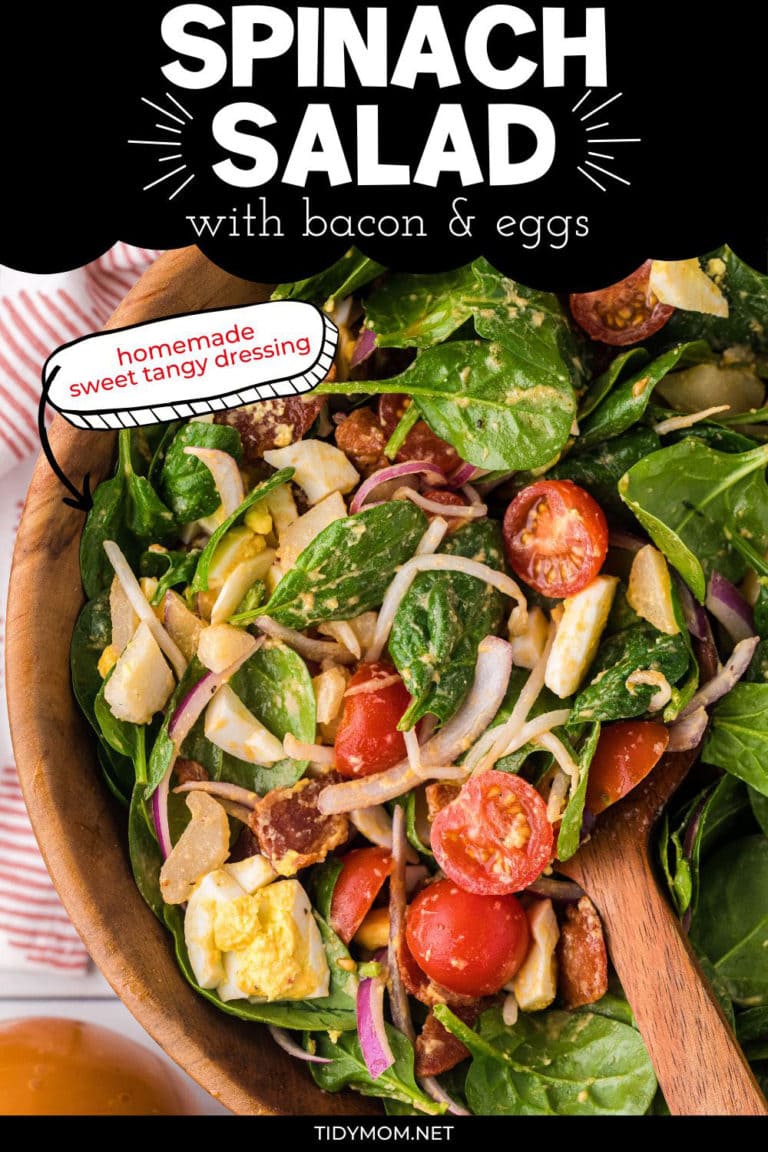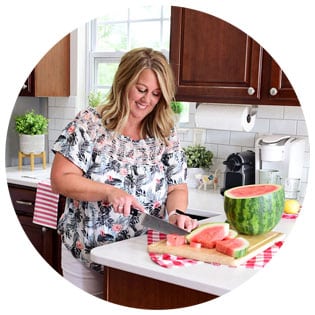 Hi there, I'm Cheryl!
As a wife, mom, and caffeine enthusiast, my journey has taken me from bustling mornings with my family to sharing delicious recipes, home care tips, and heartfelt decorating insights with wonderful readers like you. My love for baking, photography, and tidiness shines through every post I craft. Dive into my world and discover the art of homemaking, one tidy moment at a time. Read more...
Tidymom is a participant in the amazon services llc associates program, an affiliate advertising program designed to provide a means for sites to earn advertising fees by advertising and linking to Amazon.com.
Please respect my work, recipes and photographs. If you do use a recipe in your own writing, please give proper credit and link back to the original post.