Oreo Delight No-Bake Oreo Cookie Dessert
This post may contain Amazon or other affiliate links. As an Amazon associate, I earn from qualifying purchases.
Elevate your dessert game with this irresistible Oreo Delight. The no-bake chocolate lasagna is a showstopper, with layers of creamy chocolate pudding, Oreo cookies, a cheesecake-style layer, and fluffy whipped topping. A beloved family classic that's always a hit.
Discover more great Oreo dessert ideas; I've got plenty! Luscious Oreo Banana Cream Pie Cups, Strawberry Gooey Butter Cake W/Oreo Cookie Layer, no-bake Oreo Mint Icebox Cake, Cookies & Cream Oreo Pudding Cookies, and these fun Mummy Oreo Truffles.
Be sure to sign up for my email… to get new recipes and ideas in your inbox!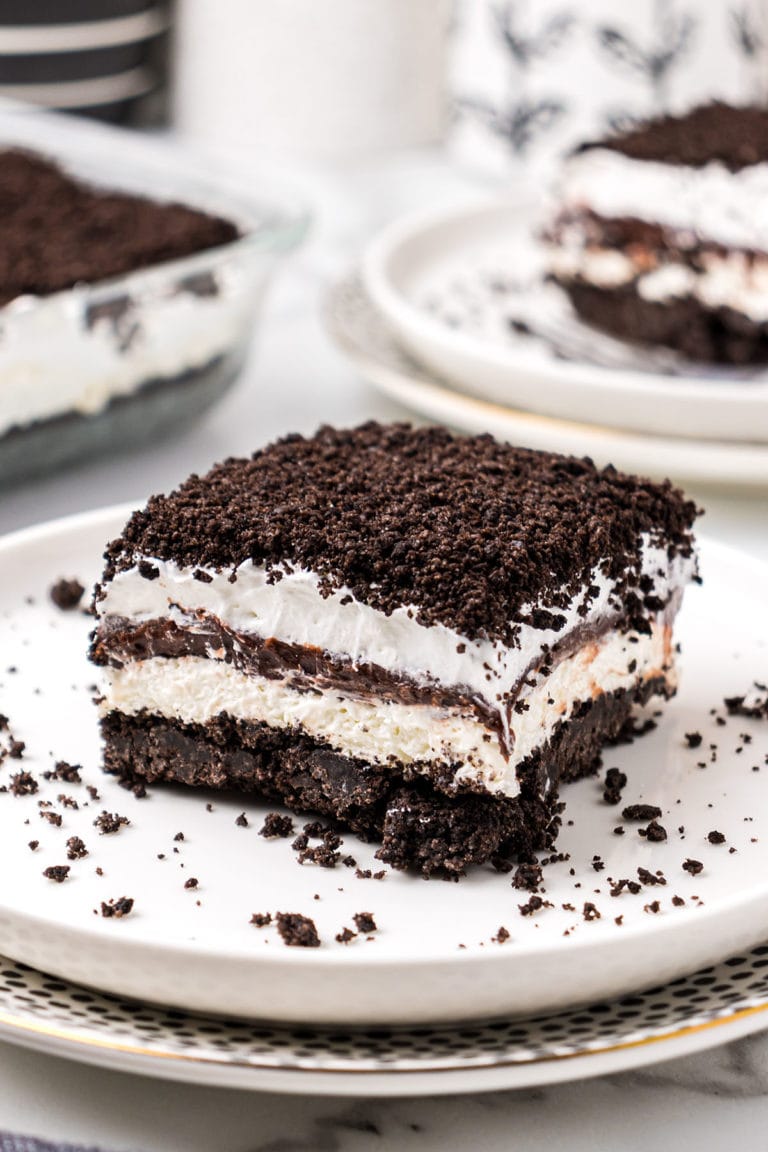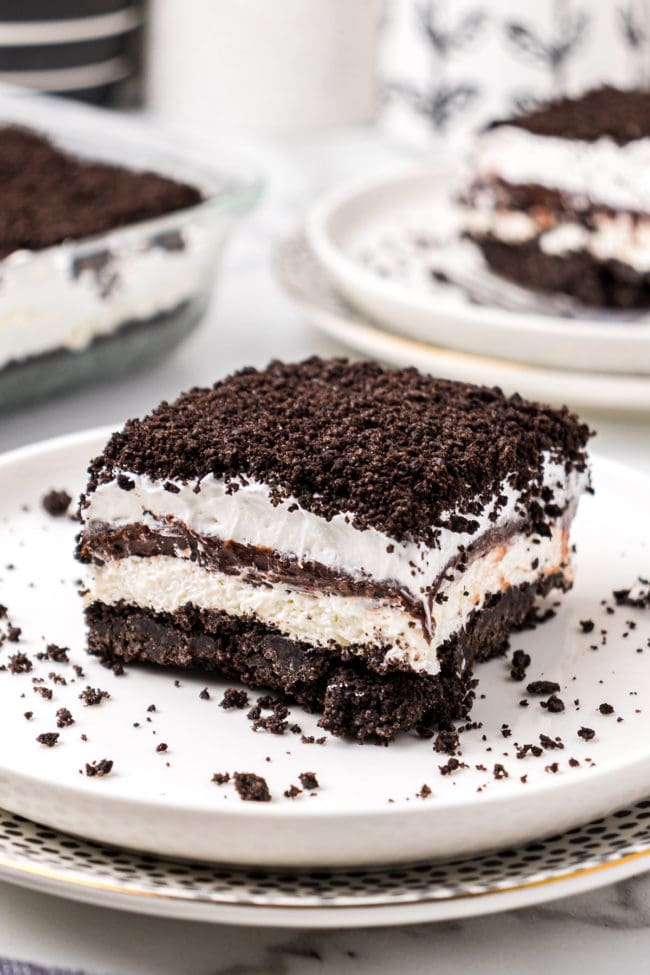 Why You'll Love No-Bake Oreo Delight
This classic-retro no-bake dessert recipe aka Chocolate Lasagna is loved by people of all ages. ​​Indulge in your new go-to no-bake favorite.
Crushed Oreo cookie crust gives this dessert a satisfying crunch that contrasts with the other soft layers.
A simple and easy no-bake Oreo dessert recipe with only seven simple ingredients and 15 minutes of prep time.
This dessert idea is easily customizable; you can add different flavors of pudding mix, toppings, or even different Oreo flavors.
Oreo Delight is made ahead of time and chilled, making it perfect for parties or potlucks.
Mouthwatering to look at is just the beginning; this dessert recipe serves 24 people, so you can share it with large get-togethers.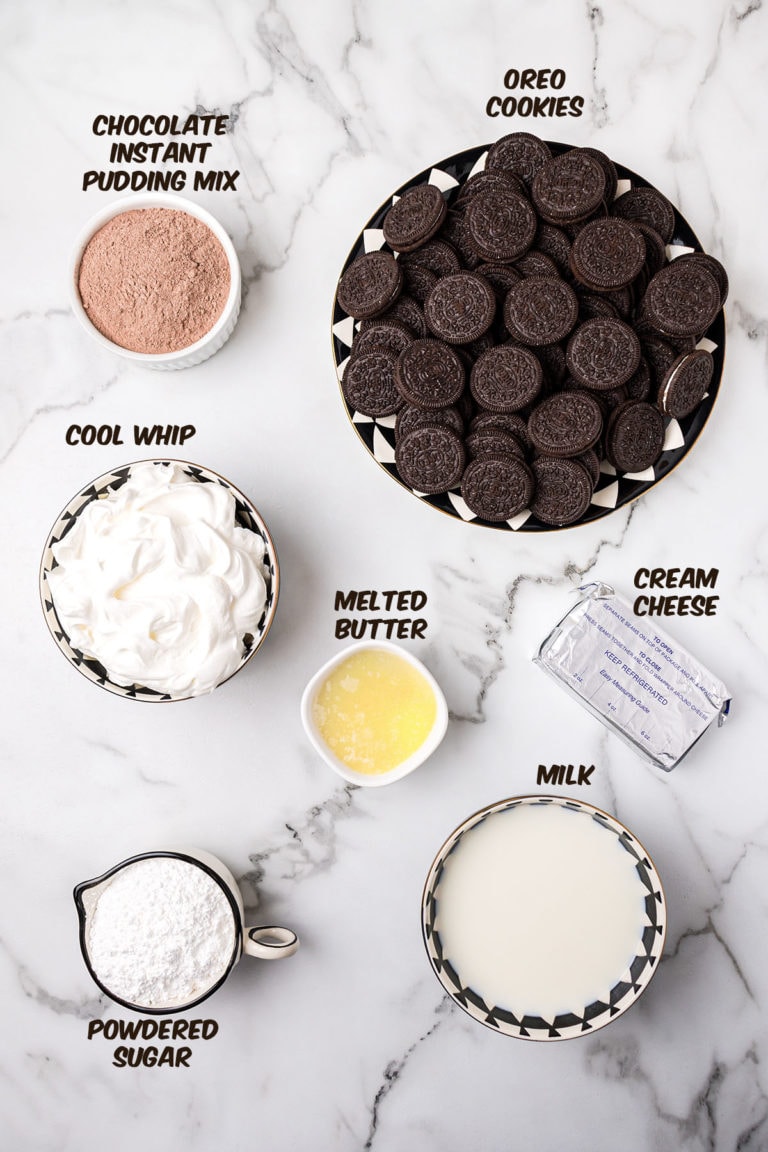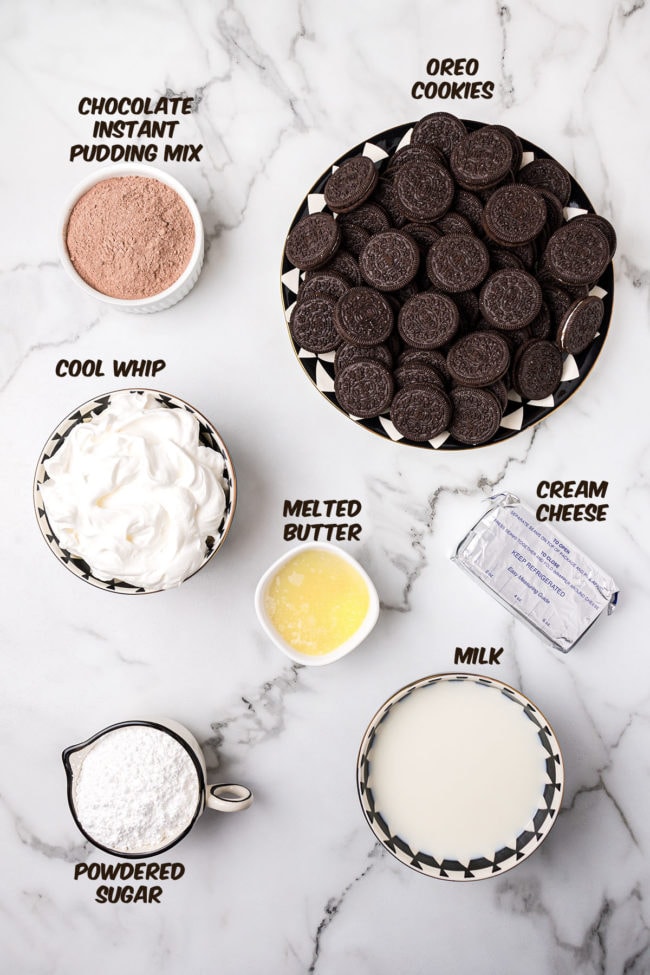 Ingredients For Oreo Delight
For specific amounts, please refer to the printable recipe card at the bottom of the post.
Oreo Cookies – A family-sized package is approximately 50 cookies. Crushed Oreos make up the satisfyingly crunchy, chocolatey crust and topping.
Butter – melted
Cream Cheese – softened.
Powdered Sugar – add sweetness with a silky smooth texture.
Cool Whip – thawed. A frozen, stabilized whipped cream substitute with a light and fluffy texture and a rich, creamy vanilla flavor.
Instant Chocolate Pudding Mix
Milk – (we use 2%) to prepare the chocolate pudding layer. To make Oreo delight even more decadent and richer in flavor, use whole milk or half and half.
*DYK? Oreo cookies are actually a knock-off of the original chocolate sandwich cookie, Hydrox Cookies. Oreo Cookies came on the market in 1912, four years after Hydrox Cookies hit the scene.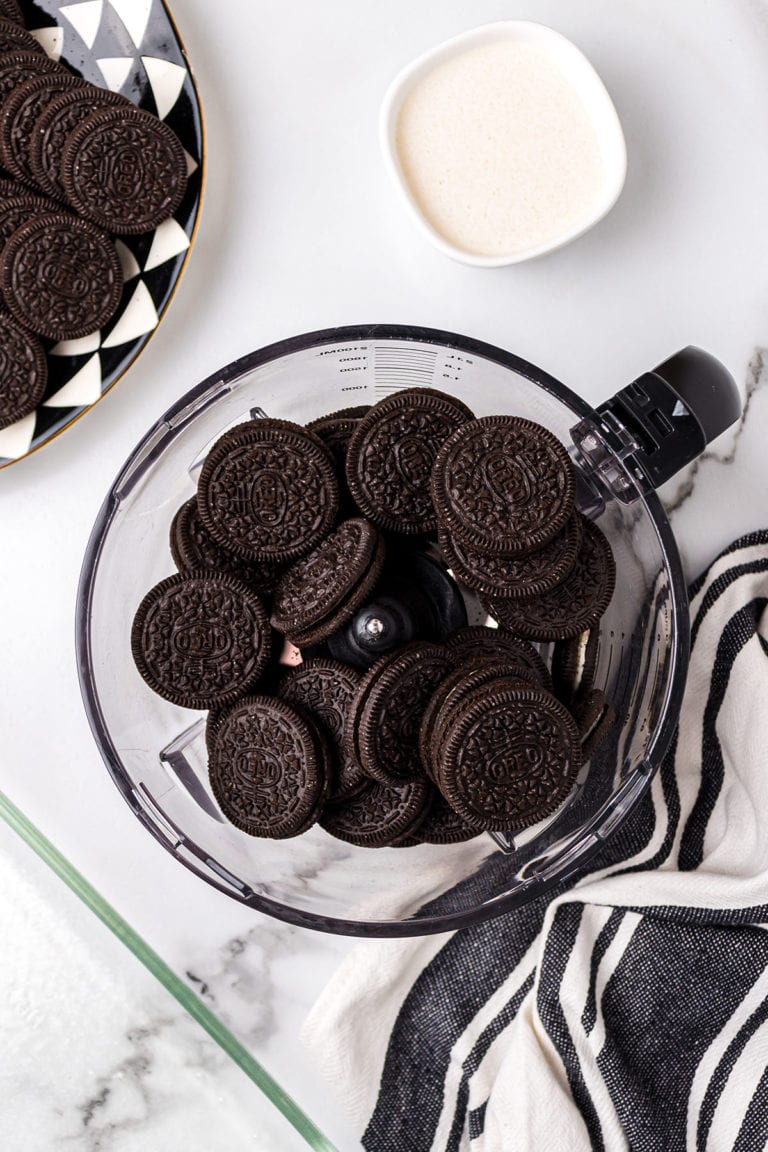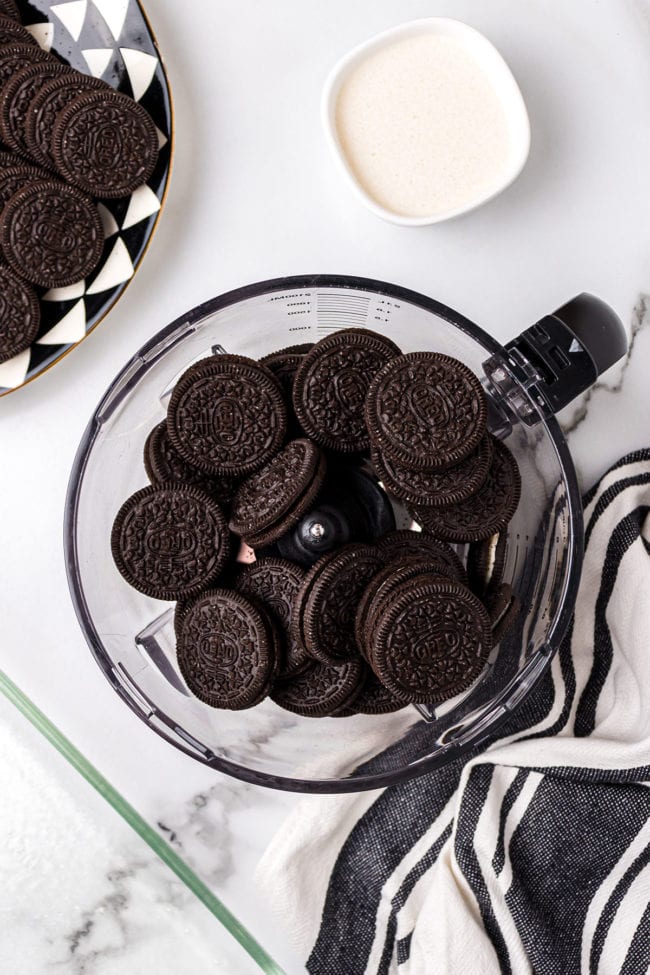 This post may contain affiliate links. Please read my disclosure policy here.
How To Make No-Bake Oreo Delight With Instant Pudding
This decadently creamy make-ahead chocolate lush dessert is perfect for large gatherings! You only need a 9×13" baking dish, a food processor (or rolling pin and plastic bag), an electric mixer, mixing bowls, and a whisk. Let's go for it!
When you are making this recipe, you'll want to use the full recipe at the bottom of the page.
Prepare Oreo cookie crust: Crush Oreos, mix with melted butter, reserving one cup, then press into a greased 9×13" baking dish and place in the freezer.
Prepare cream cheese layer: Beat cream cheese and powdered sugar until smooth. Fold in CoolWhip and spread over the crust. Refrigerate.
Prepare instant pudding layer: Whisk chocolate instant pudding mixes and cold milk together until thick. Spread over the cream cheese layer.
Top with CoolWhip and reserved Oreo crumbs. Chill for at least 6 hours or overnight.
Cut, serve, and enjoy!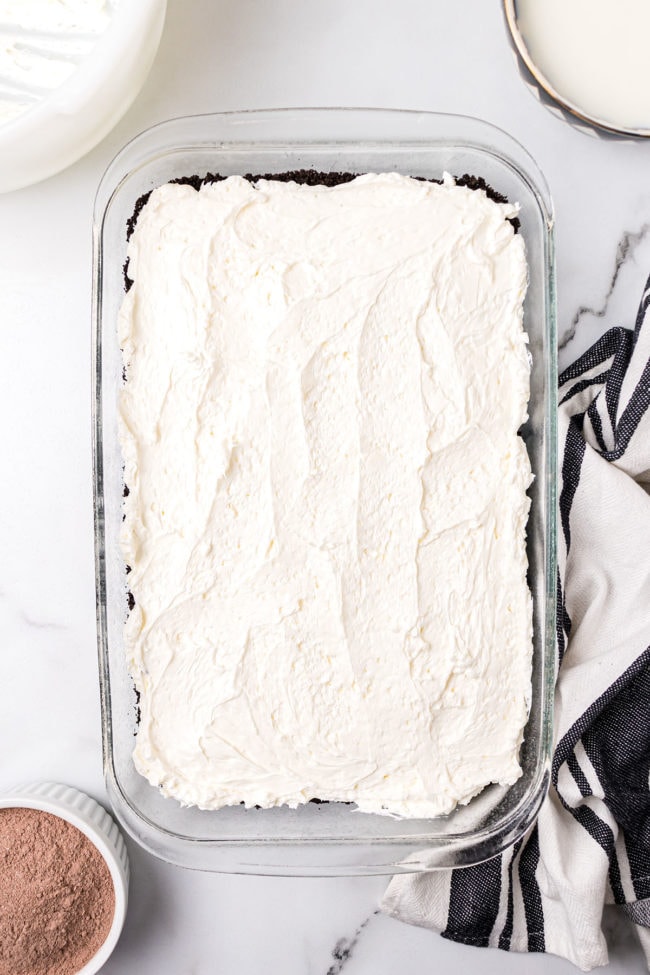 Recipe Notes and Tips
This no-bake Chocolate Lasagna is best made a day ahead. Giving the trifecta of delightful layers enough time to become a truly magical experience for the tastebuds!
Use the entire Oreo cookie, including the creamy filling, when crushing them for the crust and Oreo dirt topping.
The filling in Double-Stuff Oreos is too thick and fatty; use regular Oreos. This recipe is not designed for Double-Stuff cookies.
Be sure to press the Oreo crust firmly into the bottom of the baking dish. This helps to prevent it from crumbling when you cut into the dessert.
Chilling each layer before adding the next is essential to firm them up so layers are beautifully defined and visually enticing.
Cream cheese that is not room temp will be difficult to mix and may result in lumps. Always soften to room temperature before blending unless a recipe specifies otherwise.
Cut cold cream cheese into chunks, spread them apart, and cover with plastic to reduce softening time.
Spreading the cream cheese mixture is easier when dolloping onto the Oreo crust in small mounds; use a light touch with an offset spatula or the back of a lightly sprayed spoon.
The instant chocolate pudding layer will be easier to spread if it thickens slightly. Use a chilled stainless steel or glass mixing bowl and very icy milk to prepare. Allow it to rest for a few minutes before spreading.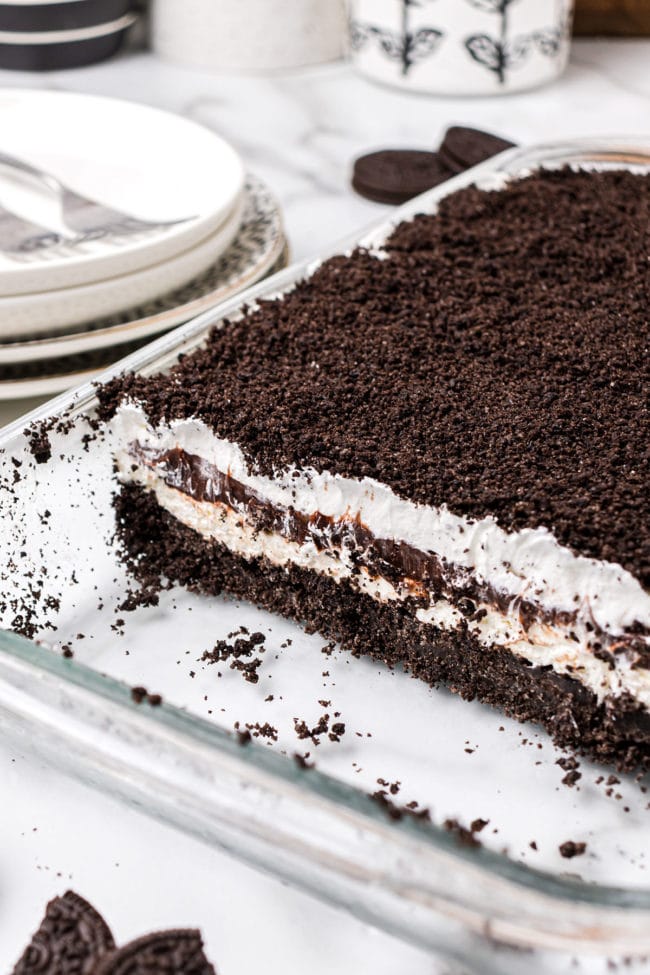 How To Store Oreo Delight
This chocolate pudding dessert is best made a day or at least six hours before serving. Keep the treat tightly covered in the refrigerator and enjoy within 3 days.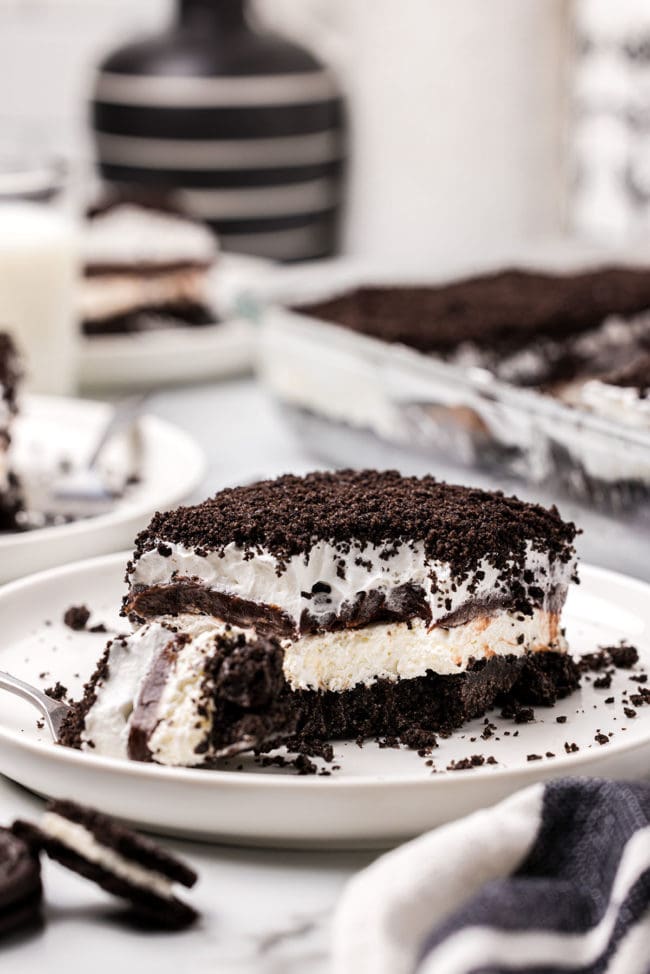 Recipe FAQs
What is an Oreo Delight dessert?
Oreo Delight is a delicious, easy, no-bake dessert (also known as chocolate lasagna), perfect for any occasion. It's layers of a crushed Oreo crust, softened cream cheese for a cheesecake-like layer, topped with creamy chocolate pudding, whipped topping, and finished off covered in another layer of crushed Oreos. A creamy, decadent, dessert that serves a crowd and leaves them craving more.
Can I make a smaller batch of Oreo Delight?
Absolutely! You can adjust the chocolate lasagna recipe to make a smaller batch. Halve the ingredients' quantities and use an 8×8" or 9×9" square baking dish. This way, you can enjoy the same delicious dessert without leftovers, making it perfect for smaller gatherings.
Can I make this recipe ahead of time?
You sure can!! and actually, you should make it at least 6 hours ahead of time or overnight! This allows all of the layers to chill and set.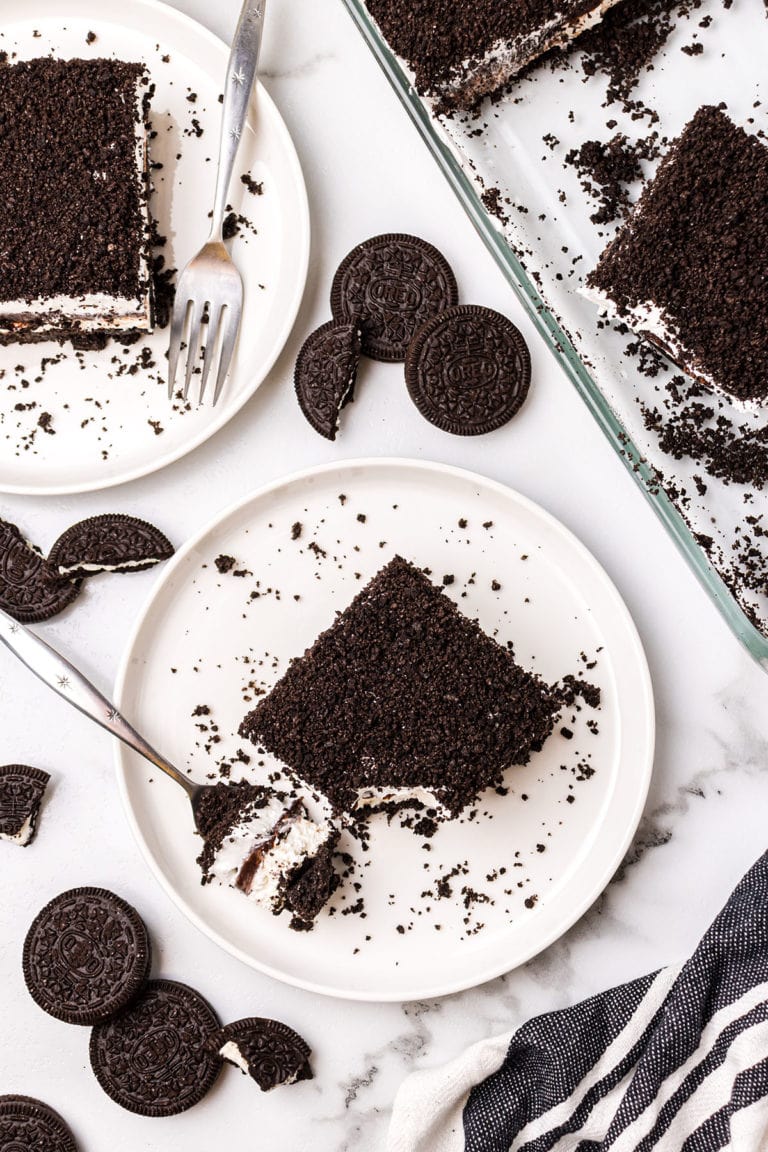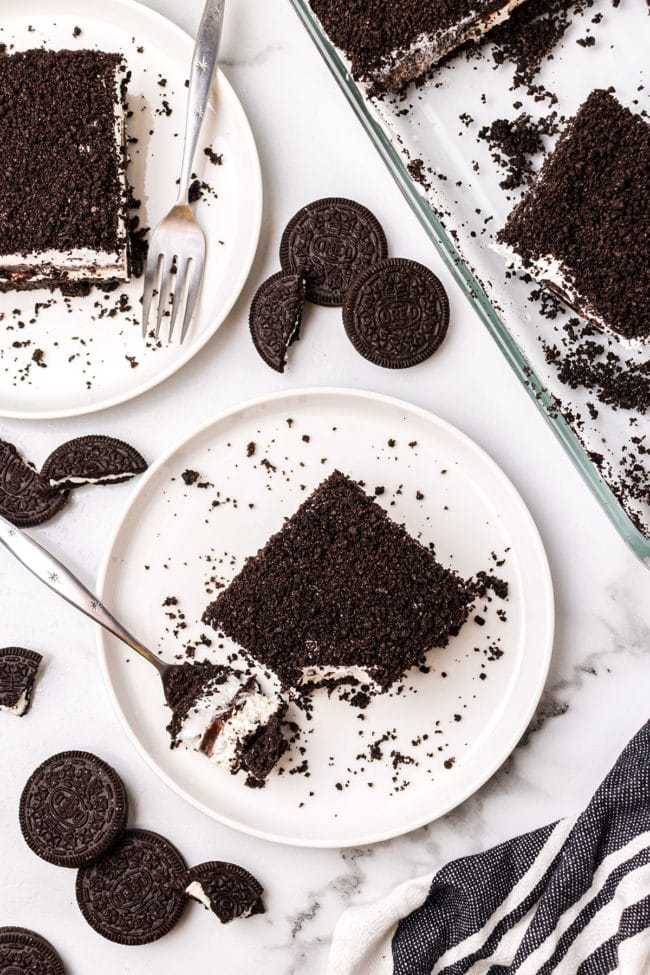 Tips On How To Crush Oreo Cookies
I'm sharing extra tips on how to crush Oreo cookies because well-known hacks seem to cycle in and out over the years, just like fashion! For a beautiful Oreo dessert crust that holds together perfectly when your cookie crust is cut to serve, here are a few tips and info you may or may not know.
Most likely known:
Most of us know to use a food processor to crush Oreo cookies, but a few generations back, they didn't exist, and the "in-the-know" cooks used a simple blender!
Before electrical appliances were affordable, folks crushed Oreos the good old-fashioned way, with a rolling pin or smashing with a cast iron skillet.
This method was pretty messy, so we employed a plastic food bag to retain all of the "Oreo dirt" crumbs in the modern era.
Sometimes not known:
When your food processor or blender is deep, use a spatula to move the cookies around after 3-4 pulses so they don't get gummed down under the blades.
Prepare the Oreo crumbs in batches; you have more control to get a finer crumb.
Freeze Oreo cookies BEFORE crumbing in an electrical appliance; this keeps the fatty icing center from gumming up when the Oreo cream is warm.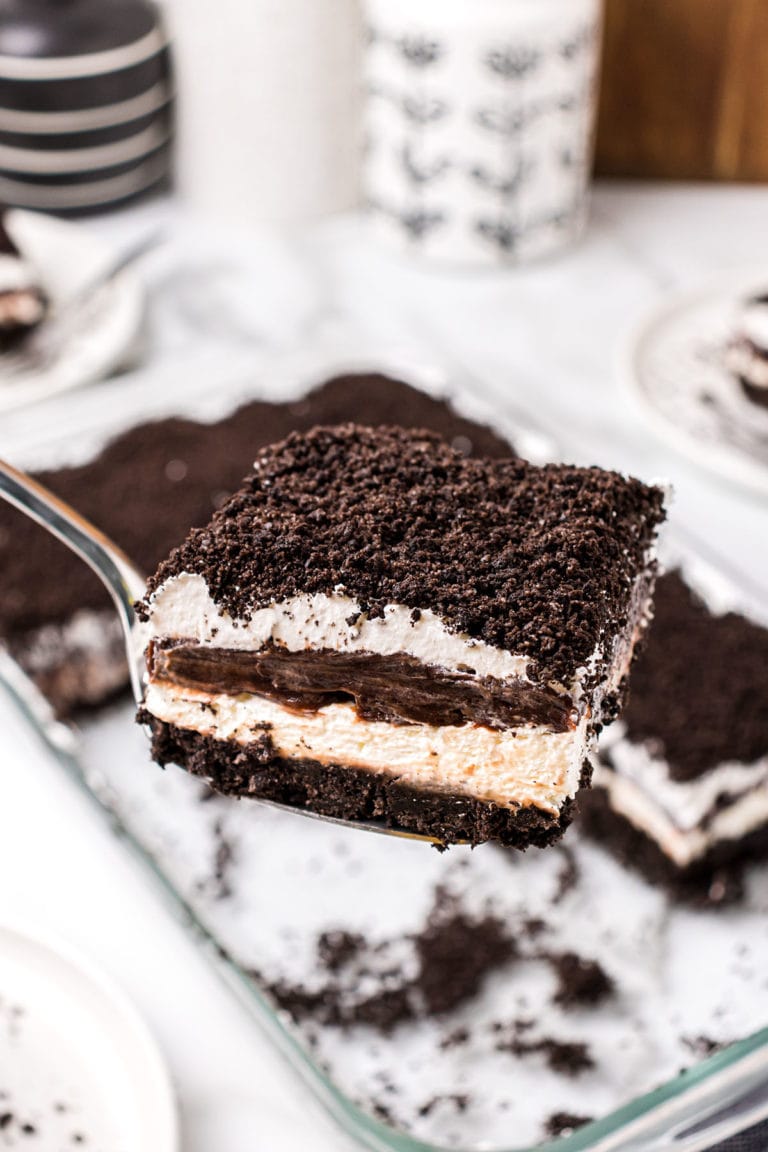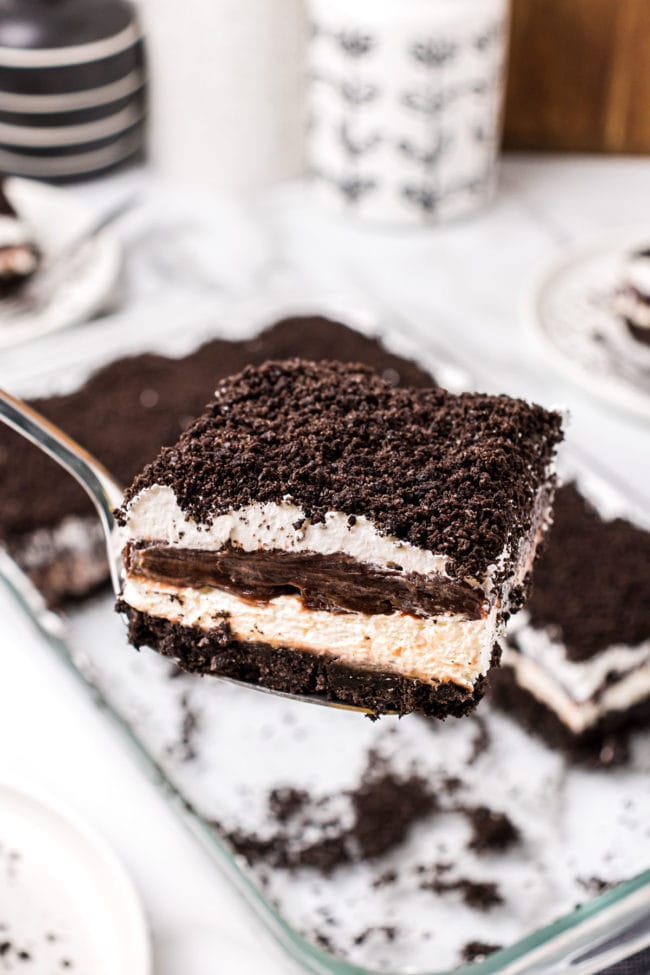 Oreo Delight Recipe Substitutions
Many Oreo flavors are available, especially seasonal ones, perfect for holiday parties. Since Oreos crumb better in a food processor when frozen anyway, buy a couple to keep in the freezer so you can have different flavored desserts.
You can use any flavor of instant pudding mix you like for the pudding layer. I prefer chocolate pudding but try vanilla, caramel, or banana.
If you can't find CoolWhip or any frozen whipped topping, make your own stabilized whipped cream topping: Beat 2 cups heavy whipping cream, 1 tbsp of cornstarch, and ½ cup powdered sugar with an electric mixer until stiff and fluffy.
You can garnish the chocolate lush dessert with whole, halved, or quartered Oreos, chocolate chips, maraschino cherries, or chocolate syrup drizzles.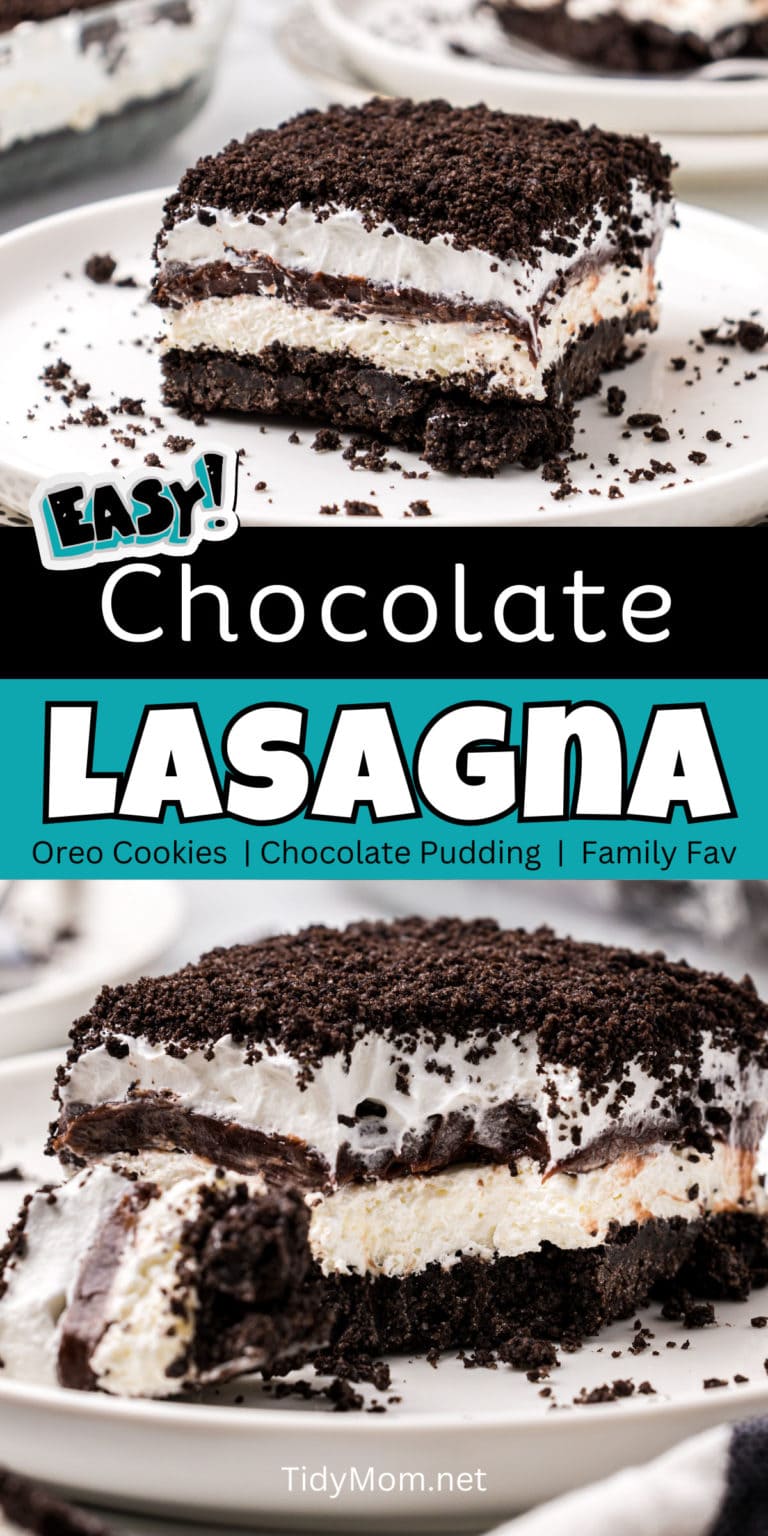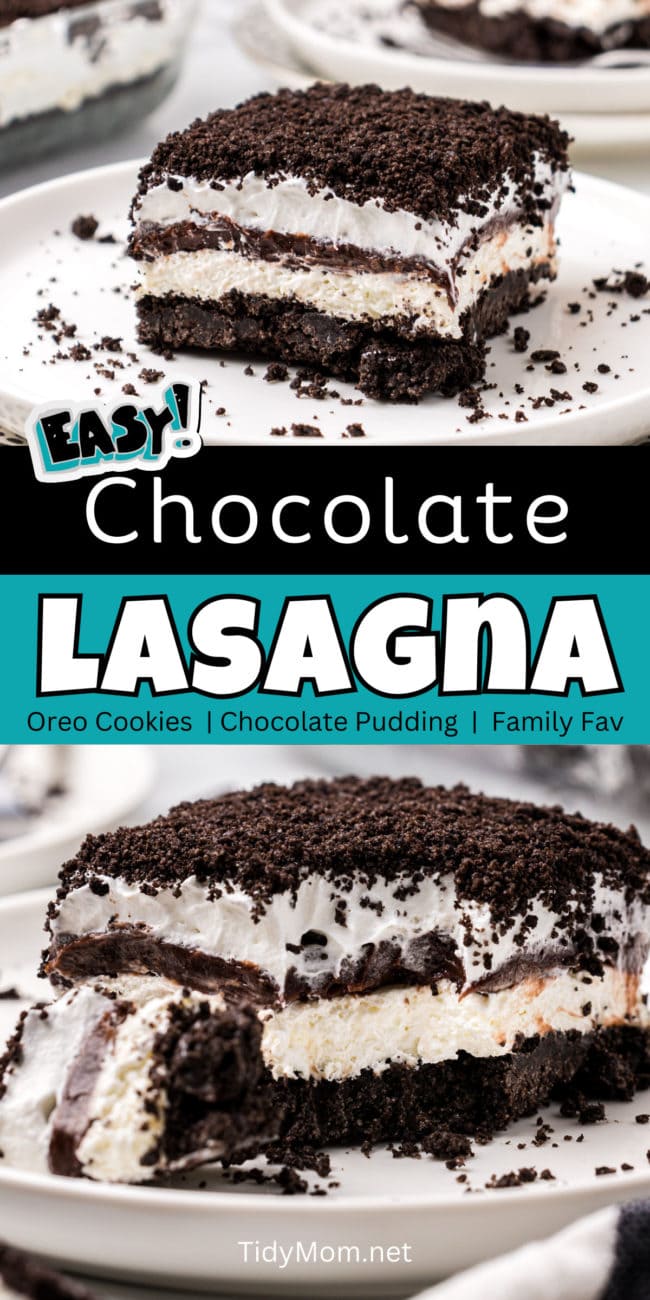 Like This Recipe?
I'd love to hear what you think! Leave a review below and let me know how you liked the recipe!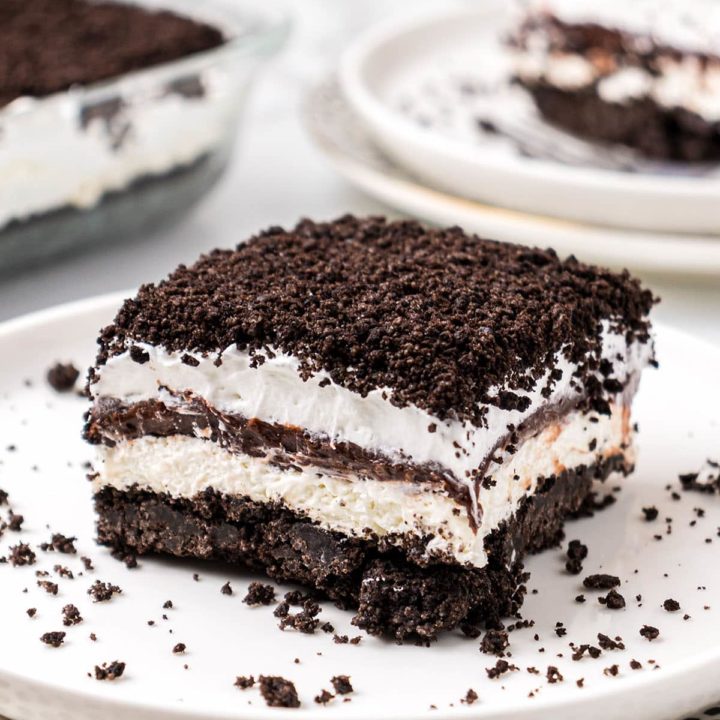 No-Bake Oreo Delight
Yield: 24 servings
Prep Time: 15 minutes
Minimum Chill Time: 6 hours
Total Time: 6 hours 15 minutes
Elevate your dessert game with this irresistible Oreo Delight. The no-bake chocolate lasagna is a showstopper, with layers of creamy chocolate pudding, Oreo cookies, cheesecake, and fluffy whipped topping. A beloved family classic that's always a hit.
Ingredients
1 family-size (21 oz) package of Oreos (or approximately 50 cookies)
½ cup butter, melted
8 ounces cream cheese, softened
1 cup powdered sugar
2 (8-ounce tubs) of CoolWhip frozen whipped topping, thawed
2 (3.4-ounce packages) instant chocolate pudding mix
1 ¾ cup milk
Instructions
Lightly spray the bottom of a 9x13 baking dish with cooking spray and set aside.
Using a food processor crush the entire package of Oreo cookies into fine crumbs. (No food processor? Place the cookies in a zip-top bag and use a rolling pin to crush them into fine crumbs.)
Remove about 1 cup of the Oreo crumbs and set them aside for the topping. Mix the remaining cookie crumbs with melted butter and press into the bottom of the prepared baking dish. Place the dish with the Oreo crust in the freezer while you prepare the cream cheese layer.
In a large bowl, using an electric mixer beat the softened cream cheese and powdered sugar until smooth. Fold in one container of thawed CoolWhip and carefully spread the mixture over the Oreo crust. Place in the refrigerator while you prepare the pudding layer.
Use a large bowl and whisk the chocolate pudding mixes and cold milk together until thick.
Spread the pudding over the cream cheese layer.
Spread the remaining tub of CoolWhip over the chocolate pudding using a spatula. Then sprinkle with reserved Oreo crumbs. Cover and chill for at least 6 hours or overnight, then cut, serve, and enjoy!
Notes
Do not use double-stuff Oreos.
Don't skip chilling each layer while you prepare the next layer. This helps each layer to firm up some before adding the next layer. You want defined layers.
Place dollops of the cream cheese mixture over the crust to allow for easy spreading without disrupting the Oreo base.
If you can't find CoolWhip or any frozen whipped topping - you can make your own whipped topping: Beat 1 cup heavy whipping cream and ¼ cup powdered sugar with an electric mixer until stiff and fluffy.
This dessert is best made a day ahead. This allows enough time for everything to set up well.
Nutrition Information:
Yield: 24
Serving Size: 1
Amount Per Serving:
Calories: 234
Total Fat: 13g
Saturated Fat: 6g
Trans Fat: 0g
Unsaturated Fat: 6g
Cholesterol: 21mg
Sodium: 243mg
Carbohydrates: 28g
Fiber: 1g
Sugar: 19g
Protein: 3g
Nutrition information is estimated based on the ingredients and cooking instructions as described in each recipe and is intended to be used for informational purposes only. Please note that nutrition details may vary based on methods of preparation, origin, and freshness of ingredients used and are just estimates. We encourage, especially if these numbers are important to you, to calculate these on your own for most accurate results.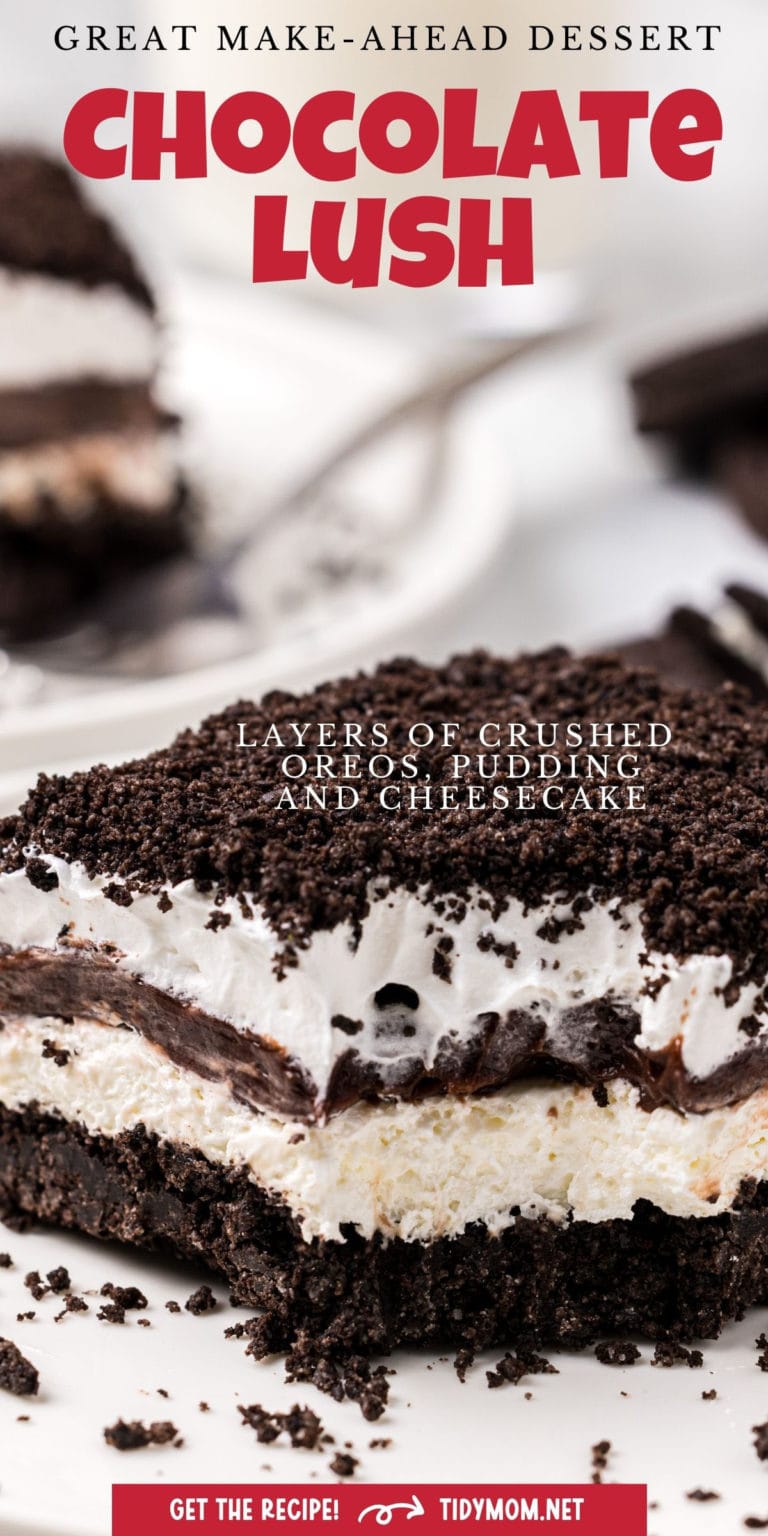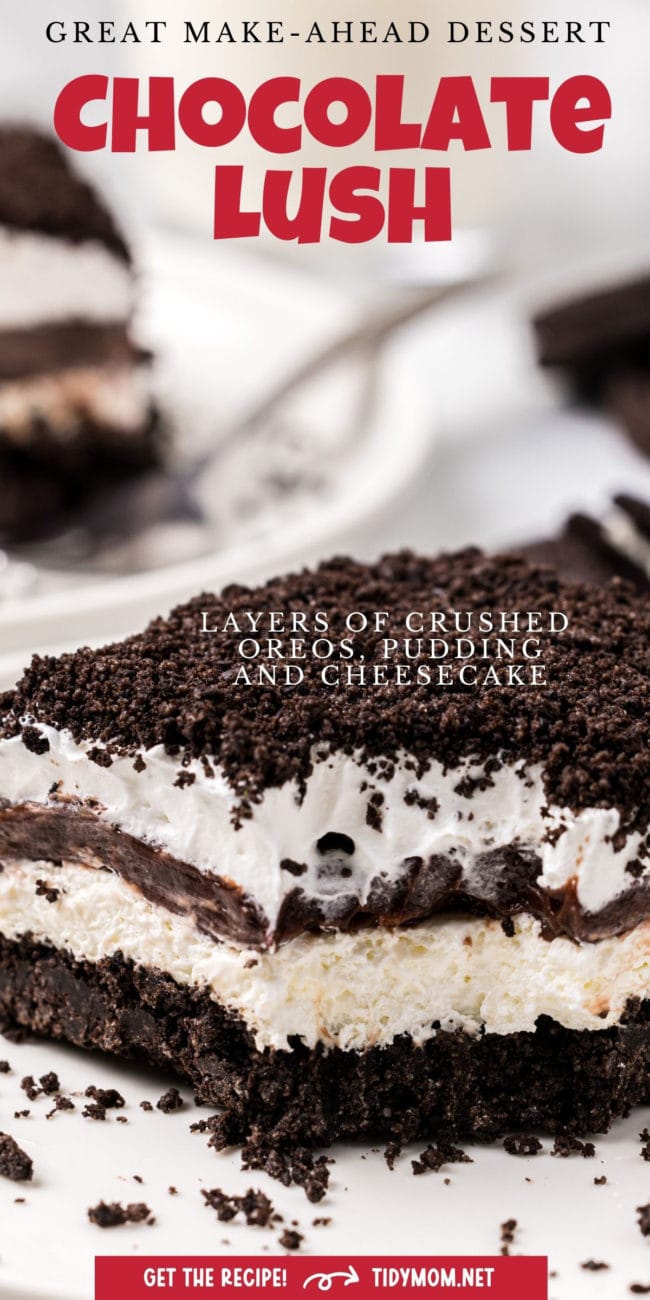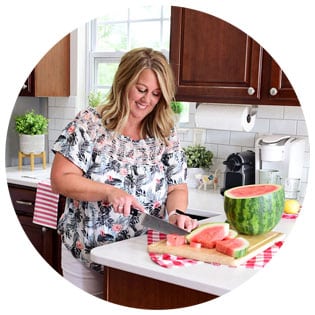 Hi there, I'm Cheryl!
As a wife, mom, and caffeine enthusiast, my journey has taken me from bustling mornings with my family to sharing delicious recipes, home care tips, and heartfelt decorating insights with wonderful readers like you. My love for baking, photography, and tidiness shines through every post I craft. Dive into my world and discover the art of homemaking, one tidy moment at a time. Read more...
Tidymom is a participant in the amazon services llc associates program, an affiliate advertising program designed to provide a means for sites to earn advertising fees by advertising and linking to Amazon.com.
Please respect my work, recipes and photographs. If you do use a recipe in your own writing, please give proper credit and link back to the original post.