Mummy Oreo Truffles, Easy Halloween Treats!
Spook-tacularly decadent MUMMY OREO TRUFFLES are the cutest Halloween treat for goblins and gargoyles alike. Four simple ingredients and these easy Halloween treats will put a spell even on the cruelest heart!
"Let the ghoul times roll…" with some of these Halloween snack ideas! Sweet & Salty Harvest Snack Board, Chocolate Dipped Halloween S'mores Pops, Orange, and Black Halloween Sugar Cookies, or Glazed Pumpkin Doughnut Muffins.
Invite a few "fiends" for a BYOB (bring your own broom). Throw a frightfully fun "haunting hour" with Easy Bourbon Apple Cider Cocktail, Pumpkin Spice Hot Buttered Rum, or Smashing Pumpkin Cocktail. Drink up, witches!!
Be sure to sign up for my email… to get new recipes and ideas in your inbox!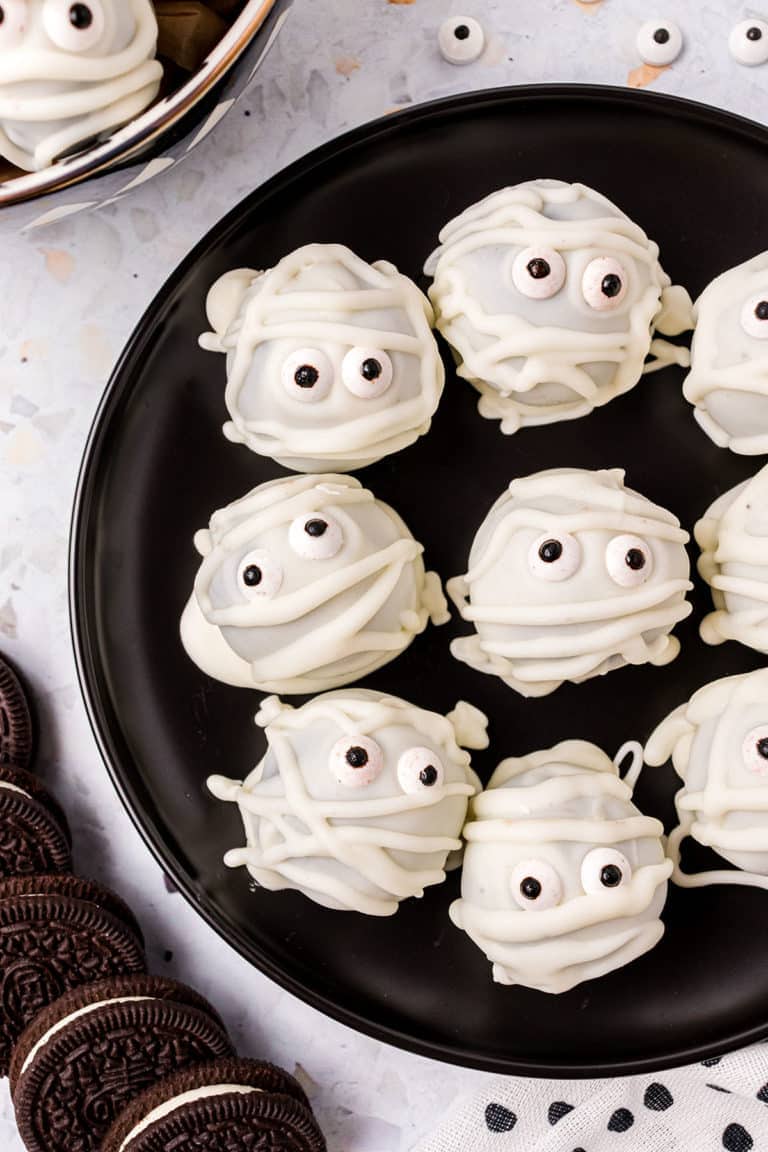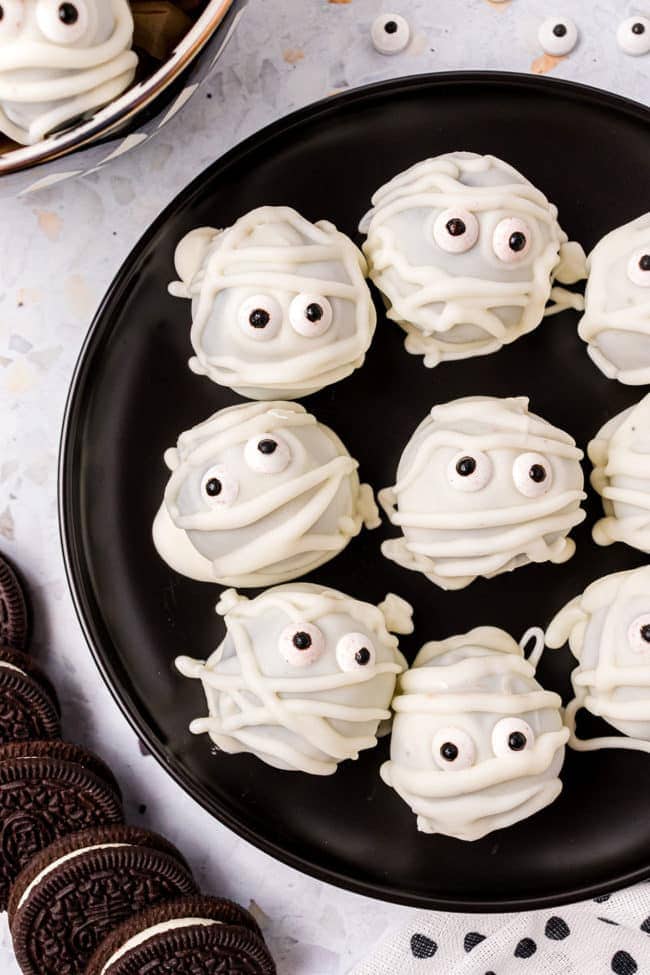 A simple Halloween dessert idea that never fails to "enchant" witches and wizards of all ages!
Why You'll Love Mummy Oreo Truffles Halloween Treats!
Perfect fang-sized Halloween treats!
An easy 4 ingredient Halloween dessert idea.
Mummy Oreos truffles are a super fun Halloween treat to make AND eat!
Party perfect! Eat, drink, and be scary with spooktacular-tasting oreo balls!
Mummies everywhere love boo-tiful Halloween Oreo truffles!
Spooky, Fun, and Tasty!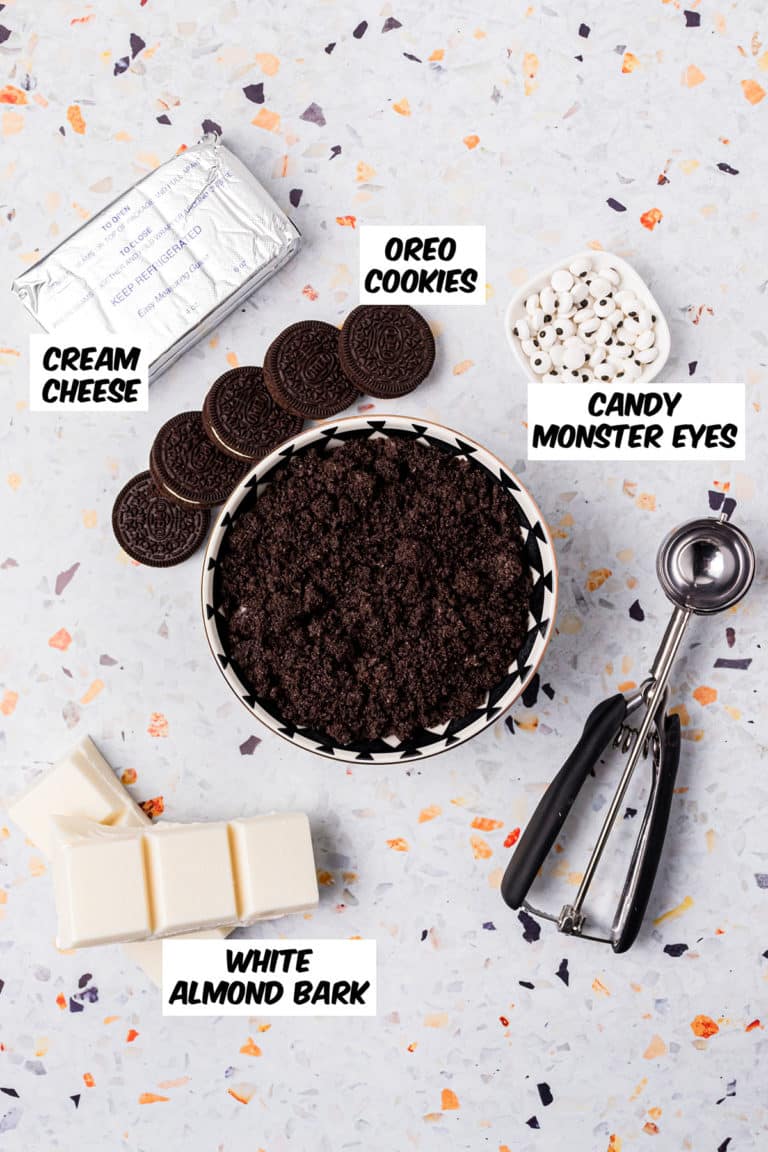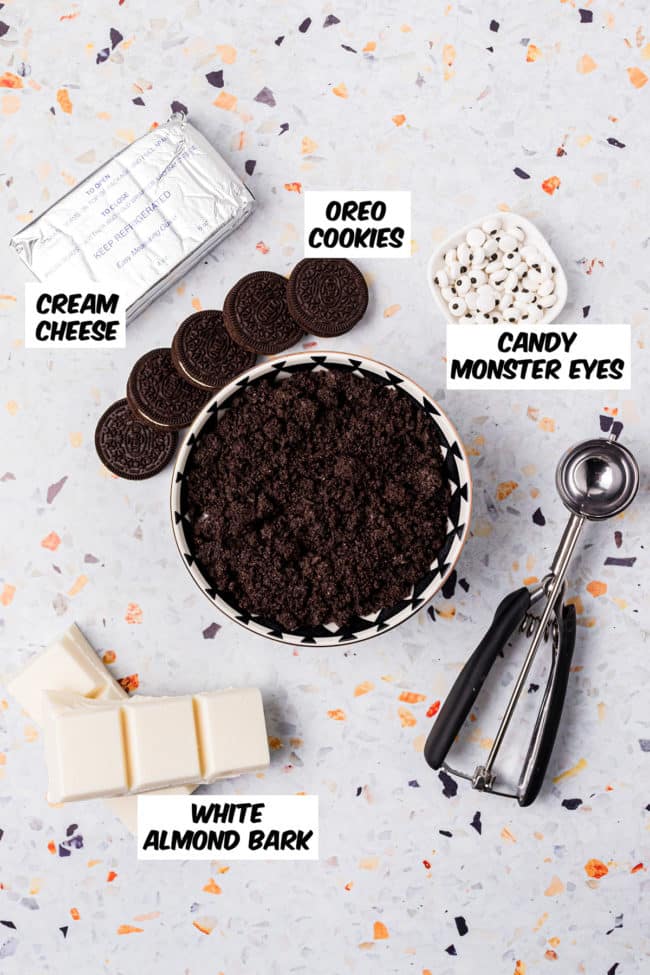 This post may contain affiliate links. Please read my disclosure policy here.
Mummy Oreo Truffles Dessert Ingredients
You'll be one of the most popular mummies in your crypt when you bewitch your little monsters with this cute, creamy, and tasty Halloween treat!
Double Stuffed Oreos – one packaged crushed (40-45 Oreos)
Cream Cheese – 8 oz block softened to room temperature.
White Almond Bark – 24 oz package or Wilton Candy Melts.
Eye of Newt, Bwah ha ha ha! – candy monster eyes are made with edible pearl sugar and food dye.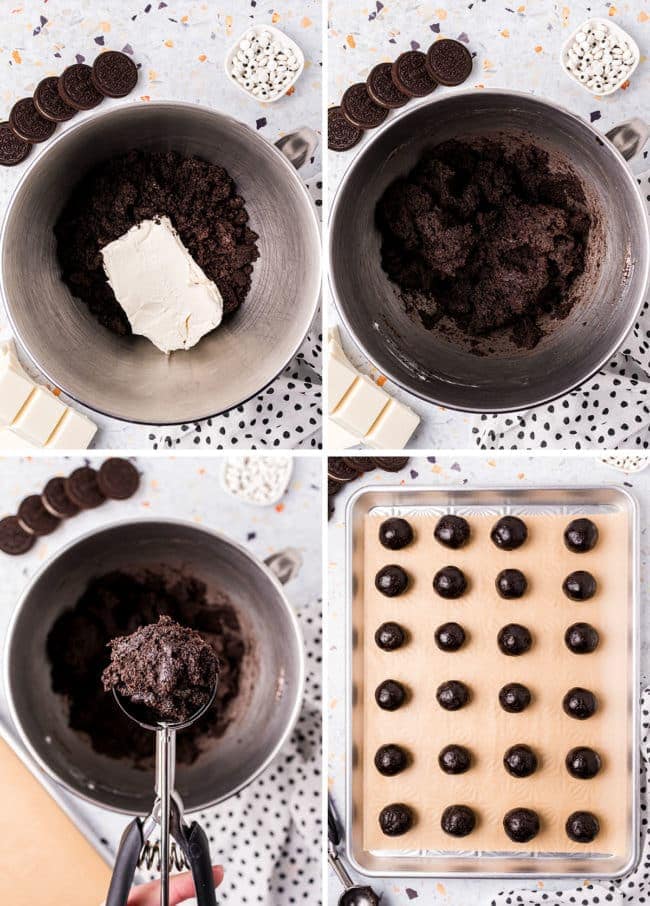 Let's Get This Party Started: How To Make Mummy Oreo Truffles
(full printable recipe at the end of this post)
You need a food processor, stand mixer, cookie scoop, large sheet pan, spoon, fork (or dipping spoon), sandwich size zip top bag, and microwave-safe bowl. Optional: Candy Melter
Step 1. Crush Oreos in a food processor to a wet sand consistency.
Step 2. Mix crushed Oreos with soft cream cheese on low until well combined.
Step 3. Use a cookie scoop or spoon to roll oreo truffles into 1-inch balls and place them on a large, lined sheet pan.
Step 4. Put the truffle balls in the freezer for at least 45 minutes.
Step 5. After 45 minutes, start melting the almond bark in a microwave-safe bowl for 60 seconds, stir and continue heating and stirring in 15-second intervals. It's ready when almond bark is completely melted and smooth.
Step 6. Drop an oreo ball into the almond bark and roll with a spoon to coat thoroughly.
Step 7. Lift the coated truffle using a fork without poking and let the excess drip off.
Step 8. Place the coated mummy truffle on the parchment-lined sheet and apply the candy monster eyes to the wet coating.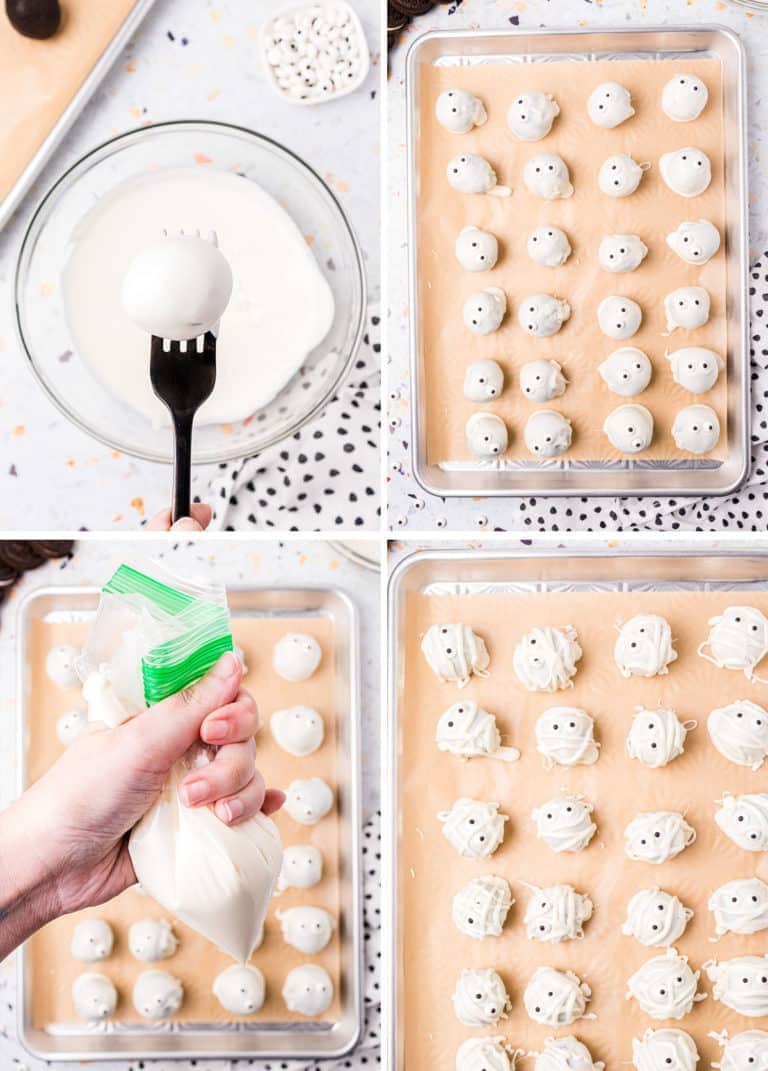 "Wrapping Up" Your Mummy Oreo Truffles
Beware of cute little mummy monsters! This part of making Halloween mummy truffles is the most fun and creative for me. The less perfect the icing drizzle, the better the mummy effect!
Step 1. Using a sandwich-sized ziptop bag, fill with remaining almond bark.
Step 2. In the corner of the bag, make a very small cut to create a tiny hole and tilt it at an angle like an icing piping bag.
Step 3. Put a controlled amount of pressure on the bag and drizzle the almond bark over the truffles to make the mummy 'rags'…try to avoid covering the eyes.
Step 4. Set the pan of freshly "bandaged" Oreo mummy truffles in the refrigerator for 15 mins or until set.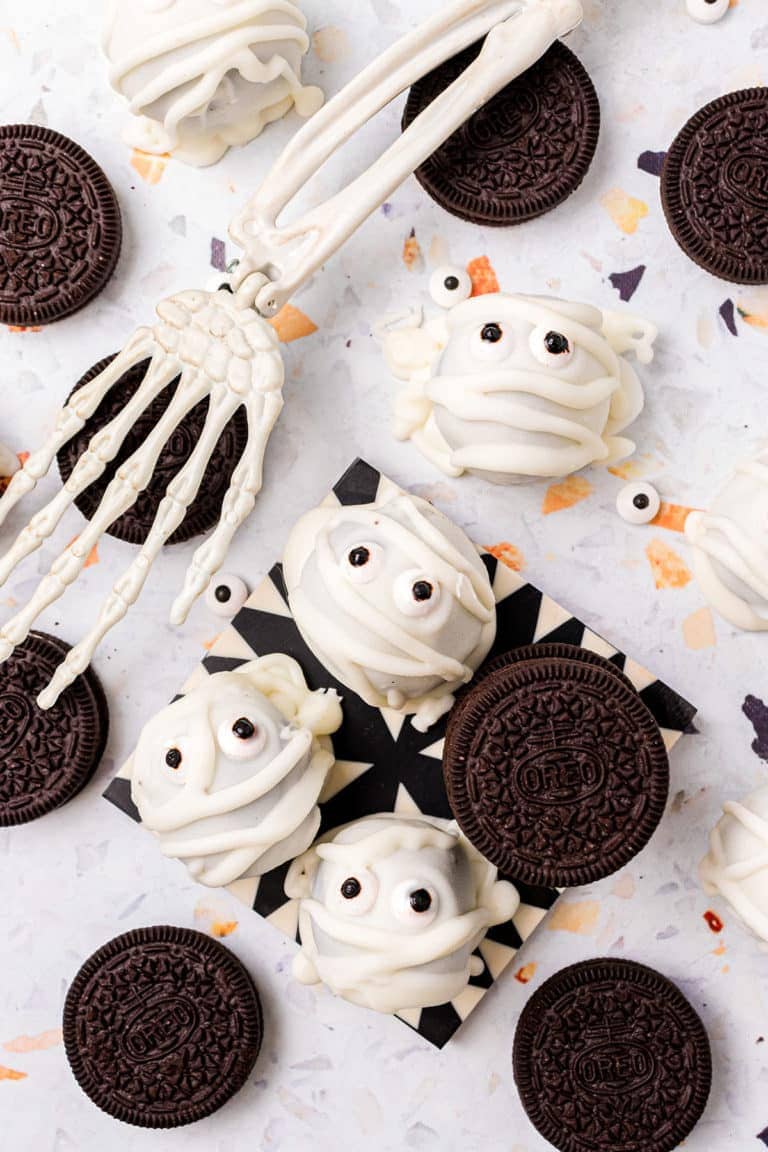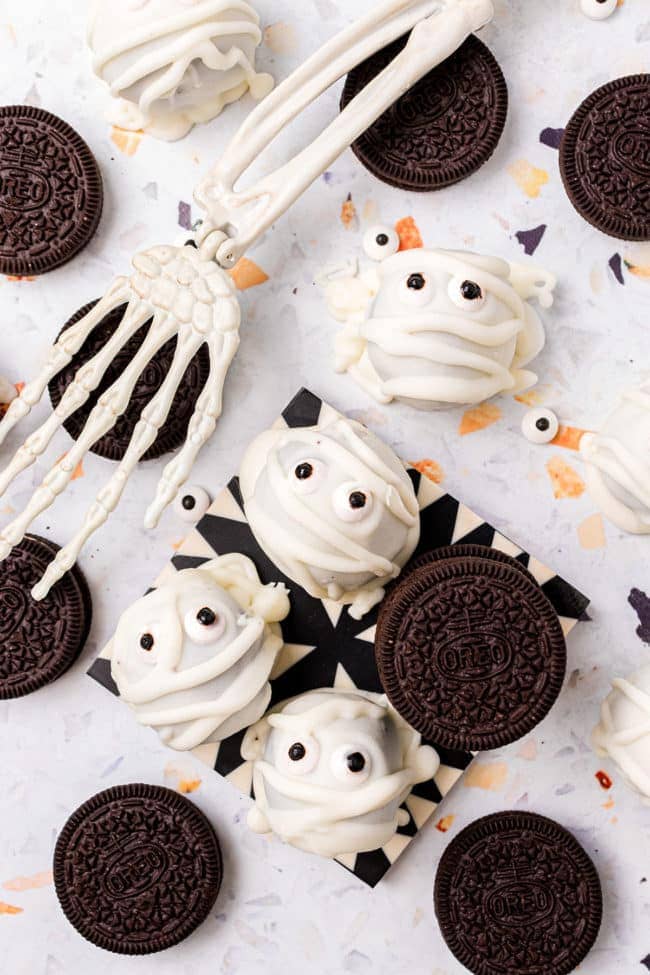 Mummy Oreo Truffles Halloween Treats Recipe Notes/Tips
You can do a "monster mash" on the Oreos if you don't have a food processor. (Little goblins love to help with this step!) Put Oreos into a gallon-size ziptop bag and use a rolling pin to crush them up.
Mixing the Oreos and cream cheese by hand is an option if you don't have a stand mixer. A potato masher and room-temp cream cheese is a great head start on the Oreo ball mix.
Instead of the microwave to melt the almond bark, you can use a Chocolate Melting Pot (I LOVE mine and it makes dipping treats SO easy when your melted candy stays warm while you work.
White candy melts or Baker's chocolate work great for mummy truffles in place of the almond bark. Avoid melting white chocolate chips they don't have the same smooth consistency.
Don't allow any moisture to come in contact with the melted bark/chocolate, this can make it seize (become rough, grainy, and clumpy)
Remember, when making a cut in the ziptop bag for the drizzle/rags, start with a very small corner cut and test. You can always make the hole larger, but you can't go smaller without starting over!
Try to work fast with the melted almond bark, but if it gets hard to handle, put it back into the microwave for 15 seconds and stir.
Bonus Tip: One of my favorite "frenzy-free" Holiday Hacks! Double or triple the oreo truffle recipe and freeze the extra without the candy coating for easy Christmas or Thanksgiving truffles! Thaw in the fridge overnight, then dip in melted almond bark with colorful candy melts. Add festive sprinkles, and you've got quick and easy Oreo truffle balls.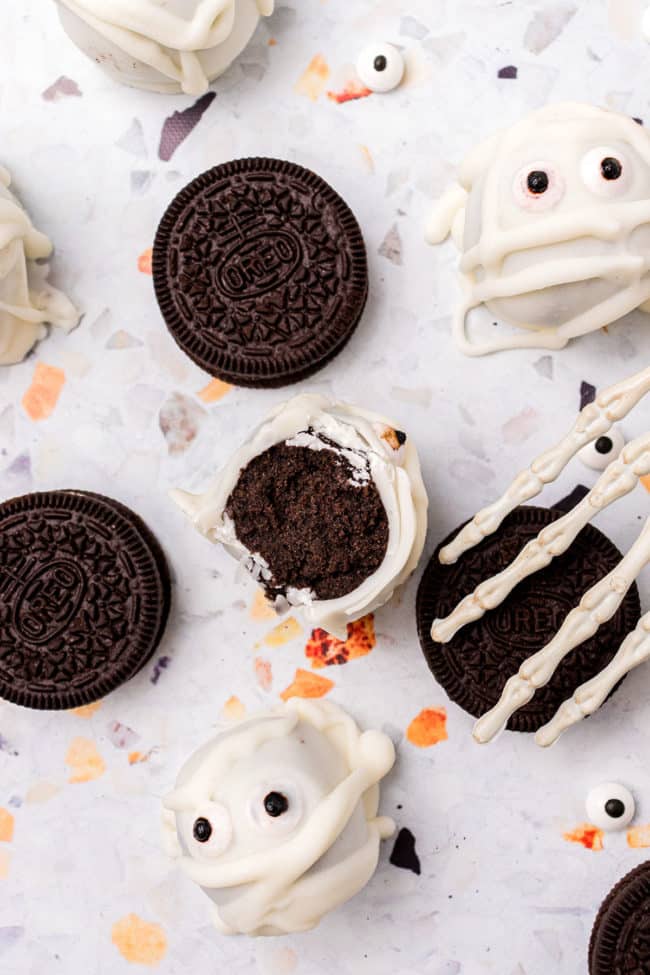 Variations/Popular Substitutions & Additions
One of the best Halloween treats to make is Mummy Oreo truffles! They aren't as common as a Halloween dessert idea as they are in the winter holiday season as easy Christmas truffles.
Use Golden Double Stuffed Oreos.
Who says you can't have brightly colored mummy truffles using different colored candy melts?
Try a flavored cream cheese! Cinnamon or mint would be a fun addition.
If you can't find candy monster eyes on the fly, use mini chocolate chips and press the pointed end into the oreo truffle.
There is a varied selection of Oreos year-round with seasonal flavors and even holiday-themed colored cream centers like orange, green, and red.
Thought you had a package of Oreos in the pantry, but some little devil snuck in and made them disappear? You can use any sandwich cookie you have on hand. I bet Nutter Butters would be an excellent sub for Oreos in a mummy truffle recipe!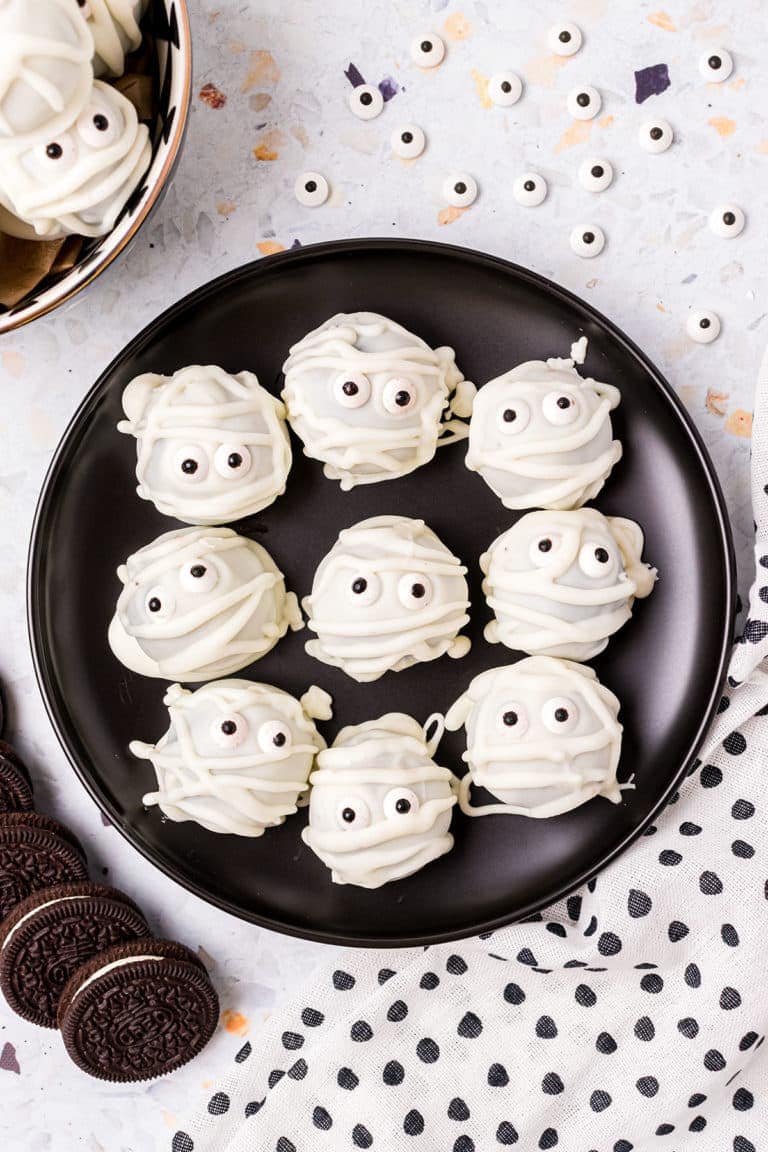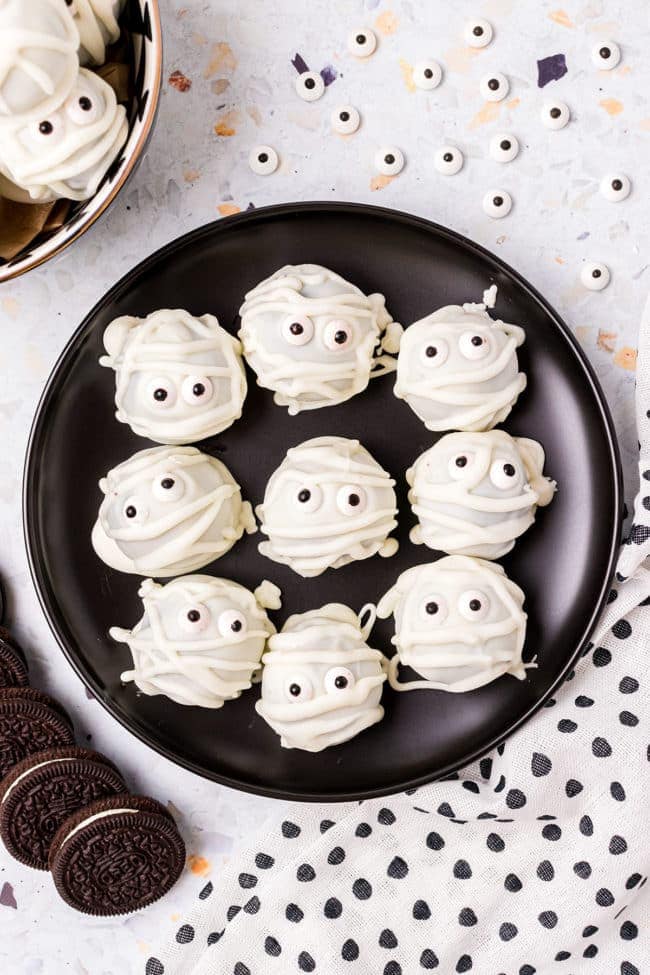 How To Store Mummy Oreo Truffles
Know why mummies never tell how old they are?
'Cause, they keep their age under wraps.
Refrigerate: Store oreo truffles in a single layer, airtight container in the refrigerator for up to 3 weeks.
Serve: You can eat them cold from the fridge, but mummy truffles are extra creamy when they come to room temperature.
Freeze: You can freeze oreo truffle balls for up to two months.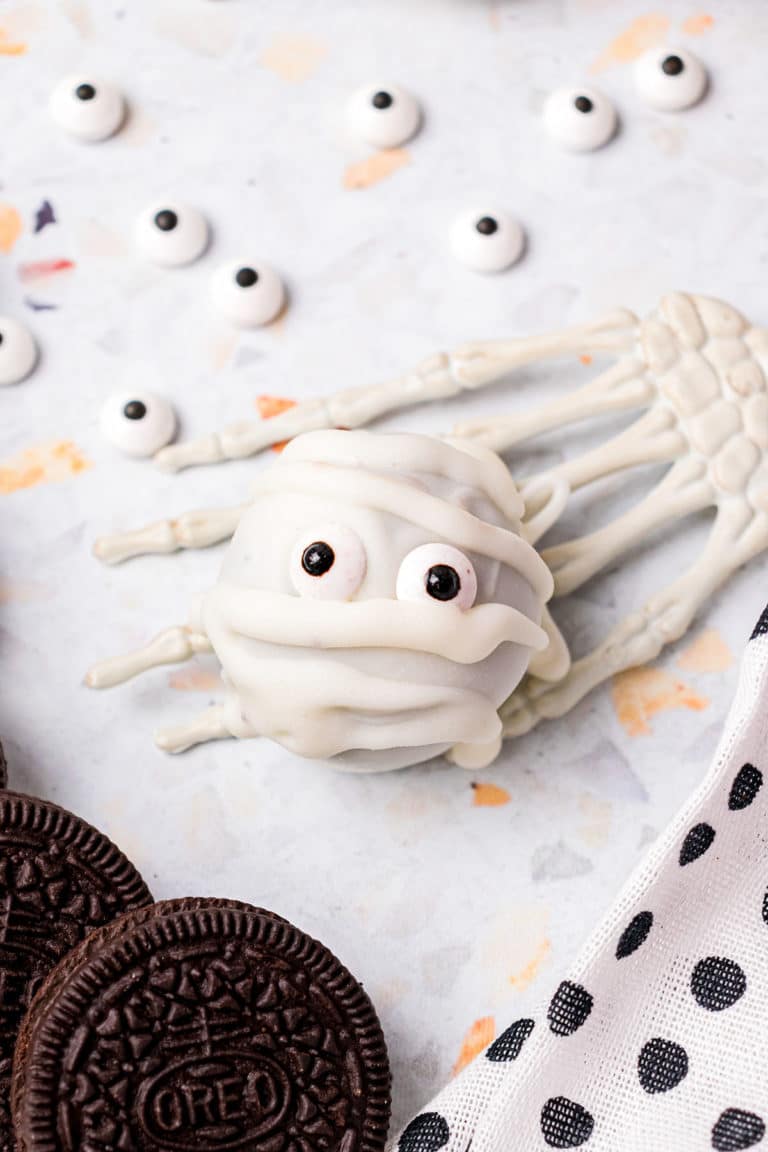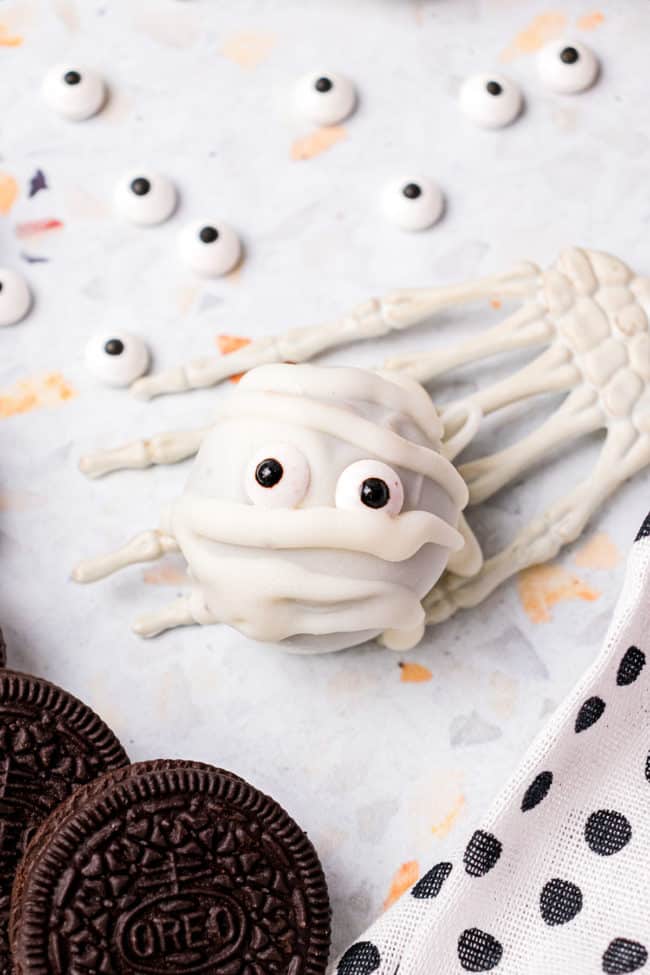 Halloween Treats Serving Suggestions
Serve mummy truffles in white or black candy cups for a tailored presentation.
Mummy oreo truffles fit right into a super cute Halloween dessert tray or Harvest Snack Board.
Package mummy truffles in a candy box for the break room to share with the other working "stiffs." (Get it? Stiffs? I thought it was funny!) 🙂
Boo your neighbors with a treat box of mummy Oreo truffles.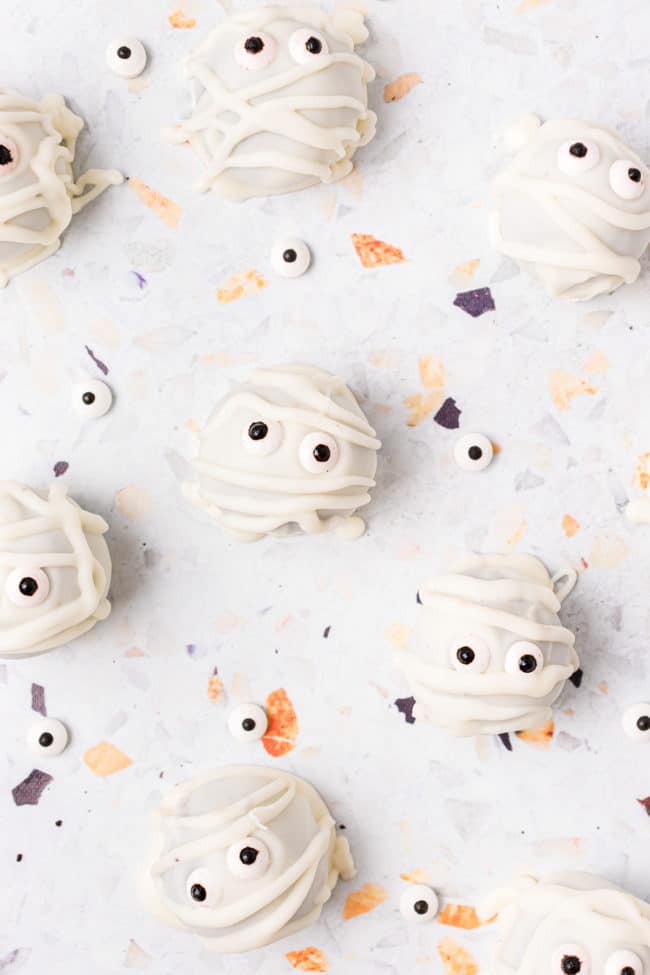 Recipe FAQs
Do Oreo truffles have to be refrigerated?
Does a vampire "vant to suck your blood?" You betcha! Keep mummy oreo truffles cool just as you would cream cheese ball or veggie dip when you aren't serving them. (Two hours til the witching hour!)
They should hold up ok if it isn't too warm because the almond bark will contain the oreo truffle filling, but you know how nicely almond bark melts!
Can you freeze Oreo truffle balls?
You can, but I suggest you add a protective layer by wrapping mummy truffles in plastic or a freezer bag and then putting them in an airtight container.
Why did my Oreo balls crack?
Most likely, your truffle balls were too cold or your melted chocolate/bark was too hot. Pull the dough balls from the freezer 5-10 at a time, let them sit at room temperature for 1-2 minutes so they can warm up a little before dipping in the hot candy coating.
Don't forget to come back and tell me how hauntingly delicious your Mummy Oreo Truffles, Easy Halloween Treats, turned out!
Like This Recipe? Pin It!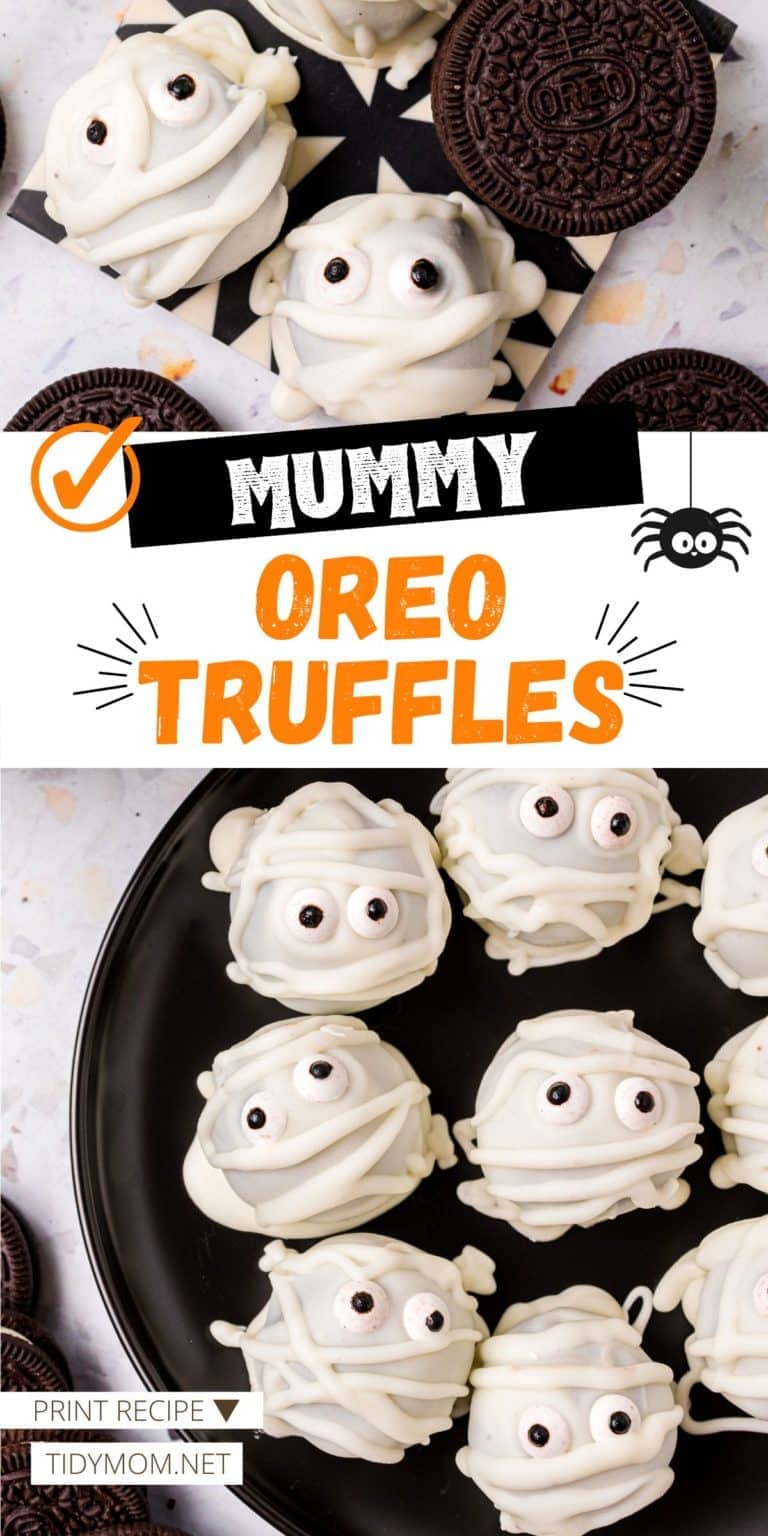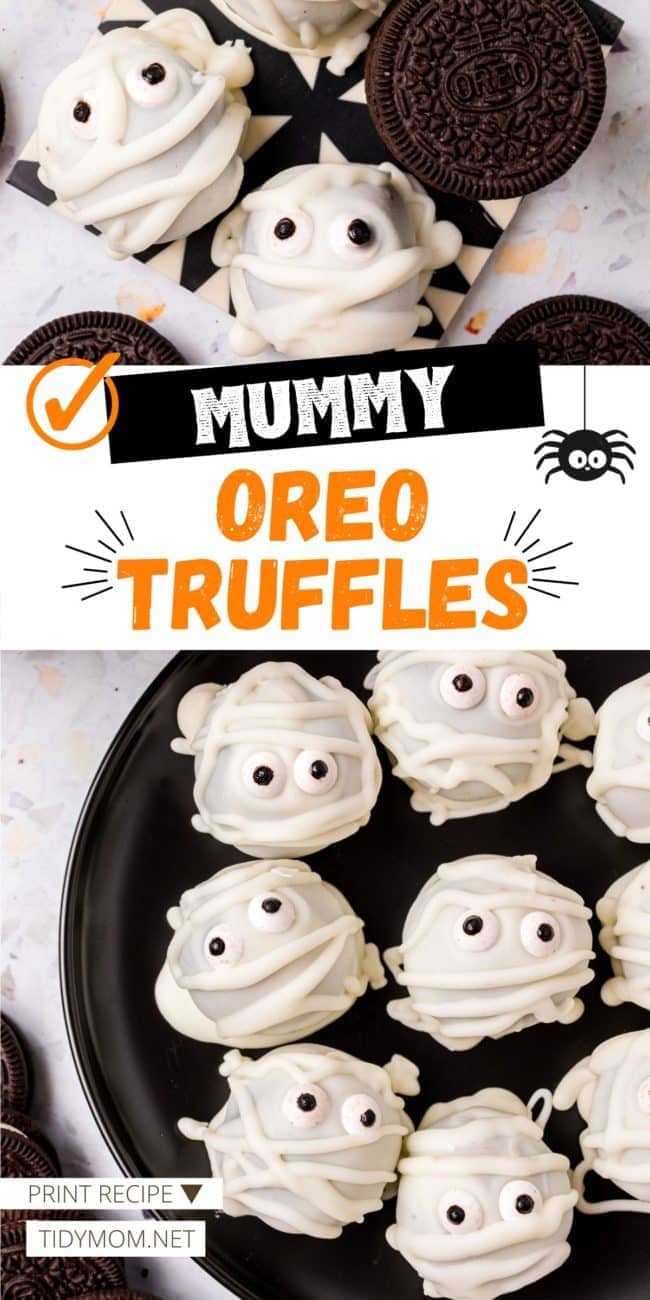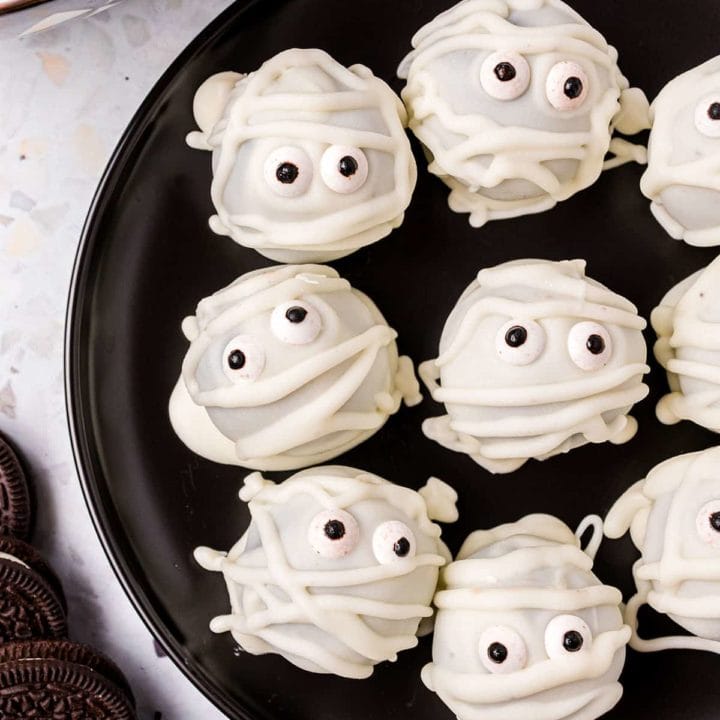 Mummy Oreo Truffles
Yield: 36
Prep Time: 45 minutes
Chill Time: 1 hour
Total Time: 1 hour 45 minutes
Spook-tacularly decadent yummy oreo truffles are the cutest Halloween treat for goblins and gargoyles alike. Four simple ingredients and these easy Halloween treats will put a spell even on the blackest heart!
Ingredients
1 bag Double Stuffed Oreos, crushed - (40-45 Oreos)
1 block Cream Cheese - 8 oz - room temperature
1 package White Almond Bark - 24 oz
Candy Monster Eyes
Instructions
Crush Oreos using a food processor. Make sure to get as fine as possible, should resemble wet sand in texture.
In a stand mixer combine crushed Oreos and the block of cream cheese. Mix on low until all is combined.
Using a small cookie scoop or spoon, scoop out mixture and roll into 1-inch balls. Place the truffle balls onto a large lined sheet pan with parchment paper. Place the pan with the truffle balls in the freezer for at least 45 minutes.
When the truffles have set at least 45 minutes in the freezer you can prepare the coating. In a microwave safe bowl melt the white almond bark in the microwave for 60 seconds, take out and stir. Place back into the microwave for 15 second intervals, stirring in-between until the almond bark is melted completely and smooth.
After the almond bark is melted and smooth, take truffles out of the freezer and drop them 1 or 2 at a time into the melted almond bark. Using a spoon roll and coat the truffle to ensure it is completely covered. Using a fork lift up the truffle and let the excess drip off (do not poke with the fork prongs). Place the coated truffle back on the parchment lined sheet pan.
After placing the truffle onto the sheet pan place 2 candy monster eyes on the truffle while the coating is still wet.
Once all truffles are coated and have their eyes, take a sandwich size zip top bag and fill with the remaining almond bark. Tilt the bag sideways to resemble an icing piping bag, and cut a very tiny hole in the corner. After cutting the hole drizzle the almond bark over the truffles to make the mummy 'rags'...try to avoid covering the eyes.
After drizzling the truffles, set the pan in the refrigerator for 15 mins or until set. After they are set, take them out and enjoy.
Notes
Store in a single layer, airtight container in the refrigerator for up to 3 days. Remove from the refrigerator and let stand for a few minutes before eating.
Recommended Products
As an Amazon Associate and member of other affiliate programs, I earn from qualifying purchases.
Nutrition Information:
Yield: 36
Serving Size: 1
Amount Per Serving:
Calories: 140
Total Fat: 12g
Saturated Fat: 2g
Trans Fat: 0g
Unsaturated Fat: 9g
Cholesterol: 6mg
Sodium: 118mg
Carbohydrates: 5g
Fiber: 2g
Sugar: 2g
Protein: 4g
Nutrition information is estimated based on the ingredients and cooking instructions as described in each recipe and is intended to be used for informational purposes only. Please note that nutrition details may vary based on methods of preparation, origin, and freshness of ingredients used and are just estimates. We encourage, especially if these numbers are important to you, to calculate these on your own for most accurate results.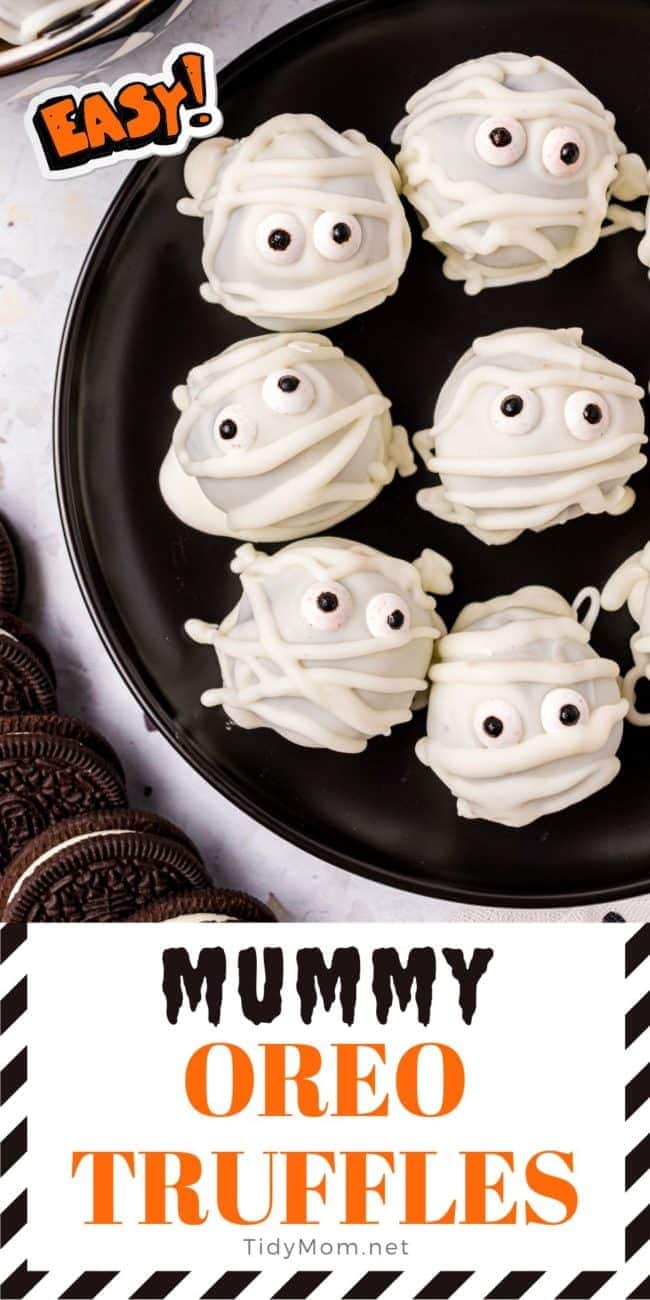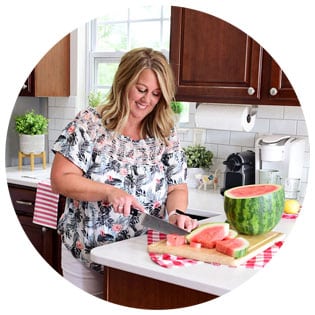 Hi there, I'm Cheryl!
As a wife, mom, and caffeine enthusiast, my journey has taken me from bustling mornings with my family to sharing delicious recipes, home care tips, and heartfelt decorating insights with wonderful readers like you. My love for baking, photography, and tidiness shines through every post I craft. Dive into my world and discover the art of homemaking, one tidy moment at a time. Read more...
Tidymom is a participant in the amazon services llc associates program, an affiliate advertising program designed to provide a means for sites to earn advertising fees by advertising and linking to Amazon.com.
Please respect my work, recipes and photographs. If you do use a recipe in your own writing, please give proper credit and link back to the original post.