No-Bake Peanut Butter Banana Icebox Cake
Move over banana pudding; make way for Peanut Butter Banana Icebox Cake! An easy no-bake dessert recipe with light and fluffy peanut butter layers, fresh bananas, and peanut butter sandwich cookies. They're gonna love it!
Potlucks, backyard BBQs, or just because; warm weather recipes are all about ease! Treat your family to some of the best summer dessert recipes like easy cake-mix Key Lime Sheet Cake, five-minute Pistachio Salad, or no-bake Frozen Margarita Pie for refreshing dessert ideas.
Be sure to sign up for my email… to get new recipes and ideas in your inbox!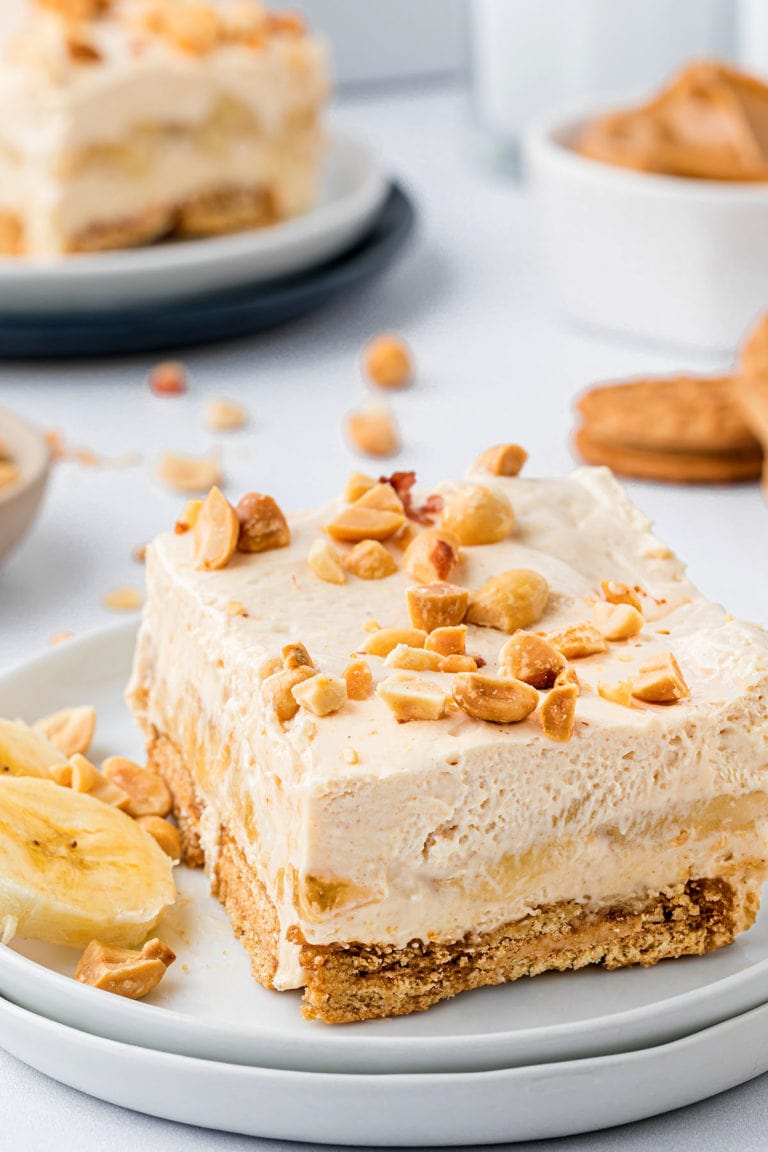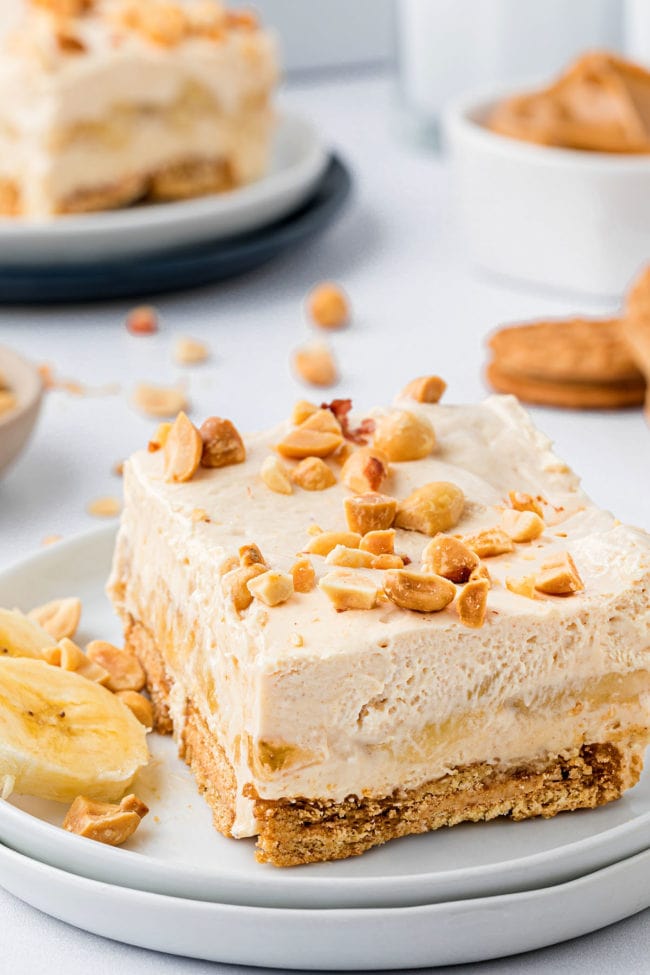 Why We Love No-Bake Peanut Butter Icebox Cake
Simple, easy, and delicious is what icebox cake recipes are all about. This tangy-sweet peanut butter banana icebox cake with velvety cheesecake flavor will surely be an all-around summer dessert favorite! (For you to make and everyone to eat!)
A no-bake summer dessert recipe with a simple "crust" made with yummy peanut butter sandwich cookies.
Icebox cake with Cool Whip is full of delectable creamy peanut butter flavor.
The icebox cake filling is tangy and sweet, with a delightfully cool and silky mouthfeel.
Simple ingredients using only one prep bowl for a quick and easy clean-up.
An easy summer dessert recipe to make in advance and comes together in minutes.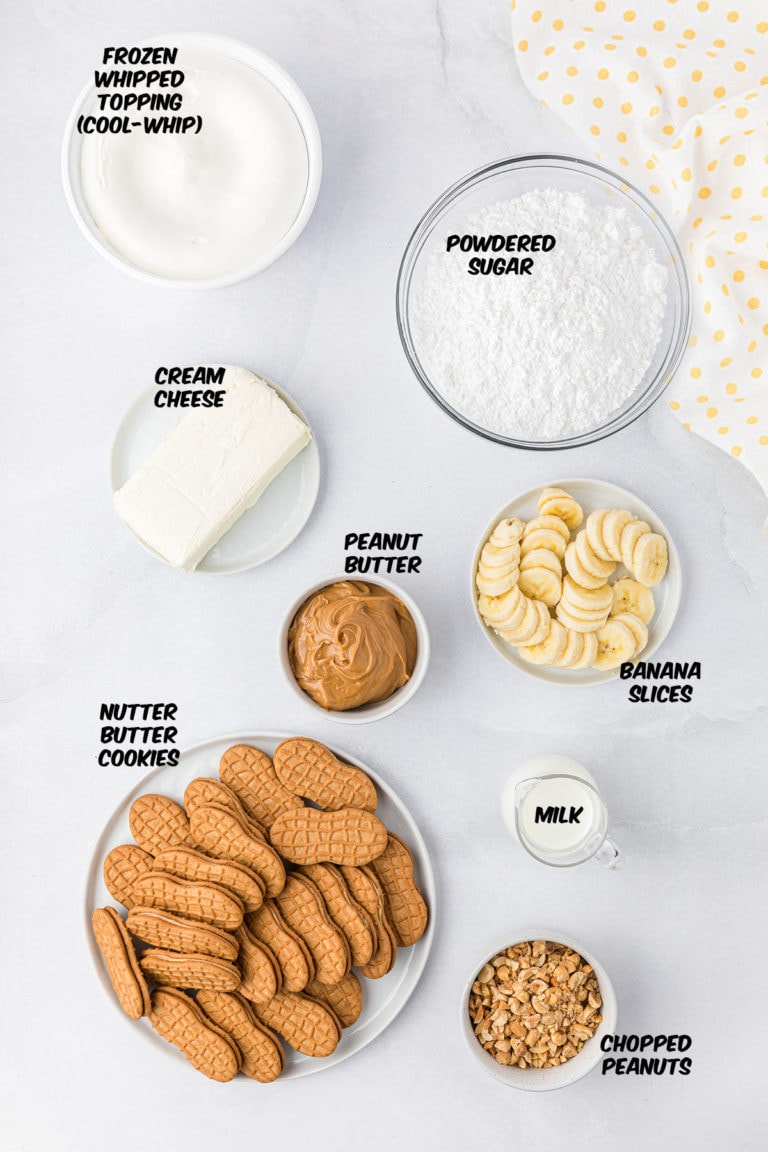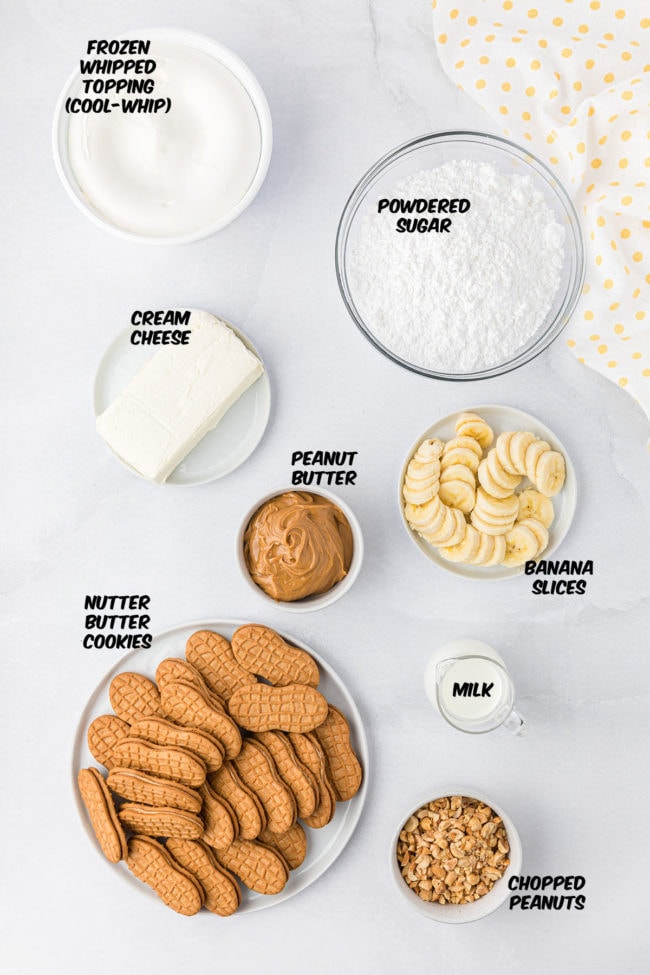 Easy Peanut Butter Banana Icebox Cake Recipe Ingredients
For specific amounts, please refer to the printable recipe card at the bottom of the post.
Cream Cheese – One brick of cream cheese, softened to incorporate easily into the icebox cake filling.
Powdered Sugar – for a smooth and silky consistency.
Creamy Peanut Butter – Use your favorite.
Whole Milk* – provides a better structure and texture than 2% or skim milk, which are thinner and more watery.
Whipped Topping – frozen non-dairy whipped topping, thawed. You can also use stabilized homemade whipped cream.
Peanut Butter Sandwich Cookies – Nutter Butters are my go-to, but you can use any cookie you prefer.
Bananas – Thinly slice and splash bananas with a little lemon juice to keep browning at bay.
Dry-Roasted Peanuts – coarsely chopped; if you prefer, you can also use regular salted peanuts.
*Chef's Note: Use half and half or whipping cream for over-the-top decadence. You may need to add an extra teaspoon of whipping cream to account for the thickness of the liquid.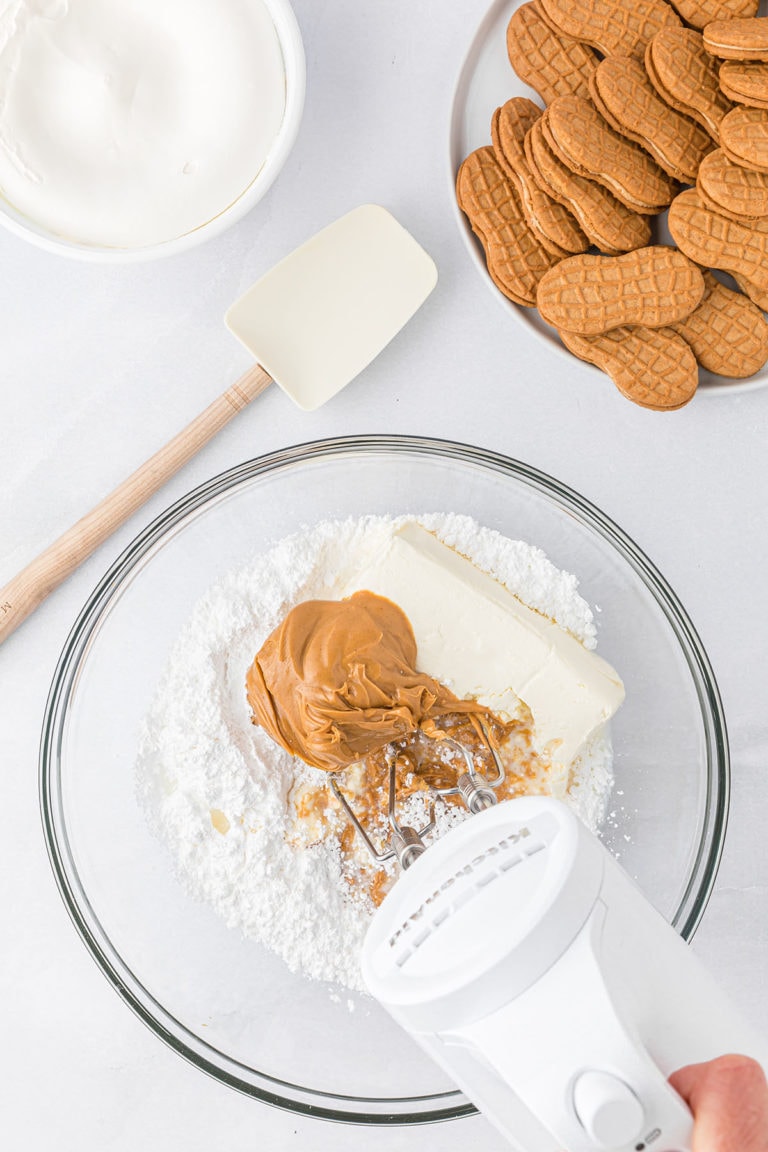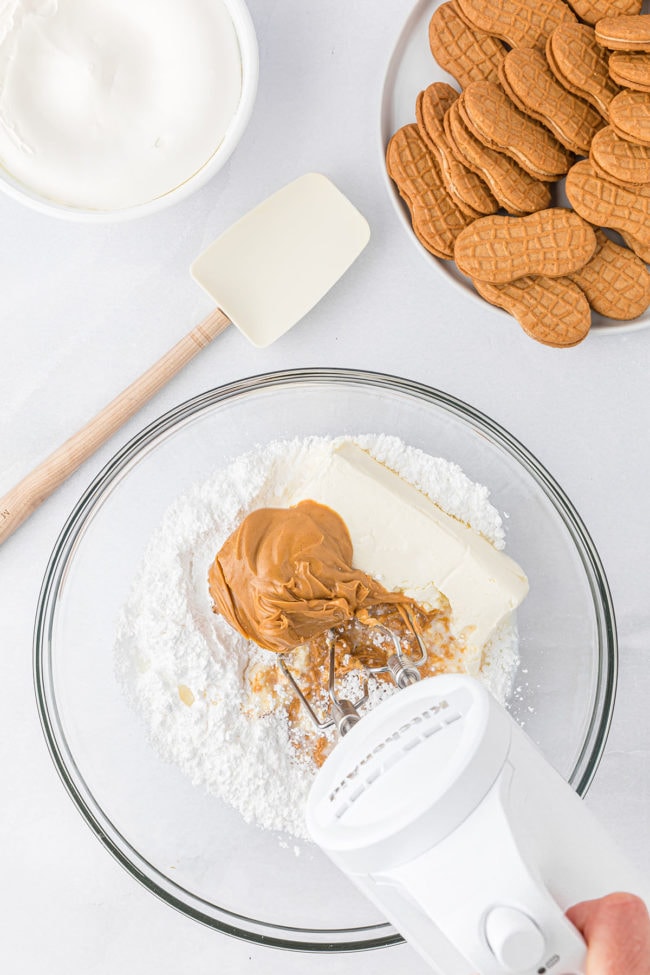 This post may contain affiliate links. Please read my disclosure policy here.
How To Make A Peanut Butter Banana Refrigerator Cake
This icebox cake recipe is loaded with silky smooth peanut butter cheesecake hybrid filling, a simple cookie crust, and layers of sweet bananas. This quick and easy make-ahead summer treat requires only 10 minutes, an electric mixer, mixing bowl, spatula, and a 9×13-inch baking dish.
When you are making this dessert, you'll want to use the full recipe at the bottom of the page.
Whip the cream cheese icebox filling ingredients together and fold in the whipped topping.
Dollop half of the cream cheese mixture over a single layer of peanut butter cookies in the bottom of a 9 x 13-inch baking dish and smooth.
Layer with banana slices and the remaining icebox cake mixture, and chill for at least 8 hours.
Garnish your peanut butter banana icebox cake with sprinkled peanuts just before serving.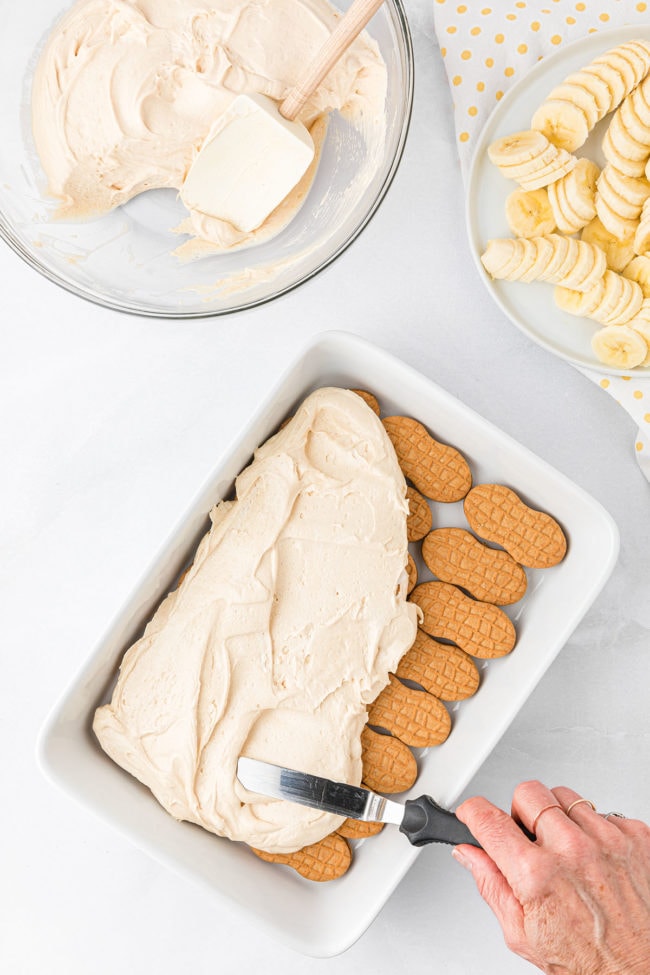 Recipe Notes &Tips
The cream cheese must warm to room temperature for the creamiest, silkiest icebox cake filling.
I like to give my sugar and milk a quick whisk to help it dissolve faster, then mix in the peanut butter and cream cheese to enhance the silky texture.
Just-ripened bananas are best for this icebox cake recipe. If bananas are too green, the banana slices will be less sweet, slightly starchy, and more firm to the bite.
For a more intense banana flavor and a smoother bite, the perfect banana is freshly ripened, has a consistent pale yellow color throughout the slice, and has no darkening in the center.
Toss bananas with Fruit-Fresh or citric acid to keep the browning action at bay. If you don't have a citric acid-based preserving agent, as you slice the bananas, place them as you go and immediately cover them with peanut butter filling to reduce oxygen exposure.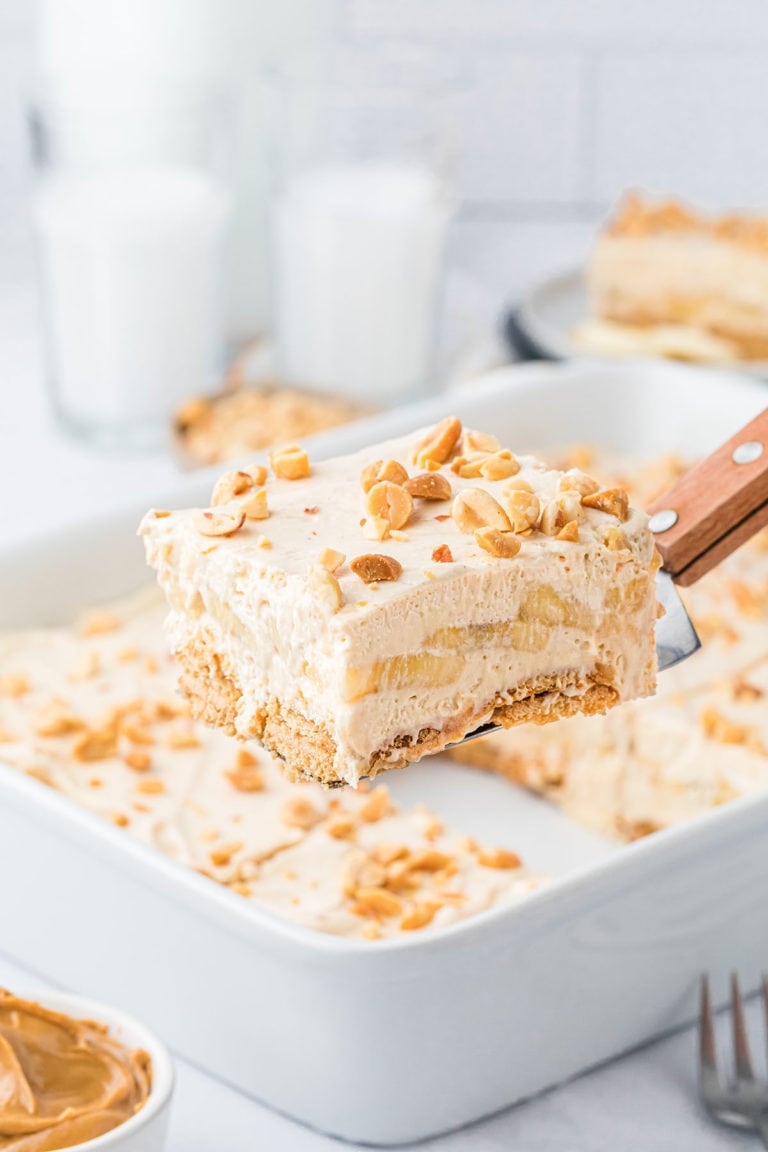 How To Store This Dessert Recipe
This dessert recipe is the perfect make-ahead summer dessert. Let your icebox cake with peanut butter sandwich cookies set up for eight hours or overnight so the cookies absorb enough moisture to make nice cake slices.
Refrigerate/Leftovers
Keep peanut butter banana icebox cake loosely covered in the refrigerator at all times, except when serving.
Serving an icebox cake with bananas within the first two days is best for presentation. We've been known to finish the last slice on day four; although it might not look as pretty, it still tasted great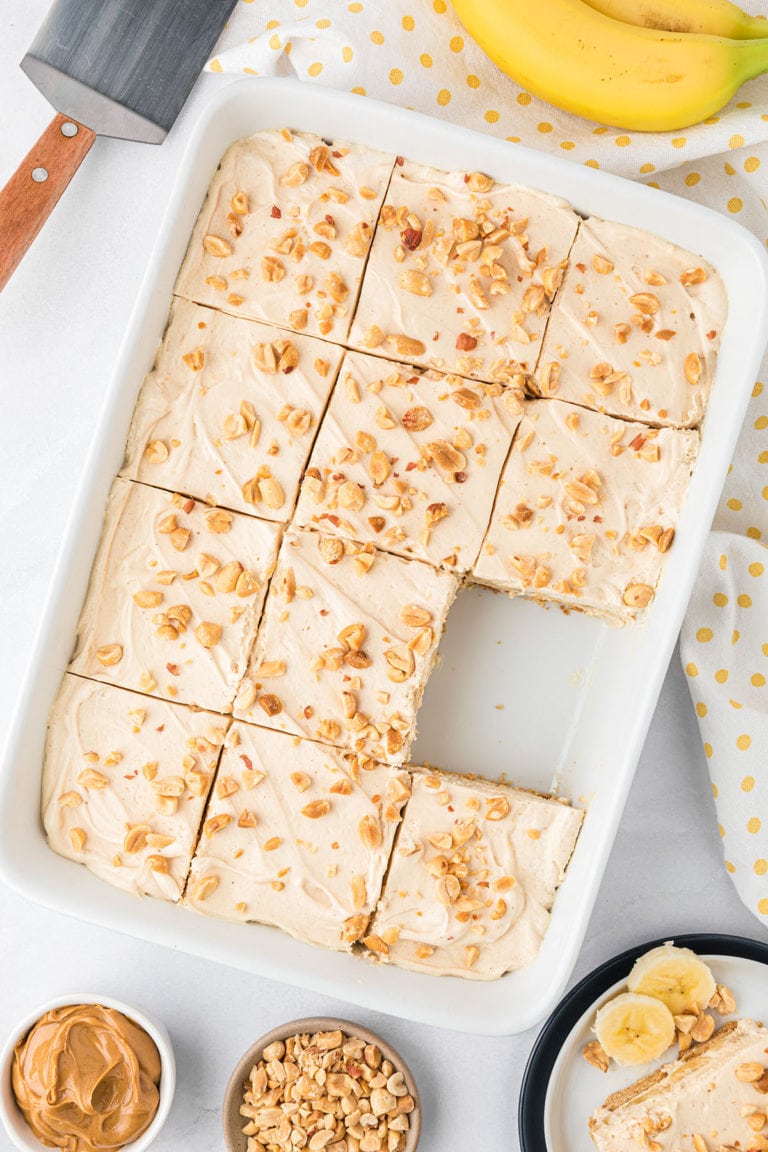 Recipe FAQs
Why are the banana slices turning brown in my icebox cake summer dessert?
The enzymes in bananas react when exposed to the air, which is known as oxidation. This chemical reaction between phenol compounds (enzymes) and oxygen (air) causes bananas to brown and become mushy rather quickly. You can minimize oxygenation by coating the fruit with citric acid.
How do you cut smooth icebox cake pieces to serve?
To create clean slices, you will need a sharp knife, a tall glass of hot water, and a clean kitchen towel or paper towels to dry between each cut. When ready to serve, dip the knife in the hot water and dry the blade thoroughly before each slice.
Why is it called an icebox cake?
Before electric refrigerators were invented, people used small insulated boxes that housed a large block of ice. The ice kept the box's interior cool and helped perishable foods last longer. No-bake summer dessert recipes with creams or puddings also had to be stored in the icebox, and the moniker stuck.
Substitutions & Additions
I have to admit I have a hard time switching up this original peanut butter banana icebox cake because it's one of those "if it ain't broke, don't fix it!" recipes. But icebox cake recipes for an easy summer treat are all about flavor and ease. Don't hold back if you prefer to add a little pizzazz with a dash of chocolate, or go for a banana fosters vibe with brown sugar, cinnamon, and caramel! Here are a few other icebox cake recipe add-ins/ideas:
Chocolate drizzle
Caramel drizzle
Oreo Sandwich Cookies
Pecan Sandies
Graham Cracker Wafers
Chocolate Wafer Cookies
Coconut Flakes
Chocolate Chips
Toffee Chips
I haven't tried this yet, but I'm thinking along the lines of a PB&J with bananas, so maybe a layer of strawberry jam over the banana slices? If you give that a try, let me know how it turns out!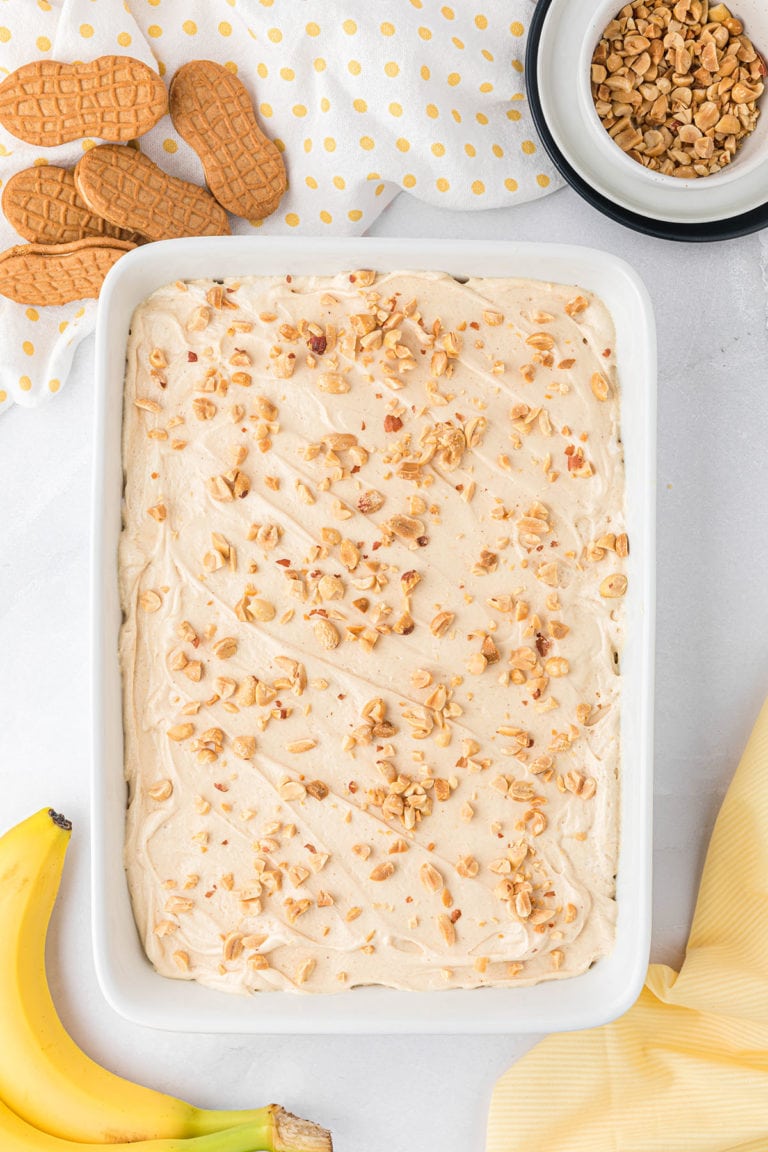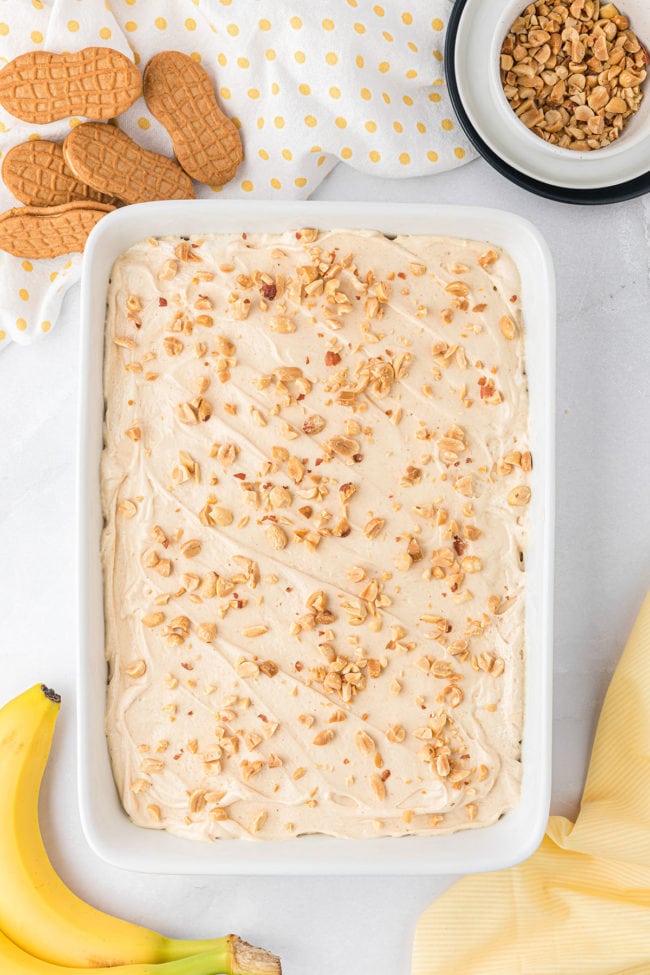 Like This Recipe? Pin It!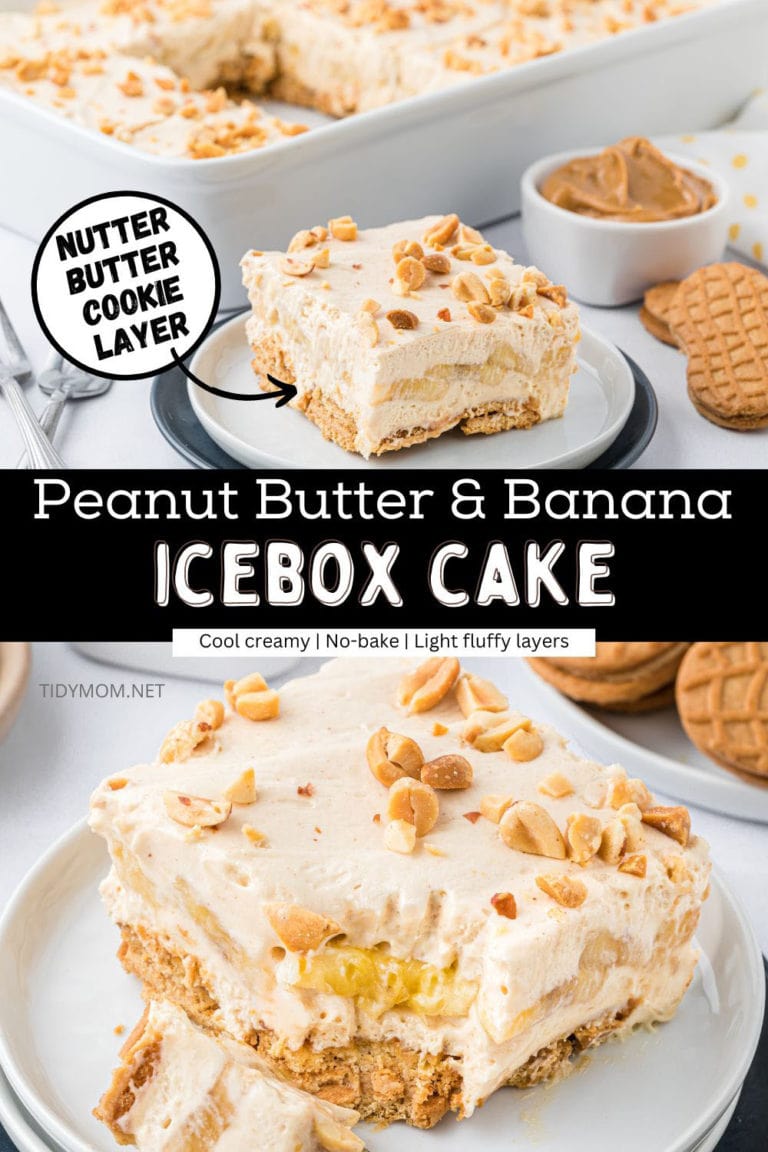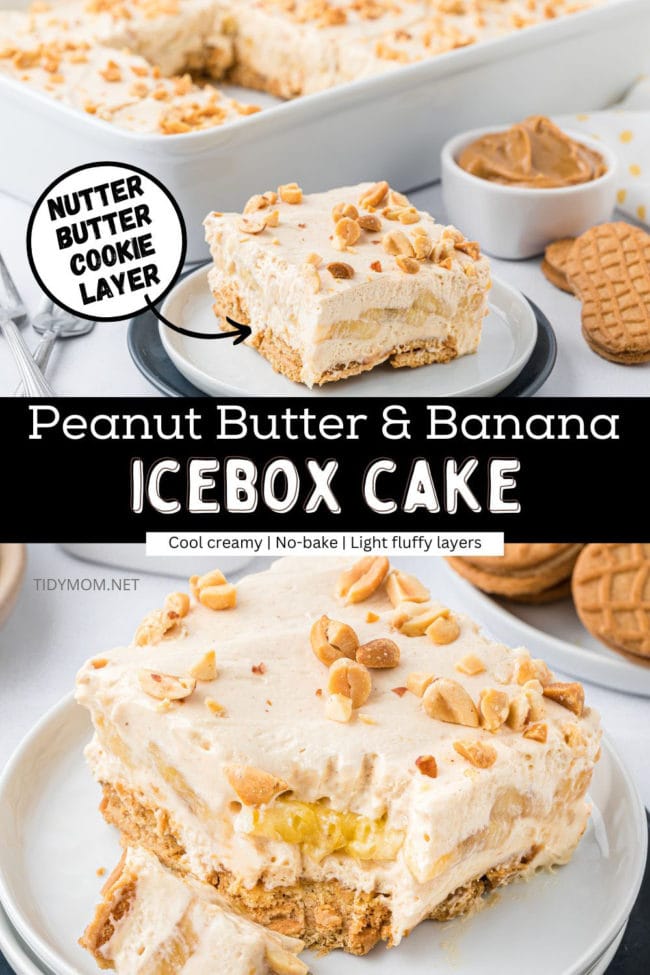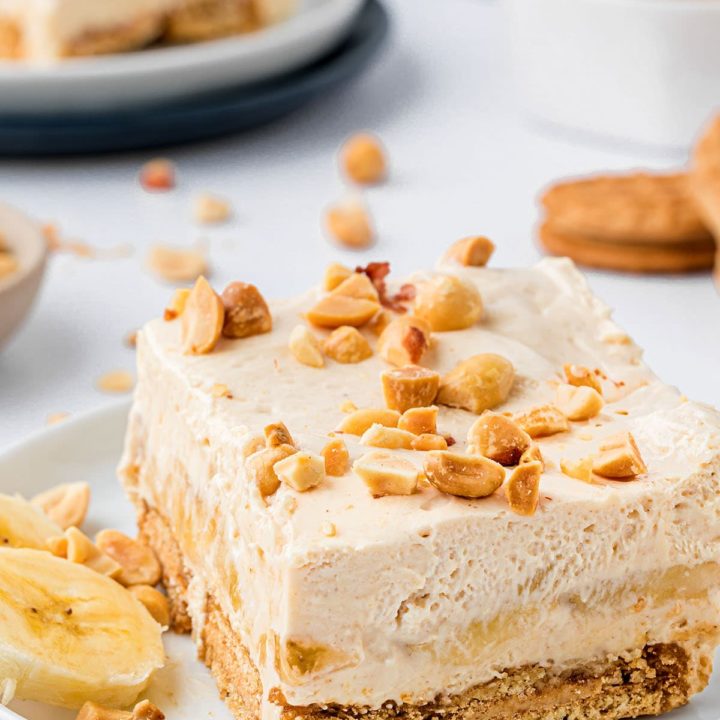 Peanut Butter and Banana Icebox Cake
Yield: 12 servings
Prep Time: 10 minutes
Chill Time: 8 hours
Total Time: 8 hours 10 minutes
Ingredients
8 ounces cream cheese, softened
2 cups powdered sugar
½ cup creamy peanut butter
¼ cup whole milk
1 (8 ounce) container frozen non-dairy whipped topping, thawed
22 peanut butter sandwich cookies (Nutter Butter)
3 medium bananas, thinly sliced
½ cup coarsely chopped dry-roasted peanuts
Instructions
In a large bowl with an electric mixer, beat cream cheese, powdered sugar, peanut butter, and milk until well combined. Gently fold in whipped topping and set aside.
Arrange cookies in a single layer in the bottom of 9 x 13-inch baking dish.
Dollop half of the cream cheese mixture over top; use the back of a spoon or offset spatula to spread into an even layer. Top with banana slices and the remaining cream cheese mixture. Cover and chill for at least 8 hours.
Just before serving, sprinkle peanuts over top.
Notes
Keep peanut butter banana icebox cake loosely covered in the refrigerator at all times, except when serving.
Serving an icebox cake with bananas within the first two days is best for presentation. We've been known to finish the last slice on day four; although it might not look as pretty, it still tasted great!
Nutrition Information:
Yield: 12
Serving Size: 1
Amount Per Serving:
Calories: 373
Total Fat: 20g
Saturated Fat: 7g
Trans Fat: 0g
Unsaturated Fat: 11g
Cholesterol: 20mg
Sodium: 180mg
Carbohydrates: 45g
Fiber: 3g
Sugar: 31g
Protein: 7g
Nutrition information is estimated based on the ingredients and cooking instructions as described in each recipe and is intended to be used for informational purposes only. Please note that nutrition details may vary based on methods of preparation, origin, and freshness of ingredients used and are just estimates. We encourage, especially if these numbers are important to you, to calculate these on your own for most accurate results.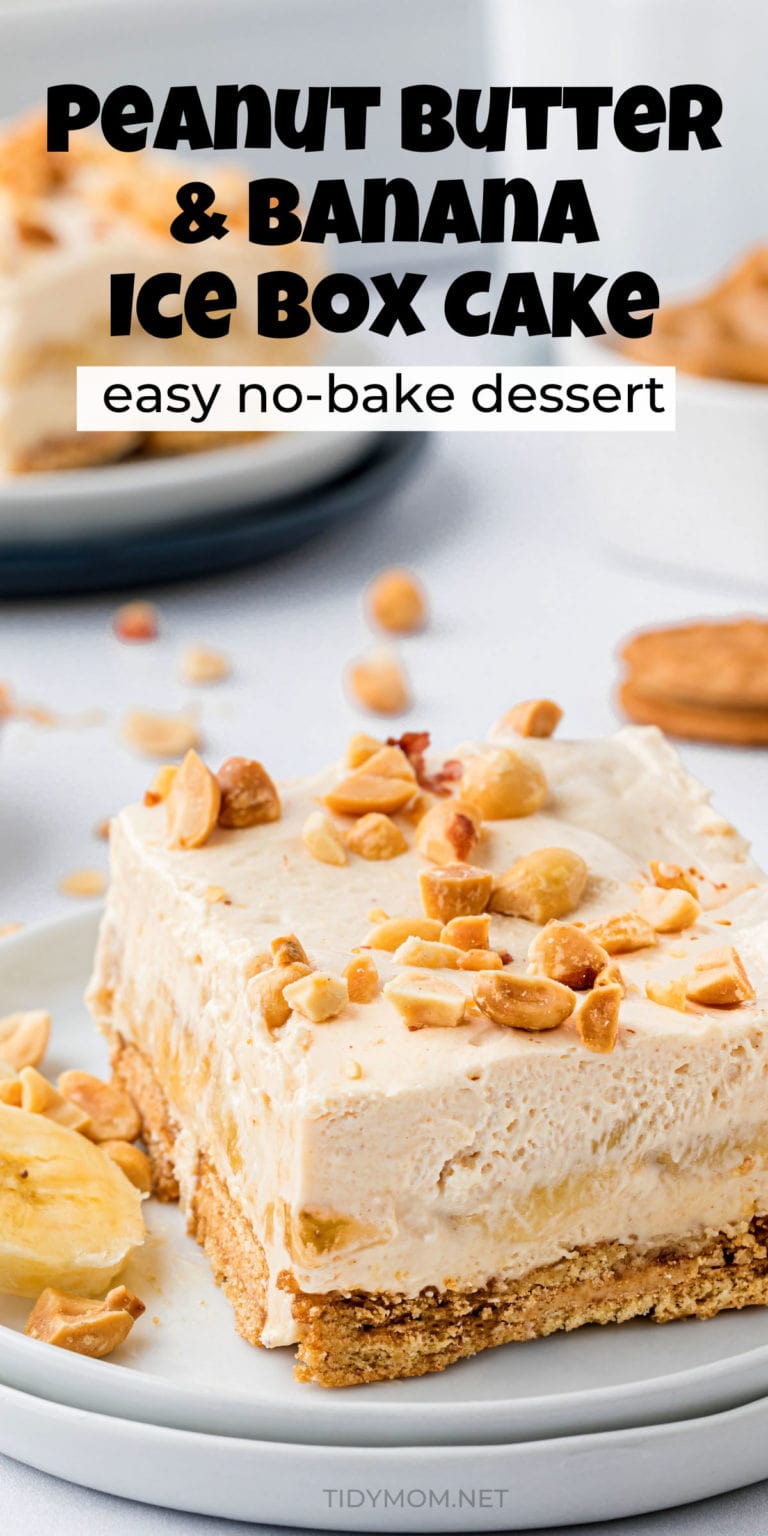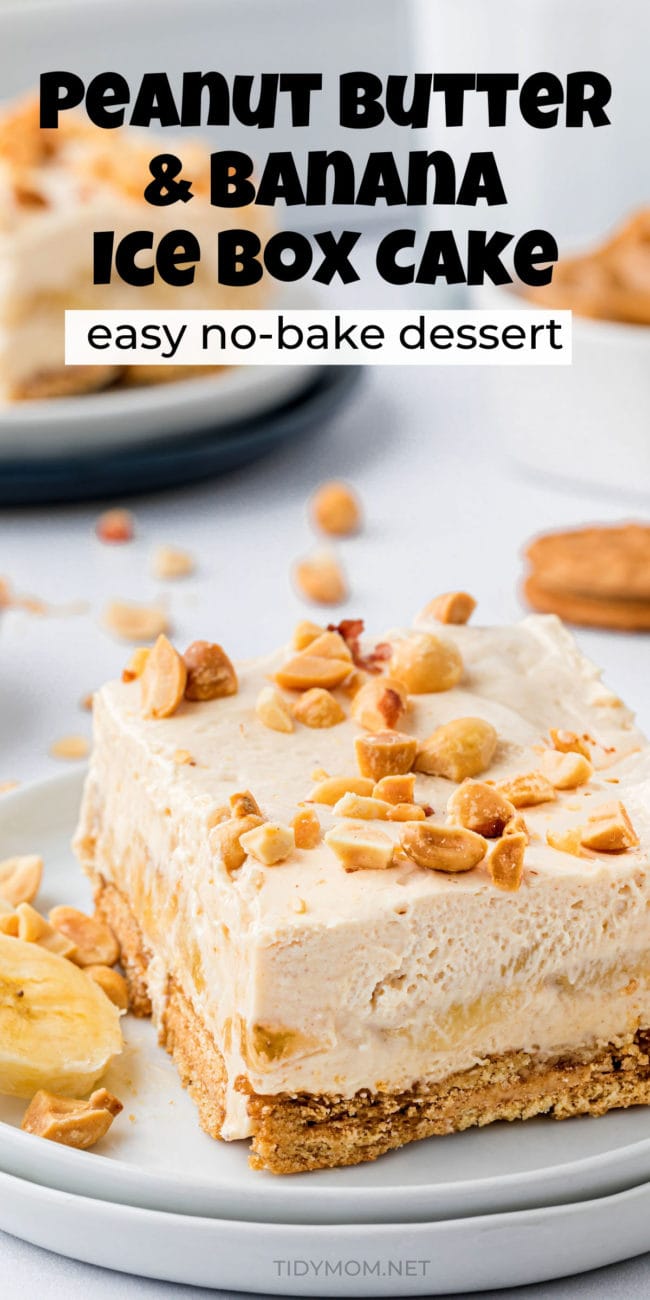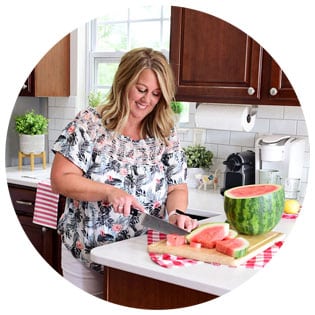 Hi there, I'm Cheryl!
As a wife, mom, and caffeine enthusiast, my journey has taken me from bustling mornings with my family to sharing delicious recipes, home care tips, and heartfelt decorating insights with wonderful readers like you. My love for baking, photography, and tidiness shines through every post I craft. Dive into my world and discover the art of homemaking, one tidy moment at a time. Read more...
Tidymom is a participant in the amazon services llc associates program, an affiliate advertising program designed to provide a means for sites to earn advertising fees by advertising and linking to Amazon.com.
Please respect my work, recipes and photographs. If you do use a recipe in your own writing, please give proper credit and link back to the original post.