Blondies: Butterscotch Brownies
This post may contain Amazon or other affiliate links. As an Amazon associate, I earn from qualifying purchases.
Delight in decadent Blondie Brownies, a rich blend of golden brown sugar, velvety butter, and toasty pecans, for truly blissful butterscotch brownies.
If you're looking for more unique and delicious brownie recipes, be sure to try our surprising Peanut Butter Black Bean Brownies, fancy Cheesecake Marbled Brownies, refreshing Lemon (Cake Mix) Brownies, and charmingly unexpected Pumpkin Brownies.
Be sure to sign up for my email… to get new recipes and ideas in your inbox!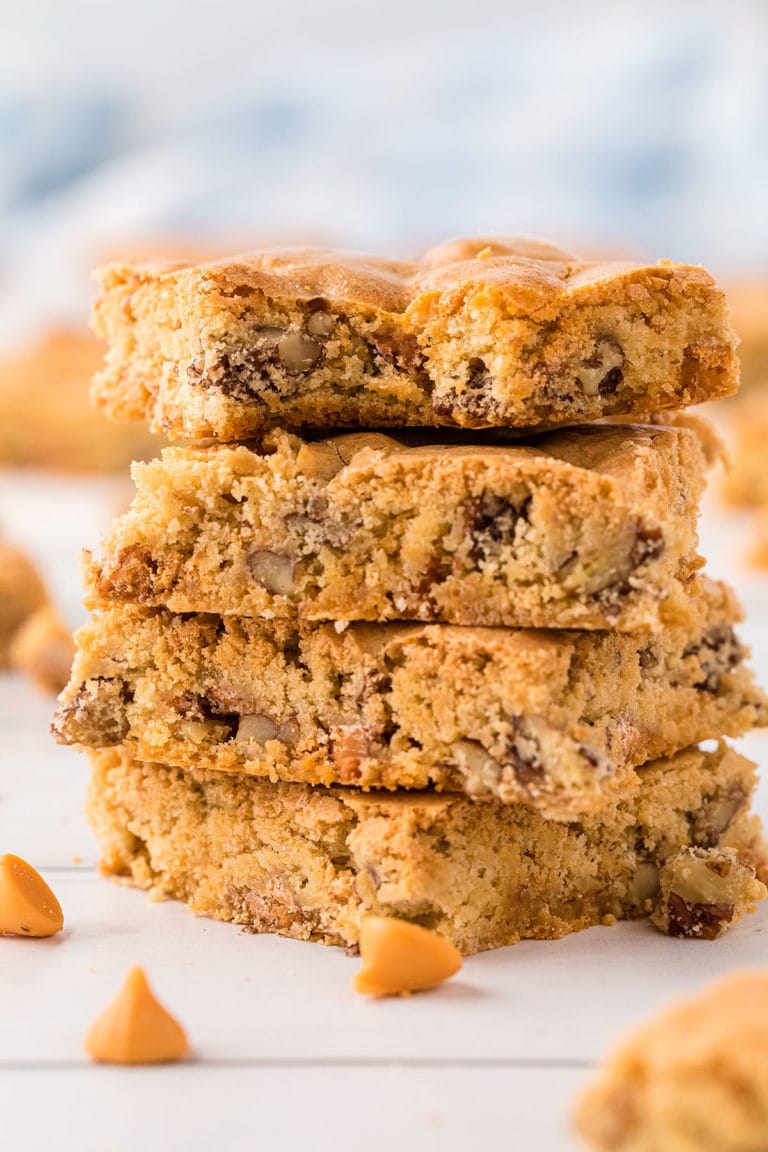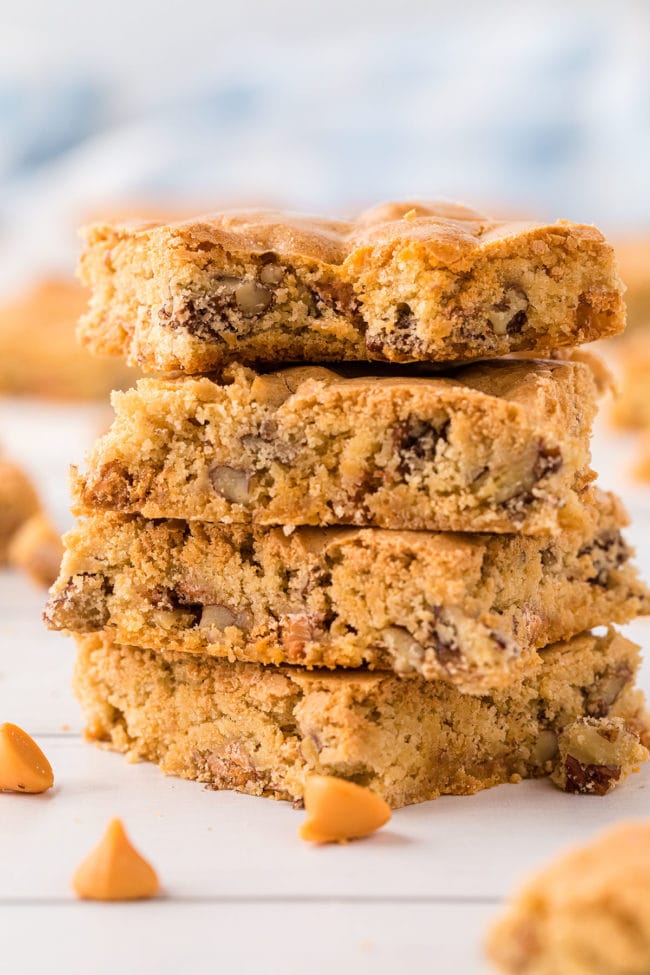 Why You'll Love This Easy Butterscotch Brownie Recipe
Treat your taste buds with these delectable dessert bars that are easy to make and even easier to love!
Simple pantry ingredients for effortless baking
Infused with golden butterscotch flavor
Easy, no special equipment needed
Chewy, satisfying texture of the best fudgy brownies
Extra rich and decadent with real butter
Creamy butterscotch burst in each bite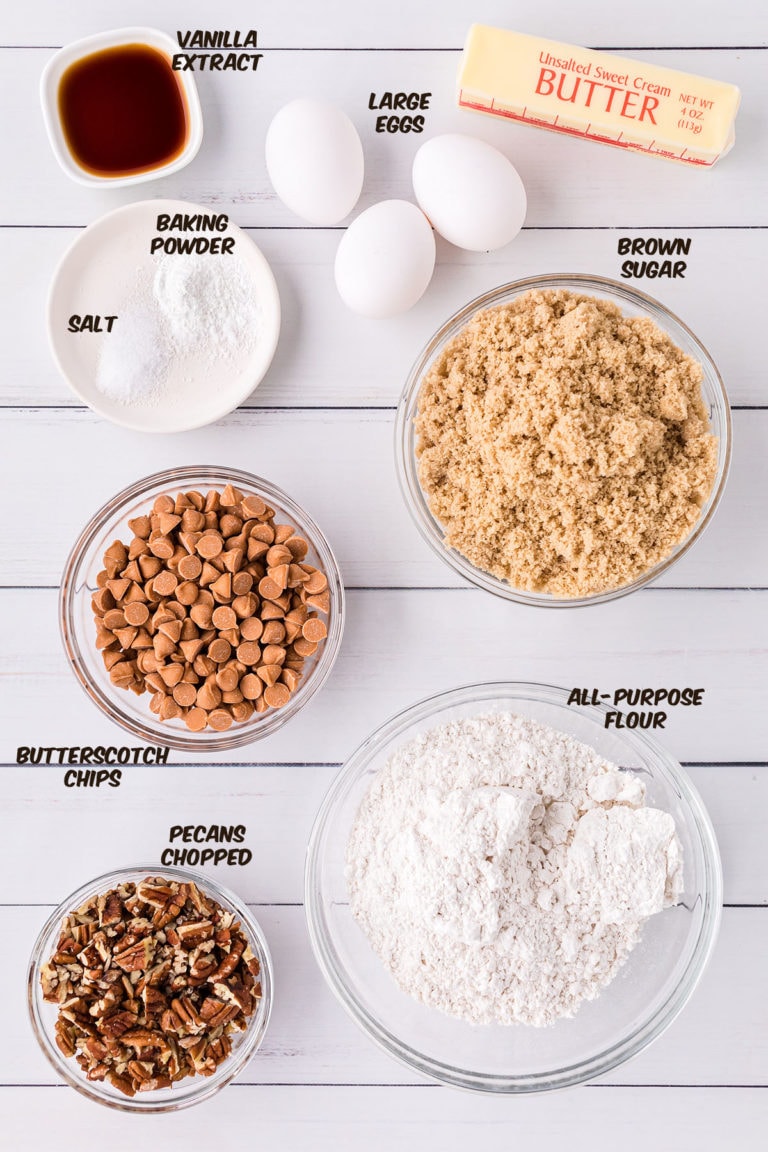 What You Need To Make Blondies
Butterscotch blondies strike the perfect balance of brownies with a texture that is a chewy delight.
For specific amounts, please refer to the printable recipe card at the bottom of the post.
All-Purpose Flour – be sure to measure correctly
Baking powder – The leavening agent that gives these blonde brownies enough lift for a cakey texture.
Salt
Butter, Softened – For a rich, buttery taste and a tender, moist texture in every bite.
Light Brown Sugar – adds sweetness and fuses with butter for a golden butterscotch flavor.
Large Eggs, Room Temp – Bind the ingredients together and give blondie brownies their soft and fudgy texture.
Vanilla Extract – Elevates the flavor profile by adding soft, creamy undertones and imparts a warm and inviting aroma.
Butterscotch Chips – creamy butterscotch flavor chips add delightful sweetness and gooey texture.
Pecans, Chopped (optional)– are naturally buttery, adding an enticing nutty crunch, complementing the butterscotch undertones in the blondies.
This post may contain affiliate links. Please read my disclosure policy here.
How To Measure Flour Properly: Did you know THE WAY you measure flour matters? The most precise way to measure your flour is by weight using a digital kitchen scale. 1 cup of flour weighs 125 to 130 grams. If you don't have a scale measure your flour by scooping flour with a spoon into the cup. Don't use your measuring cup as a scoop, as it packs the flour down and gives a different measure.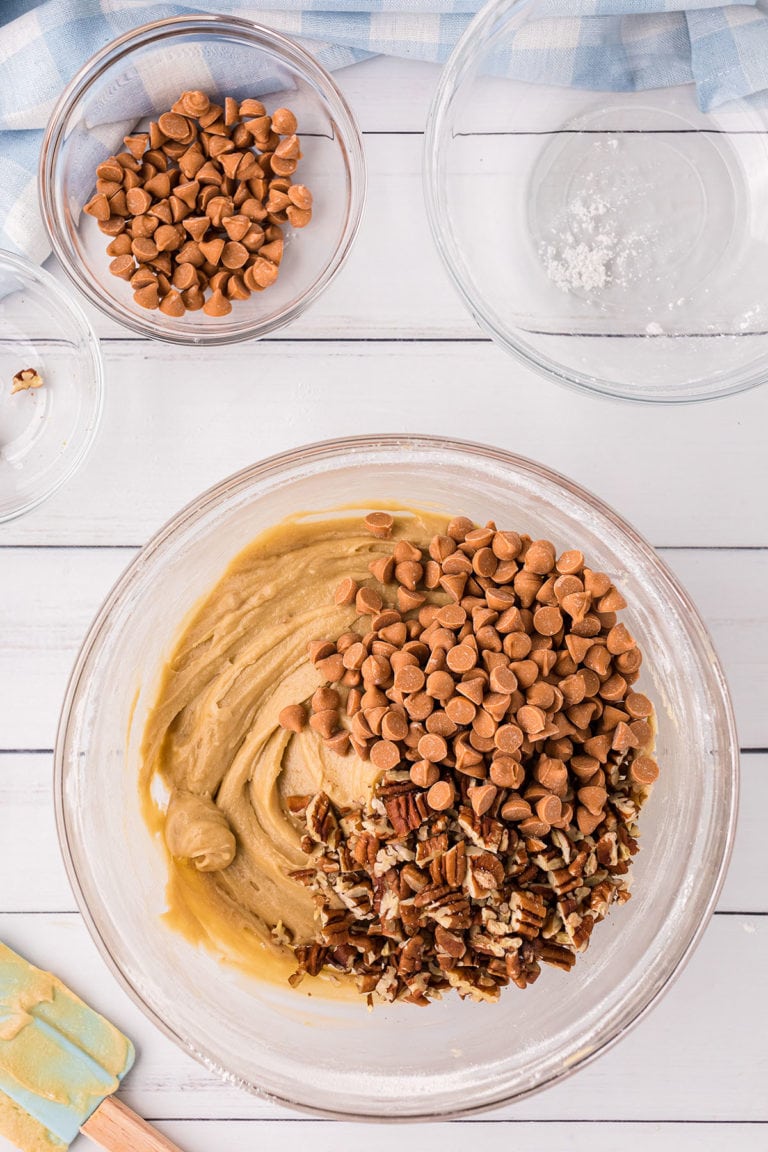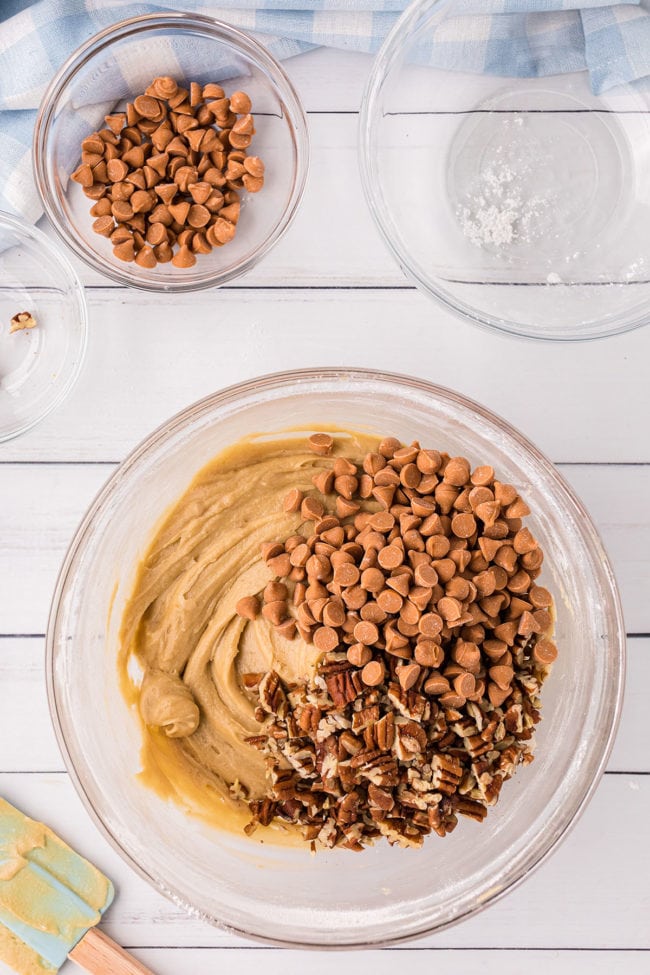 How To Make Butterscotch Blonde Brownies
Prep a 9×13" baking pan and heat the oven to whip up a batch of these divine butterscotch brownies. Let the aroma of freshly baked, buttery brown sugar goodness fill your home.
When you are baking, you'll want to use the full recipe at the bottom of the page.
Beat butter and brown sugar, then beat in eggs and vanilla.
Slowly stir in flour, baking powder, and salt.
Fold in the pecans and ¾ cup of the butterscotch chips.
Spread blondie batter into the baking pan, sprinkle with remaining butterscotch chips, and bake.*
After cooling in the pan for 10 minutes, transfer butterscotch brownies to cooling rack and cool completely, then cut into 24 bars.
*Note: Butterscotch brownies will set more as they cool, so follow the baking time carefully and do not overbake.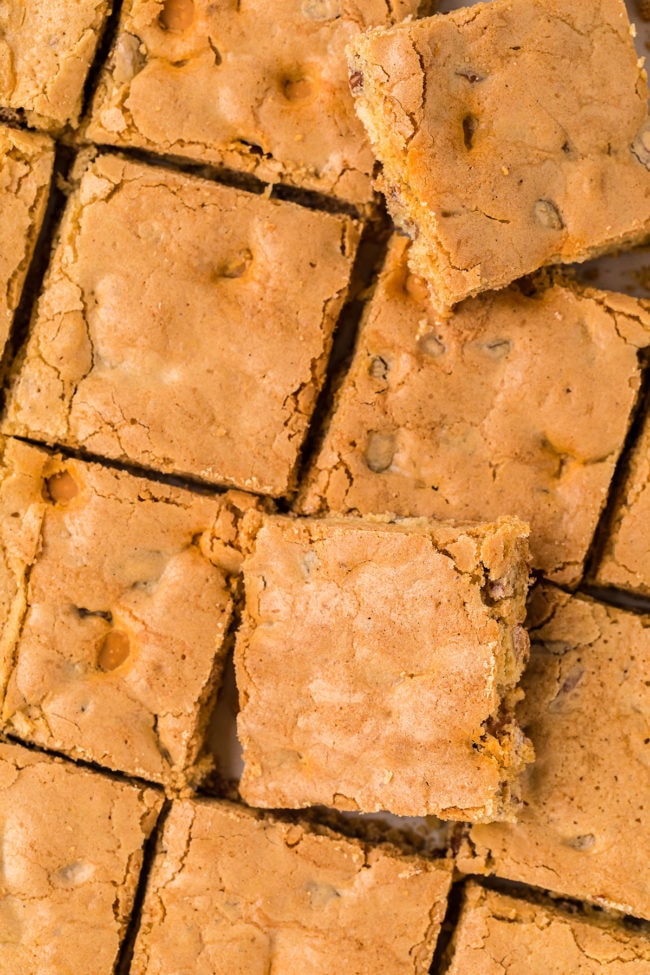 Brownie Bakeware 101
Unlock the secrets of perfect brownies as we dive into the ideal pan sizes and types for achieving your most delicious and irresistible dessert bars.
Best Pans
Opt for a metal baking pan over glass or ceramic bakeware for classic brownie recipes. Metal bakeware cooks brownies more evenly and prevents over-browning. Another advantage is metal baking pans make nice straight edges! Not nonstick? No problem! A brownie pan must be well-greased or, optimally, lined.
Ideal Pan Size
Brownies are versatile in size, but most recipes call for 13x9x2-inch pans. For thicker brownies, try a 9x9x2-inch pan. Adjust baking time following the recipe or package instructions for extra-thick brownies.
How To Prevent Sticking
Always, without exception, line your brownie pan, and you won't be asking yourself, "Why did my brownies stick?" I like to give the aluminum foil or parchment paper a slight spritz of spray in the creases for even corners. Leave extra liner on the side for "lift-out" handles. No sticking and easy cleanup!
Preventing Burning/Overbaking
A light-colored metal pan is the best for baking brownies over a dark-colored metal pan. A dark-colored pan absorbs more heat, which can cause the brownies to overbake or burn. On the other hand, light-colored pans reflect heat, which helps the brownies cook evenly.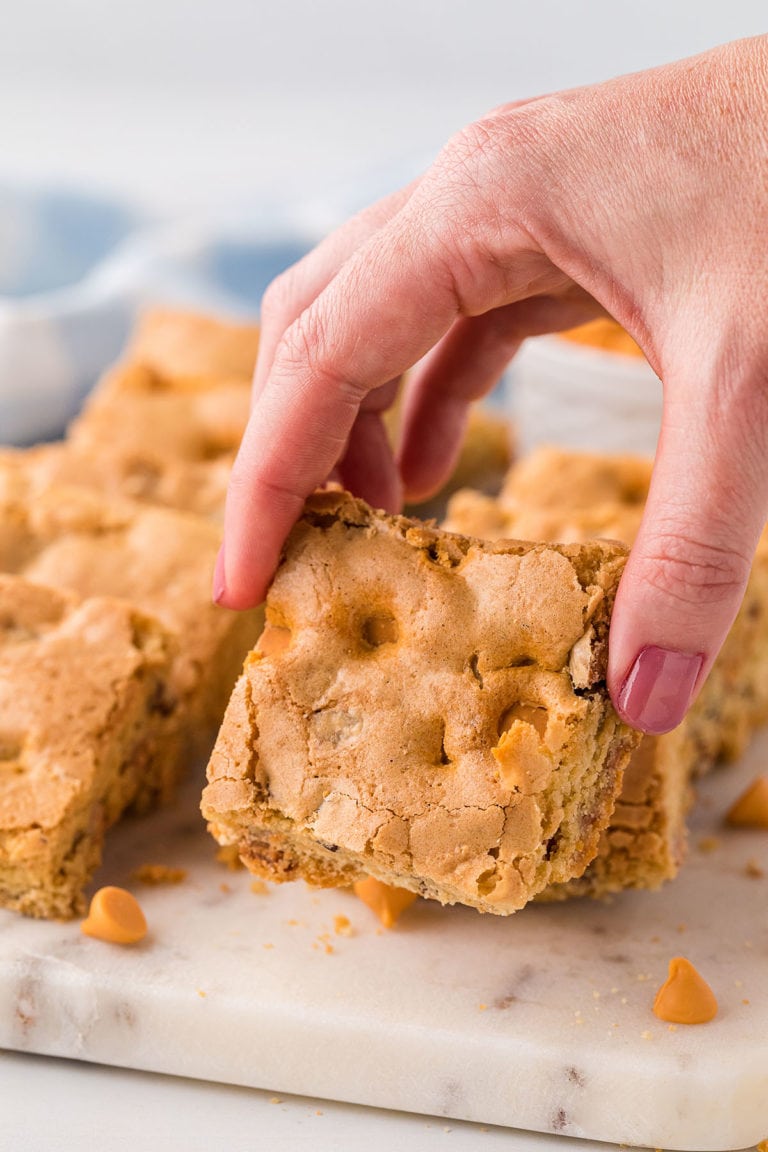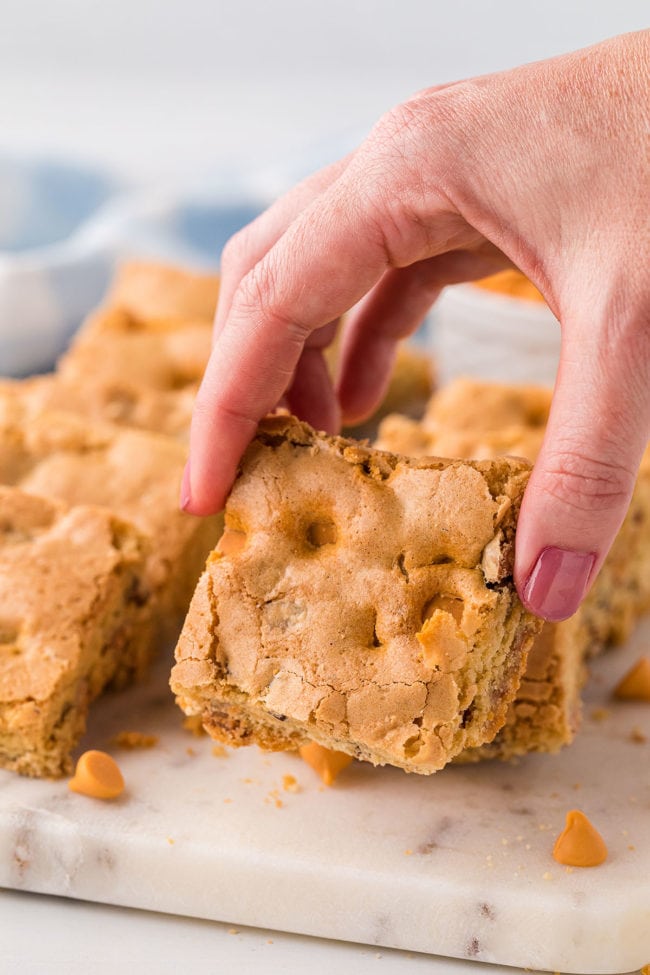 Recipe Notes And Tips
Soften the butter properly: Ensure the butter is softened at room temperature but not melted. Softened butter and sugar cream well, giving the blondies a smooth and rich texture.
Don't overmix brownie batter: When mixing the dry ingredients with the wet, mix just until everything is incorporated. Overmixing can result in tough and dense blondies instead of the desired soft and chewy texture.
Blondies easy removal and cutting: Line the baking pan with parchment or tin foil, leaving enough overhang to create lift-out handles.
Test for doneness: Blondie brownies have a delicate balance between undercooked and overcooked; use a toothpick or clean knife to check the center for doneness. For moist and chewy blondies, it should come out with a few moist crumbs clinging to it.
Bake until brownies are just set: Blonde brownies should be slightly underdone when taken from the oven; they will cook a bit more from residual heat as they cool.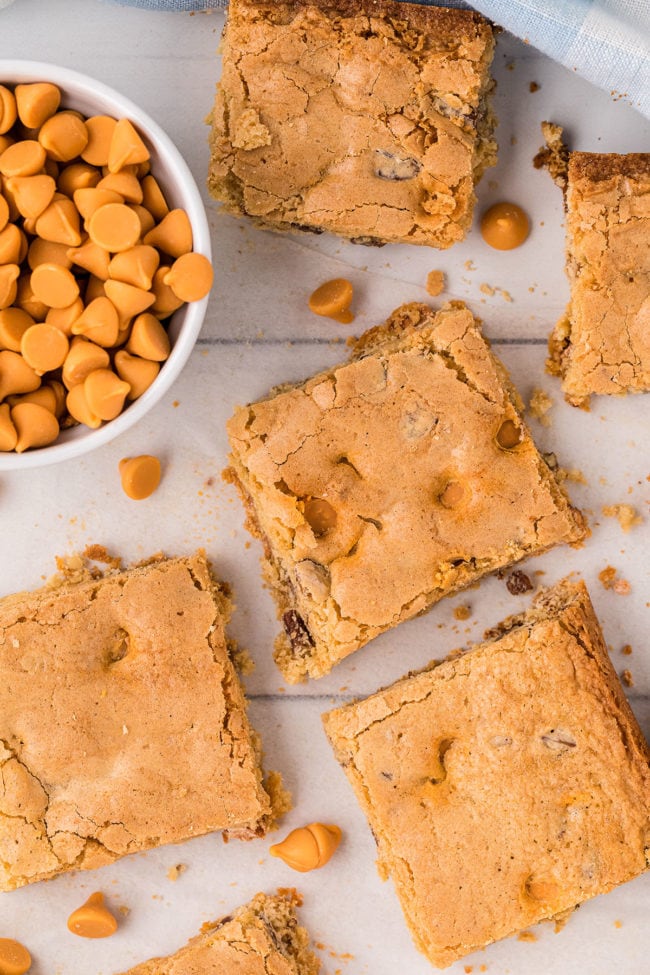 Storage Suggestions
To help you enjoy your butterscotch brownies to the max, here are a few storage tips to keep them fresh until only crumbs are left.
Leftovers
Butterscotch brownies can be stored on the countertop in an airtight container. They will remain moist and delightful for up to 4 days, great for immediate sharing.
Freeze
Freezing is a great strategy to maintain optimum blondie flavor for up to 3 months. After they've cooled completely, wrap the brownies individually with plastic and store them in a freezer bag or airtight container.
To prevent moisture accumulation, transfer frozen blondies to thaw in the fridge.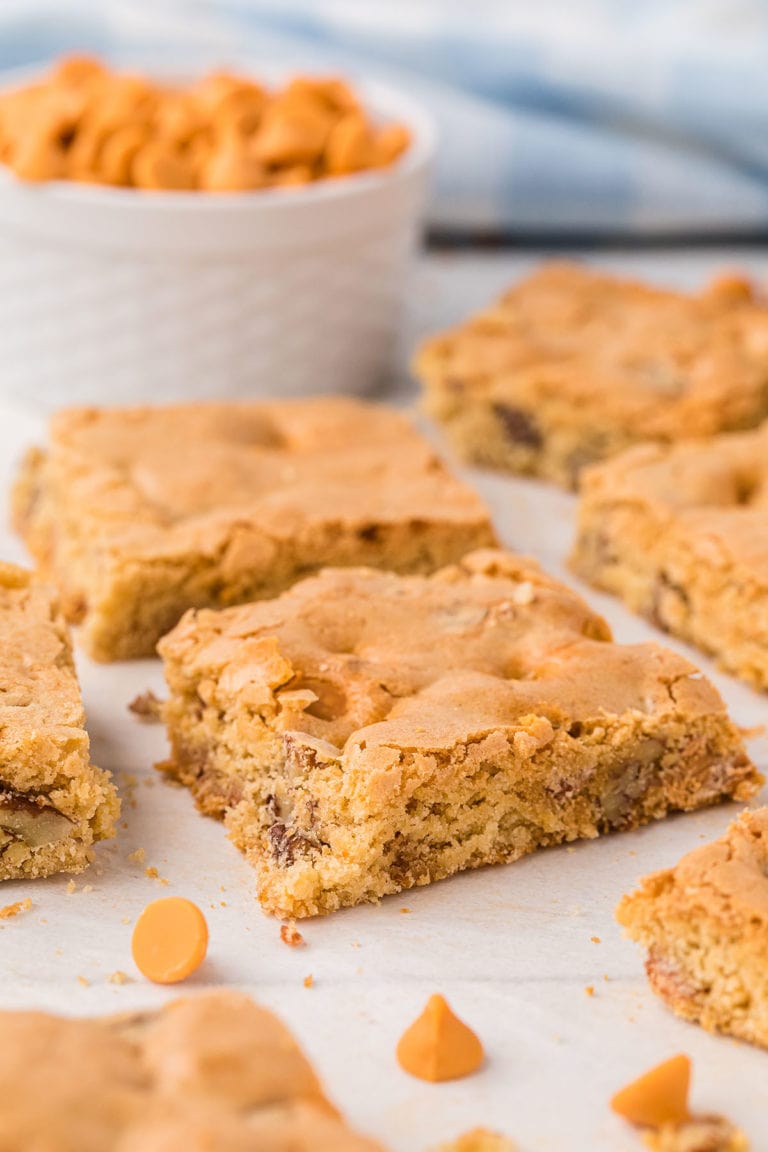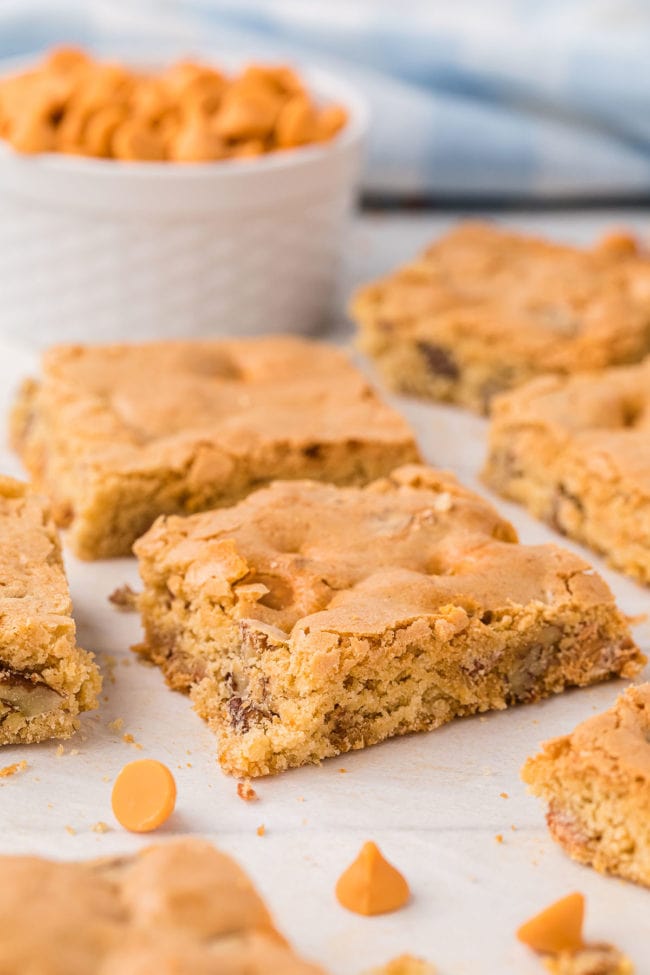 FAQs
What is butterscotch?
Butterscotch is a sweet, caramel-like flavor created by melting brown sugar and butter together. The sugar caramelizes into a rich, buttery flavor with comforting vanilla or molasses nuances.
Is a blondie a brownie?
Absolutely! A butterscotch-flavored brownie was the initial published brownie recipe using vanilla and molasses for a rich butterscotch dessert bar. Chocolate emerged around 1905, almost a decade later, replacing the vanilla and molasses flavors.

As expected by chocolate enthusiasts, the cocoa-infused version gained immense popularity and became synonymous with "brownie." The overshadowed, lighter-hued, butterscotch-based dessert bar was called the blonde brownie, then shortened to just "blondie."
How is a blondie different from regular brownies?
Blondies stand apart from regular brownies with their absence of cocoa or chocolate. Instead, they derive their flavor from brown sugar, butter, and vanilla, resulting in a butterscotch-like taste. Blondies are golden, while brownies boast brown/black hues and a range of chocolate textures.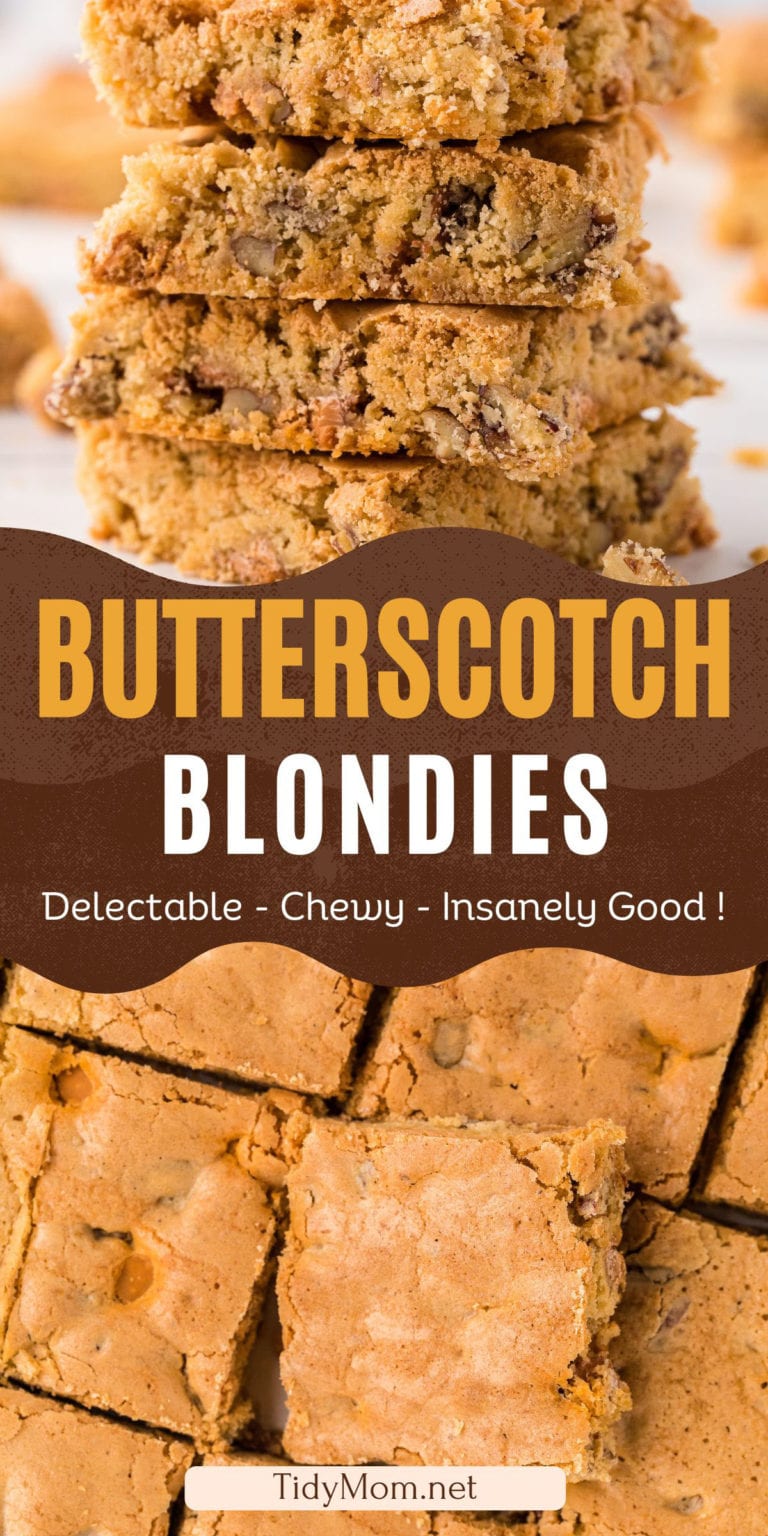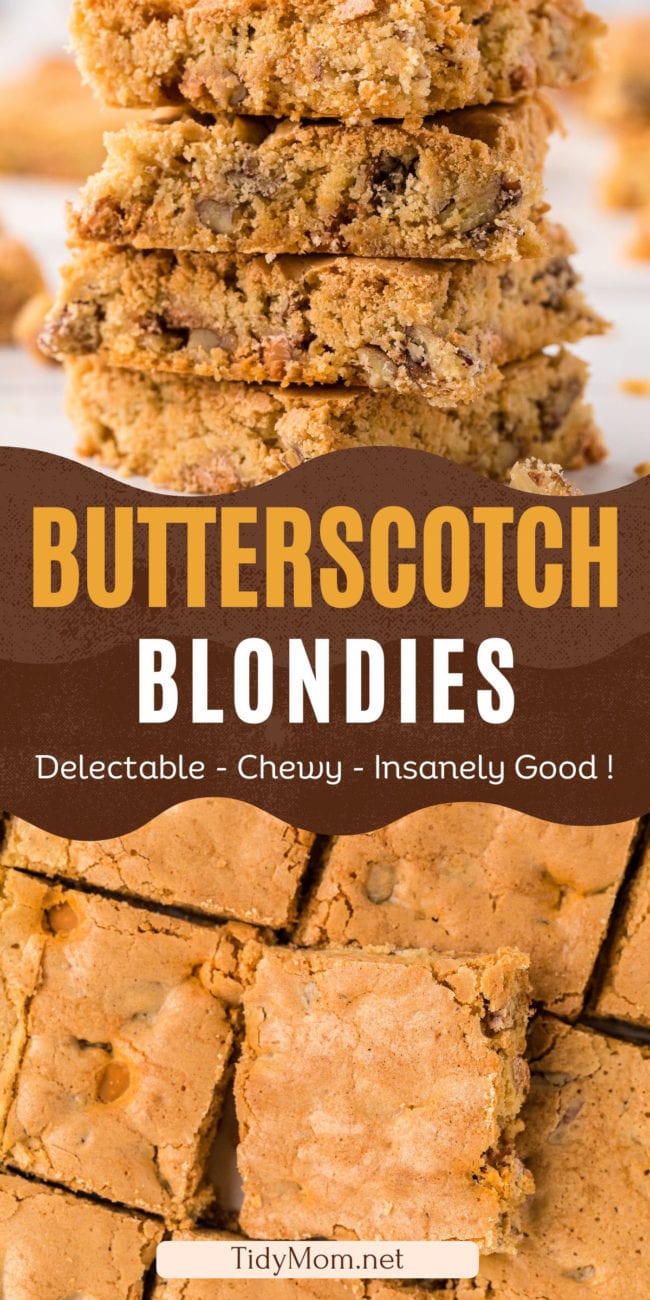 Like This Recipe?
I'd love to hear what you think! Leave a review below and let me know how you liked the recipe!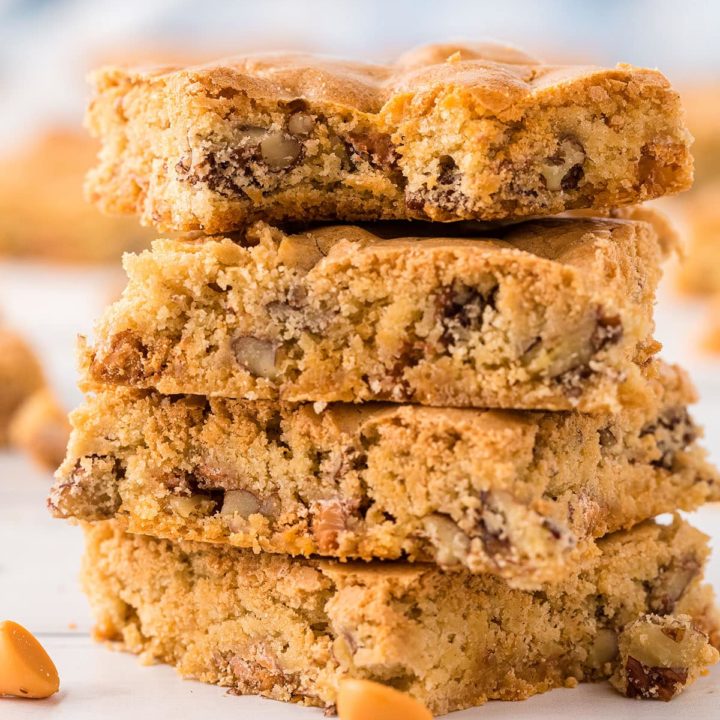 Butterscotch Brownies
Yield: 24 servings
Prep Time: 15 minutes
Cook Time: 40 minutes
Total Time: 55 minutes
Butterscotch Blondies, a delectable dessert bar, rich in flavor and texture, featuring brown sugar and butterscotch chips for a caramelized, chewy delight. Easy to make and even easier to love!
Ingredients
1 ½ cups all-purpose flour
1 teaspoon baking powder
½ teaspoon salt
¾ cup butter, softened
2 cups packed light brown sugar
3 large eggs, room temp
2 teaspoons vanilla extract
1 cup butterscotch chips, divided
¾ cup chopped pecans (optional)
Instructions
Preheat oven to 350°F. Grease 9x13-inch metal pan with cooking spray, and line the pan with parchment paper to easily remove from the pan for perfectly cut bars.
Using a medium size mixing bowl, combine flour, baking powder, and salt and set aside.
In a large mixing bowl beat butter and brown sugar until well combined.
Beat in eggs and vanilla, then gradually stir in the flour mixture.
Fold in ¾ cup of butterscotch chips and pecans (if using).
Spread batter into the prepared pan. Sprinkle remaining chips on top, if desired.
Bake in the center of a preheated oven for 40-45 minutes or until light golden brown. Do not overbake. Brownies will set more as they cool.
Cool in pan for 10 minutes, then transfer to cooling rack. Cool completely and cut into 24 bars.
Notes
Butterscotch brownies can be stored on the countertop in an airtight container. They will remain moist and delightful for up to 4 days.
Nutrition Information:
Yield: 24
Serving Size: 1
Amount Per Serving:
Calories: 209
Total Fat: 11g
Saturated Fat: 6g
Trans Fat: 0g
Unsaturated Fat: 4g
Cholesterol: 39mg
Sodium: 130mg
Carbohydrates: 26g
Fiber: 1g
Sugar: 20g
Protein: 2g
Nutrition information is estimated based on the ingredients and cooking instructions as described in each recipe and is intended to be used for informational purposes only. Please note that nutrition details may vary based on methods of preparation, origin, and freshness of ingredients used and are just estimates. We encourage, especially if these numbers are important to you, to calculate these on your own for most accurate results.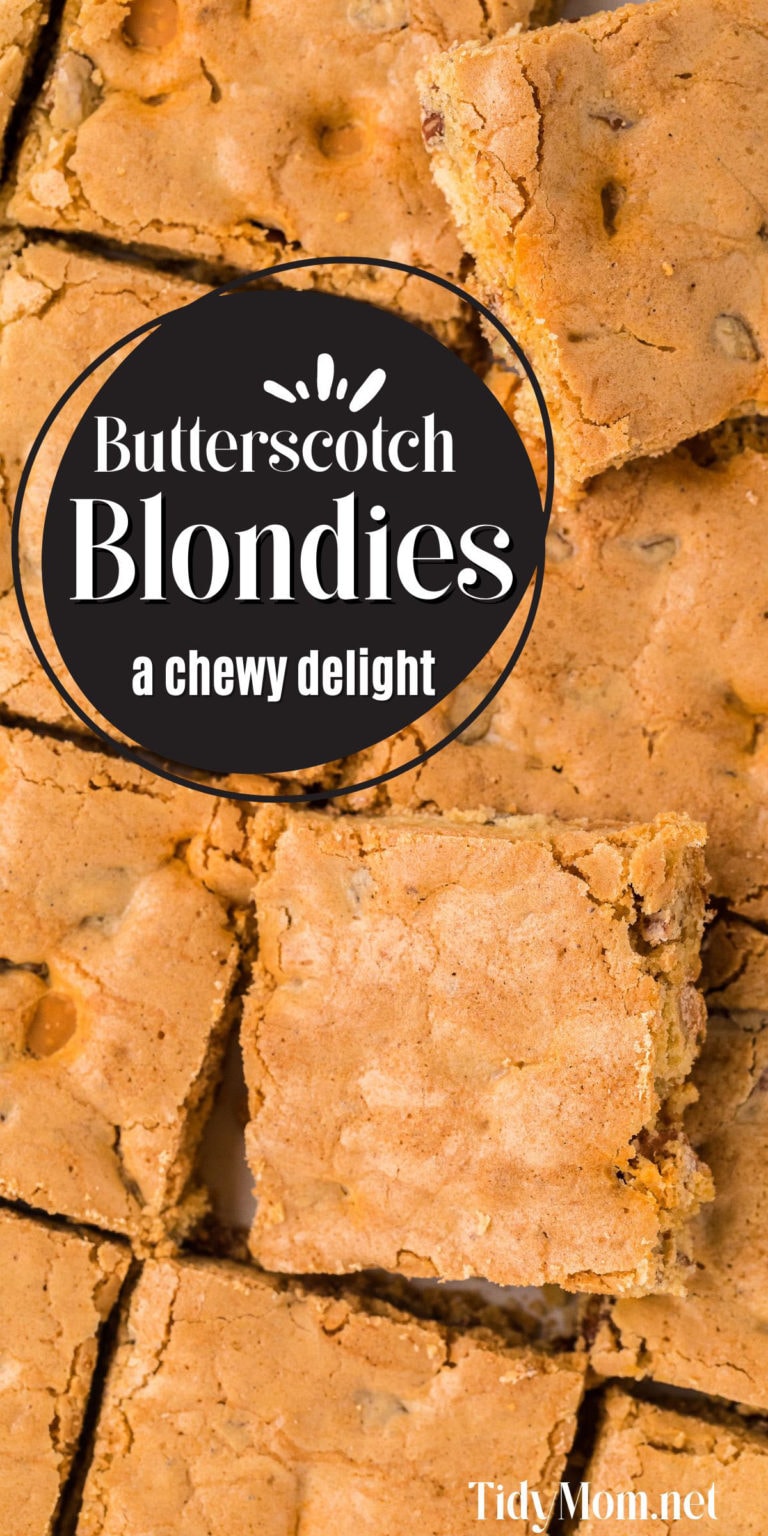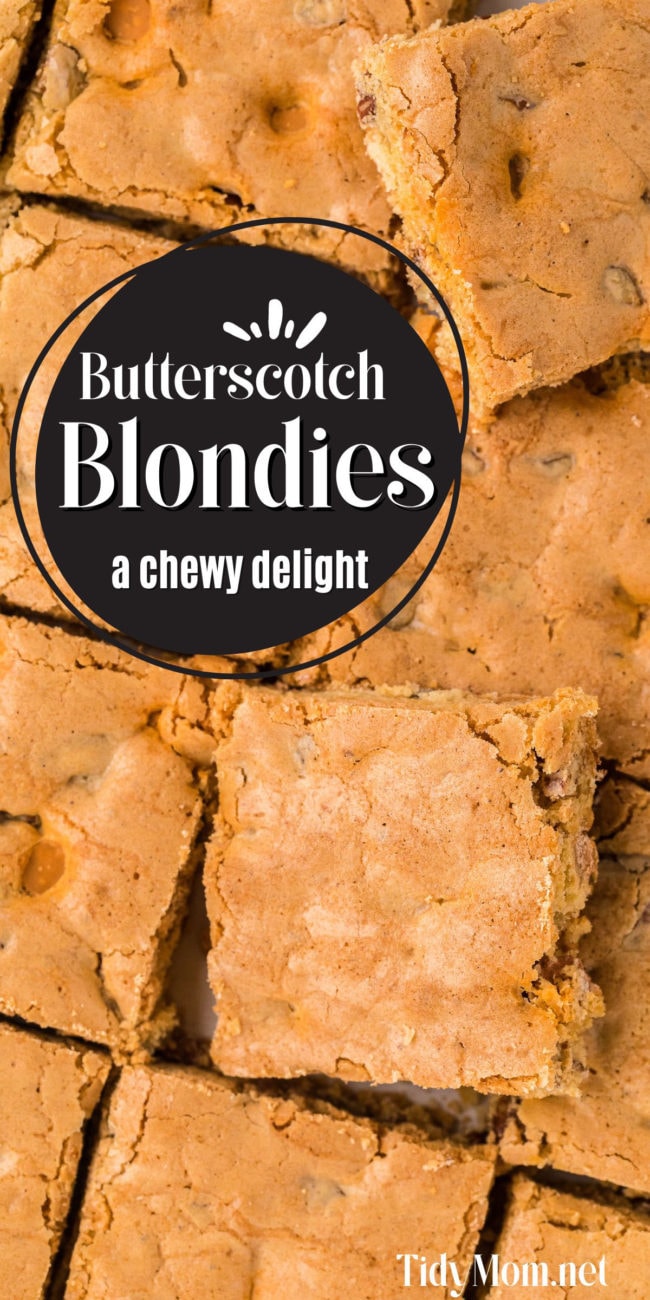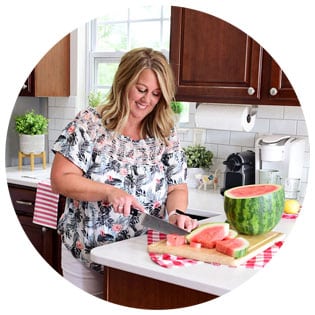 Hi there, I'm Cheryl!
As a wife, mom, and caffeine enthusiast, my journey has taken me from bustling mornings with my family to sharing delicious recipes, home care tips, and heartfelt decorating insights with wonderful readers like you. My love for baking, photography, and tidiness shines through every post I craft. Dive into my world and discover the art of homemaking, one tidy moment at a time. Read more...
Tidymom is a participant in the amazon services llc associates program, an affiliate advertising program designed to provide a means for sites to earn advertising fees by advertising and linking to Amazon.com.
Please respect my work, recipes and photographs. If you do use a recipe in your own writing, please give proper credit and link back to the original post.