Peanut Butter Crunch Black Bean Brownies
Black Bean Brownies laced with peanut butter and topped with crunchy Reese's Puffs cereal and chocolate for an over the top dessert.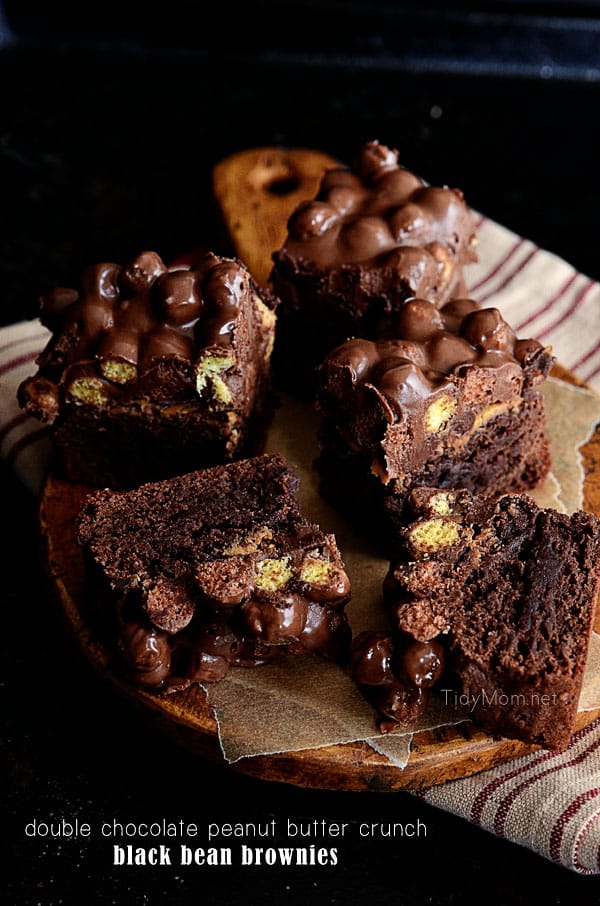 Double Chocolate Peanut Butter Crunch Black Bean Brownies! that's one heck of a name, isn't it? I can't tell you how long it took to come up with a title that gives these brownies justice!! A big thanks to Stef for helping me think it thru! She's the queen of creative food, so I knew if anyone could give this recipe a name, it would be her!!
I've been intrigued by the idea of black bean brownies for a few years, but I've never gotten around to making them. I've heard some people say they were great, others didn't care for them. Fast forward to the other day when I saw Naomi's recipe for Crunchy Cookies & Cream Brownie Bars, I thought it might be the perfect recipe to test out some black bean brownies!
Steve's birthday is tomorrow and there are 2 things that top his list, Coca-Cola and peanut butter. You may remember that last year I made him Coca Cola Cupcakes with Peanut Butter Frosting so this year I thought I could take Naomi's recipe and change it up a bit using Reese's Puff's cereal, peanut butter and sneak in the black bean brownies!!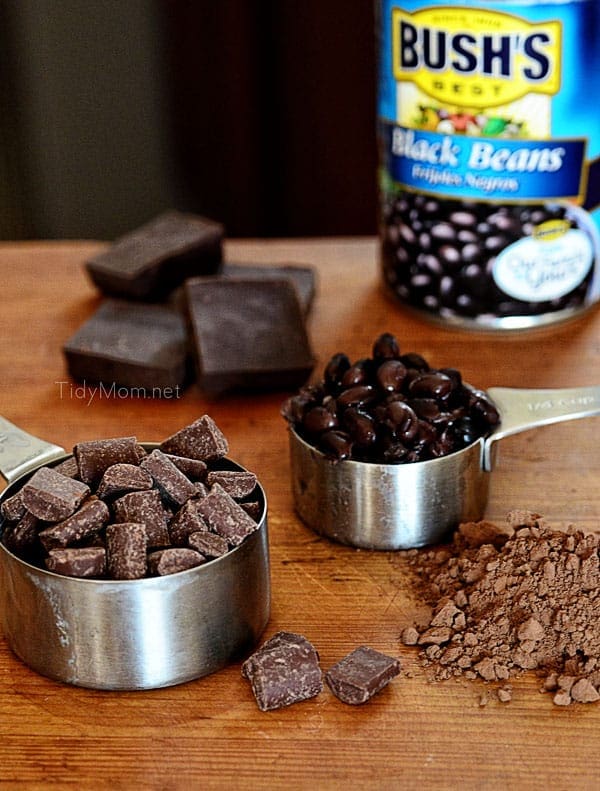 Of course I was a little skeptical at first………but I was sold after one bite!! The black beans get pureed smooth and knock down the fat and kick up the protein a little.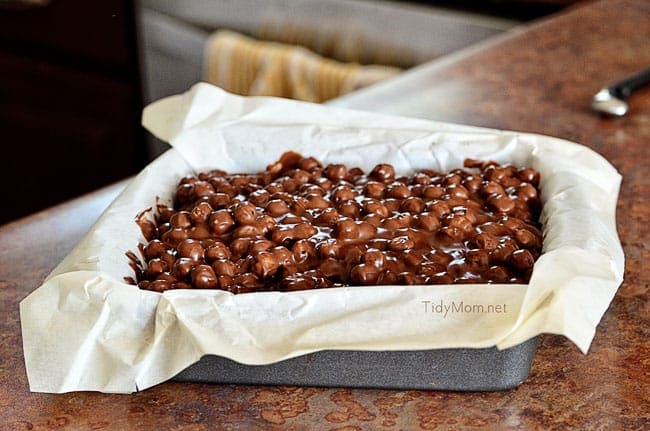 …………yes, I'm fully aware that by adding the peanut butter, cereal and more chocolate on top that these brownies are nowhere near healthy, but now I know, they would be just as delicious all on their own!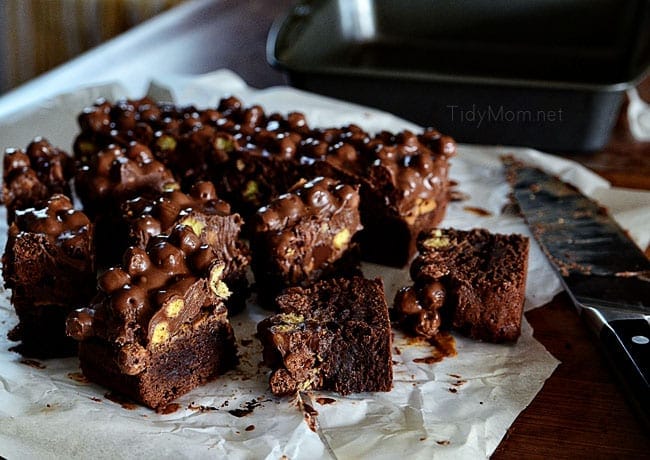 Bake them in a parchment lined 9-inch square pan so you can easily remove them to cut into small servings. They don't take much effort at all to make, and I PROMISE you'll be happy you did!!
My family had NO clue that these were black bean brownies! Tell me…….do YOU see any beans in these brownies?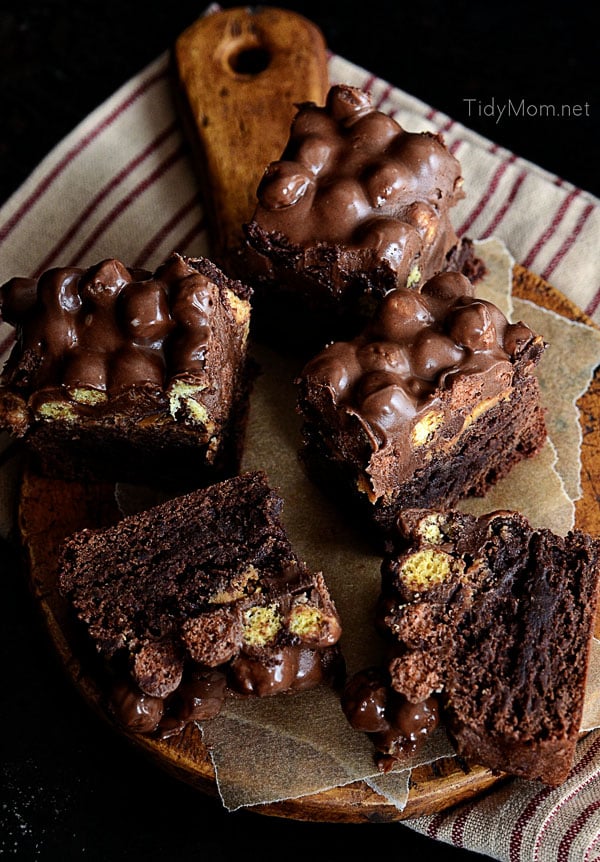 Let's make Black Bean Brownies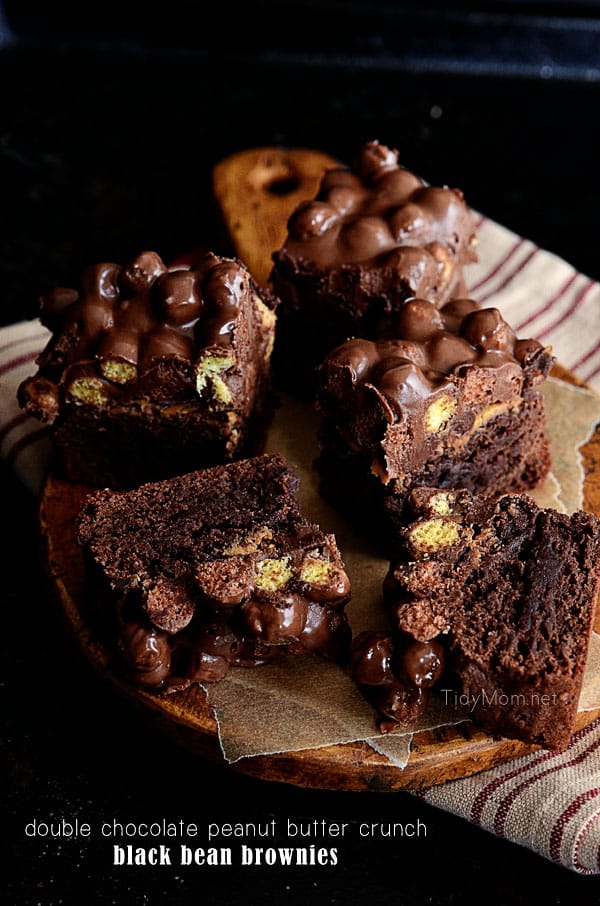 Peanut Butter Crunch Black Bean Brownies
Yield: 9 servings
Cook Time: 25 minutes
Additional Time: 1 hour 50 minutes
Total Time: 2 hours 15 minutes
Black Bean Brownies laced with peanut butter and topped with crunchy Reese's Puffs cereal and chocolate for an over the top dessert.
Ingredients
for the brownies
1/4 cup unsalted butter
3 ounces semisweet chocolate, chopped (approx 1/2 cup)
2 ounces unsweetened chocolate, chopped (approx 1/3 cup)
1/4 cup black beans, rinsed, drained, and pureed until smooth (I prefer Bush's Black Beans)
1 1/3 cup granulated sugar
2 large eggs plus 1 large egg white
2 teaspoons vanilla extract
1 cup all-purpose flour
1/4 cup unsweetened cocoa powder
1/2 teaspoon baking powder
1/2 teaspoon fine sea salt
1/4 cup peanut butter
For Peanut Butter Crunch Topping
3/4 cup semi-sweet chocolate chips
3/4 cup peanut butter
1/2 tablespoon butter
1¼ cup Reeses Puffs cereal
Instructions
For the Brownies
Preheat oven to 350 degrees. Lightly grease a 9-inch square baking pan and line with parchment paper, leaving a 2-inch overhang on all sides.
In a large microwave-safe bowl, combine butter, bean puree, and chocolate pieces and microwave in 30-second increments, stirring each time, until melted and smooth. Whisk in sugar, eggs and egg white, and vanilla until smooth.
In a small bowl, whisk together flour, cocoa powder, baking powder, and salt. Stir into chocolate mixture until just combined.
Pour batter into pan; In a microwave safe bowl, microwave peanut butter for 10-15 seconds or until thin. Drop by dollops on top of the brownie batter and then take a knife and swirl the peanut butter through.
Bake until top is cracked and a toothpick inserted in center has moist crumbs attached, about 25 minutes (center will seem undercooked but will set further as it cools). Transfer pan to wire rack to cool.
To make crunchy topping
Place chocolate chips, peanut butter, and butter in a large microwave-safe bowl. Heat on high power for 1 minute, stirring every 10 to 15 seconds, until melted and smooth. Let cool slightly. Add Reeses Puffs cereal and toss to coat.
Spread cereal mixture over top of brownies, then refrigerate for at least 90 minutes, or until set, or overnight.
Use the overhanging parchment paper to remove the brownies from the pan and slice. Brownies will keep, refrigerated in an airtight container, for up to 1 week.
Thank you for sharing so many wonderful projects, recipes and crafts again last week ! You can link up thru Sunday evening or come back next week and link up for another
I'm Lovin' It
, who knows maybe next week I will be featuring you!
Let's get this party started!! It's time to link up all your great ideas to "I'm Lovin' It Party" (remember, each week I will share some of my favorites who link up!)

I'm Lovin'…….Black Bean Brownies
Now it's your turn!
Let us know what you're lovin' this week!
What is I'm Lovin' It? get all the info here *All photos submitted to the I'm Lovin It linky party, grant the rights to display their photo on this website and other sites I write for. Proper credit will always be given. TidyMom is not responsible for stolen images or the mis-use by others who have found your image through TidyMom.net.

Disclaimer: I grew up in a house who used Bush's Beans, I am now proud to be a brand ambassador for them. All opinions and views are my own.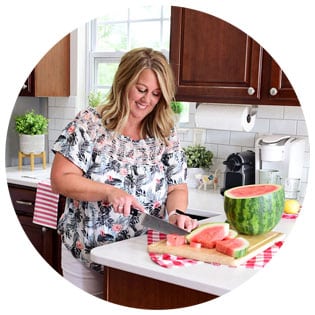 Hi there, I'm Cheryl!
As a wife, mom, and caffeine enthusiast, my journey has taken me from bustling mornings with my family to sharing delicious recipes, home care tips, and heartfelt decorating insights with wonderful readers like you. My love for baking, photography, and tidiness shines through every post I craft. Dive into my world and discover the art of homemaking, one tidy moment at a time. Read more...
Tidymom is a participant in the amazon services llc associates program, an affiliate advertising program designed to provide a means for sites to earn advertising fees by advertising and linking to Amazon.com.
Please respect my work, recipes and photographs. If you do use a recipe in your own writing, please give proper credit and link back to the original post.