Easy Lemon Brownies With Lemon Glaze
This post may contain Amazon or other affiliate links. As an Amazon associate, I earn from qualifying purchases.
NO FUSS Easy Lemon Brownies – moist, dense brownie-like lemon bars exploding with fresh tart citrus flavor and bright lemony glaze. So simple to make and delicious!
If you like lemon, you'll love this invigorating lemon brownie bar with its cool, smooth lemony glaze. Looking for a few more luscious lemon or cool citrus delights to go along with easy lemon brownies for Spring or Summer? Check out our dreamy Lemon Sheet Cake, Frozen Creamsicle Pie, No-Bake Lemonade Pie, or Lemon Cool Whip Cookies.
Be sure to sign up for my email… to get new recipes and ideas in your inbox!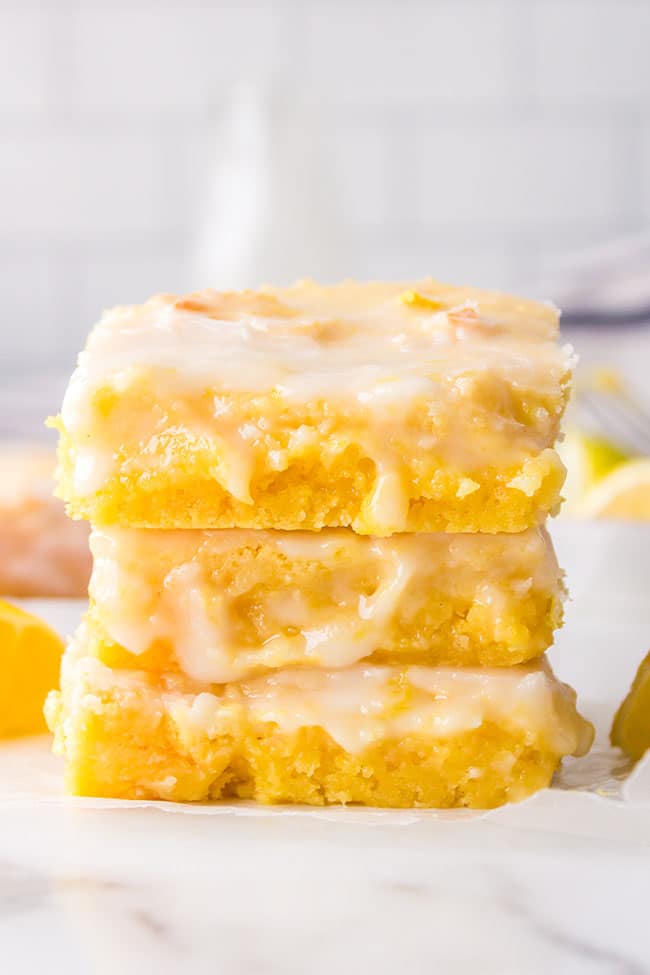 Move over chocolate brownies, these brownies are all about the zesty lemon flavor. You might be thinking…..these are lemon bars and you are right, but they have the consistency and texture of a fudgy brownie. Much like the orange brownie recipe Paula Deen created, lemon brownies are a refreshing change from a classic chocolate brownie. Dense, moist, and delicious with bright lemon flavor!
Why You'll Love Lemon Brownies From Cake Mix
EASY BAR RECIPE– These lemon brownies come together quickly and easily with simple ingredients, including a cake mix and pudding mix.
QUICK TO WHIP UP– A five-minute prep time and a little over twenty minutes of bake time mean an appealing and creative dessert in less than 30 minutes.
SWEET & TANGY – Fresh lemon zest, lemon juice, and lemon pudding mix create a bright citrus taste explosion that complements the moist, fudgy texture.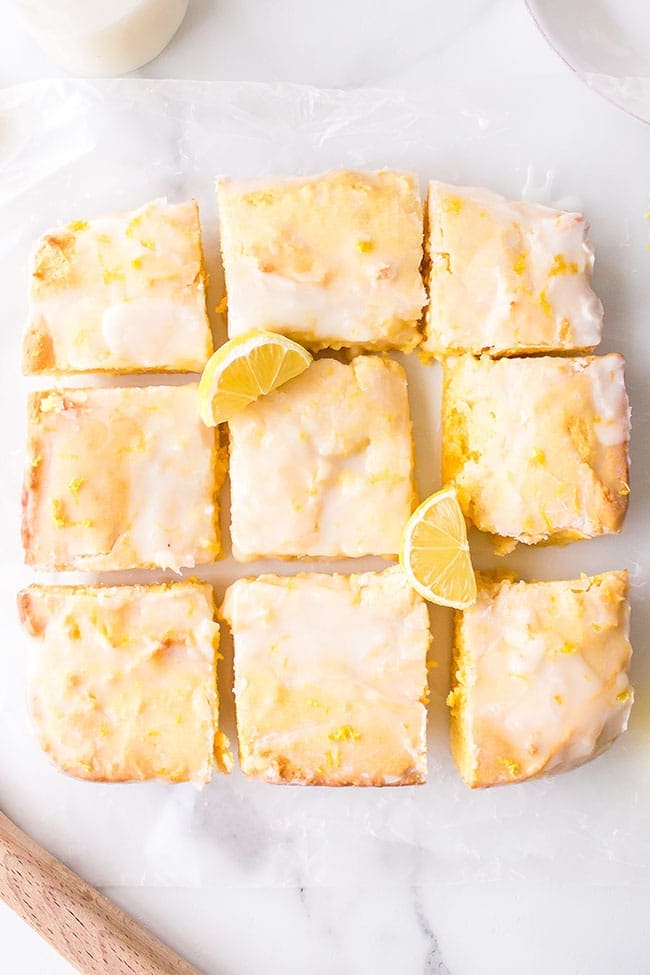 Ingredients For Lemon Brownies With Lemon Glaze
It's so nice when something so tasty doesn't involve a plethora of ingredients, even if said ingredients are "pantry staples!"
All you need for lemon brownies from a cake mix is boxed yellow cake, instant pudding, powdered sugar, a couple of eggs, and a few lemons, and you're set!
The 4 medium (or 3 large) lemons will provide the lemon juice and the zest!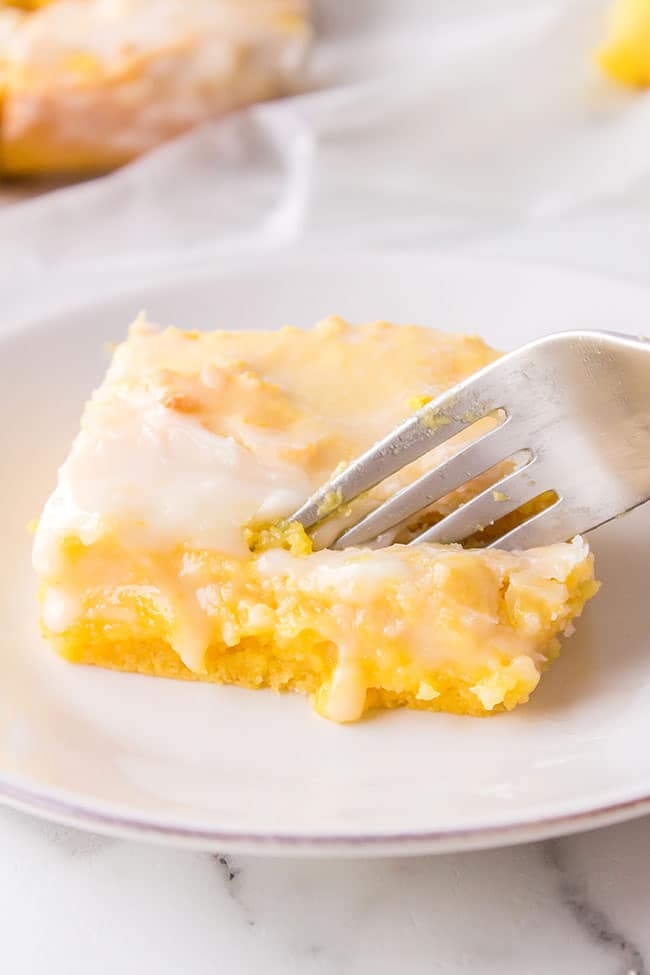 What Is Zesting A Lemon?
Zesting a lemon is the act of shaving (scraping) the bright yellow rind (lemon peel) from the fruit without including the pith. The pith is the white underlayer of citrus fruit, typically bitter to the palate.
How Do You Pick The Best Lemons For Zest?
Choose bright yellow unblemished skinned fruit that is plump and feels firm. Older, thinner-skinned lemons will be softer and may have more juice, but getting good zest without the bitter pith is more challenging.
Do I Zest Or Juice First?
Zesting a whole lemon first is always the best way to optimize the amount of zest yielded by a lemon and the amount of time expended on the task.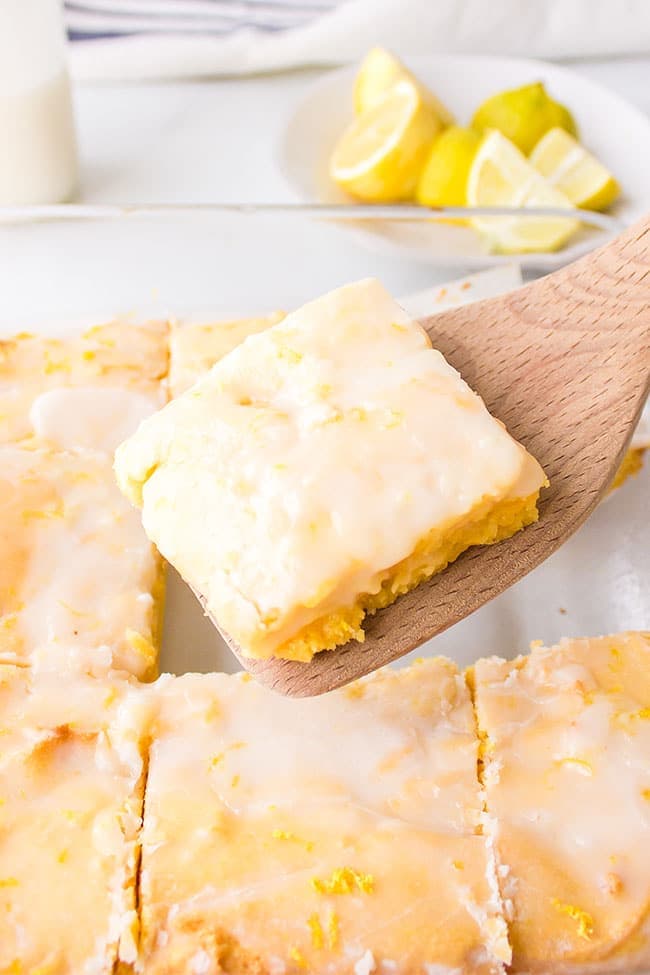 How To Zest A Lemon For Lemon Brownies With Lemon Glaze
This post may contain affiliate links. Please read my disclosure policy here.
Once you get the hang of it, zesting citrus is just another handy kitchen skill, like dicing an onion or peeling potatoes! Several kitchen gadgets get the job done in no time, my favorite is a microplane zester/grater, a box grater will work too.
Wash the fruit with a good vegetable/fruit wash and dry. Hold the lemon over a small bowl, and using zester or grater, begin scraping the fruit to form small strips or shredded pieces.
Put only enough pressure to remove the yellow peel and not grate into the white pith. Continue applying the zester, turning the lemon as you go until you have removed as much of the zest as possible.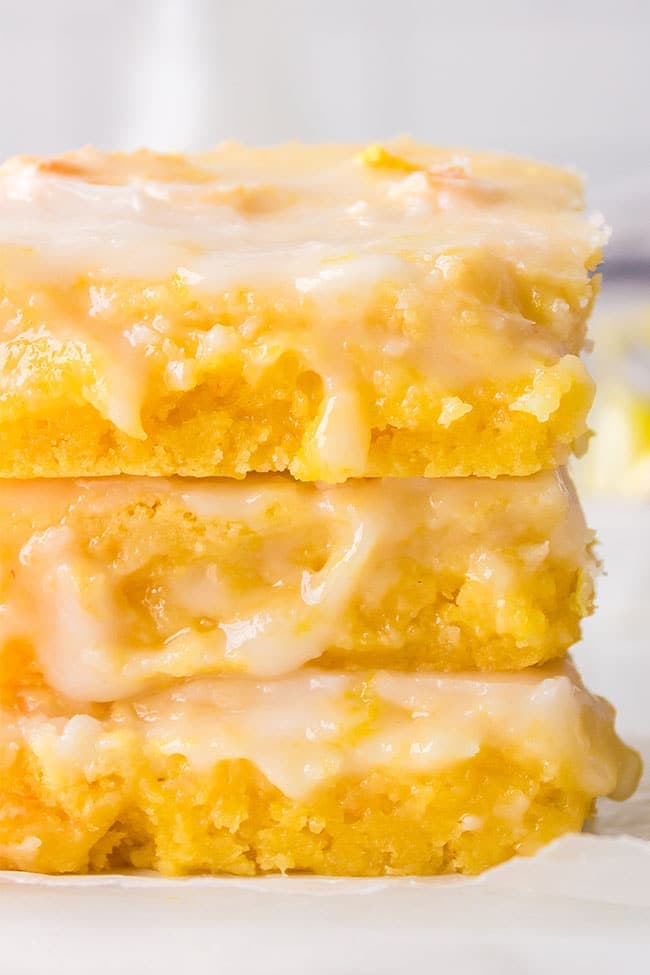 Equipment Needed To Make Easy Lemon Brownies
In addition to an 8" or 9" square baking pan you'll need a mixer and a zester, the usual suspects: measuring implements, mixing bowls, and whisk, but the ease maker is the parchment paper!
Using parchment paper avoids this citrusy treat sticking and also provides handles for easy removal of the lemon brownies from the pan.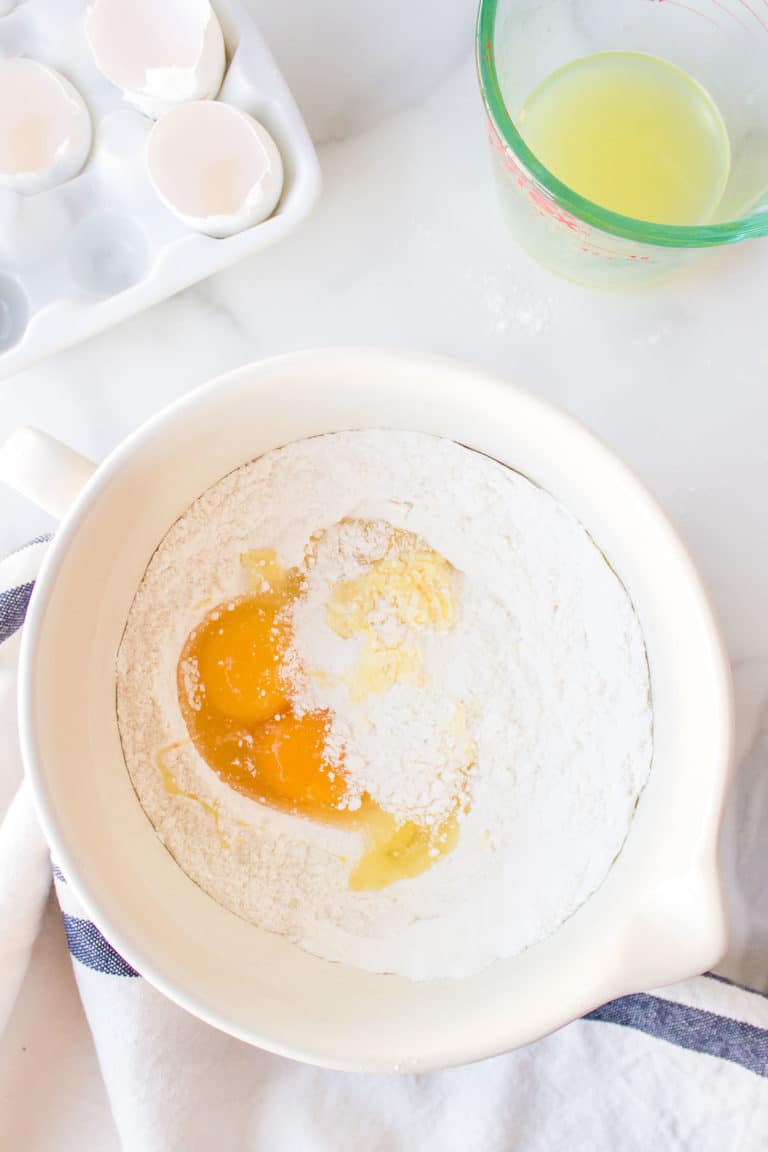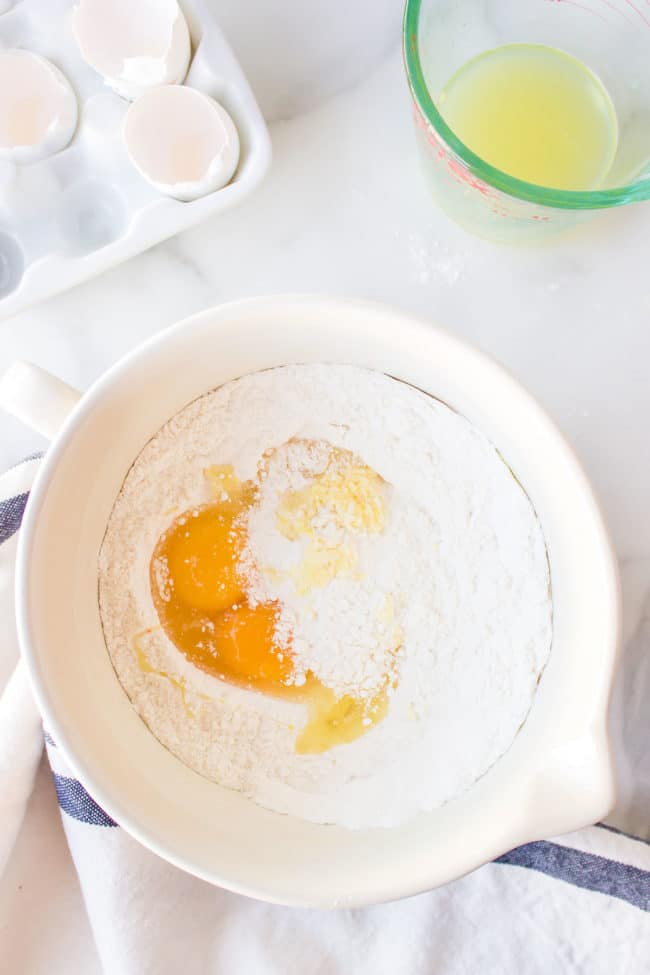 How To Make Easy Lemon Brownies With Lemon Glaze
(full printable recipe at the end of this post)
Lemon Brownie:
Prep your baking pan and preheat the oven.
Combine the five ingredients on low until just moistened. The batter will be thick like dough.
Spread the lemon brownie batter using a rubber spatula or your hands into the pan and bake 22-24 minutes until done.
Make the glaze while the lemon brownies cool.
Lemon Glaze:
Whisk the powdered sugar and lemon juice until smooth and the consistency you prefer.
Lift the cooled brownies from the pan with the parchment paper handles.
Drizzle the glaze over the cooled brownies and sprinkle with lemon zest, if desired.
Cut into squares to serve.
Pro Tips
After zesting the lemon, roll the lemon firmly between your palm and cutting board to increase the amount of juice released by the fruit.
Get more juice from your lemons by soaking them in warm water for about 30 minutes. The warm water loosens the stiff outer body, resulting in more juice. Or, simply heat a whole lemon in the microwave for about 10 to 20 seconds.
For a little more subtle lemon flavor use water in place of lemon juice in the glaze. It's perfectly sweet for the lemon brownies, without an overwhelming lemon flavor.
Let the parchment paper hang over the edges as handles to lift the lemon brownies from the pan.
Cool cake mix lemon brownies completely in the pan to prevent cracking and ensure a moist, dense bar.
Add a dash of vanilla extract to taste for a more layered and softer lemon glaze.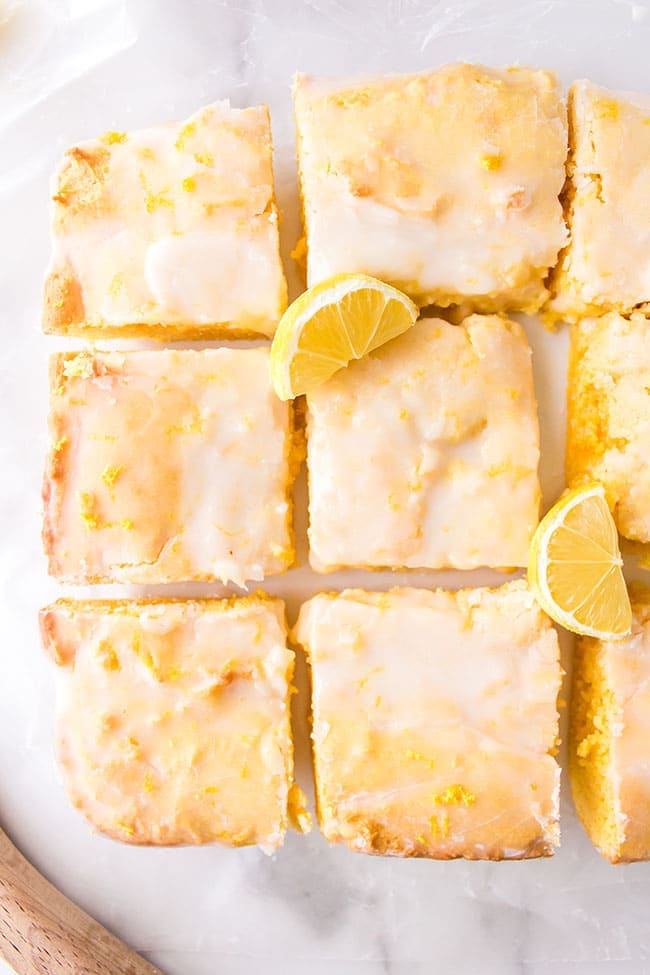 Best Way To Store Lemon Brownies
Lemon brownies can be stored on the counter in an airtight container for 4 days or about a week in the fridge.
Easy lemon brownies are a cool, refreshing lemon treat straight from the fridge. If you prefer room temperature, you'll enjoy a more layered and nuanced flavor.
You can freeze lemon brownies (without the glaze) for up to three months. When ready to enjoy, thaw in the refrigerator overnight then glaze and enjoy.
So just in case you now have a Pavlovian response like me, here are a few yummy takes on chocolate brownie recipes that have some of that delicious brown confection: The Best Brownie Recipe Ever, Tiramasu Brownies, or keeping it in the "fruit" family with Strawberry Brownie Shortcake. ENJOY!
Like This Lemon Brownie Recipe? Pin It!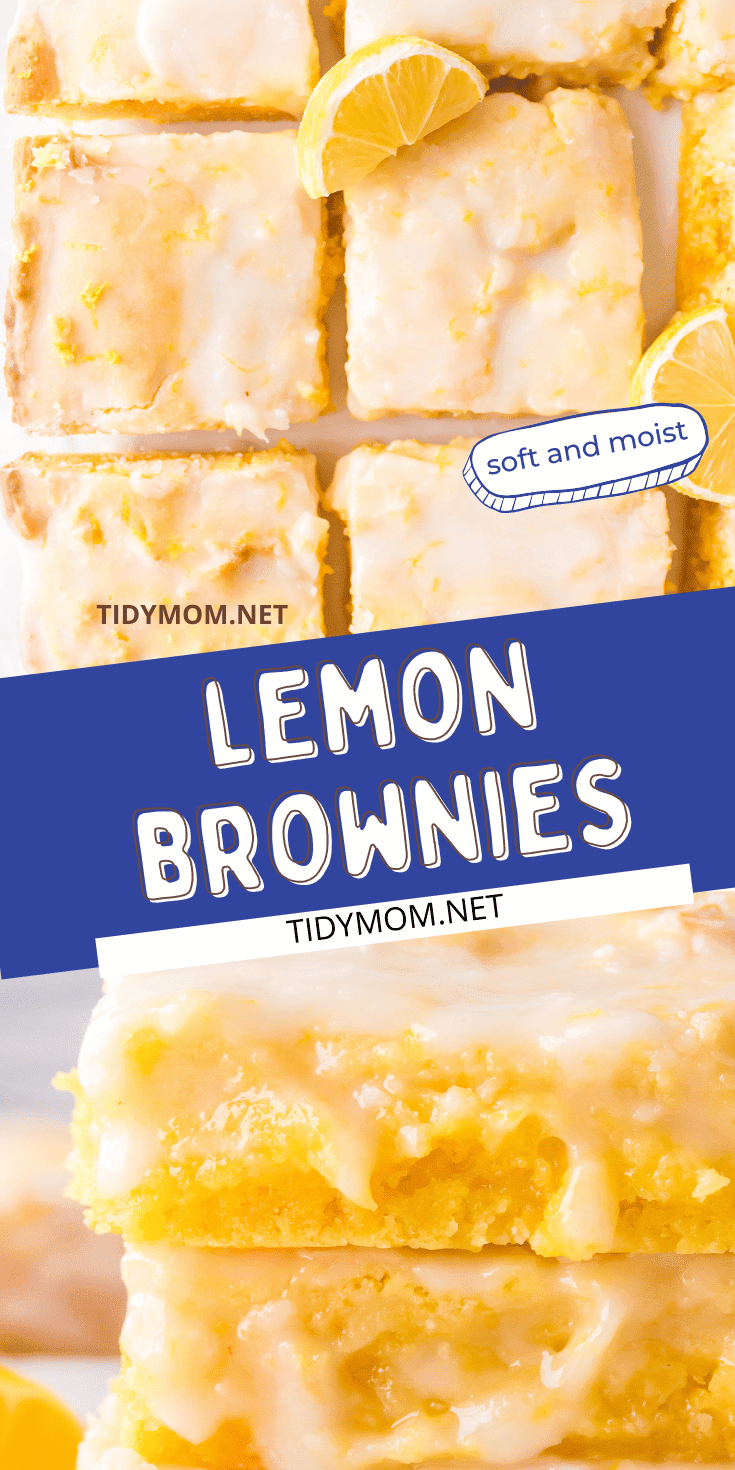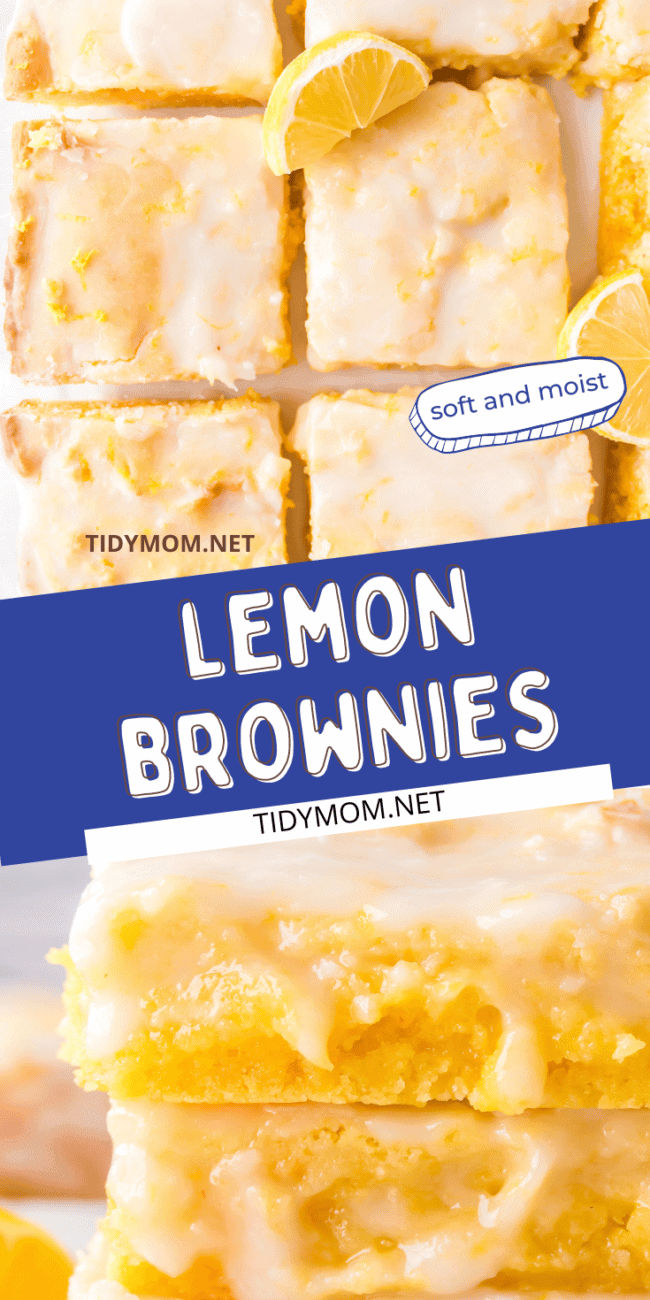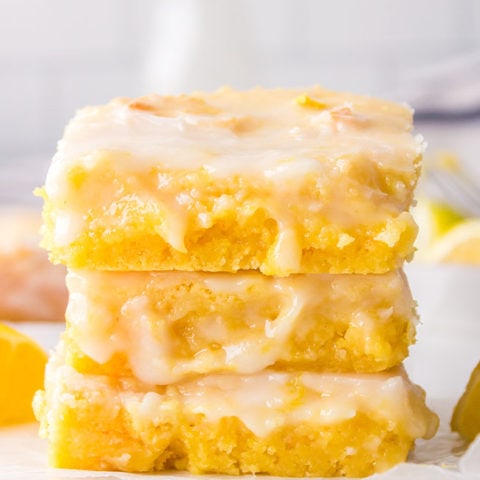 Easy Lemon Brownies With Lemon Glaze
Yield: 9 brownies
Prep Time: 5 minutes
Cook Time: 22 minutes
Total Time: 27 minutes
NO FUSS Easy Lemon Brownies - moist, dense brownie-like lemon bars exploding with fresh tart citrus flavor and bright lemony glaze. So simple to make and delicious!
Ingredients
For Brownies:
1 (15.25 oz) box of yellow cake mix
1 (4.5 servings) box of lemon instant pudding mix
1/3 cup lemon juice (3 medium or 2 large lemons)
3 large eggs, room temp
1 teaspoon lemon zest
For Lemon Glaze:
1½ cups powdered sugar
3 tablespoons lemon juice (plus more to thin)
Garnish
Instructions
Preheat oven to 350° F and spray an 8 or 9-inch square baking dish with cooking spray, line with parchment paper, and set aside.
With an electric mixer on low-speed combine cake mix, pudding mix, lemon juice, eggs, and zest until moistened. The dough will be thick.
Using a rubber spatula or your hands, spread the batter evenly into the prepared pan. Bake for 22-24 minutes, or until a toothpick inserted in the center comes out clean.
Allow brownies to cool before glazing.
To prepare the glaze: In a medium mixing bowl whisk together the powdered sugar and lemon juice until smooth. Add more lemon juice if the glaze is too thick, or add a little more powdered sugar if too thin.
Use the overhanging parchment as handles to lift the cooled brownies straight out of the pan. Drizzle glaze over brownies and sprinkle with lemon zest, if desired. Cut into squares to serve.
Notes
you can use a 9x13-inch pan just note that the bars will be thinner and may need a little less time to bake.
Recommended Products
As an Amazon Associate and member of other affiliate programs, I earn from qualifying purchases.
Nutrition Information:
Yield: 9
Serving Size: 1
Amount Per Serving:
Calories: 327
Total Fat: 3g
Saturated Fat: 1g
Trans Fat: 0g
Unsaturated Fat: 1g
Cholesterol: 42mg
Sodium: 488mg
Carbohydrates: 71g
Fiber: 1g
Sugar: 44g
Protein: 4g
Nutrition information is estimated based on the ingredients and cooking instructions as described in each recipe and is intended to be used for informational purposes only. Please note that nutrition details may vary based on methods of preparation, origin, and freshness of ingredients used.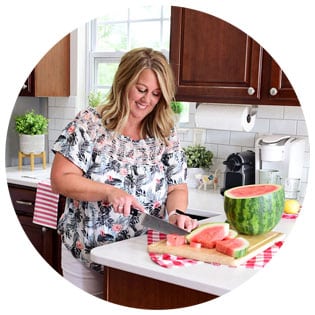 Hi there, I'm Cheryl!
As a wife, mom, and caffeine enthusiast, my journey has taken me from bustling mornings with my family to sharing delicious recipes, home care tips, and heartfelt decorating insights with wonderful readers like you. My love for baking, photography, and tidiness shines through every post I craft. Dive into my world and discover the art of homemaking, one tidy moment at a time. Read more...
Tidymom is a participant in the amazon services llc associates program, an affiliate advertising program designed to provide a means for sites to earn advertising fees by advertising and linking to Amazon.com.
Please respect my work, recipes and photographs. If you do use a recipe in your own writing, please give proper credit and link back to the original post.