Frozen Strawberry Dessert
Easy Frozen Strawberry Dessert – A frozen delight with a strawberry fluff mixture whipped into a creamy cloud and layered atop a simple no-bake pecan shortbread crust.
Fresh or frozen, strawberries are the ideal fruit for warm-weather salads and desserts. There is an abundance of phenomenal strawberry dessert options, from crispy Strawberry Dessert Nachos, and luscious Strawberry Pretzel Pie to whimsical Strawberry Shortcake Popsicles or decadent Strawberry Brownie Shortcake. Oh, Yah!!
Be sure to sign up for my email… to get new recipes and ideas in your inbox!
Ready for some warm weather and alfresco dining? I know I am. Whether you're enjoying a shady lunch, grilling in the backyard, or relishing a meal on the patio at sunset, a refreshing frozen strawberry dessert is just the ticket!
Why You'll Love This Frozen Strawberry Dessert With Pecan Crust
Why do I love this easy frozen strawberry dessert? It's always a signal that we are moving into the warmer weather when I start pulling out all the fresh and delightful recipes because strawberries are coming into season. Couple that with all these other reasons, and you'll be excited too!
Easy frozen strawberry dessert with Cool Whip is a luscious alternative to ice cream.
Whip it up in minutes, pop it in the freezer, and impress the heck out of your guests.
The quintessential warm-weather frozen strawberry dessert.
Frozen strawberries maintain nutrient content and save time; they are already cleaned and ready to go!
Strawberry pecan dessert is a perfect make-ahead dessert.
Definitely a crowd-pleaser; refreshingly light frozen dessert using frozen strawberries.
Served straight from the freezer, does not need time to thaw before serving.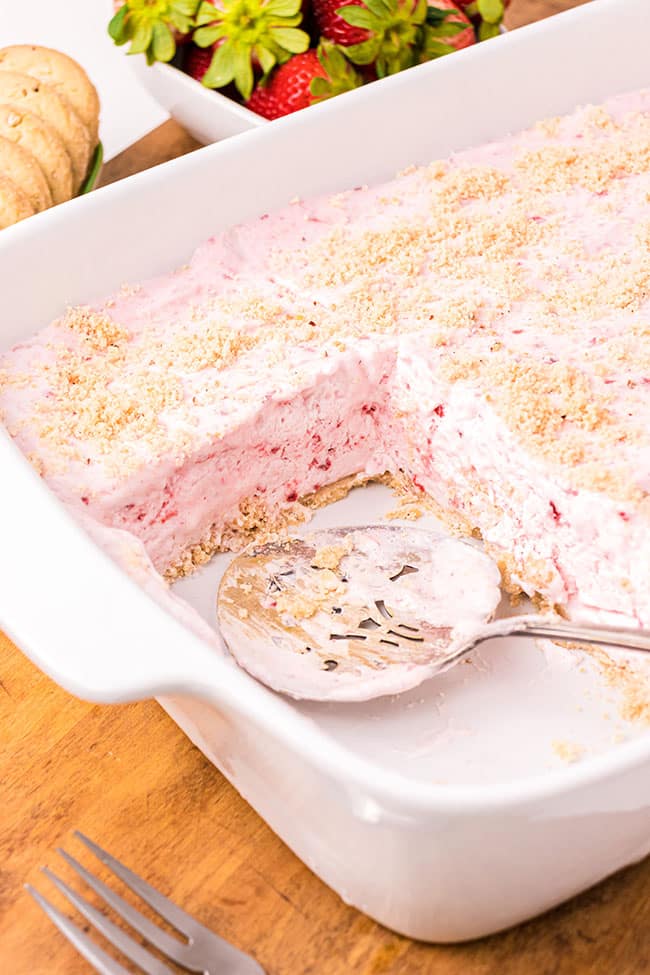 Ingredients For Your Frozen Strawberry Dessert With Cool Whip
Red, juicy strawberries, bursting with flavor and frozen fresh from the fields, co-star with pecan shortbread cookies!
Keebler Pecan Sandies – melt in your mouth buttery, crisp, shortbread cookies made with crunchy pecans and infused with real Madagascar vanilla.
Melted Butter
Frozen Strawberries – Slightly thawed but still a bit icy. Try to use frozen berries that have not been frozen for over six months for the freshest flavor or make your own, see below.)
Sugar – white granulated sugar is suggested.
Fresh Lemon Juice – before juicing those lemons, you'll want to retain and freeze the zest for future recipes. Waste not, want not!
Egg Whites – carefully remove the whites over a separate bowl, one egg at a time to avoid broken yolks.
Cool Whip – is the perfect balance of sweet and savory and just the right consistency to keep the fluff lifted.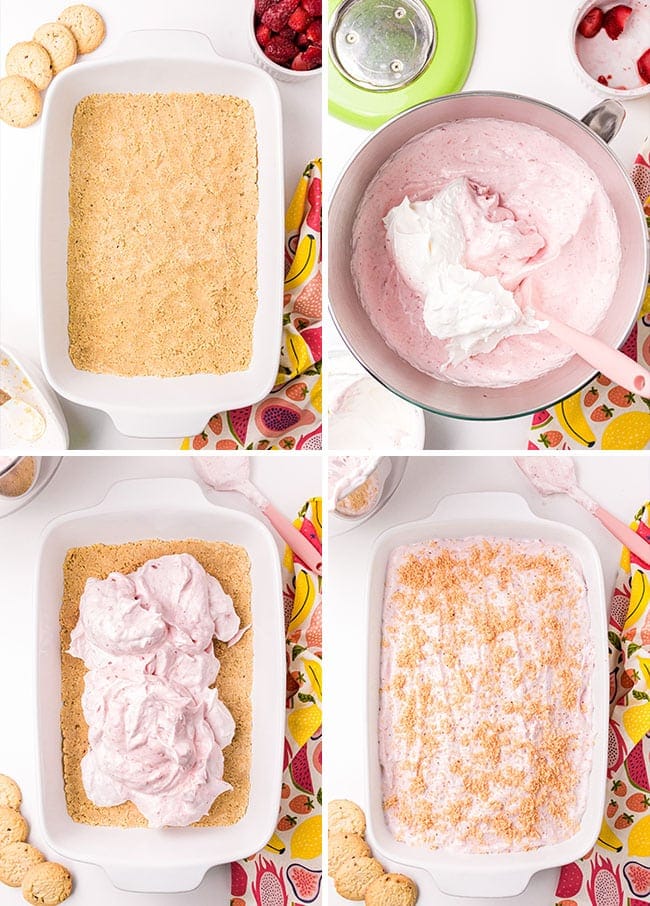 How To Make A Frozen Strawberry Dessert With Pecan Crust
Gather your equipment: a 9" x 13" pan, a food processor, an electric mixer with a bowl, measuring implements, and a spatula. (Zester is optional.)
STEP ONE: This easy frozen strawberry dessert with Cool Whip starts with a delicious and straightforward pecan crust. Simply crush and mix the pecan shortbread cookies with butter and press them into a 9×13 pan.
STEP TWO: Beat the rest of the ingredients except the Cool Whip until it is thick and fluffy, about eight minutes, then fold in the Cool Whip.
STEP THREE: Gently slather the creamy strawberry fluff over the crust, sprinkle with pecan shortbread crumbles, freeze all day(8 hours) or overnight, then garnish with fresh strawberries; you are good to go! Strawberry happiness in every bite.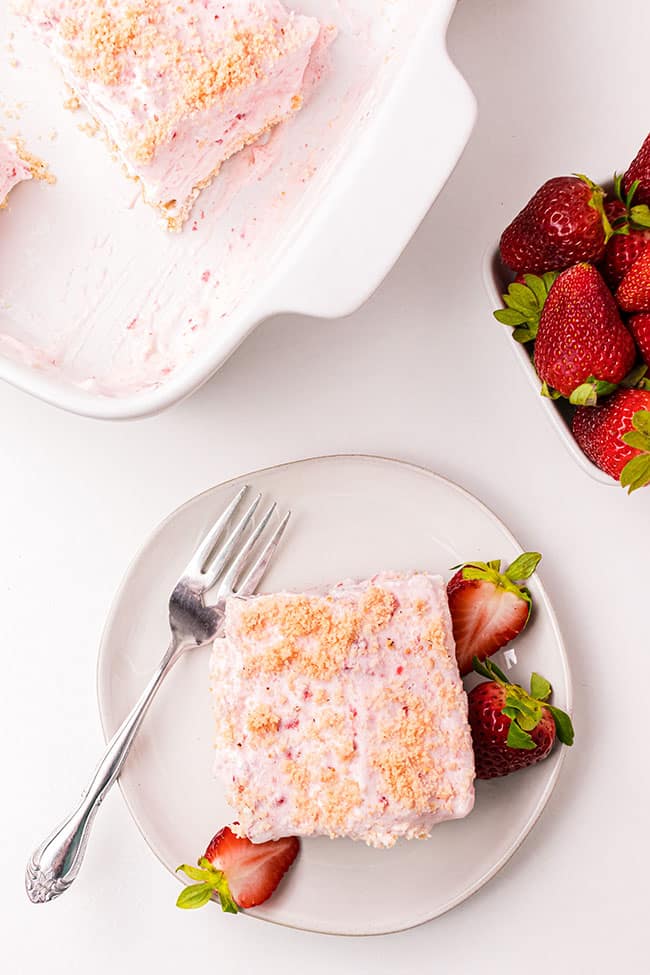 Strawberry Pecan Dessert Substitutions
Any frozen fruit you like can be used; even a mixed medley might be an exciting twist.
If you can't imagine a frozen strawberry dessert without chocolate, try drizzling melted chocolate chips over the crust, but allow to cool completely before spreading with the fluff!
Add a creamy contrast by smashing some ripe bananas with a bit of lemon juice and spread over the pecan shortbread crust. Bananas freeze nicely into an ice cream consistency.

Need an alternative for the pecan shortbread cookie crust?
I've got you covered if you have nut allergies or prefer another nut (that you happen to have on hand) over pecans. Any of these crust options can be made with or without nuts added! You can add ½ to ¾* cup of any crushed nut to your preferred taste.
Note: A 17.2-ounce bag of crushed Pecan Sandies is the equivalent of a smidge less than 2.5 cups. So, 2 ½ cups of crumb are good for any make-your-own crust alternatives below.
Crushed pretzel crust
Shortbread cookies crust
Vanilla or Chocolate Wafer cookie crust
Thinking Outside the Box: A chocolate crust would be tasty too, so if you venture into the Oreo Cookie zone, let me know how much you decided to reduce the butter because of the cream filling or ditched the cream center altogether.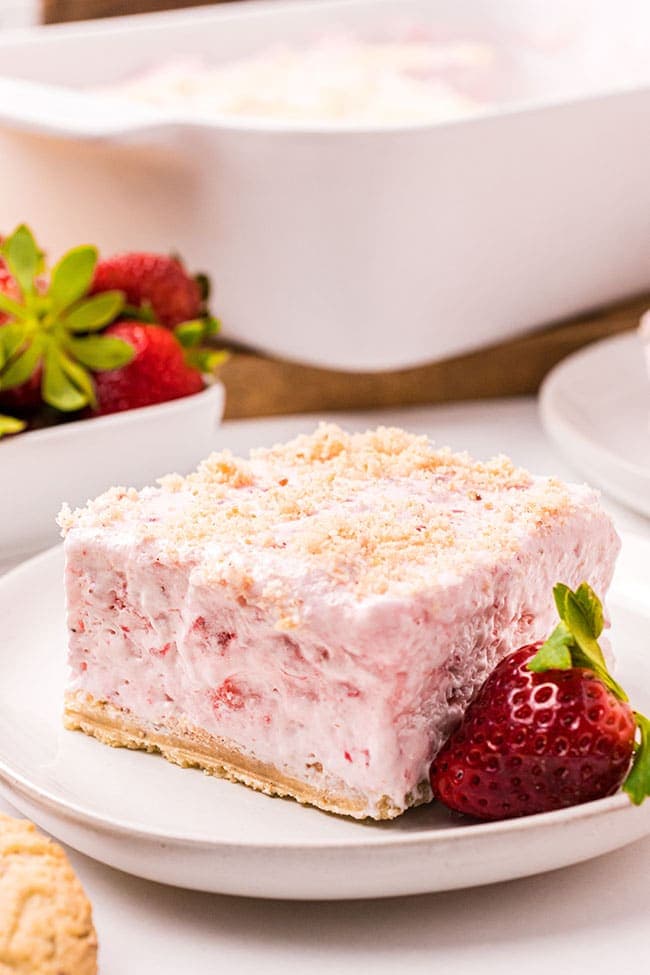 How To Store Frozen Strawberry Pecan Dessert
Um? Freezer? LOL. Store any leftover portions in an airtight container, layering with waxed paper to keep them from getting smushed. Make sure the strawberry pecan dessert is completely frozen before trying to put it into an airtight storage container for the freezer. Plastic freezer bags are not ideal due to that wretched smush factor.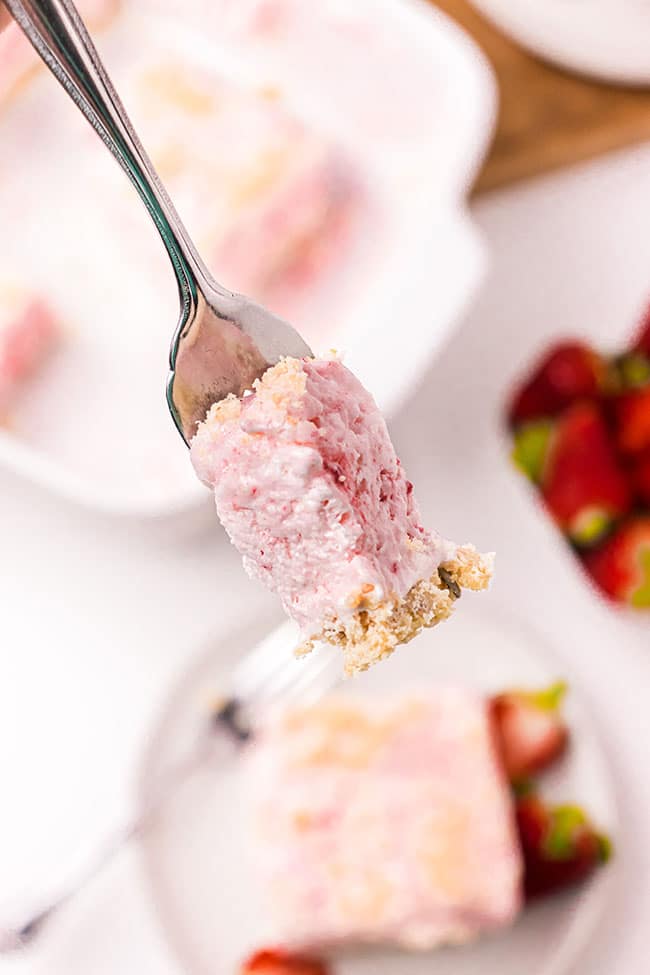 Frozen Strawberry Dessert FAQs
Can I use bagged frozen strawberries instead of frozen boxed strawberries in syrup for the frozen strawberry fluff in this dessert?
Yes, but you will need to sprinkle 2 tablespoons of sugar over the bagged frozen berries while they thaw, stirring occasionally, to create a sweet syrup.
A 10oz box of frozen strawberries equals 1 ¼ cup and has 32gms of sugar. Most bagged frozen strawberries with no sugar added come in at 8gms of sugar per 1 ¼ cup, so the additional sugar is needed to balance the recipe.
Can I use fresh strawberries instead of frozen boxed strawberries in this dessert?
Yes, but you will also need to add 2 tablespoons of sugar to cut strawberries, toss them well, and put them in the freezer for 15-20 minutes* to get them icy.
*15-20 minutes is my guestimation, change as needed.
How can I prepare overripe and extra strawberries to freeze for an easy frozen strawberry dessert with Cool Whip?
Sort out unripe strawberries, rinse with cold water (do not soak, this degrades the berry), spread on a paper towel or clean tea towel, and pat dry. Remove the calyx (the green stem); slice and sprinkle with sugar. Portion out 1 ¾ cups into a freezer-safe storage bag and freeze.
Bonus: If you are making a frozen strawberry dessert soon, you can freeze slightly overripe strawberries (usually not the rule). When you freeze fresh, overripe strawberries, they will become somewhat mushy when they thaw. In this case, it helps to create the syrup, bringing fuller flavor and an extra sweetness of their own.
Like This No-Bake Frozen Strawberry Dessert? Pin It!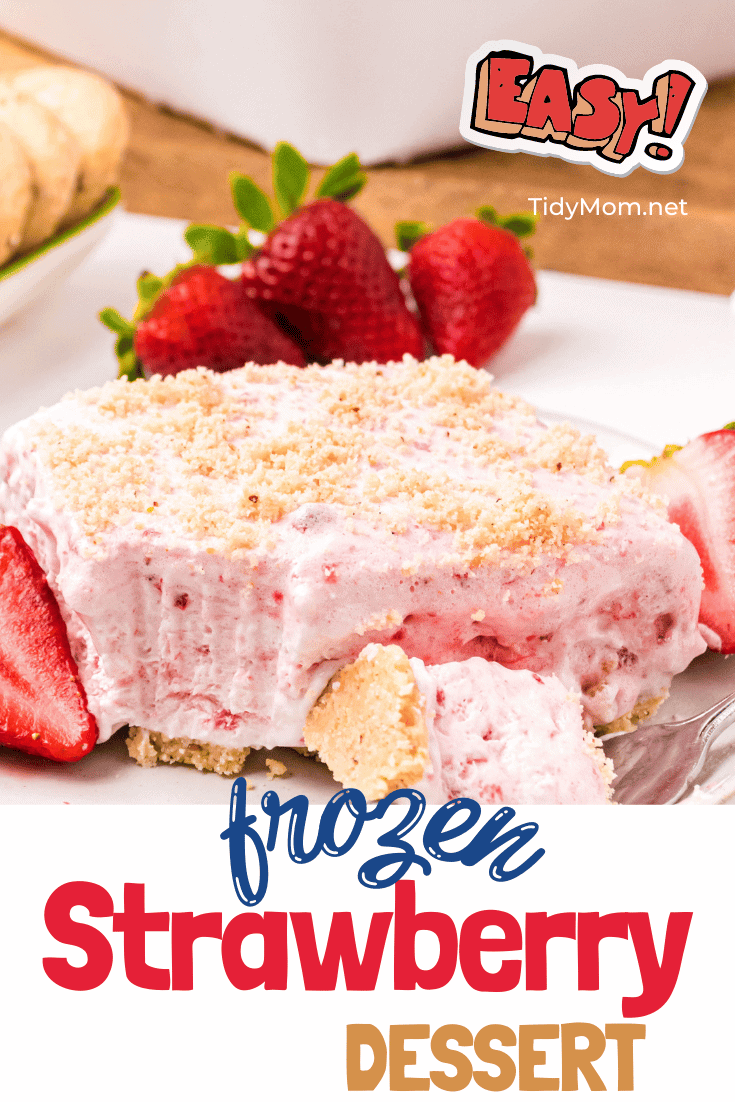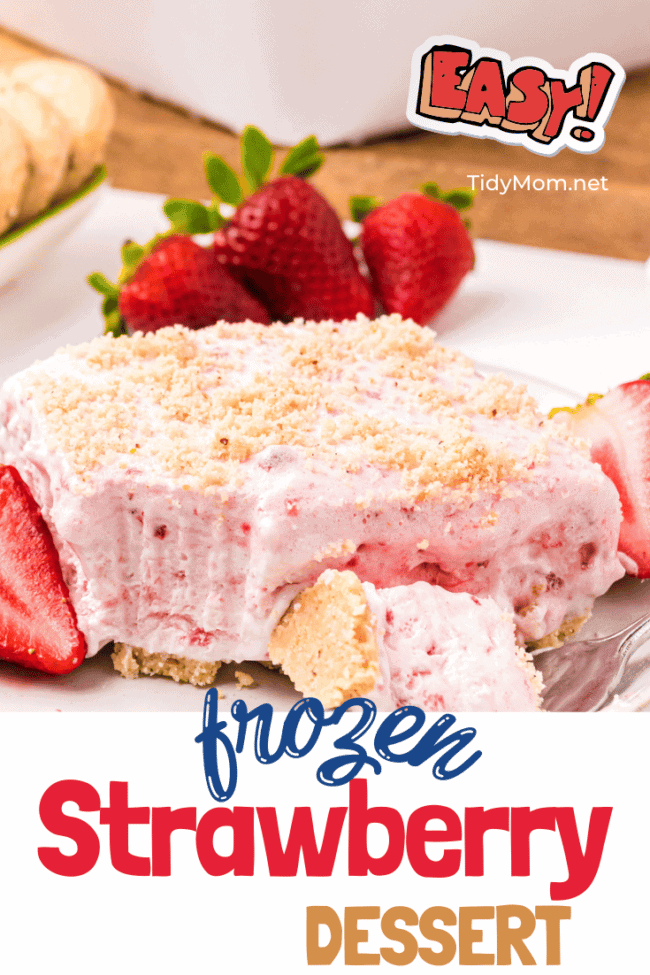 I'd love to hear if you find this creamy frozen strawberry dessert as scrumptious as I do! (Of if the chocoholic in you couldn't resist the Orea idea, I really want to know how that turns out!)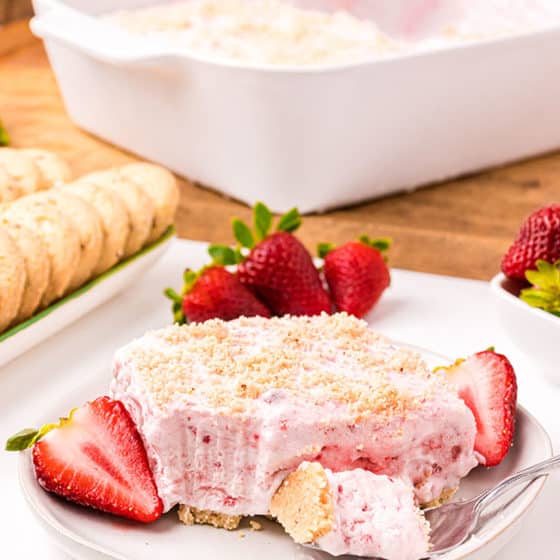 Frozen Strawberry Dessert
Yield: 12 servings
Prep Time: 20 minutes
Freezer Time: 8 hours
Total Time: 8 hours 20 minutes
Ingredients
1 package of Keebler Pecan Sandies
4 tablespoons melted butter
1 (10 ounce) box of frozen strawberries, slightly thawed (you will want them to be a bit icy.)
3/4 cup sugar
2 tablespoons fresh lemon juice
3 pasteurized egg whites (fresh from a quality source)
1 (8 ounce) container of Cool Whip, thawed
Instructions
Crush the cookies into fine crumbs and set 1/3 of the cookie crumbs aside.
Mix ⅔ of the cookie crumbs in a large bowl with the melted butter, then press into an even layer in the bottom of an ungreased 9X13 pan.
In the bowl of an electric mixer beat sugar, lemon juice, strawberries, and egg whites for 8 minutes on high speed. The mixture will become thick and fluffy.
Fold in Cool Whip. Using a spoon spread fluff over the cookie crust.
Sprinkle the remaining crushed cookies over the strawberry fluff. Freeze for at least 8 hours or overnight and serve frozen to eat.

Garnish with fresh strawberries.
Notes
Be sure to use pasteurized eggs. If they're in the shell or in cartons and they're pasteurized, the packaging will state when eggs are pasteurized.
Raw eggs mixed with some kind of acid, kills bacteria - this recipe has lemon juice.
Recommended Products
As an Amazon Associate and member of other affiliate programs, I earn from qualifying purchases.
Nutrition Information:
Yield: 12
Serving Size: 1
Amount Per Serving:
Calories: 103
Total Fat: 4g
Saturated Fat: 3g
Trans Fat: 0g
Unsaturated Fat: 1g
Cholesterol: 10mg
Sodium: 49mg
Carbohydrates: 15g
Fiber: 0g
Sugar: 14g
Protein: 1g
Nutrition information is estimated based on the ingredients and cooking instructions as described in each recipe and is intended to be used for informational purposes only. Please note that nutrition details may vary based on methods of preparation, origin, and freshness of ingredients used.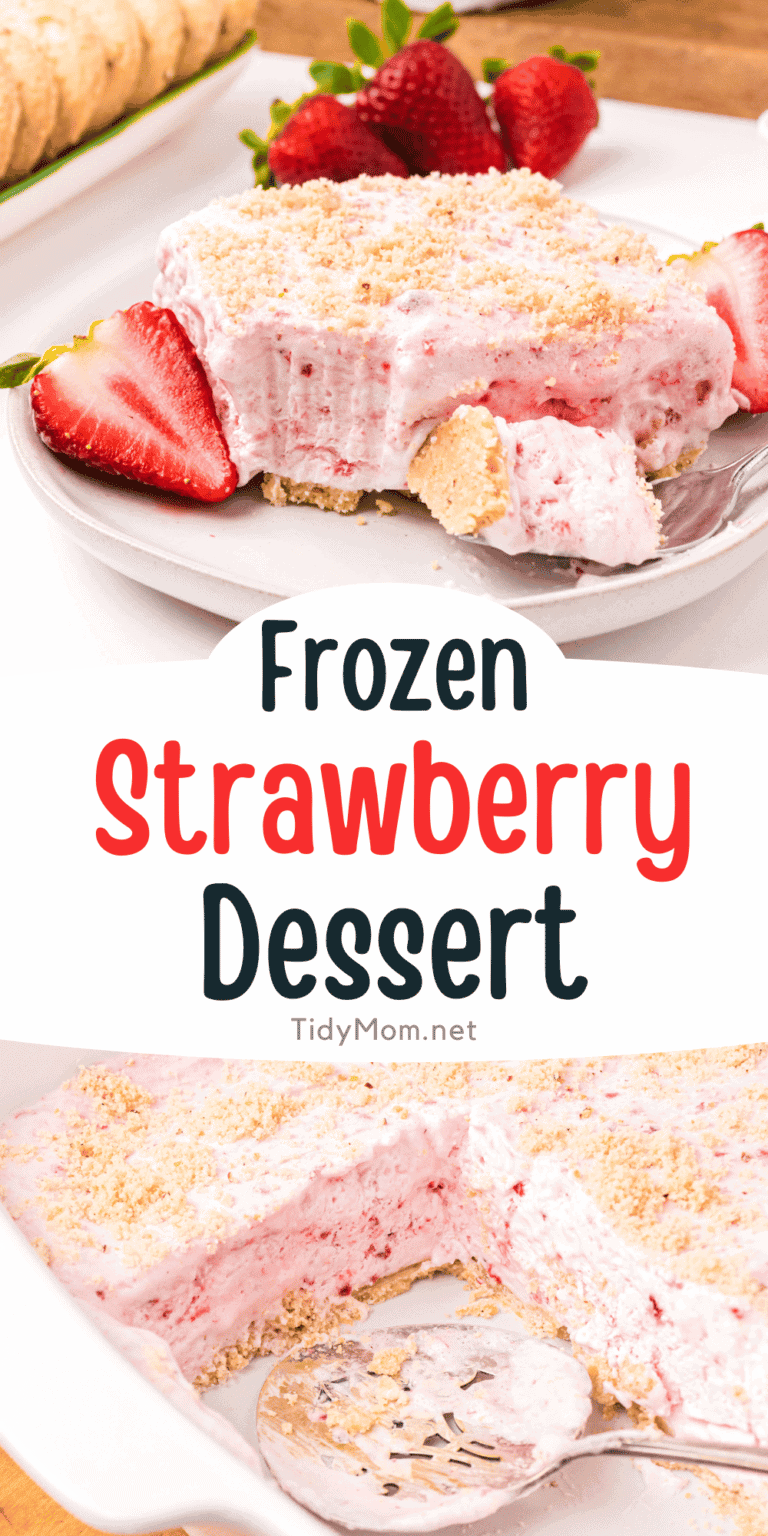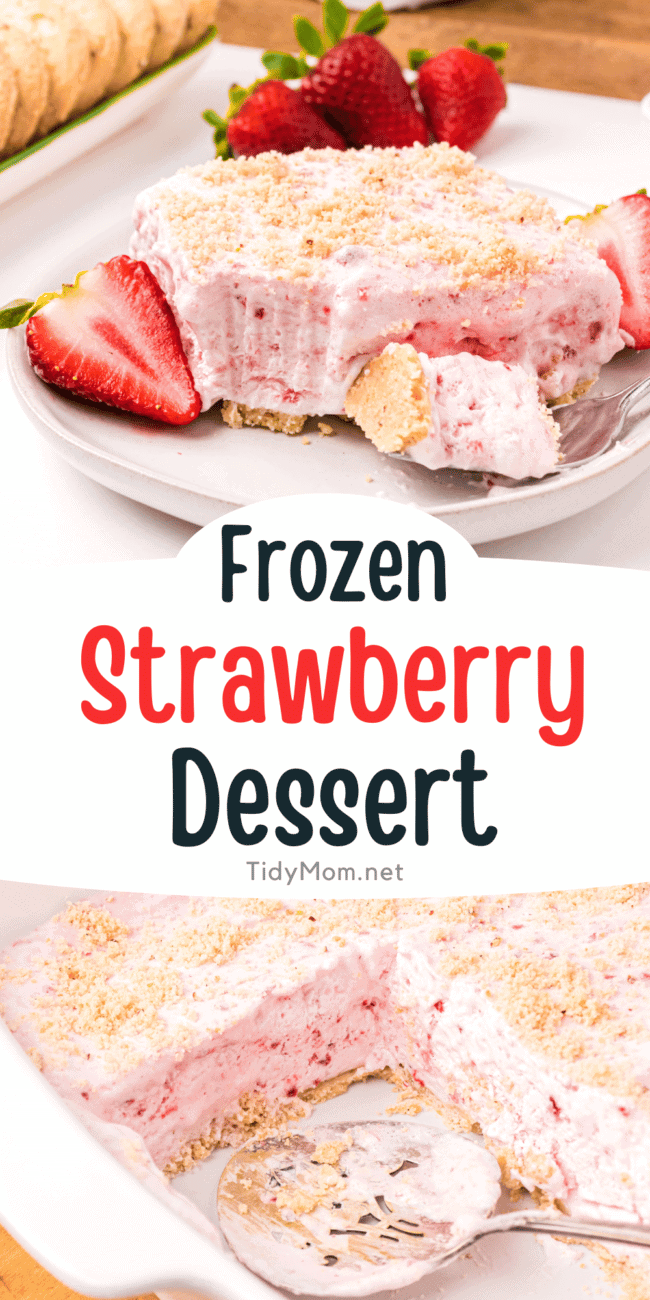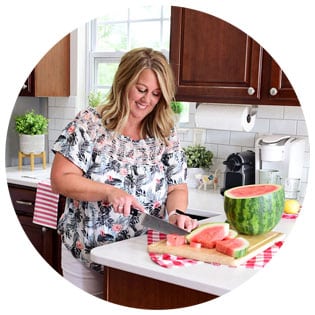 Hi there, I'm Cheryl!
As a wife, mom, and caffeine enthusiast, my journey has taken me from bustling mornings with my family to sharing delicious recipes, home care tips, and heartfelt decorating insights with wonderful readers like you. My love for baking, photography, and tidiness shines through every post I craft. Dive into my world and discover the art of homemaking, one tidy moment at a time. Read more...
Tidymom is a participant in the amazon services llc associates program, an affiliate advertising program designed to provide a means for sites to earn advertising fees by advertising and linking to Amazon.com.
Please respect my work, recipes and photographs. If you do use a recipe in your own writing, please give proper credit and link back to the original post.