Sheet Pan Fajitas With Chicken
These incredibly easy Sheet Pan Fajitas bring together classic Mexican-style spices with juicy chicken and colorful bell pepper. Just add your favorite toppings and warm tortillas. Oven fajitas are quick to prep and a cinch to clean up!
If you're looking for more chicken-based dishes full of flavor, you might like Chicken Tortilla Soup, Buffalo Chicken Pizza, or Mississippi Chicken. And if you're looking for starters for your next soiree, you can try Buffalo Chicken Meatballs or Chicken Puffs.
Be sure to sign up for my email… to get new recipes and ideas in your inbox!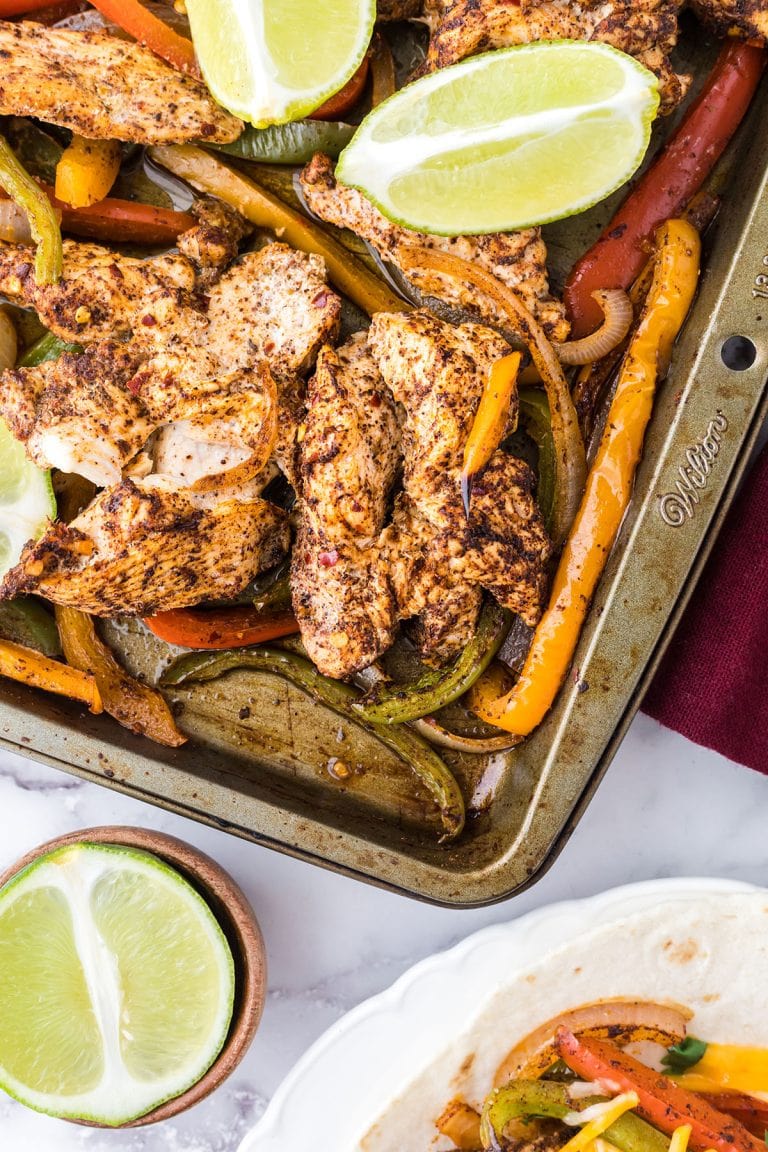 Why We Love Sheet Pan Chicken Fajitas
What's not to love about an easy single-sheet pan meal of slightly spicy chicken, peppers, and onions? The next time you're looking for a simple but flavorful weeknight meal for taco Tuesday (or on busy weeknights), or a great way to feed a crowd, check out these sheet pan chicken fajitas.
Customizable – Oven-baked fajitas can be spicy or mild, folded into tortillas or used as a nacho topper, and are the perfect canvas for your creativity in terms of toppings.
Easy – What makes pan fajitas such an easy meal to make is that there's so little preparation involved — just mix all of the ingredients together and pop the pan in the oven. We might admit, though, that the best part (outside of eating them, of course) is the cleanup – since you're baking the whole meal on one pan, washing dishes afterward is a cinch.
Versatile – Sheet pan chicken fajitas are as fun for a party as they are for weeknights. They're also perfect for meal prep.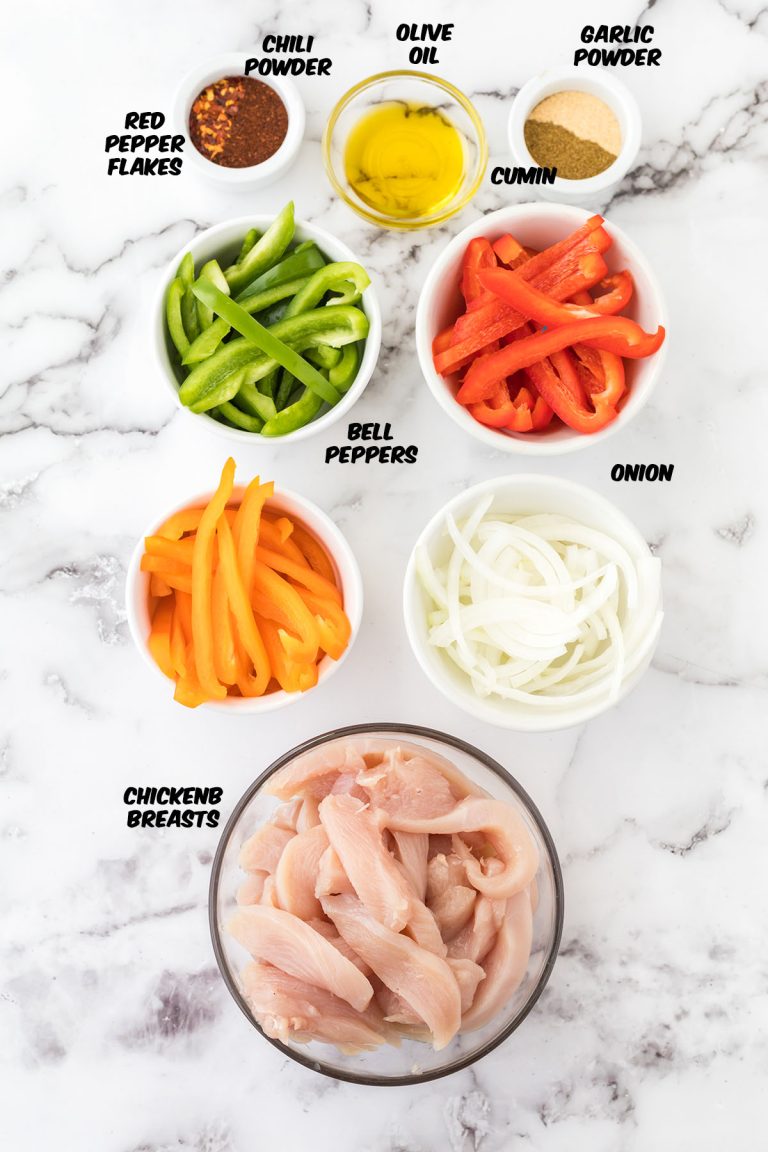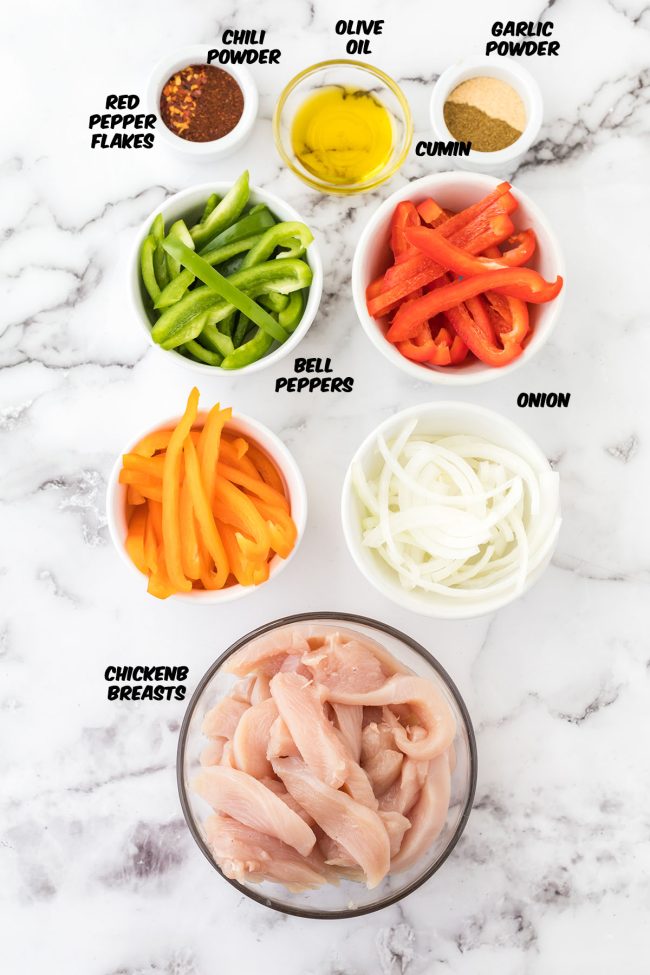 Ingredients for Chicken Pan Fajitas
A few simple ingredients are all you need to make the best sheet pan chicken fajitas. You'll need to grab a mixing bowl, a wooden spoon, and a rimmed large sheet pan.
For specific amounts, please refer to the printable recipe card at the bottom of the post.
Boneless chicken breasts – The word "fajita" loosely translates to "little belt." Keep this in mind as you are slicing the chicken into thin strips.
Bell peppers (red, orange, and yellow) – Slice the peppers into a size that's similar to the chicken so that they cook evenly.
White onion – Slice the onion into long, thin slices.
Olive oil – Use good quality olive oil for the best flavor.
Chili powder – Brings mild to moderate spice to the chicken fajitas, depending on how much cayenne pepper is in the mix. Feel free to increase or decrease the amount depending on your palate. Or make your own chili seasoning to use, that way you're in control more.
Red pepper flakes – turn up the heat quickly, so add a pinch to ¼ teaspoon increments.
Garlic powder – If you're a fan of garlic, feel free to increase the amount as much as you choose.
Cumin – This spice imparts an earthy flavor to the dish.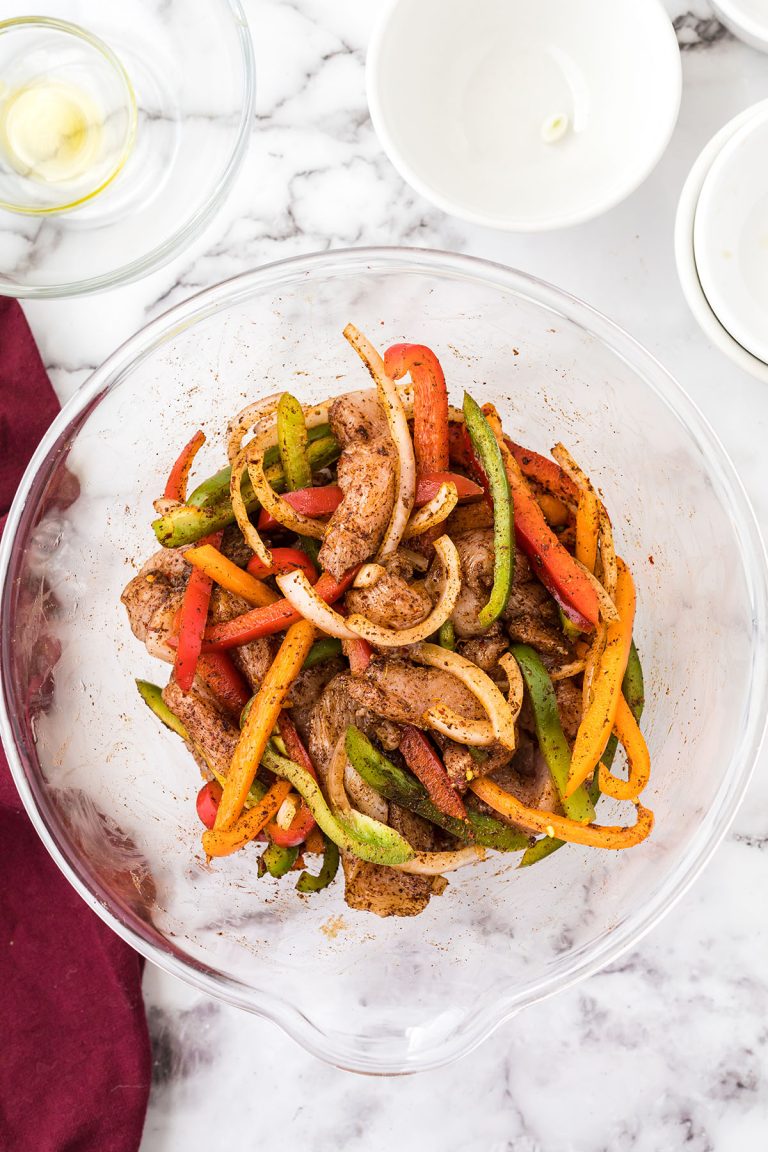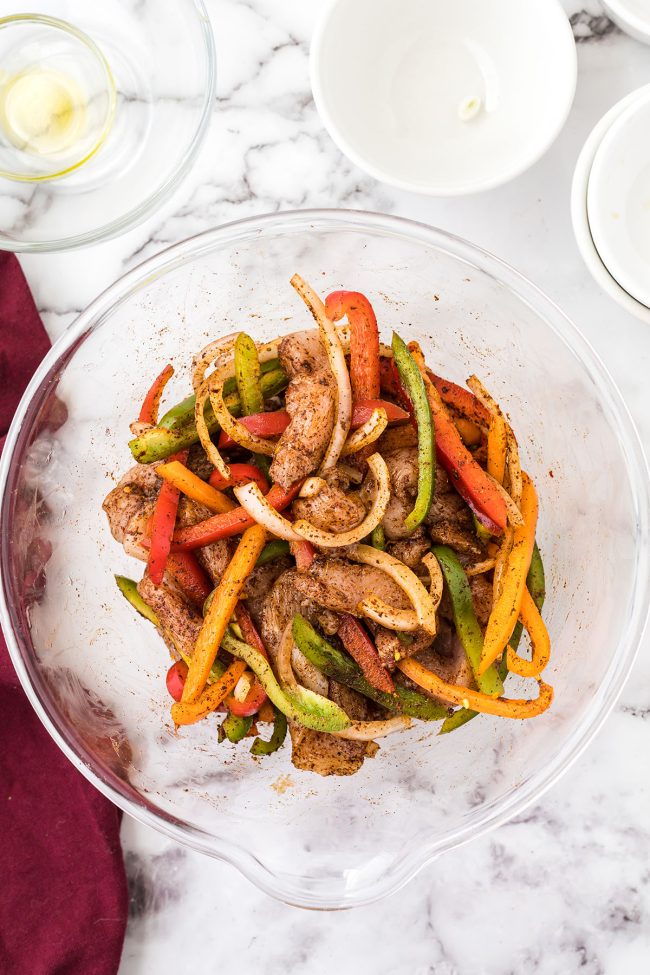 This post may contain affiliate links. Please read my disclosure policy here.
How to Make Oven Fajitas
Seasoned chicken and veggies roasted all on one pan and oh-so-delicious! Another reason sheet pan chicken fajitas are so great? The preparation couldn't be easier, and clean-up is a breeze! Love it!
When you are baking, you'll want to use the full recipe at the bottom of the page.
Mix all of the chicken fajita ingredients together in a large mixing bowl using a wooden spoon or your hands until the chicken is completely coated with the mixture.
Place the fajita mixture on a large baking sheet prepared with non-stick cooking spray or parchment paper. Try to arrange them so that the vegetables and chicken are in an even layer on the sheet and that there is space between pieces for the hot air to reach them.
Place the pan in the preheated oven and bake until the chicken reaches an internal temperature of 165° F on a meat thermometer.
Remove the sheet pan chicken fajitas from the oven and if desired, squeeze a little fresh lime juice and chopped cilantro over them.
Serve the oven fajitas immediately with warm tortillas and your favorite toppings.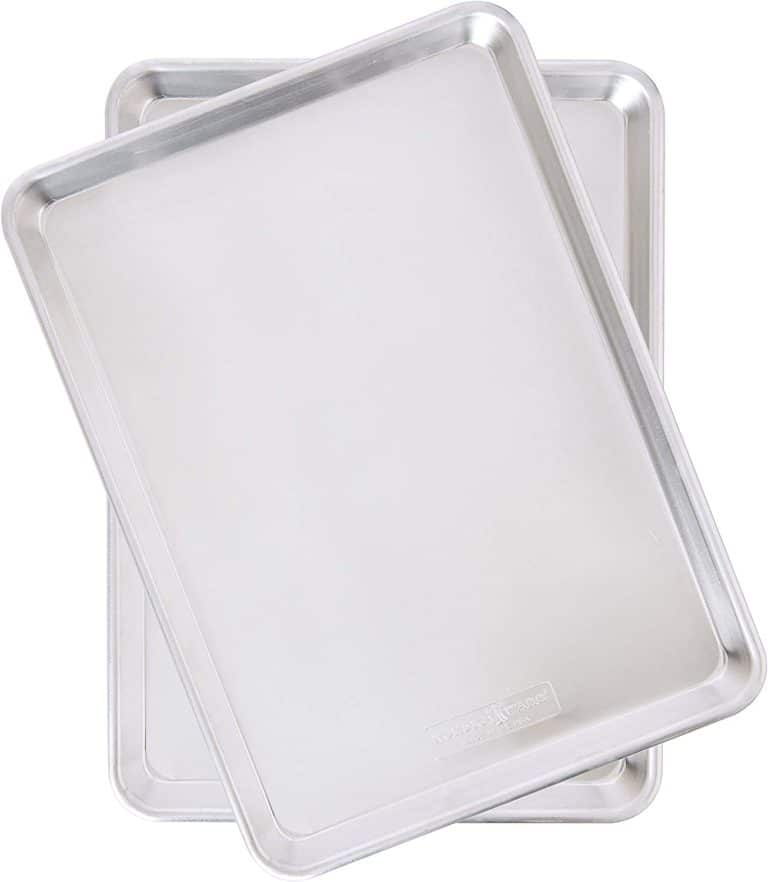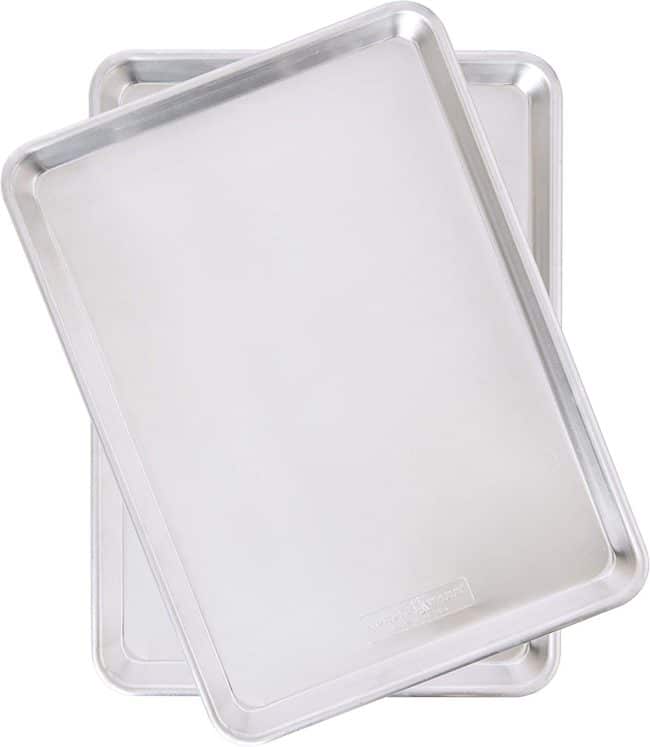 Featured Product Aluminum Half Sheet Pans
These are my favorite sheet pans! They will never rust for a lifetime of durability. Perfect for sweet or savory baking; from cookies to sheet pan dinners, this is the pan you'll reach for.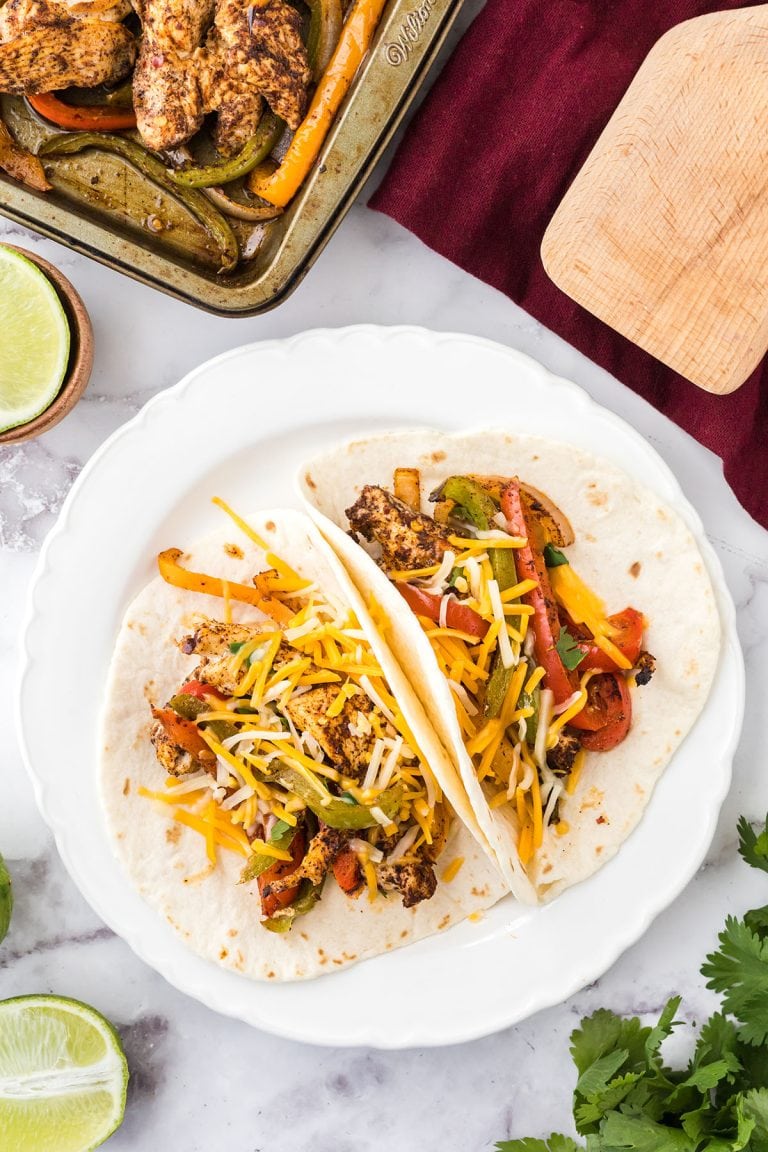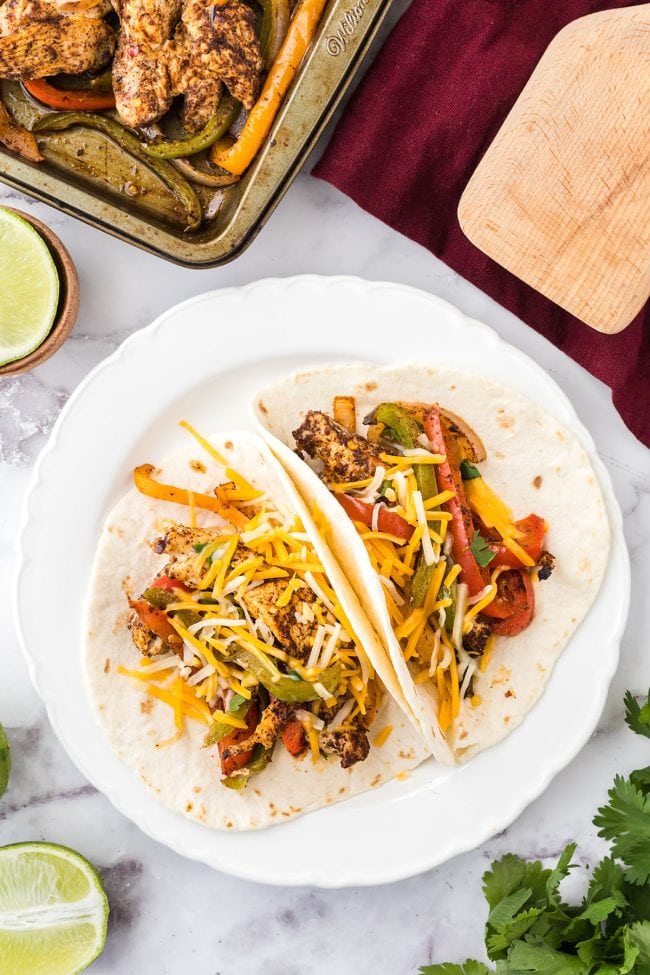 Notes and Tips for the Best One Pan Chicken Fajitas
You're going to love these simple fajitas just the way they are but there are a few easy ways to make sure they're as quick to make, and as satisfying, as possible.
If you want to make these oven baked fajitas ahead of time, coat them with the oil and season them, then refrigerate the uncooked ingredients in an airtight container or zip-top bag for up to 24 hours.
While you could cook these on the stovetop we prefer roasting the fajitas in the oven so that the vegetables soften perfectly and get a nice, light char, and the chicken cooks evenly, leaving it juicy and tender.
Serve these hot and fresh out of the oven, especially if adding cheese on top.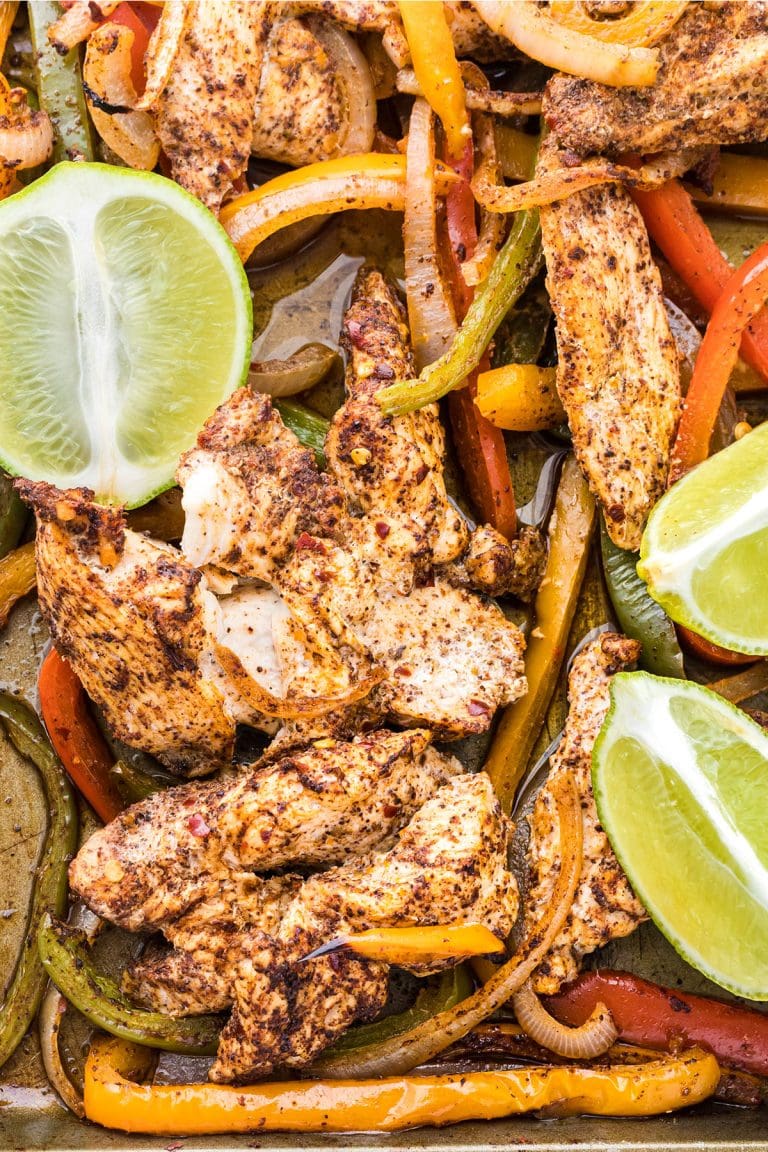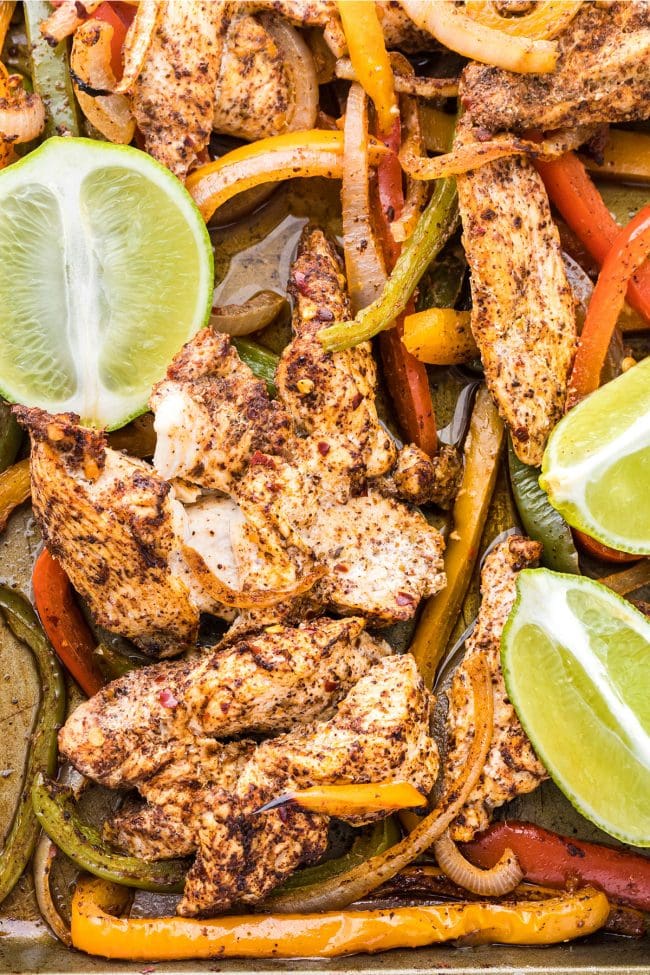 How To Store Sheet Pan Chicken Fajitas
Refrigerate/Leftovers
Once the fajita chicken and veggies have cooled to room temperature, place them in an airtight container or zip-top bag. Store in the refrigerator for up to 4 days.
Freeze
Store the one pan chicken fajitas in a freezer-safe container for up to 3 months in the freezer.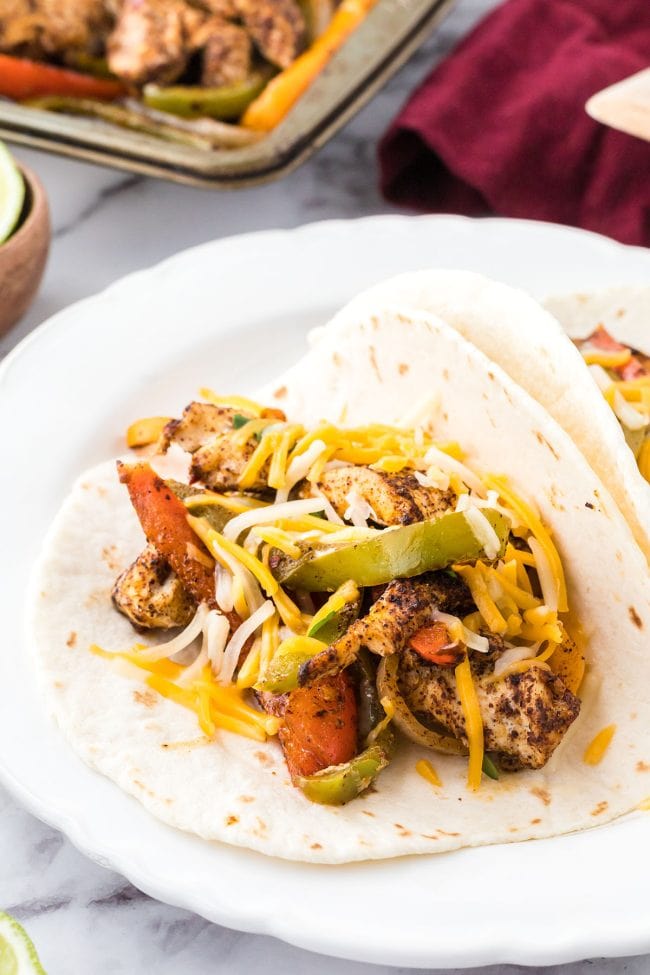 Chicken Fajitas FAQs
What toppings can you put on fajitas?
There are tons of options for fajita toppings. Sliced avocado, shredded cabbage, grated cheese, and salsas are all great on top of fajitas.
What does fajita seasoning contain?
You can buy pre-packaged fajita seasoning (also called taco seasoning) instead of using the various spices like this recipe does. Typically the spice mix contains cumin, cayenne pepper, garlic powder, chili powder, onion powder, and paprika — there can be other spices as well.
What cheese is the best for fajitas?
You can choose the cheese you prefer but often fajitas will be served with cheddar. They also go well with Monterey Jack and pepper jack as well as queso fresco.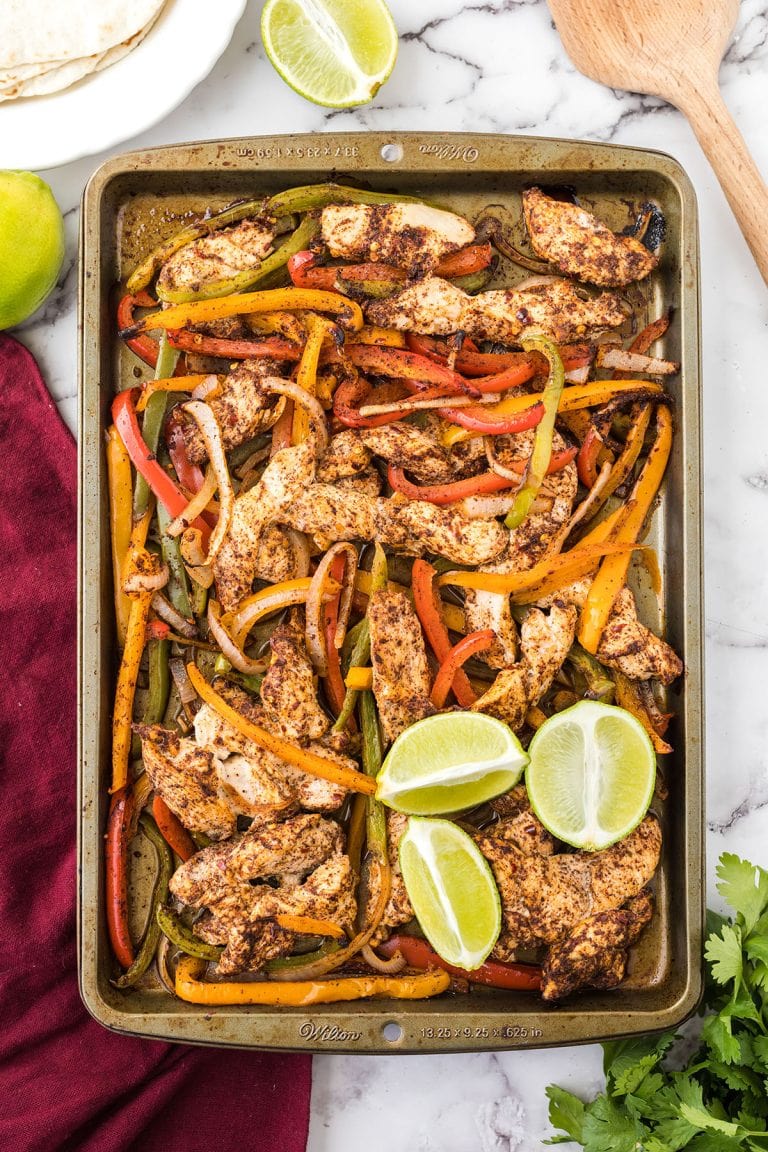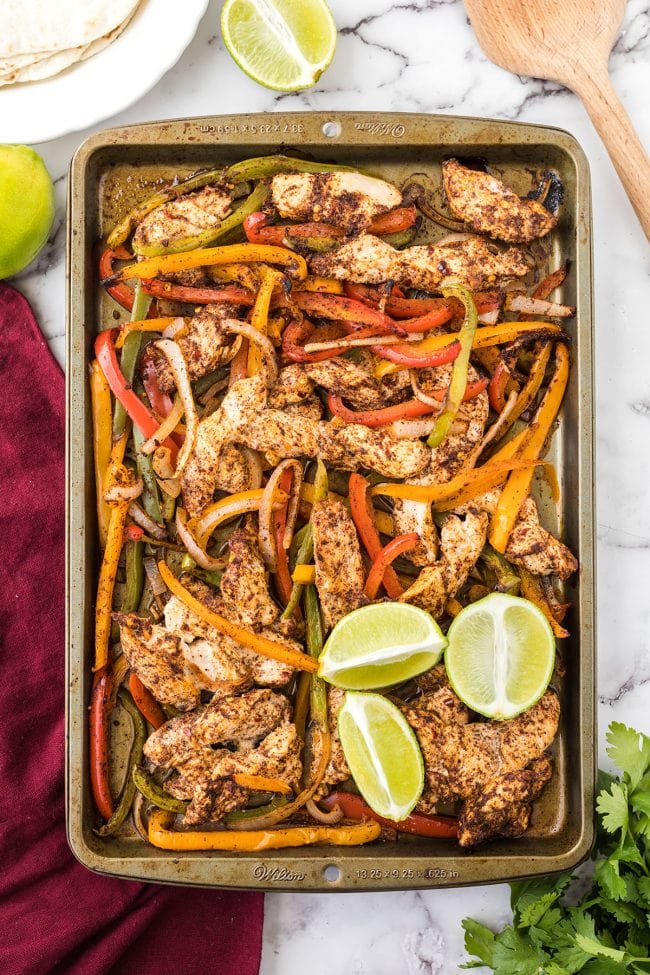 Variations on Easy Chicken Fajitas
This is a great recipe for chicken fajitas but you can make your own additions, too.
Heat – Increase the spiciness of these fajitas by adding more of the spices that are already in the recipe or adding hot sauce. You can also use black pepper.
Peppers – Add some jalapenos for added flavor and flair. For even more heat, try spicier peppers.
Red onions – Try using red onions instead for more color.
Lettuce – Instead of using traditional tortillas, try using lettuce wraps instead.
Protein – Use beef, seafood, or plant-based alternatives in place of chicken.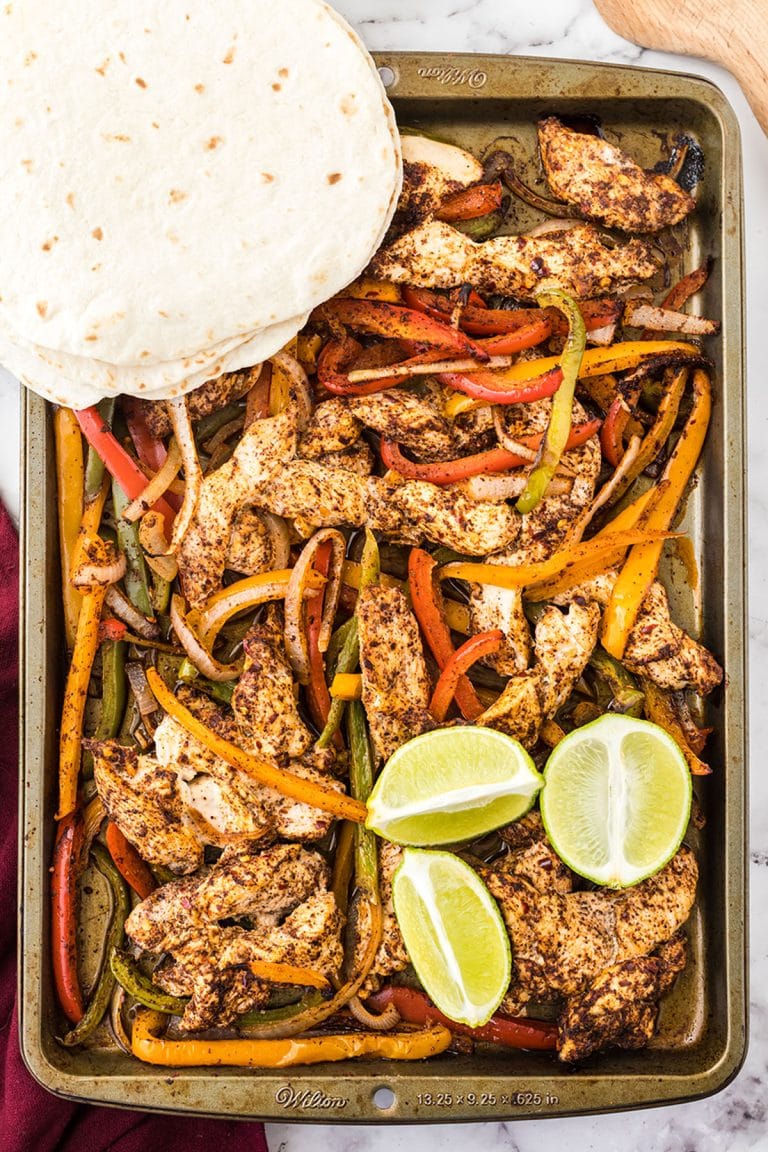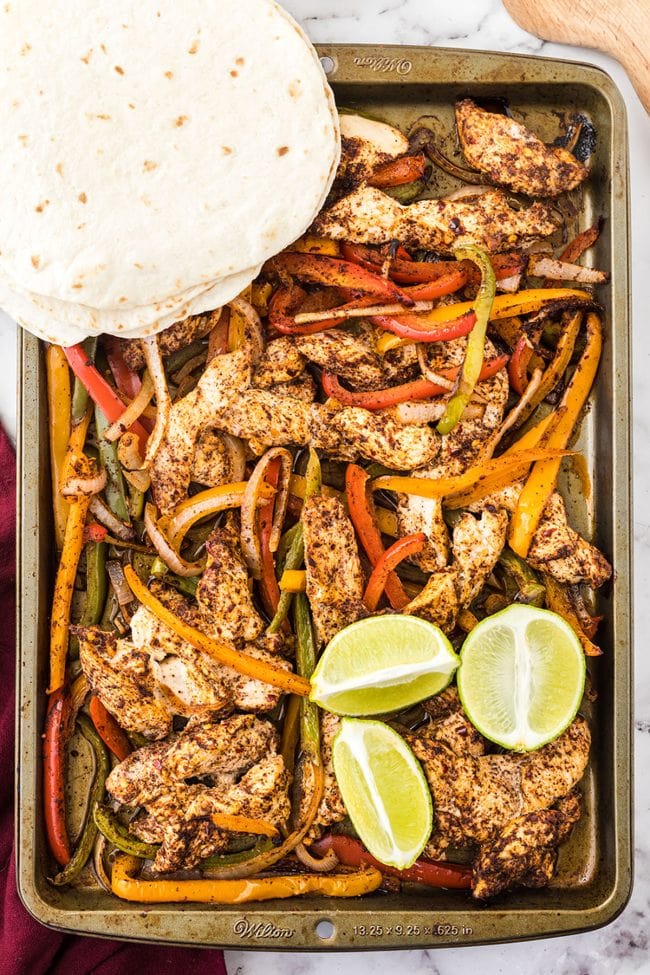 Serving Suggestions
Warm tortillas – Warm flour tortillas or corn tortillas are perfect to fill with the chicken and peppers.
Tortilla chips – Serve tortilla chips on the side.
Dips and sauces – Serve salsa, sour cream, queso dip, pico de gallo, or guacamole in a small bowl on the side to add on top, or choose your own favorite toppings.
Salad – Serve a simple green salad to have with the meat or serve the fajita filling over top of the greens. This is a great way to make these fajitas low-carb.
Crunch- Cabbage or slaw mix is a great way to add some crunch to oven-baked fajitas.
Lime wedges – Squeeze fresh lime juice over the fajitas for a fresh, bright flavor.
Fresh cilantro – Garnish the fajitas with chopped cilantro.
Like This Recipe? Pin It!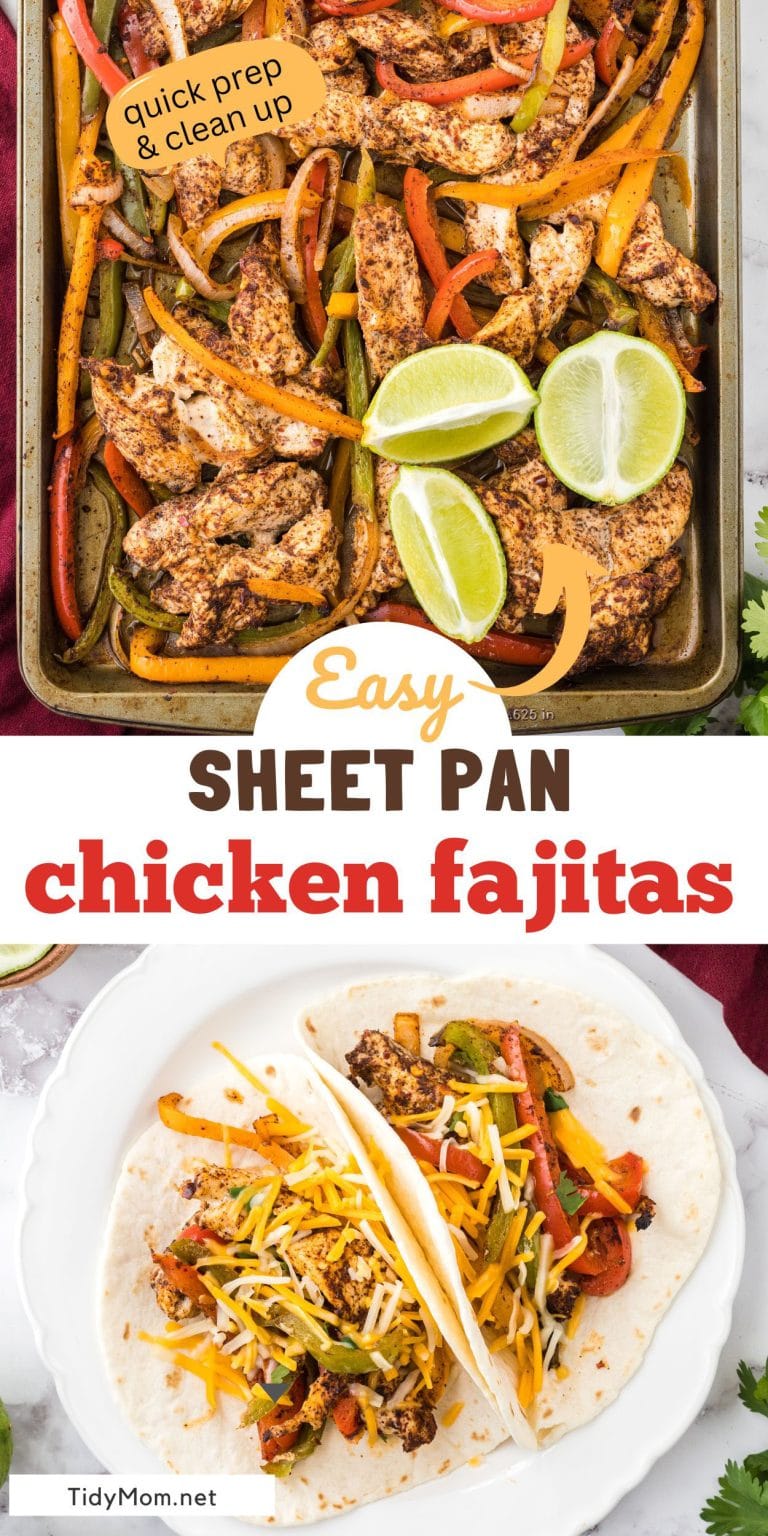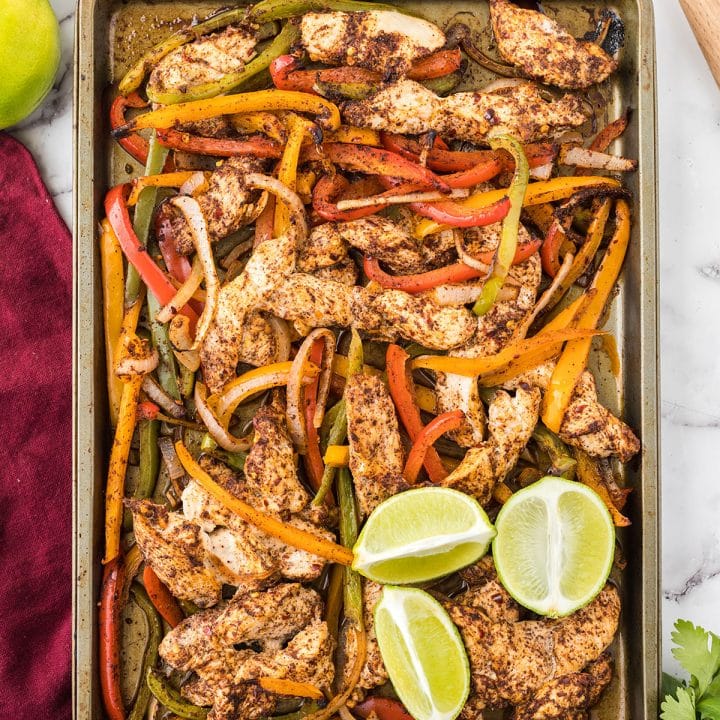 Easy Sheet Pan Fajitas With Chicken
Yield: serves 6
Prep Time: 10 minutes
Cook Time: 20 minutes
Total Time: 30 minutes
These incredibly easy Sheet Pan Fajitas bring together classic Mexican-style spices with juicy chicken and colorful bell pepper. Just add your favorite toppings and warm tortillas. Oven fajitas are quick to prep and a cinch to clean up!
Ingredients
2 pounds chicken, cut into strips ½ inch thick
1 red bell pepper, sliced
1 orange bell pepper, sliced
1 yellow bell pepper, sliced
½ white onion, sliced
2 ½ tablespoon olive oil
3 teaspoon chili powder
1 teaspoon red pepper flakes
2 teaspoon garlic powder
1 ½ teaspoon cumin
optional garnish- fresh lime juice and chopped cilantro
warm tortillas for serving
Instructions
Preheat the oven to 425° F. Lightly grease a large sheet pan with non-stick cooking spray.
While the oven is preheating, place all the ingredients in a large bowl and use a wooden spoon or your hands to toss the ingredients until everything is evenly coated in the oil and spices.
Spread the veggies and chicken out over a large baking sheet and cook for 20 minutes, or until the chicken reaches an internal temperature of 165° F.
Remove the chicken fajitas from the oven and if desired, squeeze a little fresh lime juice and chopped cilantro over them.
Serve with warm tortillas, and your favorite fajita fixings, and enjoy!
Notes
You can coat the veggies and chicken and store it uncooked in a large Ziploc bag or airtight container for up to 24 hours before it needs to be cooked.
Once the chicken has been cooked, you can store this in the fridge for up to 4 days.
If you like your fajitas a little spicier, you can add 1 tsp of cayenne chili powder.
Cooking the meat and veggies in the oven will make the veggies soft giving them a light charring while the chicken cooks to perfection and becomes juicy and tender.
Nutrition Information:
Yield: 6
Serving Size: 1
Amount Per Serving:
Calories: 415
Total Fat: 26g
Saturated Fat: 6g
Trans Fat: 0g
Unsaturated Fat: 17g
Cholesterol: 142mg
Sodium: 149mg
Carbohydrates: 7g
Fiber: 2g
Sugar: 2g
Protein: 37g
Nutrition information is estimated based on the ingredients and cooking instructions as described in each recipe and is intended to be used for informational purposes only. Please note that nutrition details may vary based on methods of preparation, origin, and freshness of ingredients used and are just estimates. We encourage, especially if these numbers are important to you, to calculate these on your own for most accurate results.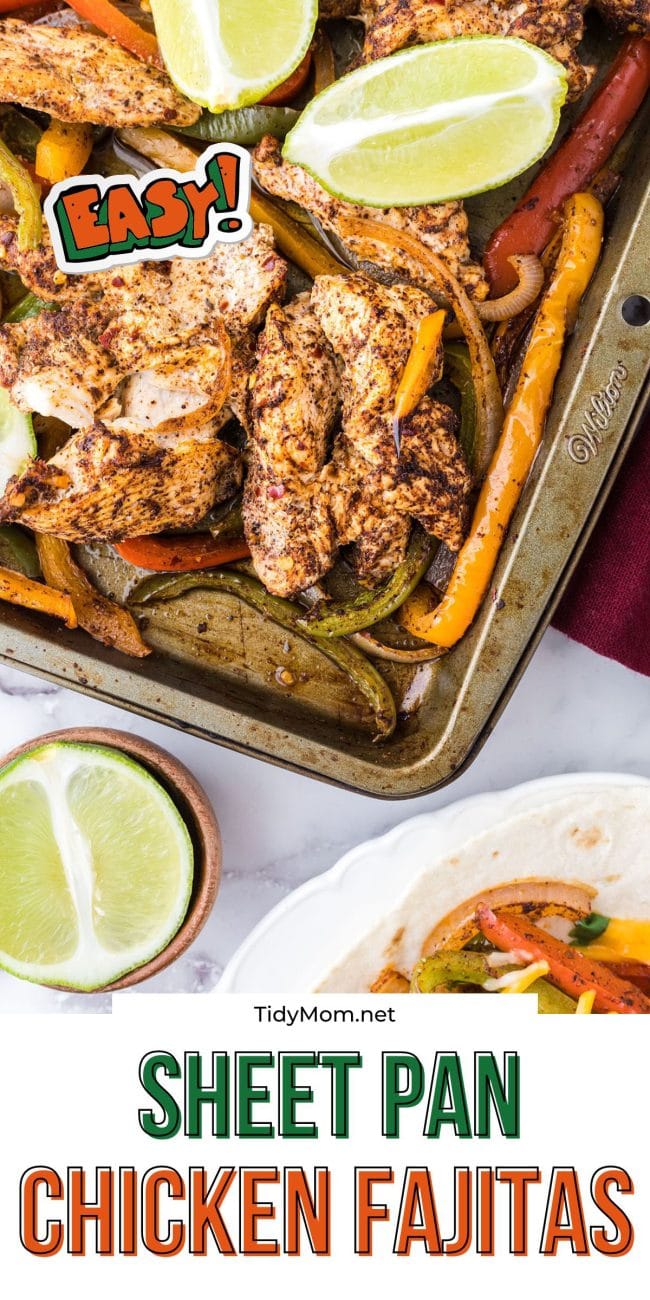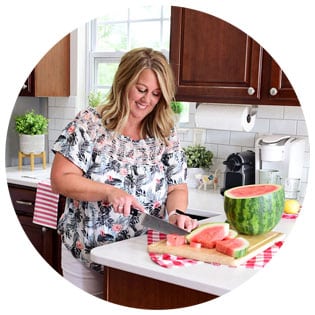 Hi there, I'm Cheryl!
As a wife, mom, and caffeine enthusiast, my journey has taken me from bustling mornings with my family to sharing delicious recipes, home care tips, and heartfelt decorating insights with wonderful readers like you. My love for baking, photography, and tidiness shines through every post I craft. Dive into my world and discover the art of homemaking, one tidy moment at a time. Read more...
Tidymom is a participant in the amazon services llc associates program, an affiliate advertising program designed to provide a means for sites to earn advertising fees by advertising and linking to Amazon.com.
Please respect my work, recipes and photographs. If you do use a recipe in your own writing, please give proper credit and link back to the original post.