Pineapple Jalapeño Margarita, A Fresh Summer Cocktail
This post may contain Amazon or other affiliate links. As an Amazon associate, I earn from qualifying purchases.
Pineapple Jalapeño Margaritas are the quintessential drink for summer! Spicy, sweet, and citrusy this kicked-up marg packs a refreshing punch. Serve with appetizers and you're ready for a party.
If you're looking for more great summer cocktail recipes, may I suggest this Frozen Raspberry Margarita recipe using sorbet?! And for those die-hard beer friends, nothing like a Beer Margarita, "Beergarita," to yank them out of the same-ole same-ole rut and into the present! Someone who enjoys a tequila drink but is not feeling citrusy? Wow, them with this fruity, tequila-infused Sangria Mexican Mule recipe!
Be sure to sign up for my email… to get new recipes and ideas in your inbox!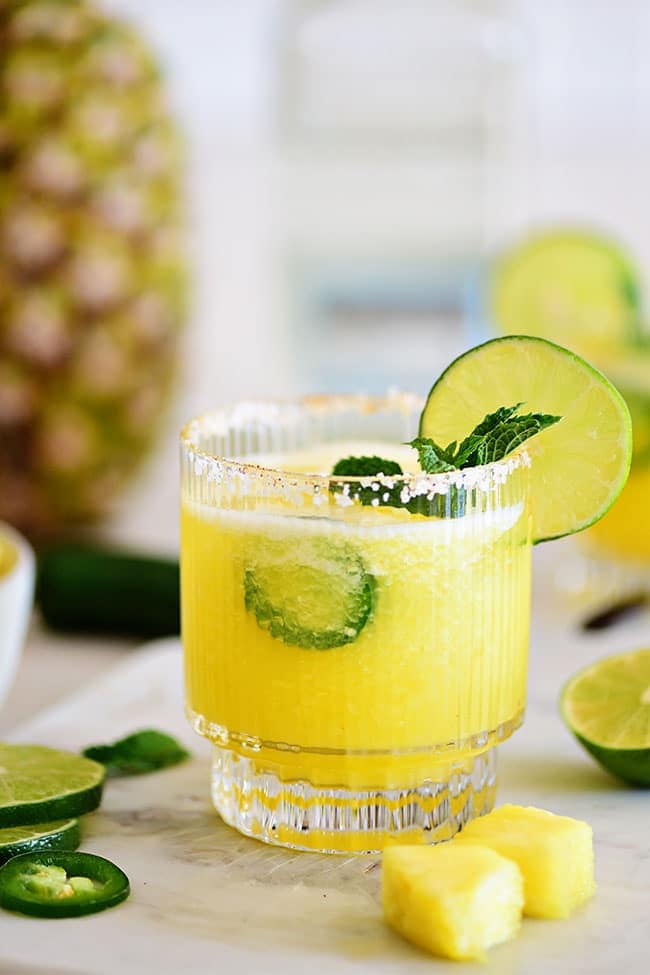 Why You'll Love This Margarita Recipe With Pineapple and Jalapeños
Fresh, sweet, juicy pineapple blends with agave-forward silver blanco and its bright citrus notes and peppery finish. This spicy margarita is refreshing and compelling with a pleasurable zing of lime and jalapenos.
Fresh pineapple, orange, and lime flavors are revitalizing in a summer cocktail.
Jalapeños give pineapple margaritas the perfect kick of heat.
Bright sweet citrus meets piquant heat for the ultimate margarita recipe.
Easily dial in the simple syrup to find the ideal "sweet spot."
A standout summer margarita flavor for sunsets on the deck
It's guaranteed to make your list of quintessential summer cocktail recipes.
(Bonus! Get all the vitamin C you need in a margarita recipe!)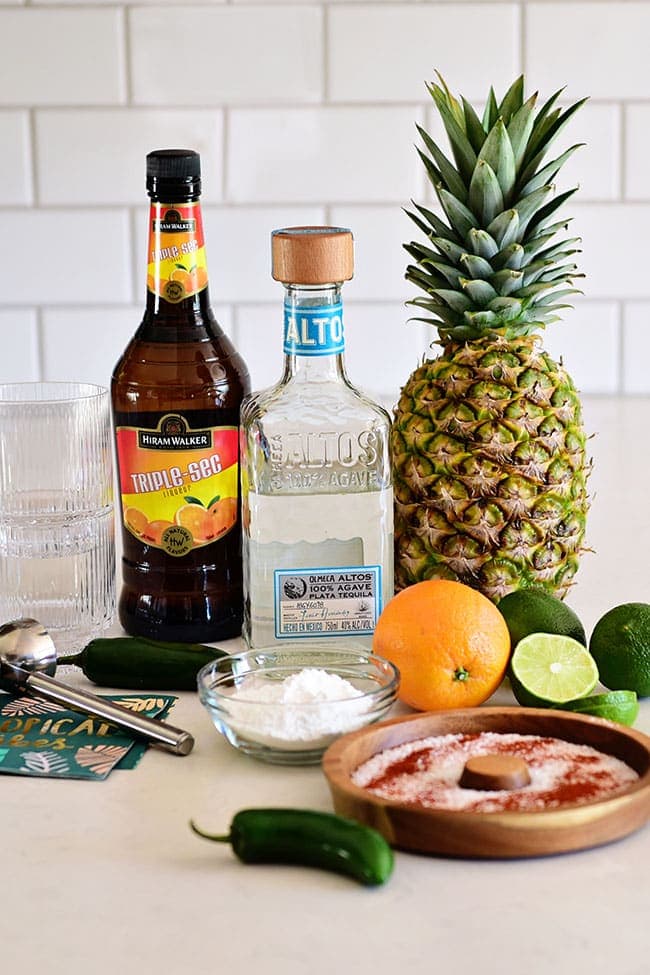 This post may contain affiliate links. Please read my disclosure policy here.
Pineapple Jalapeño Margaritas Ingredients
What's in a Spicy Pineapple Margarita? Don't let this list fool you! When making a traditional margarita recipe, you'll already have six of the nine ingredients on hand. By simply adding pineapple, orange juice, and jalapenos, you are ready to rock this summer cocktail recipe!
Fresh Pineapple Chunks – time-saver – easy to find prepared and packaged in the produce section these days! Prefer to cut your own? See how to choose a pineapple below.*
Lime Juice – fresh is always best when it comes to margarita recipes. In a pinch, you can sub in Roses Lime Juice just note it's sweetened, so you may want to omit the sugar.
Orange Juice – fresh-squeezed oranges are ideal (you don't need much) for that ultimate summer cocktail. But there's no shame in using store-bought juice, especially for time-conscious partyers!
Superfine Sugar – dissolves so smoothly compared to granulated sugar! DIY is so, so simple with a food processor (see details below).
Blanco Tequila – good quality doesn't mean it has to cost a lot! We use Blanco (silver) for a mild flavor or you can use reposado for a stronger flavor. TIP: Not a tequila fan? (we can still be friends) try this spicy pineapple margarita with vodka.
Triple Sec – adds orange vibrancy to this cocktail recipe. You can also use Cointreau, Grand Marnier, or any orange-flavored liqueur; adjust the superfine sugar accordingly.
Jalepeño – this needs to be raw and sliced. Not a fan of the heat, remove the seeds to calm things down!
Ice
Sea Salt And Chili Seasoning (Or Tajin) – to rim your glasses.
Optional Garnishes -lime slices, pineapple wedges, jalepeño slices, and fresh mint. Yum!
*Pineapple freezes really well, so if you run into a good fruit lot, buy several, cut, and freeze for backup because this summer margarita recipe will be in demand. If you end up with a full freezer, I've got plenty of Pineapple Recipes to work that out for you! 🙂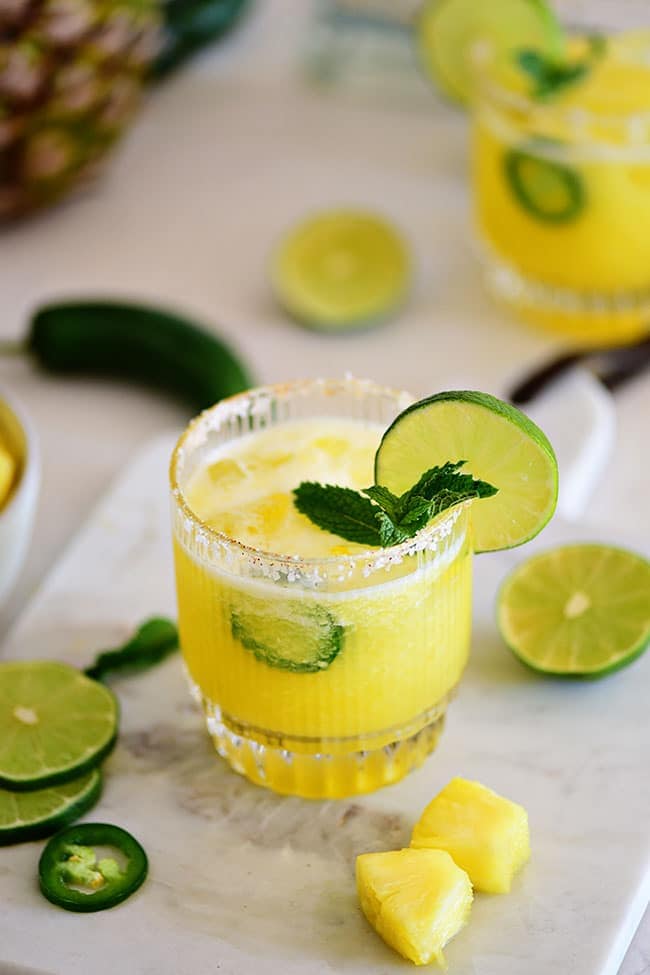 How To Make A Pineapple Jalapeño Margarita Summer Cocktail:
(full printable recipe at the end of this post)
Like any cocktail recipe with fresh summer margarita flavors, making this drink is easy breezy. Prepping the fruit and garnish is a small price to pay to the margarita party gods! I like to think of it as a two-person job: crank the tunes, grab a friend or significant other, and get on it!
It feels like there should be more to this killer spicy pineapple margarita recipe than there is, but it couldn't get easier!
ONE: Puree the fresh pineapple, then dump it and the rest of the pineapple jalapeno margarita mixings into a shaker and fill it with ice.
TWO: Shake until it's frosty and strain into rimmed glasses half full with ice.
Garnish and start over because everyone will be lining up for seconds! Or better yet, you know that "two-person job" I mentioned earlier? Tag team it so you can sit and enjoy your magnificent summer margarita cocktail!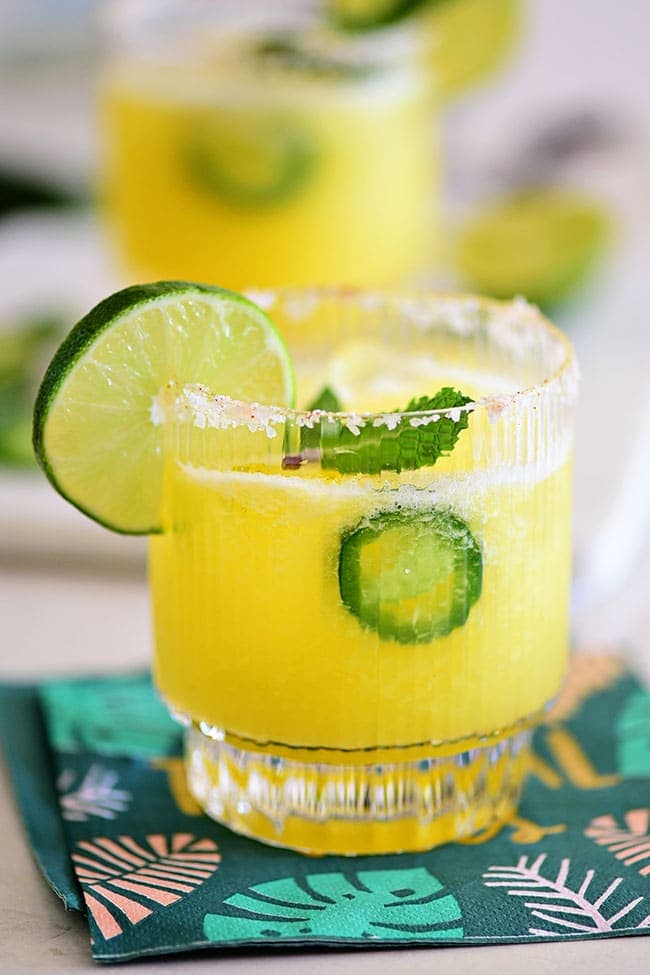 Notes For This Summer Margarita Recipe With Pineapple And Jalapeno
You can make a bangin' frozen pineapple jalapeno margarita using frozen pineapple chunks. You can use frozen chunks for both margarita styles; just let the pineapple thaw a bit before puréeing.
No superfine sugar on hand? Give granulated sugar a spin in the food processor for 30 seconds. Keep some extra on hand for other margarita recipes, but keep it tightly sealed until ready to use.
You can use simple syrup or agave syrup if you already have it on hand. I recommend staying away from granulated sugar because it won't dissolve well. You don't want sweet grit on the bottom of your glass.
Adjust the sweetener levels based on the sweetness of your pineapple and how you want the summer margarita flavor to manifest.
Three thin jalepeño slices (per drink) will yield a medium spicy pineapple margarita.
Take the seeds and membranes out of the jalapeno if you prefer the pepper flavor more than the heat in a spicy margarita.
If you don't have a cocktail shaker, just add the ingredients to a tall glass or pitcher and stir vigorously for 1 minute until well chilled.
This margarita recipe makes two delightful servings at one time. Double or triple the cocktail recipe in a pitcher to make several pineapple jalapeno margaritas at once.
Citrus can become bitter in summer cocktail recipes if made too far in advance. Try to keep within a one to two-hour window.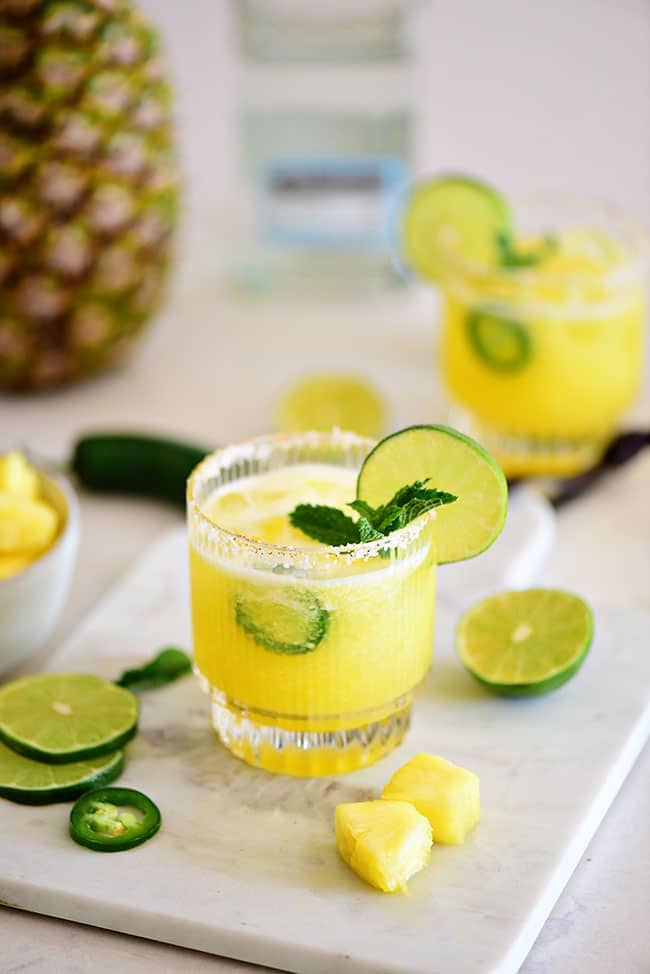 Summer Cocktail Pineapple Margarita Recipe FAQs
How do you tell if a pineapple is ripe?
Picking a ripe pineapple for your spicy margarita isn't about expertise as much as it is about common sense and three of your sensory organs: eyes, nose, and skin.
How To Pick a ripe Pineapple:
Sight: bright green leaves, greenish-yellow exterior, no damage, bruised, or flesh eaten by fruit flies.
Smell: You want a glorious, sweet pineapple smell right from the base of the fruit. If it smells slightly sour or "zingy," it's fermenting and overripe.
Touch: Heft it in your hand. Heavy for the size is a good sign; squishy or hard as a rock is not.
Notes on Fresh Pineapple: Pineapples are not picked until they are ripe. What? (Have a green one, hard as a rock, on your counter yelling BS?) Ok, not ripe in the sense of gold and sweet, but mature enough to be picked. You could cut and eat it, but it will be highly acidic and not the least bit sweet.
As it "ages," the pineapple will convert carbs to sugars and "ripen" on your counter; the color changes from green to yellow/gold and creeps up the fruit. If you let it sit too long, it will ferment. Oh, and that thing about pulling leaves from the crown is hooey!
Use your sense, including the "common" ones, and you'll never fret about choosing (or knowing when to cut) a pineapple again!
What is Triple Sec (triple dry), and what does that mean?
Triple Sec is a staple for any margarita cocktail purist! A time-honored, dry French liqueur made from three types of orange peels: dried bitter, dried sweet, and fresh sweet peels. The peels are soaked in a beet sugar alcohol to extract the oils, and initially (Jean-Baptiste and Josephine Combier in Saumur, France) went through the distillation process three times. The final product is a clear, potent, orange-flavored liqueur that adds all kinds of happiness to this spicy margarita recipe!
Like This Pineapple Jalapeño Margarita Recipe? Pin It!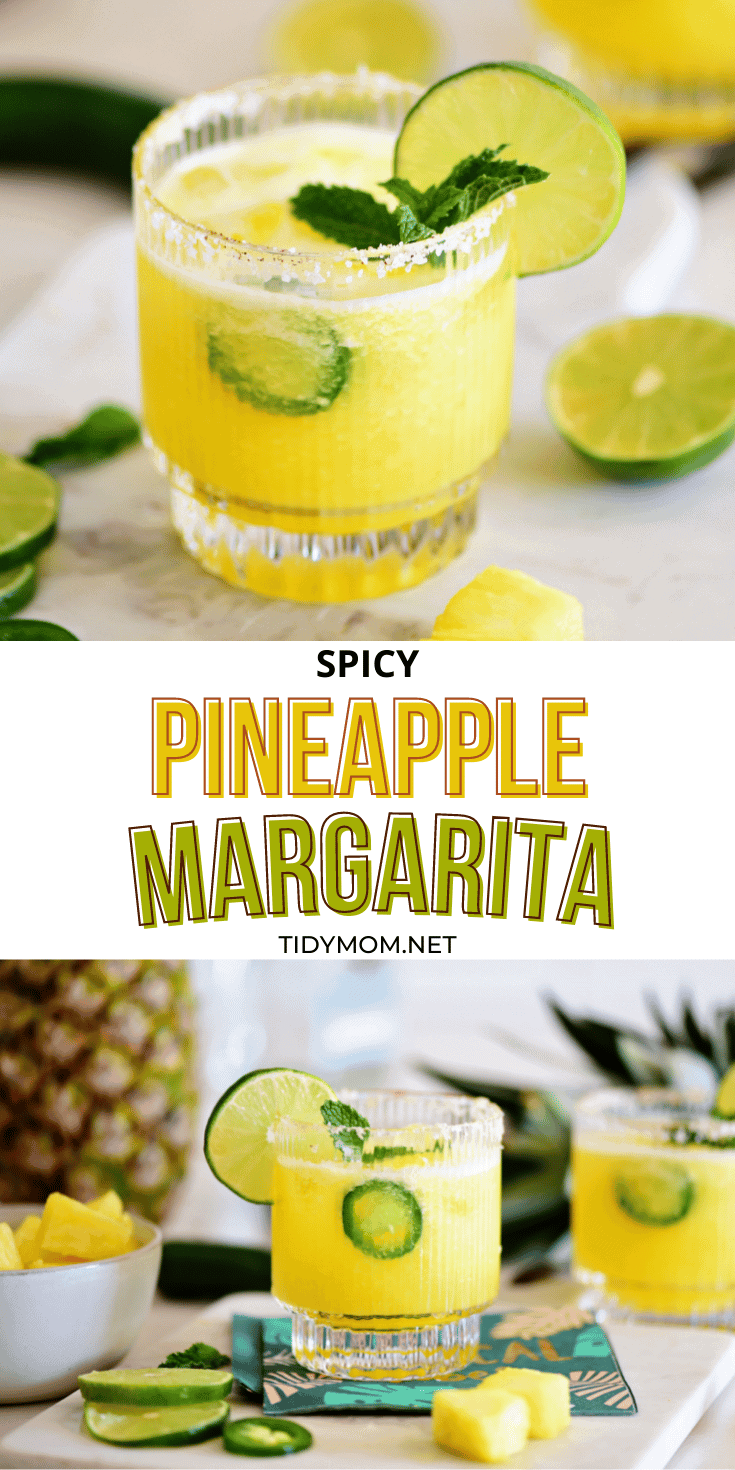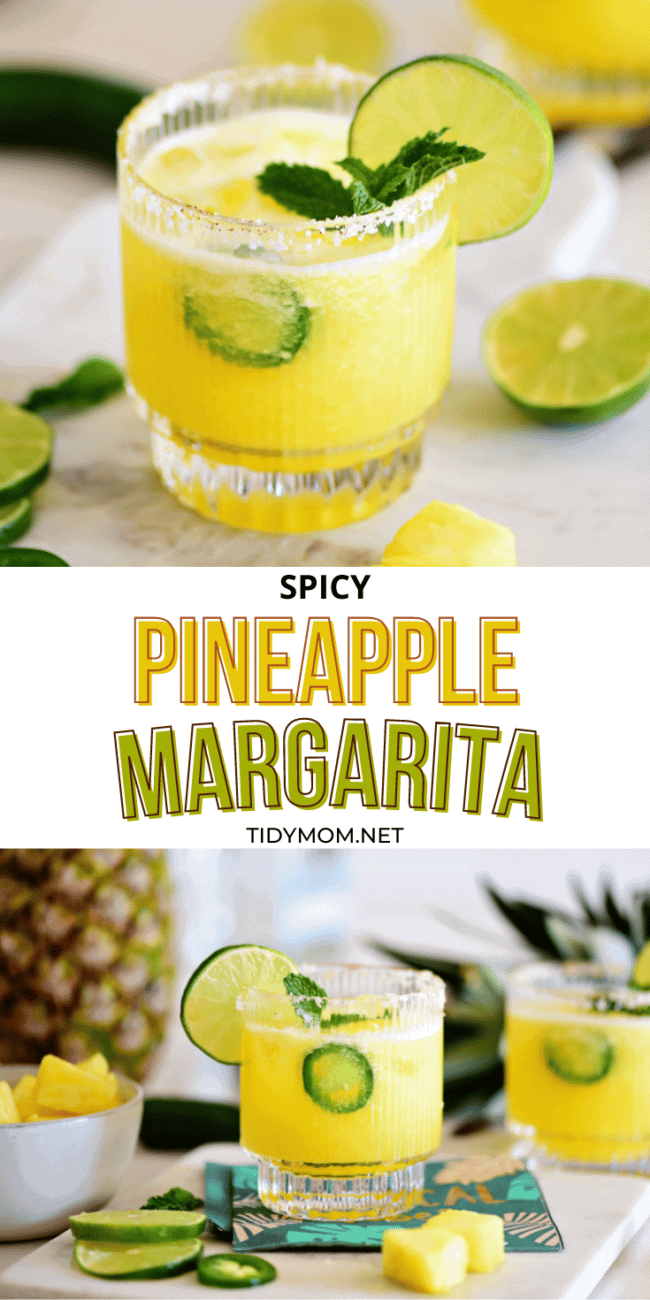 If you're looking for a festive summer cocktail recipe to add to your mixologist repertoire, you've found it! Pool parties, grilling out, game night, or bingeing Netflix, this spicy pineapple margarita is all over it!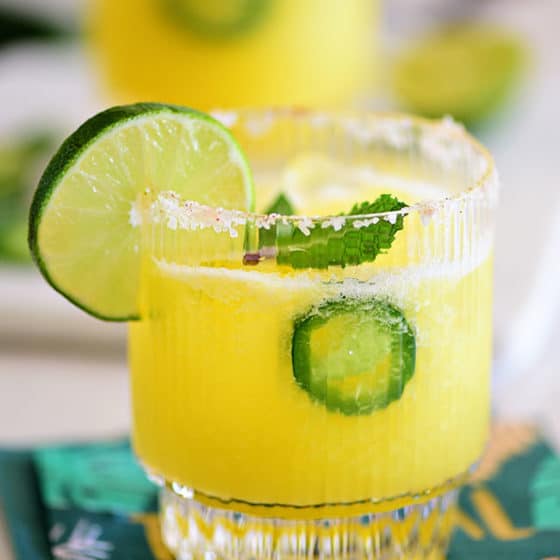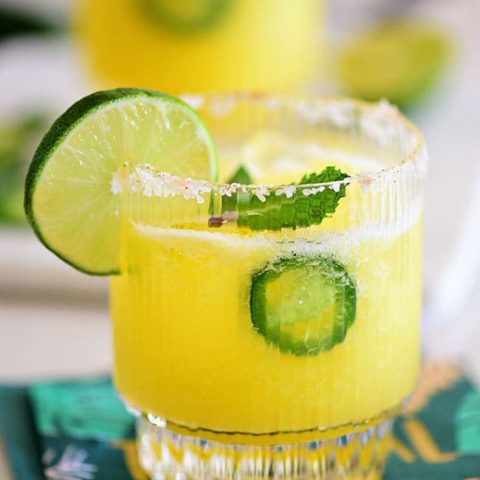 Pineapple Jalapeño Margarita
Yield: 2 servings
Prep Time: 10 minutes
Total Time: 10 minutes
Pineapple Jalapeño Margaritas are the quintessential drink for summer! Spicy, sweet, and citrusy this kicked-up marg packs a refreshing punch. Serve with appetizers and you're ready for a party.
Ingredients
1 cup fresh pineapple chunks
1 ounce fresh lime juice
1 ounce fresh orange juice
2 tablespoons superfine sugar
3 ounces good quality blanco tequila
1½ ounces triple sec
jalepeño, sliced
Ice
1 tablespoon sea salt and chili seasoning (or Tajin) for rim
lime slices, pineapple wedges, jalepeño slices, and fresh mint for optional garnishes
Instructions
Place pineapple chunks into a blender (or food processor) and blend until smooth.
Pour pineapple puree into a shaker along with lime juice, orange juice, sugar, tequila, triple sec and 2-4 thin jalepeño slices *see notes. Fill shaker with ice and shake until well chilled.
Prep the glasses: Run a lime slice along the rim of the glasses. Next, dip the glass rims in the seasoned salt and make a small turn or two to coat the rim.
Fill glasses half full with fresh ice and strain margarita mixture into glasses. Garnish with lime slice, pineapple wedge, jalepeño slices and fresh mint as desired.
Notes
If you use frozen pineapple, thaw first. Or use frozen pineapple for a frozen margarita.
superfine sugar dissolves quicker than granulated sugar. You could use a little simple syrup or make your own superfine sugar. Just process granulated sugar in a food processor for about 30 seconds.
If your pineapple is really sweet you may only need one tablespoon of superfine sugar, or more if your pineapple is not very sweet.
3 thin jalepeño slices (per drink) will yield a medium spicy drink. Add more for very spicy, or less for a mild heat.
remove the seeds from the jalepeño pepper slices to remove even more heat.
If you don't have a cocktail shaker, just add the ingredients to a tall glass or pitcher and stir vigorously for 1 minute until well chilled.
This recipe makes two 8-10 ounce servings. If you'd like to make a pitcher, just double or triple, and stir in a large pitcher. Can be made ahead, but no longer than an hour or two or the citrus may become bitter.
Serve in margarita glasses or rocks glasses.
Recommended Products
As an Amazon Associate and member of other affiliate programs, I earn from qualifying purchases.
Nutrition Information:
Yield: 2
Serving Size: 1
Amount Per Serving:
Calories: 250
Total Fat: 0g
Saturated Fat: 0g
Trans Fat: 0g
Unsaturated Fat: 0g
Cholesterol: 0mg
Sodium: 3mg
Carbohydrates: 32g
Fiber: 1g
Sugar: 28g
Protein: 1g
Nutrition information is estimated based on the ingredients and cooking instructions as described in each recipe and is intended to be used for informational purposes only. Please note that nutrition details may vary based on methods of preparation, origin, and freshness of ingredients used and are just estimates. We encourage, especially if these numbers are important to you, to calculate these on your own for most accurate results.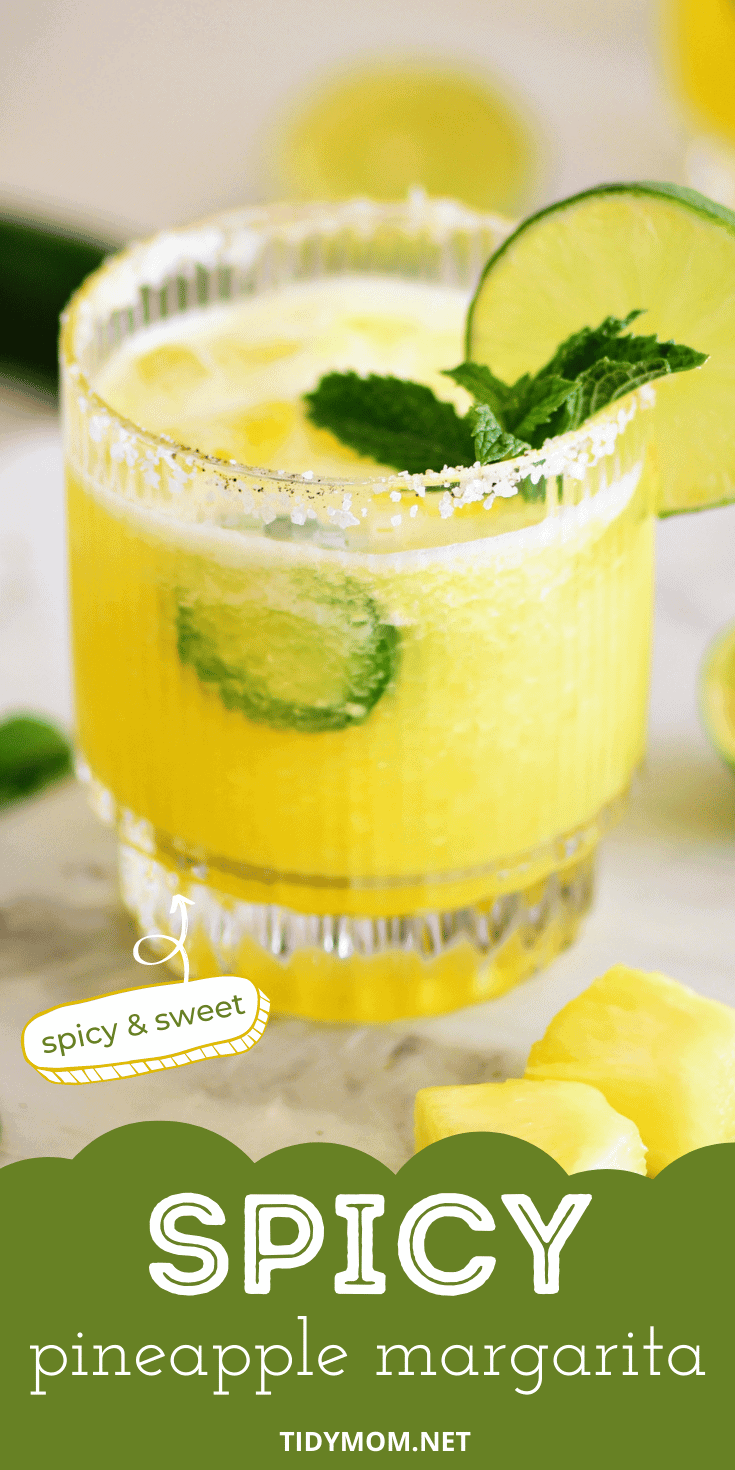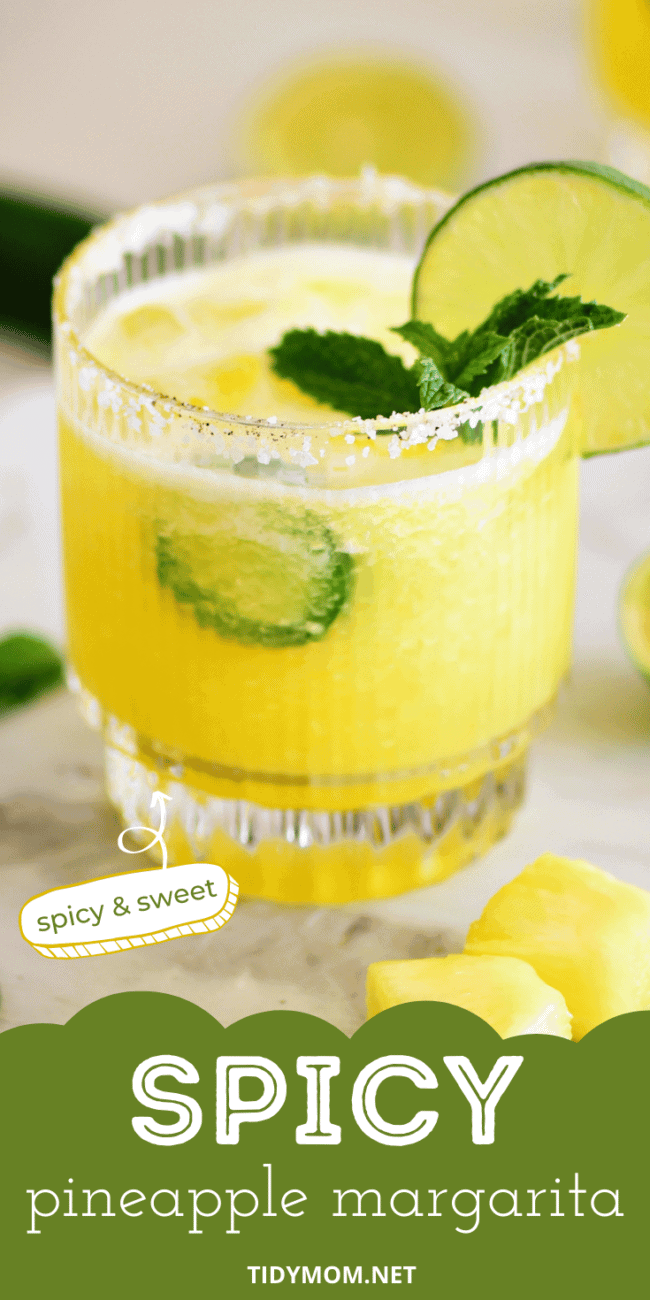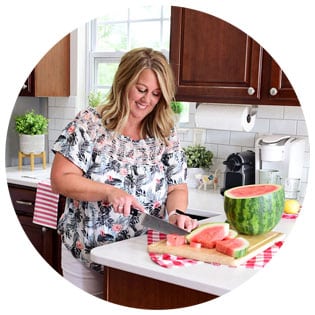 Hi there, I'm Cheryl!
As a wife, mom, and caffeine enthusiast, my journey has taken me from bustling mornings with my family to sharing delicious recipes, home care tips, and heartfelt decorating insights with wonderful readers like you. My love for baking, photography, and tidiness shines through every post I craft. Dive into my world and discover the art of homemaking, one tidy moment at a time. Read more...
Tidymom is a participant in the amazon services llc associates program, an affiliate advertising program designed to provide a means for sites to earn advertising fees by advertising and linking to Amazon.com.
Please respect my work, recipes and photographs. If you do use a recipe in your own writing, please give proper credit and link back to the original post.