Salted Caramel Cheesecake with Chocolate Ganache
Caramel fans will be in heaven with this Salted Caramel Cheesecake Recipe topped with a sticky caramel sauce, chocolate ganache and a sprinkle of sea salt.

Last Wednesday, July 10, was kind of an important day.  In our house, we call it………..Allison Day! aka Allison's Birthday.
Birthdays aren't usually too much of a big deal around here, unless you are Allison, and every birthday is celebrated for several days, that include a Birthday banner, going out to eat, travel,  Cardinal games, ghost hunts, lots of presents and of course………dessert of her choice.
This year she wanted cheesecake and not just any cheesecake.  It needed to be a silky smooth salted caramel cheesecake, but it had to have chocolate in it as well.  We decided to make it with an Oreo cookie crust and add a layer of chocolate ganache to the top!
LET'S MAKE A SALTED CARAMEL CHEESECAKE
Don't let the word cheesecake scare you…….it's really pretty simple to make, just needs to sit overnight.  So make it at least a day ahead, and be prepared to finish it up the second day.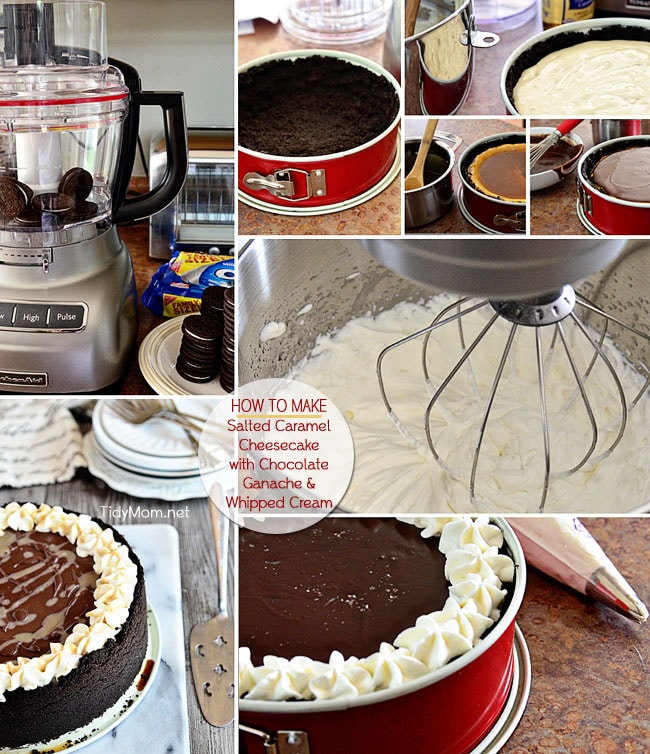 The full recipe is at the end of this post.  It's going to look long, but I want to break it down for you to show you it's really not that bad.  Yes, I made the caramel sauce but it was super easy, as was the chocolate ganache and even the whipped cream.  You will need a springform pan, and a pastry bag with a 1M tip if you want to pipe the whipped cream like I did.
1.  Crush Oreos using a food processor
2.  Press into springform pan
3.  Use an electric mixer to blend cheesecake filling.
4.  Pour filling into crust, bake, cool, then refrigerate overnight.
5.  Make caramel sauce and pour over cheesecake, and cool.
6.  Make chocolate ganache and pour over caramel.
7.  Top with homemade whip cream.  Refrigerate until ready to serve.
It's SOOOO worth all the steps!!  I promise!
But you might have to make your own because Allison isn't sharing!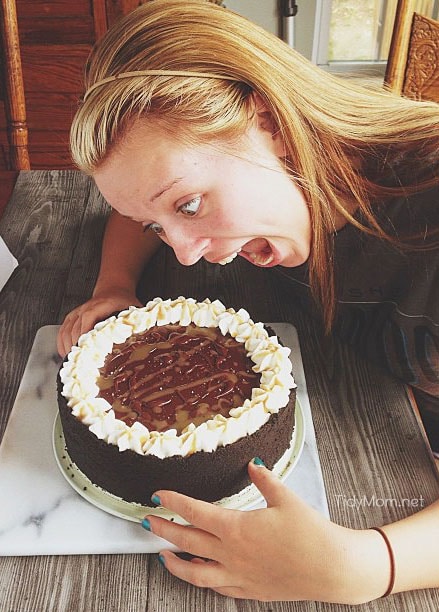 She cracks me up!  She makes us laugh all the time!  It's hard to believe that this time next year we will be packing things up to send her away to college, and we will become empty nesters during the school year 🙁  I need to freeze time………quickly!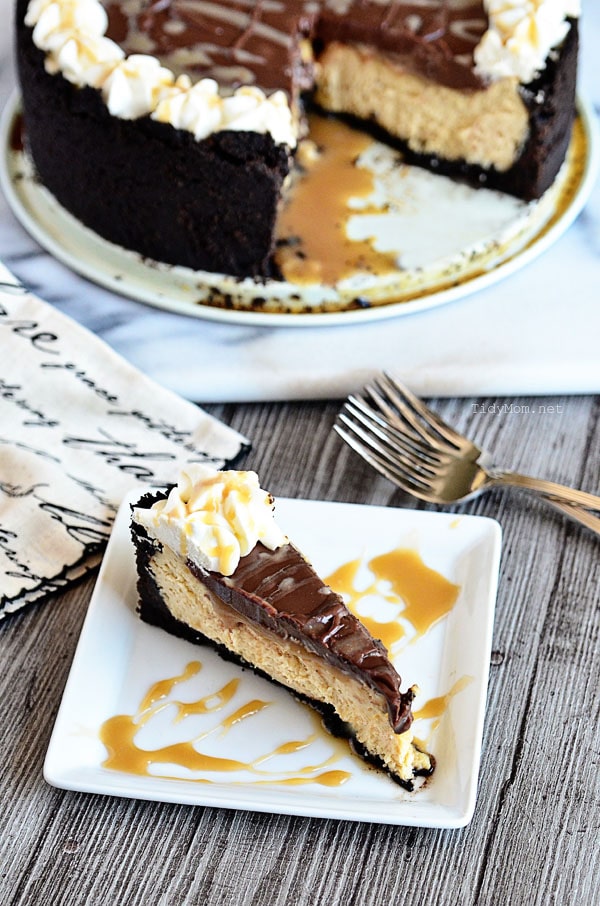 Ok, so I suppose you want the Salted Caramel Cheesecake Recipe, grab your apron and let's go!
**NOTE: this recipe really needs two days, as it's best when chilled overnight.
Want more great recipes like this? Follow my TidyMom Easy Recipes Pinterest Board
What's your favorite Birthday Dessert?
10 More cheesecake recipes:
Cheesecake Minis with Strawberry Balsamic Mint Topping
Traditional Cheesecake with Raspberry Sauce
Peanut Butter-Finger Mini Cheesecakes
Lemon Cheesecake with Fresh Berries
Chocolate Chip Cookie Dough Cheesecake Bars
Want more great recipes like this? Follow my TidyMom Easy Recipes Pinterest Board
Follow Cheryl Sousan | Tidymom.net's board TidyMom.net easy recipes on Pinterest.